We've introduced a new enhancement to our popular auto follow-up feature which will send sequential follow-up emails in stages to people until they reply (or open, or click, or "reply or click"). Now you can set your auto follow-ups so that if you're sending email to multiple people at a company or organization, if any one person at the organization replies, the follow-ups to everyone at that organization will stop. This option is useful if you're cold emailing multiple people at an organization with the goal of getting just one of them to reply. If your goal is to get everyone at an organization to reply, you would not want to use this setting. This setting is OFF by default and needs to be turned ON if you wish.
This setting works by examining the domains of your recipients and stopping email to any domain that matches the domain of anyone that's responded, with the exception of popular consumer domains.
For example, let's say you're cold emailing to pitch your corporate catering services, and your original email goes to 3 employees at Uber as well as 2 @yahoo.com addresses:
[email protected]
[email protected]
[email protected]
[email protected]
[email protected]
After your initial email, nobody responds. Your Stage 1 auto follow-up then goes out 3 days later, and [email protected] responds and [email protected] responds. Because [email protected] responded, the auto follow-ups to [email protected] and [email protected] will now also stop, if this setting is on. However, [email protected] will still continue to receive auto follow-ups because yahoo.com is a consumer domain, so the fact that [email protected] responded doesn't affect [email protected].
Because this setting works based on domain matching, if, for example, you had [email protected] on your list, sa[email protected] would continue receiving the auto follow-ups because uber.net is a different domain than uber.com. FYI, this is just an example, and it turns out that uber.net isn't even owned by the real Uber.
When you activate this setting, it applies to your entire account, meaning it will apply to all campaigns with "no reply" auto follow-ups sent from your account. You can't set this on a per-campaign basis. Also, it does not apply to auto follow-ups that are sent based on opens, clicks, or to ALL — it only applies to auto follow-ups that are based on replies.
To toggle this setting on and off: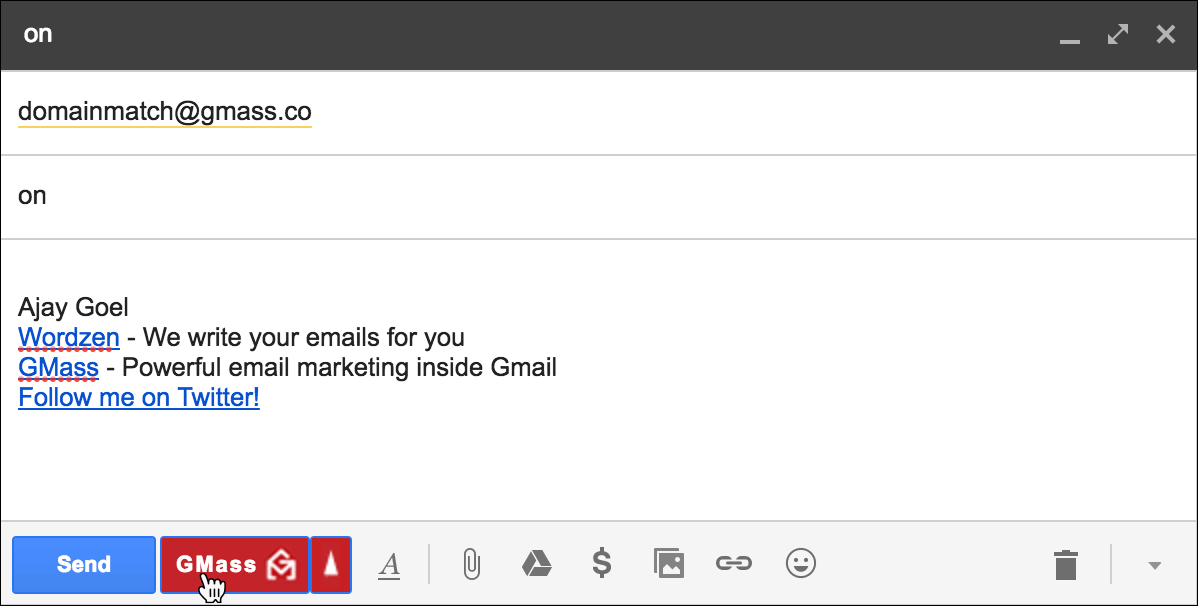 Click Compose to launch a new window.
Set the To field to domainmatch@gmass.co.
Set the Subject to the word on or off.
Leave the Message blank.
Hit the GMass button. Do not hit the 

Send

 button.
See why GMass has

300k+

users and

7,500+

5-star reviews

Email marketing. Cold email. Mail merge. Avoid the spam folder. Easy to learn and use. All inside Gmail.

TRY GMASS FOR FREE

Download Chrome extension - 30 second install!
No credit card required
Love what you're reading? Get the latest email strategy and tips & stay in touch.