Big news: You can now warm up any "from" address (email alias) connected to your Gmail account to improve the deliverability and inbox placement from that address.
And you can do it for free using GMass's email warmup tool — the most popular warmup product in the world.
This has been a highly requested feature since the moment we launched our email warmup service.
Before, you could only warm up your primary email address for your Gmail account. Now, you'll have the option to choose which "from" address in your account you want to warm up.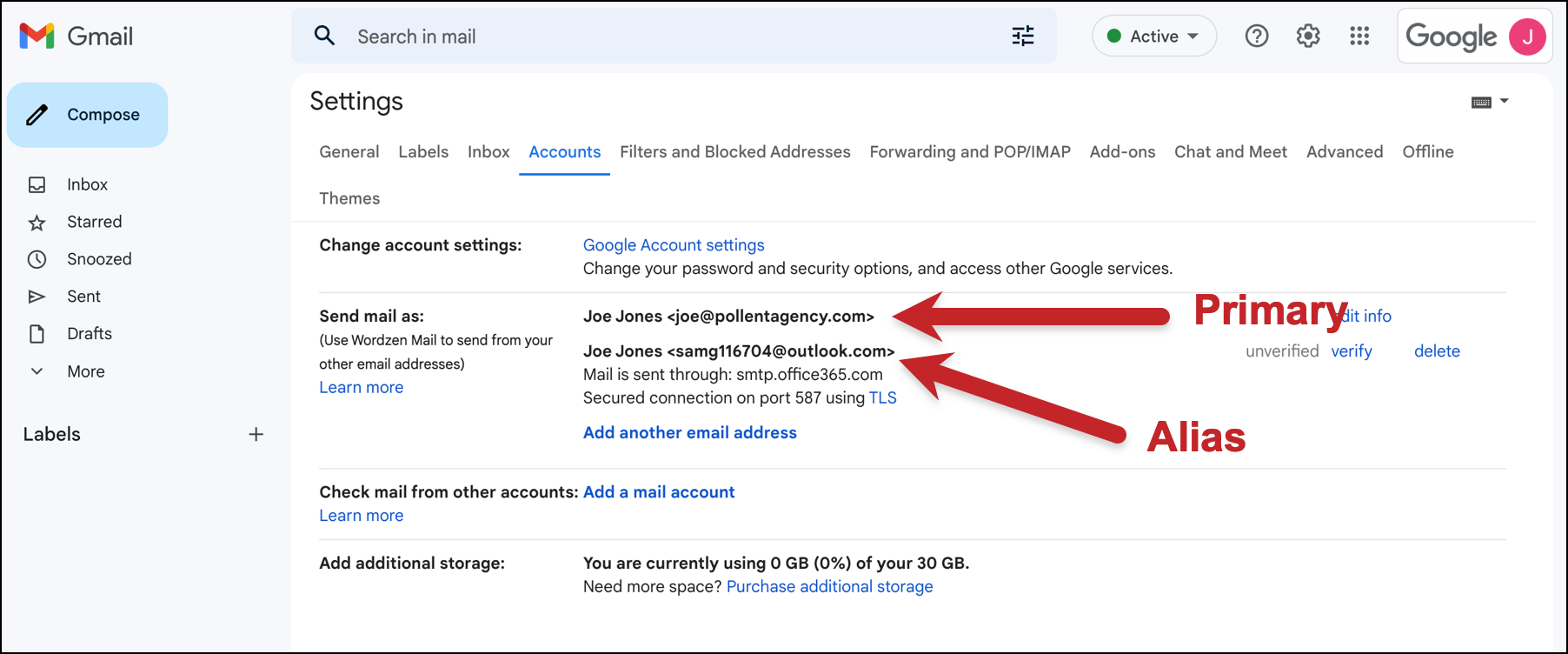 This means you can use GMass to warm up email accounts outside of Gmail for the first time. Warm up an Outlook account, a POP3 account, or any other type of email account you use.
And you can even use this feature to warm up an external SMTP server as well.
In this guide we'll cover everything you need to know to warm up your email aliases and alternate "from" addresses.
Email Alias Warmup: Table of Contents
Before You Get Started: Adding a "From" Address to Your Gmail Account
Before you warm up an alternative "from" address, you need to make sure you've got one.
Make sure you have an additional "from" address in your Gmail account
We won't rehash Google's own instructions for setting up an additional "from" address in your Gmail account. If you need a walkthrough, here's their guide to send emails from a different address or alias.
Side note: In Google you can set up a "from" address as an alias or non-alias. There's a subtle difference. But most people say "alias" to describe either, and that's what we'll do as well in this article rather than get lost in semantics. Regardless, both alias "from" addresses and non-alias "from" addresses now work with GMass's email warmup, so you don't have to worry about which you're choosing.
Note: You can only warm up one address per Gmail account
Let's say your primary Gmail account is [email protected] And you've just added an alias of [email protected] You can't warm up both of those with GMass's warmup tool — you'll need to choose one.
You can use GMass's warmup tool on multiple different email accounts. For instance, if [email protected] had its own separate Google Workspace account, you could warm it up over there.
But as long as you're bringing it over as an alias under your other account, you'll have to choose.
Step #1: Starting Warmup on Your Alias
There are two different options for starting warmup on your alias/"from" address. And the one you choose depends on whether or not you already have GMass connected to the Gmail account you're using with your alias.
Option 1: Alias warmup with a GMass account
First we'll cover what to do if you have a GMass account.
Head to the GMass dashboard.
Open the settings.
Go to the email warmup section.
Check the box to turn on email warmup.
A pop-up alert will let you know you have multiple "from" addresses tied to your account and confirm you want to set up email warmup. Click Yes, turn it on.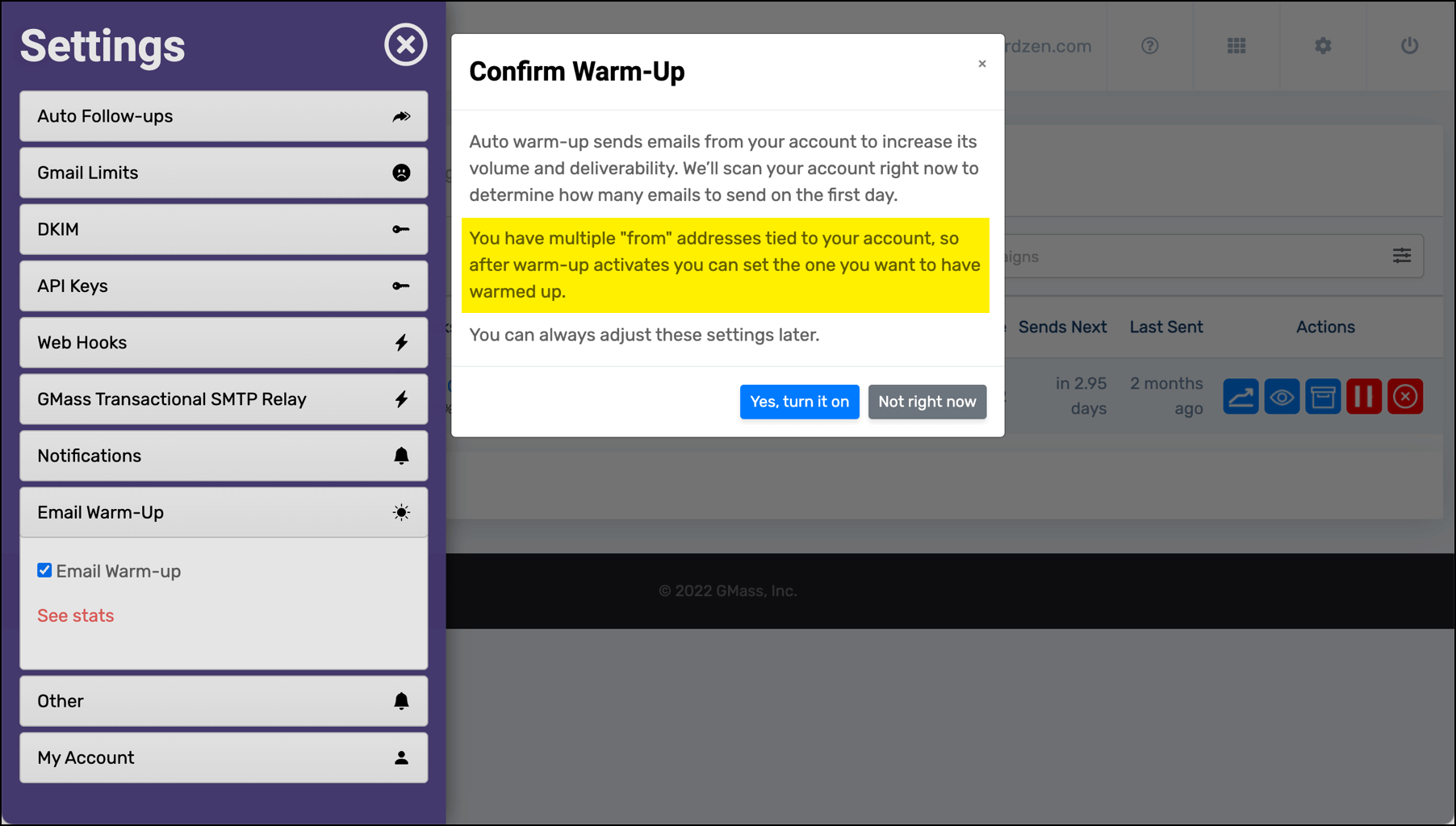 Now you can choose your account.
In the dropdown box, select whether you want to warmup your primary Gmail/Google Workspace account or an alias.
Click the Save warm-up settings button.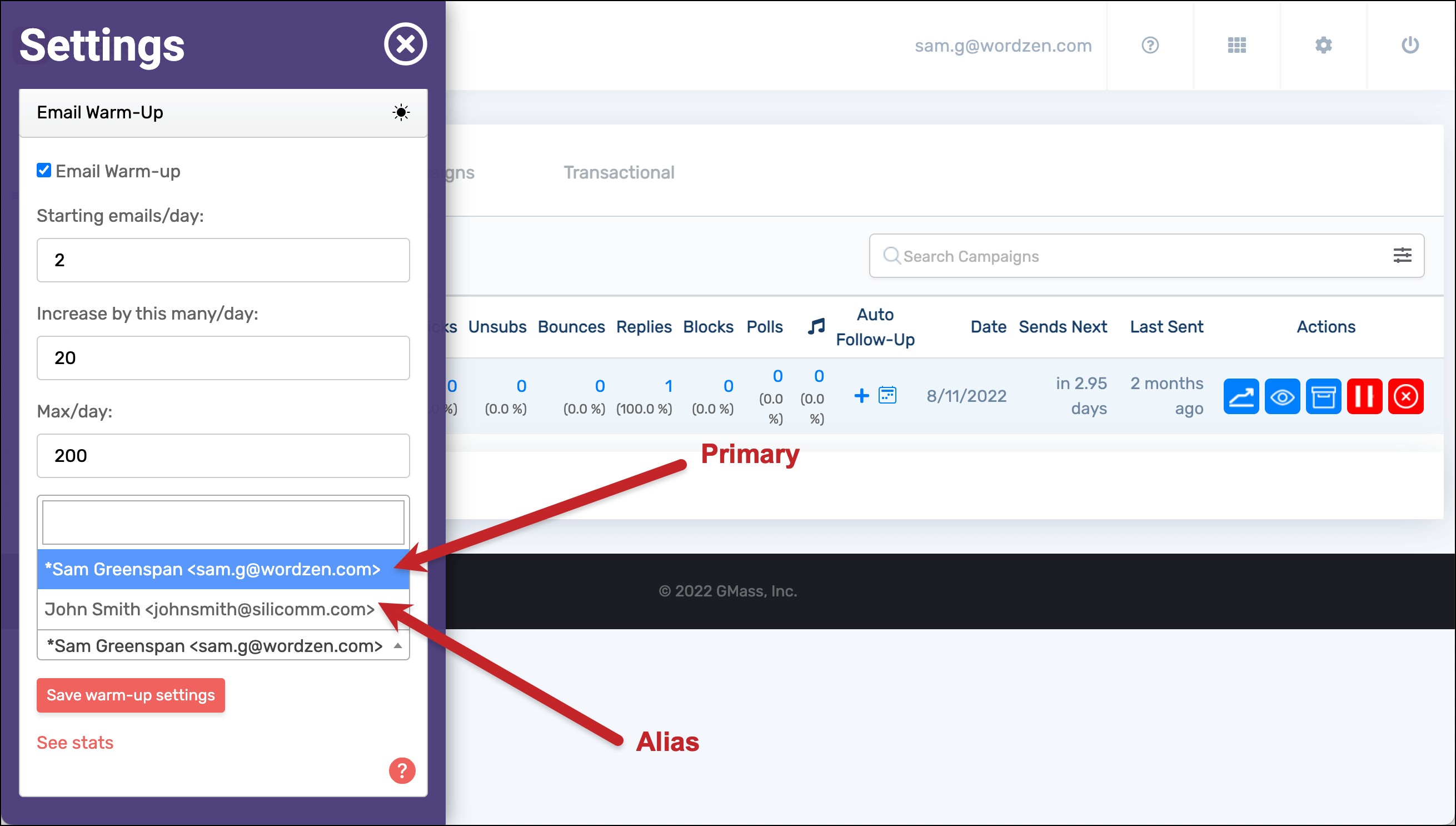 You can now skip down to Step #2: Set Up Gmail to Receive Emails Sent to Your Alias.
Option 2: Alias warmup without a GMass account
If you're want to warm up an alias for an account that's not connected to GMass, you can do so from the public email warmup tool.
Go to GMass's free email warmup tool.
Click the button to connect your Gmail/Google Workspace account.
Give any necessary permissions.
The tool will detect any aliases in your account. Click the corresponding link to choose whether to warm up your primary email address or your alias.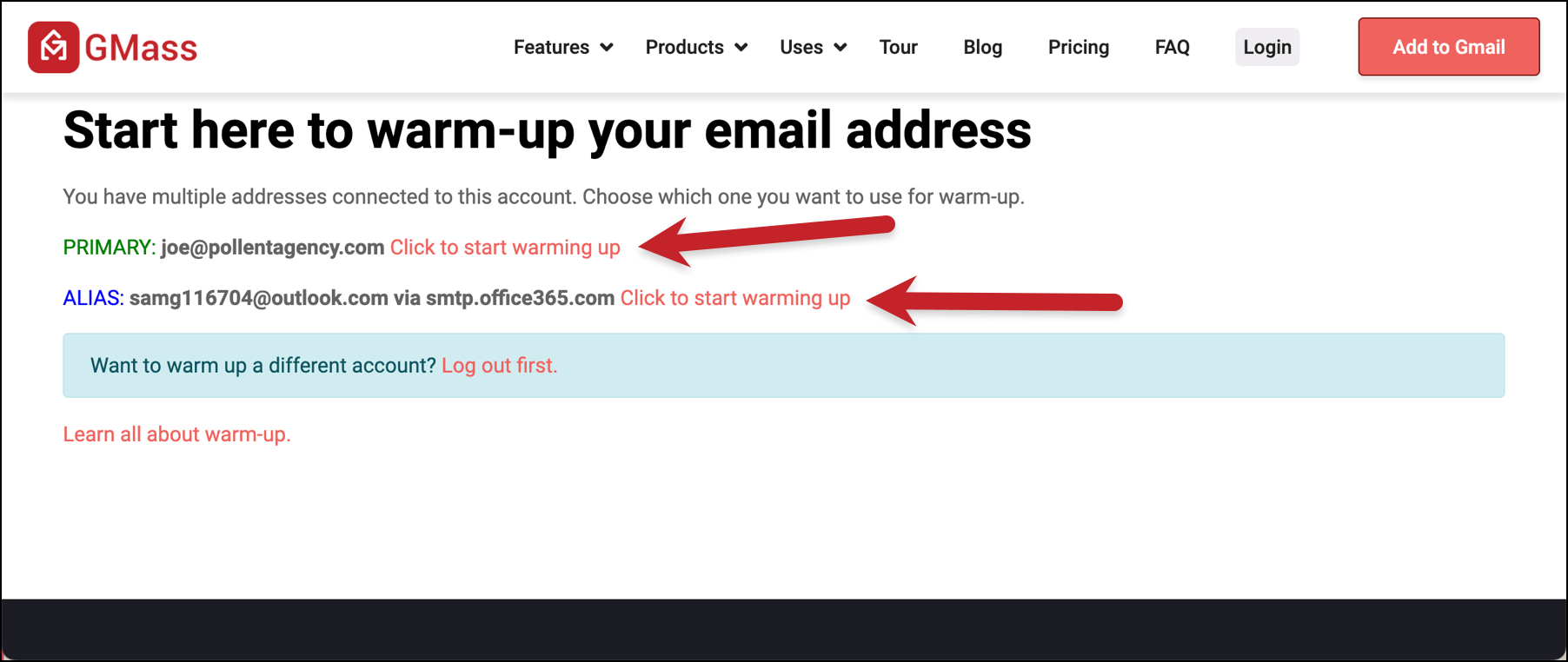 Now that you're set, it's time for the last step: Making sure Google is receiving emails sent to your alias.
Step #2: Set Up Gmail to Receive Emails Sent to Your Alias
Now that you've set up warming for your email alias, you'll need to make sure your Google account isn't just sending as your alias — but also receiving emails sent to that alias.
Warmup requires both sending and receiving, which is why this is necessary.
⚠️ Make sure you choose one of these two options and follow its steps. If the GMass warmup system detects too many emails to your alias aren't found in Gmail, it will deactivate your warmup. In that case, you'll get a notice to the primary account about the deactivation. And then you'll come back here to set it up. So why put yourself through all the grief? Do this the first time.
There are two ways you can make sure Gmail is receiving the emails sent to your alias. Choose one, whichever sounds easier to you.
Option 1: Forward emails from your alias to Gmail
This is nice and straightforward. Log in to your alias's account, wherever it may be (a different Gmail, through a webmail interface in cPanel, in Outlook, and so on).
Set up forwarding so emails sent to that address forward to the Gmail account you used as your primary account.
Here's an example in Outlook. I used the Outlook account as my alias, so I'm now forwarding its email to the primary Google Workspace account where it's an alias: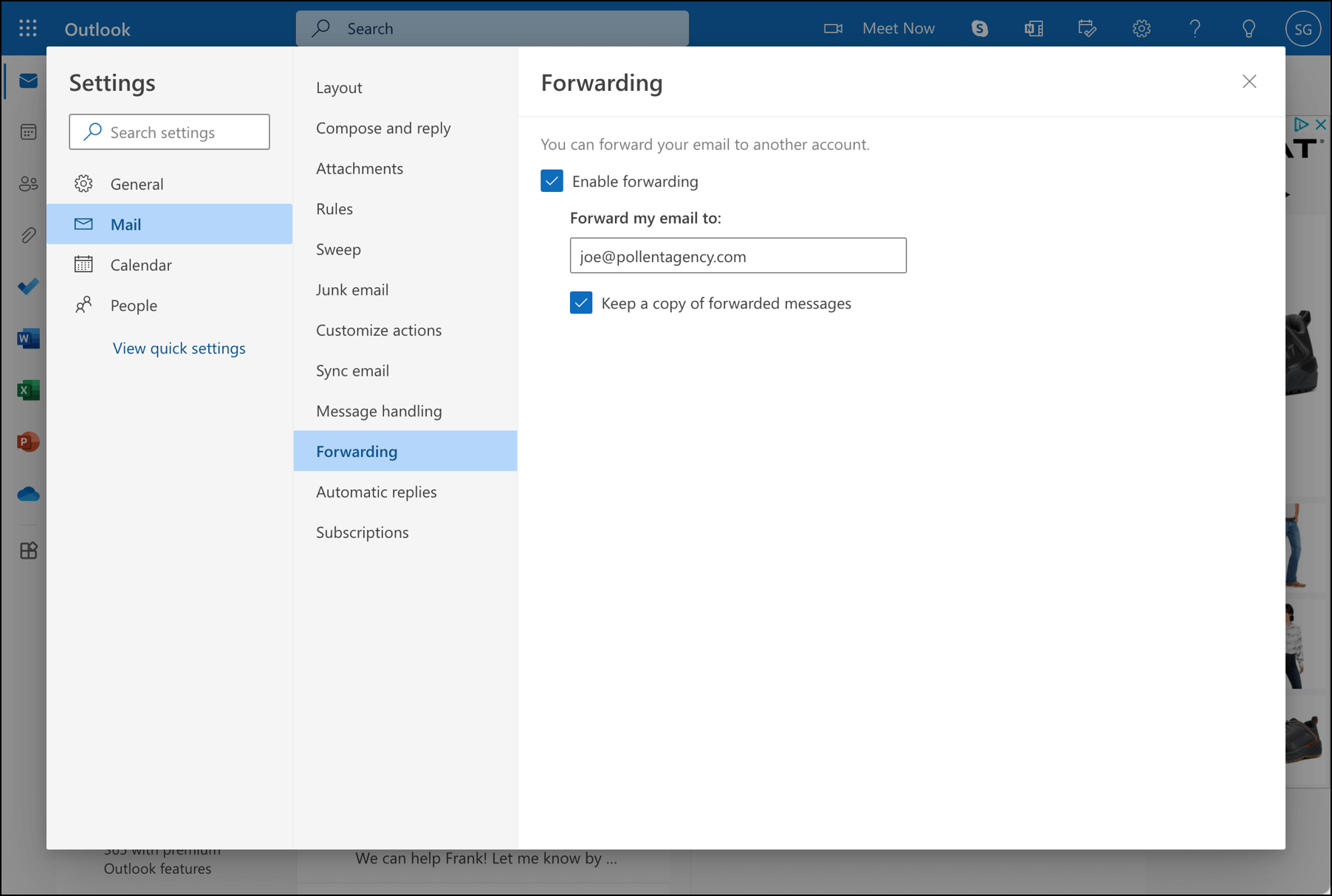 Now email from my alias account forwards to my primary Gmail account — which means the warmup system will work.

Option 2: Setting up Gmail to check the email account
Gmail can check mail from another service through via account's POP server.
Go into the Gmail settings. Head to the Accounts section (the same spot where you set up your alias in the first place).
The menu below the aliases has the option to check mail from other accounts.
Click Add a mail account. Then add your account details in the pop-up box. Make sure NOT to check "Archive incoming messages (Skip the Inbox)" — the entire point of this endeavor is to make it so the warmup emails do hit the inbox.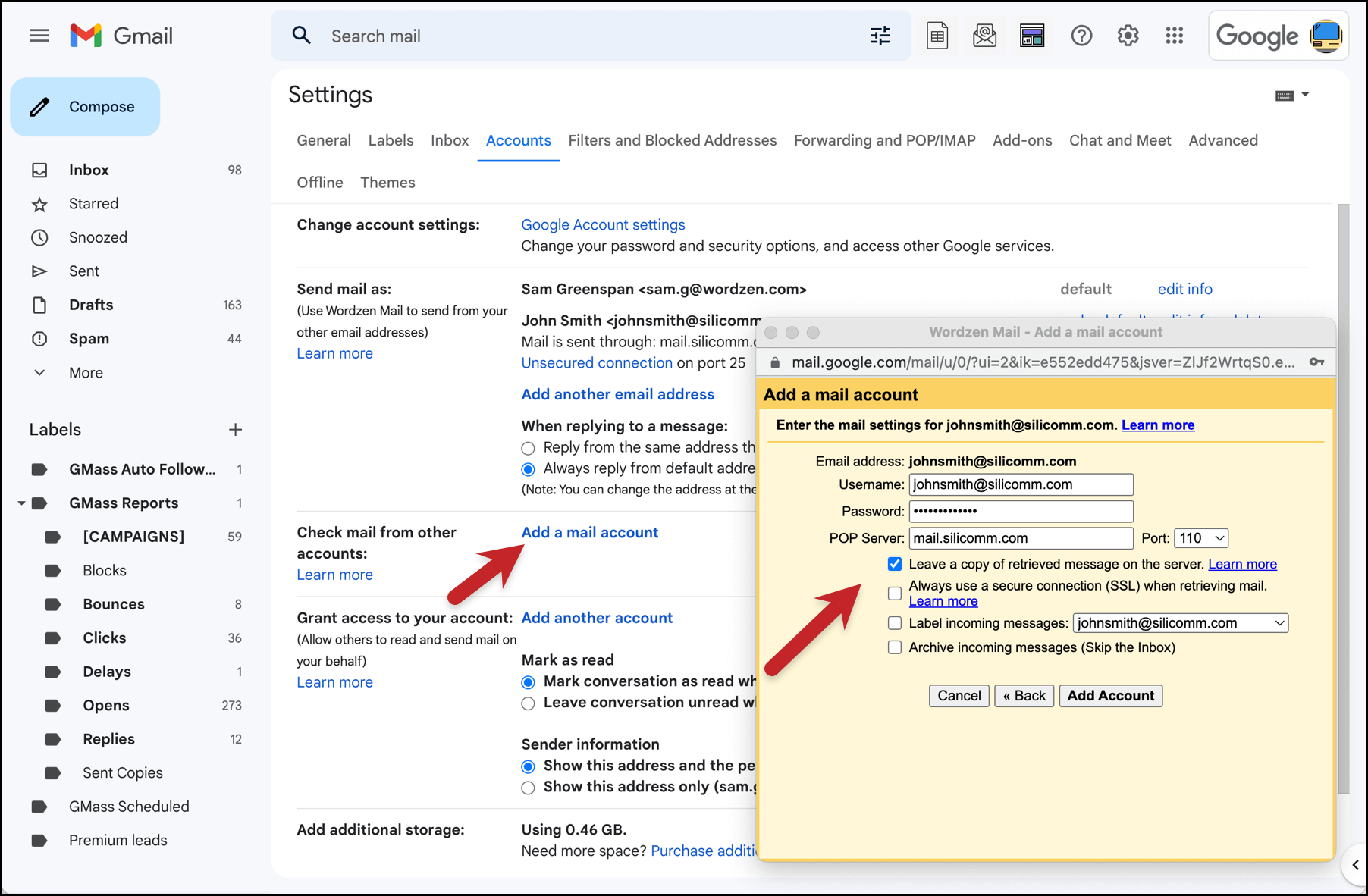 Now that Gmail is checking email sent to the alias, the warmup system will work.
SMTP Warmup: How to Warm Up a SMTP Server Free
Thanks to the email alias warmup feature you can now use GMass's email warmup tool to warm up an SMTP server.
(At some point you'll be able to warm up a SMTP server directly using the GMass warmup tool, bypassing Gmail's sending infrastructure, and not have to go through the alias steps. But for now, this is the method to use.)
This can be a helpful way to prime your SMTP service for larger sends.
For example, SendInBlue's popular shared IP SMTP service limits you to only a small number of emails an hour as you're starting out. You can use warmup to get SendInBlue accustomed to you sending a consistent quantity of emails to eventually bump up your quota.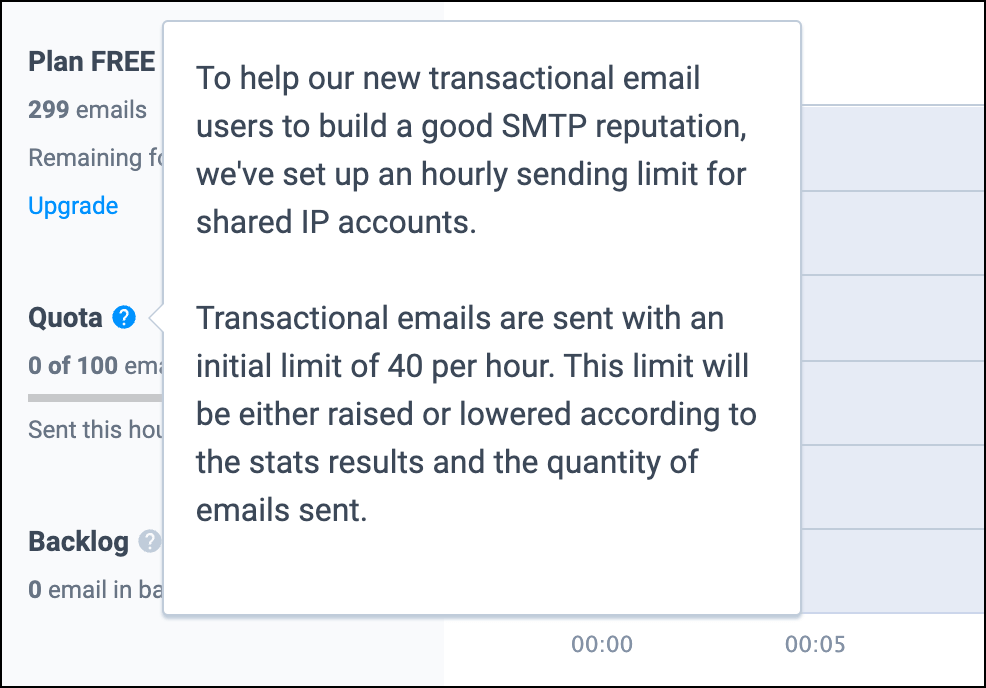 Setting up a third-party SMTP service with your email alias
Add another email alias/"from" address in Gmail as you normally would.
But when it comes time to enter your SMTP credentials, rather than using the credentials from that address's normal server, enter the ones from your third-party SMTP service instead.
In this case, I put in my SendInBlue SMTP server. My username is my SendInBlue username and the password is my SendInBlue API key).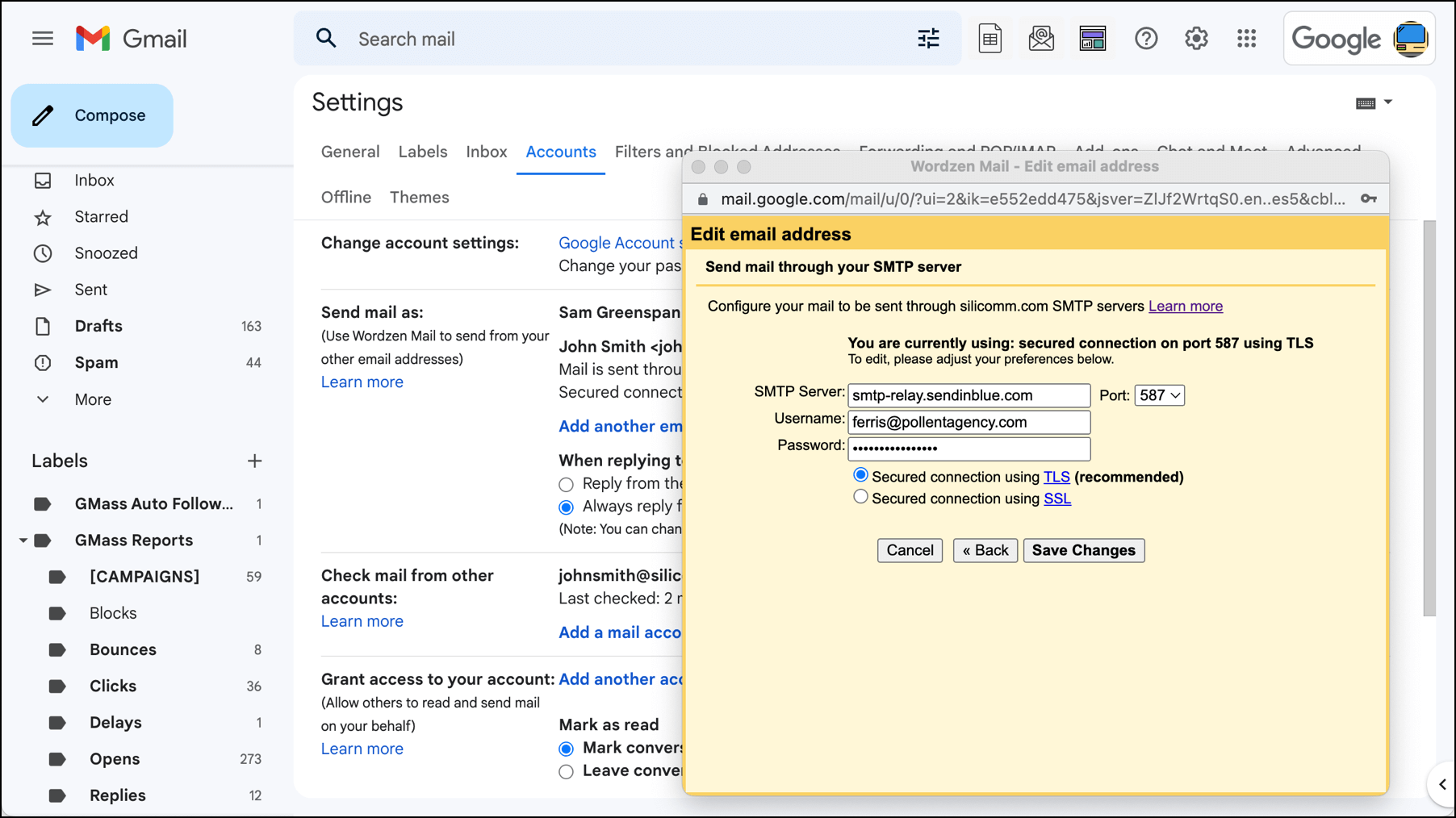 Now when I send from that alias in Gmail (and when the warmup system sends from that alias), the emails go through SendInBlue's SMTP server.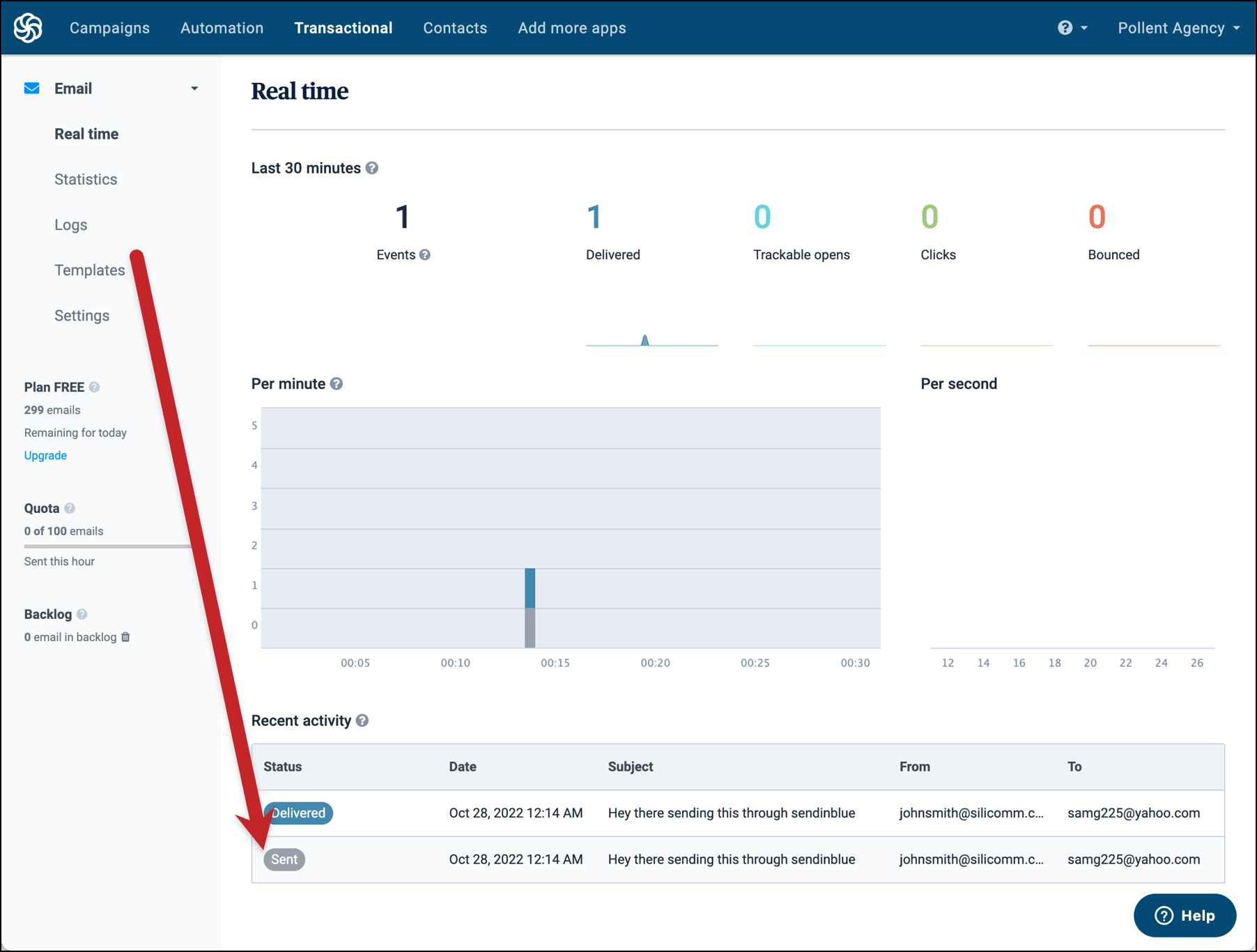 Note: You'll still need to make sure Gmail is receiving emails sent to that account via the account's standard POP server, using one of the methods described earlier.
Email Alias Warmup: Time to Get Going
Ready to get started warming up any "from" address in your Gmail account?
Once you've set up that "from" address in your Gmail account you're ready to go.
If you have a GMass account, you can go to the dashboard to start warming up your alias. (Reminder: You can only warm up one address per account. So if you're already warming up your Gmail account, you can switch to your alias.)
If you don't have a GMass account, head to the warmup tool page, connect your Gmail account, and choose your alias.
And, of course, if you're looking for a better service for your cold email, email marketing, and/or mail merge — check out GMass.
You can download the Chrome extension and sign up free (no credit card required) and send up to 50 emails a day until you're ready to upgrade to a paid plan.
Ready to

transform Gmail

into an email marketing/cold email/mail merge tool?

Only GMass packs every email app into one tool — and brings it all into Gmail for you. Better emails. Tons of power. Easy to use.

TRY GMASS FOR FREE

Download Chrome extension - 30 second intall!
No credit card required
Love what you're reading? Get the latest email strategy and tips & stay in touch.