Looking to create an email group in Outlook?
This article will cover everything you need to know about creating an email distribution group from your Outlook contacts. I'll also highlight some drawbacks to using Microsoft Outlook for your contact list needs and introduce a great email alternative instead.
Here's what we'll cover in this article:
What is an Outlook group?
Note: This is a short section covering the basics of Microsoft 365 and Outlook groups. If you want to skip ahead to the section on how to create a group in Outlook, click here.
Let's take a look at what an Outlook group is before we jump into how to set up a distribution group in Outlook.
There are two types of email contact groups in Outlook:
A. Microsoft Office 365 group
This type of group is centered around one "group email address."
An Office 365 group allows team members to access emails that are sent to one address from a shared mailbox. For example, a marketing team that shares a group email address is a Microsoft Office 365 group.
Anyone who sends an email to the team can send it to the shared mailbox of the Office 365 group. This way, they don't have to send separate emails to each group member.
Since the whole group has access to this shared mailbox and the shared group calendar, this makes coordinating emails and events a lot easier!
B. Outlook contact group
This is the kind of group that we'll be covering in this article.
A contact group (also known as a distribution list) is a collection of email addresses you can email together.
Members of a new contact group don't share the same email address — and don't even have to be part of the same organization. They can be pretty much anyone you want to send emails to as a group!
After setting up the group, you can send emails, calendar invitations, and reminders to all the members of your group with just one click.

When you send the email to the group, it will get delivered to each recipient.
How to set up an email group in Outlook
The process of setting up an Outlook contact list varies slightly depending on whether you use Windows or Mac.
Let's take a look at how to set up a distribution group on each platform:
Setting up an email group in Outlook for Windows
Here's how you can easily create a distribution list in Outlook on Windows:
Step 1
To create a new group, first open Outlook.
Then go to the navigation pane and click on People (the small icon to the bottom left of your screen).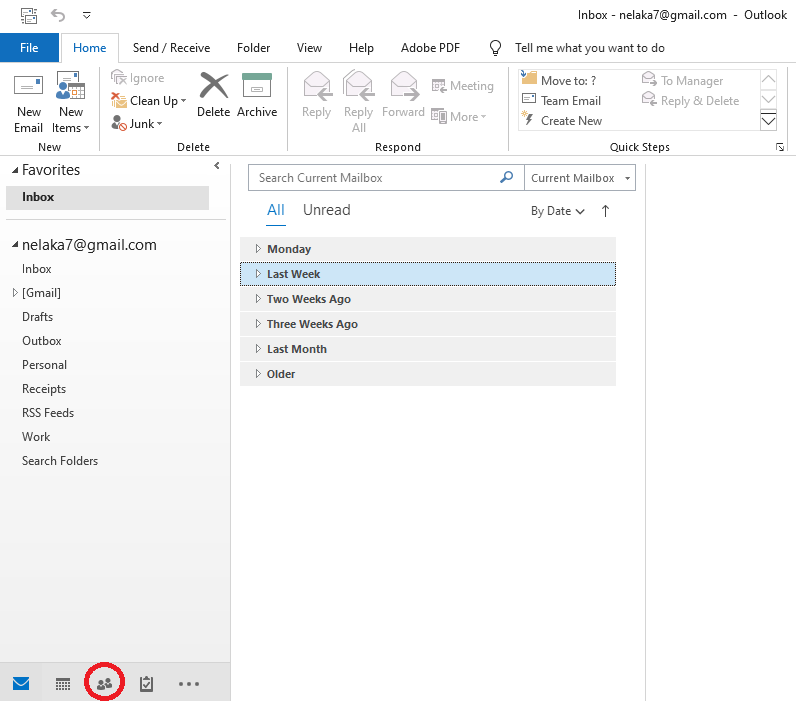 Alternatively, You can also select New Items > More Items > Contact Group from the Home tab.
Step 2
Under My Contacts, select the folder in which you want to save the contact group. Most people tend to save the new contact group in the contacts folder.
Note – For this article, we obtained several sample contacts from this website.
Step 3
Select New Contact Group from the Home tab in the top ribbon.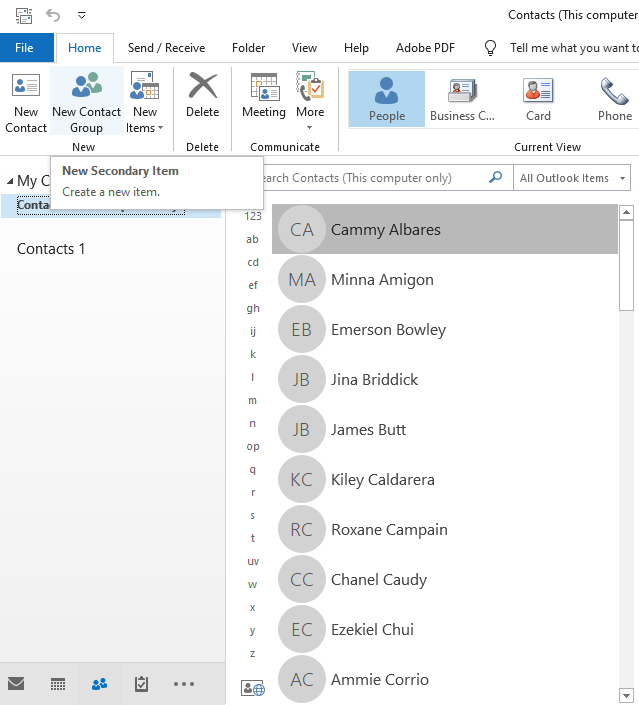 Step 4
Set a group name for your contact group.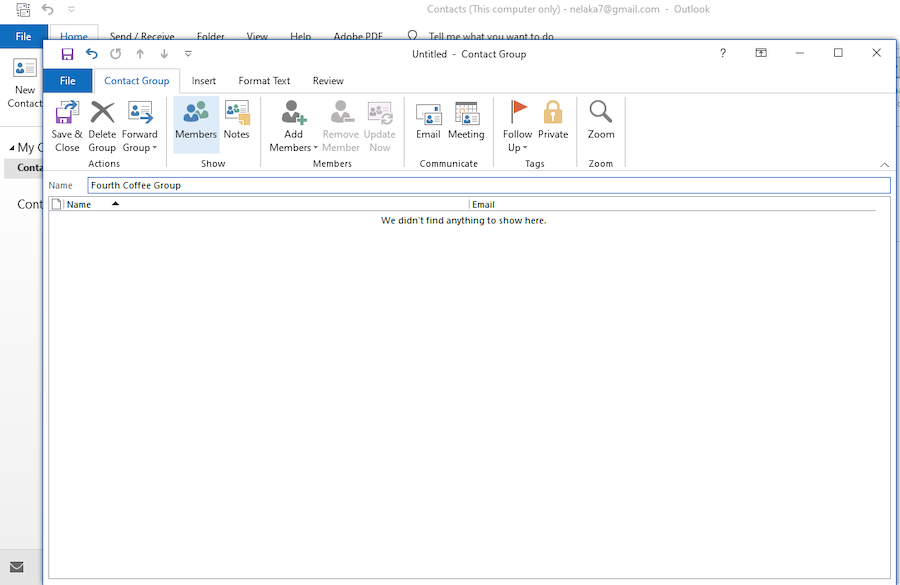 Step 5
Click add members, then choose to add member emails "from address book," "Outlook contact list," or "make a new contact."
Here's what each of these means:
From Address Book – This usually contains email IDs of people in your organization.
Outlook Contact List – This contains primarily a set of external contacts that you've stored.
Make a New Contact – This enables you to create a new contact to add to the list.
If the list of contact emails only contains a group of people from your company, you can also add multiple people through your firm's global address list. (A global address list is an electronic address book that contains the contact information of everyone in an organization.)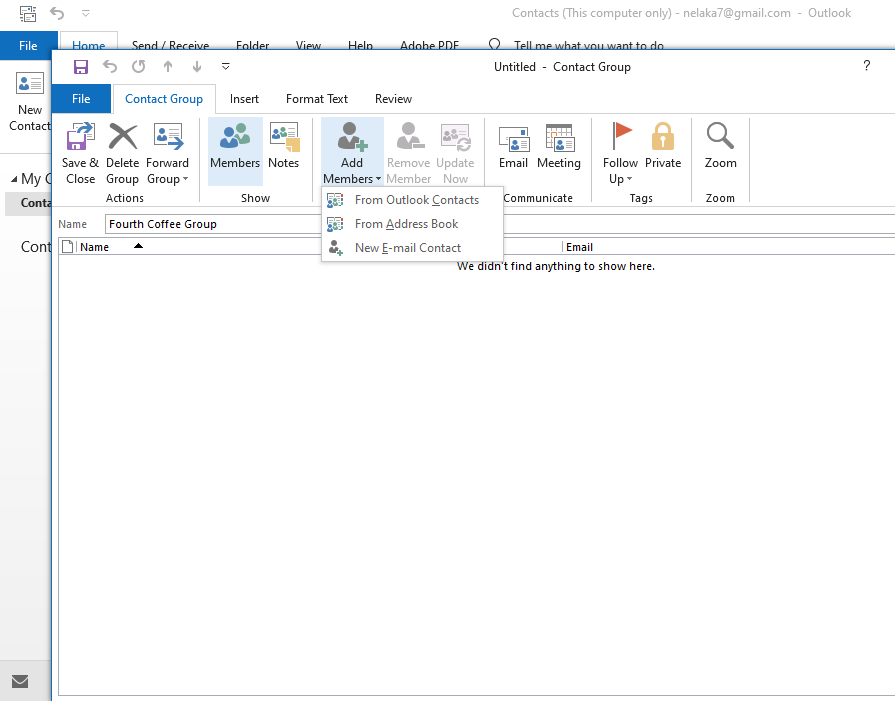 Note: If you need to add more members to your list of contacts, just select the list and click "Add members" to repeat the process.
Step 6
Once you select members and finish selecting your contact group, click Save & Close, and the Members box will disappear.
Once you click Save, you can test your group by sending a new email to your group contact list.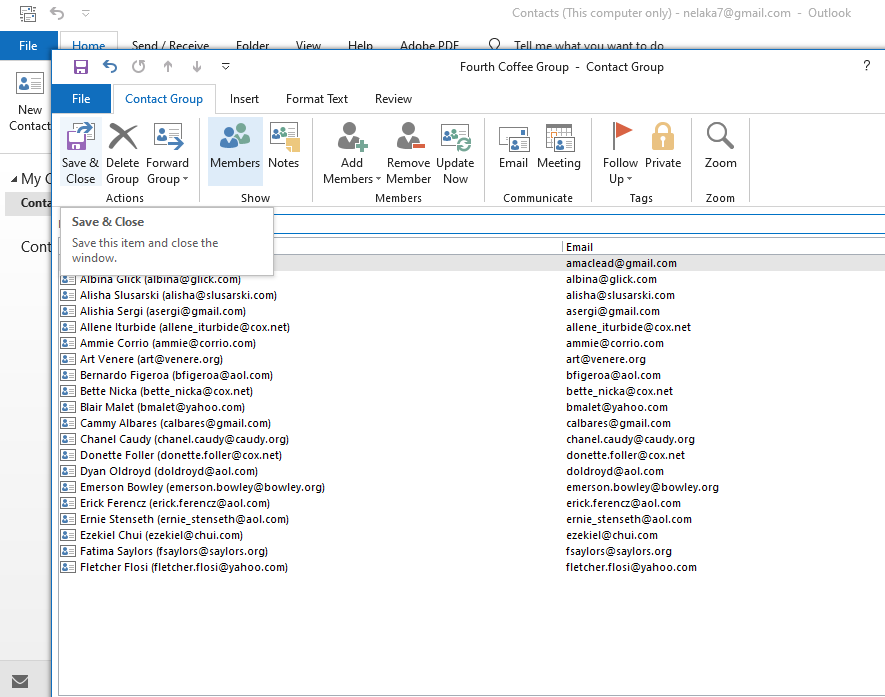 Setting up a list of contact emails in Outlook for Mac
Now that I've covered how to create an Outlook list of contact emails in Windows, let's look at the distribution list process for Mac.
Step 1
Open Outlook, go to the navigation bar and click on People.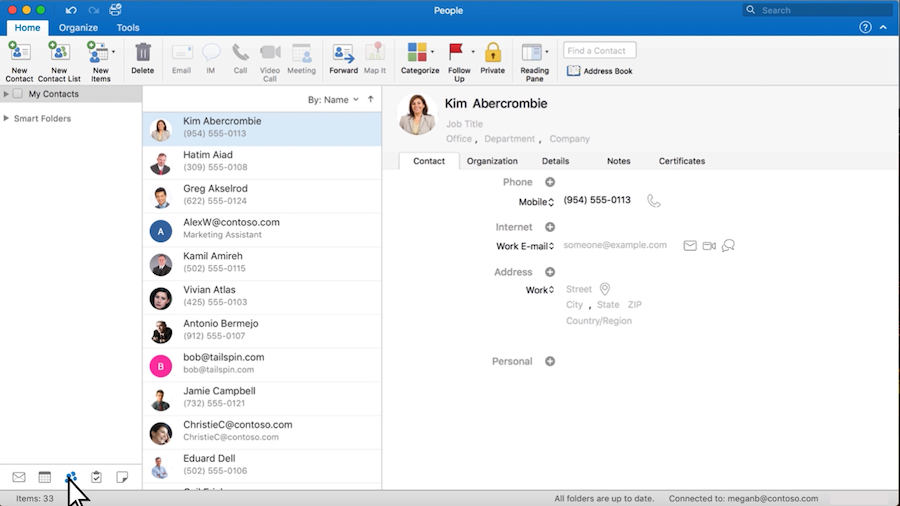 Image source: https://support.office.com/en-us/article/video-create-a-contact-list-on-a-mac-9373d973-a957-4220-96bd-0a6a85a8d332
Step 2
Then, select Home > New Contact List from the navigation bar to create a new group.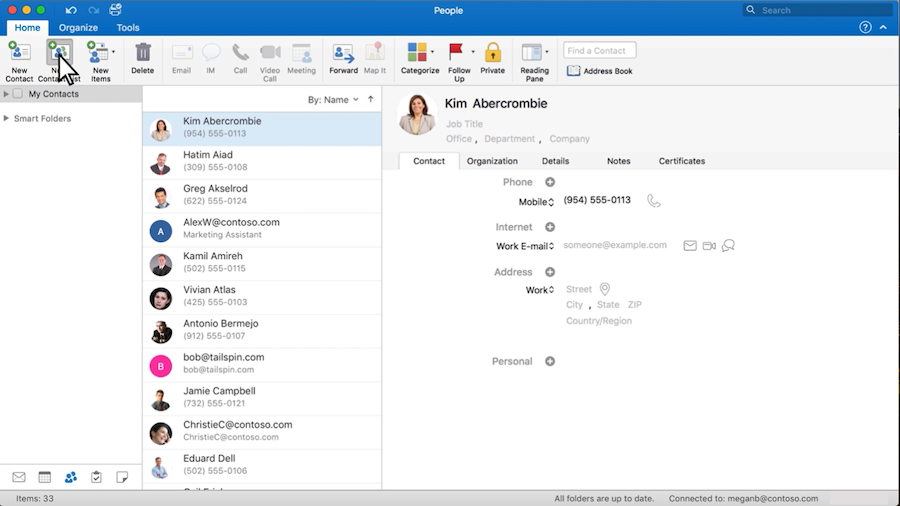 Step 3
Set a group name for your list of contact emails.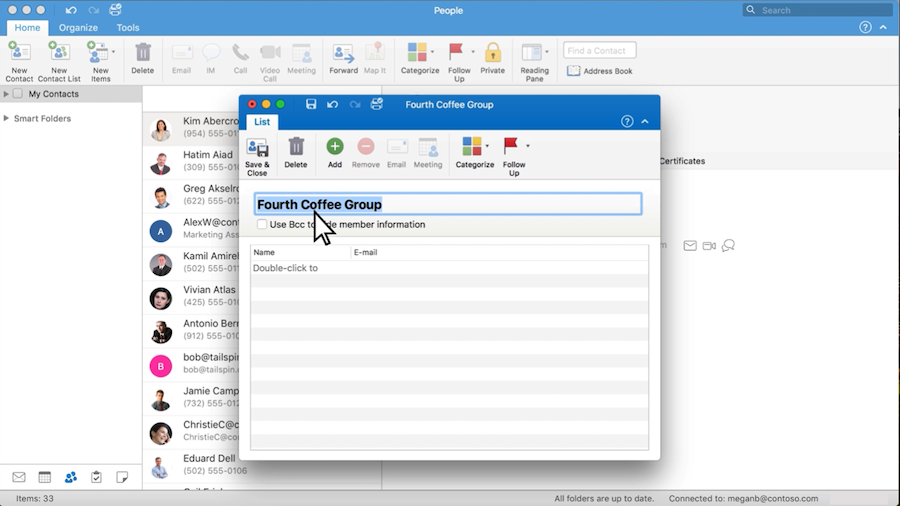 Step 4
To add a contact to the contact list, select Add just below the navigation bar and select members using their email address.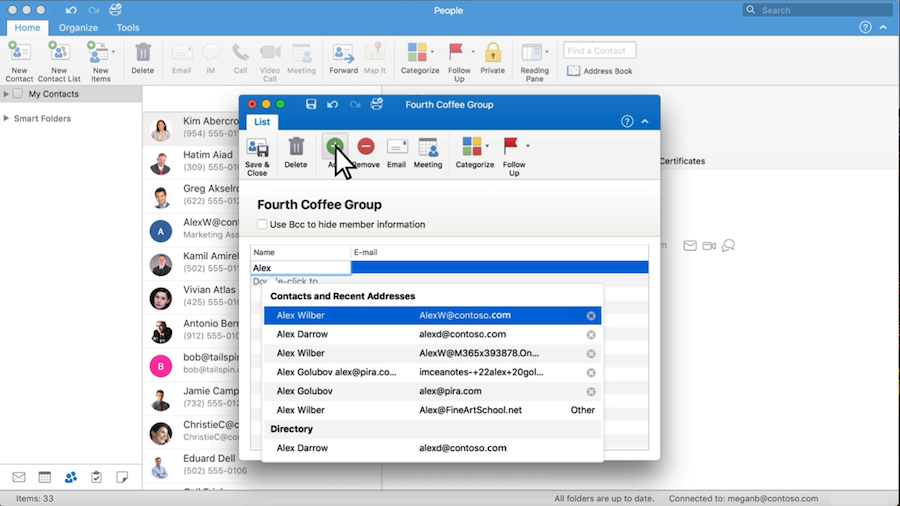 You can keep adding multiple people to your new group through the members box.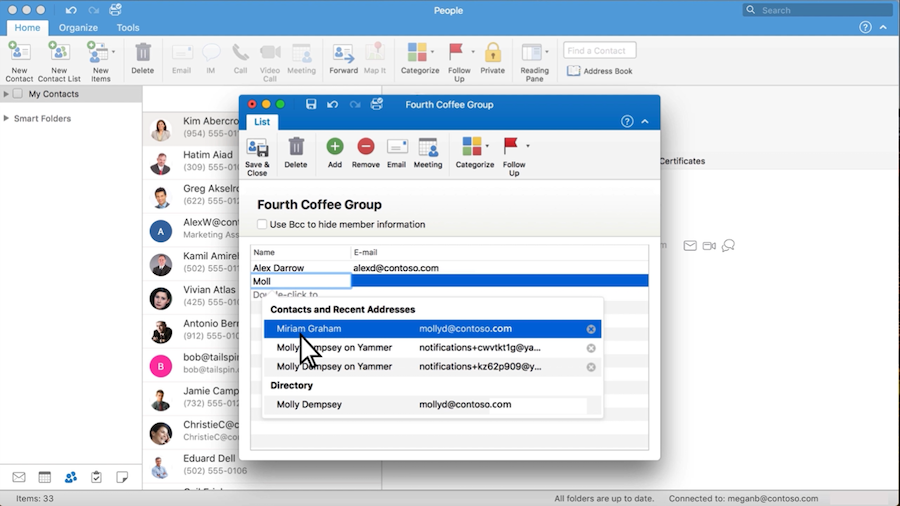 You can even add an existing list of contact emails to your new list.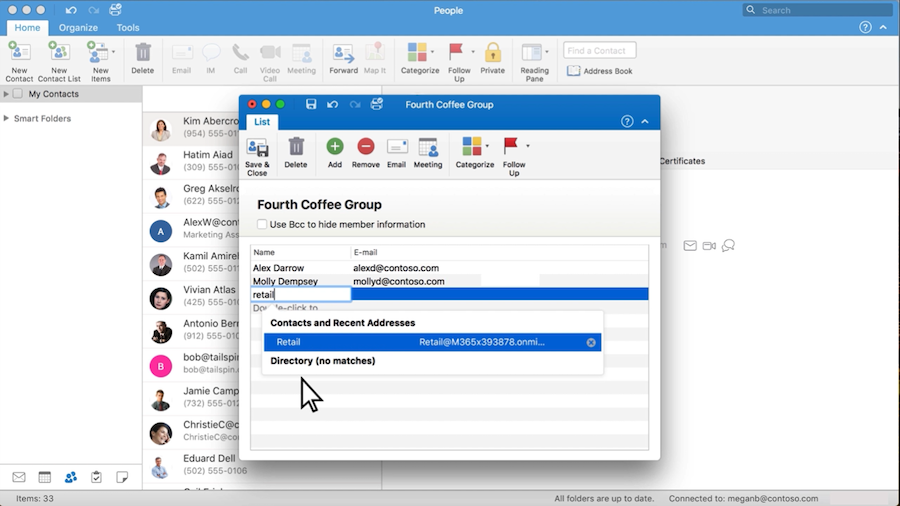 Step 5
When you select members and finish your contact list, click on Save & Close, and the members box will disappear.
After you click save, you can test your contact group by sending a new email to your list of contact emails.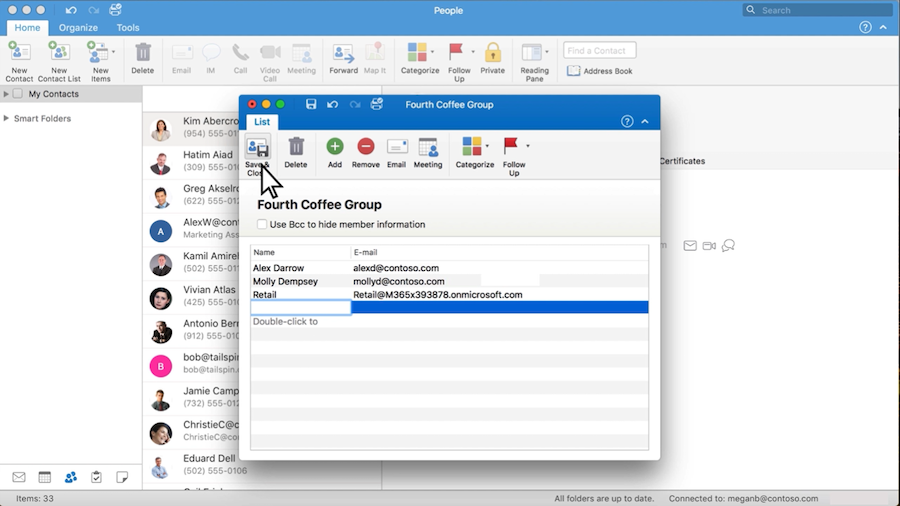 How to edit a contact list in Outlook
What if you want to add a new email contact or remove contacts from your Outlook email list? 
It's simple!
Just create a new email message in Outlook and type the name of the list in the 'To' field. Then, right-click on the list and select 'Edit Contact.'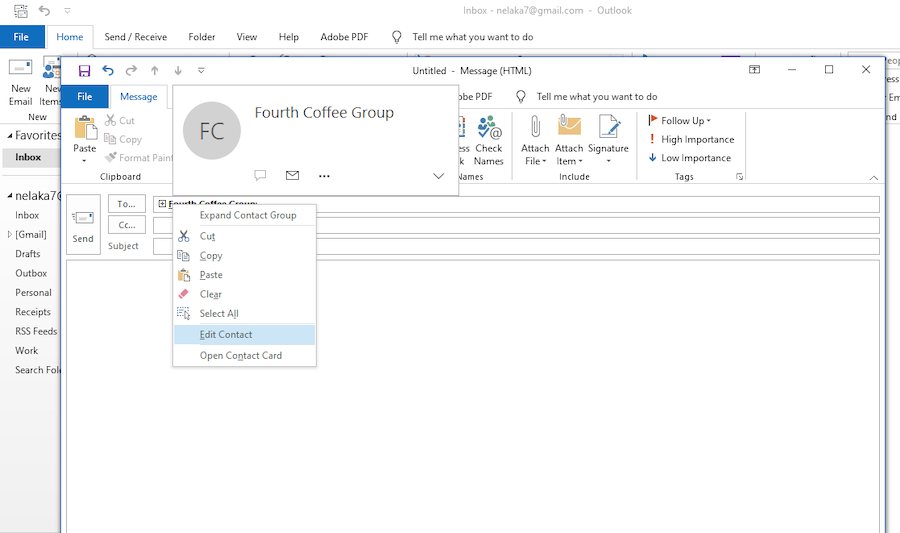 The contact group tab will then open, and you can add new members or remove members easily!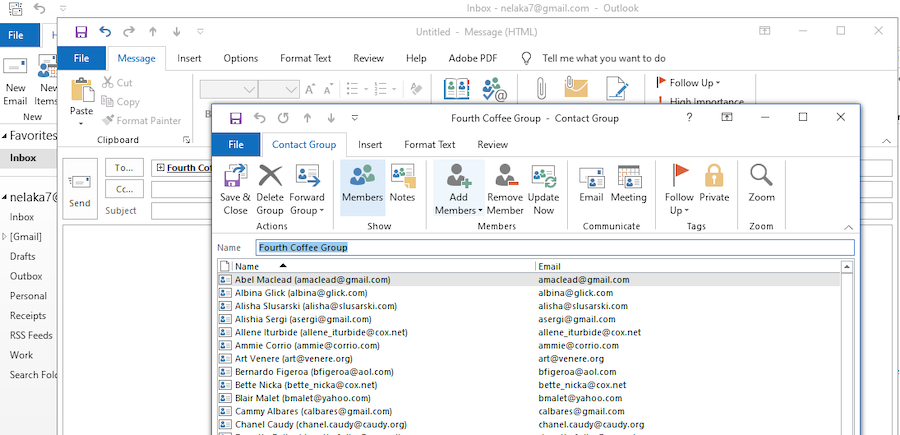 Note: This process remains largely unchanged irrespective of the platform you use with Outlook.
And that's it!
Now you know how to create and edit contact groups in Outlook.
But the real question is:
Is using Outlook the best option when it comes to creating email groups?
And here's why:
Why you should use Gmail to create contact groups instead
Sure, you can use Outlook to create a distribution list — but remember, it isn't the only option out there.
Here's a look at why Gmail is a much better option for email groups than Microsoft Outlook:
1. It's super easy to create Gmail groups
If you thought creating an Outlook contact group was easy, then you're going to be blown away by the user-friendliness of Gmail!
Unlike Outlook, with Gmail, you don't have to deal with a contacts folder and complicated contact group window.
Here's how easy it is to set up Gmail groups:
Step 1
Click on your profile picture on the Google homepage.
Once the dialog box appears, click on the Contacts icon to go to Google Contacts.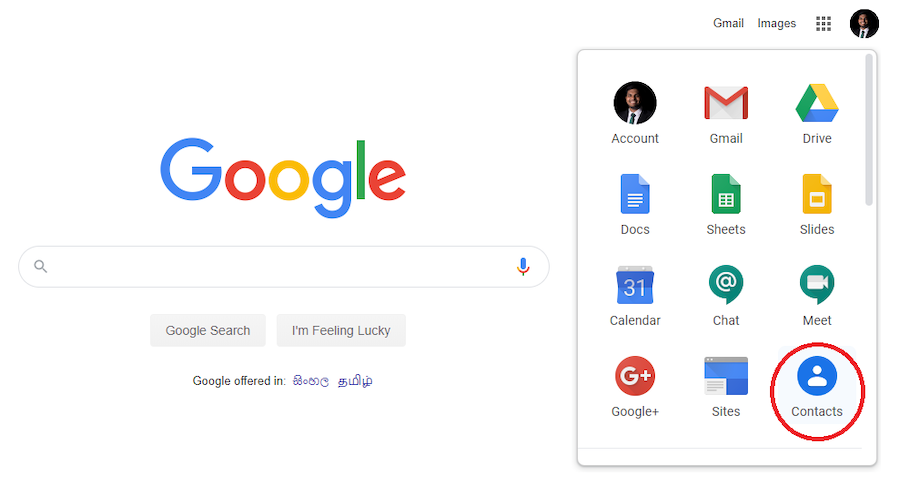 Step 2
Select the group member you want to add to your contact group.
Hover over the profile picture of the contact you want to select and click on the checkbox that appears. You can add multiple people this way.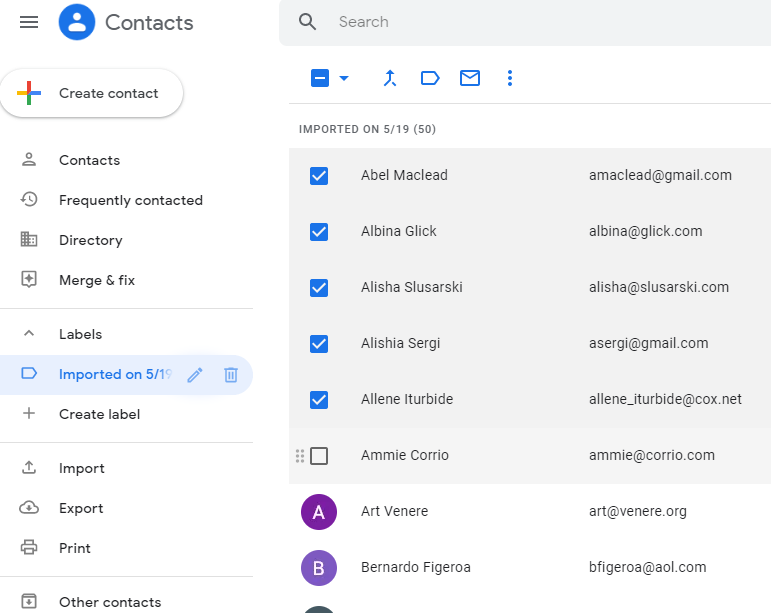 Step 3
Click on the Manage labels icon and click "Create label."
Note: If you click on the Create label button on the left pane, it only creates a new label without any contacts.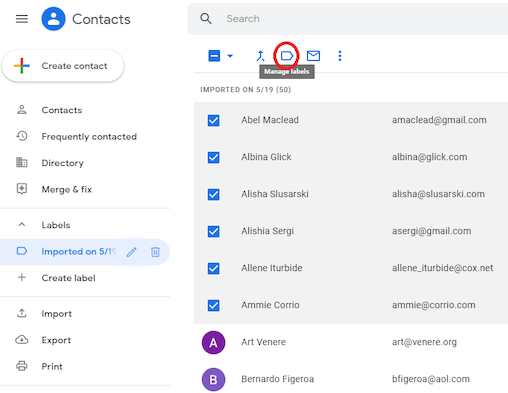 Step 4
Type a group name for your contact list and click OK.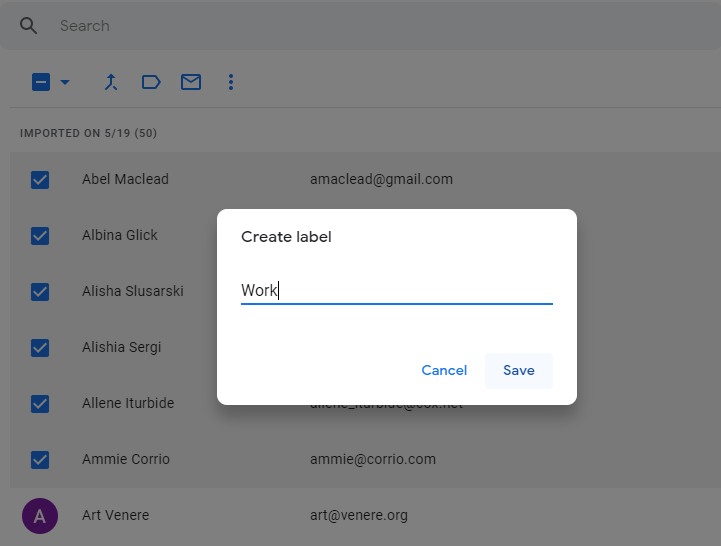 Step 5
Go to Gmail.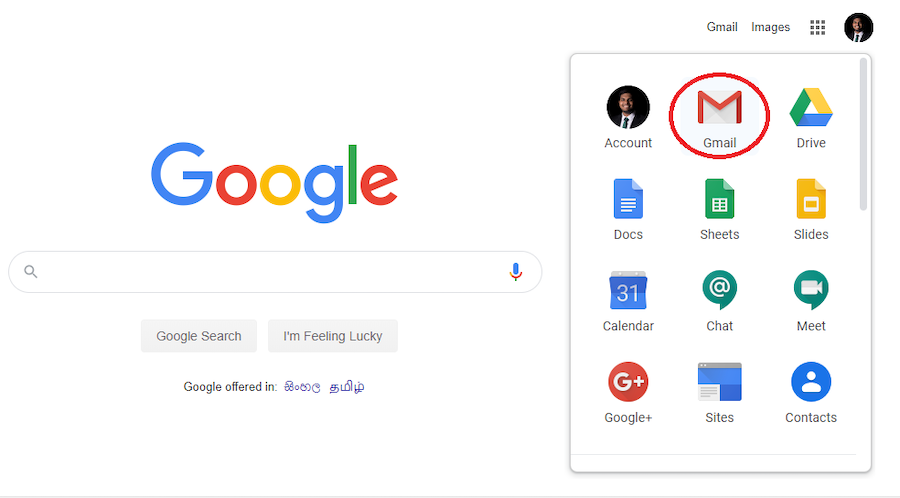 Step 6
To send an email message to your contact group, compose a new email and type the name of the label in the "To" field.
Then, the group will appear along with its multiple contacts.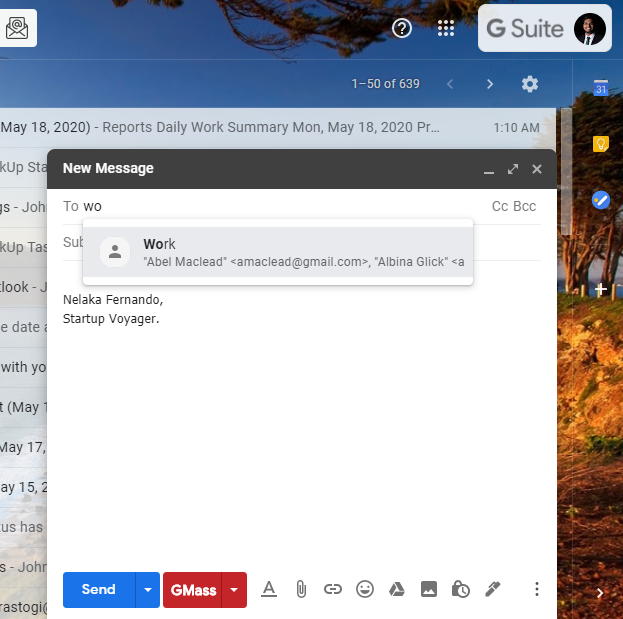 That's how easy it is to set up a contact group in Gmail!
No contacts folder or complicated contact group window.
Just one simple label and you're done!
2. You get more functionality and a cleaner interface with Gmail
Gmail is super-popular because of its simplicity and clean interface.
While Outlook also has a fairly simple interface, it's not nearly as streamlined as Gmail is.
Additionally, the Gmail app offers some tremendous AI-powered features, like smart compose, that you won't find in Microsoft Outlook.
3. Using Gmail gives you access to tons of extensions
Microsoft Outlook works best when you pair it with the other tools in the Microsoft Office 365 Suite.
What does this mean?
If you want more from Outlook, you're largely limited to what Office 365 offers you.
However, Gmail has tons of extensions on the Chrome web store that can boost your email productivity. One such app is GMass, and it's the perfect app for anyone looking to create email groups and send group emails from their Gmail account.
What is GMass?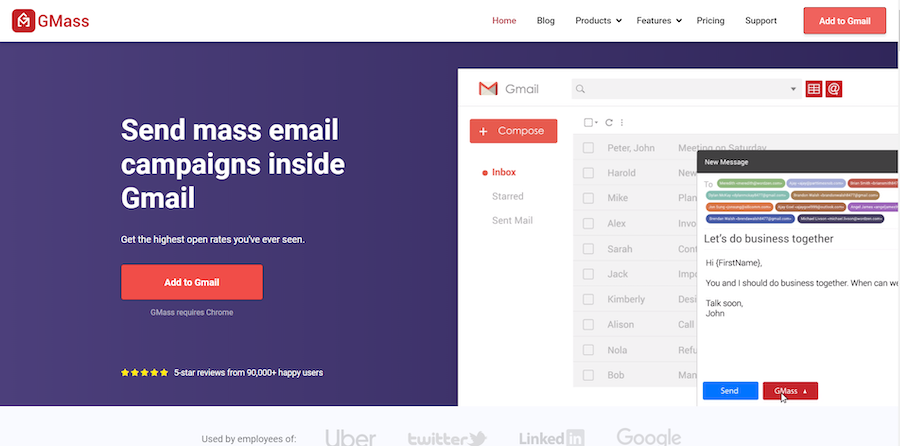 GMass is a popular email outreach tool that can help you quickly send out group emails. GMass is used by big tech companies like Google, Uber, Twitter, and LinkedIn for their marketing campaigns.
But GMass isn't just for big tech companies!
SMEs, solopreneurs, churches, and individuals can use GMass to send bulk emails to target audiences.
The best part?
GMass works right inside of Gmail. So you don't have to open separate tabs or learn to handle a different interface. GMass integrates seamlessly to help streamline your existing email workflows.
With GMass, you can:
Send email campaigns from Gmail.
Customize each email in an email campaign.
Track recipients' interactions with emails.
Schedule email campaigns and follow-ups.
Set up custom tracking domains easily.
That's not all.
Anyone can start using GMass. Just download the Chrome extension, and you're all ready to get started!
4 Handy GMass features:
Here are several reasons why Gmail and GMass go hand-in-hand to make a better email client than Outlook:
You can use GMass to build an email list quite easily.
Here's how:
Step 1
Login to your Gmail account and run a search.
For example – If you want to create a book club group, run a search on Gmail for "book club," and all the emails having that term will pop-up.
Step 2
Click on the Build Email List button (the red magnifying glass)

Step 3
Once you run the search, a Gmail compose window will appear with the relevant email addresses from those email search results.
Step 4
Just type your message and hit send!
That's all you have to do!
How is this method easier?
All you have to do is type in the relevant keyword and conduct a search. You don't need to search for or enter any email addresses manually!
Plus, when you use GMass, you can even use Google Sheets to add contact details to a contacts list in seconds!
For high email engagement rates, you need to customize your outgoing emails. If your recipients suspect that your message is just a generic mass email, they'll likely ignore that email.
Fortunately, GMass can automatically personalize your emails.
GMass offers customization options like personalized text, automatic first-name entry, and customized images.
Your emails need to reach recipients just when they're about to check their inbox.
Luckily, GMass can help you schedule your emails quickly. Just type it, schedule it, and let GMass take care of the rest.
Recipients may not respond to your initial email for a variety of reasons. In those cases, sending out follow-up emails is key to getting their attention.
GMass can help you automate follow-ups by letting you choose when to send them, what to include in them, the gap between follow-ups, and how many follow-up emails to send.
GMass Pricing
Are you worried that GMass will cost a fortune?
Don't be!
GMass is more affordable than most email outreach tools out there:
Free plan: includes all features + provides free email tracking for up to 50 emails per day.
Individual plans:

Minimal: $8.95/month – supports all functions except auto-follow up emails + provides unlimited email tracking.
Standard: $12.95/month –  removes the GMass footer from emails and provides all "Minimal" features.
Premium: $19.95/month – supports all "Standard" functions + automatic follow up emails.

Team plan:

Premium: starts at $89/month for small teams of five members – supports all perks and features.
Conclusion
While you can easily set up a contact group in Outlook, it isn't the best solution out there.
Why keep using Outlook when you can pair GMass and Gmail for the best email experience possible?
It's a simple combination that's affordable, easy to use, and more functional than other email options. So why not give GMass a try today and instantly streamline your existing email workflow?