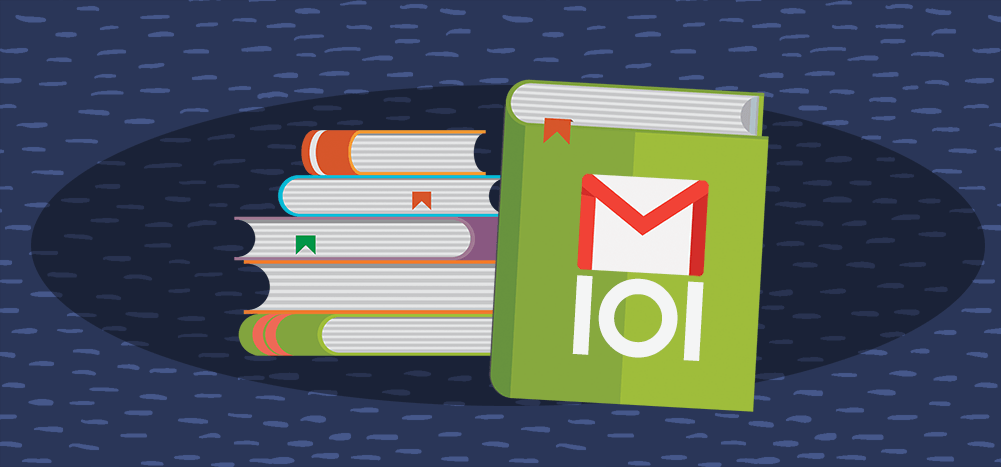 Want to learn how to use Gmail?
Gmail is a free email service that lets you send and receive emails, maintain an address book, and even organize meetings. It's a simple email platform that works on your desktop, Android, and iOS devices like an iPad or iPhone.
In this in-depth guide, I'll cover what Gmail is and how to use its popular features. I'll also highlight the perfect tool that helps you make the most of Gmail.
This Gmail Guide Contains:
(Click on a link to jump to the specific section)
Let's get started.
How To Use Gmail?
In this Gmail tutorial, I'll show you:
1. How to sign up for Gmail
To use Gmail, you need to open a Gmail account first.
If you already have a YouTube, Google Meet or Google Drive account, you don't need to create a new GMail account. Just use your existing credentials to log in to Gmail.
To create a new Gmail account, follow these steps:
1. Go to gmail.com and hit the Create an account button.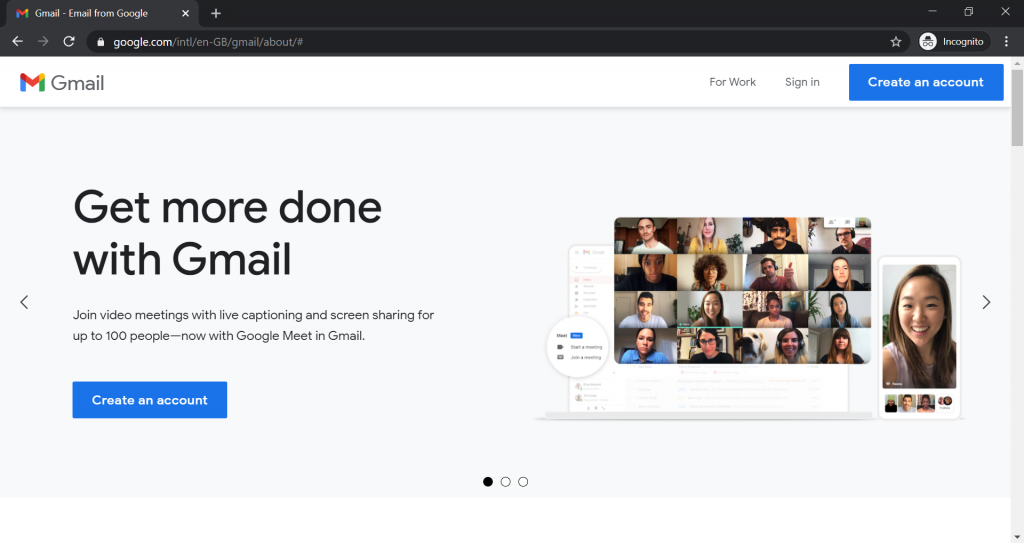 2. When the sign-up form appears, enter your First name, Last name, User name, and Password.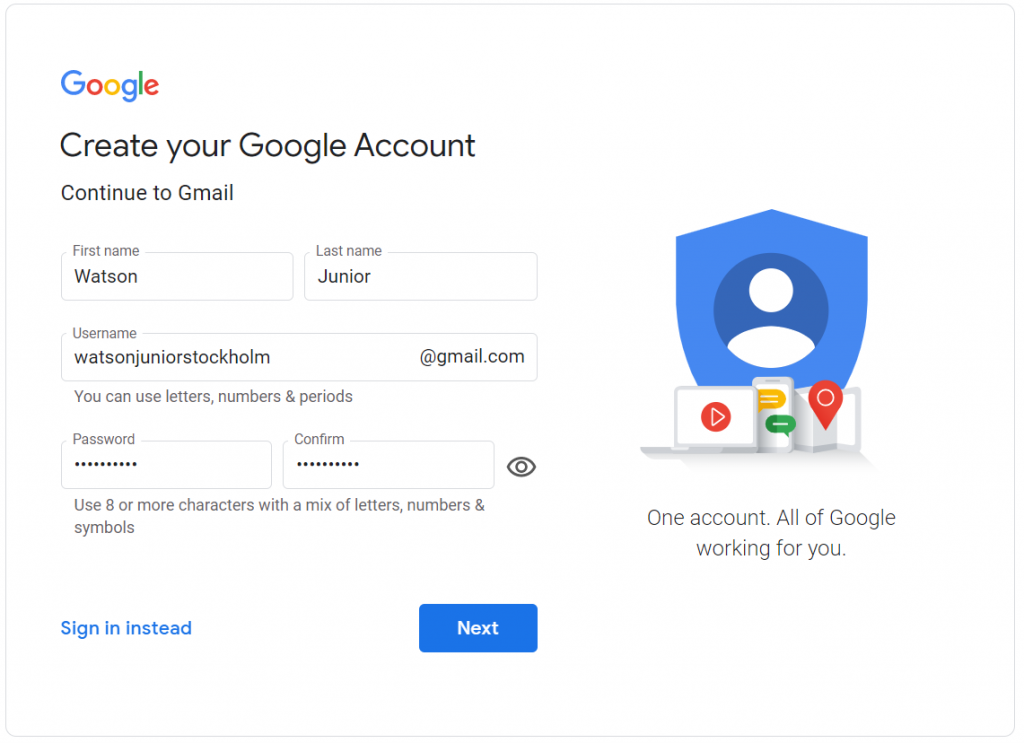 3. Add Recovery phone or Recovery email details for added security (optional).
4. Review and accept Google's Terms of Service and Privacy Policy.
5. Click Done, and you'll see a Google Welcome Page saying that a new Google account has been created.
Note: Your Google Apps account (now called Google Workspace) will also have the same credentials as your newly created email account.
2. How to sign in to Gmail
Here's how to sign-in using your Gmail address:
1. Open Gmail and click on the Sign in button.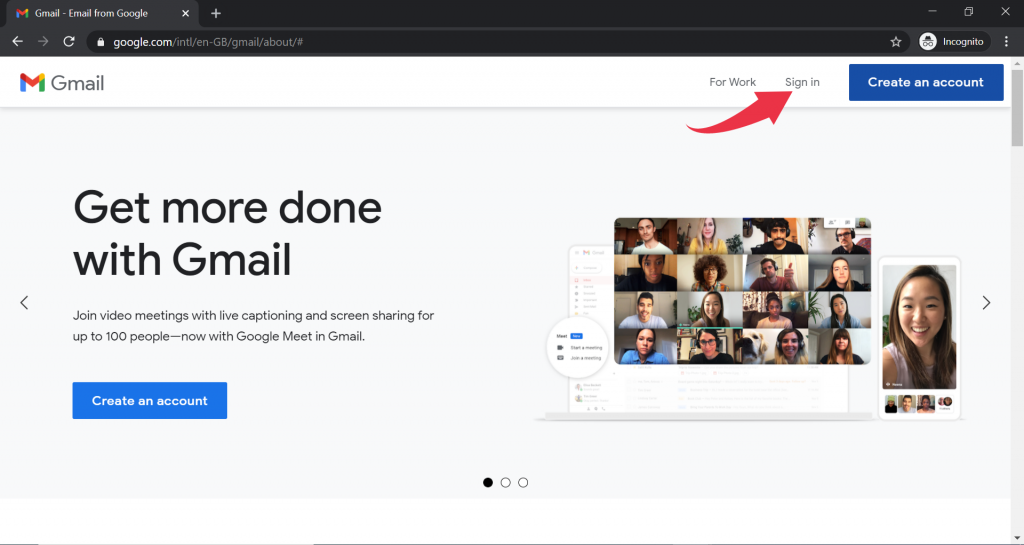 2. Enter your email ID or phone number and click Next.
3. Type in your password and hit Next to open your inbox.
3. How to compose and send emails in Gmail
Here's how to compose and send emails in Gmail:
1. Log in to Gmail from your desktop and click on the Compose button on your left.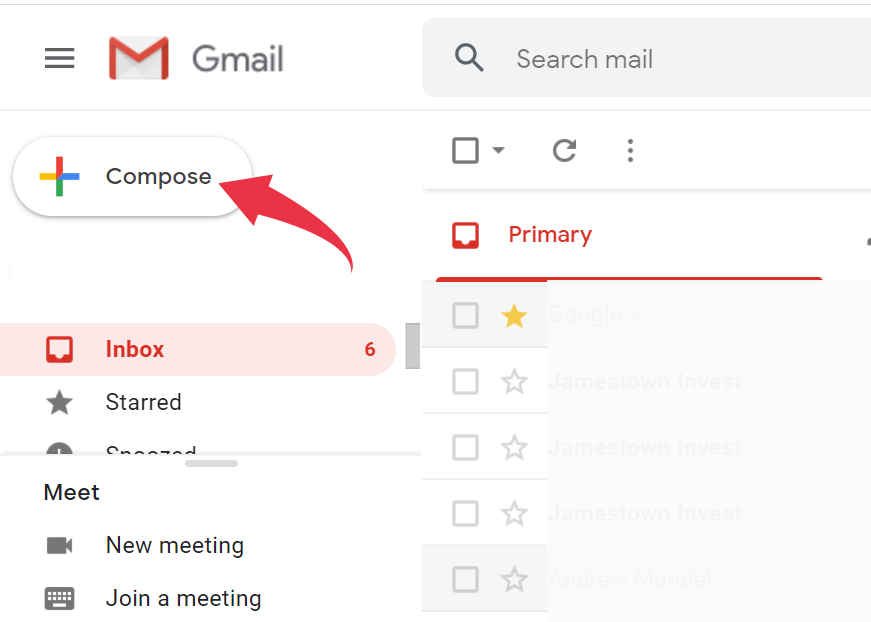 2. In the New Message window, enter the recipient email IDs in the To field and add your message subject in the Subject field (in the image below, "Sample" is the subject).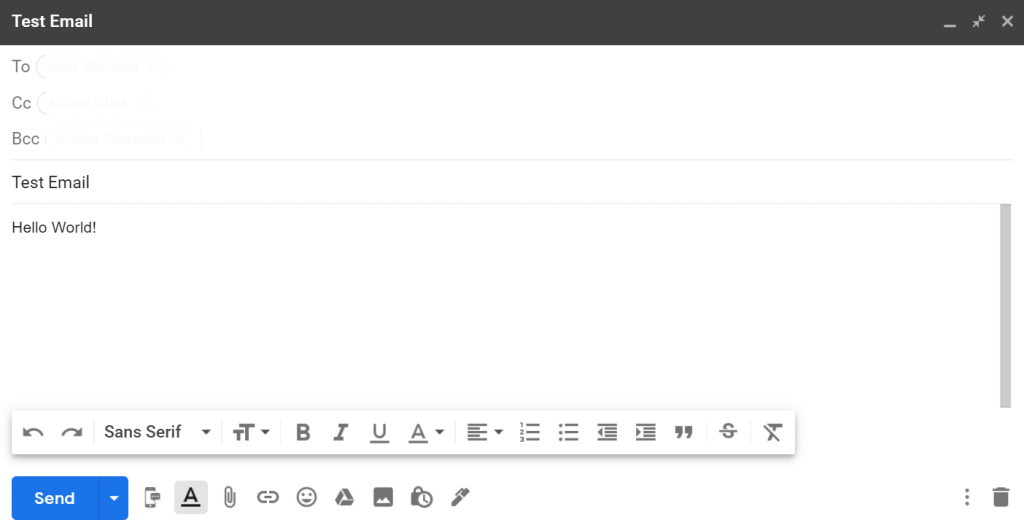 3. Add CC (Carbon Copy) or BCC (Blind Carbon Copy) recipients if you wish to send mail copies to anyone.
4. Enter your message and hit Send when done.
Wait… what are the CC and BCC fields?
The CC field lets you send copies of an email to multiple participants.
All recipients in the To address field can see the CC'd recipients.
While BCC also lets you send emails to multiple recipients, the recipients in the To field will not be able to see BCC recipients.
However, all your BCC recipients can see that they were added as BCC. This can create suspicion regarding who the other recipients are — making it an inappropriate tool for sending emails in a formal context.
For more info, read my article on the best way to send an email to multiple participants.
Besides adding multiple recipients to emails, Gmail also lets you:
Include files by clicking the Attach files button.
Add links to other websites by clicking on the Insert link.
Insert emojis, photos, etc.
Recall an email with the Undo Send feature.
Format the text size, orientation, font, and more.
Ajay's Gmail Tips
Starting and ending your emails properly is incredibly important.
Read my detailed guides on how to start and end an email the best way.
4. How to respond to emails in Gmail
When you receive new emails in the Gmail inbox, you can see the senders' names and the subject highlighted in bold.
But how do you respond to these emails?
Just follow these simple steps:
1. Log in to Gmail and open an email message.
2. Click on the Reply arrow towards the top right corner, and a new menu will pop up.
In the drop-down, choose to Reply or Forward the email according to your needs.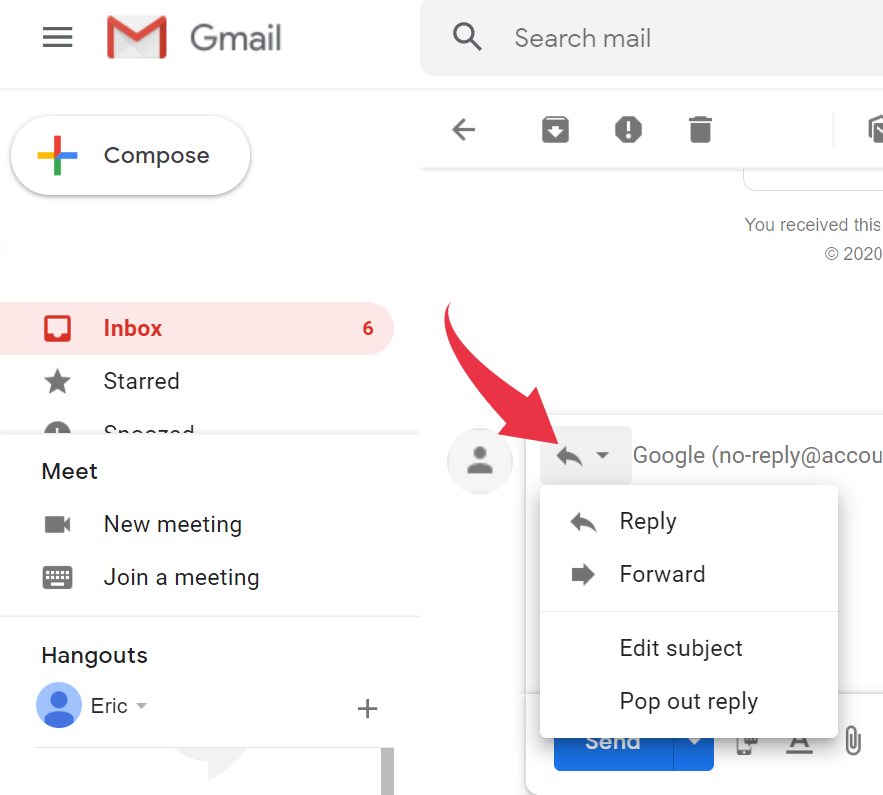 3. Type in your message into the preview pane and hit Send when done.
5. How to organize your Gmail inbox
You probably use your mail account to sign-up for product notifications, subscribe to blogs, opt-in for newsletters, and more.
But when you're part of multiple subscribers' lists, you'll receive a lot of emails in your Gmail account — flooding your inbox with incoming emails.
By using Gmail's organization features, you can reduce the amount of time it takes to skim through emails and organize things.
Here's a quick look at these features:
A. Labels
Labels in Gmail help you categorize emails into different groups based on specific tags (labels).
Unlike Outlook, Gmail lets you add multiple labels to a single email.
This way, an email can be categorized in more than one group simultaneously.
a. How to create and apply a Gmail label
1. Log in to Gmail and click on Settings (gear icon) near the top right corner and select See all settings.
2. Switch to the Labels tab, scroll down to the Labels section and click on Create new label.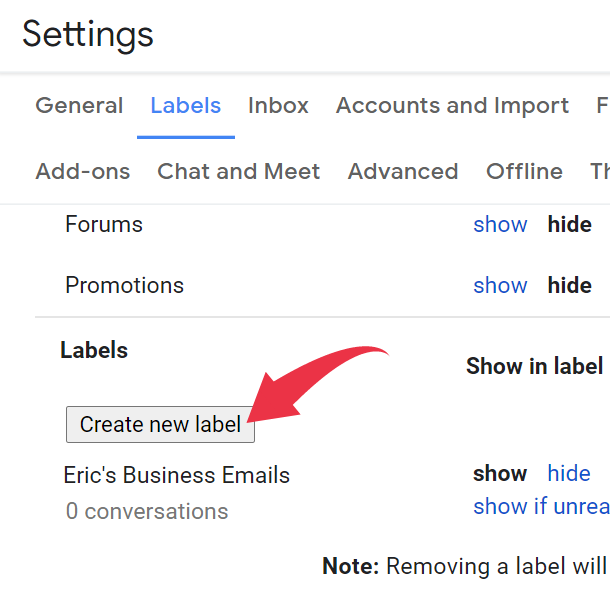 3. Enter a name for your Gmail label and hit Create.
b. How to add labels to emails
1. Open an email in your Gmail inbox.
2. Click on the Labels icon and check off one or multiple labels you'd like to apply.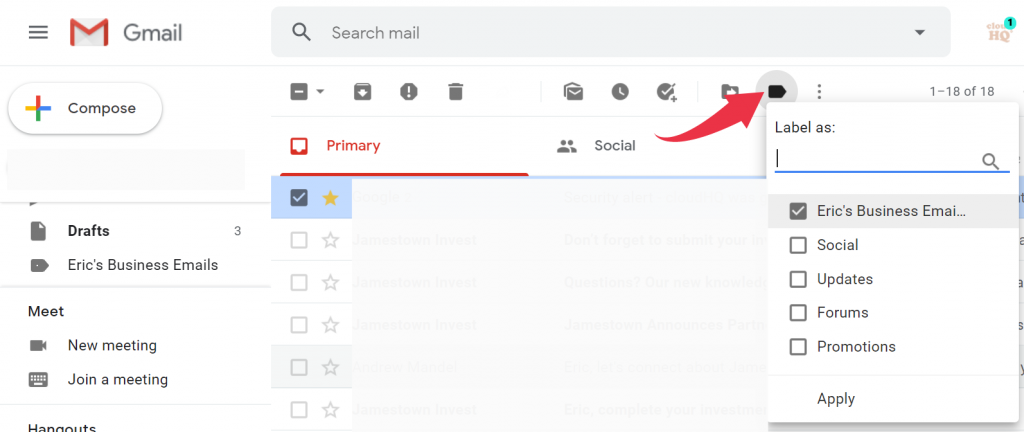 Once labeling is done, you can quickly find labeled emails by clicking on a particular label name from Gmail's left side menu.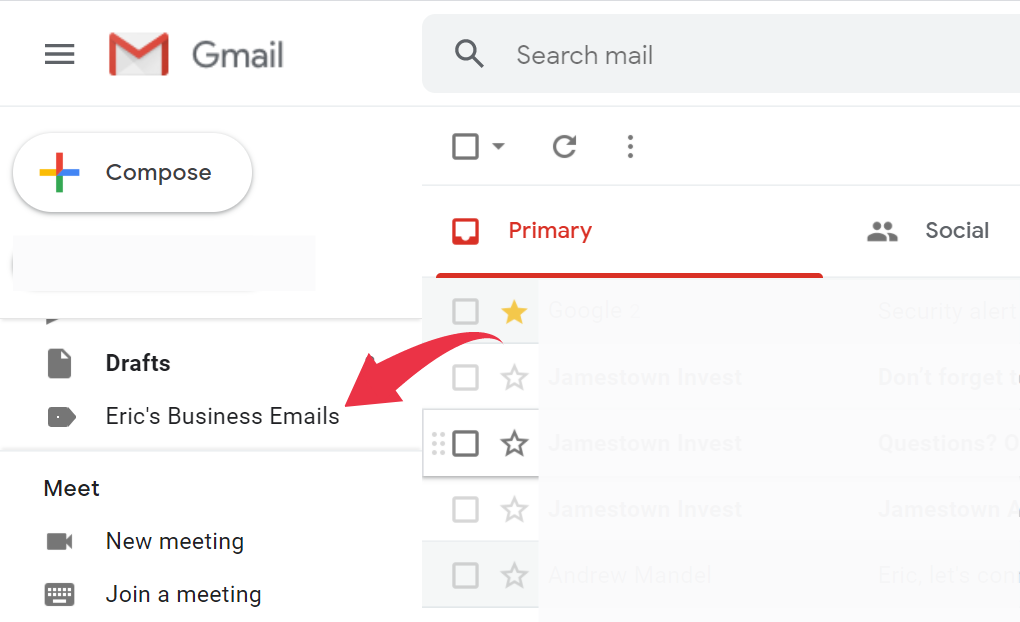 B. Starred
Gmail allows you to star important emails for easy organization.
Click on the Star button next to an email to do this. Once starred, you can access these important messages directly from the Starred folder from the left side menu.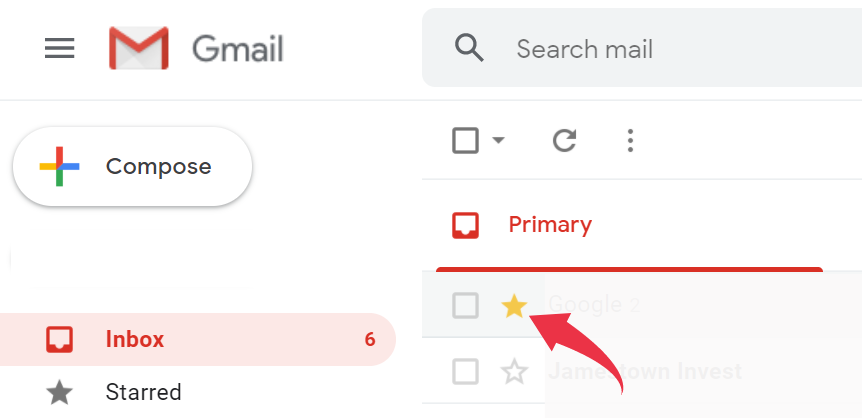 C. Gmail Filters
Custom Gmail filters can be created to manage incoming mail automatically.
Here's how to create a custom filter:
1. Open Gmail and click the down arrow in the search bar at the top.

2. Enter your search criteria (From, To, Has the words, Size, Date, etc.) and hit the Create Filter button.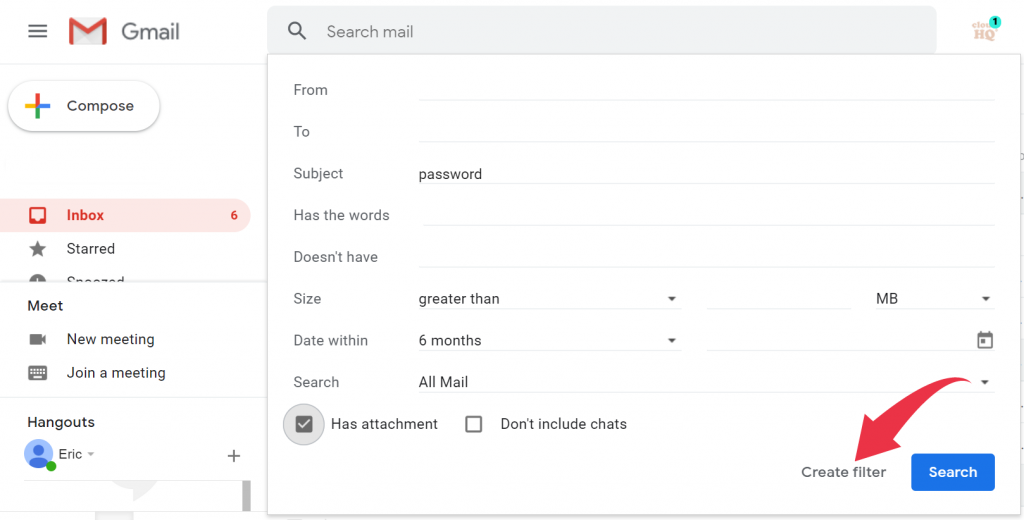 3. Choose what action needs to be performed when a message is an exact match. Some example actions include Mark as read, Never send it to spam, Categorize as, and so on.
Once a filter's created, you won't have to sort and manage emails manually — the filter will automatically do it for you.
D. Archive or delete
Do you only want important emails lying in your inbox?
Use Gmail's archive and delete features to organize your emails.
a. How to archive emails in Gmail
1. Open Gmail and select the unimportant emails by selecting the checkboxes next to the star icon.
2. Click the Archive button on the top to archive the selected emails.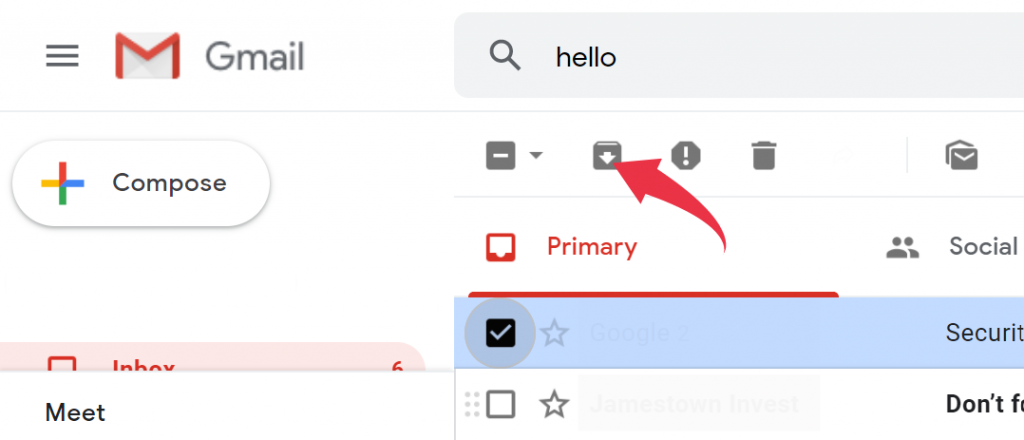 b. How to delete emails in Gmail
1. Open Gmail and select the emails using the checkboxes.
2. Hit the Delete button on the top to delete those emails.
What's the difference between archiving an email and deleting it? 
Archiving lets you clean up your inbox by moving selected emails out of your inbox into the All Mail folder (which you can always access from the left sidebar).
However, deleted emails are moved to the Trash folder (located under the spam folder) and get permanently deleted after 30 days.
6. How to search for emails in Gmail
Don't want to scroll through multiple emails to find what you're looking for?
Just use Gmail's Search feature!
Here's how to search for specific emails:
1. Open Gmail and type in the search term into the Search bar.

2. Gmail will now display a list of emails related to the keywords you entered.
To refine your search, you can use another Gmail feature — search operators, in the Search bar.
Here are some examples of common search operators:
from: ajay – displays sent messages from Ajay.
to: peter – shows email messages that were sent to Peter.
subject: marketing – view emails that include the word marketing in the subject line.
after: 2020/03/20 – displays emails sent after a specific date, here, 20th March 2020.
You can also narrow down your search by clicking on the down arrow next to the Search bar. Just add details like From, To, Subject, Has the words, Doesn't have, etc., and hit Search.
7. How to add signatures in Gmail
Gmail makes it easy to configure inbox settings and add signatures to your emails.
A. How to create and insert a signature in Gmail
1. Open Gmail and select See all settings.
2. In the General tab, scroll down to the Signature section.
3. Click Create new, type in a Signature name, and hit Create.
Note: This isn't the actual signature; it's simply a name you give to this particular signature template.

4. Add your signature text (your actual signature) to the textbox on the right. Use text colors, links, and images to customize it.
5. Scroll down to the bottom and click on Save changes.
After you've created a signature, click on the Insert Signature button (while composing an email) to add your email signature.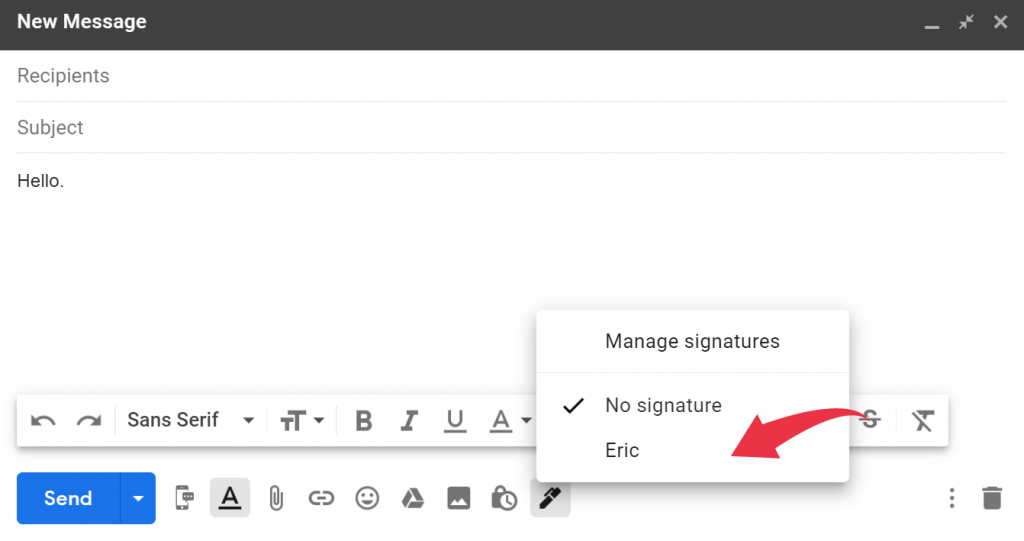 B. How to edit a signature in Gmail
1. Open Gmail and select See all settings.
2. In the General tab, scroll down till you see the Signature section.
3. Click on the signature you wish to edit, make any necessary changes, and click on Save changes.
8. How to organize meetings in Gmail
Gmail lets you easily set up meetings with people through Google Meet.
A. How to enable Google Meet in Gmail
1. Open Gmail and go to See all settings and click on the tab Chat and Meet.
2. Select Show the Meet section in the main menu and hit Save Changes.
You can now use Gmail for video calling.
B. How to organize a video call in Gmail
1. Log in to Gmail and click on New Meeting in the Main Menu (or left sidebar).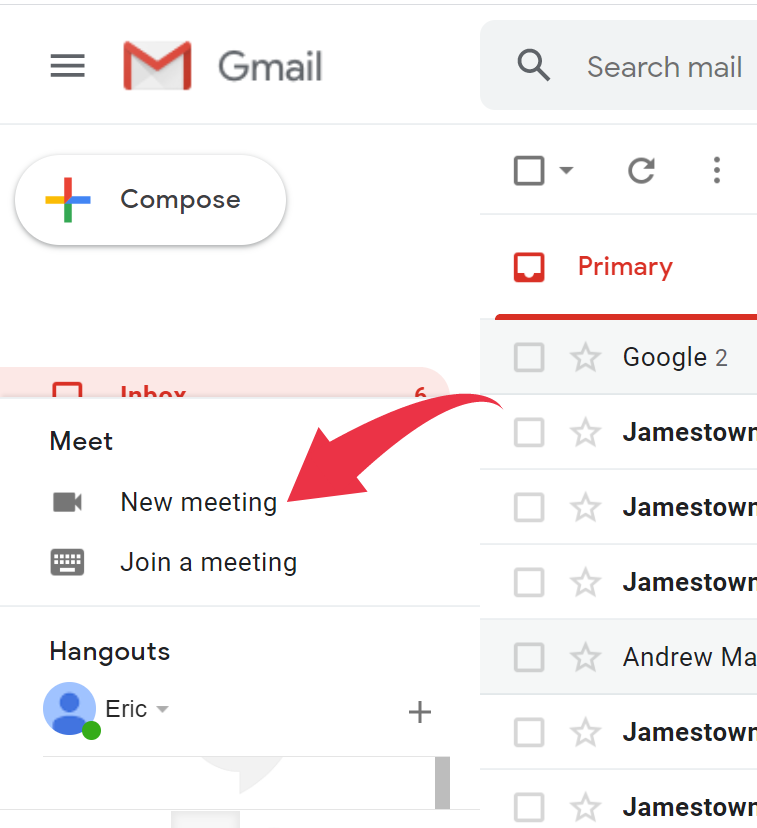 2. From the new window that appears, you can copy the meeting link or send mail invites to other attendees.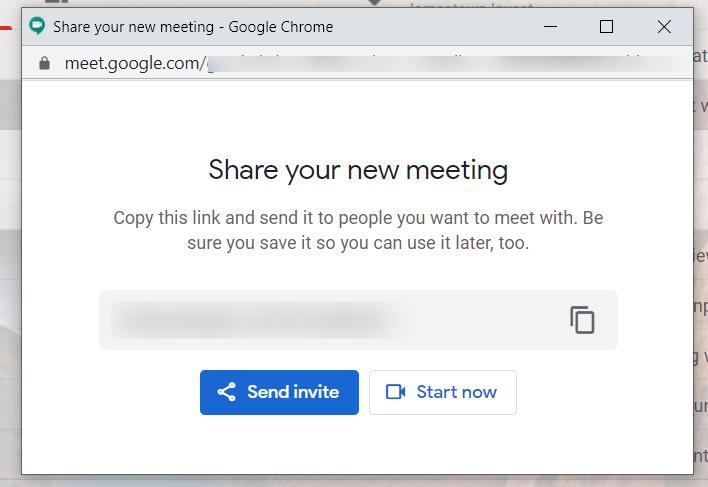 3. Hit Start now to start the meeting.
In the meeting window, you can:
Turn on/off the camera and microphone according to your convenience.
Find the meeting code and other details under "Meeting details".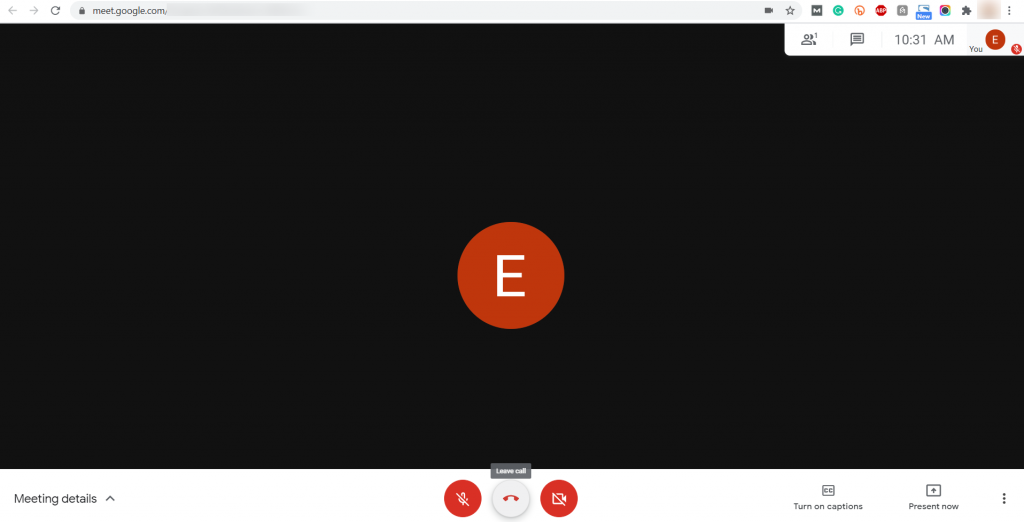 4. Hit Leave call to leave the meeting when it's done.
C. How to join a meeting in Gmail
1. Open Gmail and click on Join a meeting in the Main Menu.
2. Type in the meeting code provided by the organizer.
3. Adjust your preferences by turning your camera and microphone on/off and click Join to join the call.
4. When the meeting's done, hit End call (or Leave call).
9. How to send instant messages in Gmail
If you prefer collaborating with your team within the comfort of your Gmail inbox, add Google Chat to your inbox and send instant messages.
A. How to enable Chat in Gmail
1. Open Gmail and go to See all settings and click on the tab Chat and Meet.
2. Select Hangouts On and hit Save Changes.
You can now use Gmail for instant messaging.
B. How to use Chat in Gmail
1. Click on the + icon below Hangouts in the Main Menu.
2. Select a contact to chat with.
3. If the contact isn't displayed there, enter their email ID and click on Invite.
Once they join in, you can start messaging them.
For more info on how to use Gmail, check out my step-by-step guides on:
How Do I Use Gmail On My Phone?
Here's how you can use Gmail on your Android and iPhone devices:
A. For an Android device
1. Go to the Play Store and install the Gmail app.
2. Log in using your mail account credentials, including the app password.
3. Go to the Main Menu (hamburger icon) on the top left, and you can access:
Inbox: Primary, Social, Promotions
All Labels: Starred, Snoozed, Important, Sent, Scheduled, etc.
Google App: Google Calendar, Gmail Contacts, etc.
Settings: Inbox Categories, Manage labels, Mobile Signature, etc.
4. Tap the + icon on the bottom right to compose and send emails. (In some Gmail versions, you might see a pencil icon or Compose button instead of the + icon.)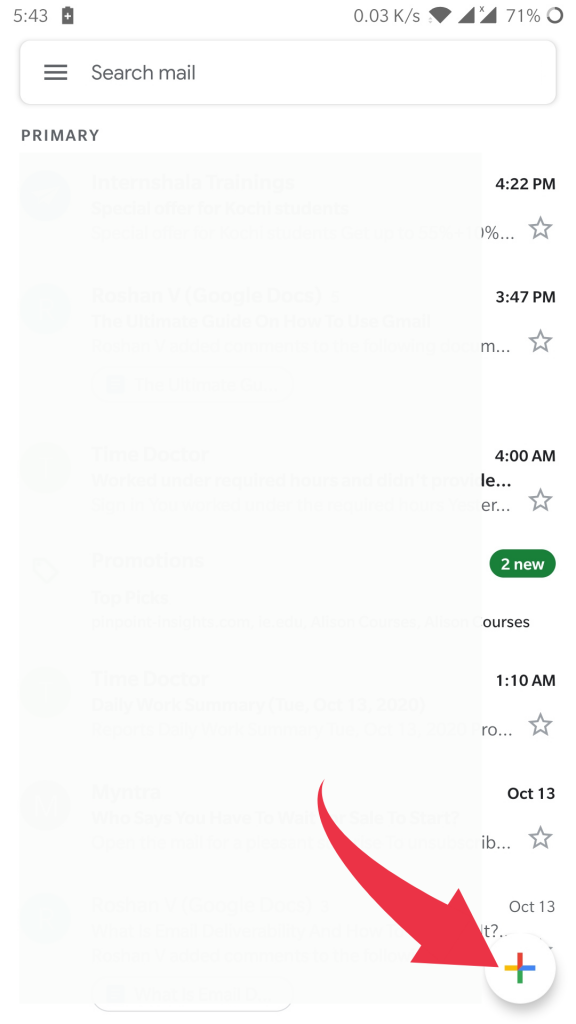 5. Use the Search bar to find the emails you want
6. Toggle between multiple accounts by tapping on the profile picture at the search box's right edge.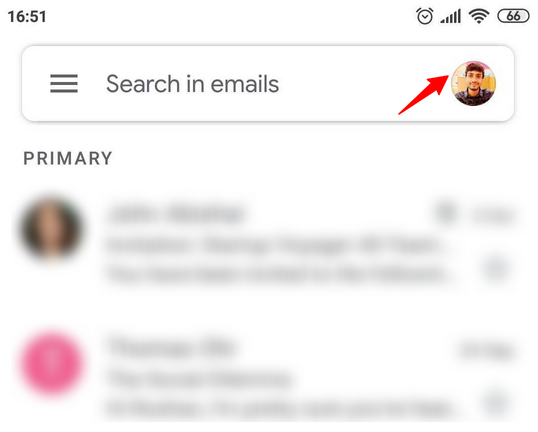 B. For an iPhone
The Gmail interface is a little different on the iPhone as compared to the Android device. However, the basic functionalities remain the same once you've installed the Gmail app from the App Store.
How To Add More Functionality To Gmail: With GMass
Gmail is a great email service that also happens to be completely free.
However, there'll be situations when Gmail isn't enough for your needs.
For example, let's say you want to send a webinar invitation to a large audience of people.
A mail server like Gmail restricts the number of emails you send to 500 emails/day. If you're using a G Suite account, you can only send up to 2000 emails in a day.
So what do you do?
Just use an email marketing tool like GMass to bypass these sending limits and enhance Gmail's functionality with ease.
Wait, what is GMass?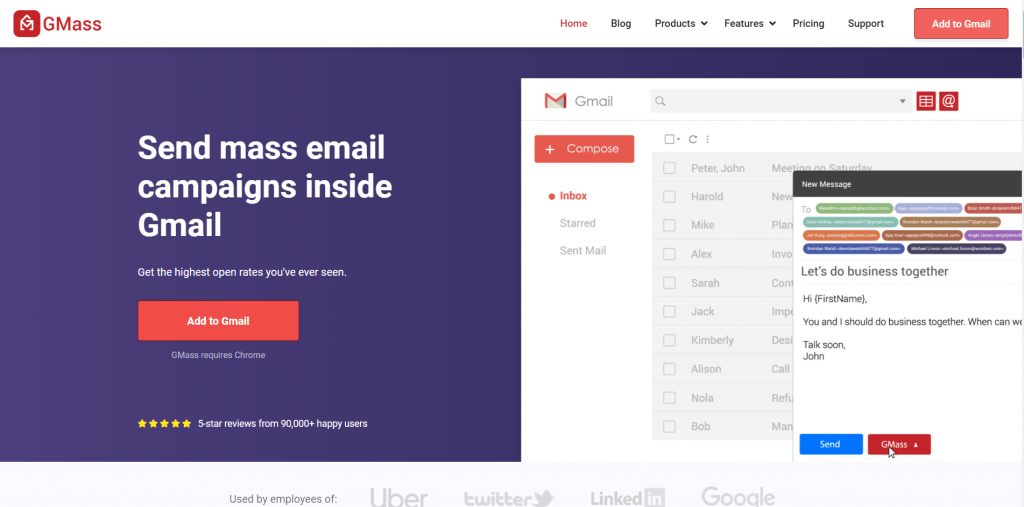 GMass is an email outreach tool that works within Gmail. Its ease of use and powerful mail merge features make it a popular tool used by employees in large organizations, like Uber and Google, and social media platforms, like Twitter and LinkedIn.
It's also perfect for small businesses, churches, solopreneurs, and any Gmail user to send emails to an audience.
To get started with GMass, download the Chrome extension, and sign up using your Gmail account or G Suite account. It's that simple!
How does GMass work with Gmail?
With GMass, you can:
Here's a closer look at how GMass elevates your Gmail experience:
A. Works right inside Gmail
GMass enhances your Gmail account by allowing you to personalize emails, embed images and links, and send bulk emails directly within Gmail. Desktop users can use the GMass Chrome extension while Android users can use the GMass add-on for the mobile app.
B. Email list builder
GMass can build convenient email lists based on any search criteria in your Gmail account. You can even create email lists directly from Google Sheets.
To know more, read my article on how to build an email list from your Gmail account.
C. Templates
Every message you send is stored as a template within GMass, which can then be re-used as the base for your next set of emails.
D. Advanced Personalization
GMass lets you automatically personalize your emails for each recipient with its powerful personalization settings. Add custom images, attachments, links, and more in just a few clicks!
E. Easy Scheduling
GMass lets you schedule emails in advance to ensure your recipients always get your emails at the right time. Compose the message, set the date and time, and GMass will automatically send the email when the time arrives.
Still want more reasons to get GMass?
Read more on why GMass is the best Gmail add-on here. 
Conclusion
Gmail is a great tool to send and receive emails, organize inboxes, add signatures, perform searches, and carry out chats and meetings.
However, even with its arsenal of features, Gmail falls short when it comes to sending bulk emails, personalizing emails, or generating insights into how recipients engage with your emails.
For that, you need GMass — the best Gmail outreach tool available today.
It lets you:
Auto-personalize and send bulk campaigns.
Dive into relevant email performance metrics.
Create automated follow-up workflows… the list is endless.
Sign up for Gmail today and link your account to GMass to boost your email productivity immediately!