If you're a G Suite or Gmail user using GMass for your email marketing campaigns, you may notice that the domain gmreg.net or gmapp.net is used in your emails' open tracking, click tracking, and unsubscribe link elements. For example, if you hover over a tracked link before clicking it, and notice the URL that it points to, you'll notice that it points to gmapp.net, and then this redirects to the actual destination URL.
Now you can swap out the default tracking domain for your organization's own domain. If your domain is mycompany.com, for example, you can set up email.mycompany.com, or x.mycompany.com or news.mycompany.com and use that branded tracking domain with GMass. There is some technical setup required to make this happen though. Specifically you have to add a DNS record — a CNAME record with your chosen host aliasing to "x.gmtrack.net". Note that this used to be track.gmass.co but we've recently changed it to x.gmtrack.net.
How to Set Up
First, create a CNAME record for your chosen host such that the tracking domain aliases to x.gmtrack.net. If you don't know what a CNAME record is, you may need to consult your webmaster or domain administrator. Here's a Google Support page on how to set up a CNAME record.
How do you know if you've set up the DNS record properly? Try "pinging" your tracking domain and see if the x.gmtrack.net IP address is pinged. On Windows, open up a Command Prompt and type "ping your-tracking-domain". On a Mac, open up Terminal and do the same. I've set up link.wordzen.com to be the tracking domain for my own GMass account, for example, so I "ping link.wordzen.com" and see if the ping shows a connection to x.gmtrack.net: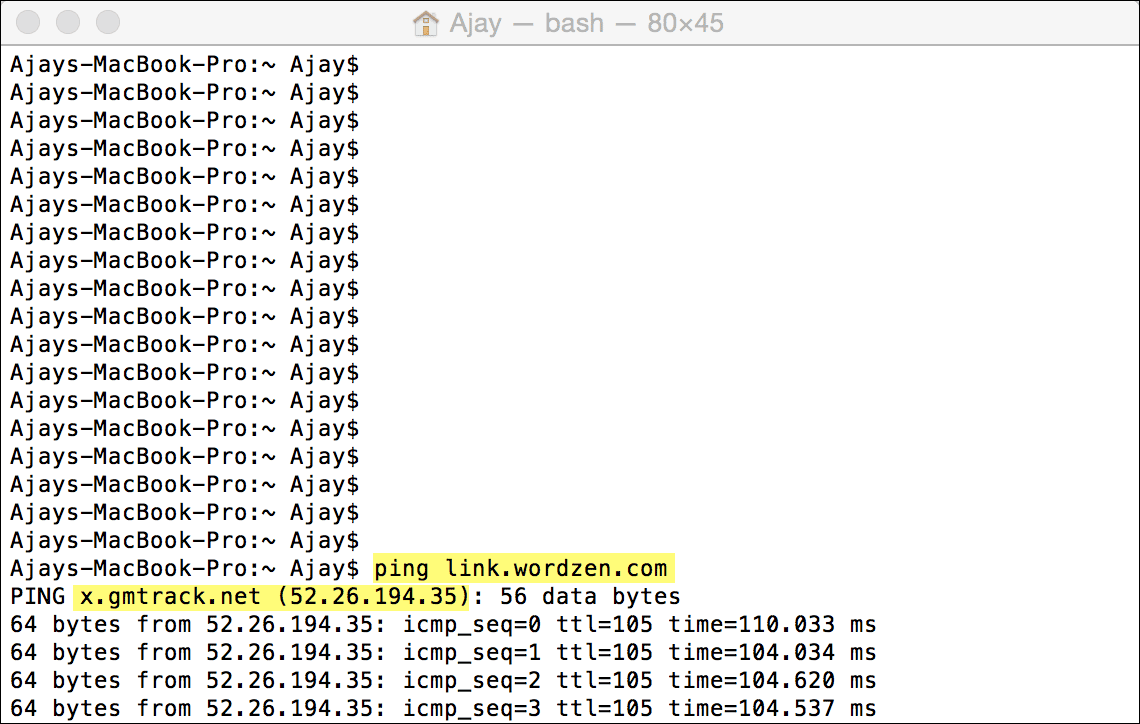 After you've completed the DNS setup, you must submit your tracking domain to GMass.
If you don't have control over your domain's DNS…
If you don't have the ability to set up a branded tracking domain, but still want to isolate yourself from the behavior of other users, you can register one from scratch.
What are the benefits?
There are two benefits to setting up a branded tracking domain:
1. A branded tracking domain creates a more trustworthy impression to your email recipients. Savvy Internet users hover over links before clicking them, and seeing the domain with which they're familiar (your organization's domain) as opposed to GMass's default tracking domain can go a long way in increasing trust, and ultimately increasing your click-through rate. The world's biggest brands use ESPs (Email Service Providers) to send their email marketing campaigns, and they all employ branded tracking domains instead of the default Email Service Provider tracking domain.
2. Setting up a branded tracking domain isolates your reputation from the reputation of other GMass users for deliverability purposes. Meaning, if a spammer uses GMass, and the spammer's emails contain the default GMass tracking domain, and this causes the default tracking domain to be listed by a domain-based spam blacklist, and if your emails contain the same tracking domain, the deliverability of your emails could be affected. If, however, you set up a branded tracking domain, that only your users use, you can protect yourself from being adversely affected by another user's actions.
Are you a regular Gmail, not a G Suite user?
Even if you're not a G Suite user, you can take advantage of this feature if you manage your own domain and send email campaigns with GMass from a regular Gmail account (your email address is @gmail.com or @googlemail.com). The default tracking domain used for regular Gmail accounts is "gmreg.net", but if you manage your own domain, you can assign a branded tracking domain to an individual Gmail account similarly to how you can assign a branded tracking domain to an entire Google Apps domain. Follow the same setup procedures outlined here.
Ajay is the founder of GMass and has been developing email sending software for 20 years.