There are certain situations where you may be eligible for a refund from GMass. For example:
You subscribed the wrong account, and now want a refund before you subscribe the correct account.
When you initially subscribed, you chose a plan that was incompatible with your account type (Gmail or G Suite), and you were auto-adjusted into the correct plan, but don't want to pay the higher price.
You forgot you had an active subscription. You recently cancelled but haven't used GMass in a while and would like the most recent charge refunded.
Not all accounts are eligible for a refund, and only the most recent charge is eligible for a refund. You must also have paid with a credit card via Stripe in order to use this automatic refund system.
To request a refund of your most recent charge: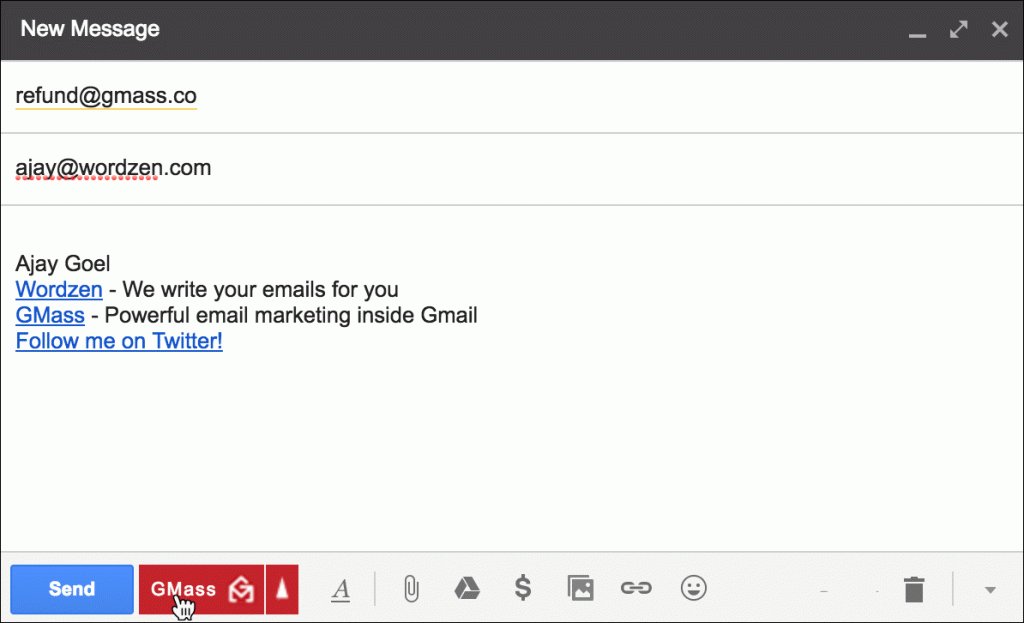 1. Launch a regular Gmail Compose Window.
2. Set the To field to [email protected].
3. If you are logged into the Gmail account for which you seek a refund, leave the Subject blank. If you are logged into a different Gmail account, specify the account for which you are seeking a refund as the Subject.
4. Hit the GMass button. Do not hit the Send button.
You will be immediately notified if you are eligible for a refund and if your refund has been processed. If it is eligible for a refund, and it also has an active subscription, the subscription will be automatically cancelled at the same time the refund is issued.
Ready to

transform Gmail

into an email marketing/cold email/mail merge tool?

Only GMass packs every email app into one tool — and brings it all into Gmail for you. Better emails. Tons of power. Easy to use.

TRY GMASS FOR FREE

Download Chrome extension - 30 second install!
No credit card required
Love what you're reading? Get the latest email strategy and tips & stay in touch.