If you have team members, whether internal or external to your organization, with whom you would like to share your GMass Campaign-level Reports, you can now do that. By sharing reports with others, every time a report is updated under your GMass Reports –> [CAMPAIGNS] Label, each person with whom you are sharing will get the same updated report in his/her account.
To share your campaign reports: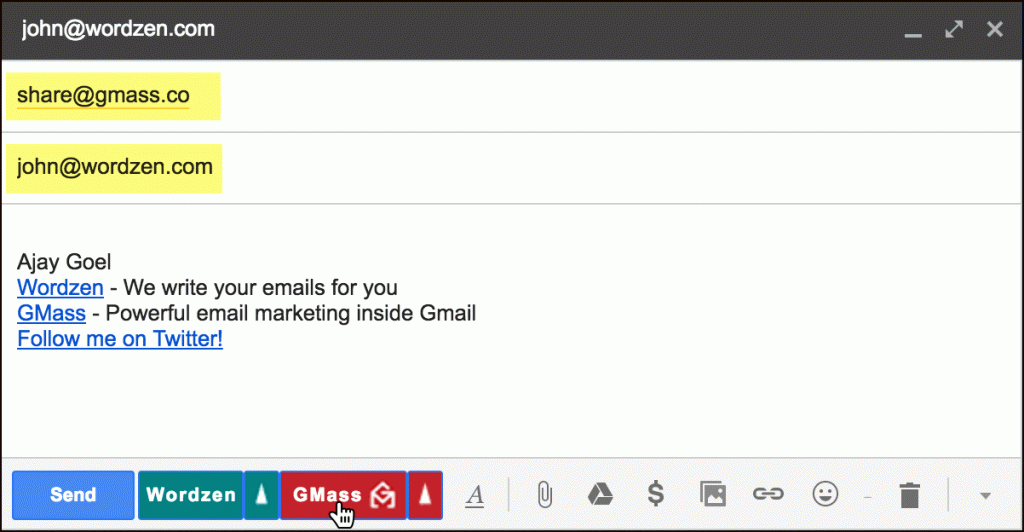 Click Compose to launch a new window.
Set the To field to share@gmass.co.
Set the Subject to the email address of the account with whom you wish to share your reports. My email address is ajay@wordzen.com and I want to share my reports with john@wordzen.com, so I would set the Subject to john@wordzen.com.
Hit the GMass button. Do not hit the Send button.
To revoke access to your campaign reports:
Follow the same procedure as above except set the To field to revoke@gmass.co.
Frequently Asked Questions:
Q: Does sharing my reports with another user give them any other access to my Gmail account?
A: No. Sharing your reports only sends a copy of your campaign-level reports to them. People you share with cannot see anything in your Gmail account, nor can they send GMass campaigns on your behalf.
Q: Can I share my reports with people who don't use Gmail?
A: No. You can only share reports with existing GMass users, and all GMass users obviously have Gmail accounts.
Q: Can I share my reports with people who aren't paying GMass subscribers?
A: Yes. You can share reports with any other GMass users, whether they have free accounts or paid accounts.
Q: How can I see everyone I'm currently sharing reports with?
A: If you're sharing reports, then each campaign report in GMass Reports –> [CAMPAIGNS] will have a section at the bottom detailing with whom the report is being shared.