You can now unsubscribe an entire domain from your Gmail mail merge campaigns sent with GMass. Unsubscribing a domain is similar to manually unsubscribing a list of email addresses.
How to unsubscribe a domain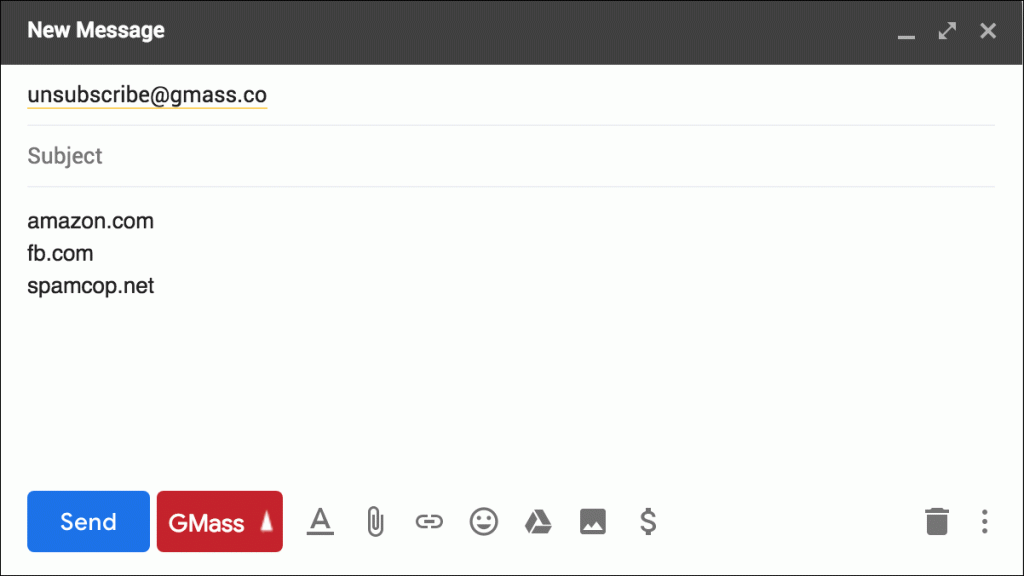 1. Launch a regular Gmail Compose Window.
2. Set the To field to unsubscribe@gmass.co.
3. Leave the Subject blank.
4. Paste in a list of domains to unsubscribe as the Body of the message, with each domain on one line.
5. Click the GMass main button.
That's all. You will get a confirmation that your domains have been unsubscribed. Future campaigns will be cross-checked against your domain unsubscribe list and matching recipients will be suppressed from the campaign.
Resubscribing a Domain
To remove a domain from your domain unsubscribe list, also known as resubscribing a domain, follow the same instructions above, except set the To address to resubscribe@gmass.co instead of unsubscribe@gmass.co.
Viewing your Domain Unsubscribe List
To see which domains are currently unsubscribed, go to any campaign report, and click the download all unsubscribes link. This will download a CSV report of all of your unsubscribed email addresses and unsubscribed domains. Your unsubscribed domains will appear at the top of the list.