If you're a paid GMass subscriber who has already subscribed with a credit card (as opposed to PayPal), you can now change your GMass plan on your own.
Note: If you still have a free account, this below method is NOT how you subscribe. Please subscribe directly from the Pricing page.
Now, if you want to upgrade from a Standard Plan to a Premium Plan to get the auto follow-up feature, you can now do that. Similarly, if you want to downgrade from the Standard Plan to the Minimal Plan with the footer, you can also do that.
You can also upgrade from an individual subscription to a Team Plan.
Finally, if you want to switch from a Monthly to an Annual plan, you can also do that.
How to change your plan if you're a subscriber
You can use our dashboard to easily upgrade or downgrade your plan.
Go to your dashboard, and then click on the My Account section. Here's a direct link to the "My Account" section.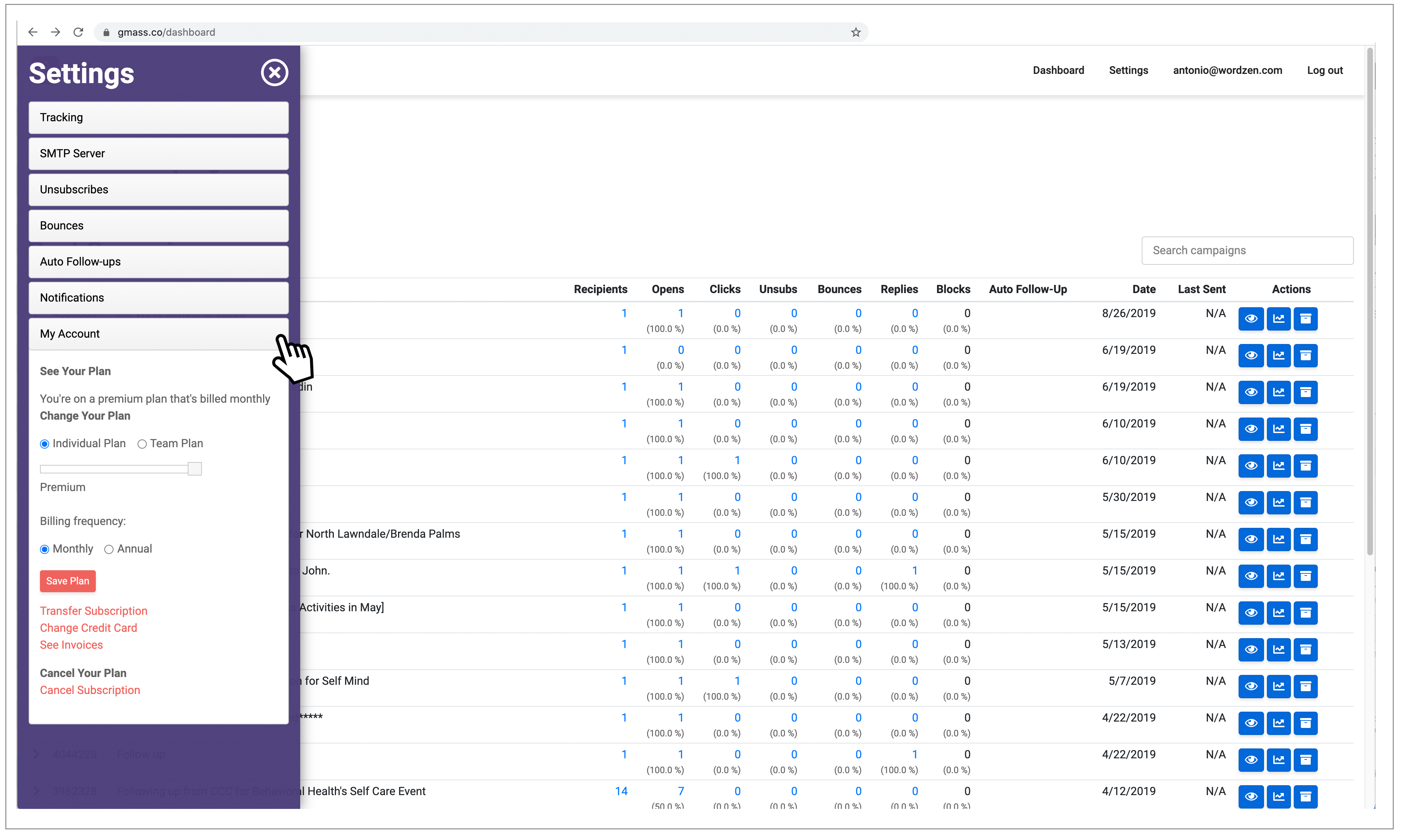 Adjust your plan and click the "Save Plan" button.
Note: The old method for changing plans, which involved composing an email to a specific GMass address, is no longer operational.
Switching from individual plans to a team plan
If you have several individual subscriptions and you want to consolidate to a team plan, then you should:
Decide which account should be the team leader. This will be the account with the power to add/remove other team members.
Upgrade the account that you wish to be the team leader to a team plan, using the dashboard and the instructions above.
Cancel the individual subscriptions for everyone except the team leader.
Once the individual subscriptions are cancelled, the team leader can now add those accounts as members of the team through the dashboard.
Important things to know
If you have

subscribed with PayPal, you cannot use this system

to change your plans. PayPal subscribers will need to login to their PayPal accounts, subscribe to the new plan and cancel their old plan, from within the PayPal interface.
Using this system, you can move between the Minimal, Standard, and Premium Plans, and you can also switch from Monthly to Annual billing. You cannot switch from Annual to Monthly Billing.
If you are on a Team Plan, you cannot use this tool to downgrade to a non-Team Plan.
If you are on a Team Plan, you can change the number of users in your Team Plan. Meaning, you can switch from a 5-user Team Plan to a 10-user Team Plan with this tool.
You

cannot use this method to upgrade from a free account to a paid account

. For that go to the Pricing page to subscribe.
You

cannot use this method to cancel a paid subscription

. For that go to the cancellation instructions.
Further Reading
Check out the GMass Pricing FAQ.
See why GMass has

300k+

users and

7,500+

5-star reviews

Email marketing. Cold email. Mail merge. Avoid the spam folder. Easy to learn and use. All inside Gmail.

TRY GMASS FOR FREE

Download Chrome extension - 30 second install!
No credit card required
Love what you're reading? Get the latest email strategy and tips & stay in touch.