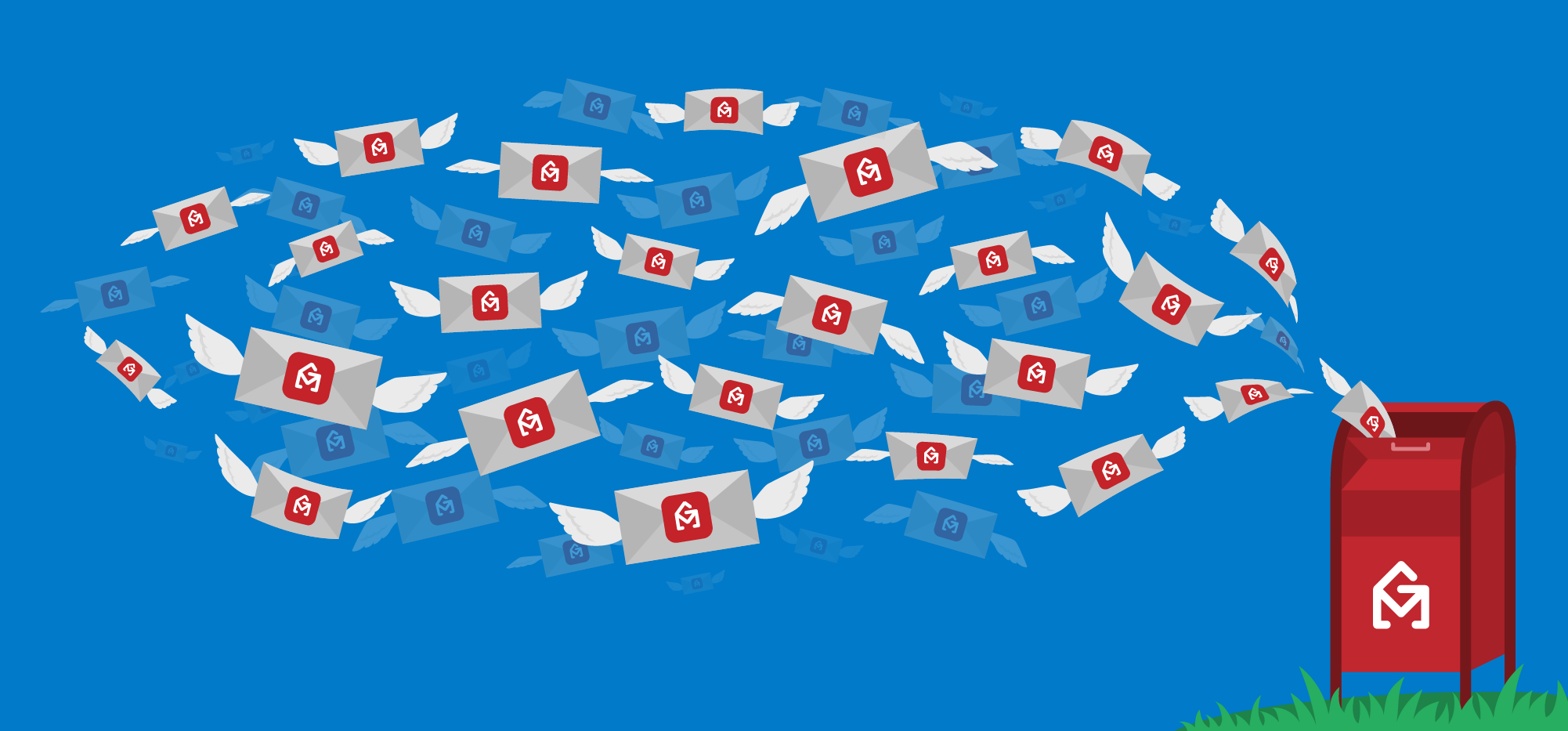 You can now send mass email campaigns with 10,000 emails with Gmail and GMass, and we will distribute the emails over multiple days automatically, based on your Gmail account's sending limits.
If you have a regular Gmail account, you can send up to 500 emails per rolling 24 hours. If you have a G Suite account, you can send up to 2,000 emails per rolling 24 hours. Here's Gmail's official sending limits.
For example, if you have a Google Sheet with 8,000 addresses, and you're sending from a G Suite account, when you hit the GMass button, 2,000 emails will send immediately, another 2,000 will send 24 hours from then, another 2,000 48 hours from then, and the final 2,000 72 hours from then.
GMass itself now has over 500,000 registered users, meaning I need to use this feature myself whenever I send an announcement to my users.
This feature is only useful if your emails are not time-sensitive. Most announcements, like the one you're reading right now, are not time-sensitive, so I'm able to use this new capability of GMass to send GMass announcements. Rather meta! If you need to send 500,000 emails in an hour, then you should use a commercial emailing service meant for high volume, like MailChimp.
GMass will automatically send the maximum emails/day allowed, which is 500 emails/day or 2,000 emails/day if your email campaign has more than 500 or 2,000 recipients, respectively. You can also control, however, how many go out per day with the Spread out field in the GMass Settings box. If left blank, GMass will use 500 (regular Gmail) or 2,000 (G Suite) automatically, but you can override this by setting your own value.
How the timing works
Because Gmail tracks total emails sent on a rolling 24 hour basis, each subsequent batch of emails will be sent exactly 24 hours after the last email from the previous batch is sent. For example, if you send 8,000 emails on Wednesday at 2:00 PM, then the first 2,000 will be sent right away. If they finish sending at 2:15 PM, then the next batch of 2,000 will be sent at 2:15 PM on Thursday. Also see our article on timing.
An "alias" address will represent your large email list
If you connect to a Google Sheets spreadsheet with more than 100 addresses (for example, 10,000 addresses), then instead of populating the To field with all 10,000 addresses, you'll see an "alias" address that looks like:
10000-recipients-big-EJ1jKu@gmass.co
This address represents all 10,000 recipient email addresses. When you hit the GMass button, the sending to the first batch of 10,000 addresses will begin. The reason we use an alias address instead of stuffing all 10,000 addresses in the To field is because the Gmail Compose window gets clunky with 4,000 or more addresses in the To field. Loading a few thousand addresses in the To field takes a long time and we don't like making you wait. The "alias" address method is fast! Keep reading to learn just how many addresses the Compose window can hold.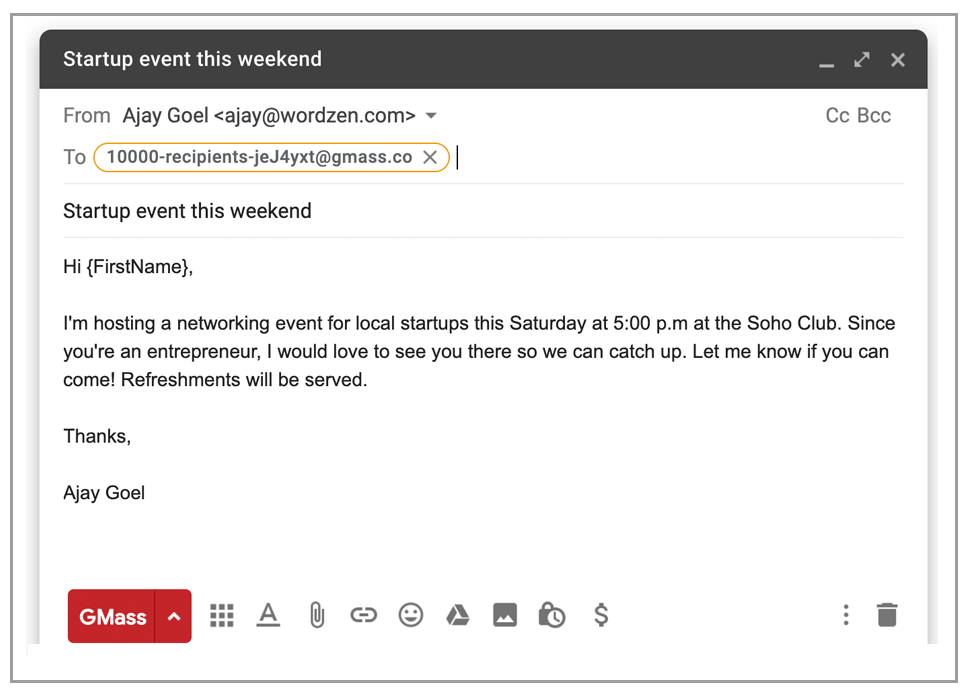 Can you just paste 10,000 addresses into the Gmail "To" field?
You don't have to use a Google Sheet with GMass. If you're sending non-personalized email, or only need to personalize with the first/last name of contacts in your Gmail account, you can just paste all of your recipient addresses into the To field. As previously mentioned, this can slow down the Gmail interface though. We ran some experiments and concluded that the Gmail Compose window can actually hold up to 50,000 addresses!
Why send fewer emails than the maximum allowed?
If you send regular one-to-one correspondence from your regular Gmail account, you may want to set your mail merge to send 450 emails/day rather than 500 emails/day, so you have a buffer of 50 emails/day for your regular email correspondence. Similarly, if you're a G Suite user, you may want to set this to 1,900 instead of letting the system default to 2,000. Sometimes, Gmail doesn't give you your account's full sending ability, so this needs to be adjusted down in these cases. Our software, however, counts how many emails your Gmail account has sent in the last 24 hours and factors that in when sending your mail merge campaign.
This feature counts how many emails you've sent, even through other methods
If you're a G Suite user and you're sending a single mass email to 8,000 people, then your campaign will send 2,000 emails/day over 4 days. If you don't need to send any other mass emails for those 4 days, then this will work perfectly. If you do need to send other mass emails over those 4 days, GMass will count how many other emails have been sent from your account in the last 24 hours and adjust your campaign sending speed accordingly. This includes person-to-person emails, and if you're using another mail merge tool along with ours, we'll count those emails too! After any batch of emails is sent, you receive an emailed report showing you how many emails were sent, when the next batch will send, and an explanation for any forced throttling put in place for you to prevent you from reaching your Gmail limits.
Here's an example of a report after the daily Gmail limits have been exceeded for the day: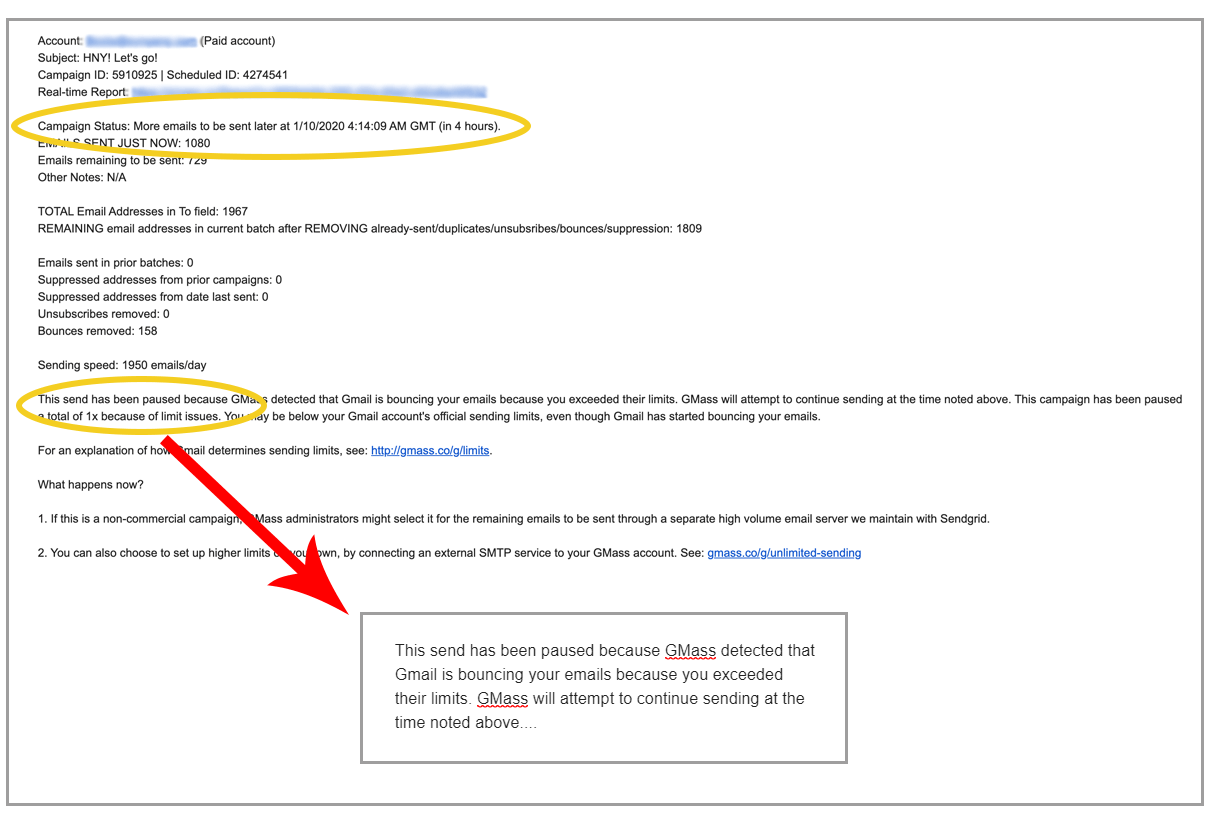 Want to send 100,000 emails? Bypass Gmail's limits altogether.
This capability, introduced in 2018, lets you send an unlimited number of emails from your Gmail account. Need to send a campaign to 100,000 or 250,000 people? Just connect your account to a third-party service like Sendgrid, and you can send as many emails as you want, right from the familiar Gmail interface. We use GMass to send our Gmail Genius newsletter to 400,000+ subscribers using this exact integration. In some cases, GMass will automatically send your emails through SendGrid for you when you run into your limits. Whether we do this or not is based on your sender reputation with us. If you find that your emails are not being auto "pushed" to SendGrid when you hit your limits, you should set up your own account with a third party SMTP service and then connect it to your account.
What do the analytics look like for high volume campaigns?
Like all campaigns sent through our system, you get full analytics on opens, clicks, unsubscribes, bounces, replies and more. All of these segments of a campaign can be used for a follow-up campaign, or can be downloaded for easy import into any CRM or database system. Here's a portion of a high volume report where about 400,000 emails were sent using Gmail via SendGrid as the email delivery service: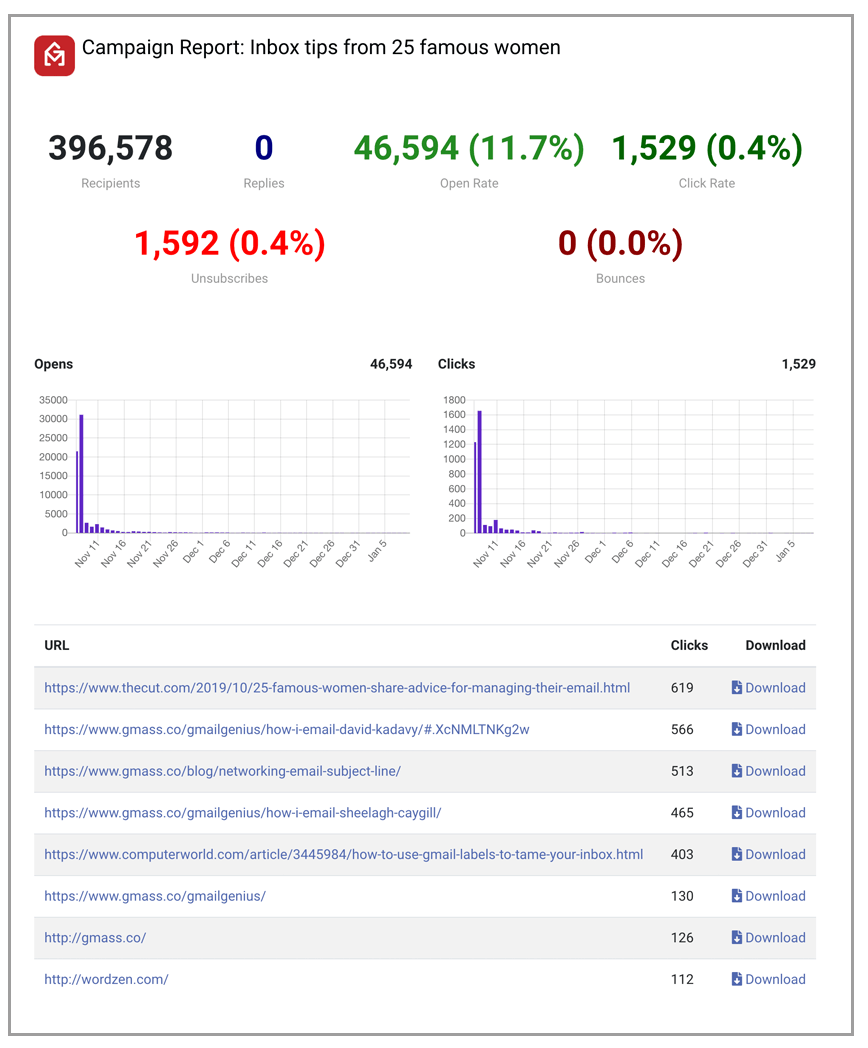 TL;DR
Sending high volume campaigns in Gmail can be done, but managing your Gmail limits is a complex issue. We provide several options to circumvent limits though, including:
Distributing emails across days, sending a specific amount per day
Sending your campaign through our internal SendGrid account
Sending your campaign through your own SMTP service.
Want more?
Here's a listing of all our Gmail limit articles.
Ajay is the founder of GMass and has been developing email sending software for 20 years.