Email Polling: Send quick surveys in your emails, no external software required

GMass's GMass's one-question email polls make it easy to get quick opinions, votes, and more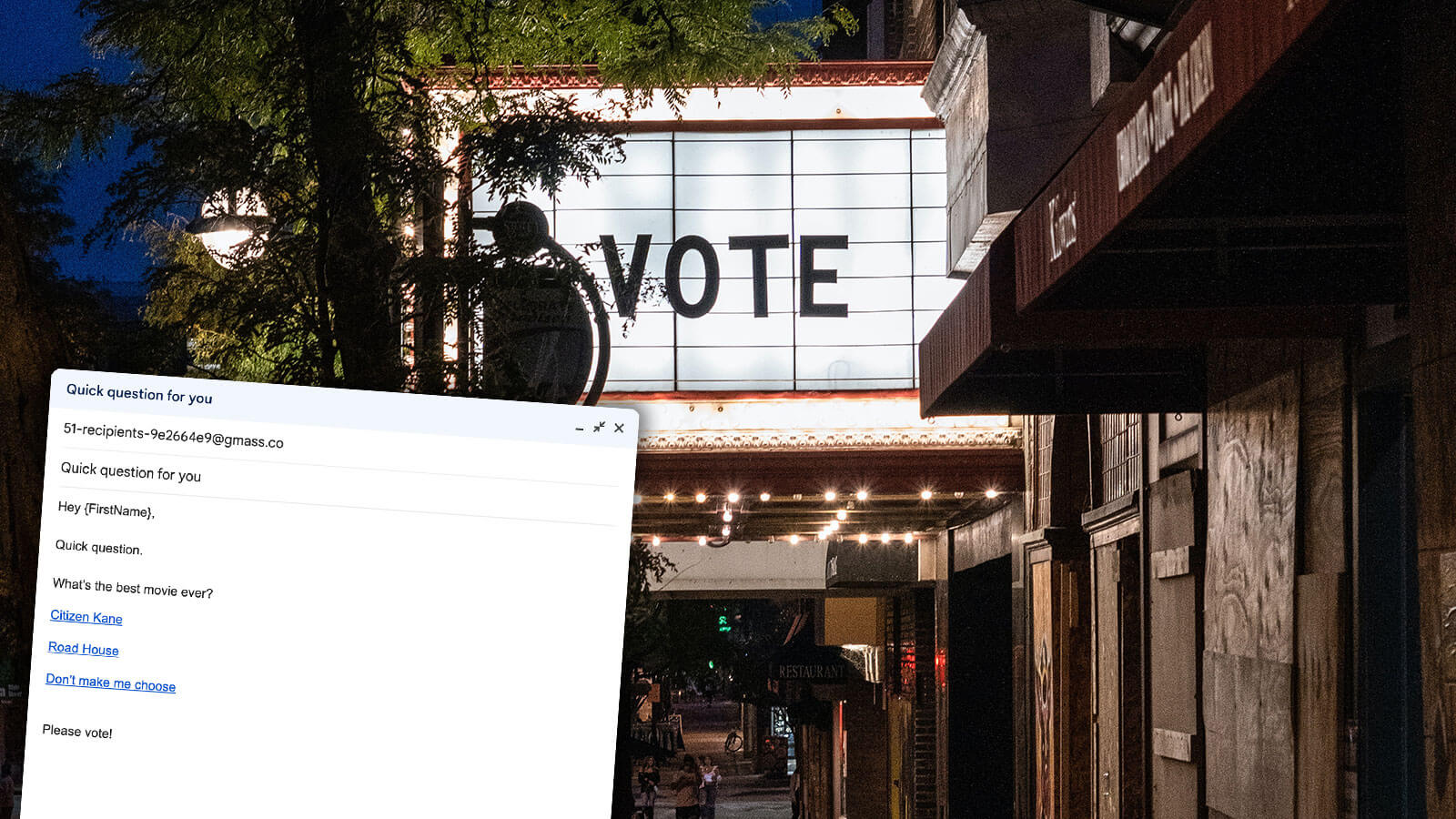 The process of emailing a survey and collecting results is way too complicated. Whether you use Google Forms or a paid survey tool, you're looking at a major time investment (and possibly lots of extra costs).
You don't need to go through all that — especially if you just want to ask people a quick question.
GMass's email polling feature is a simple way to run a one-question survey via email and easily collect the results.
Your recipients won't have to click through to a website to take the survey — they can vote right there inside the email.
And no, you won't be able to run complex, branched surveys. But if you have one question and you want answers? It's hard to think of a simpler way to get that done.
Here's how to use GMass's email polls to get quick answers to your burning questions.
---
| | |
| --- | --- |
| | Run a poll |
Create and insert a poll with a few clicks as you compose your email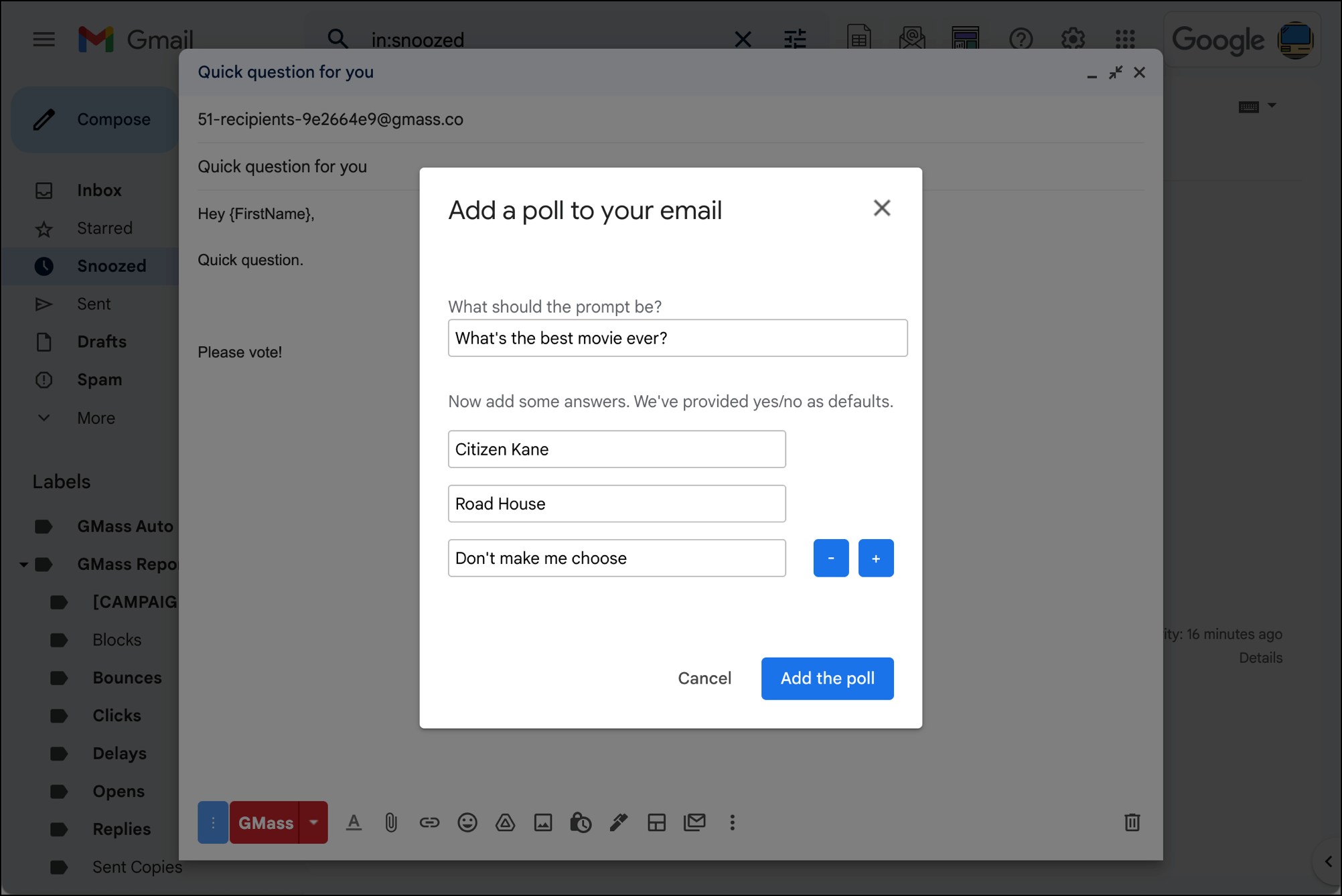 You can add a poll to your email in the GMass settings box.
In the Advanced section of the settings, click the Simple email poll link. Enter your question and the possible answers.
GMass will insert the poll into your email with each answer as a separate link.
And that's all it takes. You can always edit the poll question or answers before you send — but otherwise, your poll is good to go.
And if you want, you can style your poll links — either with the Gmail formatting bar or by editing the HTML of your email.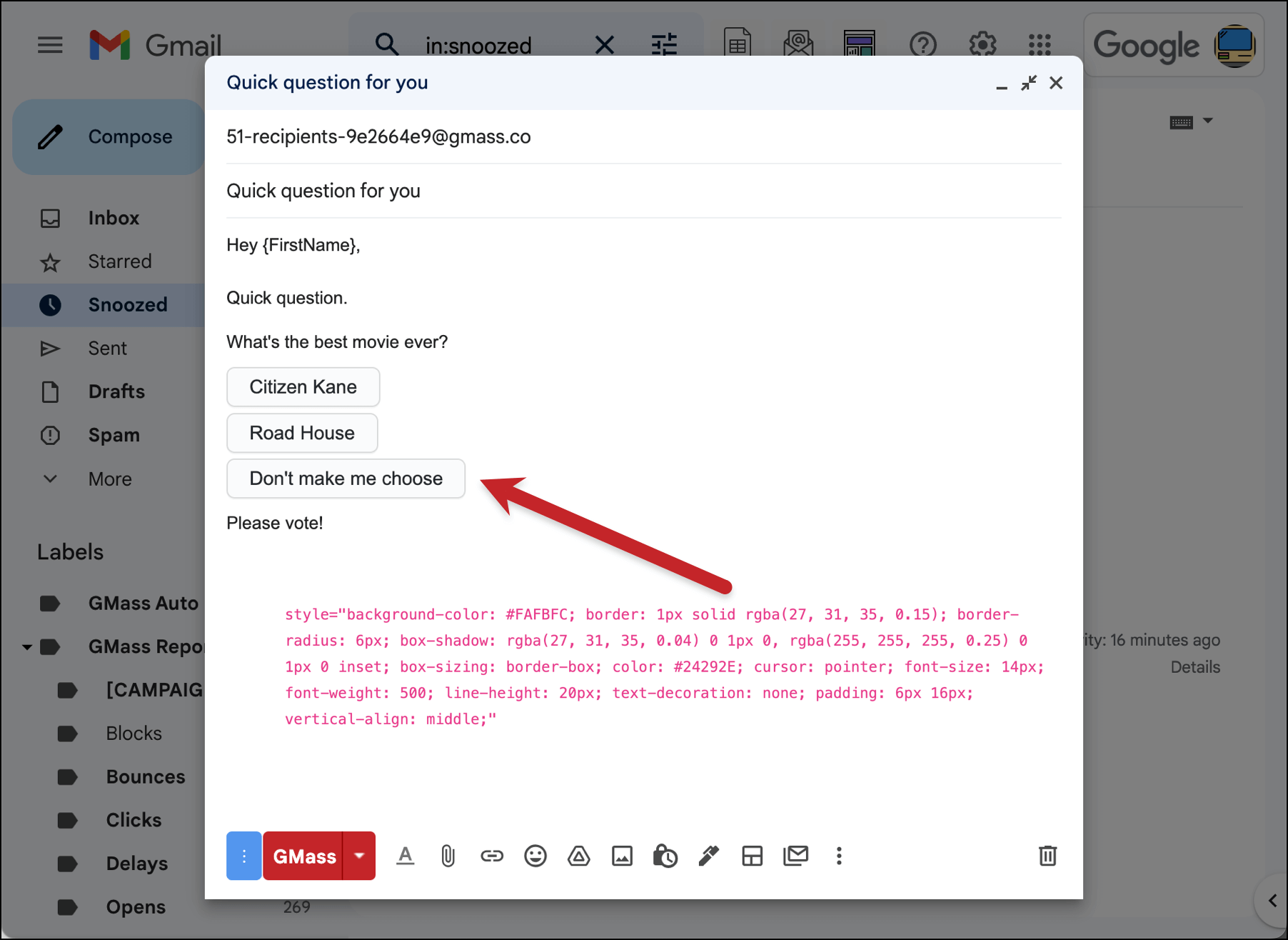 ---
| | |
| --- | --- |
| | Collect and download responses |
Monitor poll results in real time and export to Google Sheets when you're ready
After you send your email with a poll, you can watch the voting results roll in live from the GMass dashboard…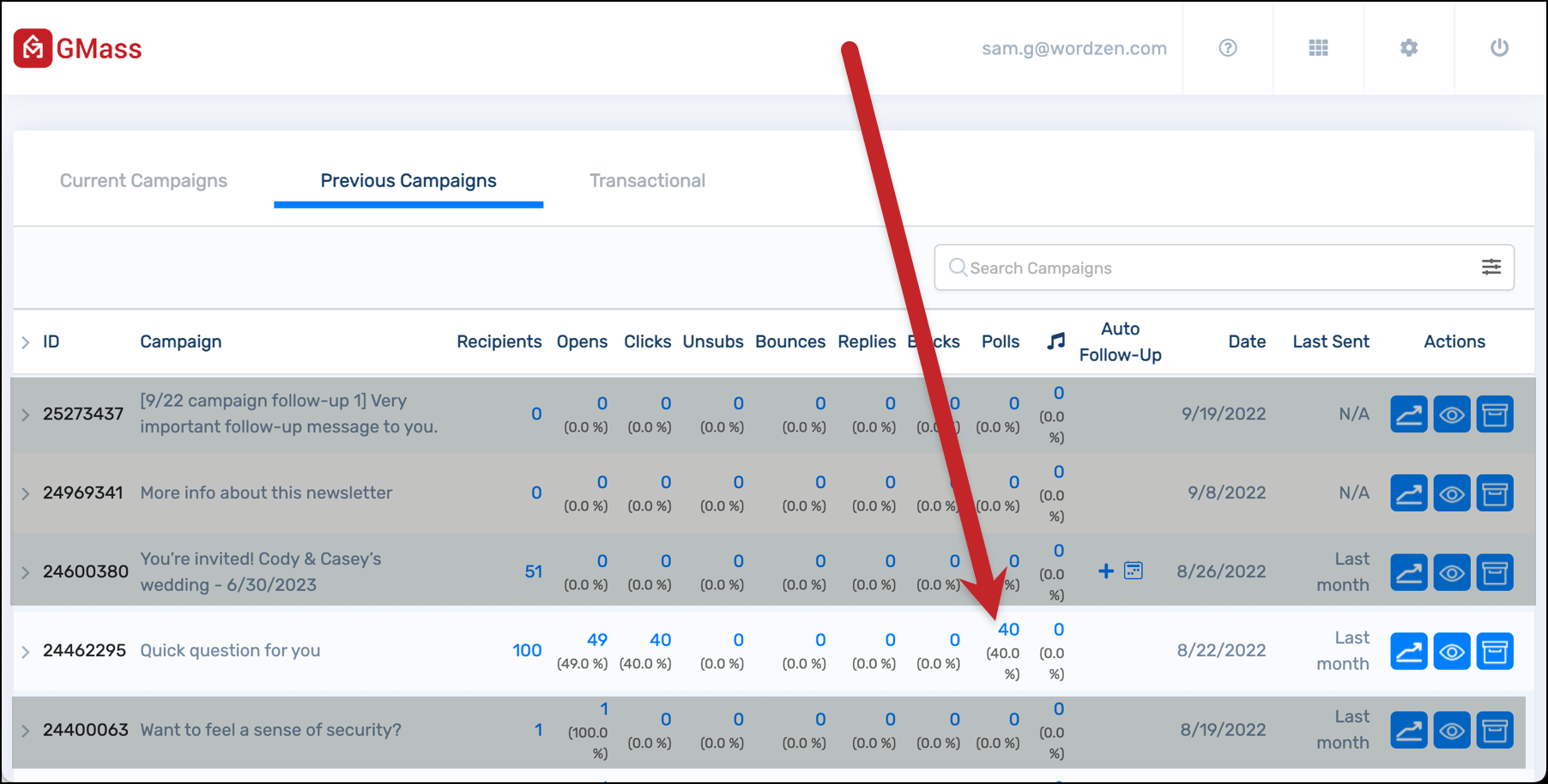 The web-based campaign report…
Or the Google Sheet for your campaign.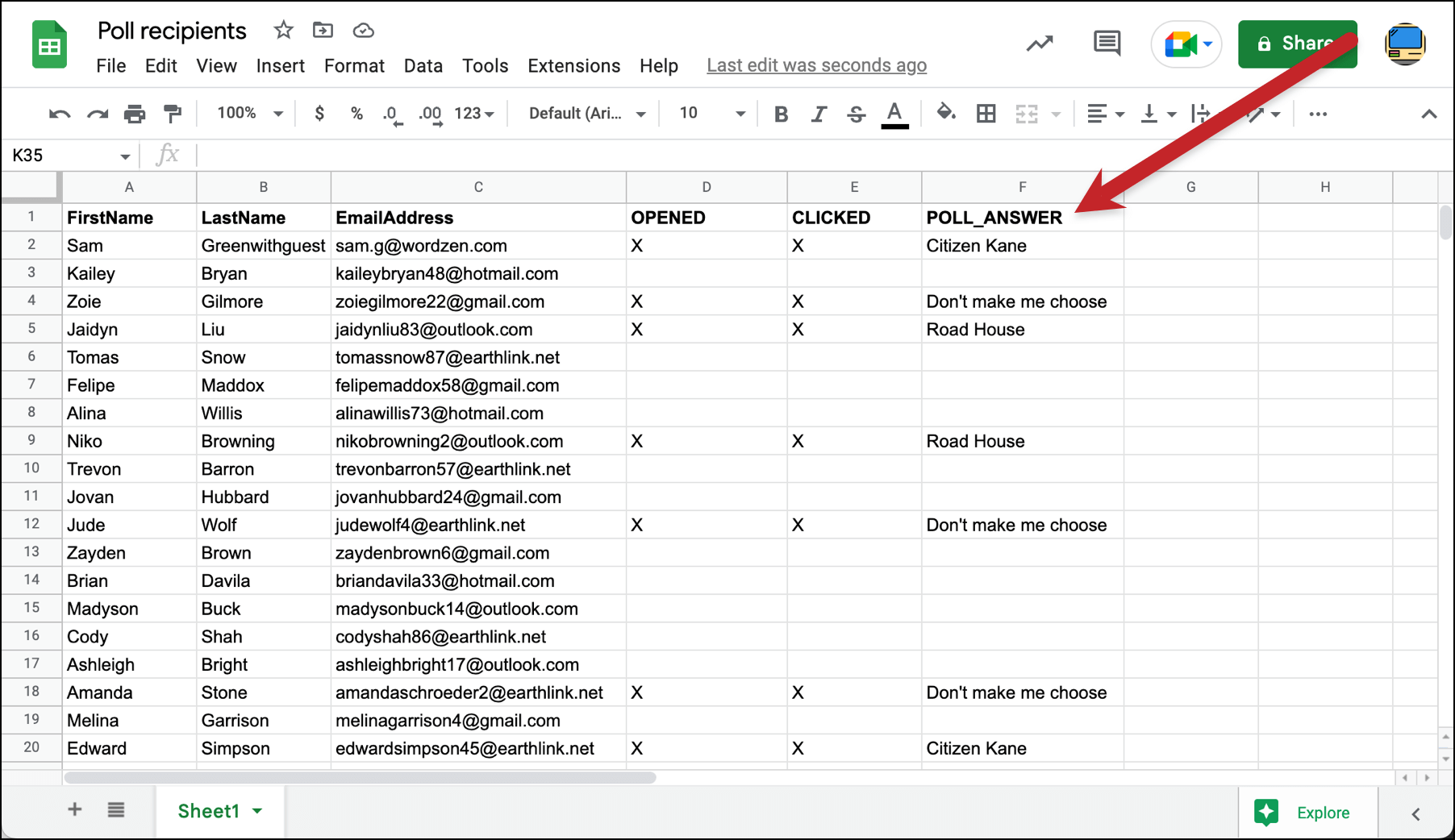 In all three situations, you can see who voted for which option. In the Google Sheet, people's votes appear in their row. In the dashboard and web-based view you can click on the number of votes in the Polls column to see individual people's choices.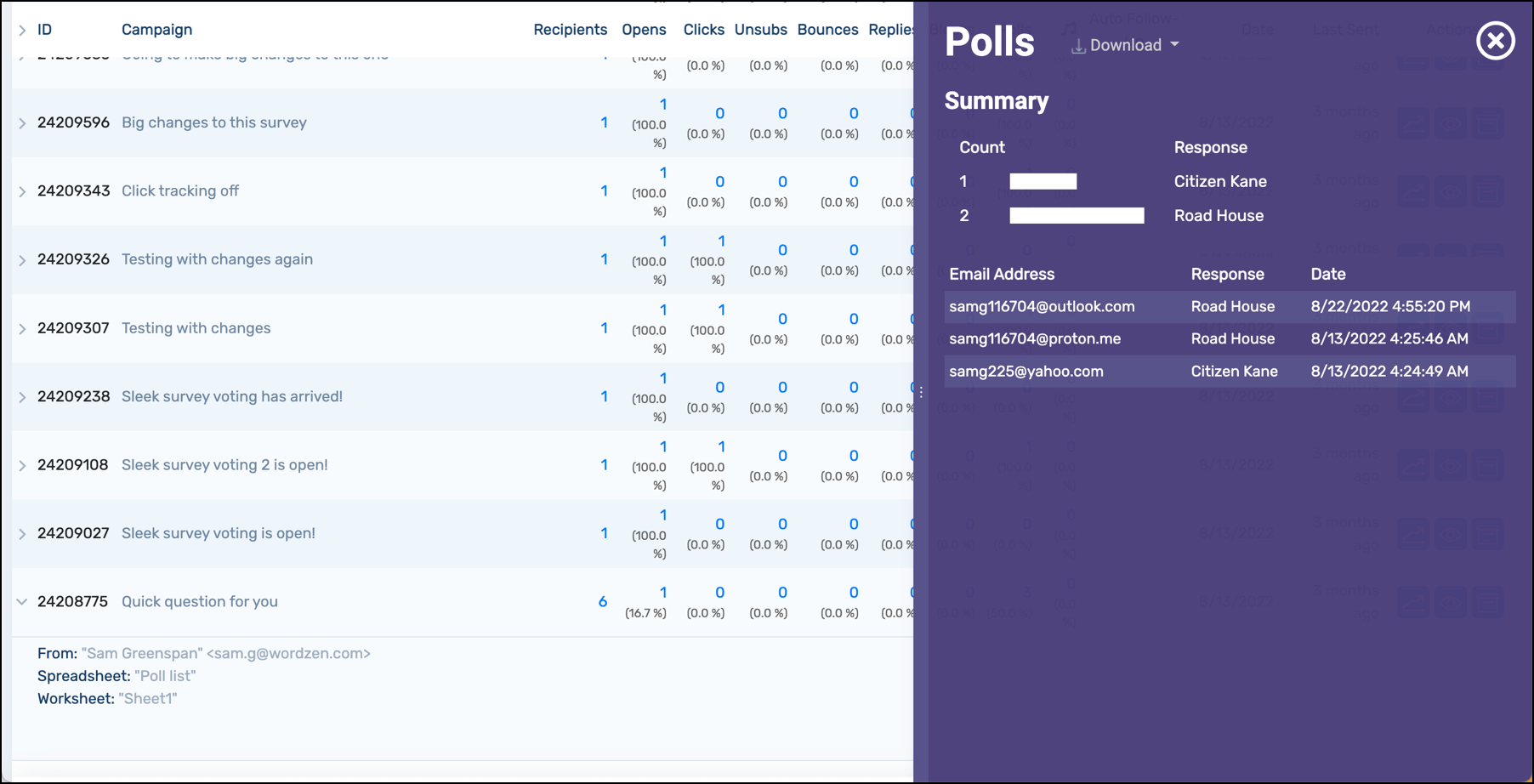 The dashboard and web-based report both contain links to download your poll results as a CSV or Excel file — or to export to Google Sheets.
---
| | |
| --- | --- |
| | Follow up with non-voters |
Send an auto follow-up sequence to non-voters to get more responses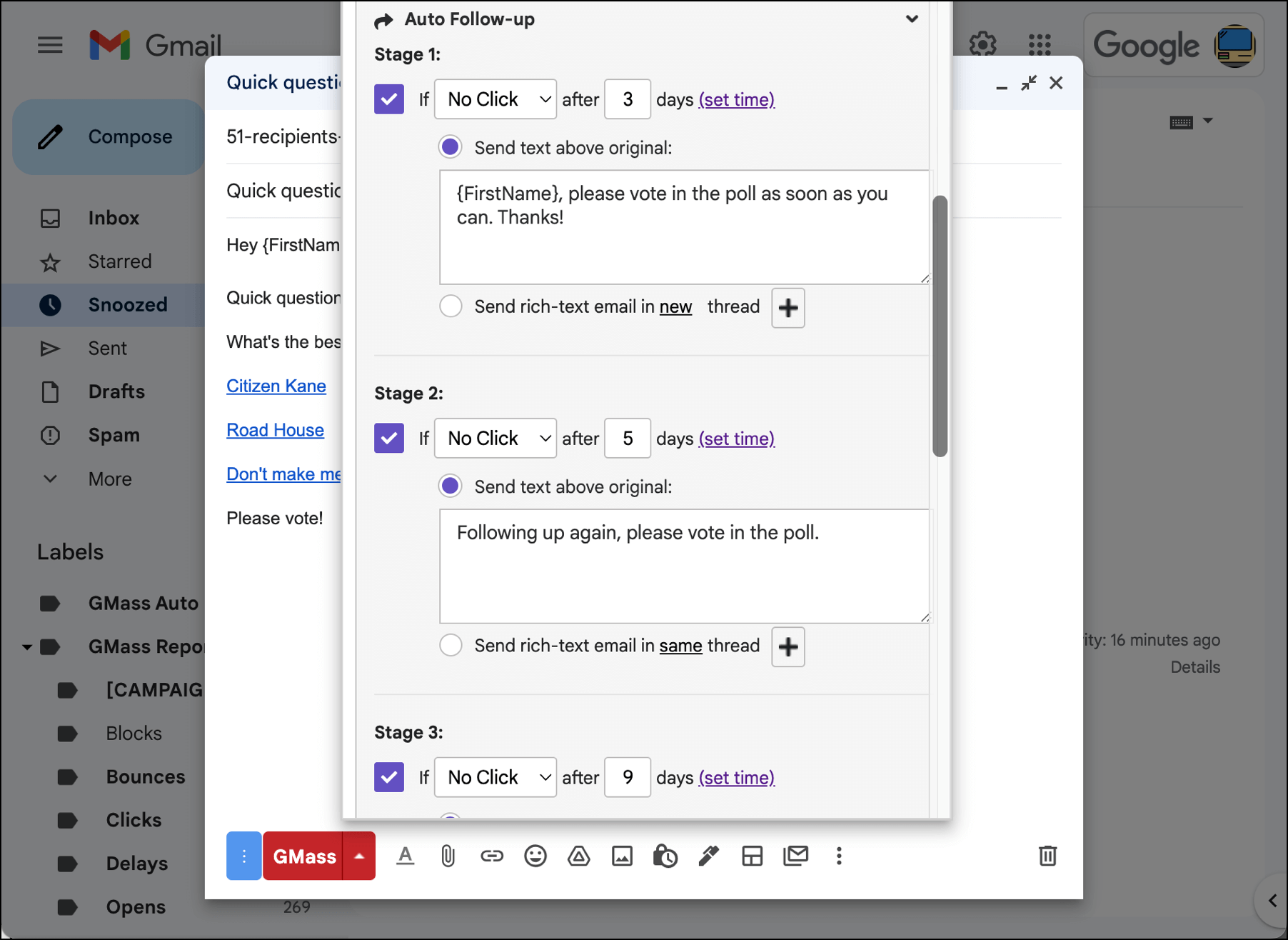 Odds are not everyone's going to vote in the poll in your first email. We all learned about voter apathy back in civics class. Turns out it extends to lite, random email polls too.
But you can improve response rates by using an automated follow-up sequence to keep pushing non-voters to take the poll.
Use GMass's auto follow-up setting to send a sequence of emails to people who haven't clicked on your poll. Once they vote, the nudges will stop.
You can send up to eight stages of follow-ups with this method. That means nine total emails to someone to try to get them to vote — which really should be enough to shake even the most apathetic voter.
(Then, in the future, you could send a segmented campaign to everyone who voted or who didn't vote.)
---
Ready to add polls to your emails in the quickest, easiest way?
There's no reason to overcomplicate things with third-party tools and complex software if you want to send a quick, one-question survey.
GMass's email polls feature makes it a quick process (we're talking a minute or less) to add a poll to your message. And you won't have to worry about collecting and sorting through responses — GMass adds them to your usual campaign reporting.
Plus you can send automated follow-ups to people who didn't vote — and keep emailing them until they do.
And email polls aren't the only thing that's absurdly easy to do in GMass. A/B testing, email sequences, personalization, managing replies, and more — it's all just simpler to do over here.