Send as replies: Make mass emails indistinguishable from individual emails for more effective campaigns

GMass's "send as replies" feature simulates real, one-on-one email behavior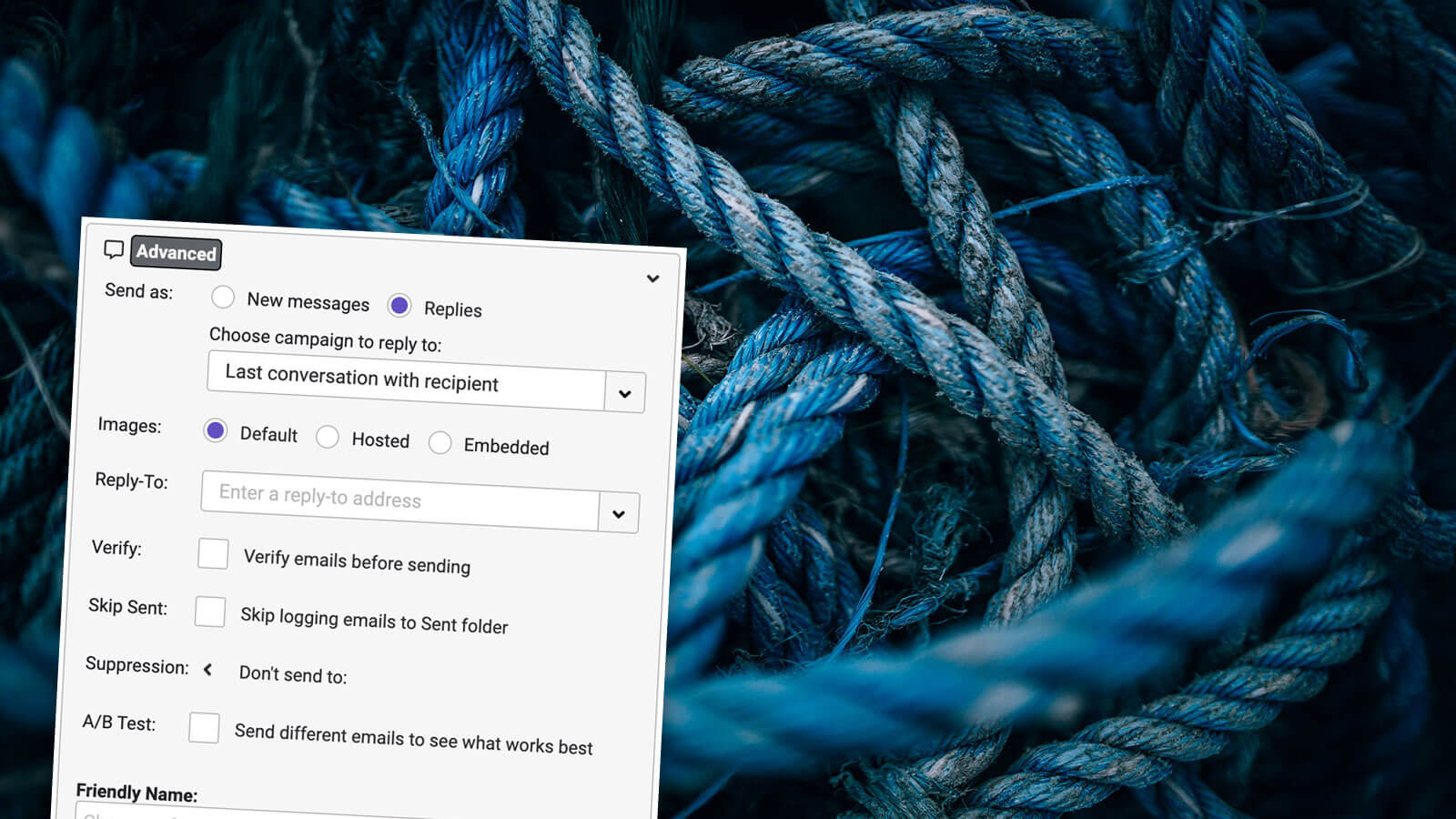 GMass is made for sending mass emails. But we're well aware most people — and quite possible all people — prefer receiving individual, personal messages, not bulk emails. And odds are they're more likely to respond to personal messages as well.
The goal: With GMass, you should be able to send a mass email that looks and feels so much like a one-off, personal email that recipients can't tell the difference.
And that should lead to better engagement and better results for you.
When we're following up with someone over email, usually we'll respond to their previous message — not start a whole new email thread. But virtually all mass email campaigns start in their own threads. There's a disconnect there.
With GMass, you can send entire email campaigns (as well as follow-ups) as replies in the same thread.
Read on to learn about how you can use GMass's "send as replies" feature to perfectly mimic real, one-on-one email back-and-forths.
---
| | |
| --- | --- |
| | Send as replies |
Send entire mass email campaigns as replies using GMass's "Send as replies"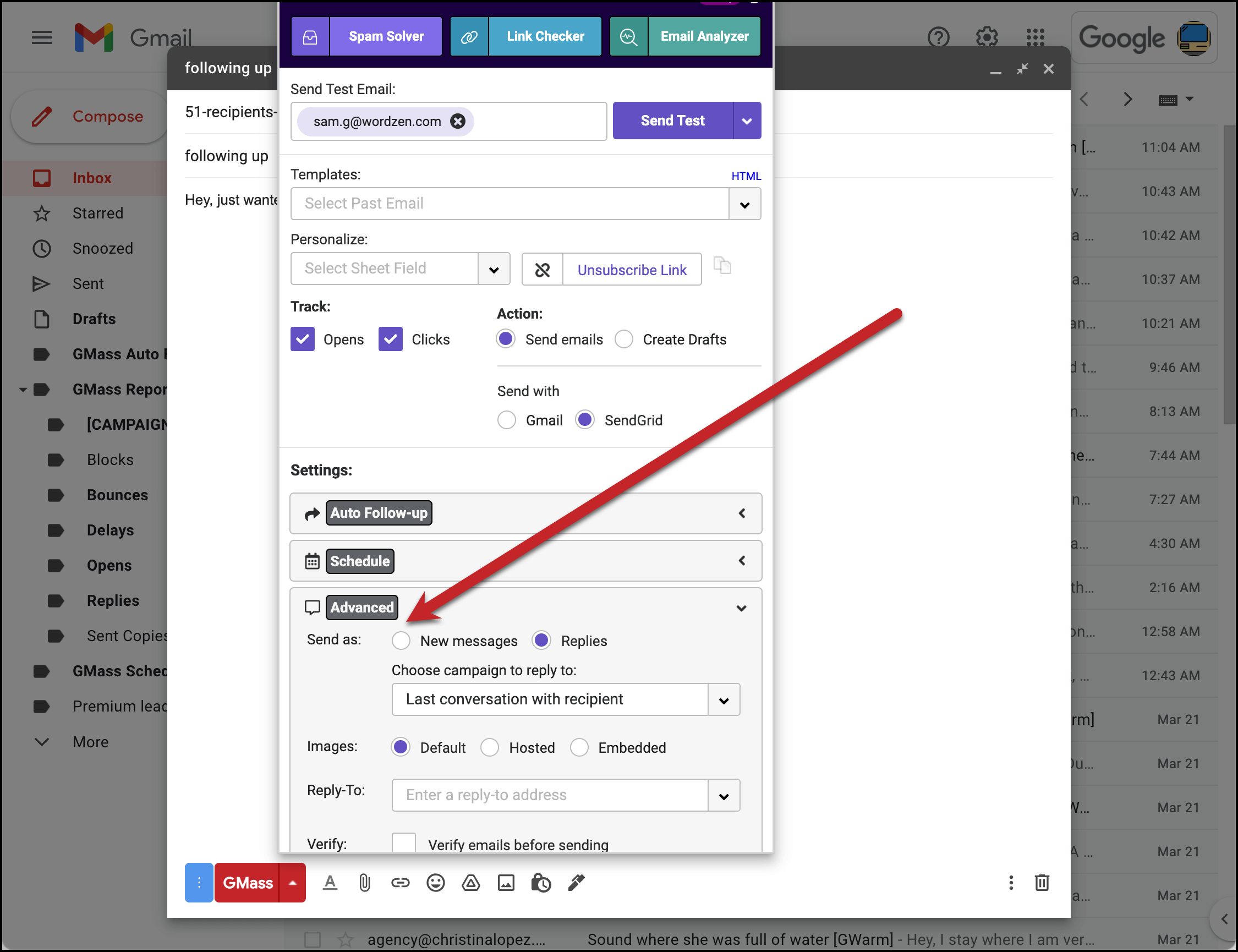 Some of your mass email campaigns should be new emails with their own subject lines. For example, emails like newsletters, sales announcements, personal career updates and lists of job openings all make sense as new threads.
But lots of mass email campaigns make more sense as replies to previous messages — especially campaigns that go out to people with whom you've already done some back-and-forth messaging.
And that's when it's smart to use GMass's "send as replies" feature.
For instance, let's say you're in real estate, and you've used GMass's list builder feature to find everyone you've emailed with about potentially buying a home this year.
You could send a new mass email with the subject "Ready to talk about buying a home now?"… but that's probably not how you'd approach the situation if you were emailing each person individually. In those cases, you'd probably reply to the last email you got from the person to check in and to see if they were ready to buy.
So to send your mass email as a reply to your thread with each of those leads, compose your new email in Gmail. Then in the GMass settings box, go to the Advanced section, and next to "Send as:" choose "Replies."
In the dropdown menu under "Choose campaign to reply to:", choose "Last conversation with recipient." (You can also choose to send your new email as a reply to a prior email campaign.)
Now when you send your campaign, rather than starting a new email thread with a new subject line, each email will be a reply to the last email in your thread with each contact.
The email will go into the thread regardless of who sent the most recent email in that thread, you or the other person. And if you don't have any prior emails with some of the people on your mailing list, those emails will go out as new threads.
---
| | |
| --- | --- |
| | Threaded auto follow-ups |
Send auto follow-ups sequences as replies in the same thread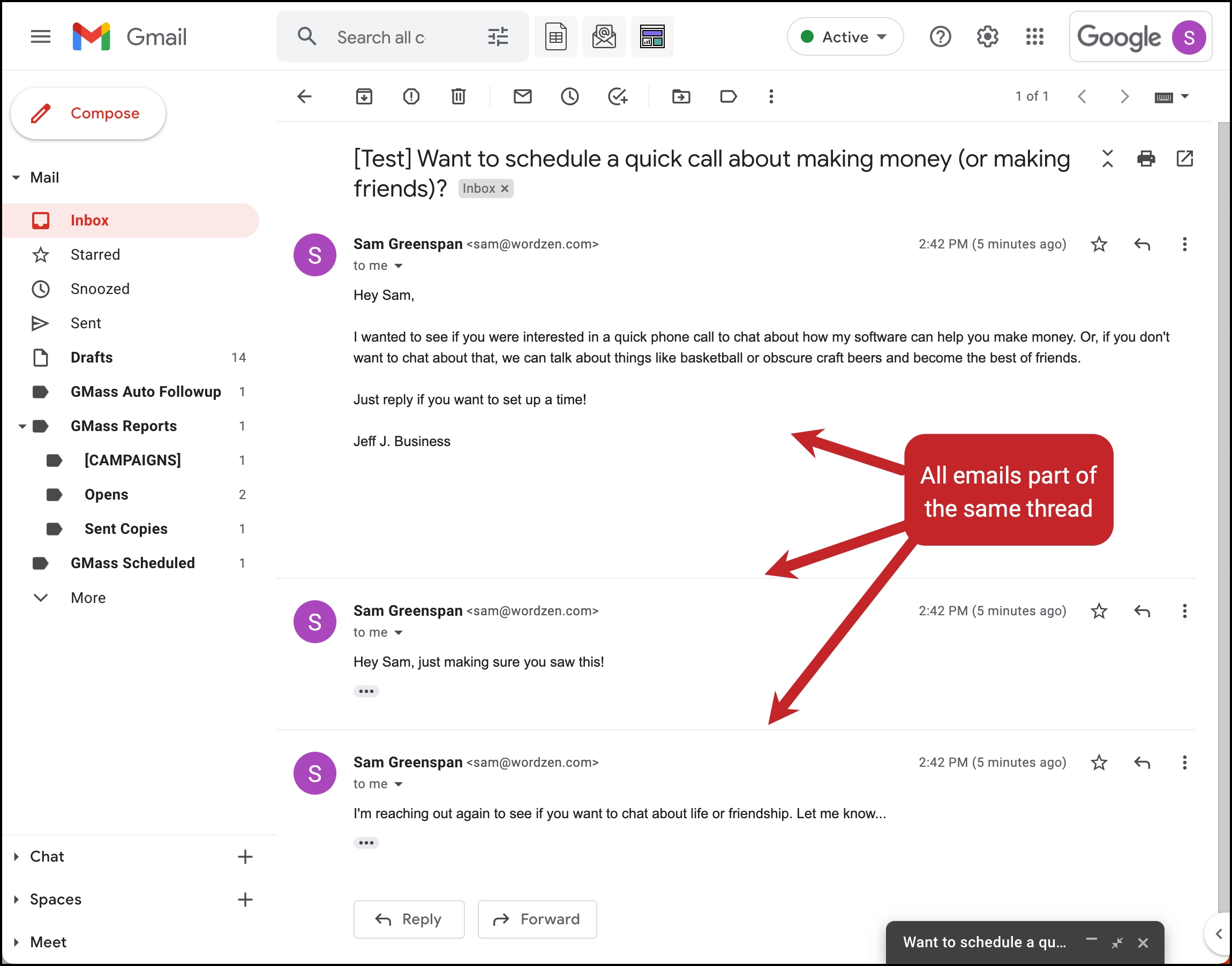 Sending mass emails as replies to mimic one-on-one emails is also important with automated follow-up emails.
When you're setting up an email campaign in GMass, you can set up a sequence of up to eight auto follow-ups (which go out when people don't reply or take your desired action).
And you can choose whether your plain text or rich text automated follow-ups should be in the same thread as the original message, or in new threads.
To send auto follow-ups as replies, go to the Auto Follow-Up section of the GMass settings.
If you're sending plain text (text-only) auto follow-ups, those will automatically go out as replies in the same thread. If you're sending rich text auto follow-ups, you can choose whether or not those should be in the same thread or each in a new thread.
Now… let's say you're using the "send as replies" feature to send a new campaign as replies (as we discussed earlier on the page). And you also want to add auto follow-ups to that new campaign.
With the auto follow-up threading features, those automated messages will also continue to go into your one email thread.
(Check out our page on auto follow-ups for lots more details on how to use automated sequences with GMass.)
---
| | |
| --- | --- |
| | Force conversations below |
Force the prior conversation into auto follow-ups to send replies with new subject lines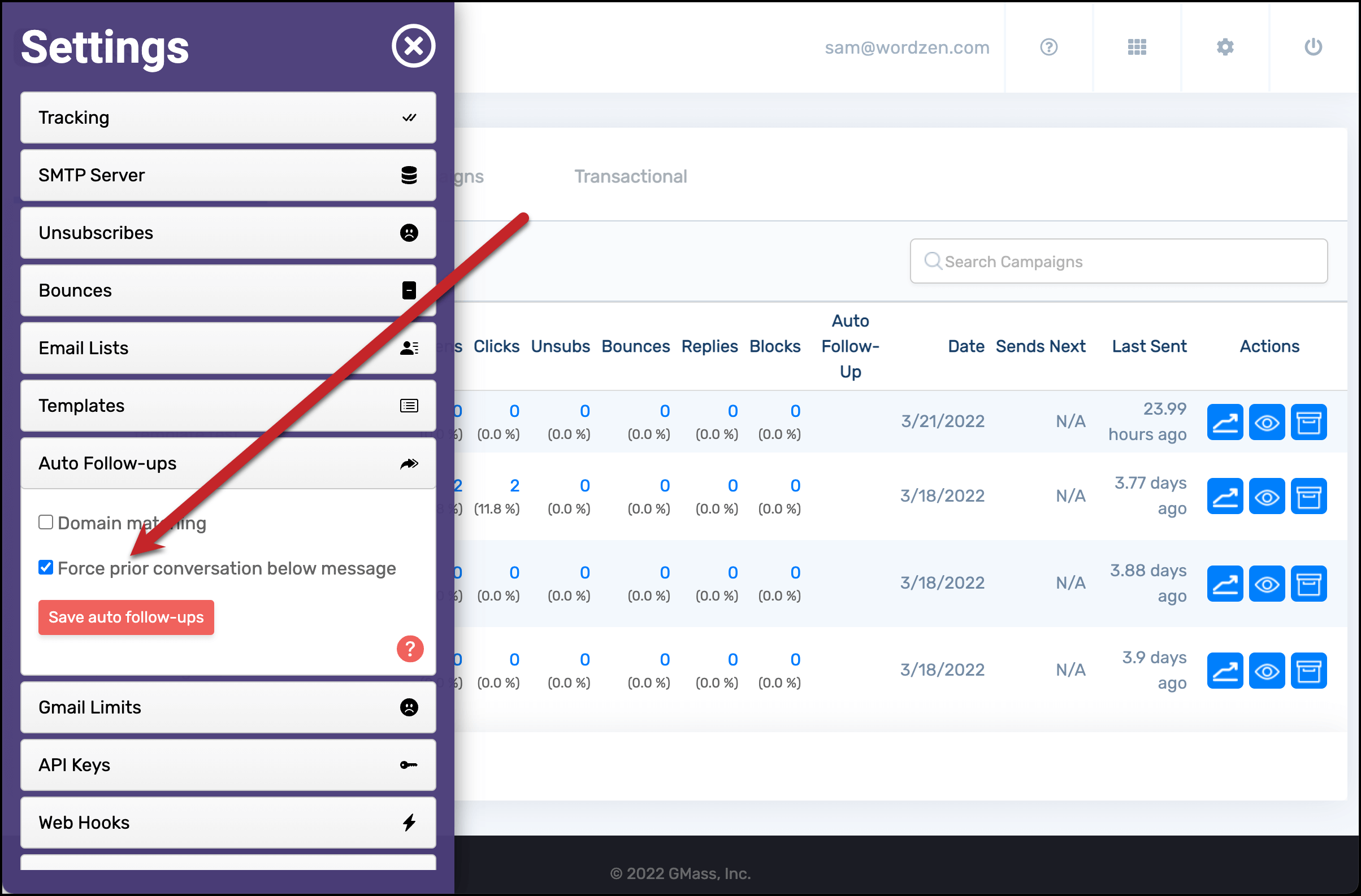 Sometimes you may not want to send a follow-up as a reply in a thread. Maybe you want to use a new, alluring subject line. Maybe you're afraid it will get buried in an old thread and the other person is less likely to see it. 
There's a setting in GMass that allows you to send auto follow-ups as new messages with new subject lines — but still include your prior conversation.
This is designed, again, to mimic how you might email with someone in a one-on-one situation. 
You'd open your previous email to them and hit reply. But then, since you can change the subject line in Gmail, you might do that to try to get their attention. Your entire prior conversation would still appear at the bottom of the email.
To force the prior conversation into auto follow-ups, go to the GMass dashboard. Open the settings panel, go to the Auto Follow-ups section, and check the box for "Force prior conversation below message."
---
Ready to send mass email follow-ups that are indistinguishable from individual, personal sends?
You don't want to be "caught" sending mass emails — the people you're emailing will almost definitely respond better to personal emails than bulk ones.
GMass's "send as replies" feature gives you the option to make your mass emails feel just like individual ones.
Send new messages or auto follow-ups in the same thread as your previous messages to each contact on your list. 
And when you pair that technique with GMass's advanced personalization and mail merge features, you can send mass emails that are completely indistinguishable from one-on-one messages.
(Want to learn more about GMass's features? Next up: All about using GMass to schedule emails.)