Deliverability optimization: Why 99% of GMass users report the best deliverability they've ever had

How GMass helps your emails land in the inbox — and diagnose why they're not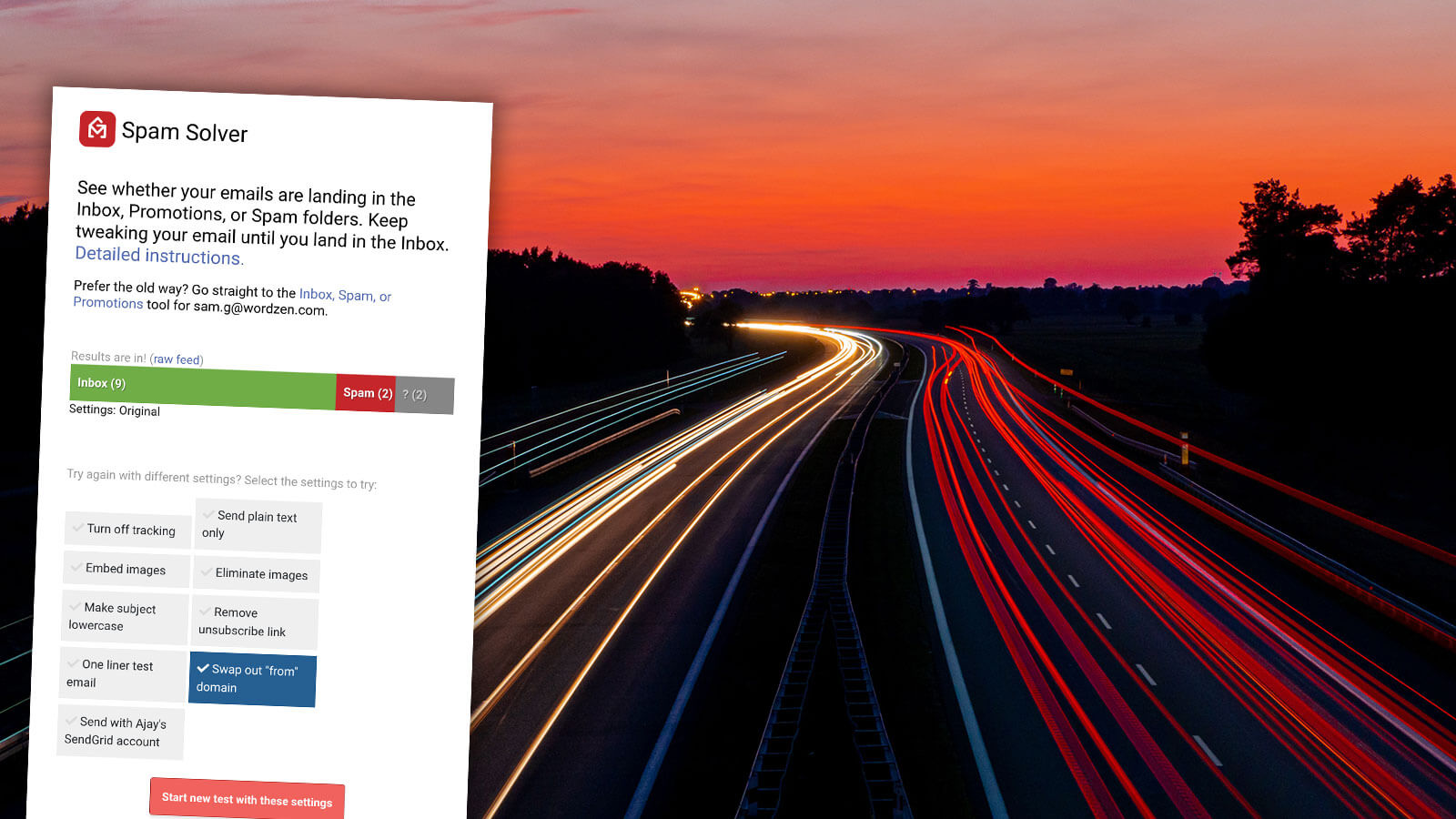 If your emails wind up in people's spam folders instead of their inboxes, the chances those people will open, read, and act on those emails drops a lot. And we do mean a lot.
Deliverability is unequivocally crucial regardless of what types of emails you're sending — whether it's cold outreach, marketing newsletters, or just an announcement to your running club that you're meeting in a different area this week because it's duck mating season where you normally run. And obviously, you don't want your emails about avoiding aggressive copulating ducks to wind up in spam.
The great news for GMass users: Right around 99% of GMass users report the best email deliverability they've ever had.
And that doesn't happen by accident. We focus heavily on deliverability optimization to help our users in their quest for the inbox.
Since we send your emails through Gmail using Gmail's IP address, that alone gives us a major deliverability advantage over email platforms like Mailchimp (after all, no one would ever put Gmail's IPs on a spam blacklist). That's not to say your emails will never be flagged as spam, but it certainly helps.
We're always working behind the scenes to keep our tracking domains clean, maintain your email list (like automatically removing hard bounces and unsubscribes), and diagnose problems before they spread.
And we've also created an entire suite of tools to help keep your deliverability high — and, if necessary, to diagnose why you're having problems landing in the inbox.
Read on to learn about all of GMass's tools to help you get in on what virtually all of our other users are celebrating: The best deliverability you've ever had.
---
| | |
| --- | --- |
| | Tracking domains |
Use your own tracking domain to avoid the spam folder and improve email performance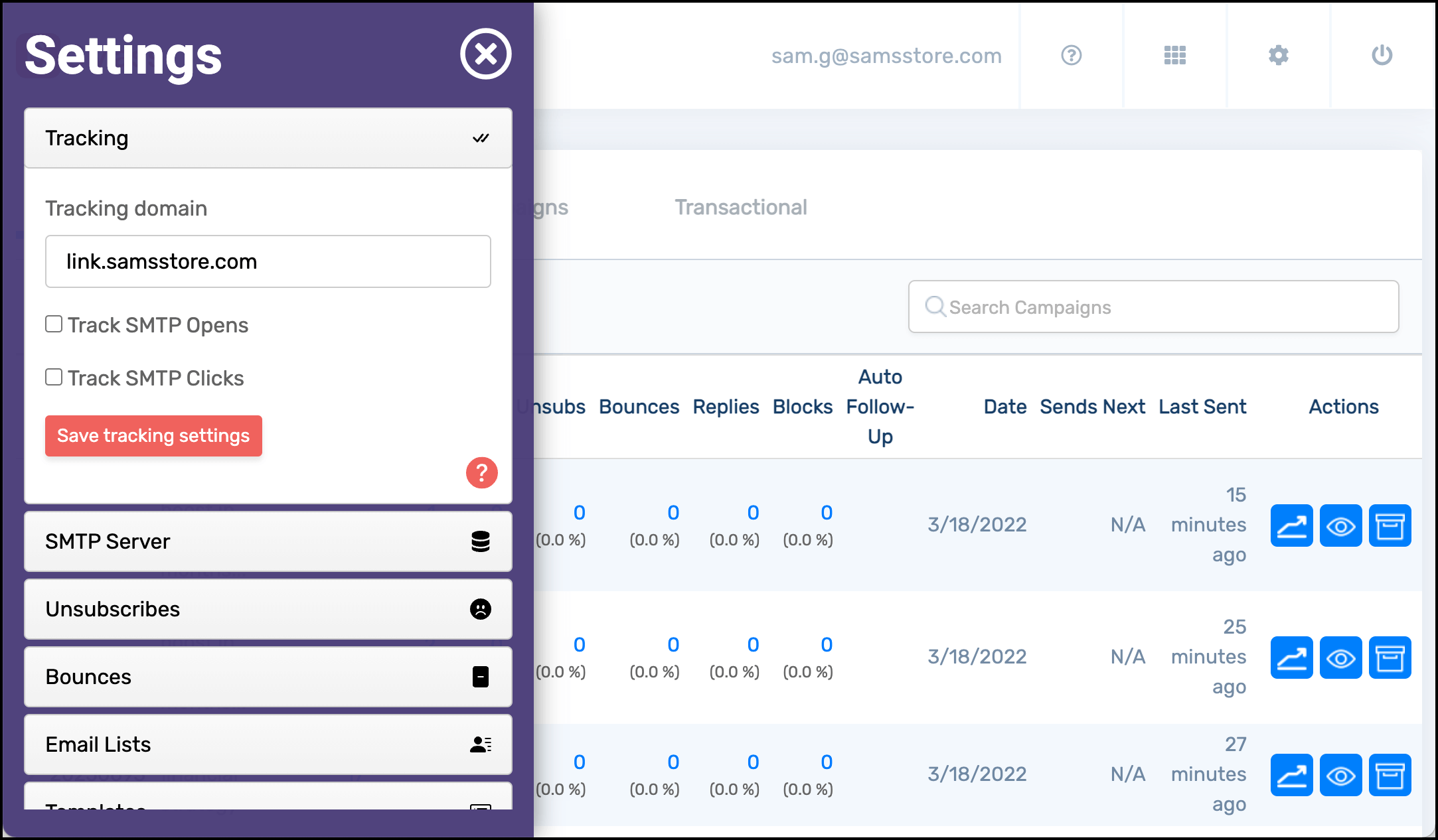 When you're using click tracking in your emails, those clicks have to be tracked somewhere. Your links will go through a tracking domain for click tracking and GMass (or any other email platform) will default to its own tracking domains.
As much as we try to win in spammer whack-a-mole, sometimes a spammer will sign up with GMass and get some emails out before we catch them — and they're using those same shared tracking domains.
That can "ding" those domains, so now, if they appear in your emails, it will (unfairly) besmirch your reputation. And we can't stand idly by while you're besmirched.
That's why we allow you — and strongly encourage you — to use your own custom tracking domain. We recommend a subdomain of the domain you use for a Google Workspace account (for example, if your website is businessideas.net, you could set up link.businessideas.net for tracking).
Doing so requires intermediate (or, at least, "savvy beginner") technical skills, but our instructions can walk you through it. (You can also fill out this form to request us to set it up for you for a one-time $50 fee.)
There are other benefits to tracking domains beyond keeping your reputation safe. A tracking domain also helps improve the branding in your emails — when your recipients mouse over your links, your own domain will appear as the destination. That can help click-through rates — which, in turn, also contributes to deliverability.
Plus, GMass is one of the few email service providers — and, we believe, the only cold email platform — that serves tracking links securely over HTTPS. GMass will obtain a free SSL certificate for your tracking links — which improves deliverability even more.
---
| | |
| --- | --- |
| | Spam Solver |
Spam Solver tests your campaigns to determine inbox vs. spam rates — and diagnose exactly what you need to change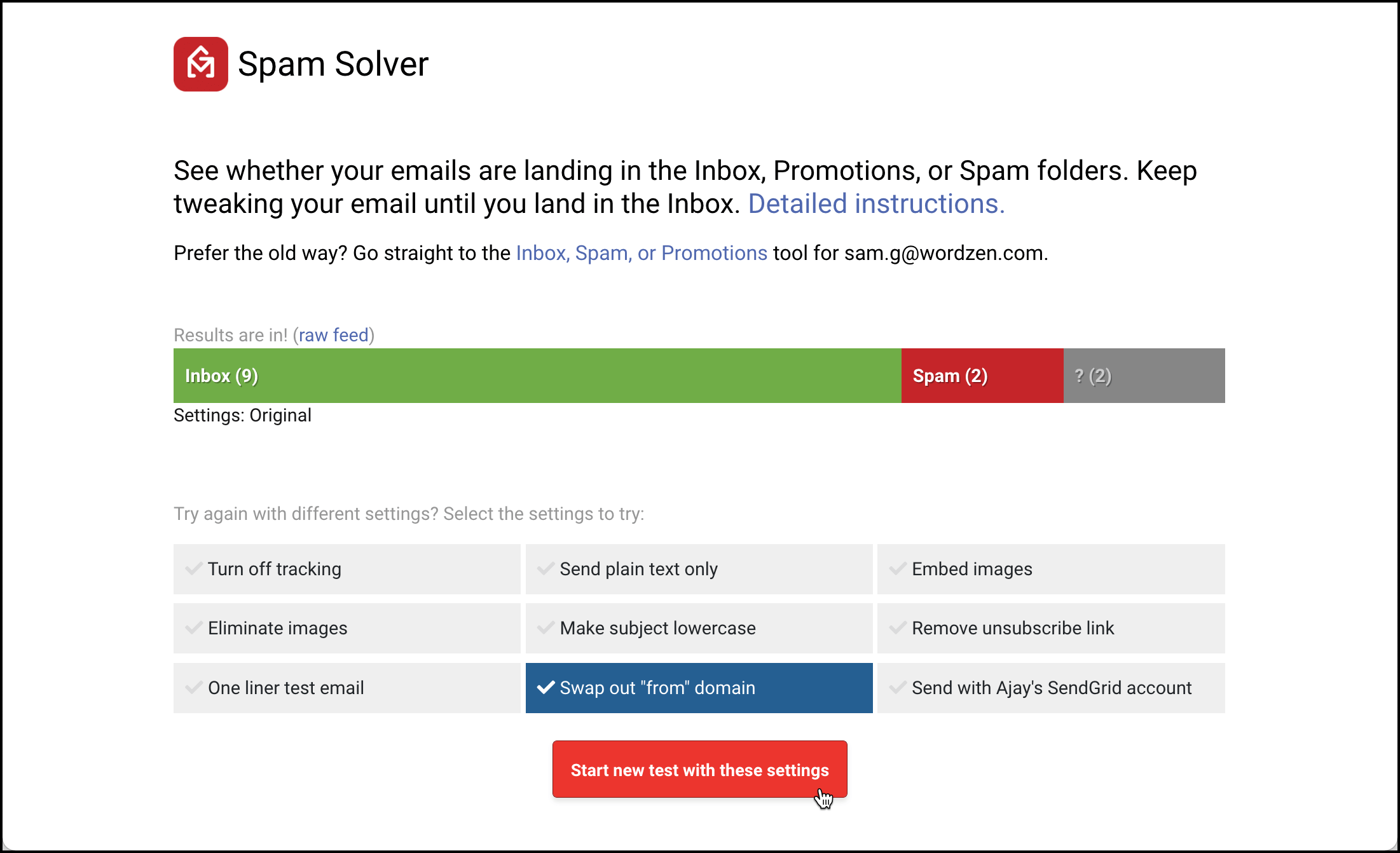 It's disheartening, to say the least, to send out an email campaign and realize a lot of your emails are going to spam.
We built our unique Spam Solver tool to help prevent that situation from happening.
When you're composing an email campaign, you can use Spam Solver in the GMass settings box to test your email's deliverability in advance.
The tool sends your email to 20 different Gmail and Google Workspace accounts and reports whether your emails wind up in the Inbox, Promotions or Spam folder. 
Then you can isolate certain potential problems and resend. For example, you can try the test again when sending from a different "from" domain. You can try sending without tracking links. You can try sending as plain text. 
Each time, you'll see your new deliverability results — and you can tweak your email accordingly until you maximize your inbox rates. 
Spam Solver can save you a ton of time on manually testing your emails and you won't find a tool like this at any other email marketing provider.
GMass's free Inbox, Spam, or Promotions? tool shows where an email from any email marketing platform will land
The Spam Solver is a great solution for GMass users who want to gauge where their email campaign will end up. 
But if you want to test an email from a different email marketing provider or you want to test an email before building out your campaign, you can use GMass's free Inbox, Spam, or Promotions? Tool.
With the Inbox, Spam, or Pomotions? tool, you send a campaign to 17 specific email addresses. Then you can watch in real-time to see where your emails land for each of those accounts.
---
| | |
| --- | --- |
| | Email Analyzer |
Analyze the technical details of a sent email to hunt down current or potential problems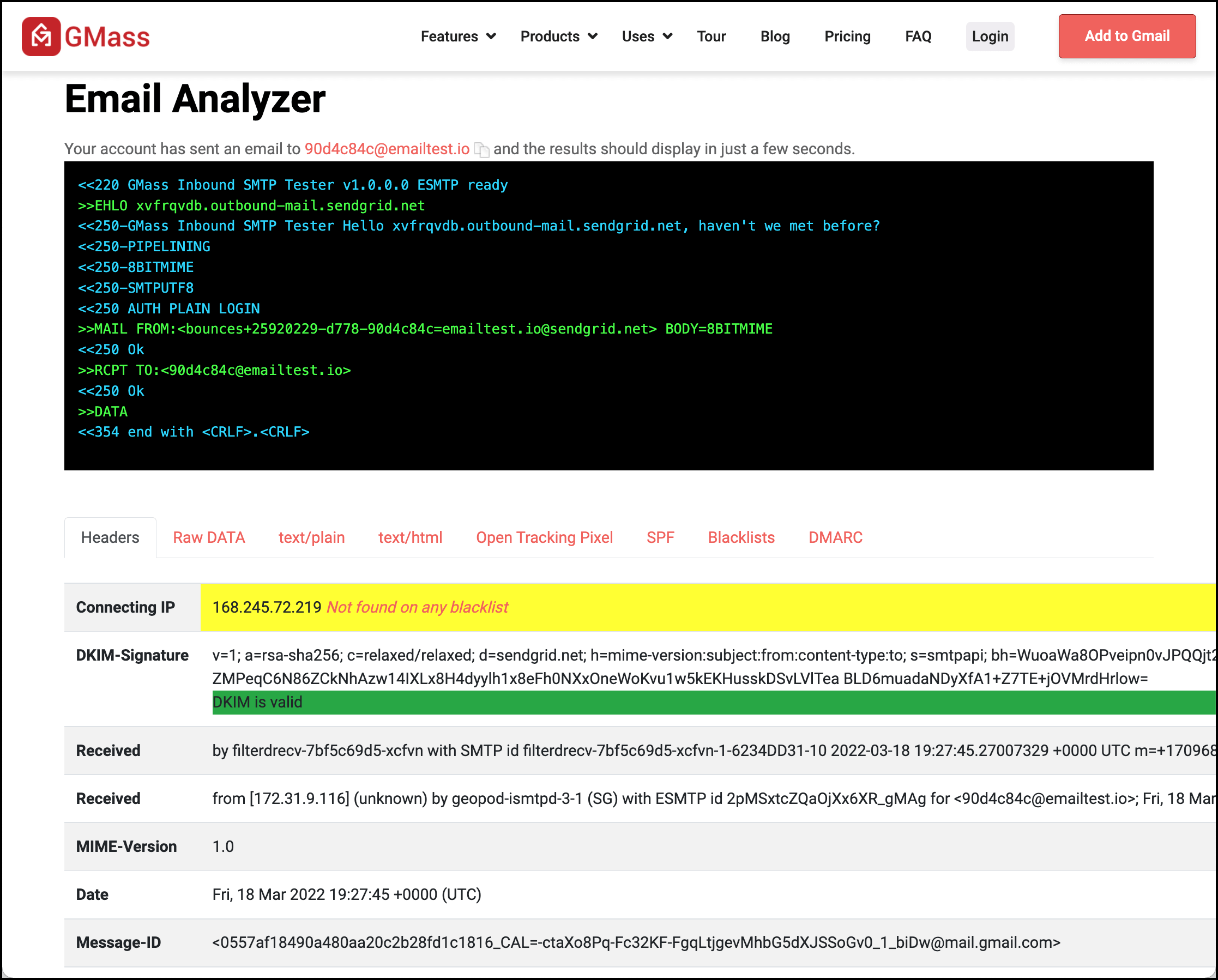 The more you understand about how your email service provider is sending your emails, the better you can diagnose deep-seated issues that could cause deliverability problems.
GMass's free Email Analyzer tool can evaluate your GMass sends (or your sends through any other email service) to show you all of the technical, behind-the-scenes details at every step of the email sending and delivering process.
With the Email Analyzer, you'll see whether your sending IP address is on any blacklists, whether your DKIM signature is valid, SPF results, the SMTP conversation between your sending provider and the recipient's server and more.
The Email Analyzer can flag potential issues that are causing (or could cause) problems for you.
It can help you compare email service providers to see where you'll get more reliable deliverability.
It also saves a ton of the manual work you'd do if you tried to, say, evaluate things like your SPF and DKIM checks on your own.
And if you're using a third-party SMTP server with GMass so you can break Gmail's limits and send virtually unlimited emails, the Email Analyzer can show you exactly how that SMTP service is sending your emails.
To use the Email Analyzer in GMass, open the GMass settings box in the Compose window, then click the Email Analyzer button in the top right. To analyze an email from another email service provider, just go to the Email Analyzer page and send an email to the specified address.
---
| | |
| --- | --- |
| | Email verification |
Verify each email address on your list before sending to avoid reputation-hurting bounces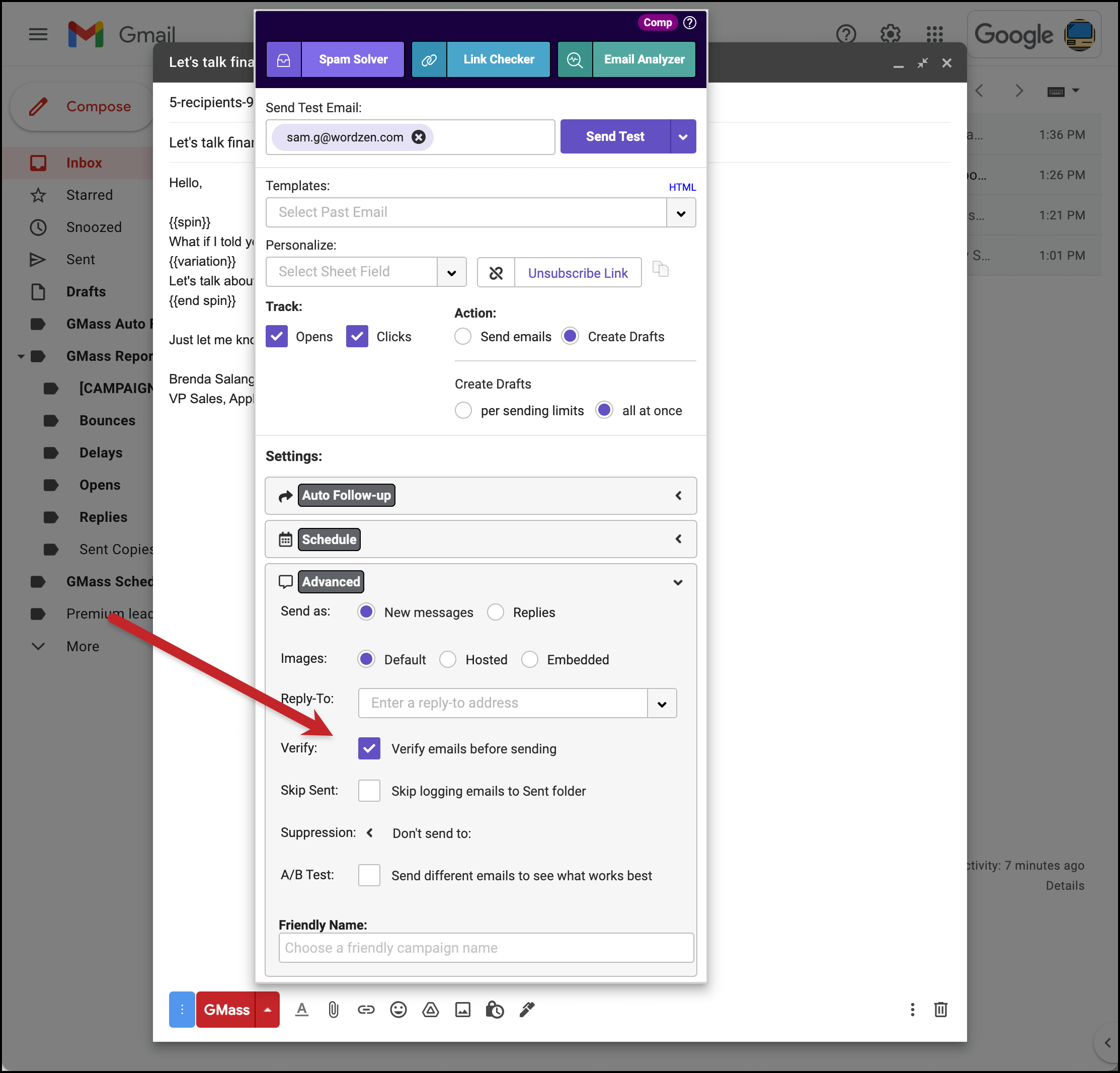 When you send emails to addresses that bounce, it can hurt your sending reputation. After all, if you're sending emails to invalid addresses, Google sees that as a sign that you're sending spam (or, at the very least, you're sending bulk emails to people you don't really know).
GMass's email verification service can help prevent you from sending emails to invalid addresses.
In the GMass settings box for your email campaign, you can go to the Advanced section and check the box to "Verify emails before sending." 
When you send your campaign, GMass will evaluate each email address one-by-one before sending.
The evaluations are a two-step process: First, making sure the email looks valid (for example, it's not [email protected]); second, sending SMTP commands to the recipient's server to check if the address is valid.
This will slow down your sends. However, since cold emailers generally prefer campaigns with slight pauses between each email (as it better replicates how a human would send emails), we hope this won't be a major issue for you.   
You can also use GMass's free web-based email verification service — paste in a list of email addresses and GMass will verify them. (The rate limit is 5,000 per hour.) And if you'd like to use the GMass API to verify email addresses, you can set that up as well.
One note: While GMass's email verifier is very good, it's not perfect. If you're aiming for perfection, we recommend a paid service that focuses exclusively on email verification — they'll go beyond the SMTP validation we use to attempt other methods as well.
---
| | |
| --- | --- |
| | Email Deliverability Wizard |
Use GMass's Email Deliverability Wizard for data-driven answers to deliverability questions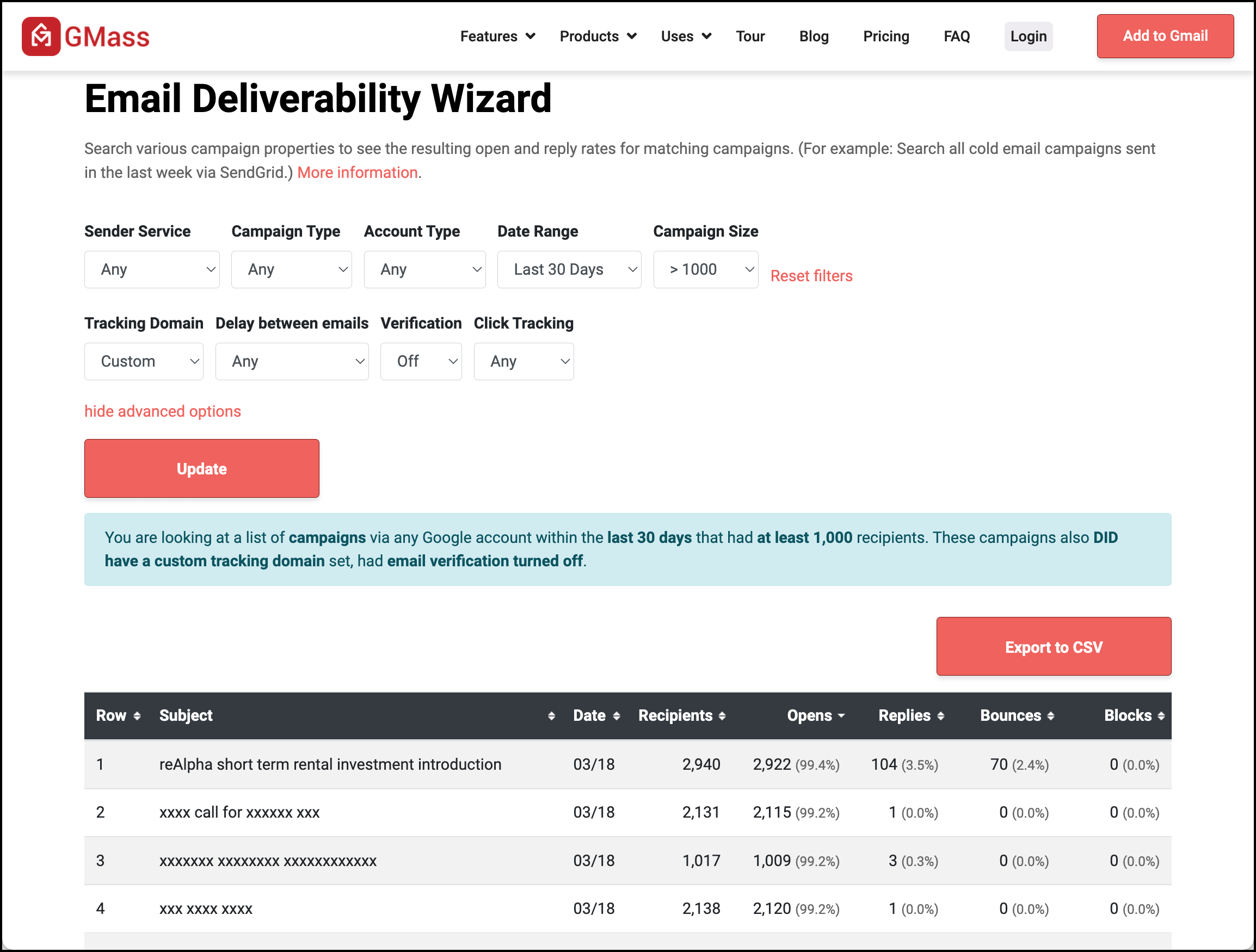 There are a lot of factors that affect deliverability (or might affect deliverability). How do you decide which you should focus on and which you don't need to worry about right now?
With the GMass Email Deliverability Wizard, you can search through stats from GMass campaigns from the past month to get real-time data on what factors do and don't seem to have an effect on deliverability.
You can evaluate different third-party SMTP services if you want to use one to break Gmail's limits with GMass — which one has the best deliverability?
You can see whether custom tracking domains make an appreciable difference versus shared trackers. 
You can evaluate whether taking steps like adding a delay between emails, verifying addresses, or removing click tracking are noticeably affecting deliverability.
The Email Deliverability Wizard is a free tool that can give you some strong evidence before you make decisions on your email settings. (Or, at the very least, it takes decisions out of your hands by turning them over to sweet, comforting peer pressure.)
---
| | |
| --- | --- |
| | Send better emails |
Improve deliverability by sending personalized, enticing emails to organic contact lists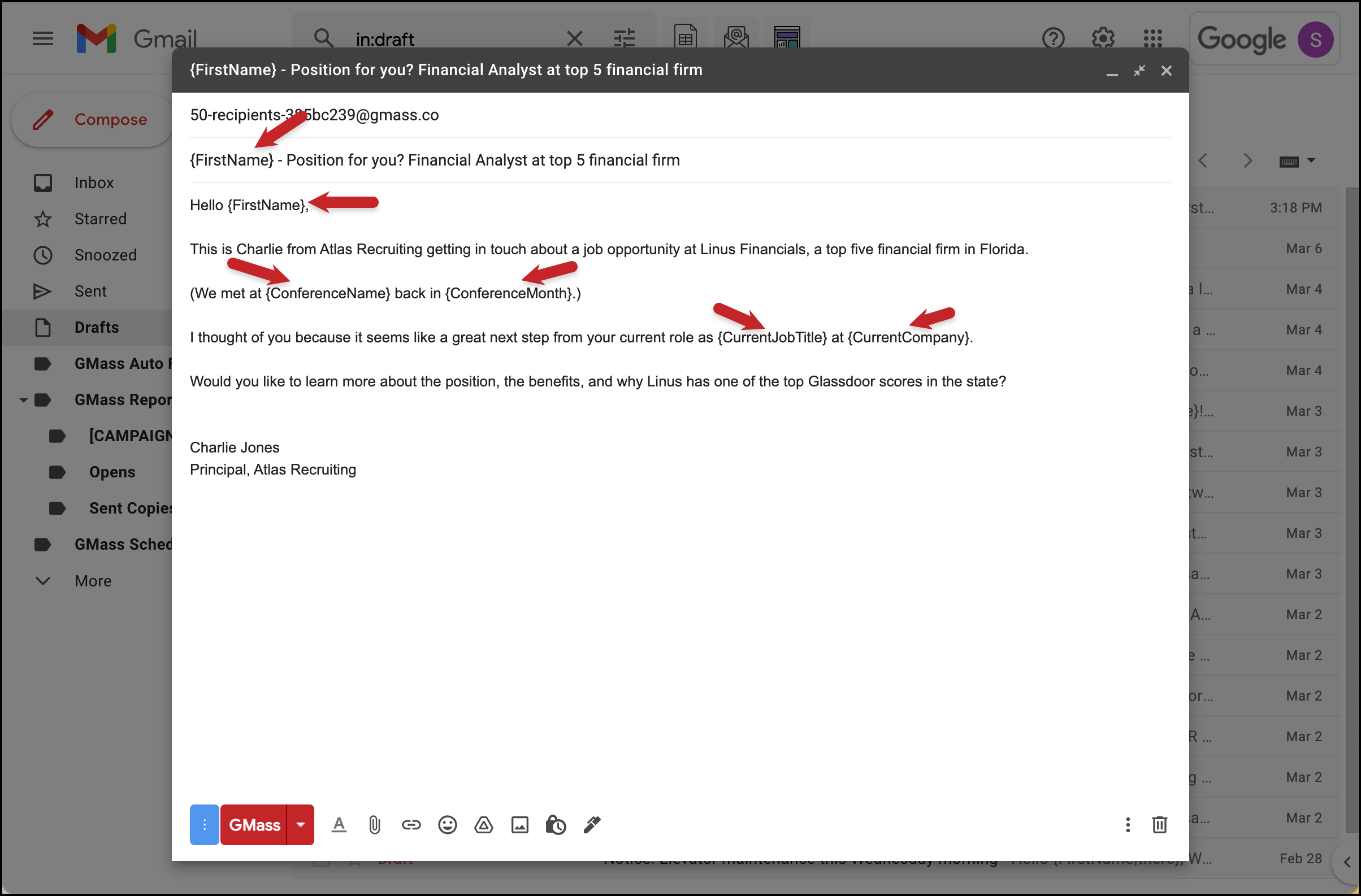 One of the deliverability factors we haven't fully explored yet on this page is: Do people actually want your emails?
If you're sending emails that people are opening, clicking, and replying to, that sends one of the strongest possible signals to the email services you're not sending spam.
And GMass has several features that can help you with that (perhaps underrated) element of deliverability. 
Also, if you're a non-commercial sender, let us know — we can optimize your account to aim for near-perfect deliverability.
---
Ready to join the legion of GMass users reporting the best deliverability they've ever had?
Deliverability is a major consideration in the email world — after all, if your emails aren't hitting people's inboxes, you're not going to get results.
GMass users almost universally report the best deliverability they've ever had thanks to the deliverability optimization systems we use and the tools we've built.
Our hope is that you won't see any deliverability issues and your emails will all wind up in the inbox — not spam. However, if they're not, our tools will tell you that — and help you figure out where you can make tweaks to improve the situation.
Get started with GMass today to help you better understand, diagnose, and conquer email deliverability issues — and to begin your march toward your best-ever inbox placement rates.
(Want to learn more about GMass's features? Next up: All about GMass's template management.)