The easy, fast way to streamline the recruiting process
Send personalized mass recruiting emails from right inside Gmail, no complex software required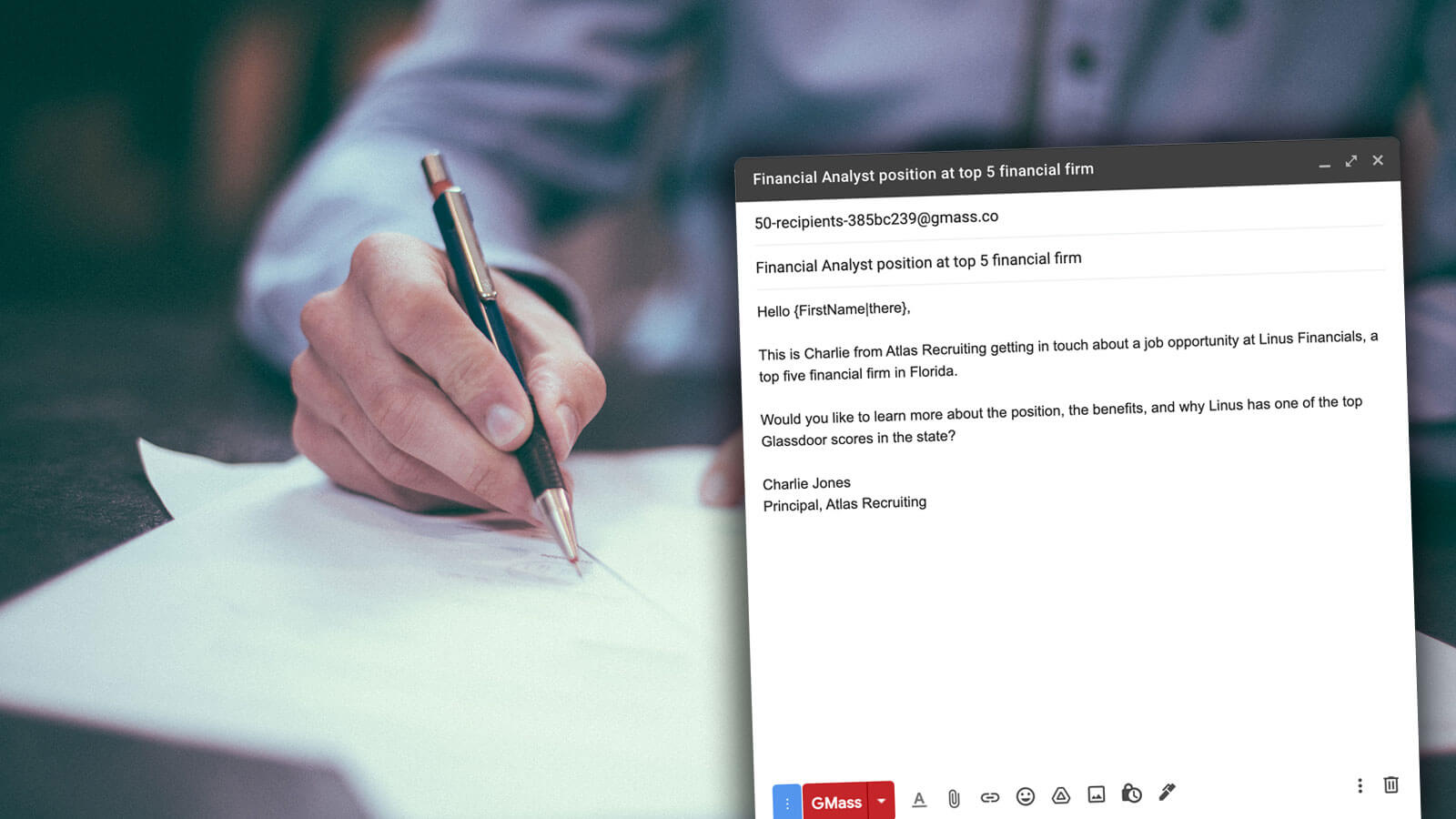 It's time to streamline your recruiting — from cold emailing potential candidates to following up at every step of the interview process.

And it's time to do it without having to learn a single new complex piece of software.
GMass is your simple, affordable option for sending cold emails, follow-ups and every other bit of correspondence during the hiring process. Except for maybe the "you're hired" moment, which feels like a good situation for a call or Zoom. Or singing telegram, if you've got the budget.
With GMass, you can send a personalized, individual message to every prospective candidate from right inside your Gmail (or Google Workspace) account — and send mass personalized follow-ups inside Gmail as well.
If you know how to send an email, you'll know how to send a mass email.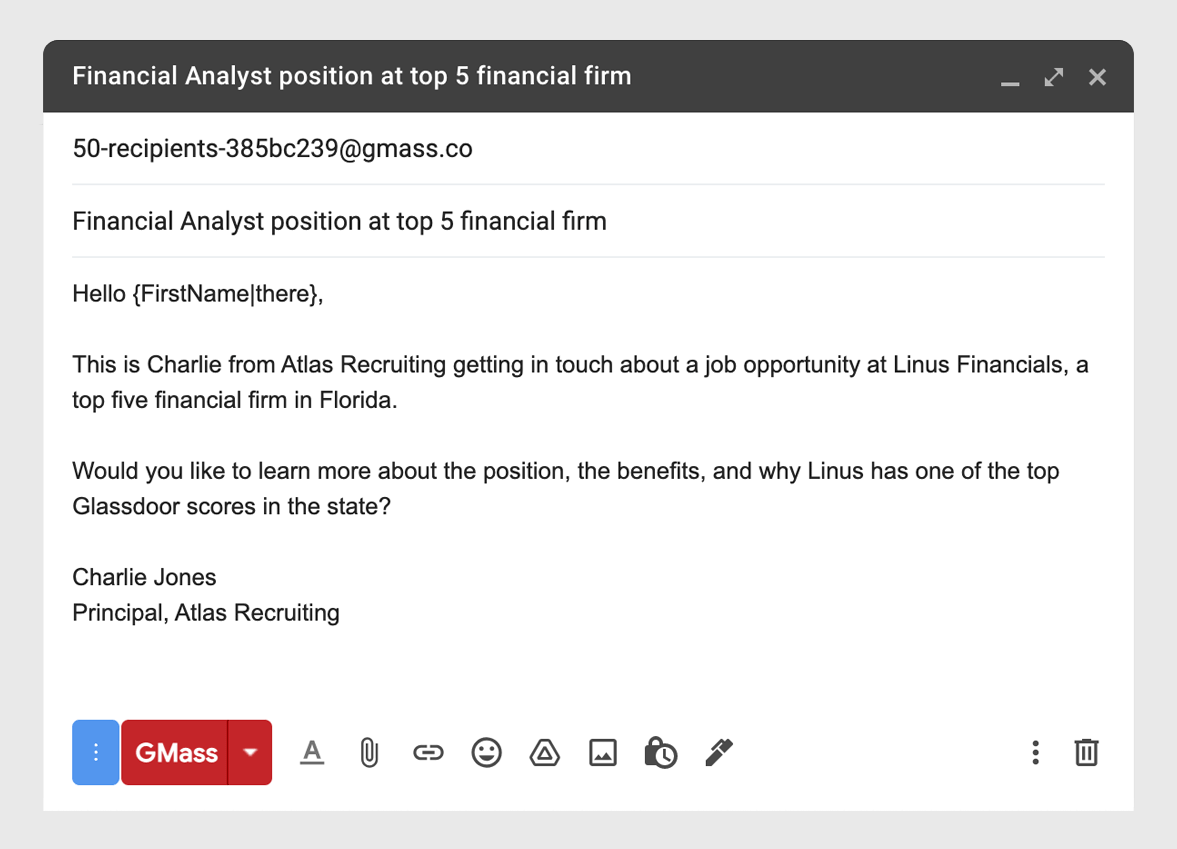 Send individual recruiting emails at scale right inside your Gmail account
300,000+ users, 6,600+ reviews, and (nearly) a ⭐⭐⭐⭐⭐ average in the Chrome Web Store
"GMass was a snap to figure out and set up and use! Sent out my first mass mailing in less than an hour – what used to take a whole day." – Nick H.
"This extension was perfect for mail-merge novices like me! I was nervous that it wasn't going to work (it sounded too good to be true), but lo and behold, it worked seamlessly. There are great prompts that check/correct things along the way." – Amelia V.
"Great product and amazing support. Easy to use and perfect for our campaigns." – Yasser K.
Send better recruiting emails in just a few clicks
Get started fast


Go from installation to sending your first recruiting emails in minutes.

No new software to learn


Know how to send an email in Gmail? Then you know how to send a mass email with GMass.

Save money
GMass has affordable pricing for individuals — or for your entire team.
Personalize each message


Include each candidate's name (and any other details you want) in your emails.

Track your results


Track opens, clicks, replies and unsubscribes. Learn how your candidates are responding to your emails.

Avoid the spam folder
GMass's advanced email distribution system helps your mass emails land in the inbox, not the spam folder.
Build a list from your Gmail


Quickly build new lists with Gmail searches. For instance, a list of candidates to set up interviews.

Send automatic follow-ups


For example: Send a follow-up three days later to candidates who opened your first email but didn't respond.

Schedule emails for later
Set up an email campaign at any time and date in the future.
Try GMass for free — no credit card required
Attract better candidates and run a smooth hiring process
Recruiters and hiring managers around the world are using GMass
Headhunting emails. Send personalized emails to prospects with details about your new job and how to apply. (Need help getting started? Check out our eight cold recruiting email templates.)
Application reminders. Give a quick nudge to candidates who haven't opened your recruiting emails (or perhaps those who did open the email but didn't click through to apply).
Schedule and confirm interviews (and every other step of the hiring process). Send personalized mass emails with interview times for candidates — and automatically follow up with those who haven't confirmed.
Send personalized thank yous. Candidates deserve to know when you aren't moving forward, but a generic mass email is not the right approach. Instead, you can send a personalized mass email thanking each individual candidate for their time.
Future job postings. Make lists of candidates who might be good for future positions, then follow up with them when those jobs open.
---
Recruiting emails with no learning curve
To show you just how soon you'll be sending your first recruiting emails with GMass, we put together this guide… then we realized it's only five steps long.
Step 1: Install GMass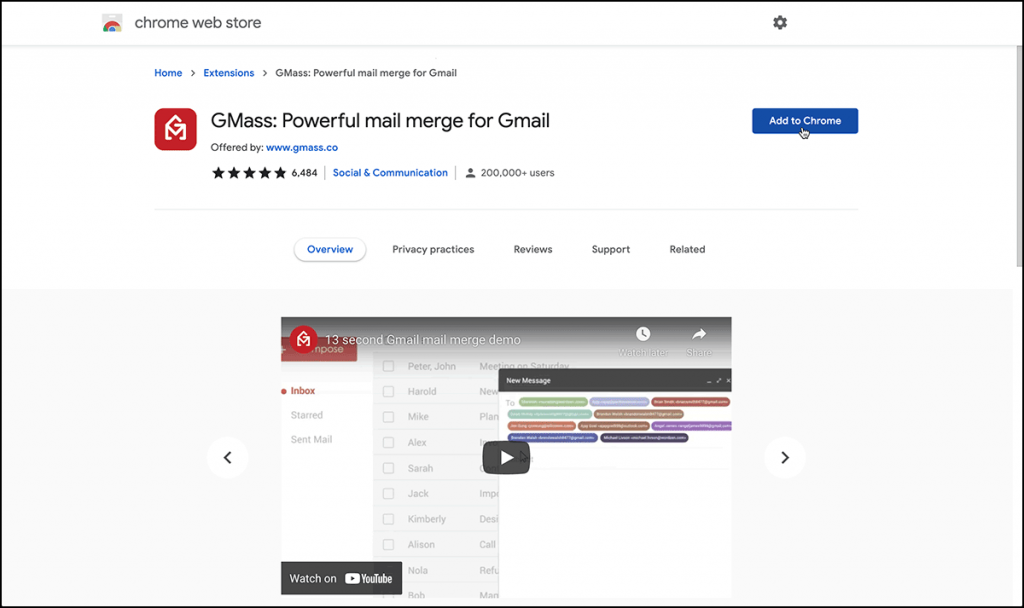 Install GMass at the Google Chrome web store and connect it to your Gmail account with a few clicks.
Step 2: Import your Google Sheet of potential candidates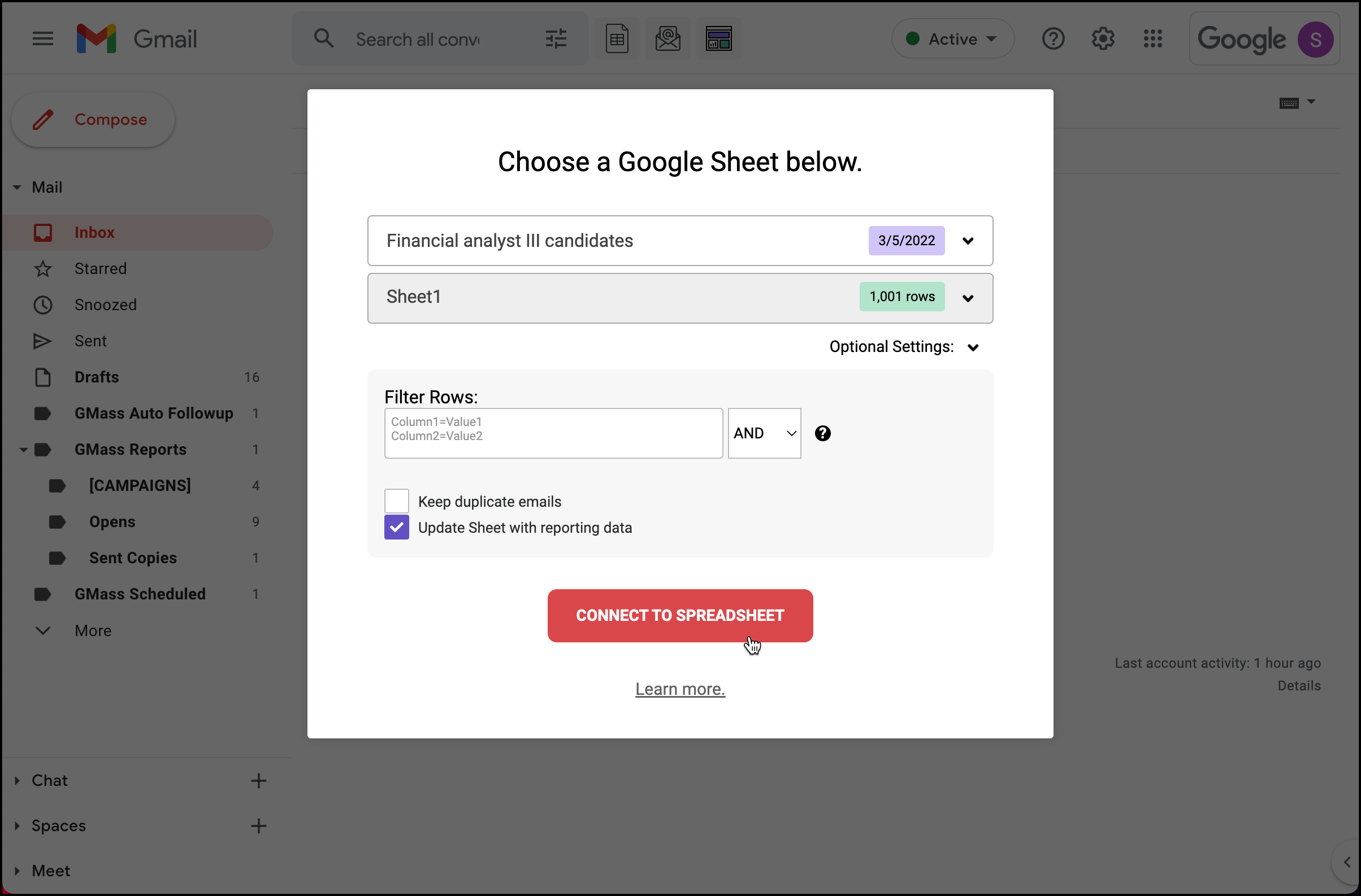 Click one button in Gmail to import your Google Sheet of prospective candidates.
Step 3: Write your cold email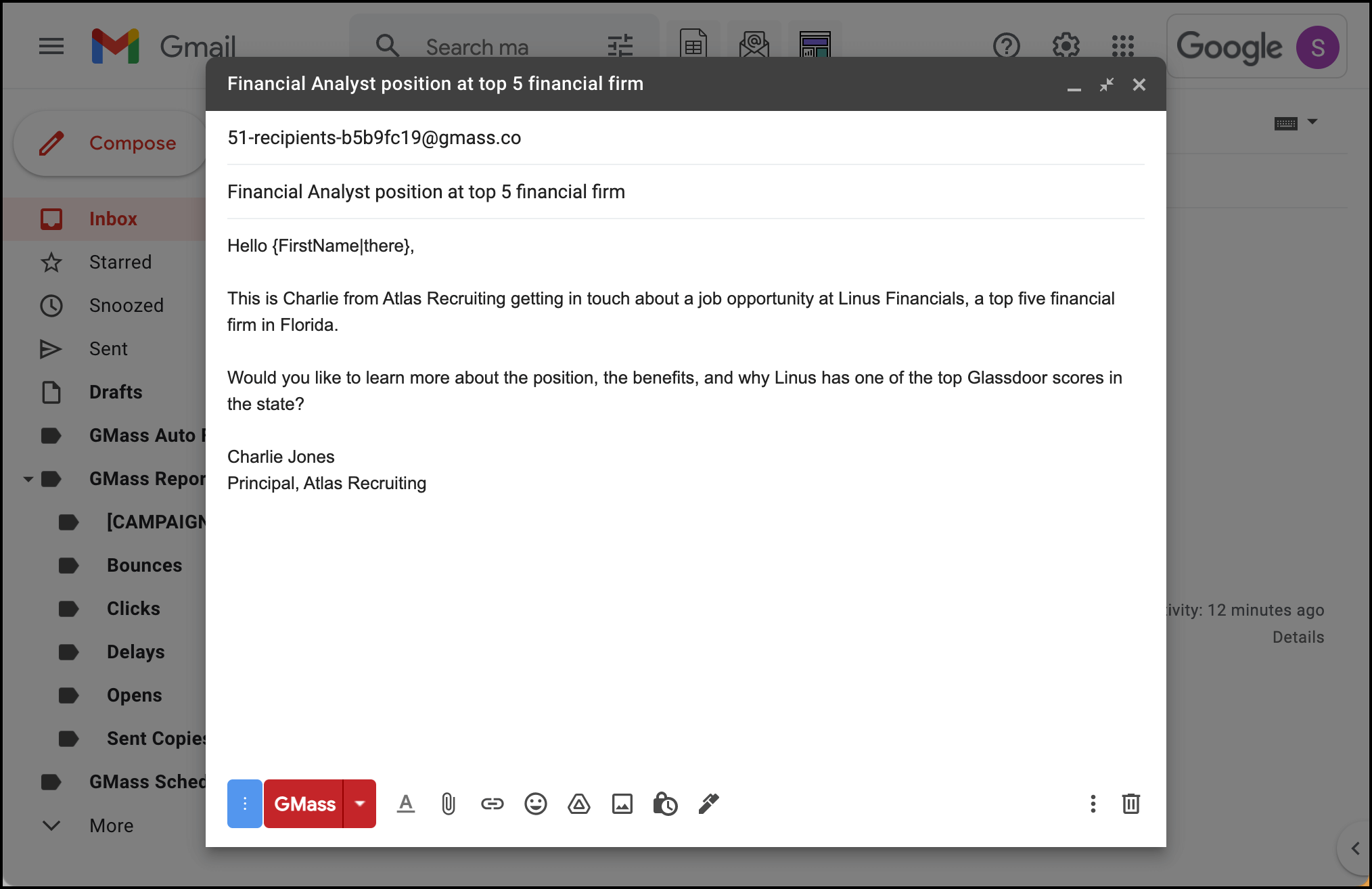 Write your enticing cold email to invite the candidate to apply for your job and use the GMass pop-up tool to add personalization fields.
Step 4: Select any extra email features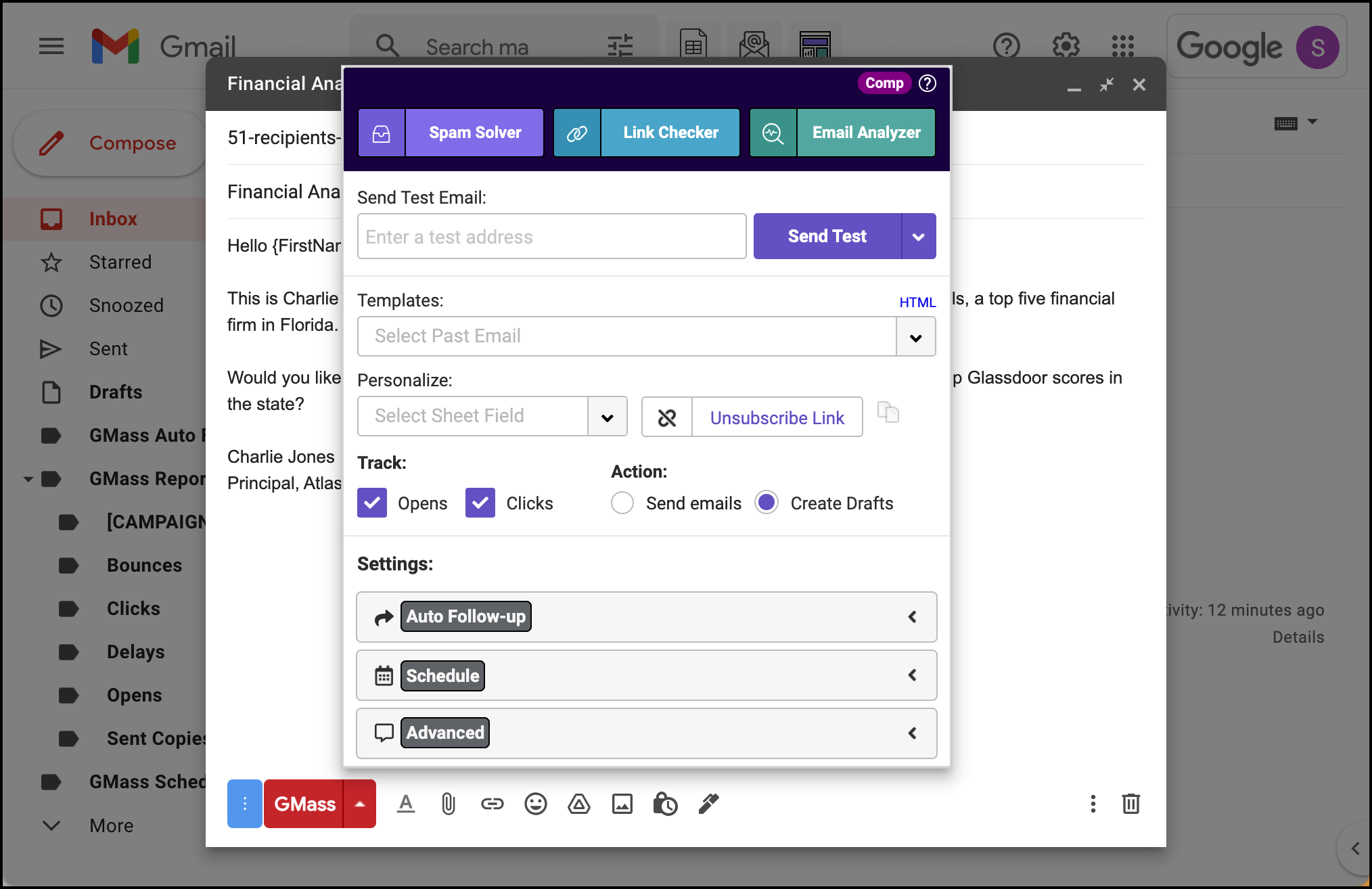 Set up automated follow ups, schedule your email for the future, and more. You can even automatically send an email whenever you add a new candidate to your Google Sheet.
Step 5: Click the GMass button to send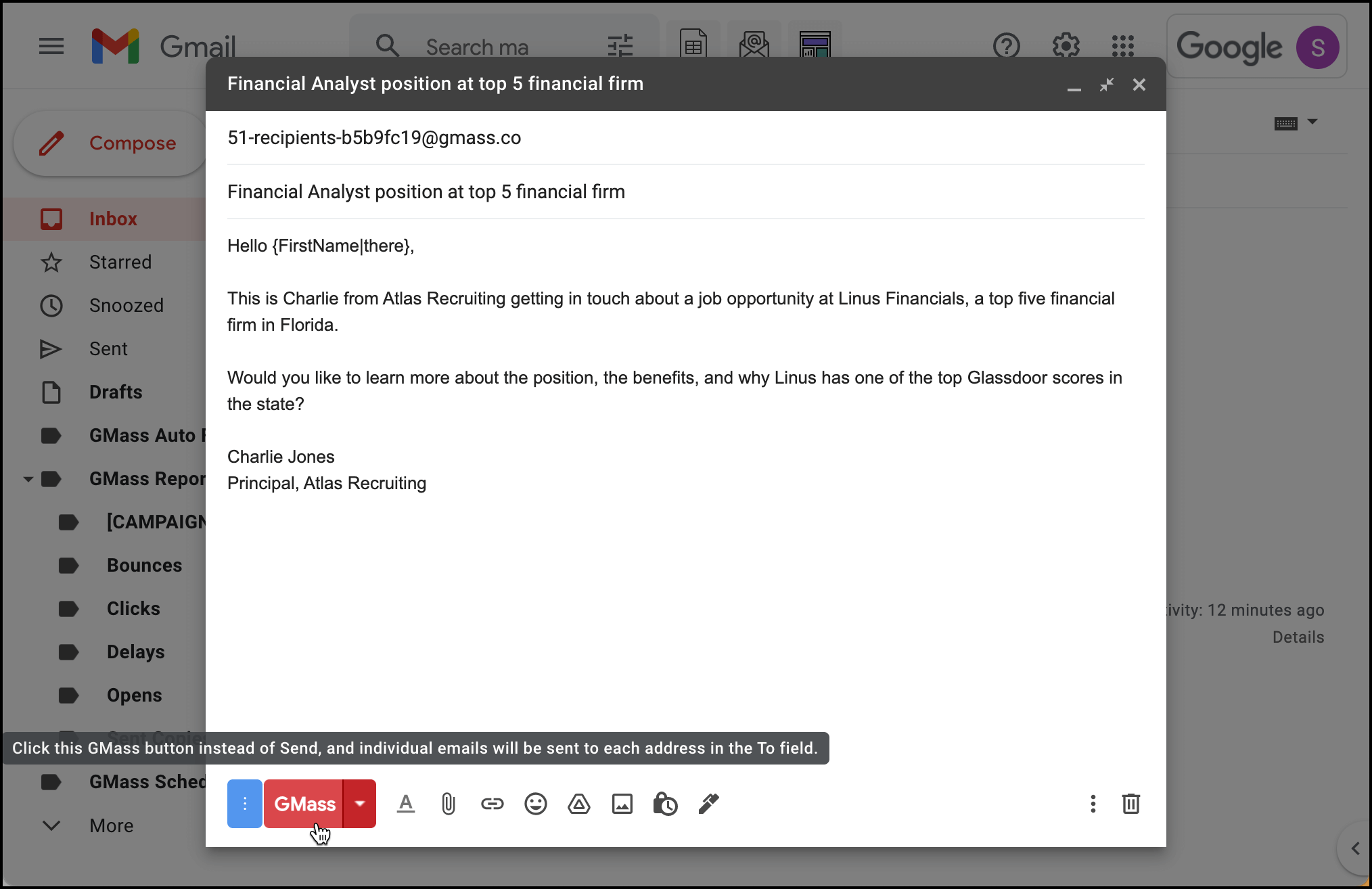 Click the GMass button and your email will send now (or at a scheduled time). Now you can track your results right there in Gmail as well.
Well done. You just sent your first recruiting campaign and it probably took less than five minutes — plus now you can use Gmail to manage your entire hiring process. Spectacular efficiency looks good on you.
---
Join the thousands of other recruiters using GMass (along with 300k other salespeople, businesses, nonprofits, schools and more)
Try it for free, get up and running in minutes, and start hiring more top prospects from cold email today!