GMass reporting: Accurate, actionable, and shareable email analytics where and when you need them

GMass compiles key data from your campaigns and makes it easily accessible and shareable across platforms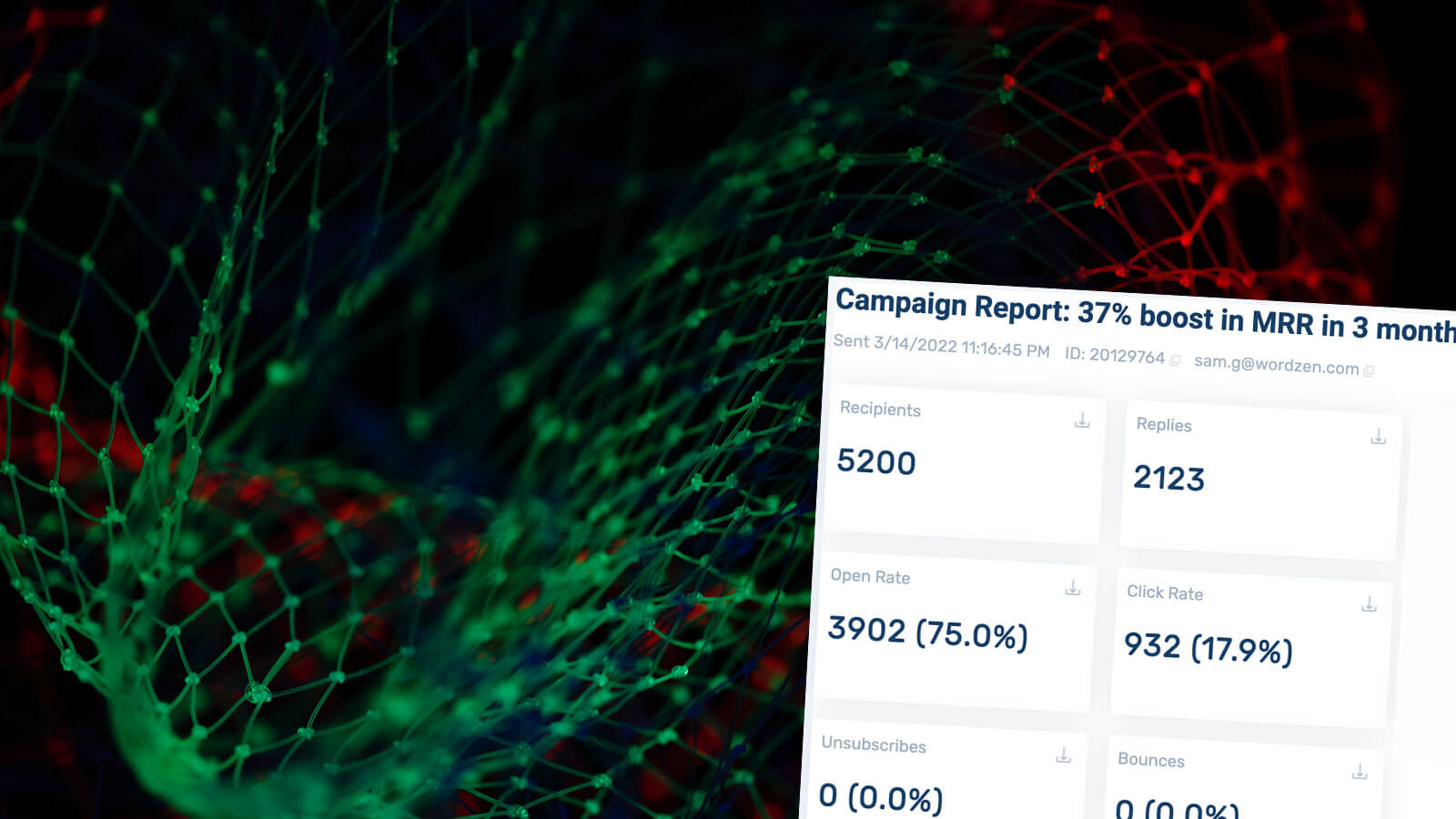 One of the many reasons why email is so popular for outreach, marketing, and crucial communications is because it's so measurable. 
There are useful (and generally easy-to-understand) stats at pretty much every stage of an email's lifecycle — which is great for diagnosing problems, brainstorming improvements and measuring success.
But if those stats are difficult to access on an email service platform, if the reporting is confusing or incomplete, and if you have doubts about the accuracy of the data — well, then you're missing out on a huge opportunity to improve your email marketing.
At GMass, we've set up our reporting process to make sure you can quickly access, analyze, compare and share the key results from your campaign. We're also working on a theory that analyzing email data makes you better looking, but we can't guarantee that yet.
Read on to learn all about GMass reporting including the three places you can find reports, how we aim for more accurate open and click tracking, and how to share reporting with your team (or others).
---
| | |
| --- | --- |
| | Reports |
Get your GMass campaign reports wherever you are: Your email, the dashboard or on the web
GMass tracks nine different stats for your campaigns: Total recipients, unique opens, didn't opens, unique clicks, replies, unsubscribes, bounces, rejections due to Gmail sending limits, and emails blocked by spam filters.
And you can access those stats for your campaigns in three different ways.
Reports inside Gmail: Convenient, easily searchable reports that keep everything inside Gmail

GMass works almost completely inside Gmail, and reporting is no exception. You can get campaign reports inside of Gmail via GMass's automated reporting emails.
You'll receive reports in Gmail which will automatically be tagged with the GMass Reports -> [CAMPAIGNS] label.
These reports contain info about your campaign, the nine aforementioned stats, CSV download links and links to the real-time web report.
You'll also receive email reports for each of the core stats individually. Those receive their own label under GMass Reports, like GMass Reports -> Opens or GMass Reports -> Over Limit.
Some of the situations where you might find the inside Gmail reporting most useful are:
When

you're checking Gmail on your desktop or your phone/tablet

, even if you're in a browser where GMass isn't installed or a mail app.

When you're

already in Gmail

and want to quickly click over to check your reporting.

When you want to

search your reports

; the Gmail search box makes that simple.

When you want to

build new email lists using your results

. For example, you can use GMass's

list builder

feature to quickly put together a list of everyone who's ever opened one of your emails.
Reports in the GMass dashboard: Visually compare campaigns and send templated replies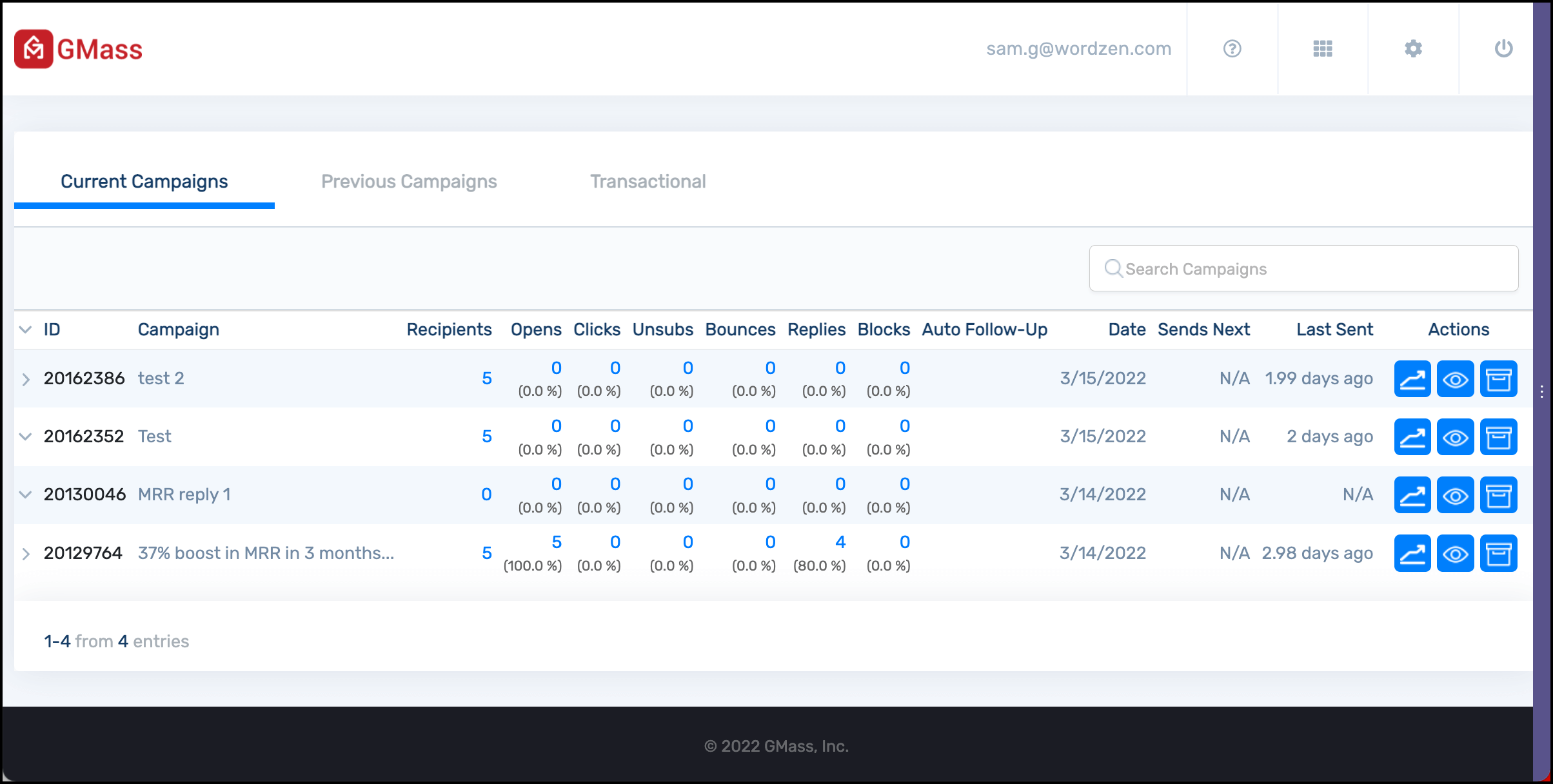 The next spot where you can find GMass campaign data is in the GMass dashboard. The home screen of your dashboard shows your current campaigns with tabs for your previous campaigns and transactional emails as well. With the advanced search feature you can find campaigns by subject line, name, number of recipients, dates, open/click/reply rates, and more.
You can dig into any stat by clicking on the number; for instance, clicking on your Opens for a campaign brings up the right sidebar showing you every address that opened (along with a link to download a CSV or Excel file of that info — or to export it to Google Sheets).
When you click on Clicks, you'll see a breakdown of how each link performed along with raw data on which recipients clicked which link.
You can also find extended info about any campaign by clicking the carat (that's the > symbol) next to the campaign ID.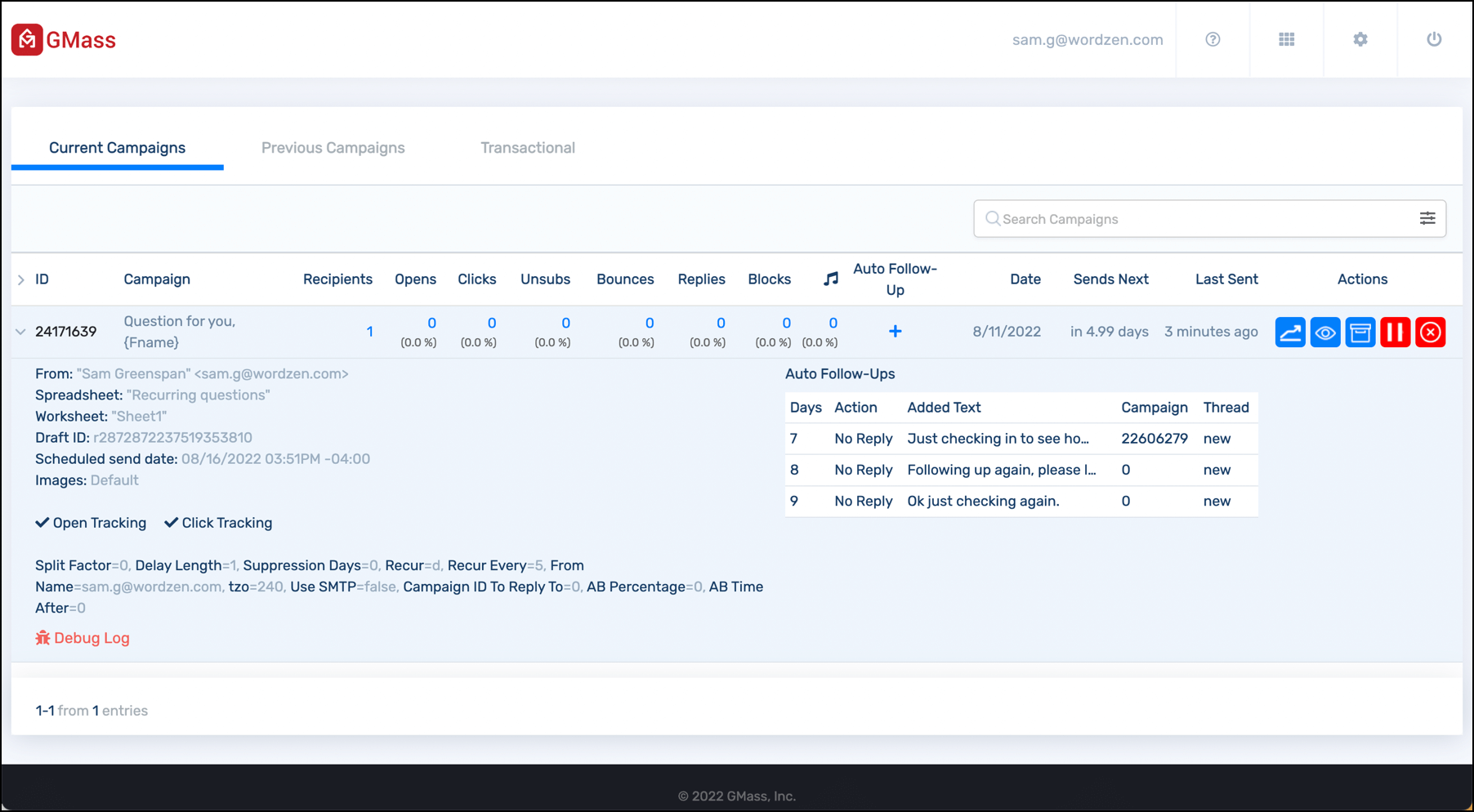 Some situations where you might find the GMass dashboard reporting most useful are:
When you're

in the GMass dashboard

(naturally).

When you want to get a good

overview of recent campaigns stacked up against each other

for comparison purposes.

When you want to search for campaigns to find specific campaigns or groups of campaigns to examine.
When you want to see extended info about a campaign.
When you want to see the sentiment analysis of the replies to your campaign and quickly respond to those emails with a reply template.
Web-based GMass reports: Live data in responsive, sharable campaign reports with a domain-level breakdown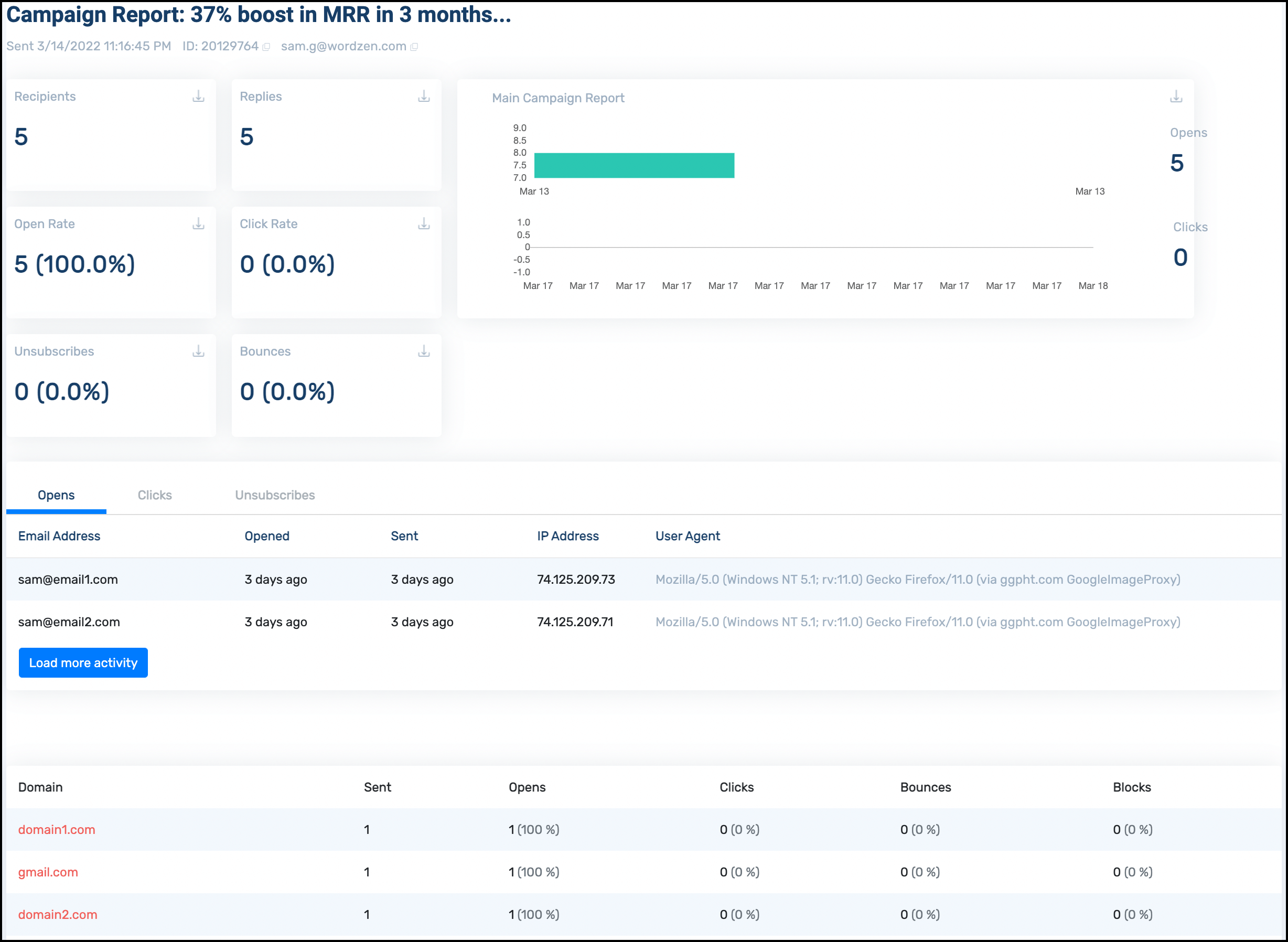 The third way to access GMass reporting is through the web-based report. There are links to the web-based reports in both the reporting email and the GMass dashboard. 
The web reports are responsive so they work in a desktop or mobile browser with no login required. That also makes them sharable — you can share the URL with anyone and they can access the report. (But be careful, because they can also see your recipient list in that report.)
The web-based reports also feature a live feed showing opens, clicks and unsubscribes in real time so you can watch your campaign progress as it happens. You can click on any stat to open a fly-out panel on the right with more details (for instance, clicking on the Open Rate number will show you the email addresses of everyone who opened and how many times they opened the email).
Plus, the web-based reports show domain-level reporting, where you can see your campaign results broken down by the domain of your recipients' email addresses. (We'll discuss domain-level reporting later on this page.)
Click on the download icon in any of the stat boxes to download a CSV or Microsoft Excel file of your data — or to export it directly to Google Sheets.
Some situations where you might find the web-based reports most useful are:
When you're

sharing the reporting data

(even with yourself, so you can pull up the link on your phone or another computer).

When you want to

watch live campaign stats

stream in.

When you want to see

how your email is performing with recipients at various companies

(using domain-level reporting).

When you want a really nice looking report that summarizes your entire campaign.
When you want to download a campaign CSV or Excel file, or export to Google Sheets.
---
| | |
| --- | --- |
| | Open & click tracking |
How GMass works to deliver more accurate open and click tracking for your emails
If you're going to make major strategy decisions based on your email analytics, it's important those numbers are as accurate as possible. But both open tracking and click tracking have some quirks that can affect their accuracy.
Here's what we're doing at GMass (and what you can do with GMass) to improve the accuracy of your open and click reports.
Block your own pixel for better open tracking

We have systems in place at GMass to improve open tracking, from blocking false opens by a Google bot to using parameterized, encrypted URLs that are very difficult for pixel blockers to spot. Yes, some user agents can still slip through and automatically trigger false opens, but we're always working on stopping that from happening.
However, the main culprit in "false opens" is when you open your own campaign emails.
You're not doing it on purpose, but if you open the draft of one of your emails, open it in your sent folder, or open a bounce notification which contains that original email — all of those situations register as an open.
To prevent that situation, we've created a companion Chrome extension to GMass called the Tracker Blocker (download it from the Chrome web store).
This extension blocks the GMass pixel so when you open any emails from your own campaigns, they won't register as a false open.
Advanced click tracking to identify your best leads
One common way to track clicks is by adding UTM parameters to your email links, then tracking those parameters in Google Analytics.
However, GMass's click tracking goes beyond those reports with data on who clicked, the total number of email addresses that clicked and real-time reporting on clicks, and even triggered automations based on clicks.
Plus, with GMass's click reporting, you can quickly build email lists within Gmail of the people who clicked, then send them a new campaign or targeted follow-ups.
GMass also offers the option to disable tracking on certain links (say, a link to a YouTube video that would no longer show a preview in Gmail when a tracking code is added).
---
| | |
| --- | --- |
| | Domain-level reporting |
Domain-level reporting shows your results emailing a specific domain (and compare your results to everyone else's)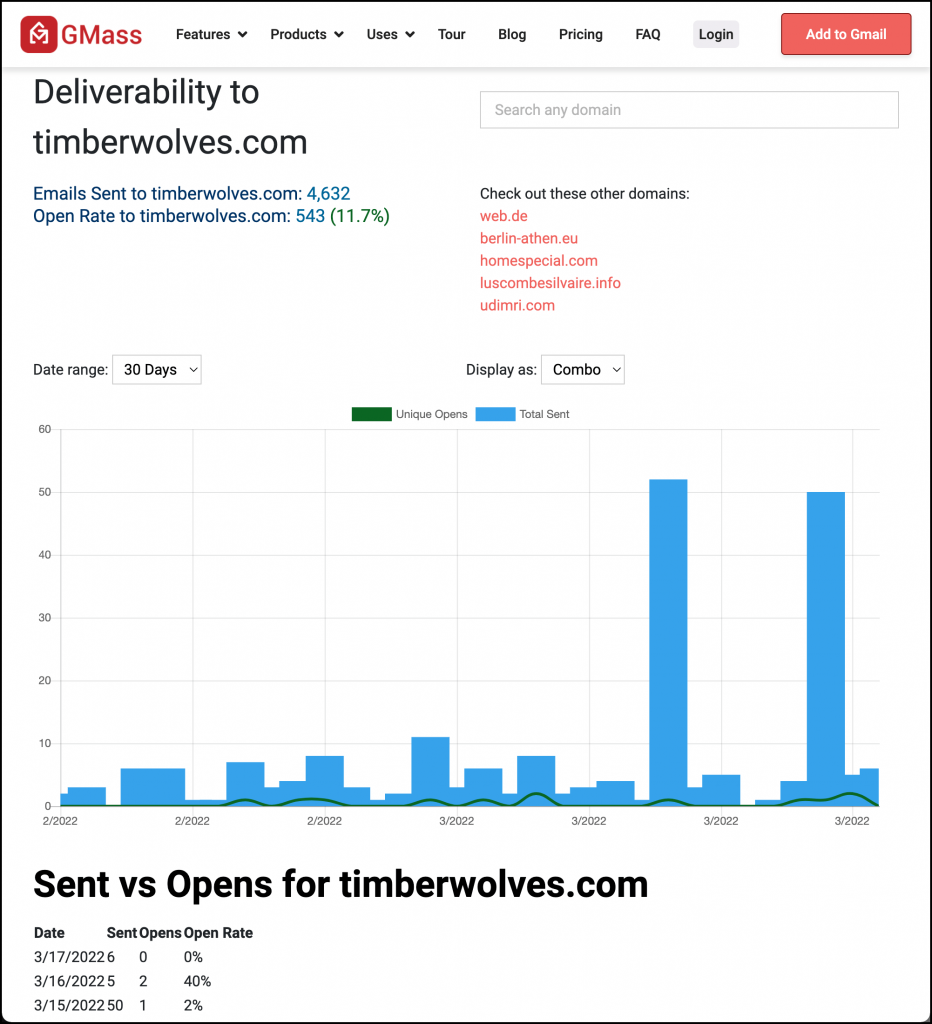 As we mentioned earlier, domain-level reporting is available in the web-based GMass reports. 
Here you can see the stats on your email campaign broken down by the domain of your recipients' email addresses. For instance, if you were sending cold emails to the promotions department for every NBA team, you might be curious to see how emails to people @celtics.com compare to people @timberwolves.com. 
Domain-level reporting can also give you a macro-level insight into whether your campaigns to certain domains are performing better or worse than other senders' campaigns.
GMass has live stats broken down by domain on email send volume, open rates, bounces, and spam blocks for every domain someone has emailed via GMass.
---
| | |
| --- | --- |
| | Report sharing |
With multiple report sharing options, share your campaign results in the way that best fits your needs
Campaign reports are not a one-size-fits-all situation. Depending on your team, your clients, your manager, and your workflow, you need an easy way to share your campaign data the way you want to share it.
GMass offers six different ways you can use to share your reports.
Sharing the web-based report for live data with little friction
Sharing the web-based report is a popular way to keep your team up-to-date on a campaign. Because the web-based report doesn't require logging in, anyone with the exact URL can see the report on desktop or mobile — that makes sharing particularly low-friction.
Plus, the web-based report looks great and has full charts, graphs, and breakdowns.
There is a downside, though, in that anyone viewing the web-based report can see your full report — and that includes the email addresses on your entire list. You might not want to share those, say, if you're running a campaign on a client's behalf and they want to see your report.
Sharing on social media
You can share your campaign results on social media with the Shareable link.
Copy the shareable link at the top of the web-based report. Then paste it into your social media post. GMass will automatically generate a graph and live stats on your campaign. And people who click through will see your report (with sensitive and all personal info removed.)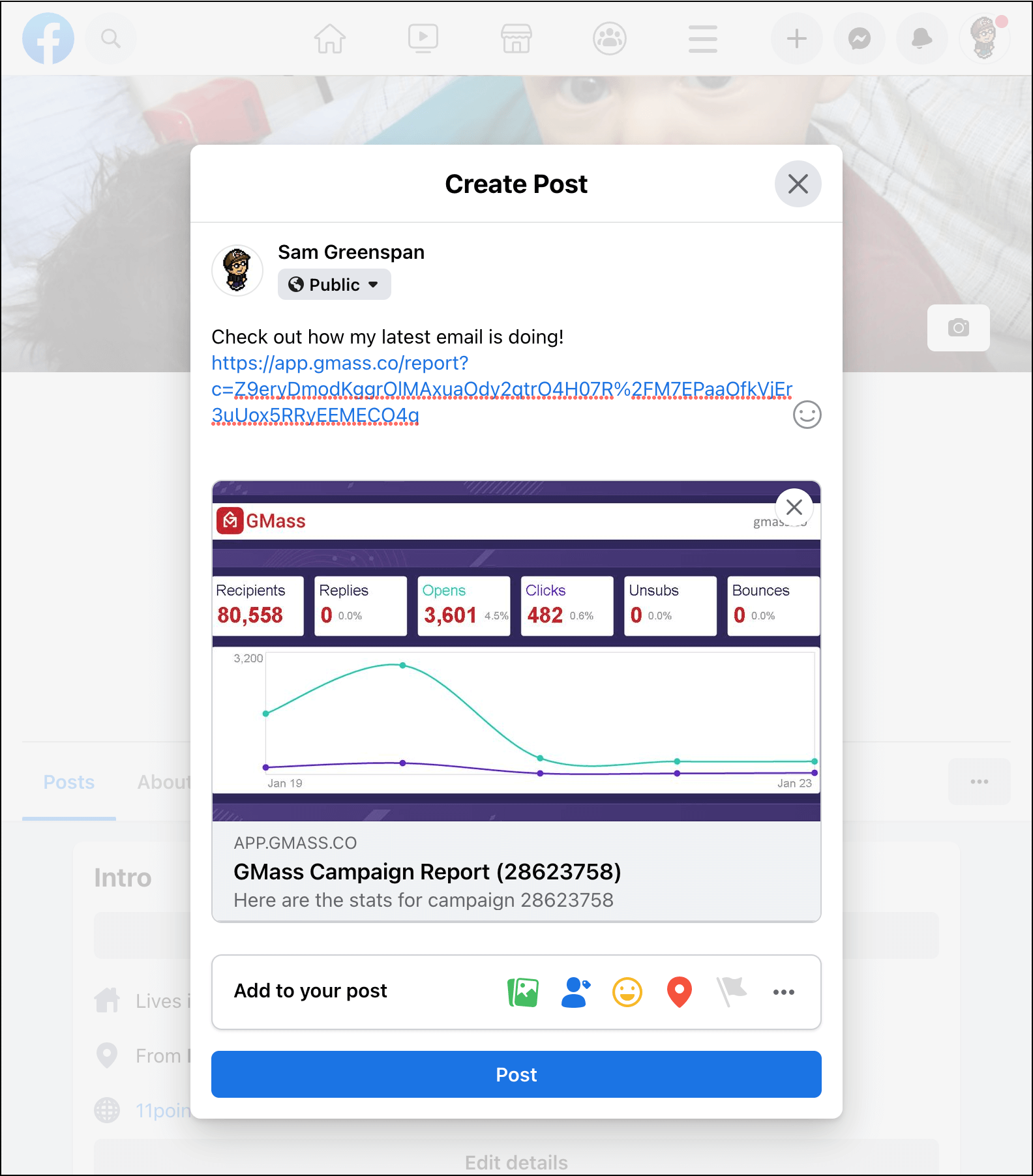 Sharing a special version of the web-based report that doesn't include specific email addresses

While you could share the full web-based report with your team, odds are you wouldn't want to share it with anyone externally (or any of those sharks at the office who you know would steal your leads because they had no trouble stealing your food). 
GMass has a solution for that. At the bottom of the web-based report, you have an option to "Copy a shareable link to this report to the clipboard." That generates a link for a similar web-based report… only one that doesn't include specific email addresses.
Automatically (and indefinitely) sharing reports with other Gmail accounts with a one-time email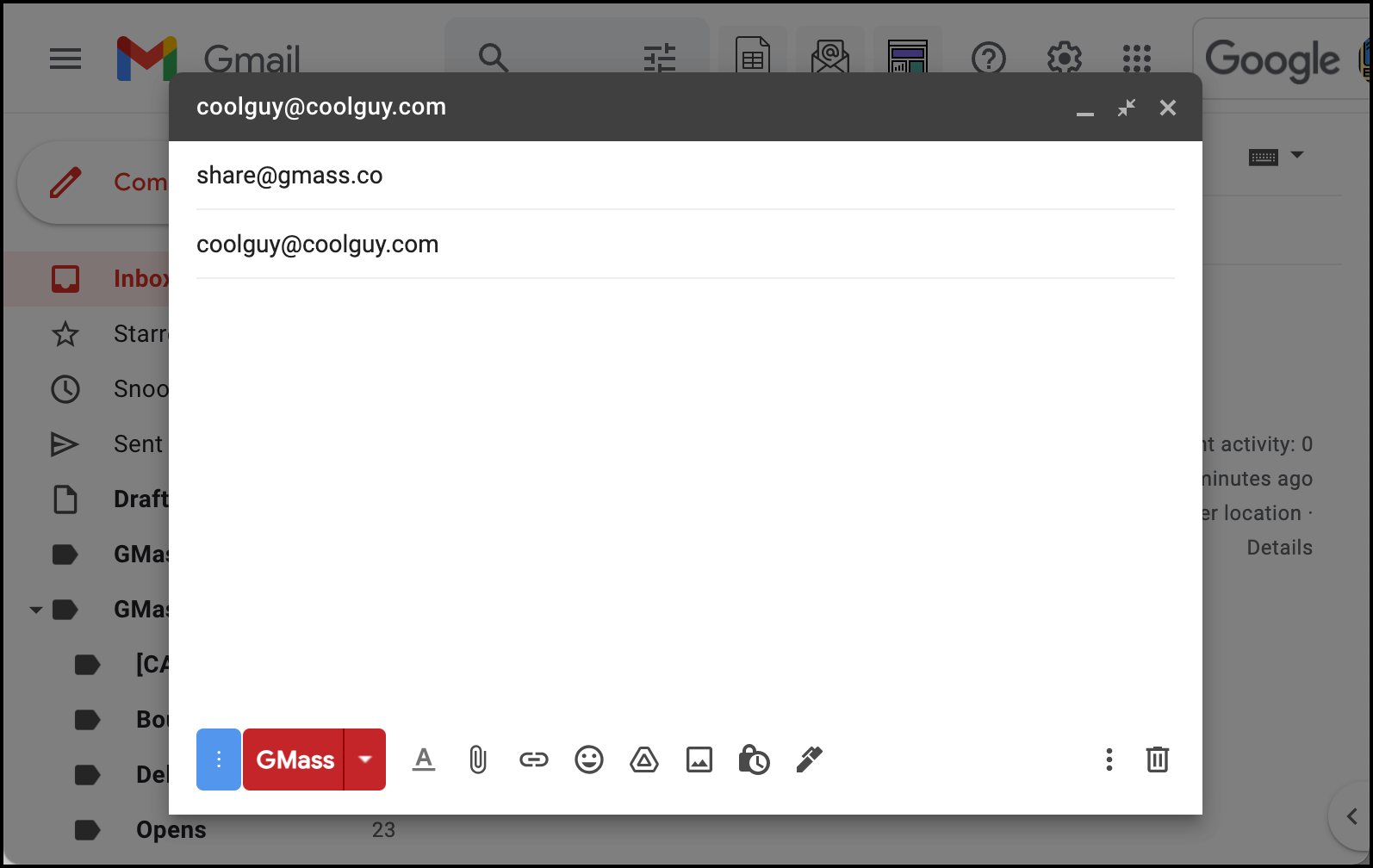 Maybe you want to give someone access to all of your future campaign reports, and you don't want to go through the process of sending them a link to the web-based report every time. 
As long as the recipient is using Gmail, they can automatically receive your campaign report emails with a one-time setup.
Compose an email in Gmail to the address [email protected]. Make the subject line the email address of the person with whom you want to share your reports. Then hit the GMass button (not the send button).
That person will now receive all of your campaign reports under the GMass Reports -> [CAMPAIGNS] label.
You can turn off automatic report sharing by repeating the same process as above, but sending to [email protected] instead.
Checking your team members' reports in the GMass dashboard
This is an easy one if you're the designated leader of a GMass team plan. You'll be able to view statistics in the GMass dashboard for your entire team or any single team member.
Monitoring live updates to a Google Sheet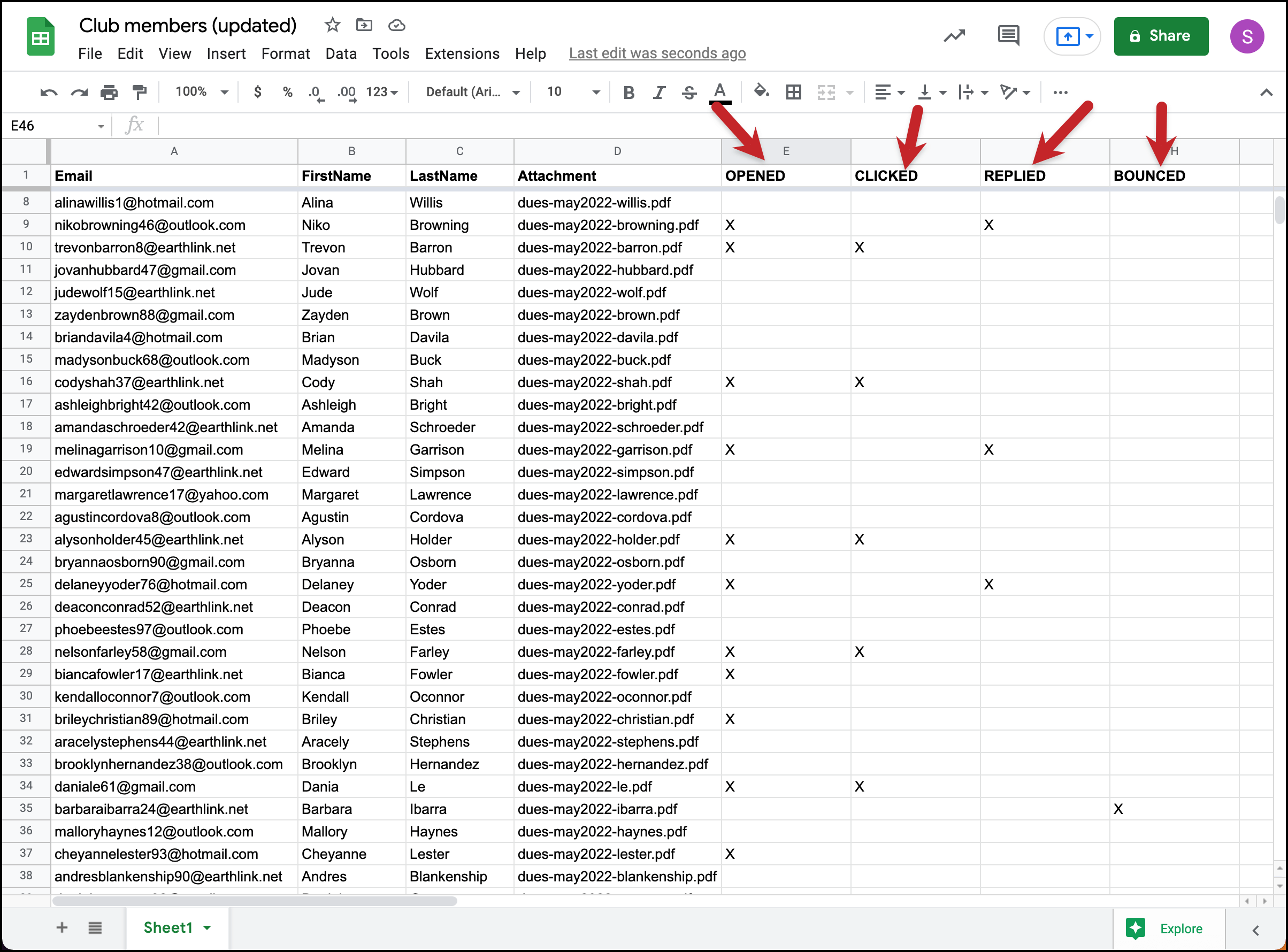 When you're setting up a campaign in GMass using contacts on a Google Sheet, you can choose to have GMass write reporting data back to the connected Sheet.
If you share that Sheet, anyone with access will be able to watch as opens, clicks, replies, and bounces are automatically tracked live.
Of course, that person will also be able to see all of the email addresses and other merge data you used in the campaign, so be careful with this one as well.
Exporting CSVs of campaign reports or specific individual stats to run your own analysis
And finally, maybe the reporting in GMass isn't quite what you're looking for and you want to run your own analyses.
The web-based campaign report and Gmail-based campaign report both have links where you can download a CSV with all of the data from your campaign. And those reports, plus the GMass dashboard report, have links where you can download CSVs with data on individual stats (like opens or clicks).
Download the CSVs, perform your own analysis, put together your own report, and share with your team, your clients or anyone else.
---
Ready to analyze your campaigns and improve in the future through GMass's advanced reporting?
Analytics are an important part of any email marketing campaign. You need to be able to gauge the effectiveness of your campaign, share that information with your team, and strategize and grow from what you learn.
With GMass, you can expect highly-accurate data that's easily accessible (with three different convenient places to get your reports) and easily shareable (with a half-dozen different ways to share your results).
Get started with GMass for better, more user-friendly email campaign reporting and start studying and learning from your campaigns.
(Want to learn more about GMass's features? Next up: All about GMass's deliverability optimization.)