Email Marketing in Gmail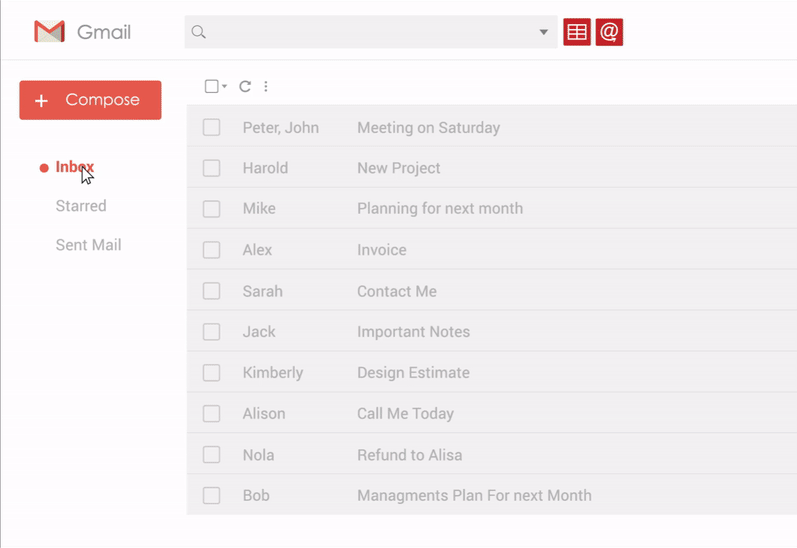 GMass turns your regular Gmail account into a powerful email marketing platform. When you send email marketing campaigns from Gmail, you send emails through the world's highest delivering servers. Prepare for the highest open rates you've ever seen. Features include open tracking, click tracking, mail merge personalization, scheduling, and more.
Email marketing made simple.
Do you ever wish that your email marketing software was as intuitive and easy-to-use as your personal Gmail or Google Apps account? Now it can be. GMass allows you to turn the mail platform you already know and love into a powerful email marketing tool.
Boost conversion with personalized emails.
Research shows again and again that the most successful email marketing campaigns get personal. They prompt visitors to return to abandoned shopping carts, suggest products or articles based on their history on your site, or simply offer a personalized invitation to check out your content. When it comes to personalizing your marketing emails, there are endless possibilities, but that doesn't have to make your life more difficult!
GMass can walk you through strategies like mail-merge style personalization, fallback values, and automatic first-name detection. Personalizing your email marketing — and boosting your conversion rate! — has never been easier.
Keep track of what's working and what isn't.
Email marketing is always changing. For your email campaigns to keep bringing in customers, you need a way to know what links are drawing clicks and which should be replaced. Having easy access to open tracking and click tracking data gives you all the information you need to adapt to your customers' needs.
With GMass, click tracking is the default option. The links in your marketing emails will automatically be converted into a trackable format. That means as soon as you install the software, valuable information about your email marketing campaigns starts being reported. GMass even collects all of the important campaign-level data about your messages — such as how many messages were opened, clicked, replied to, or bounced — and generates a report in downloadable CSV format. You can sit back and relax while GMass does all the work for you!
Create marketing emails when it's convenient for you.
Working under tight time constraints is never ideal. Rushing to put marketing emails together on the day they're due to be sent just adds unnecessary stress to your day. Wouldn't it be nice if you could automate the process, freeing you to put campaign messages together at your own pace?
Thanks to GMass, that dream is now a reality. GMass makes scheduling mass emails a cinch. When you've perfected your message, simply select one of GMass's pre-configured send times to control when your marketing emails are released. You can even set custom dates and times, giving you the power to send messages at precisely the right moment for your audience.
Manage your mailing list with Google Sheets.
How many people does your marketing campaign reach? Whether it's a few dozen or a few thousand, you've got to store those email addresses somewhere. Managing your mailing list data can be tough, especially if you're dealing with large email marketing campaigns. That's why it's essential to have a simple but powerful software tool to keep you organized.
With GMass, you can store your mailing lists where you store all of your other important information — in a Google Sheet! GMass allows you to select a spreadsheet saved on your Google Drive account and uses the information it pulls to fill in all the gaps in your marketing messages. In addition to automatically detecting the email addresses in your spreadsheet, GMass can pull data from other columns — for example, columns storing first and last names — to automate the email personalization process.
Design, test, and revise until you're completely satisfied with your marketing emails.
While more and more marketing can be simplified or automated, one thing is for sure: crafting a beautiful and effective marketing email is an art. It takes someone with the right combination of creativity, experience, and intuition to get it right, and perfecting a marketing email is not a process to be rushed.
GMass makes putting together marketing emails intuitive by letting you create emails using the same compose window you would for any other message. You can also put GMass into Test Mode, which allows you to make sure your copy, design, and personalization are perfect before the message is sent. Design, test, revise, and repeat until you are completely satisfied with every campaign you send.
Break Gmail's sending limits to expand your campaign's reach.
Without GMass, Google's platforms allow you to send your email marketing campaigns to only a limited number of people at a time. For G Suite, that means you can reach only 2,000 people with your campaign. With Gmail, the sending limit maximum is 500 people. For ambitious companies with equally ambitious email marketing teams, that just isn't good enough!
Luckily, GMass uses an advanced email distribution system to take that problem off of your plate. When GMass detects that you are attempting to send an email campaign to more than 500 people using a Gmail account (or 2,000 people using a G Suite account), it automatically distributes the emails over multiple days. That means that even if you have 8,000 people on your mailing list, you can press the send button once and rest assured that GMass will take care of everything else.
What are you waiting for?
You love using Gmail and Google Drive to keep yourself organized, and now you can use them to create and organize email marketing campaigns, too. GMass brings all of the best email marketing features right to your Gmail or Google Apps account:
Message personalization
Open tracking and click tracking
Custom campaign-level reports
Scheduling
Mailing list management
Intuitive composing
Test Mode
Break Gmail's sending limits
GMass is the tool that every email marketing team needs. Download GMass today!