Reply management: Find, sort, and respond to email responses at record speed with GMass

GMass automatically manages replies to your mass emails — even providing a tool to respond to your replies 10x faster than you ever have before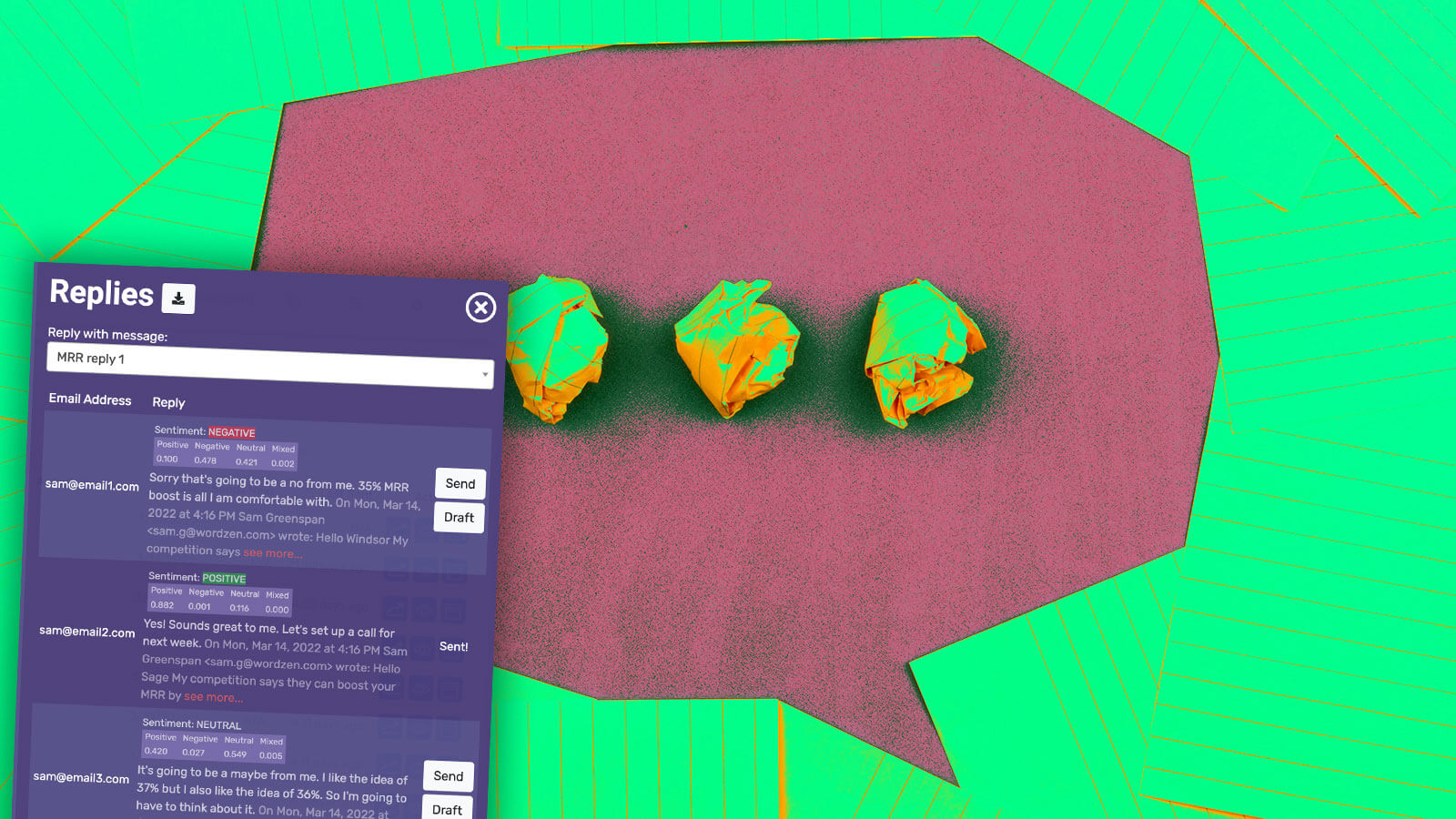 Sending a cold email campaign (or any other mass email) is really just the first step of the process. Step two? Actually responding to the interested leads who reply.
But when you send high-volume email campaigns (or even not-so-high-volume campaigns), response management can be overwhelming.
Suddenly your inbox sees a flood of auto-replies, bounce notifications, out-of-office messages… and somewhere in between all of those, actual real responses from real people.
And when you do find those responses, replying to them one-by-one can be very time-consuming. Your goal is to send mass emails at scale — this is basically the opposite.
Our reply management system at GMass is here to help.
We

automatically sort your responses

(and label non-essential messages to remove them from your inbox).

We

spot real replies versus auto-responders

.

We

score emails

based on their positive or negative language

And our tool called The Reply Project helps you fly through the process of responding to those replies

. 
Read on to learn about GMass's reply management so you can find, sort, and respond to email responses faster than you ever have before.
---
| | |
| --- | --- |
| | Automated reply management |
GMass declutters your inbox after an email campaign by automatically sorting and organizing replies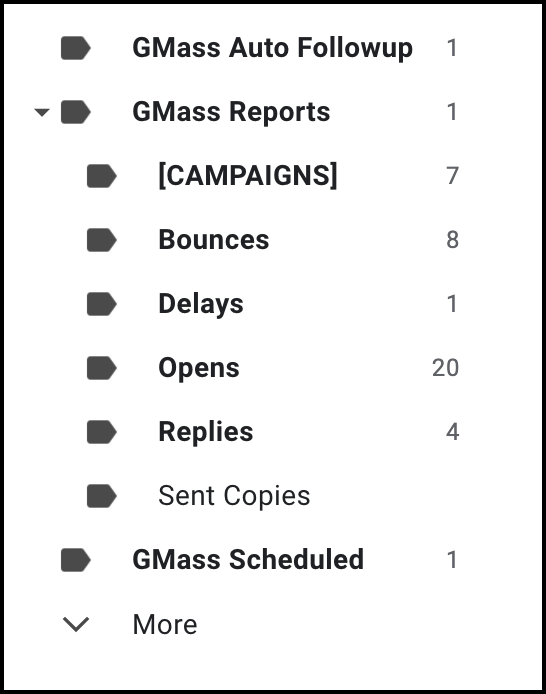 After you send a mass email campaign, your inbox starts lighting up.
Ideally your inbox is lighting up with interested leads… but realistically, you're also getting bounces, auto-responders, and all sorts of other messages that are fleetingly notable but ultimately just clutter. (Hey, turns out "fleetingly" is a real word! I typed that fully expecting the red squiggly line underneath it. We're learning about both reply management and obscure adverbs on this page.) 
GMass's automated reply management system handles the triage process on that influx of replies.
Bounce notifications

get the Bounces label and are removed from your inbox. You can check them by clicking Bounces under GMass Reports on the Gmail sidebar. (And don't worry, GMass's

bounce management

automatically ensures you won't send to dead email addresses anymore.)
Delay notices

for emails that soft bounce — like emails where the recipient's mail server is temporarily down — are removed from your inbox and filed under the Delays label.
Over limit notices

, which you'll get if you exceed your daily Gmail sending limits, are removed from your inbox and located under the Over Limit label.
Block notifications

, which you'll get if a recipient's email server spots spam patterns in your email, are rare for GMass (emails you send with us overwhelmingly wind up in the inbox). But if you get a block notification, it will receive the Blocks label but stay in your inbox so you can address it. 

Replies

— yes, actual human replies — stay in your inbox. GMass gives them the Replies label, making it easy to sort and find them. 
Note: All of this labeling and filtering happens within a few seconds thanks to GMass's best-in-class reply and bounce detection! 
Once GMass has processed and sorted all of your replies, it's easy to check any particular label by clicking on it in the Gmail sidebar. And, most important, it reduces the chances of you missing any real, valuable replies because they got lost in the shuffle.
---
| | |
| --- | --- |
| | Reply detection |
GMass knows a real reply from an auto-response — no more embarrassing auto follow-ups to people who already responded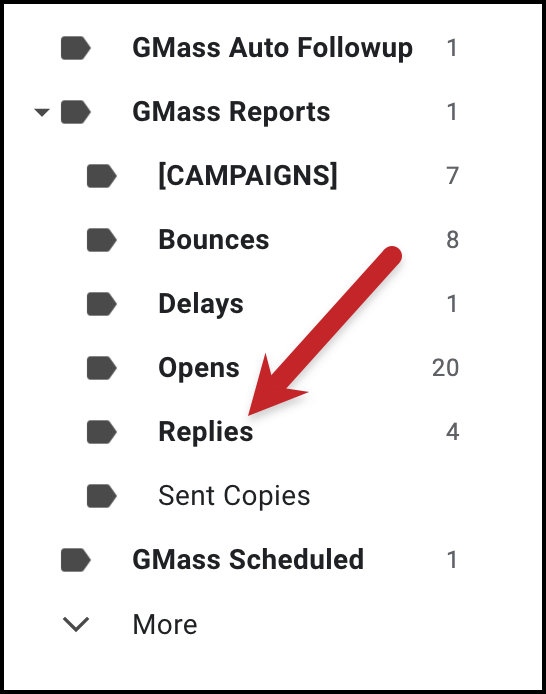 Auto follow-ups are great for sending emails to potential leads who haven't replied. 
But that whole system is predicated on one major factor: Whether an email marketing platform can accurately recognize when someone does or doesn't reply.
After all, if the system mistakenly thinks it got a reply (but it was just an auto-response or a false positive), automated follow-up emails will stop going to that address. And even worse, if the system doesn't think someone's replied but they have, they could get an automated nudge email a few days later — a major, impersonal turn-off.
In both cases, mistakes in reply detection can cost you business.
At GMass, we've spent the past several years creating, improving, and refining the painstaking process of identifying real replies. You can read a blog post all about our reply detection system but, in short, our algorithm recognizes key patterns as it aims for the best possible reply recognition rate.
We want to make sure you have the confidence to know the right follow-ups are going out to the right people.
---
| | |
| --- | --- |
| | Reply sentiment analysis |
GMass helps you sort good replies from bad replies fast with sentiment analysis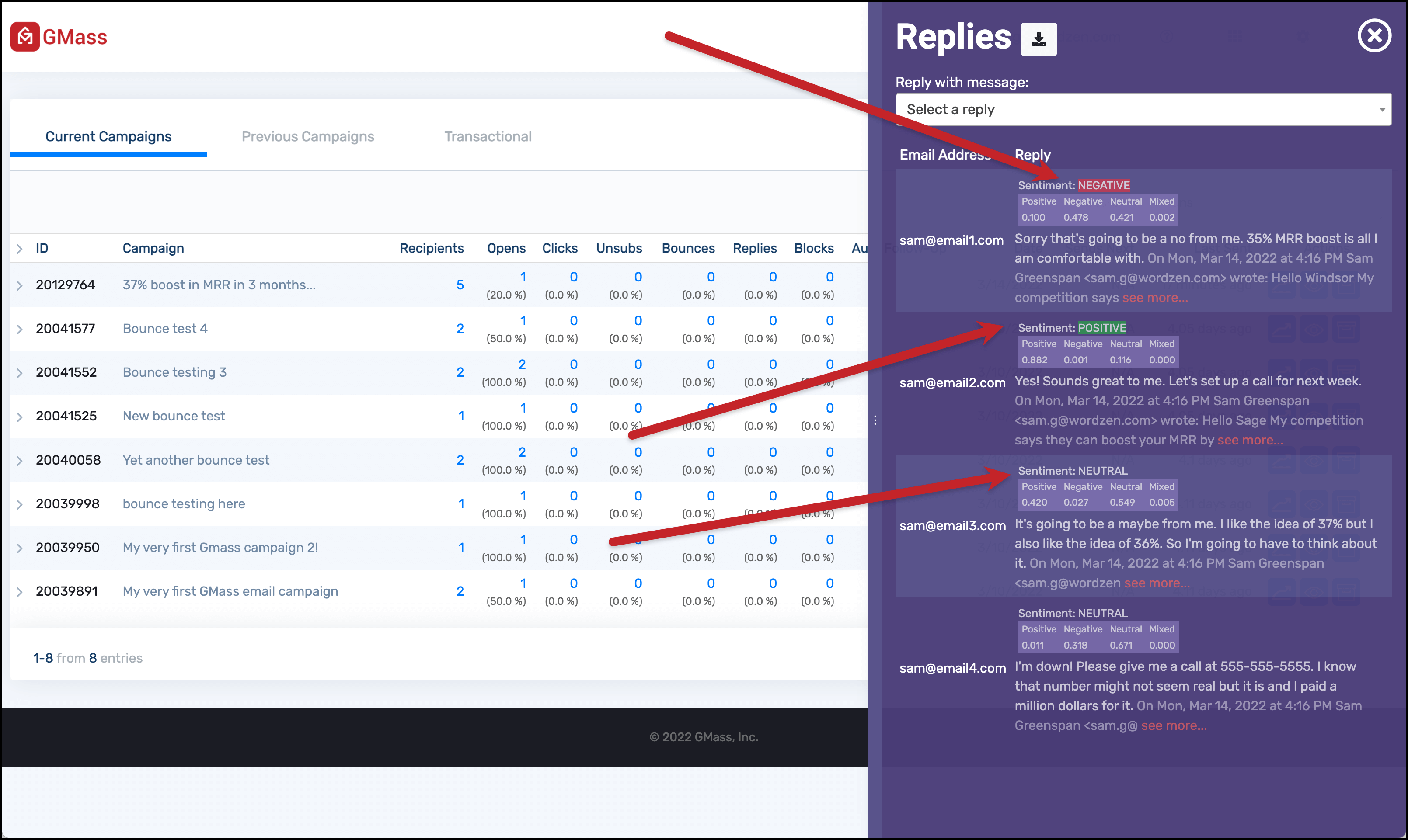 You sent a cold email campaign and got back a ton of responses. That's good! But now you have to wade through those responses to find who's interested in your pitch and who's not. That can be extremely time-consuming.
GMass speeds up the process with sentiment analysis on cold email replies. We use Amazon's Comprehend API to score your replies as positive, negative or neutral. 
You can see the results by going to the GMass dashboard and clicking the number in the Replies column for any campaign — or going to the web-based report for a campaign and clicking on the number of replies. A flyout panel will pop out on the right side of the screen listing your replies along with their sentiment score. 
And this feature is particularly useful when you pair it with The Reply Project, which we'll discuss next.
---
| | |
| --- | --- |
| | The Reply Project |
The Reply Project by GMass: Send ultra-quick responses to replies, aided by templates and ChatGPT
You may want to write a long, detailed, individual message to everyone who responds to your mass email. But, more likely, you're saying the same basic things every time — and you need the fastest way possible to say them.
The Reply Project is GMass's quick reply feature. 
Go to the GMass dashboard or web-based campaign report

, click on the number of replies next to any campaign, and see a quick overview of everyone's responses.

Click on the link at the top of the panel that says

"Reply to these emails with The Reply Project." 

The Reply Project opens all of your replies on one screen.
You can now write quick replies. Or use templates or ChatGPT for even quicker responses
The replies you send will be in the same thread as your original email to the contact so it will look just like you sent an individual response.
We've found this process is 10x FASTER than replying to emails through the regular Gmail interface.
It's really that easy to send personalized replies at scale.
(And by the way, The Reply Project is available outside of campaigns as well. Just go to this page and sign in with your Gmail account. You can use it to open your inbox to quickly respond to all your email messages. You'll save a ton of time.)
---
Ready to let GMass manage your replies for a cleaner inbox and faster responses?
Sending cold email campaigns is great — but you close deals with the follow-through.
GMass helps make the back-and-forth correspondence process easier — and more effective.
Keep your inbox clean from auto responses so you don't miss an actual response. See all your real responses and whether they're positive or negative. And reply to responses with one-click personalized messages.
(Want to learn more about GMass's features? Next up: All about GMass's list building features to turn your Gmail account into a prime source for quick leads.)