Sending a mail merge campaign is a powerful tool for staying in touch with customers or potential customers, but they still run the risk of being "detected" as a mass email campaign instead of a personalized email campaign. That's because when we normally send person-to-person emails, we respond to the person's previous email instead of starting a new email thread. Pretty much all email campaigns you've ever seen are sent and received as new threads.
GMass, however, allows you to send an email campaign as a reply.
Today I will show you how you can easily send out an email campaign while having the emails go out as replies to each person's email. 
How to Use
That's the only action you have to take, but to understand how and why to use this feature, let's walk through an example.
Example: Answering Job Application Emails
As I've recently blogged about, GMass can be used effectively as an automated Applicant Tracking System. In cases in which job applicants are emailing you their resume and letter of application, it's a great idea to use the "Send as replies" feature to send out emails as replies to these candidates, because it gives the impression you have taken the time to actually hit "reply" and respond to them personally–instead of just sending out a form letter.
Although that is actually exactly what you will be doing, it will feel personal, and GMass never prevents you from manually sending out your own replies as well, if you want to.
Let's say that after meeting a few applicants, you have learned more about the types of skills they might bring to the table, and now you'd like to ask all applicants by email whether they have that skill, so that you can zero in on a small list of prime candidates. This is a perfect opportunity for a Send as replies style mail merge.
Now the emails you sent will be received in the same thread as the original job application email that each candidate sent you. Let's take a look to confirm that: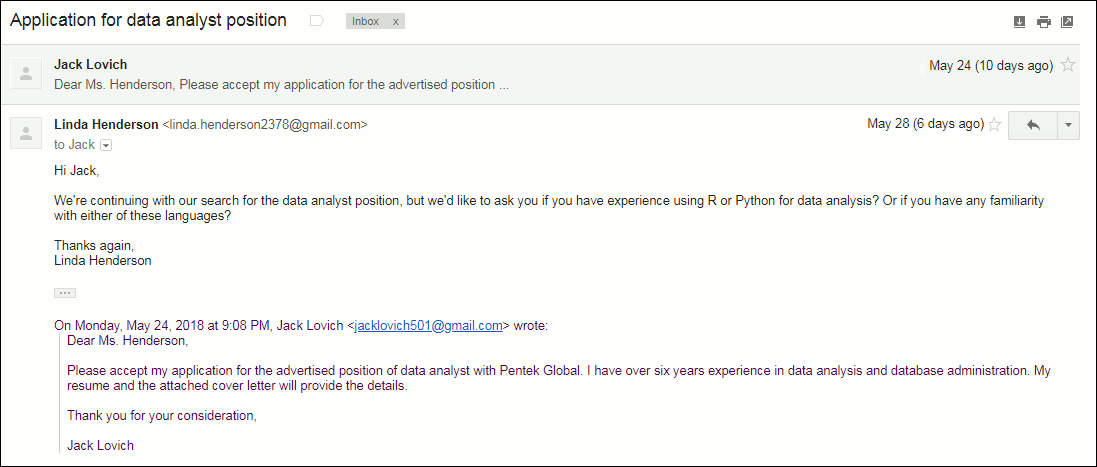 Looks good! You've reached out to multiple people, but addressed each individually and replied to their last email instead of starting a new email thread.
So what's the Subject Line?
When you check the Send as replies setting, if a prior conversation with the recipient is found, the Subject Line from that prior conversation is used, and we add a "Re: " to it if necessary. That's what forces the email to show up as part of that prior conversation. In this case, the Subject Line that you set for the campaign is ignored.
If no prior conversation with the recipient is found, then the Subject that you set is used.
What if the Last Email was From You?
The previous scenario covers the case in which one uses Send as replies when the last email related to the recipient is from the recipient. But what happens if the last email related to the recipient is from you and to the recipient? For example:
Jack sends email to Linda–in this case, for a job application.
Linda replies, thanking him for the application [this step was

not

shown in the previous example ].
Jack does not reply.
Some time passes, and a question occurs to Linda, something she wants to send out to all job applicants. So, Linda uses GMass to send an email campaign (including to Jack), using "Send as replies".
What happens: In Jack's case, the new email goes out as a reply to Linda's last email to Jack—so it looks like Linda is manually following up with Jack.
Let's take a look at what that looks like on screen: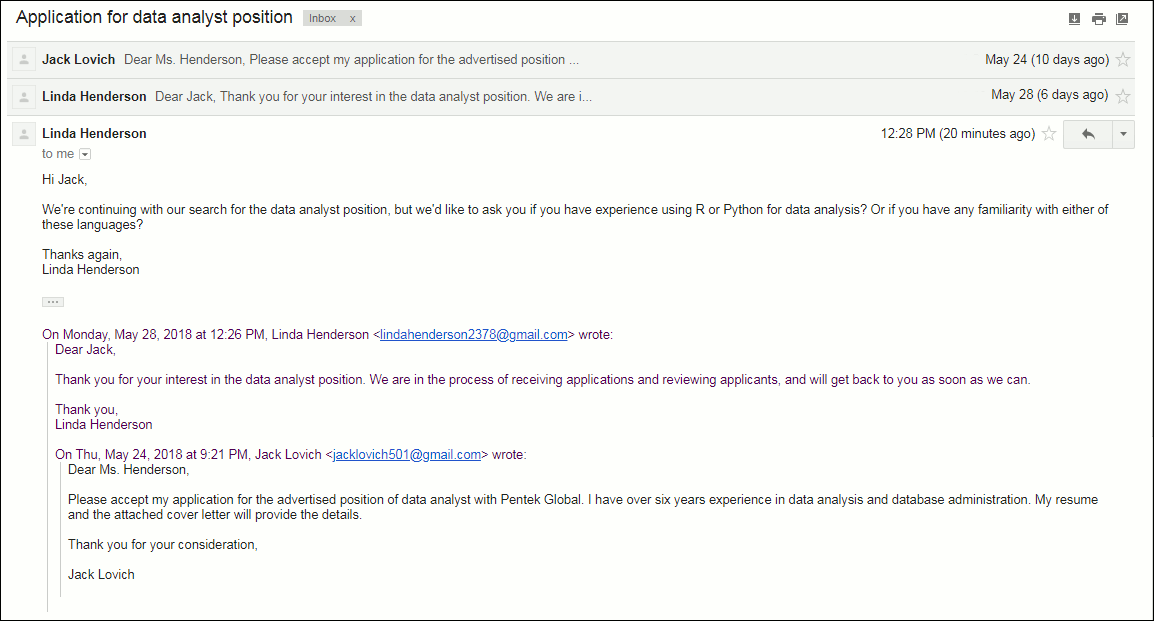 What if There is
no

Prior Email From or To the Recipient?

If there is no prior email from or to any recipient in your campaign, the email goes out as a new thread, just like if you used "Send as new messages".
Other uses for "Send as Replies"
This feature is useful anytime you want to reach out to more than a few people about an issue that you were already engaged in, one-on-one, in an email, with each of them. Examples might include:
Following up on any kind of sales email, for those that are still undecided. This works well if there has been any changes in the features, price, or other aspects of the product or service you are selling. A reply could take the form along the lines of, "I know you're probably still thinking about our last discussion about our product, but wanted to let you know that we now offer…"
Personalized mass "thank yous" for everyone that RSVP'd to an event, including weddings, parties, conferences, and other gatherings.
Any kind of business update for people who have had correspondence with you about your product or service. So, for example, if someone wrote you about your business in the past, perhaps to inquire about a product, you can write them back (even months later) as a reply, letting them know you now offer an upgraded product or service–or a new product entirely.
Teachers whose schools use Gmail for schools can use this feature to communicate to all parents as a reply to each parent's last email if they want to broadcast a general message but make it feel more personalized.