Sending great cold recruiting emails could be the difference between attracting a star candidate and losing them.
But how do you reach out to multiple passive candidates effectively?
Similarly, how do you cold email referred candidates at scale?
A simple cold recruiting email template could be the answer.
In this article, I'll offer eight no-nonsense cold recruiting email templates to help you win candidates in different scenarios. Then, I'll suggest seven practical tips to enhance the effectiveness of your recruiting emails.
Also, before we dive in, if you need a high-level look at the right way to use cold email templates and adapt them for your purposes, make sure to check out our guide.
Recruiting Email Templates: Table of Contains
(Click on a link to jump to the specific section.)
Let's get started.
8 No-Nonsense Cold Recruiting Email Templates
Cold emailing is an incredibly effective way of connecting with a prospective candidate.
Why?
Unlike cold calling, it's less intrusive and much more scalable.
And while there's a lot that goes into writing excellent cold emails, you can use cold email templates to save time and effort and get started quickly.
Here, I'll provide a handy cold recruiting email template for eight different talent acquisition scenarios. Feel free to use whichever template you think will best attract candidates.
Template #1: When Reaching Out to a Passive Candidate
Subject line: [Company name] wants people like you, [first name]
Hi [first name],
My name is [X], and I'm the [job position] at [company name]. 
We're looking for someone to join our [X] team, and I came across your profile. 
[Company name] is a great place to work, and I understand if you aren't actively looking for something new at the moment. However, if you're open to hearing more about [company name] and the [job position], I think you'll be excited by what we have to offer. 
Feel free to drop me a reply, and we can set up a call at your convenience. 
Looking forward to hearing from you,
[Your name]
[Your designation (for example, recruiter)]
[Company's name]
[Your contact information]
[Social media icons (like a link to your LinkedIn and Twitter profiles)]
Template #2: Emailing a Candidate You Found on LinkedIn
Subject line: [First name], your LinkedIn profile is impressive
Hi [first name],
I recently stumbled upon your LinkedIn profile while researching potential candidates for [job opening] at [company name].  
I've been over it a few times, comparing it with our current open position for [job opening], and have forwarded your info to our hiring manager. We're impressed with your expertise and think you'd make an excellent addition to [company name]. 
We are a [short description of your company]. 
I know you're currently with [company], so this email may not be coming at the best time, but if you're curious about our company and the position, could we set up a call at your convenience? 
Thanks for your time.
[Email signature]
Template #3: Emailing a Referred Candidate
Subject line: [Mutual connection's name] recommended we get in touch
Hi [first name],
My name is [X], and [mutual connection's name] forwarded me your contact info after sharing some insights into your impressive résumé. We currently have an open position for [job title] here at [company name], and I think you'll be a perfect fit. 
I've included a link to the job offer and our company's homepage here [link]. 
If you're interested in the position, shoot me a quick reply, and we can set up a call sometime this week. 
Best regards,
[Email signature]
Template #4: Recruiting a Candidate Whose Work You've Seen Online
Subject line: Hey [first name], I enjoyed reading your blog post on [topic]
Hi [first name],
I discovered your Medium profile when researching content marketers. I did some further searching and found myself impressed by what you've achieved at [company name]. 
I'm with [company name], and we're looking at expanding our content marketing team. 
Based on your skills and expertise, I think you'd be a great fit.
Would you be interested in having a quick call so we can discuss more about the position? 
Thanks,
[Email signature]
Template #5: A Short Email to Quickly Gauge Interest
Subject line: Any Interest in joining our team at [company name]?
Hi [first name],
I'm sure you get emails like this often, but I recently found your profile on [platform], and your background caught my eye. 
I'm part of the recruitment team at [company name], and I'm reaching out because I think your experience with [X] would be an excellent fit for our current job opening for [job position]. 
Here's a link to the job description [link]. 
Would you be open to discussing more about the position?
Thanks,
[Email signature]
Template #6: Emailing a Passive Candidate for a Referral
Subject line: Looking for a professional like you, [first name]
Hey [first name],
My name is [X], and I'm the [job title] at [company name]. 
I found your information while looking through [website] and noticed you have extensive experience with [skillset or industry], which is why I'm getting in touch. 
I'm looking to hire for [job title] in [city], and we could use someone with skills like yours. 
I know that as you're currently employed with [company], you may not be interested. But I was hoping you could put me in contact with someone who has a similar background as yourself. 
Of course, the opportunity is open to you as well. So if you'd be interested in discussing more about it, that's fantastic too! 
Either way, I look forward to your response. 
Take care,
[Email signature]
Template #7: When Sourcing Candidates for a Hard-to-Fill Role
Subject line: [First name], your experience with [area of expertise] is perfect! 
Hi [first name],
I've wanted to reach out to you for some time now, but I've been hesitant because I see you've started a new position at [company name]. 
The hiring manager here at [company name] agrees that your profile on [platform] is very impressive and fits our requirements perfectly.
This could be a shot in the dark, but if you're open to making a career move, I'm looking to hire for a [job position] at our offices in [city]. 
Would you be interested in hearing more about the position?
I understand if the timing isn't great. Let me know your thoughts, and we can take it from there. 
Best,
[Email signature]
Template #8: A Follow-up Email If the Candidate Doesn't Respond
Subject line: Re: [subject of the first email]
Hi [first name], 
I imagine you're busy, but I thought I'd send you another email in case you missed my first email. 
We are a [short description of your company] looking for an experienced [position]. We think you'd be a perfect fit for the role and would love to have a quick chat with you about it. 
Could I steal you away for 10-15 minutes sometime this week, or whenever else you're free?
Thanks,
[Email signature] 
Now that you've had a look at some email examples, I'll go over some tips to further enhance your cold recruitment emails.
7 Practical Tips on Crafting Effective Cold Recruitment Emails
Here are seven tips to help create fantastic cold sourcing emails:
1. Source the Right Candidates
As a recruiter, simply sending out a blanket email to every prospect in the job hunt is a bad idea. It comes off as spammy and reduces your chances of making a solid impression.
Additionally, there's no guarantee that every person you reach out to is a good fit.
That's why the success of your cold emailing recruitment efforts hinges on contacting the right job seekers. You can avoid losing time and find a great candidate by ensuring they possess the skills you're seeking.
To start your sourcing emails right, it's best to compile your own list of potential candidates by going through LinkedIn and other job boards.
Ideally, when doing your research, these are the things you want to find out:
The candidate's skills and qualifications
Their overall experience
Their career goals
Their current employment status and position
This will help narrow down the talent pool to candidates who best suit the role you're looking to fill.
And while you're doing your LinkedIn prospecting work, you can look at their professional experiences to gauge whether they'd be a great fit or not.
This will also allow you to learn more about the candidate, which will go a long way in your personalization efforts later.
You could even use this as a chance to warm up your potential client.
How?
Perhaps you and the candidate have mutual connections you can use as an ice breaker. Or maybe, you could like and leave a comment on one of their posts. Creating even the smallest relationship can make your cold outreach that much more effective.
2. Put Some Time into Your Email Subject Line
All that research you've done will be for nothing if the candidate never opens your cold emails.
And, often, it comes down to the subject line to grab the prospect's attention and get them to open your email.
When crafting your subject line, there are a few things you should keep in mind:
Length: Be mindful of your subject line's length; you don't want to make it too long. Doing so risks having the end cut off, especially if the candidate reads your email on their mobile phone. You also want to avoid making it too short. The ideal length is between 36-50 characters.
Clarity: This point ties in with length. While short and sweet is often the best way to go, it's not always the case with subject lines. By opting for fewer words, you risk making the subject unclear and annoying the candidate. Ensure that your subject line isn't ambiguous.
Make sure they're not spammy: Much like sales emails, you need to be critical of your subject lines.
If it showed up in your inbox would it stand out from the hundreds of other cold emails you get? Does it get to the point, or does it sound a little too good to be true? If your subject line is something like "make millions with this once in a lifetime opportunity," you risk being flagged as a sender of spam emails.
Personalization: Personalization isn't just reserved for the body of your email; it's essential to include some in your subject line as well. One study found that personalized emails increase the chances of having them read by 37%.
Ultimately, the best course of action would be to experiment with your subject lines to find what works for you. What works in some sectors might not work in others, but you'll be able to fine-tune your subject lines with time for the best results.
3. Personalize Your Email
Whether you're sending recruiting emails or cold follow-up emails, you should always sprinkle in some personalization.
You might think that you could save time by using generic emails when sourcing talent. But you have an opportunity to craft a targeted message using all that research you did earlier.
How much personalization you want to include is up to you, but it's generally a good idea to go beyond including just the potential candidate's name.
You could drop obscure facts about the candidate, but be careful not to go too far and risk creeping out job seekers.
If you share a passion, drop it in, but the most important thing here is to include relevant information to show that you've done more than just looking up their name.
You could also try some flattery. Consider mentioning something that you thought stood out on their profile, such as any projects they've worked on or something they've accomplished. Mention to them what impressed you most and why.
4. Focus on Them, Not You
When you reach out to a potential candidate regarding a job offer, don't make the whole email about you and your requirements. People's time is precious and explaining the basics here is a waste of everybody's time.
Instead, if you're unsure how much detail you need, include a sentence or two on what your company does and mention the open role. Bear in mind that you can go into more detail once the candidate has expressed some interest in a job interview.
The most important thing to remember here is to put the focus on them and their career. You could also consider including some data or social proof to pique the prospect's attention.
5. Keep It Short
Your first thought might be to include everything the candidate on the job hunt needs to decide.
The problem?
If your email is as long as an essay, your chances of the candidate reading it plummet.
At this stage in the cold outreach, it's about making contact with the right person. And the best way to do this is to keep it brief by including only the key things needed to get your point across.
Remember, you can always include links to your company's homepage and the job description so the candidate can find out more information if they need it. The job interview is the best time to get into the specifics of the position.
Ideally, you want to aim for an email of about 50 to 125 words for the best response rates.
6. Make It Clear
In addition to keeping your email on the shorter side, it's essential to make it clear and concise.
Of course, nobody sends out a confusing email on purpose — but sometimes people make it unintentionally confusing by omitting certain details or using industry jargon.
One of the reasons for this is a phenomenon known as the "curse of knowledge."
When you've spent many years working in an industry or an organization, you begin to use the language you're most familiar with, even if it's not often used by others.
A lot of jobs have their own jargon that someone in another organization or industry may not understand. When writing your email to the candidate about an open role, be careful about using buzzwords.
Even if they're familiar with the terminology, it can have detrimental effects. For instance, a study by New York University found that using jargon led people to believe a company was lying.
7. Use Automation Software
Recruiting is not easy.
Identifying potential candidates, researching those candidates, reaching out to the best ones to find that great candidate, and then following up are all time-intensive activities.
Without utilizing the right tools, this interview process takes longer than it needs.
Fortunately, there's cold email automation software that can make your life a lot easier.
Workable is an excellent recruitment tool you can use to help find and evaluate candidates. You can also consider using tools like SourceHub to search many social networks at once, cutting down on the time-consuming task of sourcing candidates.
Alternatively, you could consider letting a recruitment agency handle the lead generation and job application aspects for you. However, handling it yourself gives you far more control over the process.
Once you've identified a list of potential candidates, you can reach out and even send several follow-up emails with GMass.
What's that?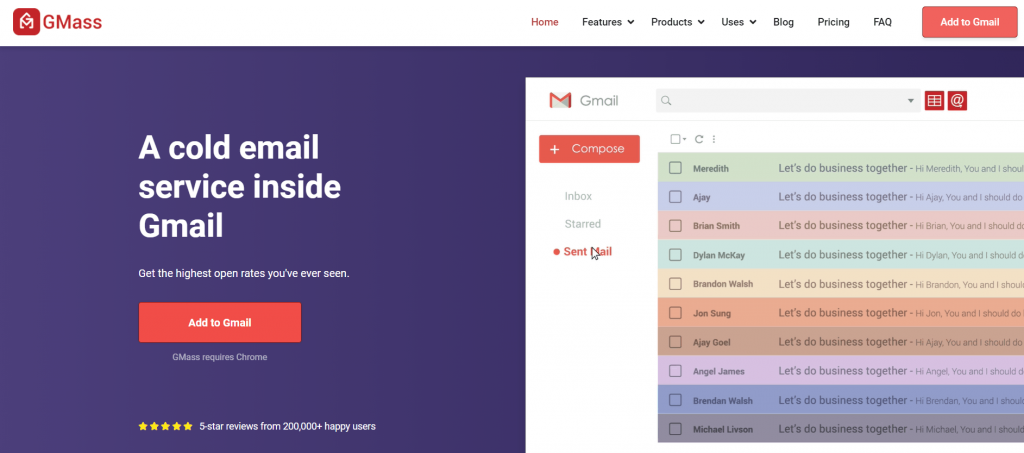 GMass is a powerful email outreach and marketing tool capable of working directly inside Gmail.
It's popular among employees in large tech conglomerates like LinkedIn, Twitter, Uber, and Google. But GMass is also perfect if you're a solopreneur, small business owner, startup founder, or recruiting professional looking to streamline your hiring process.
With GMass, you can:
To start using GMass, all you need to do is download the GMass extension from the Chrome store and sign up for free with your Gmail account.
A Cold Recruiting Email Template Can Do Wonders for You
As difficult as sending a cold recruiting email can be, it's a vital part of the recruitment process. By utilizing the tips and templates in this guide, you'll be able to craft outstanding recruiting emails in no time.
To streamline the interview process further, consider using powerful automation software to handle the time-consuming tasks for you.
For instance, with a robust email outreach and marketing automation platform like GMass, you can auto-personalize emails, save your emails as templates, and do so much more.
Why not try GMass today and take your cold recruiting to the next level? 
Ready to

transform Gmail

into an email marketing/cold email/mail merge tool?

Only GMass packs every email app into one tool — and brings it all into Gmail for you. Better emails. Tons of power. Easy to use.

TRY GMASS FOR FREE

Download Chrome extension - 30 second install!
No credit card required
Love what you're reading? Get the latest email strategy and tips & stay in touch.