Today we are launching a new tool to help you make better decisions, which will lead to better Inbox placement, higher open rates, and — if you're sending cold email — more interested prospects. It's called the Email Deliverability Wizard, and it gives you data-driven answers to questions that you, as an email sender, might have.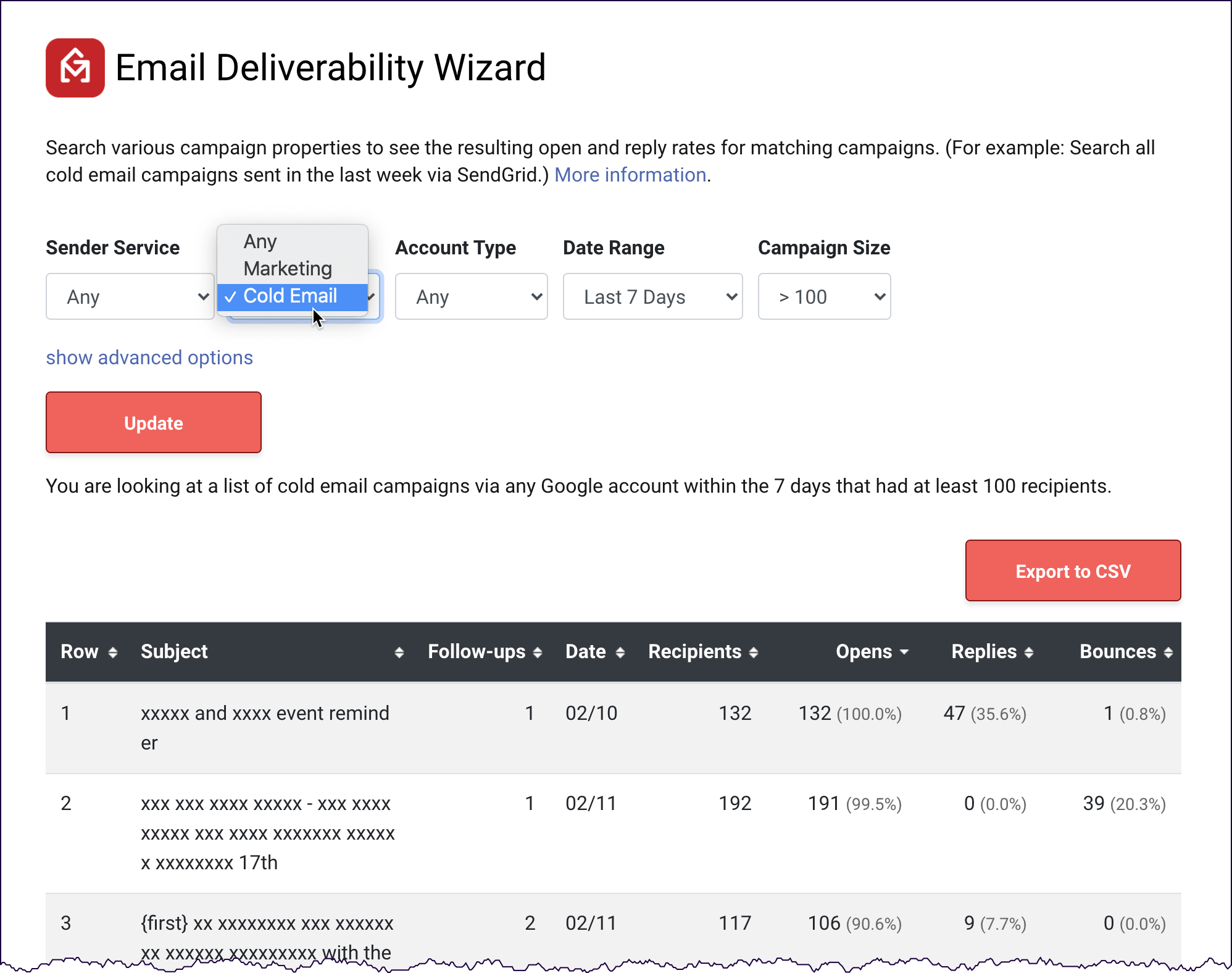 For example, you may know that you can bypass Gmail's sending limits by connecting to a third-party SMTP service. Well, great, but which SMTP service should you choose? SendGrid? Mailgun? Amazon SES? Now you can compare open rates among all major SMTP services.
If you're sending cold email, you might wonder what the impact of verifying your emails first has on deliverability. Now you can find out.
To use the tool, just set the properties of the campaigns you want to see and hit the Update button, and then watch the magic happen below.
Here are some of our favorite questions to answer:
Things to know:
Not enough matching campaigns? If your search results in too few campaigns, or no campaigns at all, you might have to widen your search criteria. For example, if you search for cold emails launched in the last 24 hours, sent via the SMTP service Sendinblue, with at least 1,000 recipients, where email verification was turned ON, you might not get any results because that's too specific a criteria to match.
Be aware of the Date Range filter. If you're a cold emailer and you set your filter to Campaign Type=Cold Email, be cognizant of the Date filter as well. Most cold email campaigns consist of a set of follow-up stages, so if you search for cold email campaigns launched in the last 24 hours, you'll likely see LOW reply rates. But if you search for cold email campaigns launched in the last 7 days, then you'll get campaigns where at least 1 or 2 follow-up stages have been sent, and you'll see higher response rates.
Correlation does not imply causation. It's a phrase I heard over and over in high school science class. What does this mean? It means that just because you see that campaigns sent with SendGrid have higher open rates than campaigns sent with Mailgun, it does not necessarily mean it's BECAUSE the campaigns were sent with SendGrid vs. Mailgun. There could be other factors involved. For example, it might be that the cleanest senders are using SendGrid while more gray-area senders are using Mailgun.
Ready to send

better emails

and save a ton of time?

GMass is the only tool for marketing emails, cold emails, and mail merge — all inside Gmail. Tons of power but easy to learn and use.

TRY GMASS FOR FREE

Download Chrome extension - 30 second install!
No credit card required
Love what you're reading? Get the latest email strategy and tips & stay in touch.