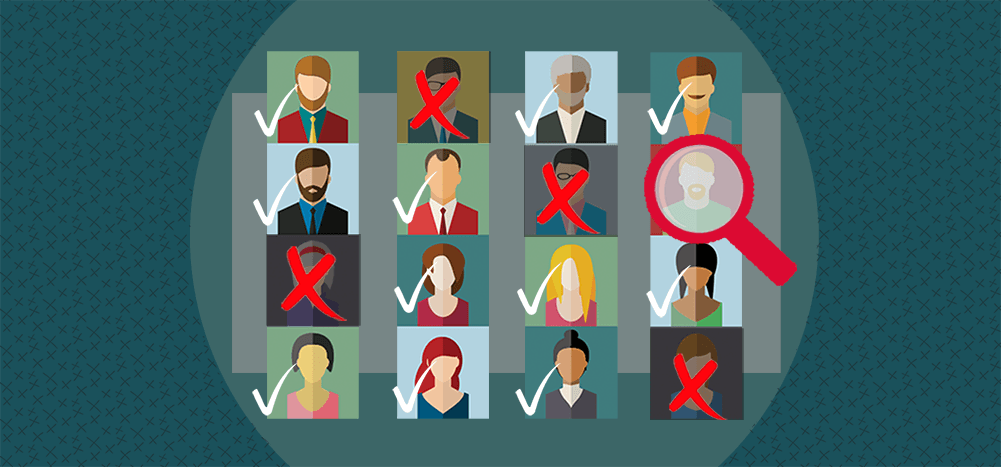 We are now offering a free email verification service. You can verify your email addresses while sending, or separately from sending. If you verify your email addresses while sending, you can substantially minimize the bounces you get back to your Inbox since only email addresses that pass verification will receive your email campaign. We also provide a web-based email verifier to verify your addresses, and we can also update your Google Sheet with a "VERIFIED" column showing a PASS or FAIL status for each address.
So, if you're used to using a third-party email verification service like NeverBounce or ZeroBounce, you can stop doing that because our tool is free, accurate, and much easier to use.
What is email verification?
Email verification tests whether an email address is a valid email address or not. We do that by running two algorithms on it:
A syntax checking algorithm to make sure the email appears valid. For example, ajay@gmail would not pass this step, but ajay@gmail.com would pass this step.
A mail server check to ensure that the receiving server for the address will accept email for that particular address. This is done by creating an SMTP session to the remote server and issuing a series of SMTP commands, specifically the RCPT TO command, to "ask" the server if the address is valid.
Who should verify before sending emails?
Not everyone needs to be concerned with email verification. If you're sending an email newsletter to members of your tennis club, and you know each of them personally, you likely don't need to verify. If, however, you're a salesperson scraping LinkedIn for leads and building a cold email list, then verifying addresses will benefit you.
How do you use the free email verification service?
There are two ways to use the email verification service: the web-based email verifier and inside GMass.
If you're not a GMass user or you just want to use the standalone email verification service, head over to the web-based email verifier. If you want to have GMass verify all of your email addresses before sending a campaign, then just check the Verify box in your settings.
Option 1: While using GMass
To verify your addresses at the time you send your campaign, all you have to do is check the Verify box:
Checking this box will verify each address before a message is sent to that address. The address must NOT FAIL verification for GMass to send your email to it. This is different than requiring an address to PASS verification. By sending to all addresses that don't fail verification, the verifier is erring on the side of caution to ensure that as many of your emails get sent. Otherwise, if the verifier required verification to PASS, there's the risk of reducing the reach of your campaign because of false negatives.
If the address fails verification, GMass will skip sending to it, add it to your account's Bounce list and will log it for your reports. Having verification ON substantially reduces the bounce-backs you get after your mailing since GMass is sending only to valid addresses. What counts as a verification fail? One of the conditions must be true for an address to fail verification:
The address is malformed. For example, ajay@gmail is not a valid email address.
There is no registered MX server for the domain, meaning the domain can't receive email.
The response from the mail server definitely indicates that the email address is invalid. For example, "User not found" is a definitive message from the mail server indicating that the address is bad.
Therefore, one of the above conditions must be met for GMass to skip sending to that address and add it to your bounce list.
If the mail server responds with a message indicating the mailbox is full, GMass will skip sending to it, but will not add the address to your Bounce list, since the address is still valid and the user might empty the mailbox at some point, therefore making it able to receive your future messages.
If any other condition is met, then GMass considers it a verification PASS and will send your message to that address.
Option 2: Web-based email verifier
You can also verify your addresses separately, outside of the sending process, using our free web-based email extractor and verifier. Just paste your addresses in any format and hit the Extract button, and then after the addresses are extracted, you can hit the next button to VERIFY them.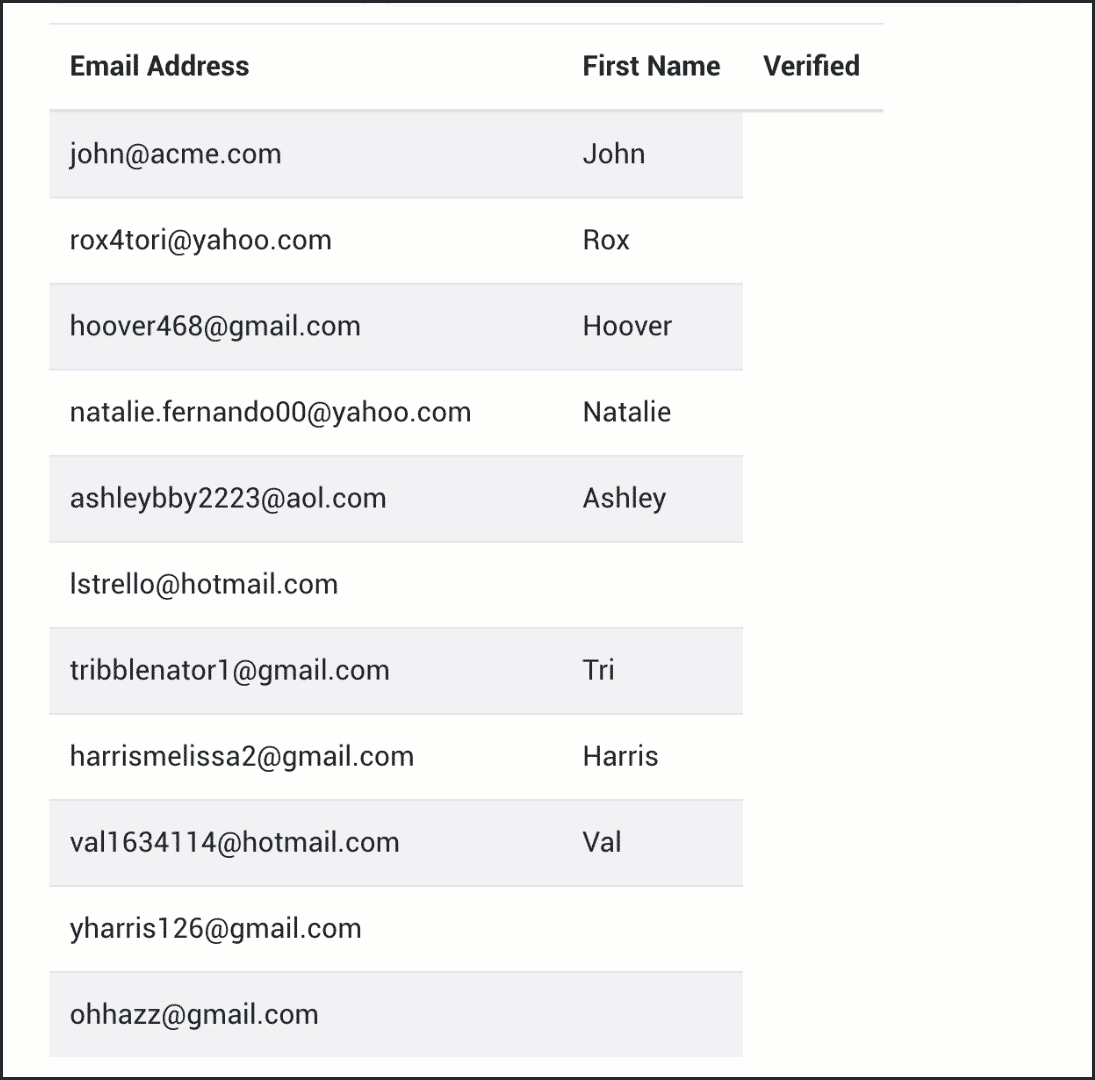 This tool currently has a limit of verifying 10,000 addresses.
The verifier tests each address and lists the verification status as one of the following:
Valid

Invalid

Blocked

Mailbox Full

Unknown

NoMxRecord

ConnectionFail
After the verifier is finished processing your email list, you can click one of the gray "Copy list" buttons to copy the email list either into a Gmail Compose window, a spreadsheet, a text file, or anywhere you like. If you check the "Include only addresses I should send to" box, then only the addresses that are eligible to receive mail will be copied to your clipboard.
This includes addresses where the status is Valid, Blocked, or Unknown. It might seem counterintuitive that we include in your final send list an address that is BLOCKING email from us, but an address that is BLOCKING email from us is an indication that the address is good. Also, the address might be blocking email from our email verification server, which is hosted at Amazon Web Services (AWS), but that doesn't mean that it will block email sent from your Gmail account or a third party system like SendGrid. That is why if the verifier detects a block, GMass will still attempt to send your email to that address.
Finally, an email address of "unknown" verification status is one that can't be confirmed as good or bad, so we recommend sending to it to maximize your outreach potential through whatever email sending service you're using, whether that's GMass or something else.
Updating a Google Sheet with email verification data
This option is only available if you're using the email verification service as part of a GMass campaign.
If you have your email addresses in a Google Sheet, GMass can update your Sheet by adding a VERIFIED column and marking each address with a PASS or FAIL based on whether the address passes verification.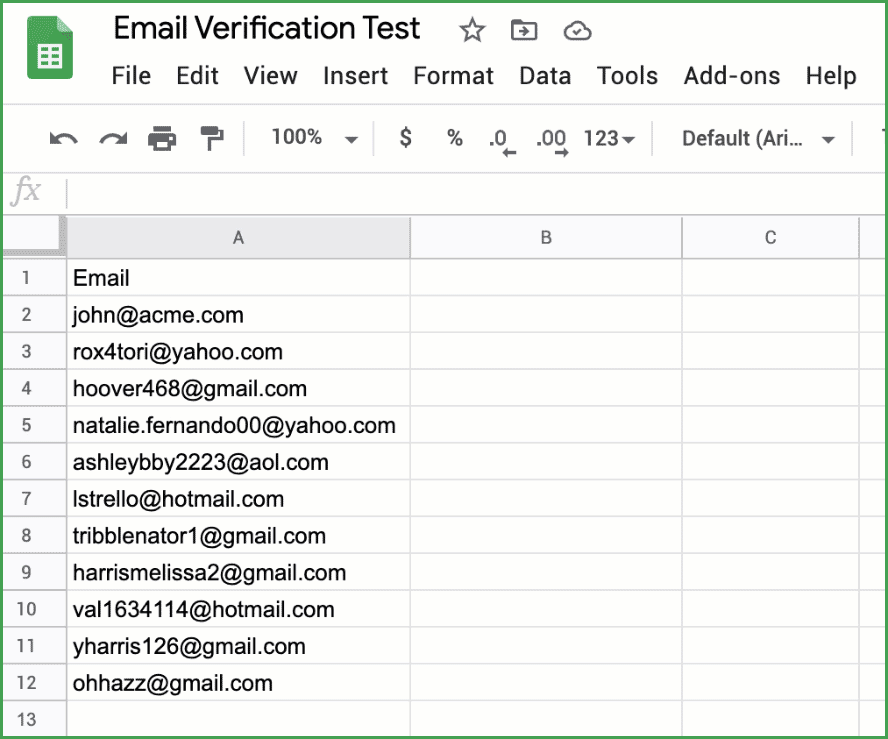 To run a Google Sheet of email addresses through verification:
Frequently Asked Questions (FAQ)
Is it really free?
Anyone can use our web-based email extractor and verifier for free. You can verify up to 10,000 addresses at a time using this tool.
If you want to verify email more than 50 addresses inside Gmail using our Chrome extension, you'll need a GMass subscription to do so. Since GMass only lets you process 50 emails per 24 hours on the free plan, if you want to verify more than 50 addresses in a Google Sheet, then sign up for any subscription plan, even the Minimal one, so that you can process more than 50 emails or DRAFTs per day.
Is there an API for the email verification service?
There currently is not an API for this service, but there will be one by the end of 2020.
Will verifying email addresses improve my deliverability?
It's generally accepted that the lower the bounce rate you have, the better your email deliverability will be. Why? Because if an email provider is seeing that you're sending to a lot of invalid addresses on its server, it's more likely to think you're doing something sinister than if you're sending only to valid addresses. By having your addresses verified prior to sending, you're minimizing the number of invalid-address emails you even attempt to send.
What are the downsides to using verification while sending with GMass?
There are two downsides to using verification:
1) It slows down your sending, because each email address is verified immediately before sending. If you're sending a cold email campaign to 100 people, each address is verified, and then if it doesn't fail verification, the email is sent. In many cases this will be acceptable since cold emailers often like to space apart their individual emails anyway.
2)There's a chance that our verifier might determine the address is invalid even when it's actually valid, and that could reduce the number of people to whom your message is sent. This will be rare, but as explained in the question below about the difficulty in building a verification service, our service is not 100% accurate because of the variation in SMTP response codes.
Was it hard to build a service to verify emails?
It wasn't easy. Compared to all the email tools we've built, this had a medium level of difficulty. That part that makes it difficult is analyzing all the possible SMTP bounce codes to determine what definitely means that an email address is invalid versus only possibly invalid. For example, a standard SMTP response code of 550 usually indicates that the email account doesn't exist on the server. But some mail servers also respond with a 550 when they're blocking your transaction because of a Spamhaus listing, for example.
We've also seen some cases where a mail server, in this case the server for rediffmail.com, a popular Indian email service, responds with:
550 A message that you sent could not be delivered to one or more of its recipients. This is a permanent error.
Only to respond with this a few hours later:
250 ok
In another case, we saw Mimecast respond with:
550 Invalid Recipient - https://community.mimecast.com/docs/DOC-1369#550 [krAti5jIOQW6F_z5KnAVbw.us456]
and then a few hours later, for the same address, it responded with:
250 Recipient OK [sLEl3_fPPVKzaLLYGZ-DyQ.us472]
These varying responses and the non-standardized use of numerical SMTP response codes is what makes this a somewhat difficult problem to solve. It's also the reason why email verification is a whole industry on its own, separate from email sending tools. We, however, like to take on the challenge of building tools better than what the industry already offers. 🙂
Ajay is the founder of GMass and has been developing email sending software for 20 years.