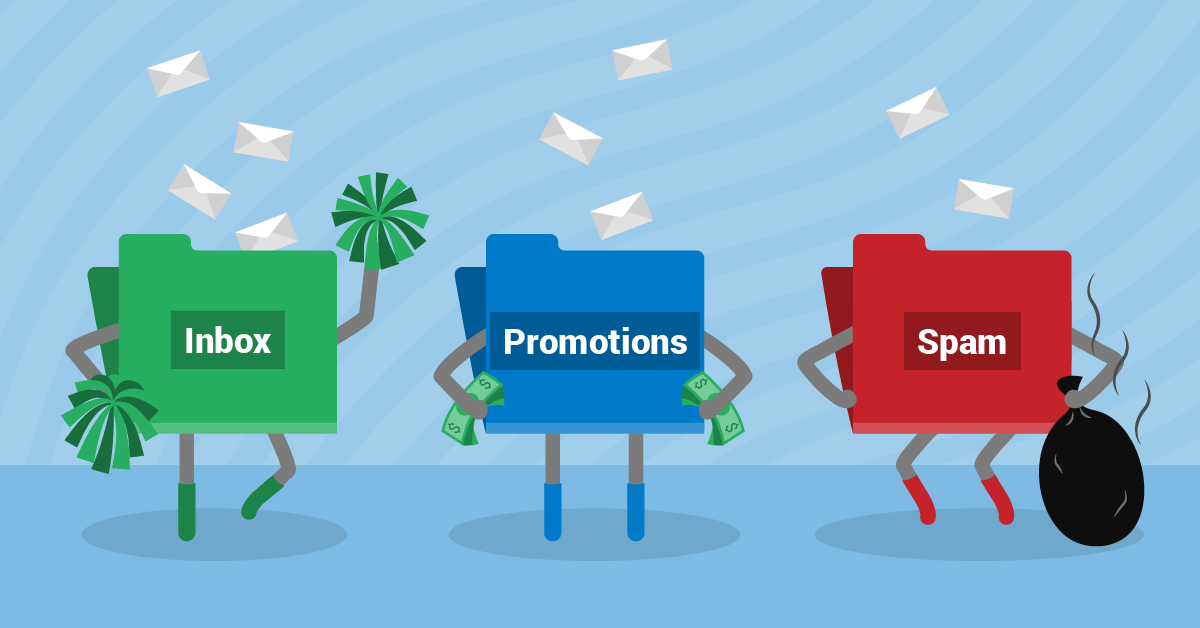 Every email marketer has wondered if their emails are making it to the Inbox, Spam, or Promotions folder, and my new tool shows you exactly that. Not only can you see where YOUR emails are landing, but you can also search and see where EVERYONE ELSE's emails are landing. The Inbox, Spam, or Promotions tool is a free, public service that's easy to use and fun to play with!
Getting Started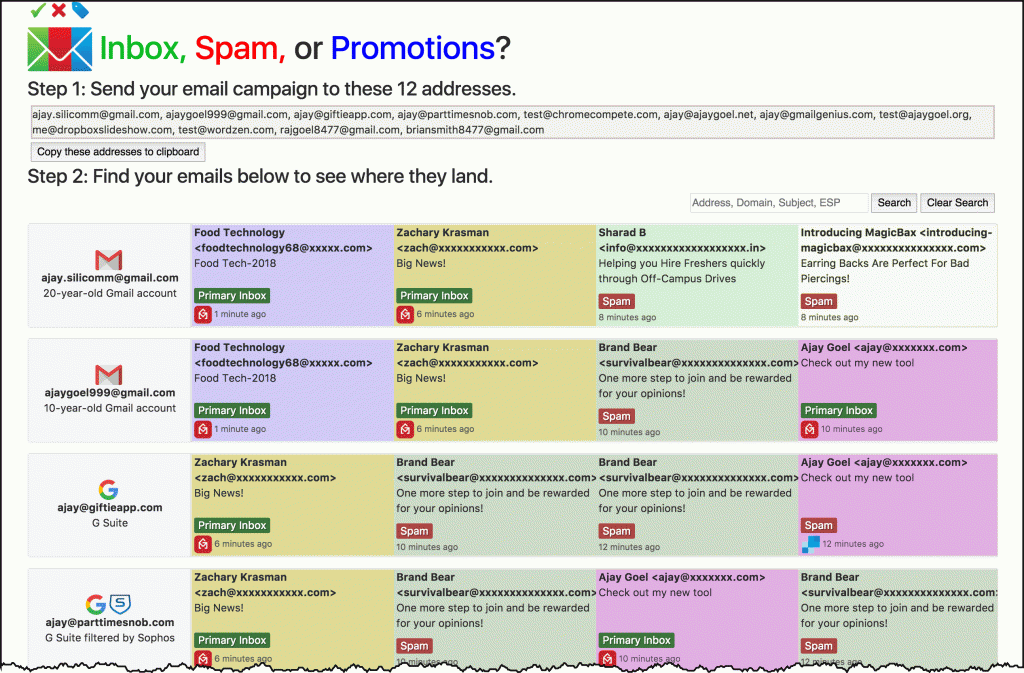 To get started, just copy the seed addresses at the top, and use any email marketing service (MailChimp, Constant Contact, GMass, etc.) to send your campaign to those addresses. Then watch the page over the next few seconds, and notice where your emails land. The emails will slide into the rows, each time an email account receives your email. You do not need to reload the page. The bottom of each box will have a tag labeled "Primary Inbox", "Promotions", "Spam", or something else. That tag is where the email landed for that account. Additionally, you might see the icon for the email service that sent the email. Currently the tool identifies emails sent by GMass, Sendgrid, MailChimp, and Constant Contact.
The first time you use the service, your sender address will be assigned a color, so that you can easily spot which emails are yours. If that's too difficult to keep track of, then use the Search box to search for your sender address, and then you'll only see your results as opposed to everybody's.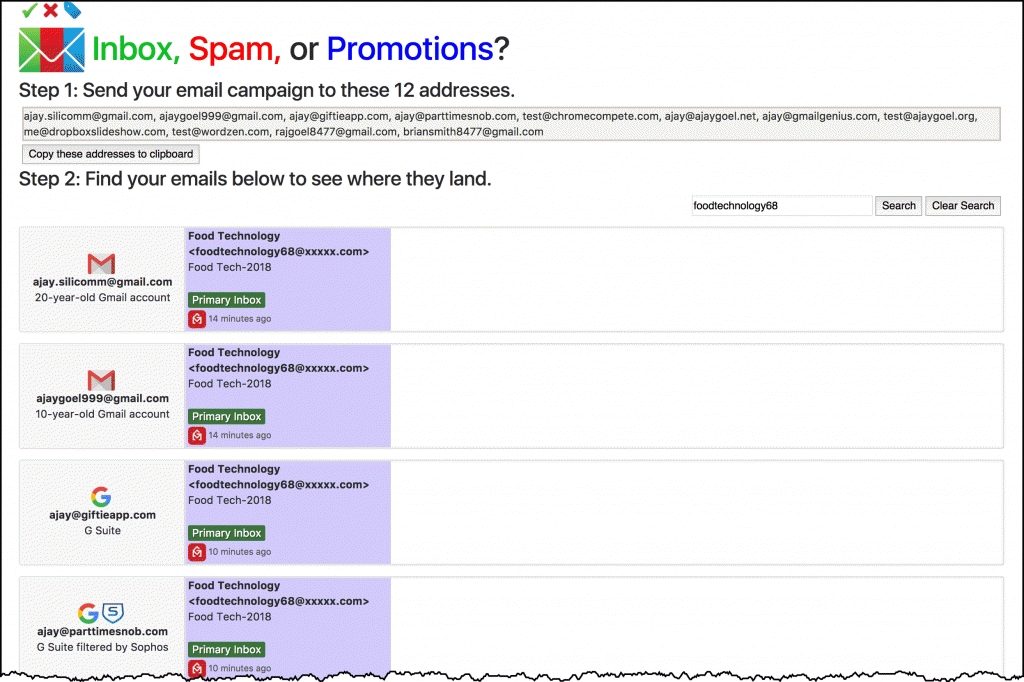 Using GMass?
If you're using GMass, it's even easier. Just click the "Inbox or Spam?" button on any email, and the email will be sent to the seed addresses. You don't need to copy/paste them from the top of the page. In time, we expect other email service providers to integrate with this tool and make sending to the seed addresses as easy as clicking a button.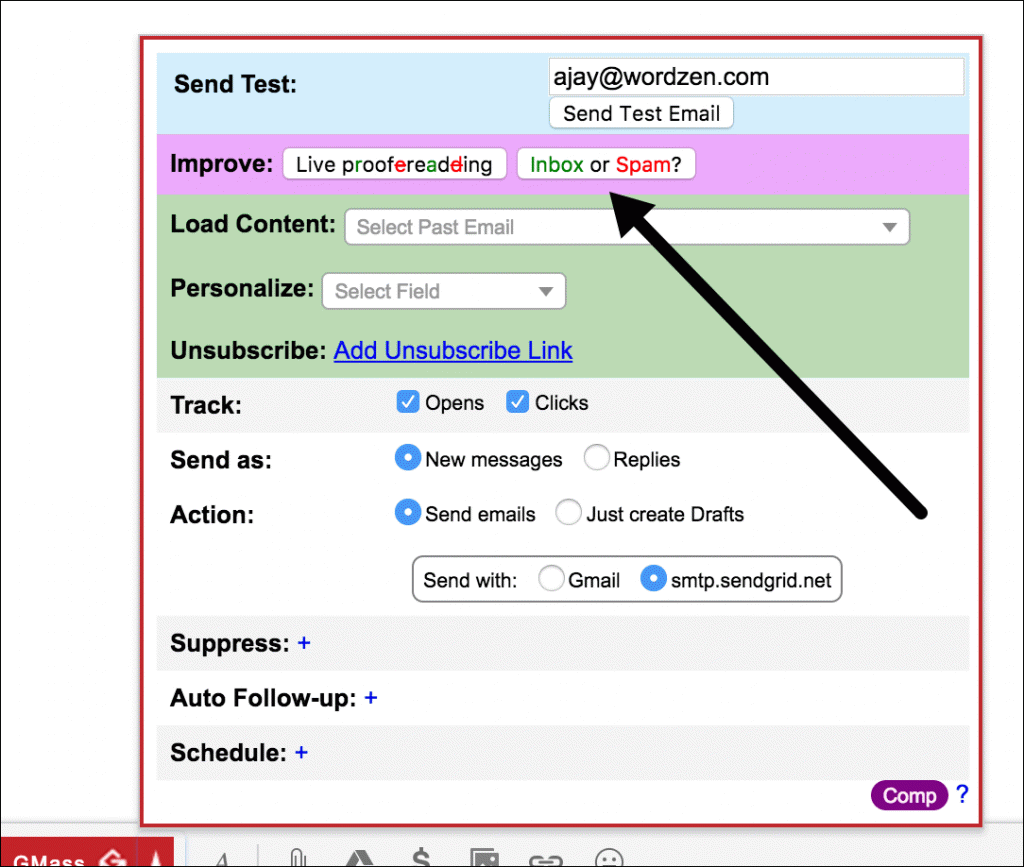 How to interpret the results
Each of the Gmail and G Suite seed email addresses has a slightly different configuration so you can see how your email campaign performs across different Google environments. Some of the accounts are simple Gmail or G Suite accounts, while others work in conjunction with a corporate spam filter. The corporate spam filters include:
Barracuda
Symantec
Mimecast
Sophos
SpamStopsHere
AppRiver
If an email address is using a corporate spam filter, it means that any email sent to this address first is analyzed by the spam filter, and then if it passes, it's then sent to the G Suite account.
That means that if your email landed anywhere in a G Suite account that has a corporate spam filter attached to it, then hooray!–your email made it past that corporate spam filter–even if Gmail tagged it as Spam.
A note about timing. Emails will arrive slower in the accounts with corporate filters than the "naked" Google accounts, because the corporate filters do their own processing on each email before passing it onwards to Google. While your emails will likely appear immediately in the naked seed accounts, the ones with corporate filters could take a few minutes to arrive.
Whether Gmail categorizes the email as Inbox, Promotions, or Spam has nothing to do with what corporate filter is behind the account. If you see your email at all in the row for the account, then you know you made it past that corporate spam filter. If the corporate spam filter blocked your email, it won't appear at all.
The labels in each box show you how Gmail tagged the message. The holy grail is the Primary Inbox. Your email will get less visibility if it lands in Promotions, and even less if it lands in Spam.
There are also several additional categories, such as Updates and Forums, which users must manually turn on in order for emails to be filtered here. Internally in Gmail, the label for "Updates" and "Forums" will get applied to relevant messages, but unless the user has actively turned these on, these emails will still show in the Primary Inbox.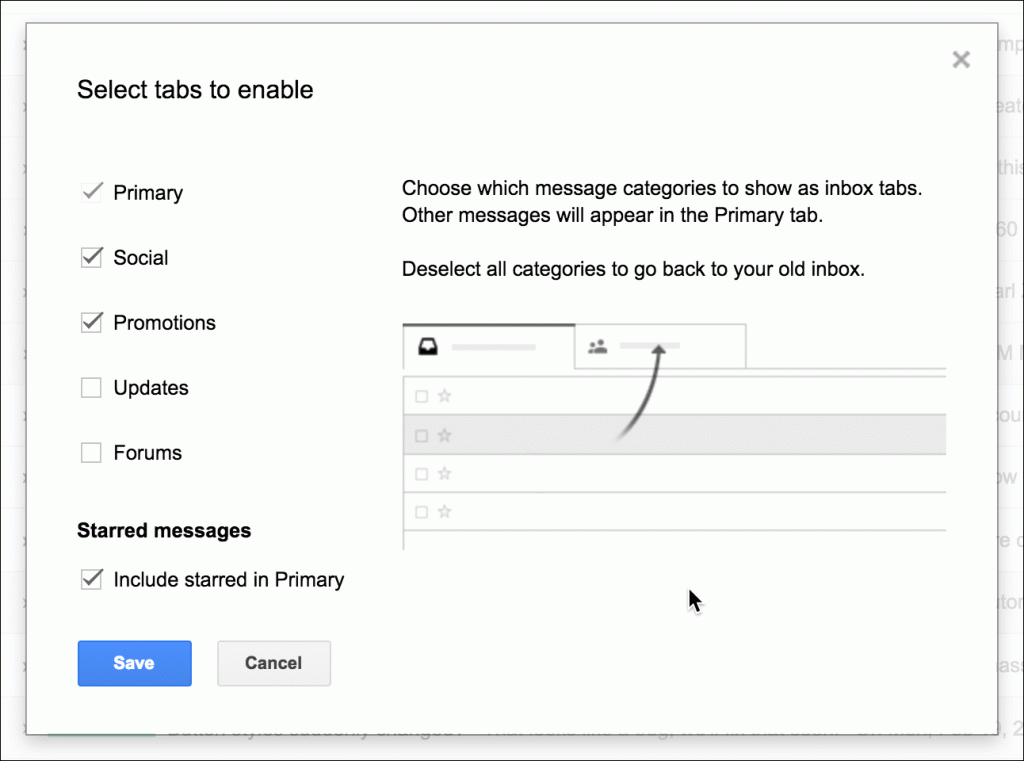 Below is a summary of how to interpret your results.
Primary Inbox — the most coveted place for your email to land
Inbox / Updates — Still in the Inbox, but for those users with the Updates folder turned on, it lands here instead. Most users do not have the Updates folder activated.
Promotions — Most big brand emails end up here.
Spam – ugh, sorry. Try to determine the cause.
Social — usually reserved for Facebook, LinkedIn, and other social network notifications
Forums — reserved for discussion-based mailing lists
Are the results accurate?
Email deliverability is complex, and you may have heard that deliverability is more about user engagement than anything else. "Engagement" refers to how a user interacts with your email.
Did they open it?
Did they click on any of the links?
How much time did they spend looking at it or scrolling down in it?
Did they reply to it?
It is widely accepted that these engagement metrics play a role in determining where an email lands. With our seed addresses, the emails are essentially never opened, so there is never any engagement with them.
That means that the engagement component of delivery becomes irrelevant. So what this tool measures is where an email lands when there is no prior engagement. It measures what happens when you send a cold email to a new recipient.
How to use the seed addresses
To get the most use out of the tool, we recommend that you add the seed addresses to your actual email list, so that every campaign sent to your list also goes to the seed addresses. That way, at any time in the future, you can go to the tool, put in your sender address, and see how your campaigns have been doing.
You can also use this tool to test your campaign BEFORE you send to your full list. If you find that the seeds are showing your email in Spam, you may want to make adjustments to your campaign to try to get it to land in the Inbox.
So the best practice is to:
Create a "Seed List" in your email marketing platform containing just the seed addresses, and send to this list while you are testing and refining your campaign.
Add the seed addresses to your main email marketing list, so that any major campaign goes to the seeds. Even better would be to spread the seeds across your main list so that they don't all receive your email at the same time. For example, if your main email list is 100,000 addresses, and it takes your email service 2 hours to send all 100,000 emails, set it up so that the various seeds are sent to throughout the entire course of the 2 hours rather than all at once at the beginning or end.
Two of the seeds are my personal Gmail accounts
Two of the addresses, [email protected] and [email protected] are personal Gmail accounts I've had for years. There is a steady flow of incoming email to both addresses, including real emails to me! Meaning, even if someone isn't doing a seed test by sending to all the seeds, these two addresses are still constantly collecting emails and therefore collecting deliverability data. The row for these two accounts moves faster than the other because more emails are arriving to these addresses than all the others.
But what about Outlook.com, AOL, Comcast, and other important email services?
This tool is strictly connected to Gmail/G Suite addresses, with the incorporation of the most popular corporate spam filters like Barracuda, Sophos, Symantec, and Mimecast. We are not testing cloud-based Microsoft Exchange addresses, outlook.com, aol.com, or comcast.net addresses. It is generally accepted in the email marketing community that Gmail has the most sophisticated spam filtering systems, and that if your emails are getting delivered (or blocked) there, then your emails are being treated the same in other places. So for now, we don't feel the need to add these other addresses as seeds.
See how any email marketing service is performing
Feeling voyeuristic? Want to know where emails sent from MailChimp are landing? The neatest part of this tool is that you can see how other people's emails are performing. Use the Search box to search for a particular brand, and see how that brand's emails are doing. You can also search for a particular email provider. For example, search "mailchimp", and you might see this:

See how your competitors' emails are doing
To monitor the email deliverability of your competitors, try searching your competitor in the Search box. Try the company name or the sender address from which they send email campaigns. If you don't get many results, it means we're not yet tracking that company's emails. But there's an easy fix to that problem. Just go to your competitor's website and subscribe all of the seed addresses that you see on the page. If any of them require a confirmation link to be clicked, our software will automatically click them. Just be sure that if you subscribe our seeds to a mailing list, that you subscribe all of them, not just some of them. We want to provide accurate, valuable data and can only do that if the email is received by all the seeds.
After your competitor sends their next email campaign, go back to the tool and search for their emails. The tool will show you exactly where their email landed in each of the seed accounts.
So everyone can see everyone's data? That's scary!
We think it's empowering rather than scary. For the first time ever, you can easily see how other brands and other email vendors are doing. You can make better decisions about your campaigns and what email vendor you choose. The only data that is public are your Subject Lines and where your emails are landing. We obfuscate your sender address, and the contents of your campaign are not viewable.
Are you a developer? Integrate your email marketing service with this tool
All developers of email marketing services, including MailChimp, Constant Contact, JangoMail, and others can easily integrate the Inbox, Spam, or Promotions deliverability testing tool into their service. A JSON list of the current seeds is always available at gmass.co/inbox/seeds.
See why

99%

of users say they've had their best deliverability ever with GMass

Email marketing, cold email, and mail merge all in one tool — that works inside Gmail

TRY GMASS FOR FREE

Download Chrome extension - 30 second install!
No credit card required
Love what you're reading? Get the latest email strategy and tips & stay in touch.