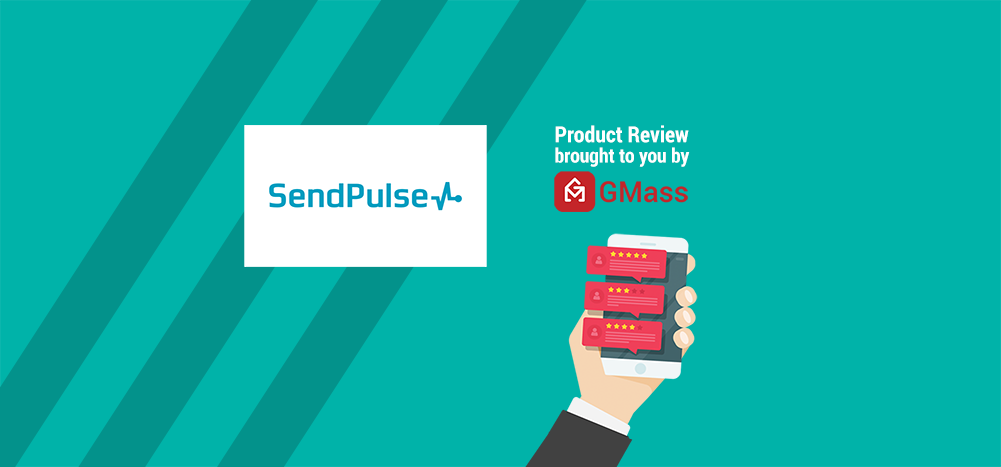 Thinking about using SendPulse for your email marketing needs?
SendPulse is a popular multi channel marketing platform option for companies who want to boost their digital marketing outreach through emails, SMS, and more.
But will it suit your business?
In this SendPulse review, I'll give you a detailed rundown of the SendPulse features, pricing plans, and drawbacks. I'll also highlight a powerful email marketing tool that can enhance SendPulse's functionality.
This SendPulse Review Contains:
(Click on a link below to jump to a specific section.)
Let's get started.
What is SendPulse?
SendPulse (sendpulse.com) is an SMTP service provider and a multi channel marketing platform. It acts as a comprehensive, all-in-one solution for managing your marketing outreach activities through various channels like email campaigns, chatbots, SMS, and web push notifications.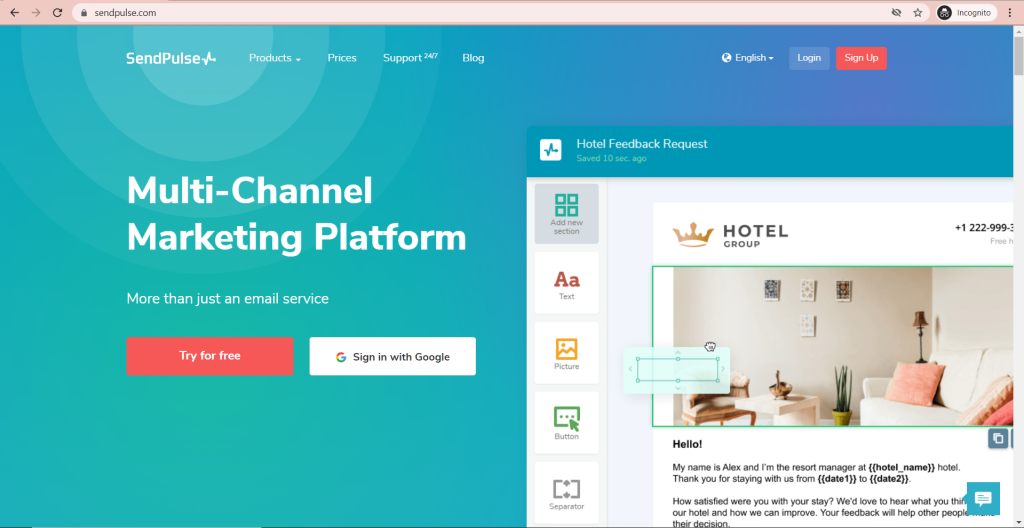 What Is an SMTP Service?
An SMTP (Simple Mail Transfer Protocol) service lets your business set up bulk email marketing mechanisms.
Why not just use a standard email service like Gmail?
Gmail places limits on the number of emails you can send every day. For example, on the free plan, it's 500 emails/day, and it's 2,000 emails/day for G Suite accounts. These might sound like a lot for personal use, but for a business owner, it's simply not enough.
With SMTP services, you don't have any such limitations and can easily conduct your high-volume email campaigns.
Additionally, SMTP services offer other handy features like dedicated IP addresses for better email deliverability, campaign performance tracking, and autoresponders, which Gmail can't offer.
Want to learn more about SMTP? Click here to check out my ultimate guide to SMTP.
What Is a Multi Channel Marketing Automation Platform?
A multi channel marketing platform means that the service isn't just limited to one digital marketing channel like emails.
It lets you send your marketing messages through multiple channels like:
Web push notification
SMS marketing
Telegram and Facebook chatbot
And what about marketing automation?
Marketing automation features let you automate a series of tasks in your marketing process.
For example:
Sending automated emails to follow-up on a subscriber
Sending surveys to gain feedback from your customers
Sending welcome emails to new subscribers to your email newsletters
How to Send Email via SendPulse
SendPulse is a stand-alone SMTP service, which means that you don't have to integrate with other email services like Outlook or Gmail to send emails.
Here's how to send email via SendPulse:
Open "Email" and click on "Create a campaign" in the SendPulse dashboard.
Add information about the campaign.
Choose an email template and customize it.
Configure campaign parameters, like the statistics settings.
Preview the campaign and send it.
Who Should Consider Using SendPulse?
SendPulse offers a ton of powerful marketing features from which both large companies and solopreneurs can benefit. It's one reason it's equally popular among large companies like PwC and small eCommerce stores and bloggers.
Which Mobile Platforms Does SendPulse Support?
SendPulse offers a mobile app for both Android and iOS devices. This is helpful as it lets you manage your marketing campaign remotely from your mobile device.
What Integrations Are Available for SendPulse?
SendPulse offers a wide range of integrations with third-party software like these:
eCommerce: Shopify and WooCommerce
CRM: Salesforce and Vtiger CRM
Subscription form builder: Typeform and CreateForm
Communication: Slack and GoToWebinar
Workflow automation: Zapier
What Are the Main Features of SendPulse?
SendPulse offers a variety of features to streamline your digital marketing campaigns
Here's a detailed look at some key SendPulse features:
1. Free SMTP Server
An SMTP server provides the technical infrastructure to send out bulk emails, like transactional emails.
What Are Transactional Emails?
Transactional emails are automated emails triggered by a specific event or user action. For example, sending an automated "thank you" email when a customer buys something from your eCommerce store.
The problem is, building and maintaining your own SMTP server is incredibly technically complex and expensive — it's a huge task.
Fortunately, SendPulse takes care of this for you.
SendPulse offers a free SMTP server for your marketing campaigns, which lets you send up to 12,000 monthly emails for free. However, for sending unlimited emails, you'll have to opt for their paid plans (which start at $8/month).
This will let you push past the limits of an in-house server (like Gmail) or the SMTP hosted by your ISP (Internet Service Provider).
How Do You Set Up an SMTP Server with SendPulse?
First, register with SendPulse and complete a short user profile form. After your form is reviewed and approved, you'll get your SendPulse SMTP credentials, which you can use to set up the SMTP server.
Additionally, you can configure two extra authentication parameters — DKIM and SPF.
What Is DKIM?
DKIM (DomainKeys Identified Mail) is an email authentication process that encrypts outgoing mail and issues a digital signature to your emails. This helps validate the email sender's identity, and only the receiver's mail server can decrypt the encrypted email.
What Is SPF?
SPF (Sender Policy Framework) is a security protocol to validate IP addresses and web applications that deliver emails from a particular domain.
An SPF record has a huge database of IP addresses and applications that are authorized to send emails using a specific domain name.
This way, only authorized applications and IP addresses are accepted into the recipient's inbox. Emails from unauthorized sources are rejected or flagged as spam.
SendPulse SMTP servers also feature:
Dedicated IP addresses for maintaining a better sender's reputation and avoiding getting blacklisted for someone else.
SSL (Secure Socket Layer) connection to ensure secure email deliverability.
Statistics to track data for unopened emails, unsubscribe rates, or click-through rates.
2. Campaign Analytics and A/B Testing
SendPulse doesn't generate a campaign statistics report by default, unlike other email marketing services.
To get the data for an email campaign, you must enable the tracking feature when creating the campaign, and you must specify what you want to track.
SendPulse let you track email metrics like:
Email open rate: See how many subscribers on your mailing list opened your emails.
Click-through rate: Shows how many readers from your email list clicked on the links present in your email.
Geographic stats: Know the number of emails opened based on the subscriber's country.
Device stats: View what devices your subscribers are using to read your emails.
Error reports: Identify any error that occurred during the sending process so you can troubleshoot and resend.
With all these stats, performing A/B testing for your email campaigns becomes far easier!
What Is A/B testing?
It's a method of sending an email to one set of subscribers and sending a small variation of that email to another set of subscribers.
The performance of these two campaigns is analyzed to determine which one gave better results. This helps you pinpoint which elements of your email your subscribers like the most.
How to Do an A/B Test in SendPulse
To perform A/B testing in SendPulse:
Choose a mailing list.
Choose the number of test groups.
Choose the parameters that you want to test:

Test the sender.
Test the subject line.
Test the email content.

Set up the testing groups.
Choose when to send.
Send and track the results.
This way, you can determine what works best for your subscribers and tailor your campaigns accordingly.
Ajay's Email Tip
To skyrocket your conversion rates, you should know how to start and end emails in a way that engages your audience. Check out my in-depth guides to learn the right way to start and end emails.
3. SMS and Web Push Notification Addon
Since SendPulse is a multi channel marketing platform, you aren't limited just to email marketing campaigns. They also offer SMS marketing and web push notification services.
Here's a quick look at each service:
A. Bulk SMS Service
SendPulse allows you to send an SMS message to any mobile device through 1,000+ mobile network operators across 200+ countries. This lets your subscriber get SMS notification for your marketing messages.
Here's what you get with SendPulse's bulk SMS marketing services:
Complete language support
SMS personalization
SMS automation
Recipient segmentation
GSM and CDMA support
B. Web Push Notification Service
SendPulse allows you to set up a push campaign across popular browsers like Chrome, Firefox, and Opera. They also support browser notifications on your subscriber's smartphone.
What Are Push Notifications?
Web push notifications are messages from a webpage that you receive in your browser. They can be used to notify visitors about promotional offers, new content, or important updates.
4. Drag and Drop Editor
SendPulse offers a drag-and-drop email builder to help you create beautiful, adaptive emails easily. You don't need to have any HTML coding skills for this — just add images, videos, or text; then move around the elements, and you're done!
For added flexibility, SendPulse also lets you:
Customize background, text color, or other parameters to match your style.
Preview YouTube videos in your emails by simply linking them.
Add social media icons in your emails and link them to your social media pages.
Additionally, if you don't want to go through the template designing process, SendPulse lets you conveniently choose from over 130 ready-made email templates.
What Are the Drawbacks of SendPulse?
While SendPulse is a robust multi-channel marketing platform, it isn't perfect.
Here are two downsides of using SendPulse:
1. Interface Can Be Challenging
A good user interface is essential for any marketing tool since you'll spend a lot of time working with it.
However, many SendPulse reviews highlight that the SendPulse UI looks outdated, and some of its processes can be hard to work with and frustrating. For example, you have to specify which email metrics must be tracked manually each time you send a campaign.
2. Campaign Approvals Can Take Time
After you are done creating an email campaign, it has to go through a vetting process by the SendPulse support team to prevent spam or other illegal email practices.
This is done to abide by the online regulations and maintain the server's reputation.
However, as this is an additional step that does require a bit of time, it can delay your marketing efforts considerably.
SendPulse Pricing Plans
SendPulse offers various plans depending on the marketing channel you prefer:
A. SendPulse Pricing Plan for Email Marketing
Free plan: supports up to 500 subscribers in your mailing list and limited email sending features.
Subscription plan: starts at $8/month for 500 subscribers – offers unlimited promotional emails and professional SendPulse features.
"Pay as you go" paid plan: starts at $32 for 10,000 emails – the price depends on the volume of email you send rather than the number of subscribers you have.
VIP plan (for businesses with more than 1 million subscribers): custom pricing – offers a personal manager and custom-made email template.
B. Pricing Plan for Transactional Emails
Free plan: supports up to 12,000 emails.
Basic: starts at $8.85/month for 25,000 emails.
Pro: starts at $74.85/month for 100,000 emails.
Enterprise: starts at $274.86/month for 500,000 emails.
C. Pricing Plan for Chatbots
Free plan: supports unlimited subscribers + up to 10,000 messages per month and 3 bots + SendPulse branding.
Paid plan: starts at $9.85/month for 1,000 subscribers – offers unlimited messages and bots + no SendPulse branding.
D. Pricing Plan for Web Push
Basic plan (Free): for up to 10,000 subscribers – offers unlimited push notifications + personalize emails + automation features + SendPulse branding.
Pro plan: starts at $19.85/month for 30,000 subscribers – includes API access + A/B testing + segmentation + priority customer support + branding removal.
E. Pricing Plan for Bulk SMS Services
Best Way to Add More Functionality to SendPulse
Sure, SendPulse has its flaws — but don't let that hold you back when there's an effective solution to them.
Software like GMass can help you get around most of these drawbacks and carry out your email marketing efforts smoothly.
What Is GMass?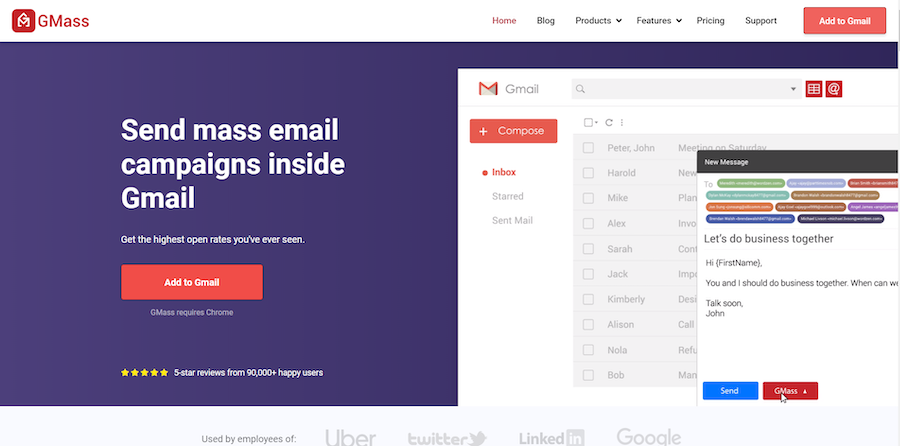 GMass is a powerful email outreach software that works right inside Gmail. Used by employees from major companies like LinkedIn, Google, and Twitter, GMass' powerful features help enhance the functionality of an SMTP provider like SendPulse.
However, GMass isn't just for tech giants.
Anyone from solopreneurs and small businesses to churches can use GMass to send bulk, automated emails to their customer base.
GMass can help you:
Send mass emails through your SMTP service simply using the Gmail platform.
Set up multiple user access for your whole team.
Analyze your email campaign performance using detailed Campaign Reports.
Schedule multiple emails and follow-ups easily.
Add personalization for your bulk emails.
The best part?
Setting up GMass is a breeze. All you need to do is install the Chrome browser extension, sign in with your Gmail ID, and you're all set!
How Does GMass Help Improve SendPulse?
GMass is a rare Gmail-based email marketing platform that can work with an SMTP service like SendPulse.
But how does it actually help SendPulse's email marketing software?
Send Bulk Emails without Leaving the Familiar Gmail Interface
I've talked about the drawbacks of SendPulse and how its interface can be difficult to work with.
Luckily, you won't have to work with their interface if you're using GMass.
Here's how:
GMass works within your Gmail dashboard.
This means that you can replace a complex SMTP interface like SendPulse with the all-familiar single platform of Gmail.
Instead of wasting time trying to learn how email delivery platforms like SendPulse work, GMass allows you to access all SendPulse SMTP functionalities without compromising the ease-of-use of Gmail's user-friendly interface.
Now you can focus your time and energy on things you're great at, like analyzing marketing reports and managing your digital marketing team!
Click here to learn how to set up an SMTP server in Gmail with GMass. 
Wrapping Up
Using a dedicated SMTP service like SendPulse can easily boost your businesses' marketing efforts. And while it's a powerful email marketing software, SendPulse offers you more than just email marketing campaign functionality.
However, SendPulse has a few drawbacks that could limit how user-friendly it is.
Fortunately, it's an easy fix if you use GMass!
GMass lets you use all the SendPulse SMTP services within your familiar Gmail interface, making it the perfect companion to SendPulse.
Why not sign up for GMass today to streamline your SendPulse experience!
Ready to

transform Gmail

into an email marketing/cold email/mail merge tool?

Only GMass packs every email app into one tool — and brings it all into Gmail for you. Better emails. Tons of power. Easy to use.

TRY GMASS FOR FREE

Download Chrome extension - 30 second install!
No credit card required
Love what you're reading? Get the latest email strategy and tips & stay in touch.