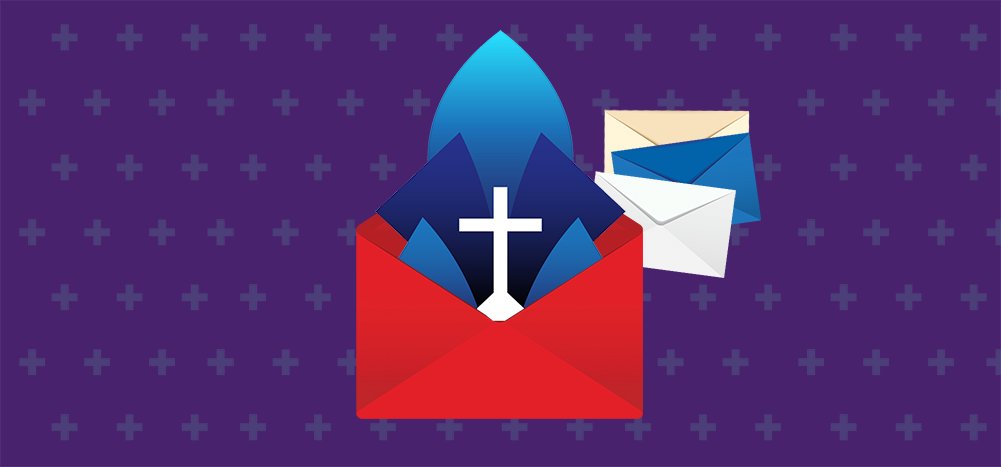 Looking for ways to reach your congregation effectively and bring them closer together? 
While your congregation might not be able to make it to church during the spread of COVID-19, you can still bring God's Word to them!
All you need is an effective church email campaign.
With email marketing tools, sharing what's important to your congregation and keeping in constant contact with your members has never been easier!
In this article, I'll highlight why your church needs an email marketing solution, the challenges you may face during the process, and the best practices to follow to overcome those challenges, whatever denomination of Christian church you may be serving.
Here's what I'll cover:
Let's get started.
5 Reasons your church needs an email marketing strategy
So why does your church need an email marketing strategy?
Email is one of the easiest ways to keep in touch with new and existing members of your congregation.
Why?
Nearly every member of your church will have an email account, and it's a super-simple and inexpensive way to reach them!
Here's why your church needs a proper email marketing solution:
1. It's easy and inexpensive
Email is a secure communication channel that you can use to communicate with your church members quickly. It'll save you time and money that you'd otherwise spend on other, less effective methods like printing flyers or addressing and stuffing letters.
2. Emails ensure that everyone gets your message
Why not just reach out to your church members through social media?
Here's the problem with sharing your church content on social media platforms like Facebook and Instagram:
As social media posts are dependent on the algorithms controlled by Facebook and Instagram, not everyone will see your post. In fact, only a handful of people may get to see your post before the platforms push other messages ahead of yours for them to see.
Email services solve this issue.
If you send a church email newsletter, each of your church members will receive the message. There's no algorithm controlling their inbox that's deciding what they can and can't see.
3. Easier to obtain email addresses
Email addresses are easy to collect since members are more willing to give out their email address rather than their phone number, home address, or social media account!
This is because emails are seen as less invasive among the many forms of communication we use today. And yet, they're frequently checked, which is helpful for you.
4. Know how many people have opened your email
With effective email marketing campaigns, you can easily see how people are interacting with your email.
There are marketing tools specially designed to help you see how many people have read your email, replied to it, and interacted with any links or documents in your email.
Why is this important?
It helps you gauge how your emails are impacting people and will help you fine-tune things to create more effective strategies to spread your message.
Some email tools in the Google Apps store even allow you to track your church email marketing performance on your mobile device!
This makes managing your emails 24×7 a piece of cake!
5. You can reach different church groups effectively
Email lists help you send specific emails to specific groups of people. When members join your email list, they'll only receive emails that are relevant to them.
For example, you can send one set of emails to new church members, a different set to the church's teen Bible Study group, and a third set to members of the congregation who are learning to homeschool their kids.
This way, you can effectively reach the right people with the right messages!
3 Challenges faced by churches when sending email
While church email marketing is an excellent way for church leaders to reach their members, there are a few challenges to face.
Here are several of the most common problems. (We will discuss solutions to these challenges as well.)
1. Managing church email lists is difficult
After collecting email addresses from their members, most church leaders add them to their church email lists.
However, that's where the process usually stops.
Since a minister or senior pastor doesn't usually monitor these lists, your church email lists might be old, inaccurate, or incomplete.
How?
People may have changed their email addresses over time.
People might have opted-out of your emails (that is, they don't want to receive emails anymore).
But as these lists aren't monitored carefully, your emails will still be sent to those members. So, the staff or volunteers will be emailing an address that doesn't exist anymore or bothering someone who doesn't want to see your emails because, for instance, they've moved to another state and joined another church.
2. You can be blacklisted for bulk email
A church website that regularly sends out bulk emails to dozens of people might get blacklisted by email services like Yahoo, Outlook, or Gmail.
This is because most pastors don't use a bulk email sending service.
They just use their regular email accounts without realizing this can be a huge problem!
Once a domain name or web hosting server is blacklisted, the emails you send out through your pastor's email address will go directly to your members' spam folders. They'll never see the message you spent all that time putting together.
3. It's hard to track your email's success and results
Since most churches and church leaders don't utilize email marketing software, they don't know if their church email marketing campaigns are doing well.
They won't know:
if the emails were opened
who clicked on your email links
how many emails bounced
how many email addresses are invalid
who unsubscribed
That means you'll have no idea if your campaigns are successful and if your members are interacting with your spiritual guidance or community messages.
Most churches also lack facilities for the pastor and church leaders to understand and oversee this information efficiently. So, even if they have a marketing tool, they can't easily grasp how to use it and analyze what each ministry is doing.
7 Best practices to keep in mind for church email
While there are challenges to using church email, you can easily overcome all of them!
Here are some best practices to remember when emailing members of your church.
These practices will ensure that your emails are effective, irrespective of whether your newsletter is a missionary message, a celebration of good news, or an in-depth reflection about God, Jesus, a Psalm, or how to face uncertain times, etc.
1. Create a welcome series for new church members
When someone new joins your church, don't rush to send them the same newsletter that you send to your existing church members.
Instead, create a new series of emails that focus on thanking these new congregants and welcoming them into your community. Use your emails to help them familiarize themselves with your church, its leaders, its ministries, its activities, and to draw them into a closer relationship with the congregation and their own faith.
Next, invite your new members to join your community at a small group for Bible study, community outreach, or your next worship service. Alternatively, simply ask them to check out your church website and schedule a time to meet the pastor − even if that has to be a virtual meeting.
A strong welcome series can help your newcomers feel drawn into the heart of your church sooner, make it easier for them to introduce themselves to the community, and even enhance their faith.
2. Sort your mailing lists
Nobody likes to receive emails that aren't meant for them, right?
That's why you need to sort your email lists!
Sorting your email lists means creating separate email groups for different sets of people.
For example, if a pastor has to send an email that's only for the youth of the church, your older members won't be interested in the same email, right?
That's why it's essential to create separate lists for different big and small church member groups. For example, create separate lists for the music ministry and the hospital ministry so that the pastor can send a complete and specific message to each relevant group. That saves time for everyone, eliminates misunderstandings, and makes it easy for church members to reply in case their plans change.
It's really that simple!
3. Set clear expectations
You don't like to be flooded with tons of emails every day, right?
Neither do your church members!
Letting your members know how frequently the church will reach out to them via email makes your email campaigns more predictable.
And that's a good thing!
Not only does it allow you to set a regular schedule, but this practice will also make your members feel more comfortable with what to expect, and they will look forward to your email newsletters and messages!
Make sure to limit your all-congregation emails to weekly or monthly timing. Otherwise, your members might feel overwhelmed and stop interacting with your emails.
You can also let your members have more control over what emails they receive by allowing them to be able to choose to be part of specific email lists.
4. Personalize every email
Running a church means connecting with people as the first step in connecting them with God.
And for your congregation to connect with you, your emails must show them that you genuinely care for them, just a Christ did. Although it's an email, you want your members to feel you are looking them in the eye and speaking directly to them.
A good way to do this is to include your recipient's name in the email.
Why?
Because it makes them feel like you've carefully tailored this email just for them.
Also, be sure to respond to all email replies you receive.
Staying in constant contact with your members will go a long way in showing them that you care and have their interests at heart.
5. Give more, ask less
It's fine for an email newsletter to request your congregation to attend an event or make a donation, but that shouldn't be the only thing for which you email them.
To give your followers the best possible experience, make sure you share guidance and encouragement, provide useful news, and bolster their faith, more than merely asking for donations, etc.
Make them feel appreciated and valued – whether it's helping them get involved in the church bake sale or finding a deeper relationship with Jesus Christ and each other.
Your monthly email newsletter can be a great place to share spiritual advice and stories about how your ministry is creating a positive impact in your community. You can even ask members to send in prayer requests so you can pray together for those in need.
If you can, provide links to Facebook and Instagram pictures of all the good work your church is carrying out in the name of Christ in your community. When your members see more value-adding content, they will naturally respond to your event and donation requests positively.
6. Track how your emails are doing
Not all of your recipients will open your email newsletter. Some of them might open them, but very few will interact with all the links and graphics you include.
There are many things you can do to make your emails more effective, but you need to know how people are interacting with your emails in the first place!
Use a good email marketing tool to do this.
Once you identify what people are clicking on and what they like, you can craft more effective campaigns to reach your congregation!
7. Use email marketing tools like GMass for all your church email needs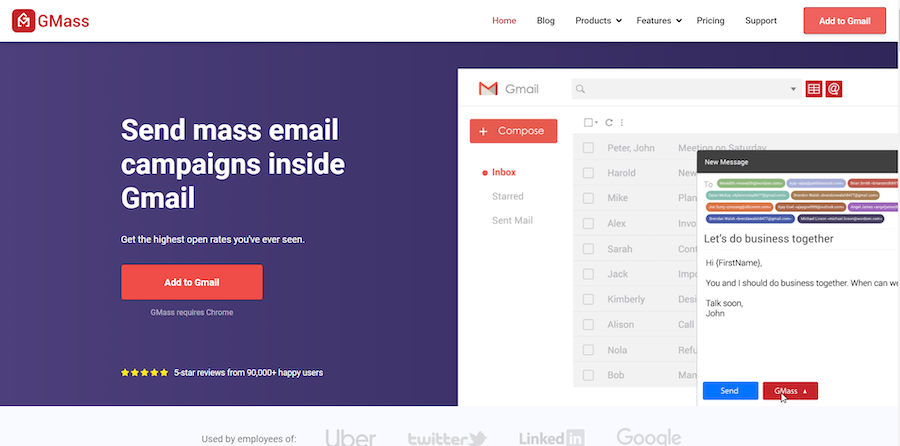 GMass is great email software used by some of the world's biggest companies. However, it's super simple and easy to use — making it perfect for pastors sending a monthly church email newsletter!
GMass can help you send personalized mass emails and check your email performance.
With GMass, you can:
Quickly send a church email newsletter to all of your church members right from your Google inbox.
Personalize your emails based on each recipient.
Track email engagement.
Easily schedule emails and follow-ups to stay in constant contact with members.
But that's not the best part.
You don't need to get used to some confusing new software interface.
GMass operates right inside your GMail inbox!
Just download the GMass Chrome extension and enter your email address to get to work.
If you don't have a Gmail account yet, you can open one for free in just a couple of minutes! Here's a link to the Gmail account-opening page.
How GMass helps your church email activities
Here are the features that make GMass the best companion for your church email purposes:
A. Create large email lists easily to reach different church groups
You need to build a list of email addresses before you can email anyone, right?
But putting together hundreds of email addresses can be tiring and time-consuming.
Don't worry, GMass can automate all of that for you!
You can add all your contacts to an Excel or Google Sheets file and directly import them to GMass.
The tool will then build the address list for you!
But that isn't the only way you can create email lists.
GMass also has a Build Email List feature that makes list building super easy.
Perform a Gmail search with a specific keyword, and the app will build a mailing list for you from all the past emails where people wrote about that topic.
Here's how it works.
Imagine you have to create a list of your contacts from a certain theological seminary. Type in the keyword "theological seminary" in the search bar, and GMass will return a list of all the matching email addresses.
(In this example, we use "Ted's Tadpole Website" as an example, but imagine using "Jesus Christ" or "Elders" as your keywords, and you'll see how easily it can work for you.)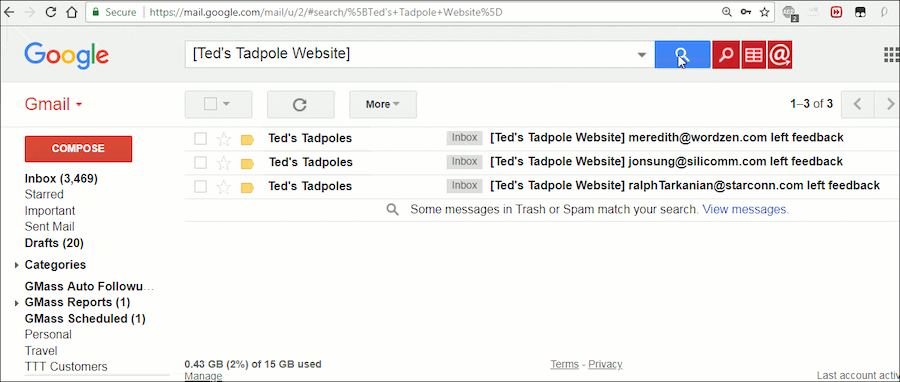 You can then create a list from these contacts and start emailing them directly.
Building tons of different email lists has never been easier!
B. Advanced email personalization to make your members feel special
If you want more members to interact with your emails, you have to personalize the emails you send to them.
Think about it.
Would your congregation members rather interact with a generic mass email or one that's tailor-made for them?
Personalizing emails can be great to make members feel special, but what if you have to personalize emails for hundreds of members in your community?
Don't worry — you won't have to spend hours manually adding their names to each email.
GMass can automate all the personalization for you!
Here are some automation features that GMass offers:
It automatically detects your recipient's first name from their email address and adds it to the email. This way, you won't have to add each person's name to your emails manually.
You can customize whole paragraphs in your emails based on recipients. Also, GMass can automatically add a member's name or other data in the email without you having to add a thing!
Add customized images for everyone on your email list.
Click here to learn more about sending personalized emails to each of your members.
C. Powerful reports to help you understand how your congregation interacts with your emails
When you send a mass email through GMass, it generates a Campaign Report for you. This report shows you essential details about the performance of your church email.
Here are some of the details you can check on a Campaign Report:
Total Recipients: The number of email addresses to which a campaign was sent.
Unique Opens: The number of unique email addresses that opened your email.
Note: GMass gives you accurate open rates by only tracking unique opens. That means, if the same recipient opens an email more than once, it won't show up in the report.
Unique Clicks: The number of individual email accounts that clicked at least one link in your email.
Replies: The number of recipients that replied to your email.
Unsubscribes: The number of recipients that unsubscribed from your emails.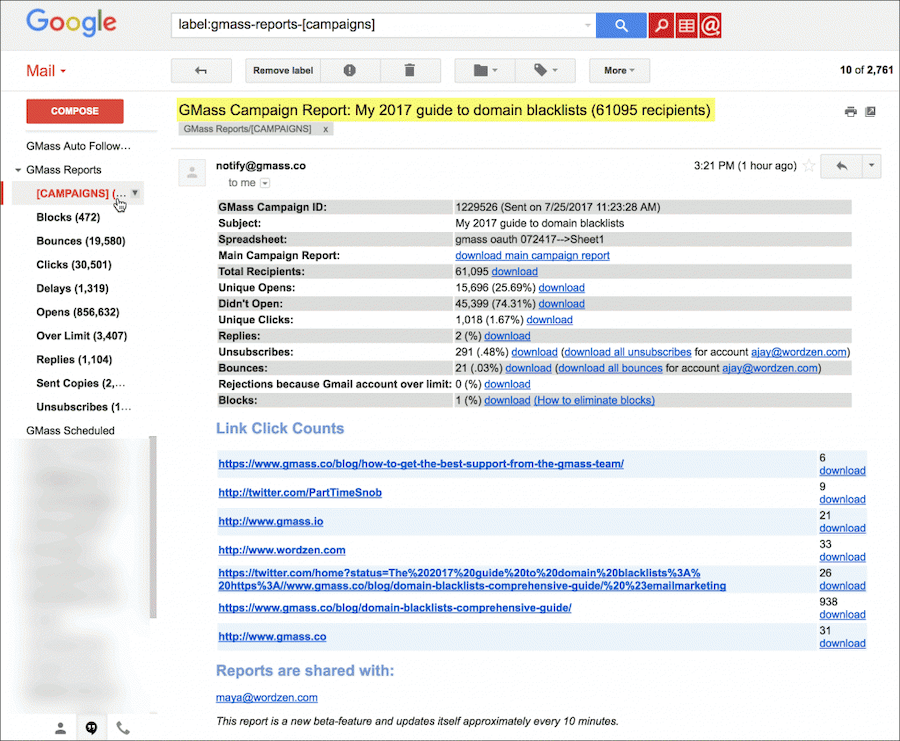 Use these stats to analyze how your church emails are doing and find out even better ways to reach your congregation!
D Automated email follow-ups to help you always connect with your congregation
Sometimes, your members might forget to open or reply to your emails.
So, what can you do to get them to notice your emails?
Send follow-up emails!
But checking out who hasn't replied and composing a follow-up email for each member is impossible, right?
Not if you use GMass!
Unlike most email tracking tools, GMass automates the follow-up email process. 
You can customize these follow-up emails, such as:
The trigger for sending the follow-up email.
For example, GMass can send a follow-up when a congregation member clicks on a link in your email.
The number of follow-ups
You can customize the number of follow-ups each member receives before GMass stops sending them follow-up emails and bothering them.
Setting the time gaps between each follow-up email.
For example, your first follow-up can be sent after three days of no response, and a second one can be sent after five days.
The follow-up message that you send.
Here's an example of two follow-up messages: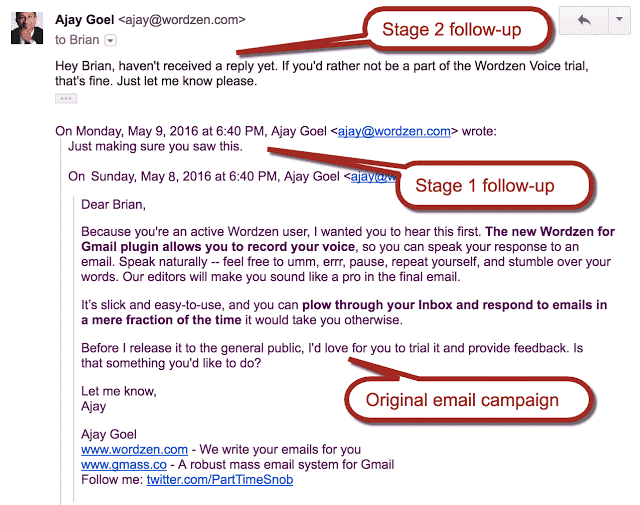 E. Simplified email scheduling to reach your members at the right time
The best way to increase email engagement is to send emails when the members of your congregation are most likely to check their email accounts.
Fortunately, GMass allows you to schedule email campaigns in advance, which can help you send your emails at the perfect time!
Just type your email and schedule when it should be sent.
GMass will then automatically send it to all the members on your list at the scheduled time.
But what if you need to change the sending time of your mass email?
Simple!
Just head to the Drafts folder in your inbox and reschedule.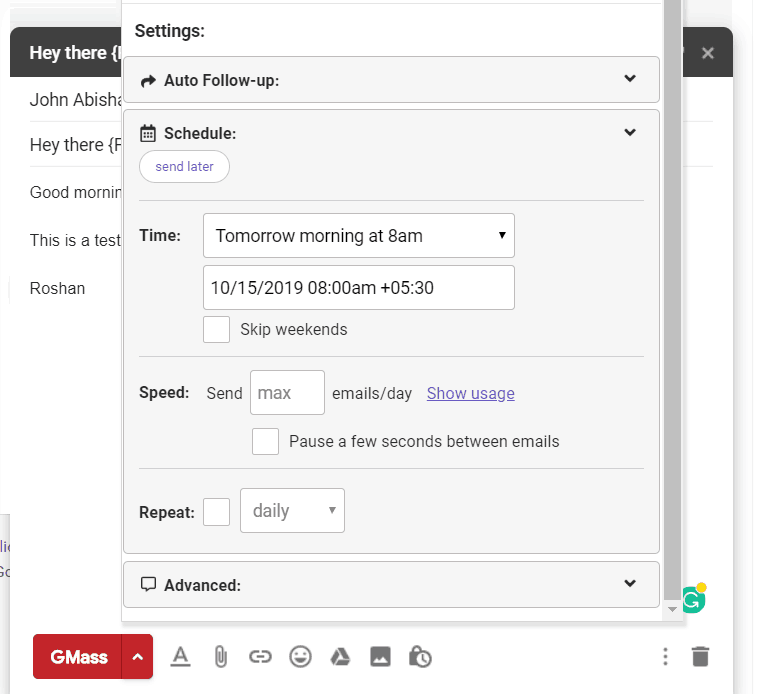 Conclusion
Bringing people closer together can be a gratifying experience for any pastor.
With emails, it's easier than ever to keep your church community unified and focused!
And since you need an email tool to help you send all these emails, why not try out GMass?
Using a tool like GMass can help you efficiently manage your church email campaigns.
Why not download the Chrome extension and give GMass a try today?
Email marketing, cold email, and mail merge

inside Gmail



Send incredible emails & automations and avoid the spam folder — all in one powerful but easy-to-learn tool

TRY GMASS FOR FREE

Download Chrome extension - 30 second install!
No credit card required
Love what you're reading? Get the latest email strategy and tips & stay in touch.