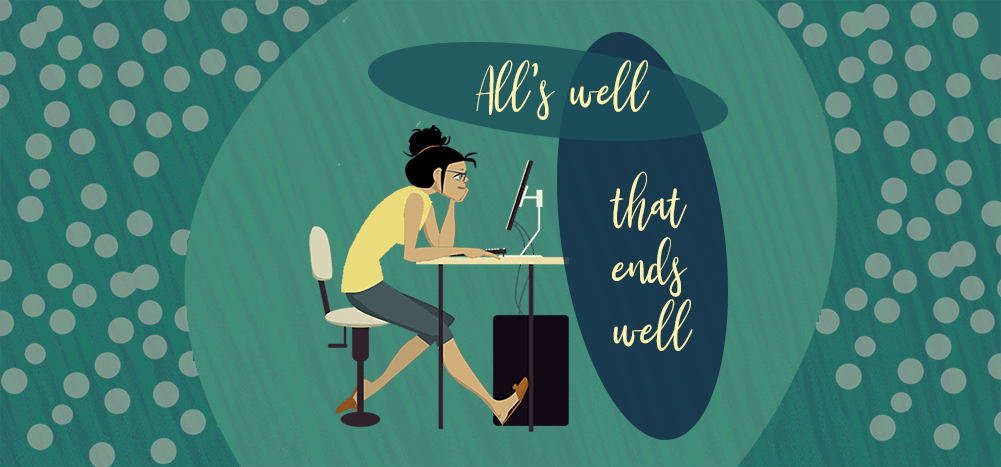 Crafting an appropriate ending to your email can be tricky, but it's an integral part of writing professional emails.
Your ending can impact how the recipient remembers your email and can determine whether they respond to it.
Fortunately, by learning how to end an email professionally, you can ensure that your professional correspondence leaves a positive impression on the recipients. This, in turn, boosts your chances of getting the right responses.
In this article, I'll explain the importance of a good professional email closing and cover four sign-offs you could use and four you should avoid. I'll also go over how to end a professional email and offer four tips on writing the perfect closing to your email.
Finally, I'll discuss a powerful email companion you can use right now.
This article contains:
(Click on a link below to jump to a specific section)
Let's get started.
Why Is the Closing of a Professional Email Important?
Your email closing can determine whether or not the recipient responds to your email and can influence how they respond to it.
How?
This phenomenon can be explained using the "peak-end rule".
According to the peak-end rule, people judge and recall an experience based on how it ends. Going by that logic, what a recipient thinks about your email closing impacts how they remember and feel about your entire email.
For example, a sloppy, typo-ridden closing paragraph can leave recipients unmotivated to follow through or respond. On the other hand, a well-written, professional closing can leave them with a good impression, increasing the likelihood that they'll reply to your email.
As a result, you must take the email closing seriously and do it the right way.
Now that you've seen the importance of proper email closings let's check out some compelling email sign-offs and explore when to use them.
Four Email Sign-offs to Use
Here are some of the best email sign-offs to use in your professional email:
1. "Best"
While some people simply end their email communication with the word "Best", you can also write it as "Best wishes", "Best regards", etc.
The closing example "Best" is a safe bet for most emails, especially if it's the first time you're writing to someone. It's a neutral sign-off that works well for both formal emails and personal emails.
2. "Regards"
"Regards" is another common closing example that you'll spot in business emails. Like "Best", this is a neutral and straightforward sign-off that presents you as a formal well-wisher.
You can also slightly modify this sign-off to sound more friendly — for example, "Warm regards", "Kind regards", or even "Warmest regards".
However, avoid using a shortened form like "Rgds".
Remember, it's still business communication, not a personal text message.
3. "Thanks/Thank you"
Thanking someone is one of the best ways to end your email. After all, it's never a bad idea to express some gratitude, right?
Receiving gratitude makes your recipient feel valued and appreciated, making them more likely to respond positively. Additionally, by saying "Thank you", you create a subtle expectation for the person to reply or get back to you.
In fact, a 2017 study found thankful closings to be the most effective sign-offs for getting a reply.
The next time you're wondering how to end a professional email or business letter, try adding a "Thank you" in there — it's one thought that can go a long way.
4. "With appreciation/gratitude"
Like "Thanks", signing off "With appreciation", or "With gratitude" is a great way to thank someone for a meeting, interview, business deal, or workplace collaboration but in a more formal style.
While this email sign-off does have a level of formality, it doesn't come across as stuffy or old-fashioned, and it stands out more than just a "Thanks" or "Thank you".
Additionally, "With appreciation" or "With gratitude" convey your level of appreciation more than a simple "Thanks".
But remember, you shouldn't use this sign-off for every single email, only in circumstances when you want to emphasize your appreciation for something. Always consider the context of the email and its message before choosing this sign-off.
Now that you know the best email sign-offs for your professional emails, I'll cover a few that you should steer clear of.
Four Email Sign-offs to Avoid
Here are the email closing phrases that you should avoid in your professional emails:
1. "Sincerely"
Although "Sincerely," "Sincerely yours," or even "Yours truly" are common and polite expressions, they're old-fashioned terms giving off stiffly formal vibes. To many, such a closing example may sound like it belongs in a formal letter from the days of typewriters.
If you're communicating with a regular client, a close friend, colleague, or generally anyone you've spoken to more than once, it's best to avoid this closing salutation.
2. Abbreviations
You should avoid closing off your professional emails with abbreviations.
Why?
Unlike a social media or text message to a close friend, you must maintain a level of professionalism in business emails — whether you're sending a cold email, forwarding a cover letter, or sharing a meeting invite.
Abbreviated sign-offs (for example, "Thx") have no place in professional correspondence because they give the impression that you're careless, disrespectful, lazy, and unbothered.
3. "Thanks in advance"
This closing example is one of the worst professional email endings you could use because it's exceptionally presumptuous.
Avoid pre-empting a response in a professional closing because you don't know yet whether the recipient will respond at all. Besides, this email sign-off can annoy the recipient, and they may decide to ignore your email altogether.
4. "Love" or "XOXO"
When it comes to professional emails, this is probably one of the most unprofessional closings.
There's never an instance when you can use a personal closing statement like "Love", or worse, "XOXO" in professional emails. These sign-offs may be fine when you're messaging friends or family on social media, but it's never appropriate for any formal business communication.
As a general rule, if you want your email recipient to take your message seriously, avoid using sign-offs that are too personal and informal for professional emails.
Now that I've highlighted some great sign-offs and identified the ones you should avoid, let's take a look at how to end a professional email the right way:
How to End an Email Professionally in 3 Steps
Recall, your email ending can make a huge difference in how your recipient replies.
To ensure that you receive positive responses to your professional correspondence, just model your email closing based on these three steps:
1. Personalize Your Closing
You don't end an informal letter or email addressed to a close friend the same way you end your formal emails, right?
It's email etiquette 101.
Similarly, for each professional email, you should personalize the closing to suit your email recipient and the context of the formal email.
Note that personalization here doesn't mean what it usually means in an email campaign context — such as adding the recipient's name to the mail-merge field of an email template.
Here are some things to keep in mind while determining how you should personalize your closing line and sign-off:
A. The Message and Intent of Your Professional Email
If you're a job seeker sending a cover letter to a recruiter or hiring manager, it's a good idea to use a "Thank you" in your cover letter closing to express gratitude.
And when delivering bad news, you should ensure that you're using the right tone.
For example, say you're delivering a bad performance review report, a light-hearted tone could come across as condescending. In contrast, a more formal style will appropriately convey the seriousness of the situation.
B. Your Relationship With the Recipient
If you're communicating with a client, you need to maintain a certain level of formality in your business letter or email. In such cases, avoid casual email sign-offs such as "Cheers", "See you soon" or "Later".
These are more suitable for personal emails.
On the other hand, if you're emailing a colleague, coworker, or close friend, too much formality in your closing line may come across as cold or standoffish.
Additionally, you may sign off your emails with an email signature containing your contact information, or your company may have a customizable email signature template.
Whatever the case, it's a good idea to include your email signature when emailing a client or prospect. However, you'll probably want to leave this out when emailing a colleague.
C. The Tone of Previous Emails
When you've been emailing back and forth with someone for a while, their previous emails can help guide how formal or friendly your closing phrase should be.
Try to match the tone of their replies, or use a warmer closing salutation to build a sense of familiarity.
2. Use a Clear Call-to-action
Including a call-to-action in your closing statement lets your recipient know what to do once they've read your email.
For example, you may expect a reply from them by a certain time. Alternatively, your formal email could be requesting a client to sign off on a contract or send you a particular document.
A call-to-action in your closing remark should make this expectation clear. Instead of using a vague closing remark like "Hope to hear from you soon',' try to write exactly what you need from the recipient.
When being direct about your expectations, make sure your tone remains cordial and follows basic email etiquette.
You can do this with a closing remark such as, "If you could sign and return the contract by Thursday, I would greatly appreciate it," or "I'd love to hear from you before the weekend."
Place this call-to-action right before your sign-off so that the required task remains fresh in your recipient's mind. This reduces the chances of them forgetting to attend to it.
3. Include Your Full Name and Contact Information
The email signature is one of the most crucial parts of your email closing.
Your full name and contact information tell your recipient who you are and how they can get in touch with you. Without this, the rest of your formal email might as well be useless.
Ensure that you add your full name as well as alternative contact details in every email you send. This is particularly important in a cover letter closing, or if it's the first time you're emailing the person.
Moreover, even if you've been emailing someone for a while, signing off with your full name maintains a certain level of professionalism. It also helps avoid confusion if they happen to know others with the same first name as you.
Your contact details can include your:
Phone number.
Job title.
Alternative email address.
Any active social media profiles, such as your LinkedIn ID or Twitter handle.
Now that you know everything about ending your professional email, let's explore ways to improve your email closings further.
4 Practical Tips to Perfect Your Professional Email Closing
Once you have everything essential in place for your professional email closing, here are some general tips to keep in mind while writing a formal closing.
1. Maintain a Professional Tone
While this may seem obvious, a small reminder never hurts!
Ensure that your professional email sounds, well, professional.
This is especially important for your closing sentence and sign-off — even if you're going for a friendlier or warmer sign-off, remember to avoid unprofessional closings.
Words like "dear" or "hugs" in your closing phrase are best left for an informal letter. In professional emails, you should opt for a slightly more formal closing phrase instead. You could use a phrase like, "Have a great day", "Have a nice day", "Warm wishes", and so on.
Emoticons, if used at all, should be sparsely and appropriately placed. In addition to being unprofessional in many cases, research shows that recipients often interpret emoticons as signs of immaturity or insecurity.
Keep in mind that unprofessional closings can reduce the authority of your voice in professional communications.
2. Don't Repeat the Same Sign-off in Every Email
It's easy to settle with a default closing salutation and use it for every email you write.
However, this isn't a great idea, especially when you're emailing someone back and forth. Using the same sign-off repeatedly comes across as mechanical and detached.
This is why you should vary your closing salutation across emails, changing it to match the tone of your conversation and the email message.
For example, if you're asking for a favor, use a quick "Thanks". Or, if your recipient is about to take on a particular feat, wish them luck.
3. Test Your Closings
To perfect your business email, try and find the closing paragraph that works best using A/B testing.
What does this mean?
A/B testing is a method of comparing two versions of something against each other to see which one works best. In this case, you can test different closings across your recipients to see which one gets the most replies or responses.
Not only will this make it easier for you to stop using the same closing by default, but it will also tell you which sign-off or closing line can get the best results from your recipients.
For example, you could start by ending half your emails with your regular sign-off and the other half with a new sign-off that's considerably friendlier than your previous one.
Do this with multiple closings; see what works best!
4. Proofread
Even a single misplaced letter or grammatical error in your professional email can make you look unprofessional. This is true for your subject line, email body, and email closing.
Why?
It tells your email recipient that you didn't take the time to double-check your message before sending it.
For example, say you're a job seeker sending an email to a hiring manager as part of your job search, or you're emailing a professional letter to a prospective business partner.
Errors and typos in your email will create an unfavorable impression in their minds — which isn't the desired result when you're reaching out to them.
Always proofread your emails. 
No matter how pointless it seems or how much time you've spent on each phrase, there's always a chance of errors or improvements to make. That's why it's better to take five more minutes before sending your important email than to notice a glaring typo in your email five minutes after you've hit send.
Let's face it — even when you perfect your email communication or closing phrase, you'll only enjoy a fractional improvement in your engagement and response rates.
If you genuinely want to take your email outreach to the next level, you need a powerful email companion like GMass to improve your overall email performance!
The Ideal Email Companion You Can Use Today: GMass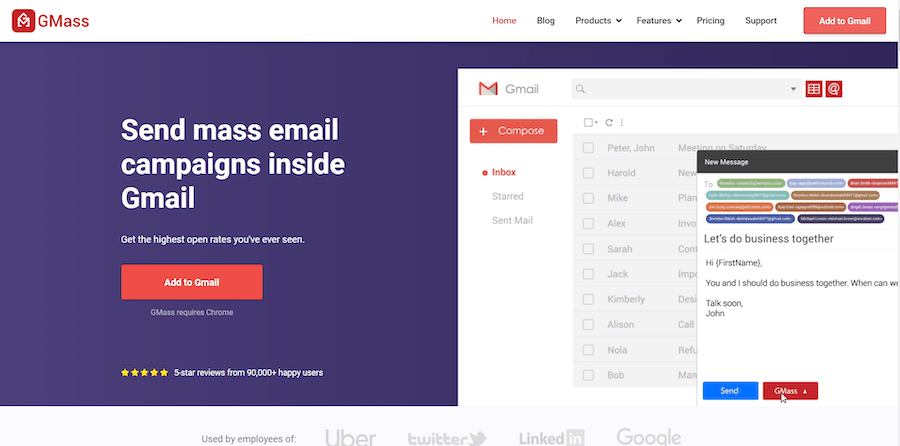 GMass is a powerful email outreach platform used by employees in huge companies like Uber, LinkedIn, Twitter, and Google. Its robust outreach capabilities allow you to send massive, personalized email campaigns right from your Gmail inbox.
This easy-to-use tool is also great for individuals and groups such as schools, organizations, and even churches to send regular emails to their respective audiences.
GMass helps you:
To start using GMass, all you need to do is download the GMass extension from the Chrome store and sign up for free with your Gmail account.
Final Thoughts
As tricky as writing the perfect email may be, it's a fundamental part of business communication.
By utilizing the tips and examples I've mentioned, you'll be able to craft outstanding email endings that adequately reflect you, your professionalism, and your attention to detail.
But to truly make the most of your email outreach, you need an email companion like GMass to accelerate your engagement and reply rates.
You don't have to take my word for it — you can try it for yourself.
Simply install the GMass Chrome extension to skyrocket your email communications today!
Email marketing, cold email, and mail merge

inside Gmail



Send incredible emails & automations and avoid the spam folder — all in one powerful but easy-to-learn tool

TRY GMASS FOR FREE

Download Chrome extension - 30 second install!
No credit card required
Love what you're reading? Get the latest email strategy and tips & stay in touch.