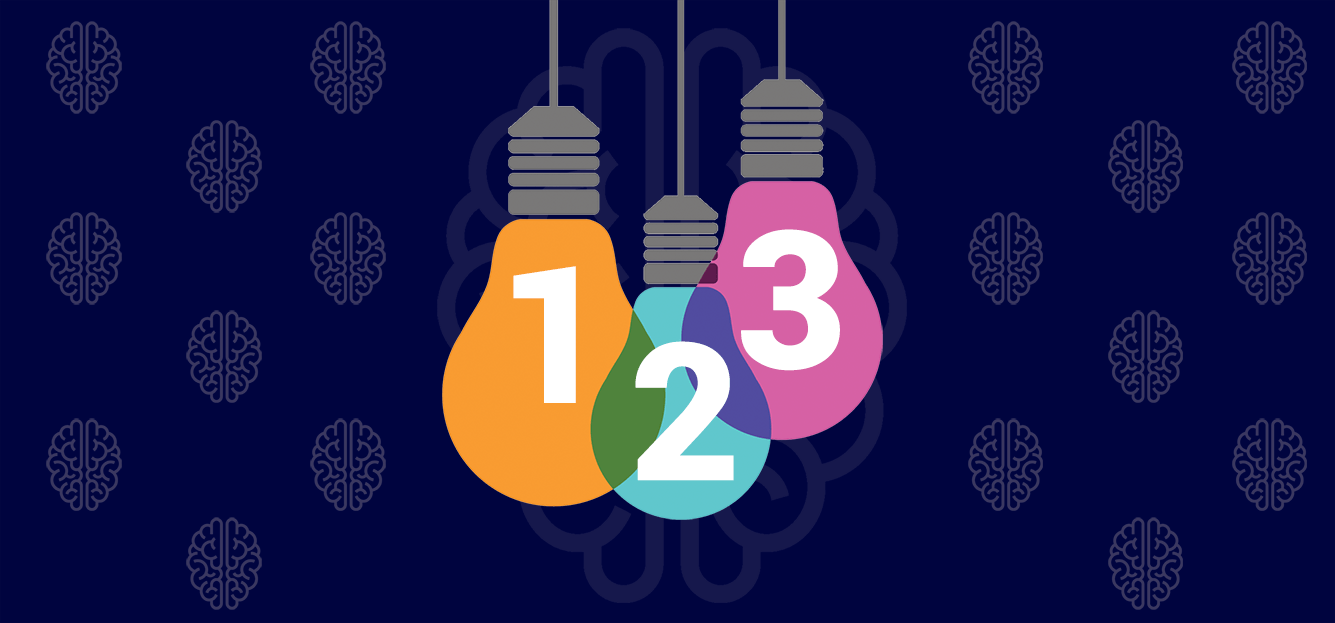 Email marketing has an amazing return on investment.
The latest data shows that every dollar spent on email marketing nets $44 back.
But that same data doesn't translate into cold email outreach.
Sending cold emails is a shot in the dark for most people.
You never know if someone is going to take the bait or simply ignore your messages.
The average person gets over 88 emails every single day.
But they only send 34.
Email marketing constantly bombards us to the point where we tune it out.
Cold outreach campaigns that find great success beyond typical open and click rates are a rare commodity.
A needle in a massive haystack.
But that doesn't mean you should give up all hope.
Here are three clever ways to drastically increase your cold email outreach ROI.
1. Build brand awareness first on LinkedIn
Cold email outreach has one simple flaw:
It's too cold. It's ice cold in fact.
Getting an email from a company or person you've never heard of isn't going to compel you to click.
But when you've heard of a brand, you're much more likely to open the email, even if you haven't heard of or met the individual before.
For example, if you got an email from J[email protected], would you open that over [email protected]?
Probably not.
The simple hint of brand awareness gives you an edge over other cold emails that are likely flooding your target's inbox.
So, doesn't that mean it's not cold outreach anymore?
Absolutely not. It only aids in your cold outreach efforts.
Here's why:
You've never contacted them before. They have no clue who you are.
Meaning it's still cold outreach at its core.
Cold emails are usually defined as emails sent to a potential customer with whom you've had no prior contact or relationship with.
Simply building passive brand awareness on LinkedIn doesn't mean they will know who you are.
The goal is to get your content in front of them over and over to generate brand awareness and most of all:
Brand recognition that will play a role in your cold outreach efforts.
So when you do go to perform cold outreach, they have a higher chance of recalling your brand's content, producing higher open rates.
Thankfully, you can perform this directly on LinkedIn due to their audience match advertising features.
First, you will want to research targets and genuinely engage with their content.
A great way to start is by scouting your cold outreach targets on LinkedIn.
Head to LinkedIn and locate their profiles in the search bar:
Navigate to their account to see what type of content they are posting.
This will give you some ideas as to what content will resonate with them when it comes time to create ads.
From here you can add these accounts directly into your LinkedIn Sales Navigator.
This will allow you to receive constant updates on their LinkedIn behavior. Everything from new posts and articles to status updates:
Start interacting with their content using your personal page.
Like their posts and provide insightful comments.
The goal here is to generate a hint of brand awareness and recognition upfront.
Once you've done this, you can even run specific content-based ads to your outreach list.
Head to the LinkedIn Ads Manager and navigate to the matched audiences section: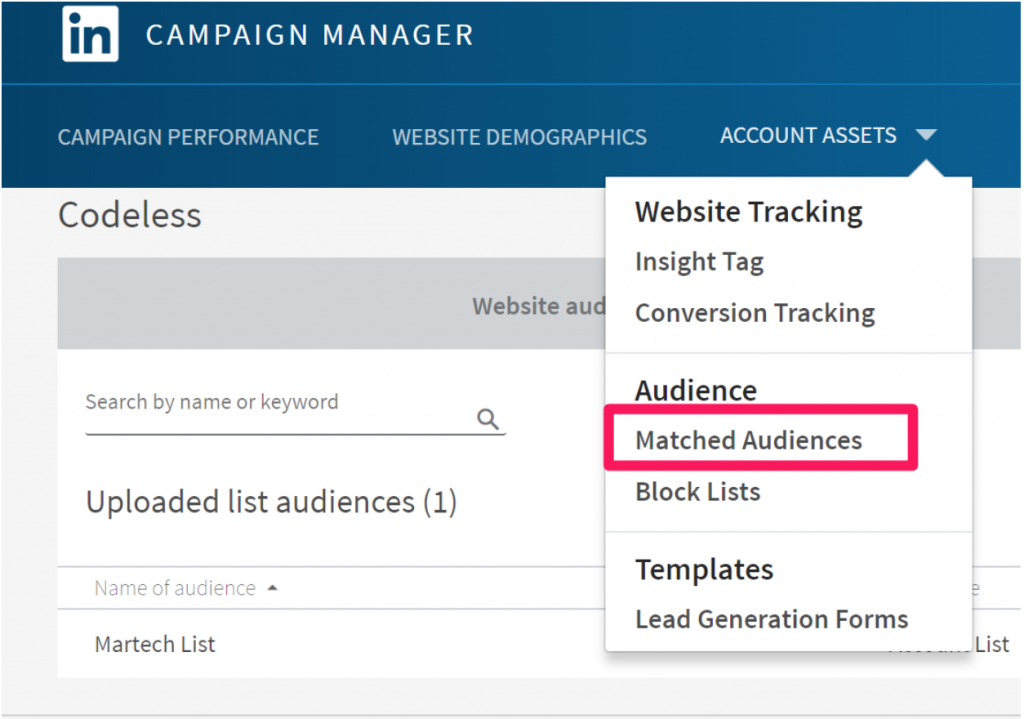 From here, select the upload list audiences option:

With this feature, you can directly import your email outreach list into LinkedIn.
LinkedIn will then match those emails to existing accounts for you to target ads to.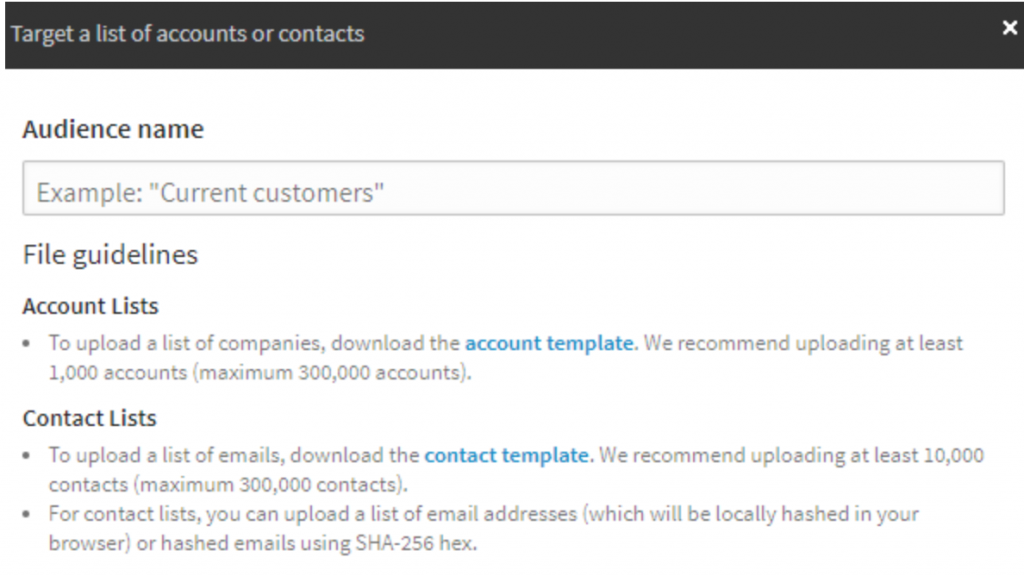 With the contact list feature, you can upload up to 300,000 contacts in a single document.
Save this audience and wait for the list to process.
Once it does, you can create a new ad campaign that shares relevant content from your company page.
Using this tactic, you'll effectively accomplish two things:
Showing true engagement with their organic content.

Building passive brand awareness and recognition beforehand using ads.
Put these into practice today to drastically boost your cold email outreach success.
2. Make sure interested cold outreach targets convert
One of the biggest and most common mistakes in cold outreach is a lack of direction.
The lack of a funnel or buying journey that communicates to a target what the end goal is.
If it's relationship building, that's a different story.
But if you want to land these targets as a client, simply emailing them back and forth won't cut it.
Being specific is critical to cold outreach success.
It's the reason that calls to action exist:
You need to tell consumers what to do.
If you don't tell them to click and download, they probably won't.
At the bare minimum, it serves as a much-needed reinforcement.
Cold outreach is just a single touchpoint in the conversion process.
One of the best ways to increase your sales from cold outreach and produce a better ROI is by bringing those cold targets to your site with remarketing ads.
If you have cold outreach targets opening your emails but not converting, you can't sit back and send them another drip campaign.
It didn't work the first time, and it probably won't the second time.
Instead, focus on remarketing to those engaged users who hit your landing pages to educate them on your value.  
To get started, open up the Facebook Business Manager and click to the audience manager:

From here, create a new custom audience: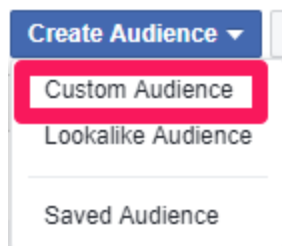 Select the website traffic option as your remarketing type:

This will allow you to bring back users who clicked through your email to your site.
If you want to set up a basic remarketing audience, you can target everyone who landed on your landing page from the cold outreach campaign:
This will be a broader list of people who were vaguely interested in your email content.
To get more specific, you can even create audiences that are narrowed down by multiple page visits.
To do this, select "+ And also" to add another URL. For this URL, simply add your homepage.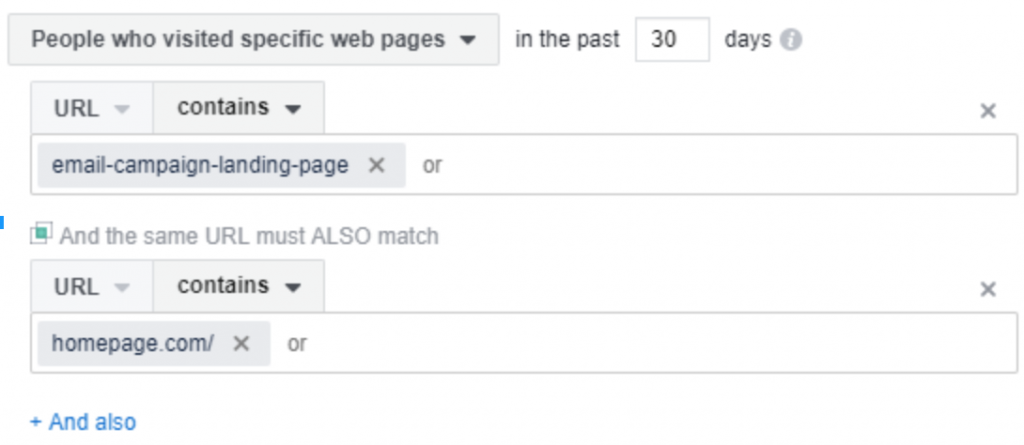 This will target visitors who didn't bounce from your site after a single page visit.
Meaning they were likely more interested than the initial group who simply clicked through.
You can get even more specific by narrowing the audience down via frequency.
Meaning that Facebook will add users who visited the landing page two or more times to your remarketing list.
Save this remarketing list when you're finished tweaking the specifics.
Now it's time to create an ad.
Since these targets are still pretty cold with only a single page visit, they aren't going to be converting on offers.
Don't waste time or money on ads focused on driving sales.
Focus on driving signups to a valuable offer like a webinar or an eBook.
One of the best remarketing ads I've seen on my own Facebook was from HubSpot, who remarketed me to a webinar related to page visits on their site just a few days before: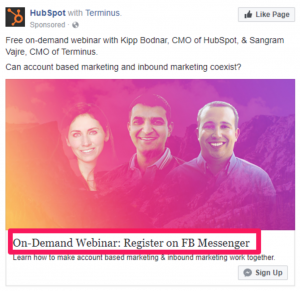 I was still a cold target who wasn't sure what HubSpot could offer in terms of account-based marketing.
Using a webinar-style remarketing ad, they were able to get me to come back to learn more information rather than simply convert on an expensive sale.
Focus here on educating the cold lead and slowly turning them into a prospect.
This will surely boost the ROI of your cold outreach efforts by speeding up the process of becoming a qualified lead.
3. Tie it to direct mail efforts
When you have warm leads on your email list, sending any old email will drive traffic or sales.
But cold outreach is different.
Cold outreach needs to stand out.
And not just with funny subject lines with emojis or humorous gifs in your body content.
I'm talking about something that really makes an impact in the minds of your outreach targets.
Something memorable that they surely won't forget:
Direct mail content.
It sounds crazy on the surface, but direct mail produces higher open rates than emails.
In fact, open rates are double with direct mail.
The average ROI with direct mail is high, too:
Between 15% and 17% on average.
Most people think that direct mail is dead, but the data says otherwise.
While it's definitely an old-school tactic, that's what gives it such great appeal when you tie it to cold outreach.
It allows you to stand out in unexpected ways. To disrupt a saturated email market by including other elements that are sure to grab attention.
As an example, LavOnline launched a direct mail campaign to cold outreach targets in Italy who were unaware of online laundry services.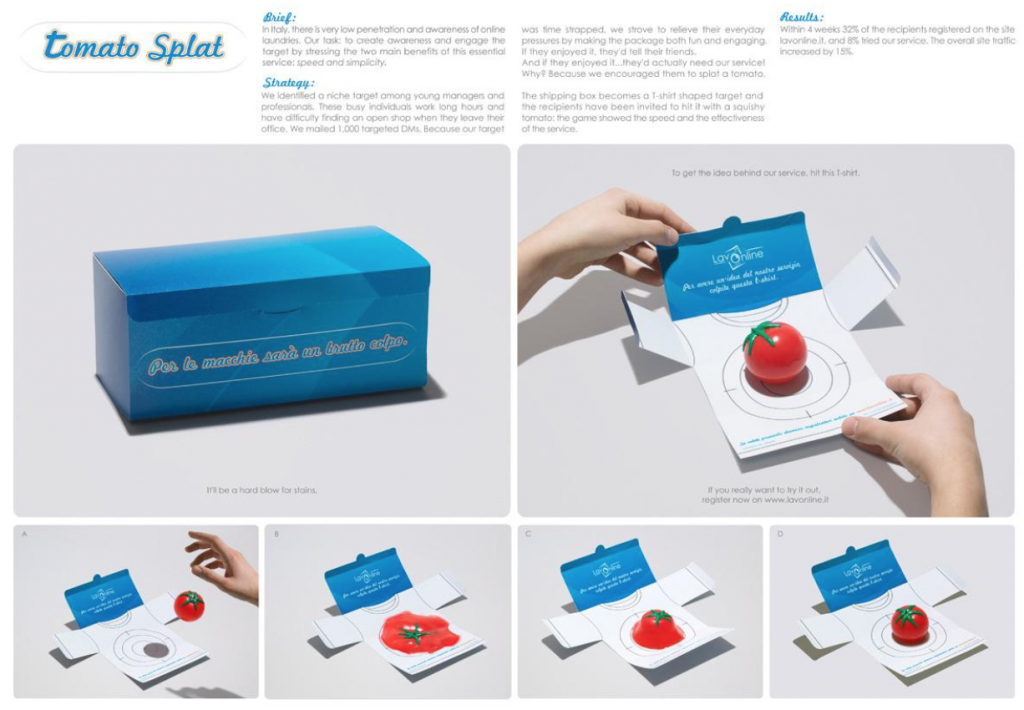 The goal was to generate buzz and stand out to consumers who weren't brand aware yet.
Within just the first four weeks, 32% of recipients created accounts on their site. 8% converted to full-scale sales within the first month.
Plus, their site traffic increased by 15%.
Direct mail isn't dead, and many companies are finding success with it.
Getting started with direct mail isn't tough, either.
In fact, getting the address of your targets is relatively easy.
You can locate most addresses of cold targets directly on LinkedIn.
To get started, head to LinkedIn and type in your cold outreach target's name to locate their profile:
Look at the company they work for and then simply head to that company page.
Locate their company address, and you have yourself a mailbox to target: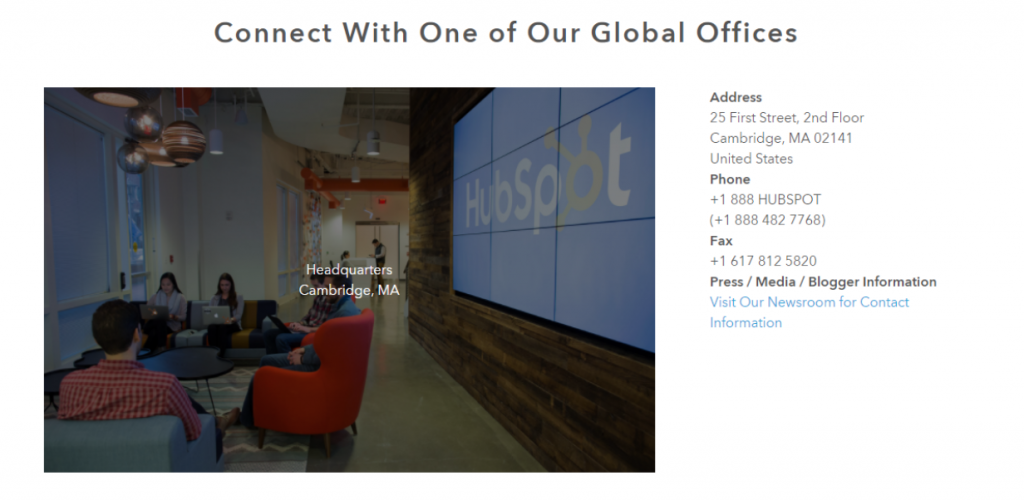 The key here is to simply address the mail to your contact target with the company address.
This way, you avoid the creepiness associated with sending direct mail to personal addresses.
A great way to structure cold email outreach with direct mail is to open your conversation with direct mail.
Wait for them to receive the piece and then launch your cold outreach email, being sure to touch on it in your email. This way your email is more relevant and less likely to end up in spam.
I've crafted a specific email template to complement this strategy and ensure high open rates for your direct mail and email tactics:
Subject: Did you receive your package?

Body:

Hey [first name]!

Just wanted to check in and see if you received the package I sent you?

I'm [your name], and I [work for company].

I know that [pain point] is tough. Especially in the [their industry] industry.

Our direct mail piece shows you [explain the purpose of direct mail piece].

We'd love to get your thoughts on the piece!

Do you have time for a call sometime this week?

Looking forward to getting to know each other and seeing how to help [solve pain point].

Cheers,

[your name]
Don't sit back and wait for your cold outreach ROI to increase.
Take charge of your strategy and go old school with direct mail.
It allows you to be creative and showcase that your brand means business.
Combine those efforts with your cold outreach as a perfect conversation starter.
Final thoughts…
Generally speaking, email marketing is effective.
It generates 44 bucks for every dollar spent.
That's a big return on investment.
But those same numbers don't apply to cold outreach.
When people know you and your brand, you have a high chance of converting them with an email.
But when it's cold outreach, you don't.
Sitting back and allowing cold emails to go unopened isn't an option.
And little tweaks in the subject line or tips on using specific language won't drastically improve your ROI.
You need game-changing elements to disrupt the current cold outreach norm.
Try implementing brand awareness ads and tactics on LinkedIn for your top outreach targets.
This will help you produce great brand recognition when it comes time to email them.
Connect your cold outreach efforts to Facebook remarketing to educate targets and push them down your funnel faster.
Lastly, make a huge impact and create a lasting impression by going old school with direct mail.
Boosting your cold email outreach ROI isn't easy, but it's necessary for serious growth.
See why GMass has

300k+

users and

7,500+

5-star reviews

Email marketing. Cold email. Mail merge. Avoid the spam folder. Easy to learn and use. All inside Gmail.

TRY GMASS FOR FREE

Download Chrome extension - 30 second install!
No credit card required
Love what you're reading? Get the latest email strategy and tips & stay in touch.