Most marketing tactics that big names tout require one thing you don't have:
Brand awareness.
For example, generating backlinks by capitalizing on brand mentions that don't have a link.
But that requires other people who are already talking about you.
And when you're a startup, getting PR isn't that easy.
Plus, getting the right PR almost never comes cheap.
But, you need it.
You need it if you have any hopes of attracting large investors, fast sales, and evangelical brand supporters.
And if you have any dreams of breaking out of the startup phase.
Here are four amazing ways to get PR for your startup without breaking the bank.
1. Genuinely support a cause
Quick, name the first five major brands that come to mind.
In any industry.
Think of them in your head right now.
Now analyze them deeper:
What's their message? Their mantra? Their ethos?
More than likely, at least one of those big brands supports a cause or donates part of their profits to charity.
For example, take a look at Pura Vida Bracelets. They display their ethos prominently on their homepage where it says "Giving Back":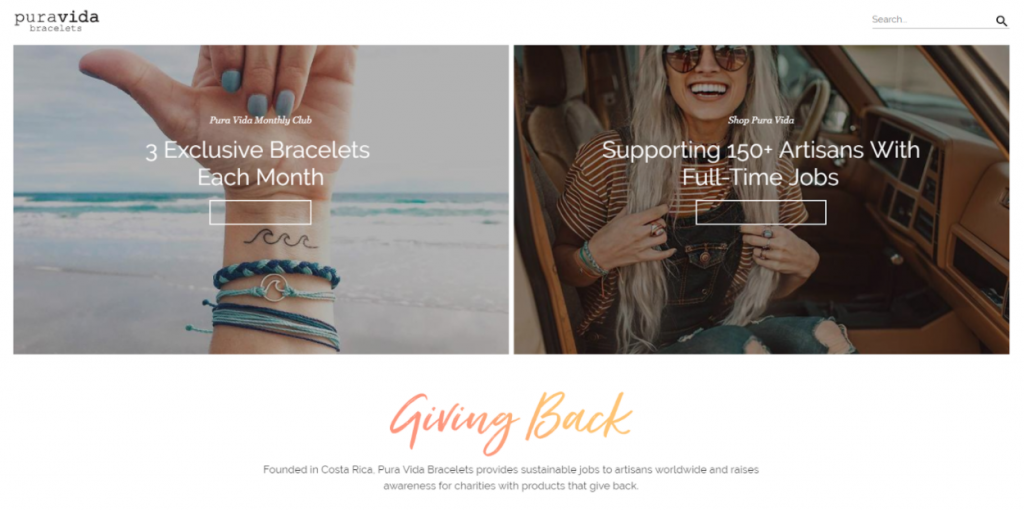 Here they explain how they provide sustainable jobs to artisans worldwide while also raising awareness for charities.
And they put it in their emails.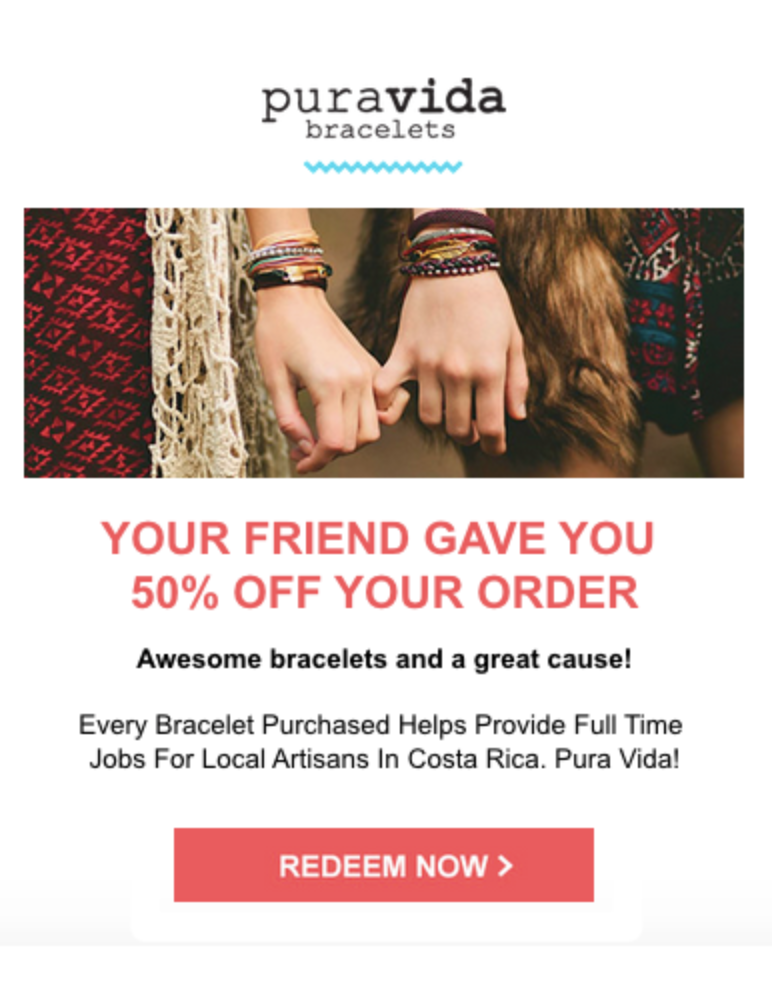 They even dedicate an entire page to their "Story," which showcases the greater purpose of the brand aside from generating revenue.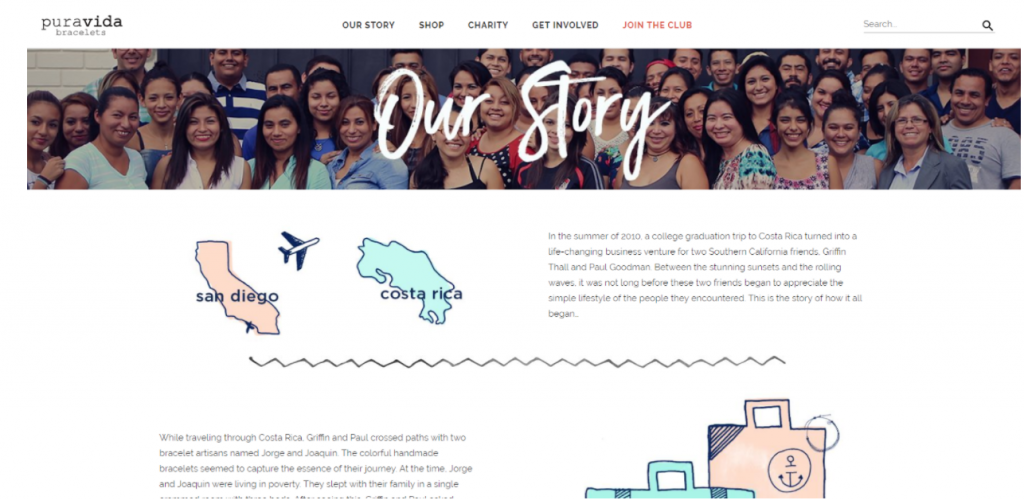 On their story page, they highlight the great things they've been able to accomplish as a brand.
For example, they state that giving back to communities is their core belief.
They've supported over 190 different charities around the world, donating $1,500,000 to causes they believe in.
They even encourage more charities to contact them to get involved.
Their entire ethos focuses on giving local, small communities around the world the chance to have work and a better life.
It's one of the biggest reasons why they've generated so much free PR and brand awareness.
The founders were even featured on Forbes's 30 under 30. How's that for PR?
In 2014, they did over $9 million in revenue, and they've only seen positive growth since then.
And it's not because they make the best bracelets around.
It's not because they have the best Instagram (although it is excellent).
It's not because they've optimized their Facebook page.
It's because they've genuinely supported a cause and made waves in the business world with their charitable donations.
Their product isn't proprietary. Anyone can make a bracelet and sell it.
Meaning PR wouldn't have come their way without their charity-based mission.
They'd just be another bracelet company out there making good revenue.
A survey from Fortune found that 66% of people between the ages of 18 and 34 were more likely to work and buy from a company that gives to charity.
It's plain and simple:
Supporting a cause is a great way to generate PR buzz.
To put this into practice, try donating a portion of your profits from every sale.
This is a mission that TOMS puts into practice.
Every purchase from TOMS will help a person in need.
It works because it helps the consumer feel like they've taken part in something greater than just another shoe purchase.
They've aided someone in need.
They've made a difference in the lives of others.
Want PR without breaking the bank?
Start genuinely supporting a cause, and the PR will naturally come.
2. Compile an outreach list
More often than not, PR doesn't just fall out of the sky.
That hit piece you want Forbes or Entrepreneur to write about you won't just get dumped into your lap.
Unless your startup is changing the game in a given industry, you need to get proactive with your PR journey.
Outreach is critical.
Instead of sitting idly by waiting for your moment of glory, you need to make it.
Take matters into your own hands and get a hit article featuring your company.
Most of the time, startups don't have the connections to do it, though.
When you're a nobody without any money in the budget to spend on PR, it's tough.
But it's not impossible.
To do this, you'll need to do some good, old-fashioned research.
Get started by heading to Google and conducting a basic search like "startup pr." Be sure to select "News" instead of a general search.

Now scan the latest news articles on this topic to look for any media/news outlets that you'd want to be featured on: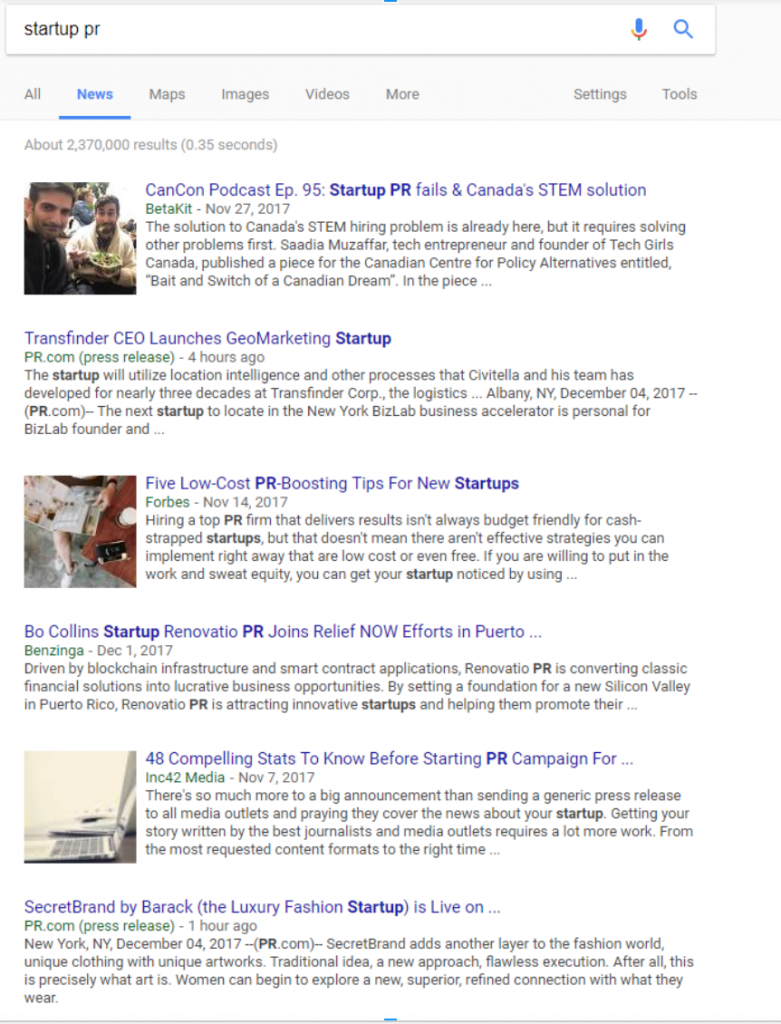 For example, you can quickly see sites like Forbes and PR.com show up.
These are big-name sites that could be huge in terms of startup growth.
Next, click on each of the news articles you see.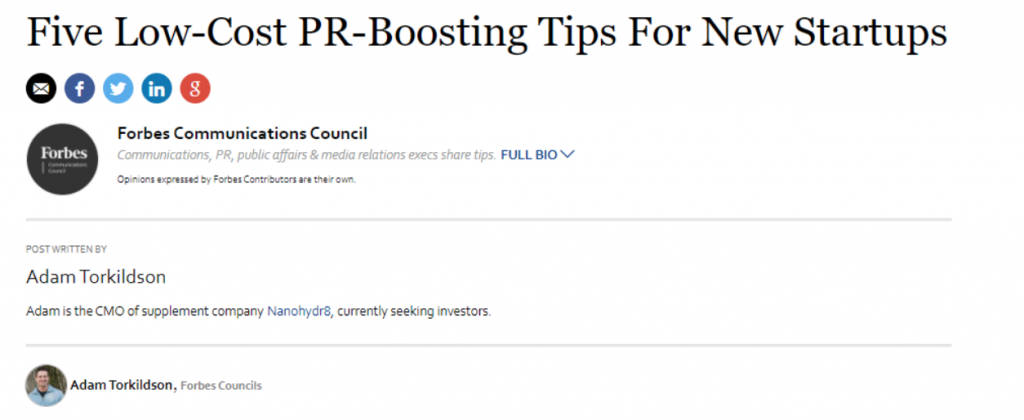 Create a new spreadsheet and note the author, the site (Forbes in this case), and the specific link to the article.
Now simply repeat this process until you have a sizeable list.
The next step is to get their emails for outreach.
Head to Voila Norbert and create a free trial account to get 50 free searches.
Norbert is a tool that helps you find emails with just a full name and company website link:

First, type in the full name of the article author on your list. Then, enter the company website that they wrote on or their business URL.
This should quickly pull up their email.
Now add that back to your spreadsheet and repeat the process for each author on your list.
Once you've done that, you're ready to conduct outreach.
The key to conducting outreach for PR isn't being naggy, annoying, or self-serving.
It's a mistake that marketers and small businesses alike make all the time.
And it's the reason why so many people claim that outreach is dead.
Think about it:
When was the last time you got an email from someone asking you about promoting their company?
I bet you deleted it.
Why? Because nobody wants to spend their own time promoting someone for free with no mutual benefit.
You should always focus outreach on crafting a symbiotic relationship where each entity receives unquestionable value.
PR doesn't come overnight.
Jumping the gun and asking for a full-fledged article before you even know the author isn't going to land PR.
It's going to get you blocked or reported as spam.
Start by creating an introduction and building a real relationship.
Here's an email template I've used to build relationships and land PR shoutouts:
Hey ___,
Loved your article on (insert topic + hyperlink). Their story is inspiring, and you really brought that to life in your writing.
I'd love to chat with you about ___ for startups.
You have some excellent knowledge on the subject.
My own startup is doing (quick blurb, don't get overly pitchy).
Would love to get your thoughts on it.
Cheers!
Don't expect PR buzz overnight or ask for promotion immediately.
And don't just send one email and call it a success or failure. Treat this like any other email campaign. Create follow-up emails and then automate them so you don't forget.
But focus on relationship building within your outreach, and your success will be steady.
3. Create a library of meaningful content
Content is king.
We've heard it before, but is it really true?
Does content really drive business, PR, and sales?
It does.
According to HubSpot, the more a company blogs, the more traffic they get to their site:
Posting more than 16+ times per month generates the most traffic.
On top of that, more blog posts each month also means more inbound leads and sales: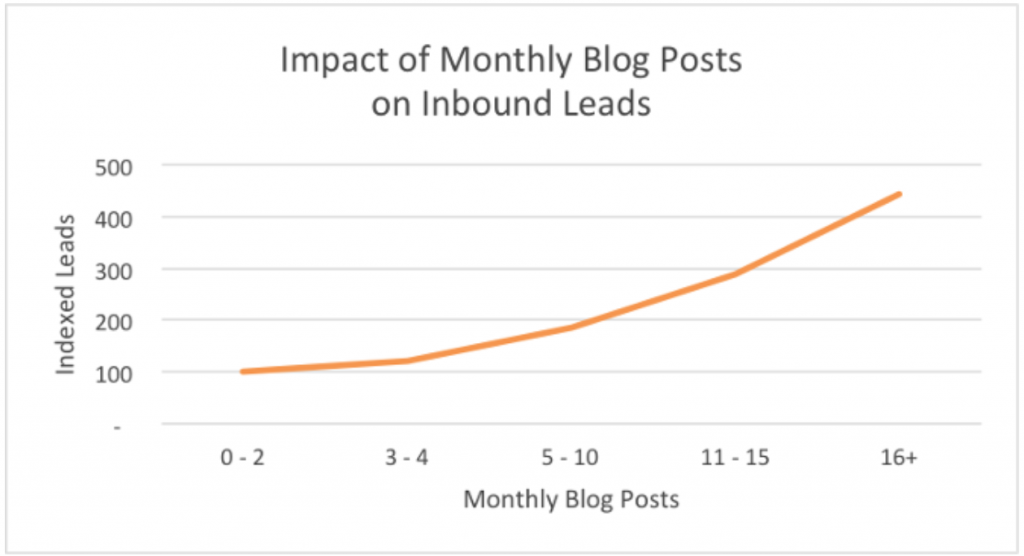 SEO and inbound optimization are all about content marketing.
The more stellar content you can create, the better.
Piggybacking off the first tip in this post, you need to tie it back to your story.
Your brand identity and purpose.
Not just any blog post will generate PR buzz.
Writing about XX tips to grow your business isn't a PR-generating post.
Instead, focus on writing meaningful content that will resonate with users in your space.
Did you change the lives of a community? Did you donate meaningful dollars to charity that resulted in something great? Did you build houses for a local community with your employees?
Leverage this amazing gesture by writing a post about it.
Summarize it in story format and share it on every social media channel you can. Send it out to all of your contacts, or at least your contacts in the community.
Having it already written will attract tons of writers and bloggers looking for their next case study.
Case studies are one of the most popular writing tools.
Everybody loves reading stories about business success.
But nobody knows about yours until you share it.
Start a blog and create a library of meaningful content that people can easily find.
4. Apply for industry awards
Applying for, landing, and receiving an award is almost always free.
And when done successfully, it can generate unparalleled amounts of buzz and PR
The problem is that most companies don't even know that they exist in their industry.
But the truth is, awards are important. They distinguish you from your competitors.
Industry awards also work as a form of social proof.
Social proof is a key driver in online sales and PR.
If people are backing your company and supporting it, there's no doubt that PR will follow.
Don't limit yourself to company-based awards, and never sell yourself short.
Thinking that they are "out of reach" or "too big for our small company" is a mistake.
Awards like Forbes's 30 under 30 or Startups to Watch are dedicated to the entrepreneurial mindset, and they allow anyone to apply.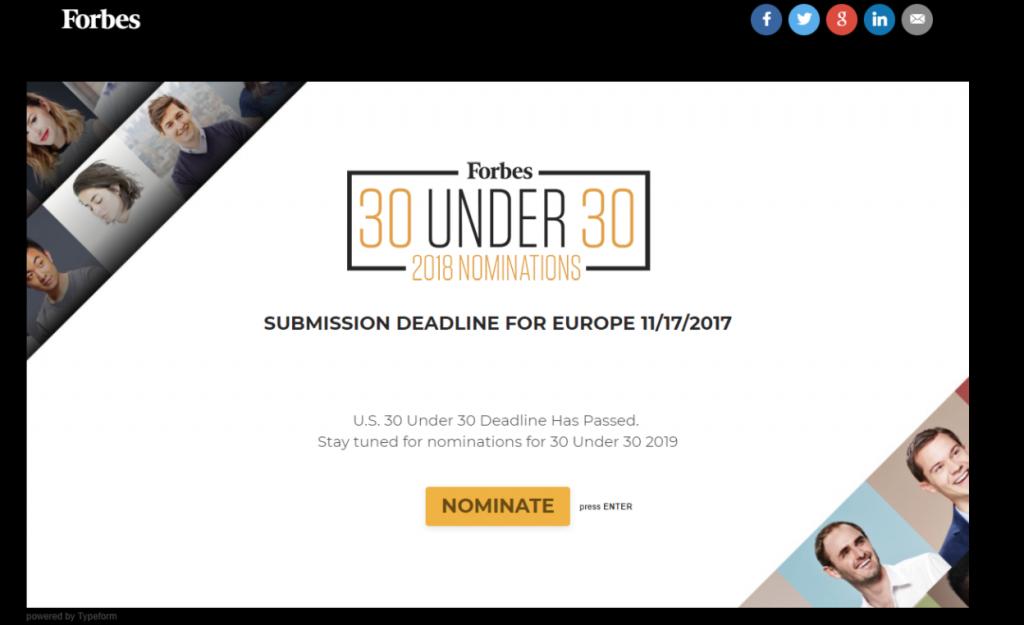 There's usually no cost and no risk to applying, so give it a try to earn some powerful recognition.
When trying to land awards, bring it back to your brand ethos again.
Companies solely focused on revenue rarely get featured for awards.
Why? There are so many of them.
Stand out from the rest by going back to the first tip:
Genuinely supporting a cause and creating a brand image that's unmatched in your space.
5. Attend events
Attending events can be a great way to connect with influencers and online contributors.
Putting a face to the name can be a huge win for your company when it comes to relationship building.
According to Rand Fishkin at Moz, conferences and events are a great investment.
Although ticket, travel, and hotel costs can be through the roof, the ROI of meeting, engaging, and talking to new connections is unmatched.
If you can't spend a single dime, look for events in your area.
Events can open doors that normally would be shut for good.
Sometimes, emails and online communications don't get through.
Recipients see them as spammy, annoying, or overly self-serving.
But conferences work to break that barrier and introduce you to new connections in a relatable medium.
There are multiple "can't miss" conferences for entrepreneurs that you should seriously think about attending.
For example, the Secret Knock event features huge, TED-style talks and presentations from major brand pioneers like the founder of Make-A-Wish, UGG Boots, and more.
To find events that are in your space or even broader and that relate to startups and business, simply conduct a Google search for them:
There are dozens upon dozens of events designed for startups around the world that take place every single year.
If you don't have the budget to spend on a full-fledged trip, scout the lists above for local events or ones within cheap travel range.
However you can afford to do it, make it a priority to attend events because they can be a huge way to generate publicity.
Conclusion
PR is the holy grail for any startup.
It can drive sales, build a huge evangelical brand following, and even attract formidable investors.
But it's elusive.
Anyone who says it's easy is lying.
It's like finding a needle in a massive, mile-wide haystack.
There are millions of other startups vying for the same PR as you.
Trying to grow their business by any means necessary.
But typical PR routes aren't an option for you. They're too expensive.
Meaning you need to find tactics that won't cost you millions of dollars.
Start by genuinely supporting a cause.
Companies like Pura Vida and TOMS have built empires by structuring their ethos around charity and making the world a better place.
Next, compile a media outreach list to quickly build relationships to leverage for PR.
Create a library of meaningful content that people can easily find.
Lastly, apply for industry awards and attend events in your local area for amazing PR opportunities.
Want to get PR for your startup without breaking the bank? Implement the tactics in this post, and you'll be on your way.
See why GMass has

300k+

users and

7,500+

5-star reviews

Email marketing. Cold email. Mail merge. Avoid the spam folder. Easy to learn and use. All inside Gmail.

TRY GMASS FOR FREE

Download Chrome extension - 30 second install!
No credit card required
Love what you're reading? Get the latest email strategy and tips & stay in touch.