Gmail is used by more than one billion people. Not your parents, who are ride-or-die AOL email forever, but one billion other people.
And every single one of those one billion people has their own personal email needs.
At that scale — and with how high maintenance we all are — it's impossible for Gmail to perfectly tailor itself to meet each of our very specific needs.
Fortunately, there's a whole ecosystem of Google Chrome extensions to add, change, tweak, improve, and otherwise enhance the Gmail experience.
Some of those extensions make a tiny change — but one that might save you hours over the course of a year. Some, like the Chrome extension we've developed here at GMass, are massive — an entire email marketing platform that works inside of Gmail. And some extensions don't work at all, so we filtered those right on out.
There are some really popular Chrome extensions for Gmail out there (like Boomerang, Mailtrack and Grammarly) — but you don't need us to tell you about those. Instead, we dug deep to find extensions you probably haven't heard of — but which could be really valuable for you going forward.
We tested dozens of Gmail Chrome extensions, many of which are relatively unknown, to find the extensions that can help boost your productivity, improve your Gmail experience — and potentially even advance your career.
We also made sure all are under active development or, at the very least, are still working with the latest version of Gmail.
Here are our picks for the best Chrome extensions for Gmail, many of which you've likely never heard of…
The 11 best Gmail Chrome extensions and add-ons
1. Gmail Sender Icons – visually identify what domain emails came from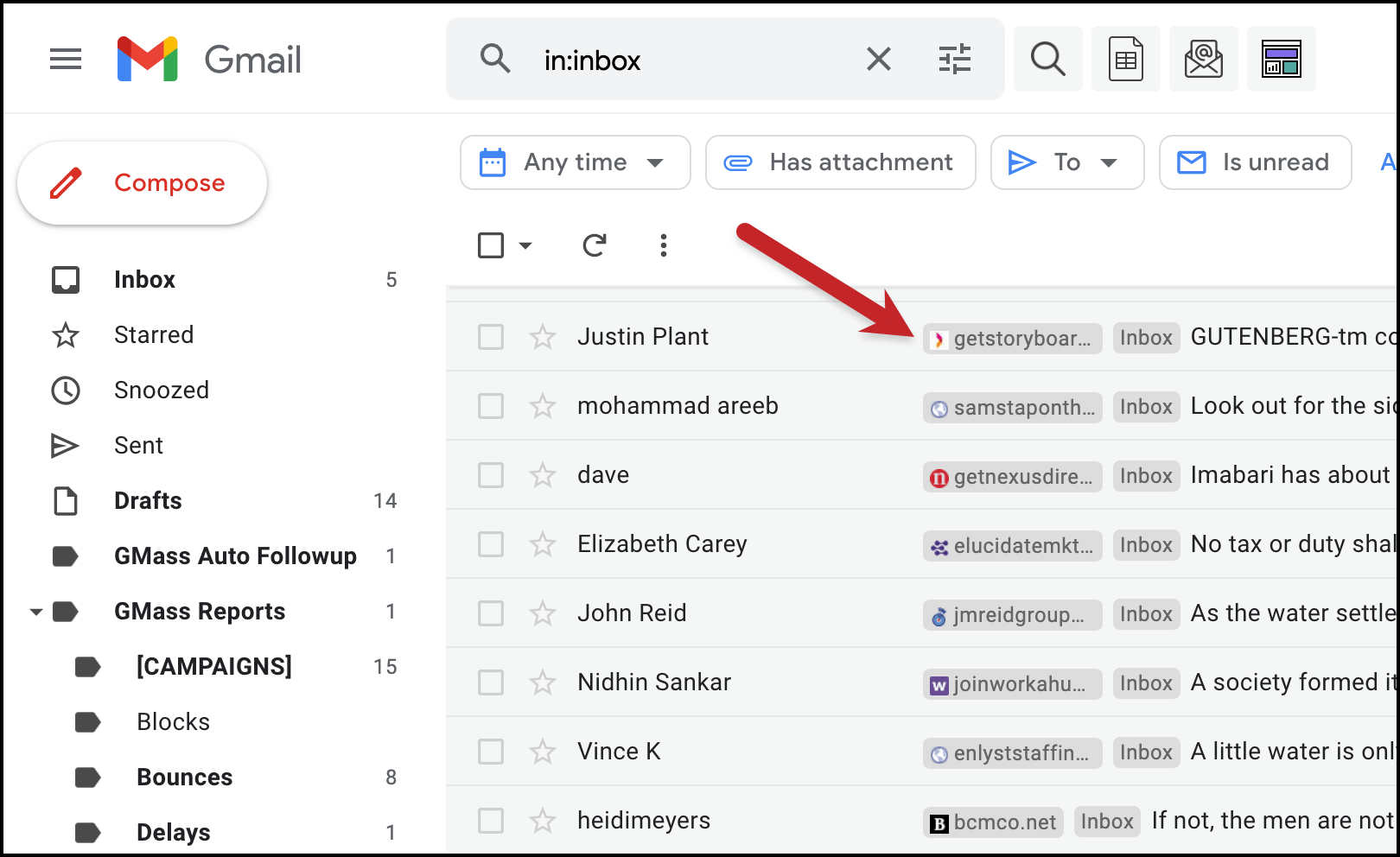 When you're staring down a very full inbox, how do you prioritize which emails to open? One of the most common ways: You scan who the emails are from. (In fact, some studies have found the "from" field is more important than an email subject line when we're deciding what emails to open.)
Gmail Sender Icons gives you an even faster visual shortcut for your inbox triage process. This extension grabs the domain name from a sender's email address, then puts that domain name and its favicon next to the email's subject line. 
Now you can do a quicker visual skim through your inbox to spot the emails you most want to read.
(Install Gmail Sender Icons. Free, but with some in-app ads for other products.) 
2. Reverse Conversation for Gmail – reverse Gmail's "oldest to newest" threading style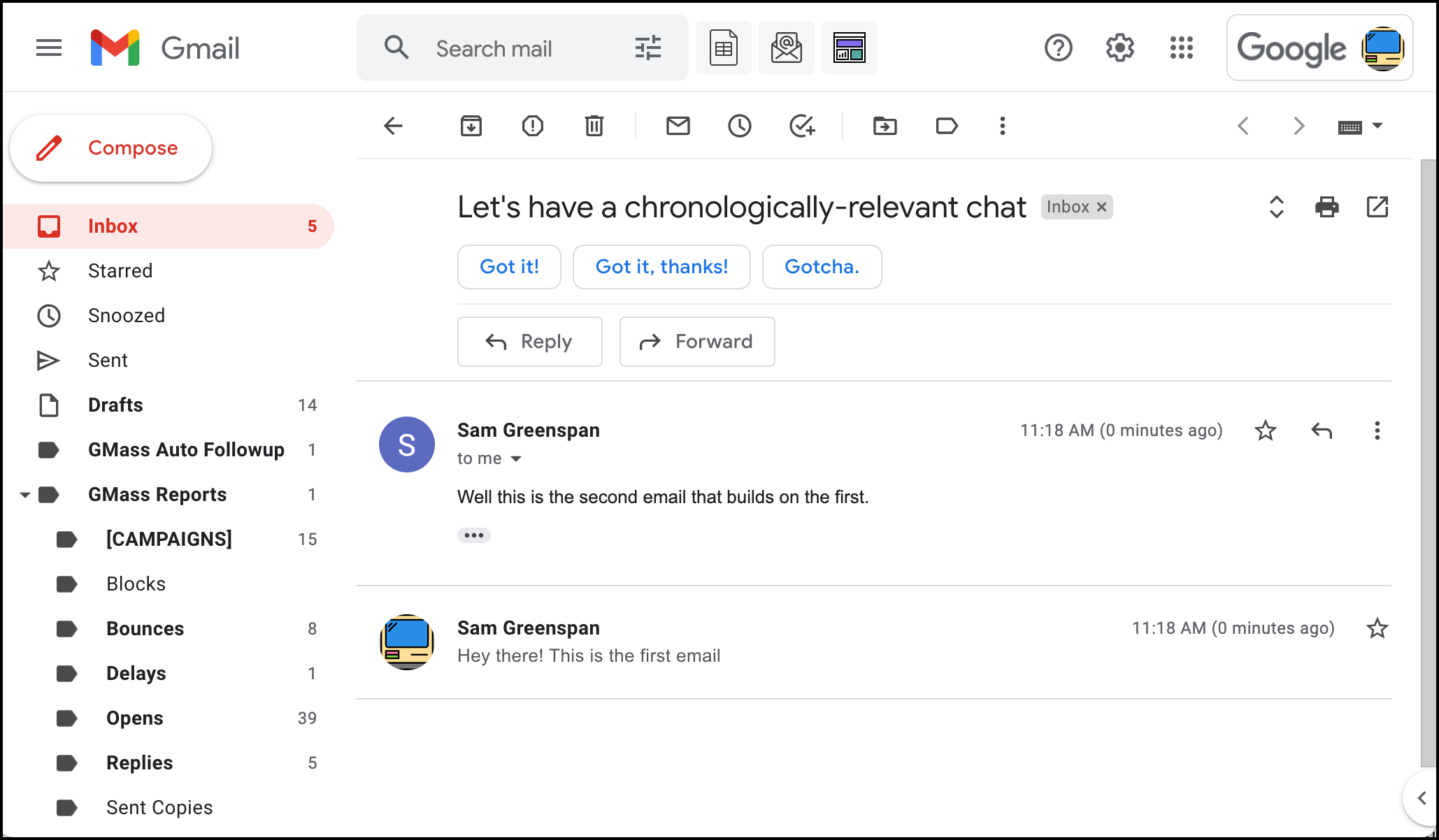 When you open a thread of Gmail messages, the messages are ordered from oldest to newest. You've probably gotten used to that over the years… but it's arguably less logical than the reverse.
There are a handful of Chrome extensions that can switch up the order of a thread, making it newest to oldest (rather than Gmail's default). We liked Reverse Conversation because it's simple to use, you can toggle it "on" indefinitely or choose to reverse an individual conversation — and it even moves the Gmail response field to the top of the conversation as well.
(Install Reverse Conversation for Gmail. Free.)
3. Gmail Message Preview – see expanded previews of your emails in your inbox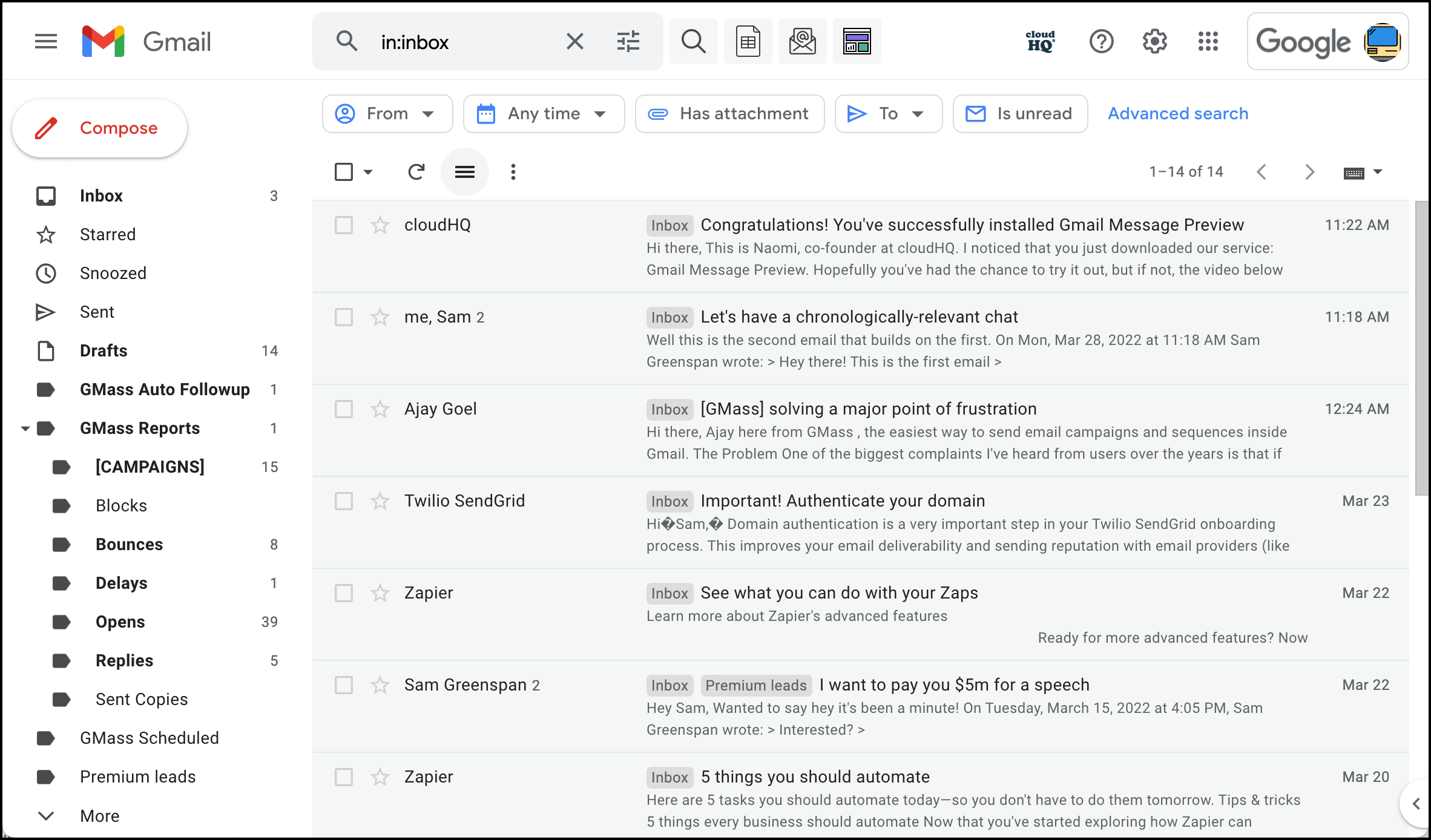 It's nice to be able to preview an email without opening it. But the Gmail inbox only shows an email's subject line and a short preview. 
You could turn on the Reading Pane in Gmail, which opens the email in its entirety — but that's not a perfect system. It marks the email as opened. It lets open trackers know you opened it. It loads the full email, even a spam email you might not want to open. And it can work slowly as you try to power your way through your inbox.
Gmail Message Preview is one of the many, many Gmail extensions made by a company called cloudHQ. It's a lightweight extension that doesn't require registering for an account and offers exactly one useful function.
With Gmail Message Preview, you can choose to expand the emails in your inbox to see a preview of one line, two lines, or even the entire email (but without triggering an open tracking pixel when you do, or marking the emails as read).
(Install Gmail Message Preview. Free.)
4. Short Gmail Labels – view labels without their entire path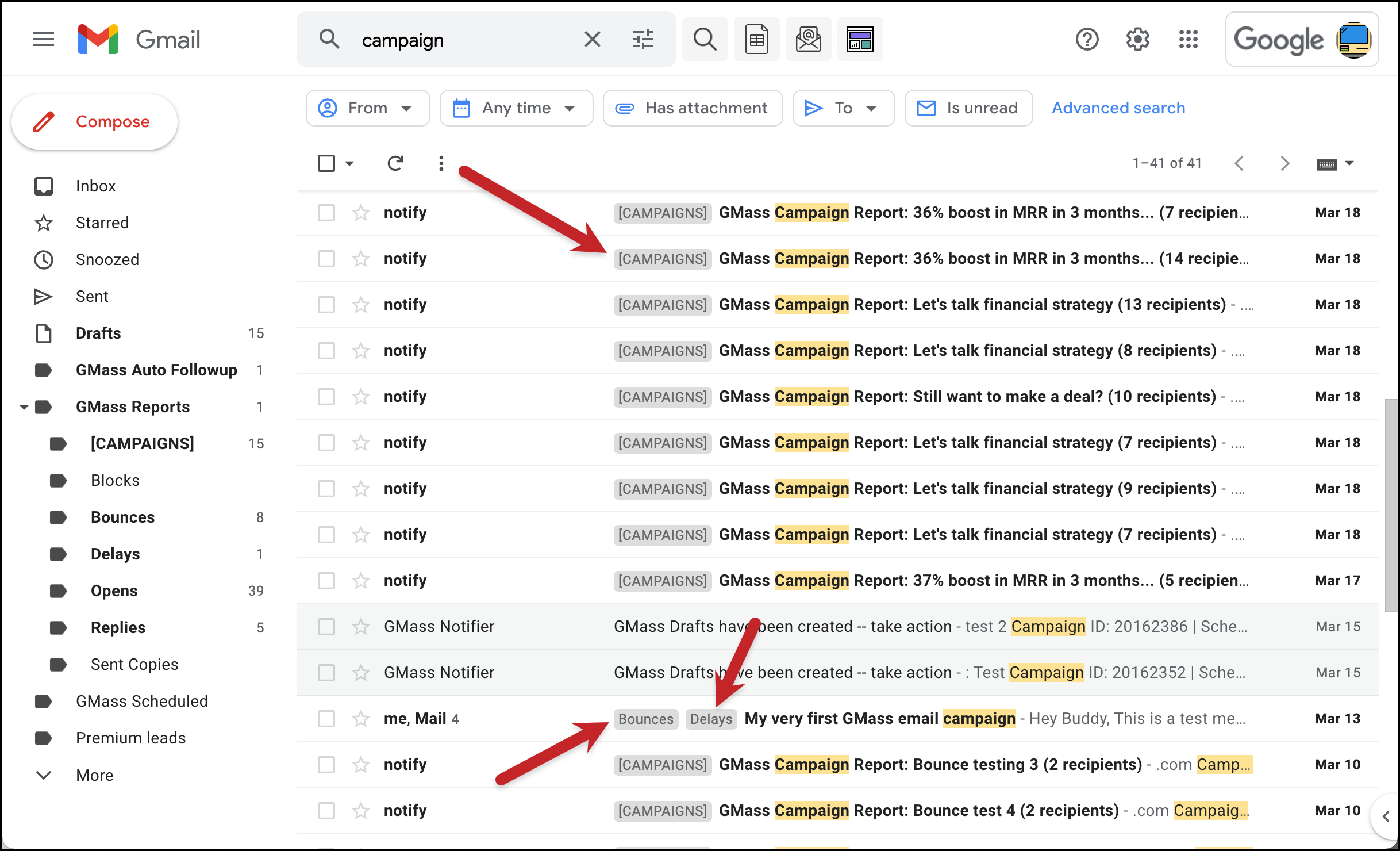 Gmail doesn't use folders to sort and organize emails, it uses labels. (Or, if you're like me for most of the past decade-and-a-half, you don't have any organization at all and just wind up with around 350,000 emails in your inbox. I've since reformed my ways, but things got out of control for a while there.)
Even though Gmail labels aren't folders, they do, however, have some folder-esque traits — specifically that you can nest labels inside of other labels. For instance, with GMass, you'll have a GMass Reports label, then individual labels nested inside like [CAMPAIGNS], Clicks, and Opens.
When you search your email, Gmail puts an email's labels at the beginning of the subject line. With long label names and nested labels, that can take up a lot of real estate.
Short Gmail Labels is a simple extension that removes the parent labels from that view. So instead of seeing a label like "High-priority correspondence/Client emails" you'd just see the "Client emails" part.
It's a cleaner presentation that can be more user-friendly, especially if you're running lots of searches and using lots of labels.
(Install Short Gmail Labels. Free.) 
5. Gmail 'Expand All' – expand every message in an email thread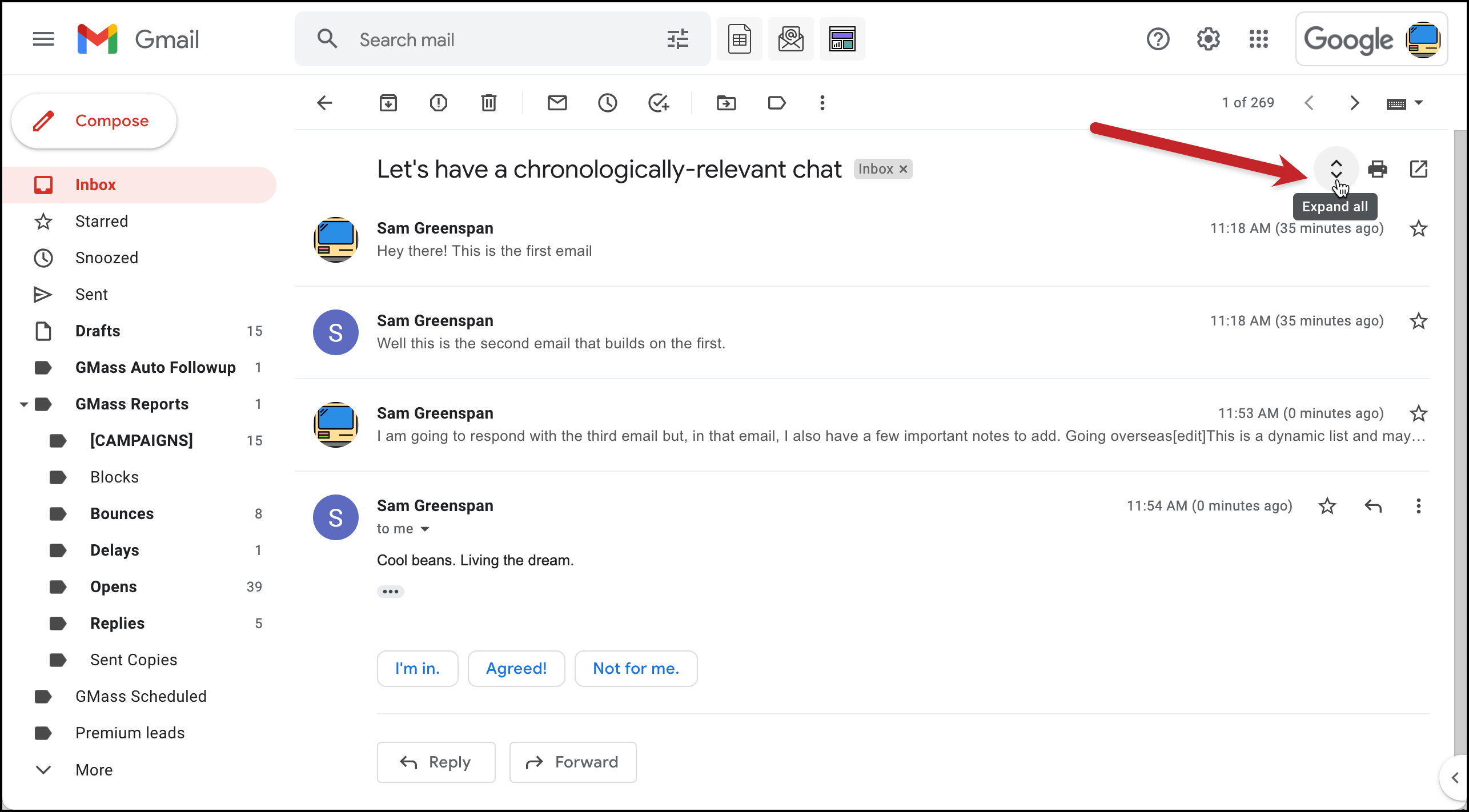 Here's another extension to help get around Gmail's default (and otherwise unchangeable) way of displaying email threads.
When you open an email conversation in Gmail, earlier messages are contracted so you have to click on each one to open it within the chain.
With the Gmail 'Expand All' extension, you can click one button (or hit one keyboard shortcut) to automatically expand all of the messages in a thread. You can also click the same button to contract the messages.
This is a single-purpose, micro-niche extension — but one you just might find wildly valuable if you wind up in a lot of longer Gmail threads.
(One quick warning: While this extension worked when we tested, it has not been updated since 2014. So if a future change to Gmail breaks it, odds are no one's going to fix it and you'll be back to manually expanding your threads again.)
(Install Gmail 'Expand All'. Free.)
6. Just Not Sorry – flag weak language in your emails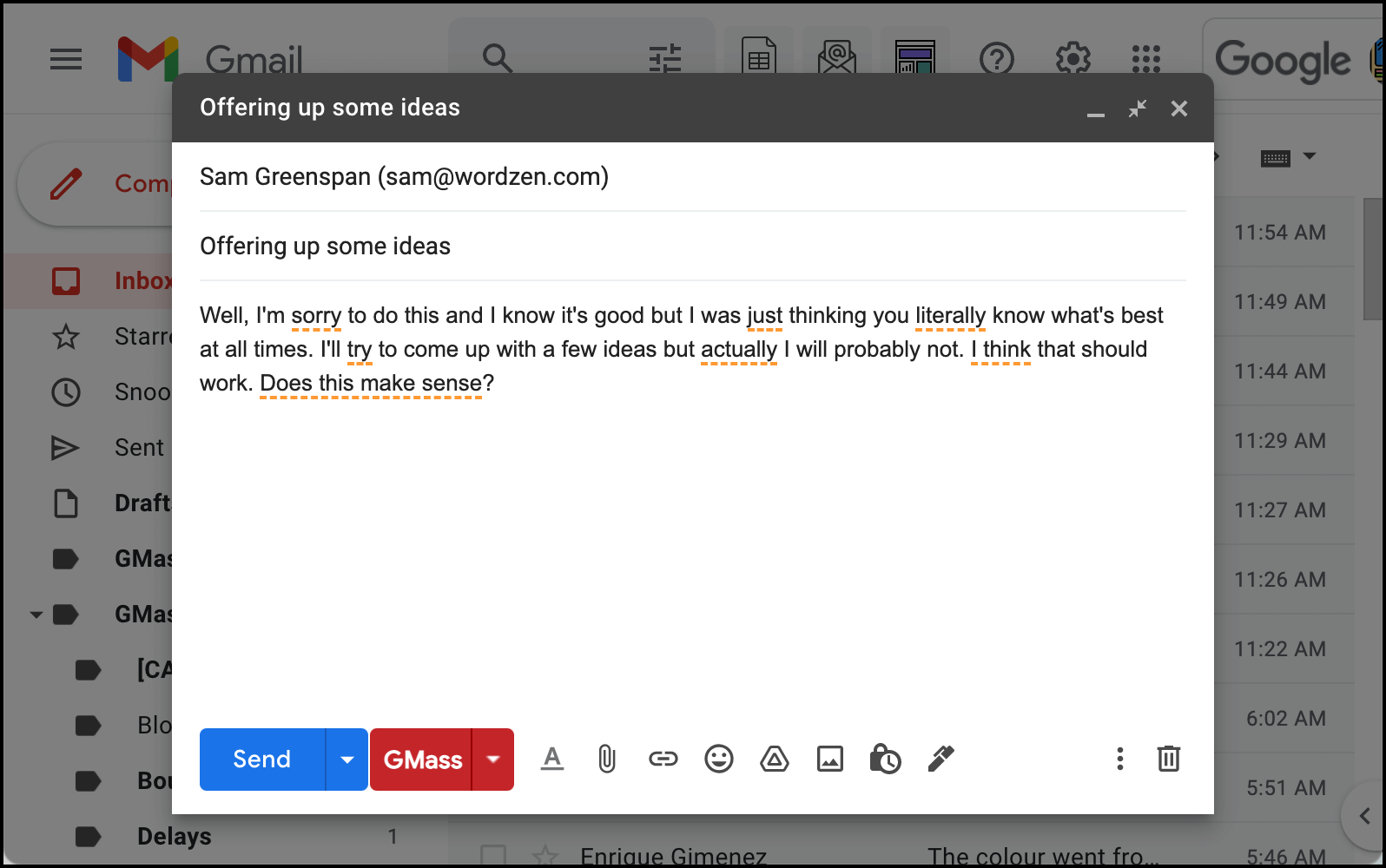 There's a very well-known Chrome extension for fixing your grammar as you type — it's so well-known we didn't include it on this list.
But occasional grammatical errors aren't the only things that could hurt the effectiveness of your emails — poor word choices could potentially have an even greater impact.
Just Not Sorry checks your email as you type to flag word choices that undermine your credibility and your message.
For example, it flags when you say things like "I'm sorry" or "I think that" or "to be honest" — and recommends you say something more definitive and confident.
(Install Just Not Sorry. Free.)
7. Inbox When Ready – hide your inbox to stop procrastinating by checking your email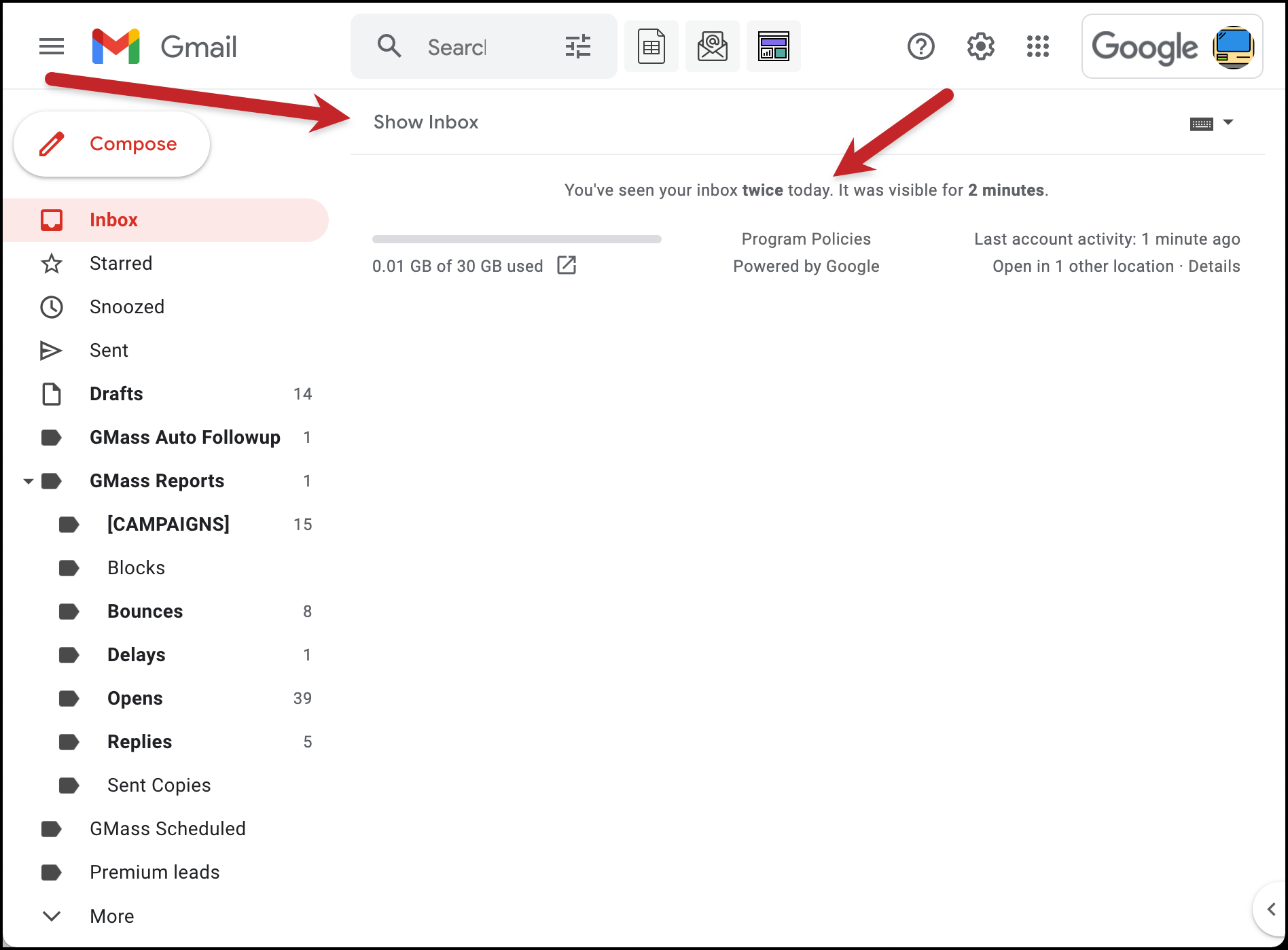 It's really easy to lose half your day in your inbox. In fact, one of the most common ways people mindlessly procrastinate is by quickly flipping over to their email browser tab to see what's new.
Inbox When Ready makes some changes in Gmail to keep you from living in your inbox. 
It hides your inbox by default, so you have to click a button to view your messages. (You can still compose emails even with the inbox hidden.) Plus, it can also schedule when to lock your inbox, to give yourself set times to "batch process" your email.
Word of caution: The free version of the extension adds a signature to the end of all of your outgoing messages to promote Inbox When Ready. The pro version costs $4 per month to remove that signature (among a few other features). So unless you're ok with a promotional message in all of your emails, you'll have to pay.
(Install Inbox When Ready. Free with mandatory email signature added to outgoing emails; paid plan for $4/mo.)
8. Auto Expander for Gmail – automatically expand longer messages that Gmail normally cuts off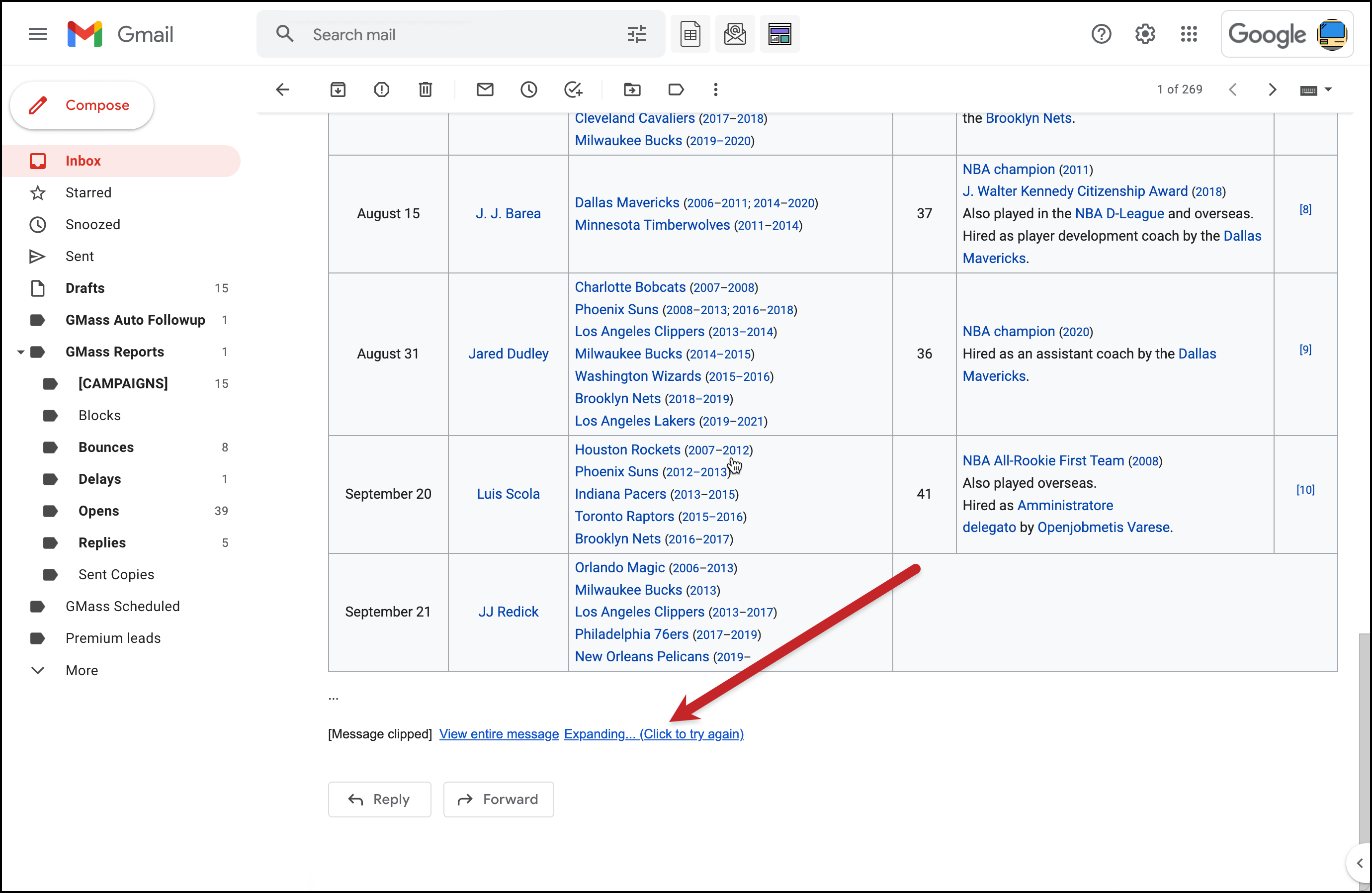 If you send out an email larger than 102 KB, Gmail cuts it off and includes a line at the bottom of the email that says "[Message clipped] View entire message" with a link to view the rest.
I receive a few email newsletters, both personally and professionally, that are always getting clipped. (I also send out a weekly newsletter that almost always gets clipped. Could I make it shorter? Absolutely not. I have far too much to say and every word is gold.)
Auto Expander automatically expands (so it's not just a clever name) longer emails so you can view them in their entirety without needing to click the "View entire message" link. And it expands large emails very fast; it took me no less than 12 tries to snag that screenshot above in the moments while Auto Expander was still in the process of expanding the gargantuan Wikipedia page I sent to myself.
(Install Auto Expander for Gmail. Free, and open source.)  
9. Gmail Copilot – get an overview of your history with a contact in the Gmail sidebar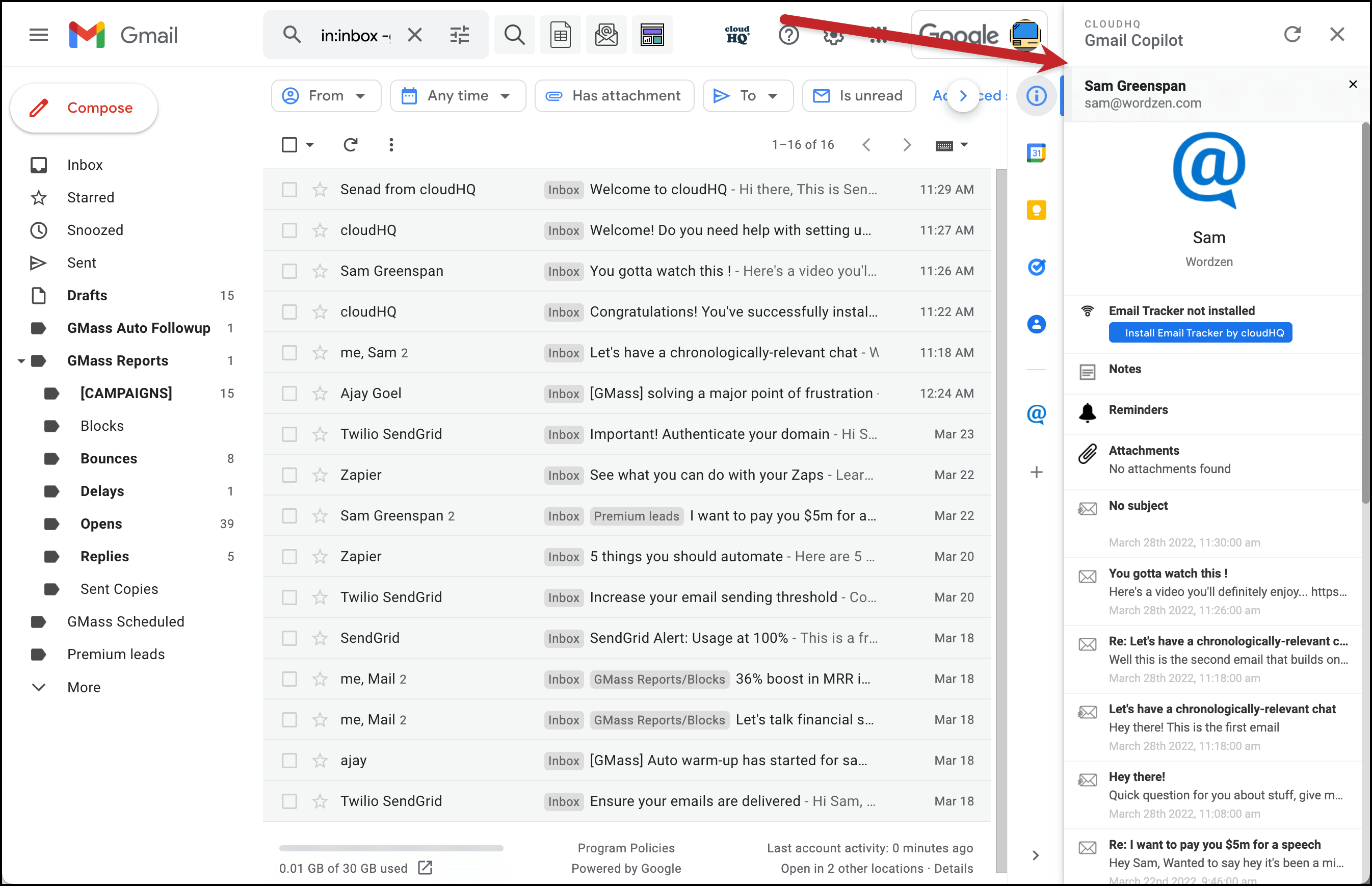 The more information you have about someone (in a non-creepy way, of course), the more effective and targeted your emails can be. 
Gmail Copilot works like a CRM-lite (and a low-budget private investigator-lite).
When you open or compose an email, Gmail Copilot pulls up information about the person in the Gmail sidebar. You'll see profile info and social media links (if available), your message history with them, and your attachments to and from them. You can also leave yourself notes about that contact.
Gmail Copilot is free, but you'll have to register for a cloudHQ account to use it. There's a paid version as well if you want to integrate it across a Google Workspace team.
(Install Gmail Copilot. Free for individual users, $4.99/mo for teams and support.)
10. Gmail Show Time – show the full date and time of an email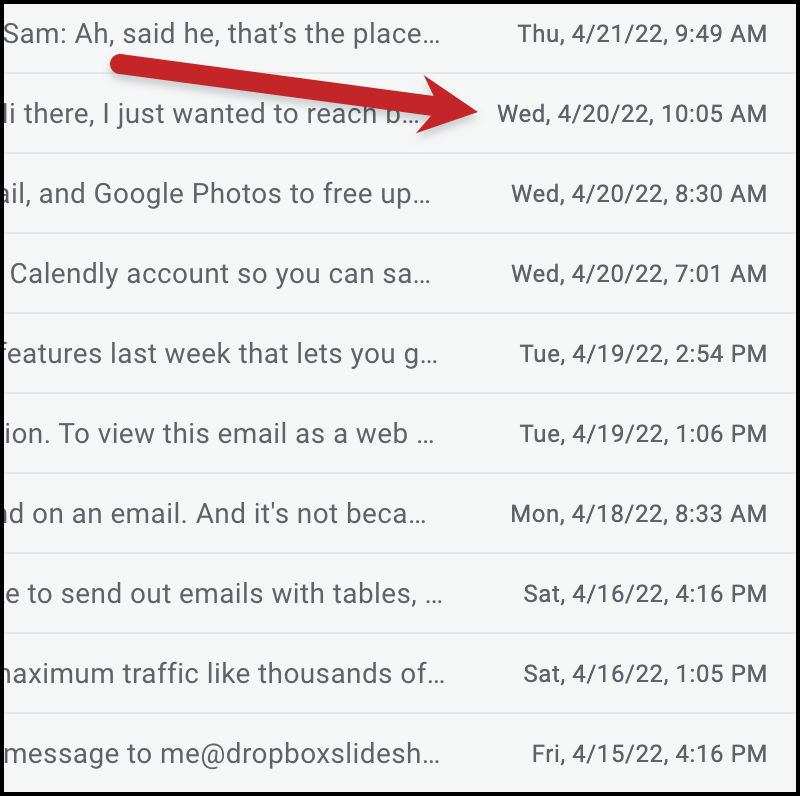 When you look over your Gmail inbox (or any Gmail label/folder/search), the right-most column shows you the date you received the email. If you received the email today, you see the time. And even though the emails are listed in reverse chronological order, sometimes you want to know more info about exactly when your emails arrived.
Gmail Show Time is a free extension that allows you to display the Gmail date however you want. It takes a minute or less to configure the date exactly how you want to see it (in the example above, I went with the formatting of %a, %-m/%-d/%y, %-I:%M %p but you may opt for something that takes up less space).
(Install Gmail Show Time. Free.)
11. Tracker Blocker – avoid false opens on your email campaigns by blocking your own open-tracking pixel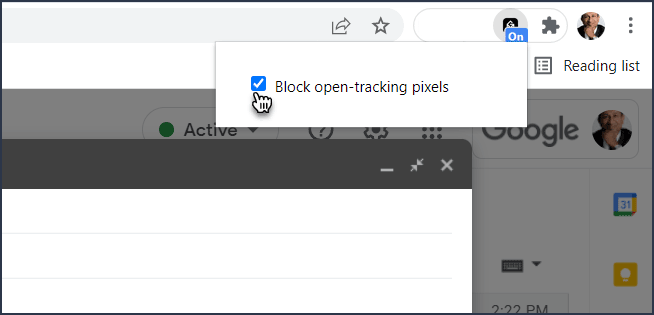 Tracker Blocker is a new extension from our team here at GMass to help cold emailers and marketers get more accurate open-tracking data.
The problem: It's pretty easy to trigger "false opens" on emails you send. For example, if you check an email you sent in the Sent folder, the open-tracking pixel fires. Another example: If an email bounces, the bounce notification contains the email — so when you open it, the pixel fires. 
You want to avoid false opens, which can skew your reports and affect the decisions you make from your data. Tracker Blocker blocks your GMass pixel (with other email marketing platforms' pixels to come) so your own opens will no longer count in your stats.
(Install Tracker Blocker. Free.)
The best Gmail Chrome extensions you've never heard of: Summary and conclusions
Gmail is probably your email platform of choice — but it could always use a few more features to work even better for you. 
Chrome extensions can fill in the gap for both tiny and massive changes and improvements to your Gmail experience.
We hands-on tested dozens of Gmail Chrome extensions to find some really handy ones for you. And all of these are either totally free or, at the very least, have a free plan as you're getting started.
And while we're neck-deep in the world of Chrome extensions here, we did want to give a quick mention to our own extension, GMass.
Gmail is the most popular email platform on the planet for sending our every day email messages. But Gmail has the potential to be a great email marketing platform as well.
With the GMass Chrome extension, you can use the familiar Gmail interface to send your cold outreach emails, personalized mail merges, newsletters, sales announcements, transactional messages, automated funnels and more.
GMass brings all of that email marketing power right into Gmail — there's no new platform to learn.
If you're interested in finding out more about what GMass can do — and how there's certainly a great use for you, from driving business at work with cold emails to sending personalized birthday party invites — we recommend checking out the GMass tour. Or just install the extension and send your first email — you'll be up and running in minutes (or, possibly, even just seconds).
See why

99%

of users say they've had their best deliverability ever with GMass

Email marketing, cold email, and mail merge all in one tool — that works inside Gmail

TRY GMASS FOR FREE

Download Chrome extension - 30 second install!
No credit card required
Love what you're reading? Get the latest email strategy and tips & stay in touch.