Sometimes specifying who is getting your mail merge campaign is just as important as specifying who should NOT get your mail merge Gmail campaign…thanks to our Suppression feature, now you have even more control of exactly who does and doesn't get your emails.
There are two groups of people who will not receive a campaign you send (even if you include those email addresses in that campaign's Google Sheet or other mailing list):
People on your unsubscribe list
People you suppress for just that specific campaign
In this post, we're talking about the latter: How to suppress email addresses for one specific campaign. (If you want to dig more into the other option, read up on how GMass handles unsubscribe management.)
How to Use Suppression to Remove Recipients from an Individual Campaign
You can find the suppression options for a GMass campaign in the GMass settings box, under the Advanced options.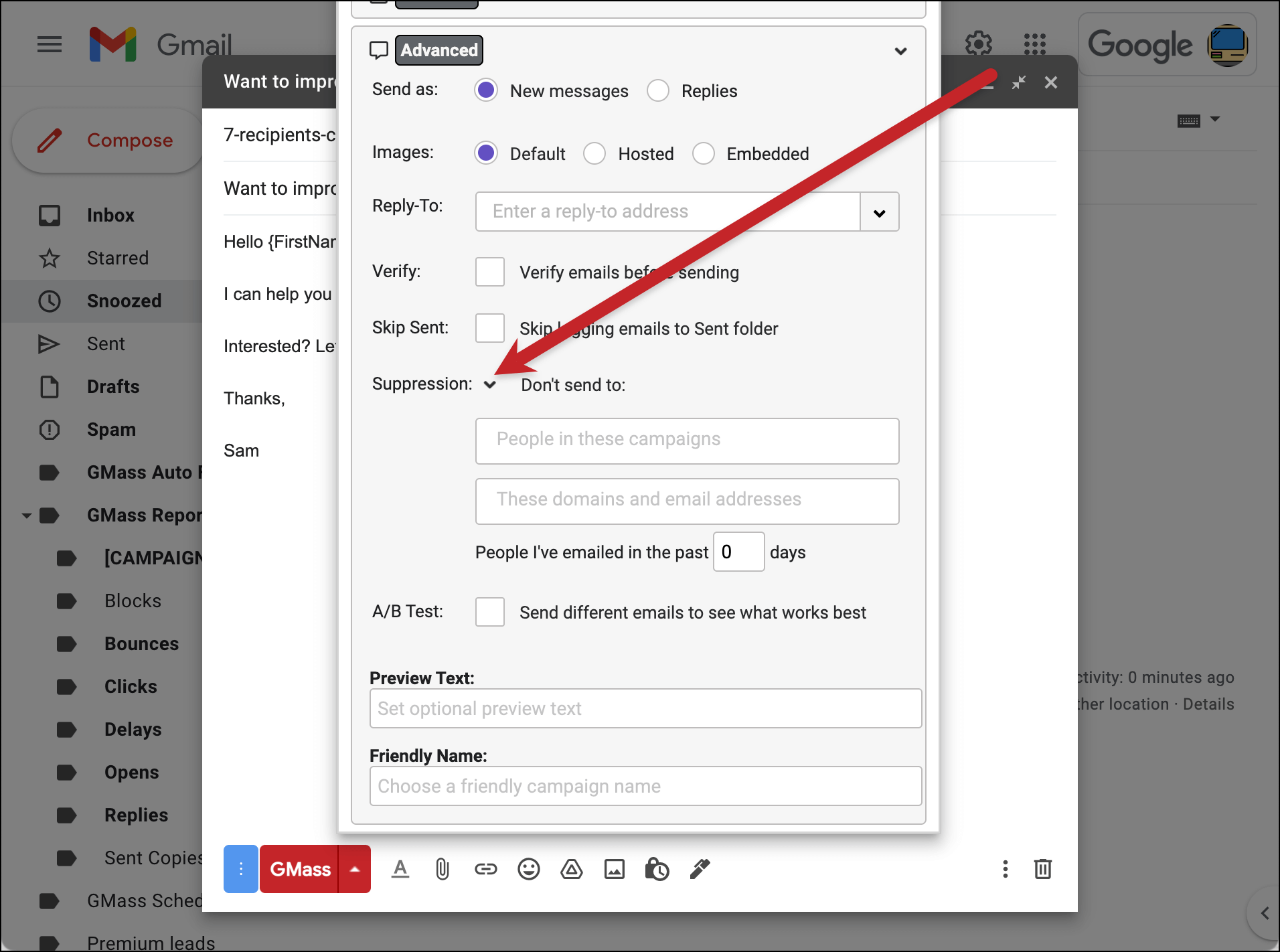 You can see three options for ways to suppress recipients for your campaign:
People in other campaigns
People at specific domains or email addresses
People you've recently emailed
Here's how to use each of those methods for suppression.
Using previous campaigns as suppression lists
Every past campaign in your account can be used as a suppression list.
When you click into the "People in these campaigns" field in the Suppression section, you'll see a dropdown list of your past campaigns. You can choose any of those campaigns (or multiple campaigns) to serve as suppression lists.
Any email address that was part of the chosen campaign will be suppressed, or eliminated from, this current campaign.
For instance, let's say you're sending a 20% discount offer to a list of prospective customers. You don't want to send to anyone who was on a 15% discount campaign a week earlier. You can suppress everyone from that 15% discount list by selecting that campaign in the dropdown.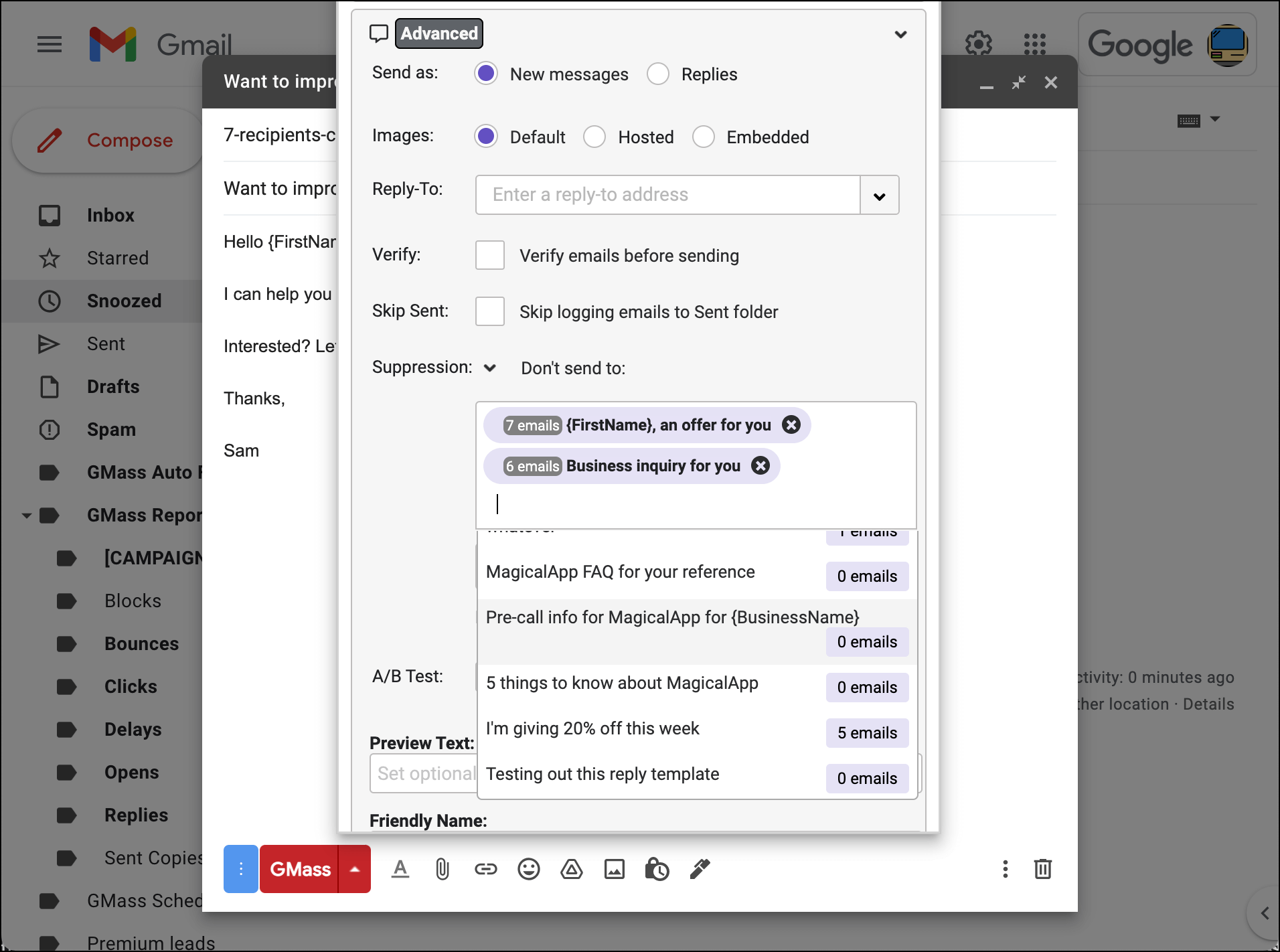 Suppressing specific domains or email addresses from a campaign
The next option in the Suppression area of settings is the "freehand" suppression box. Here, you can manually enter any domains or email addresses you want to suppress on this specific campaign.
The domain-wide option is handy if you want to make sure not to email anyone at a specific company on a campaign. (Let's say you're already in talks with Uber about a service you provide. Now you don't want your new pitch email to go out to anyone at Uber, which might muddy the waters.)
The email address option is useful when you need to remove handpicked contacts from a list.
Just separate the domains and/or email addresses in this field with a comma, semicolon, or space. You can type or paste in as many as you need.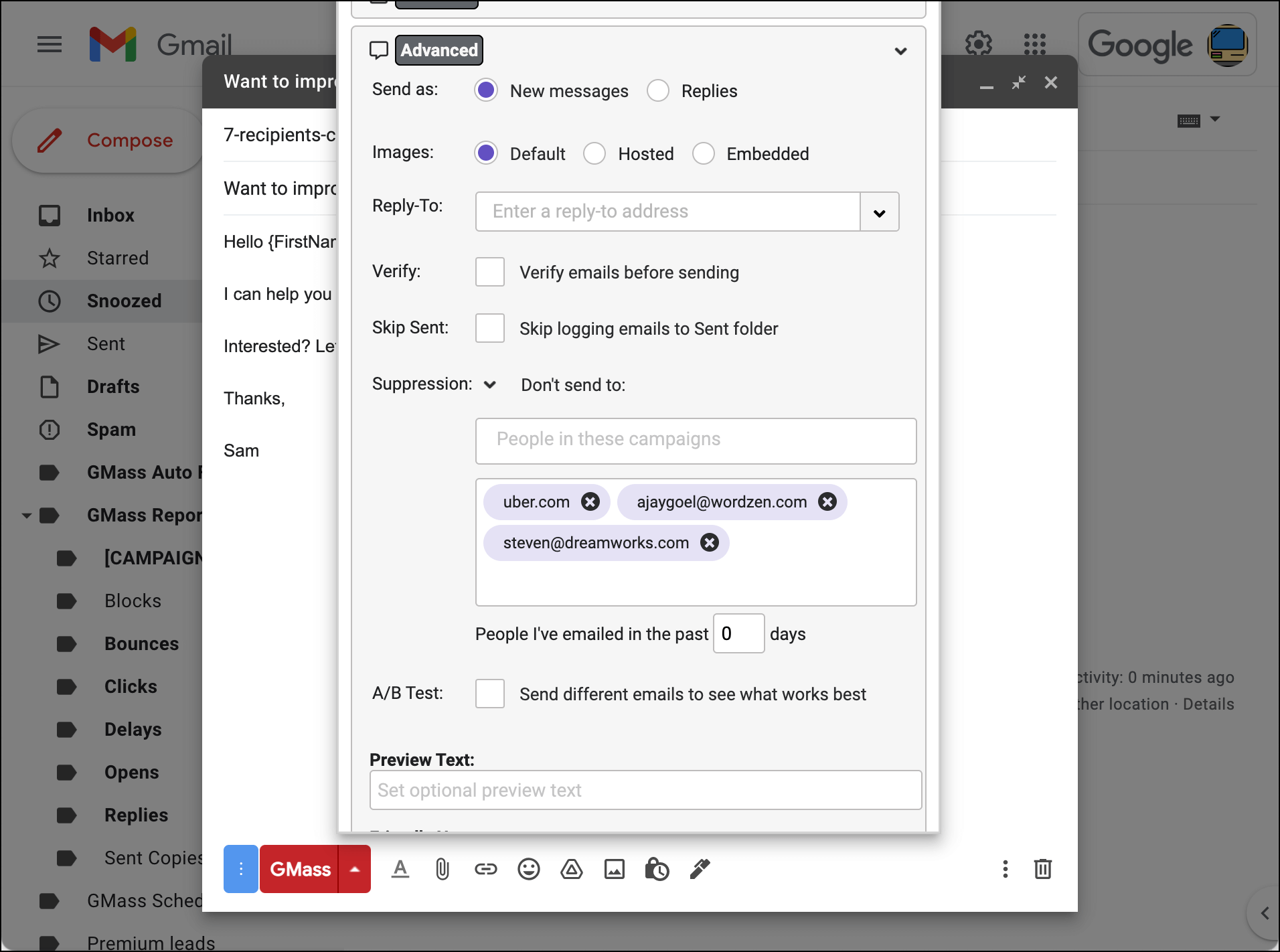 Suppression based on recent emails sent
The last option in the Suppression area of the GMass campaign settings is "People I've emailed in the past n days." With this option, you can suppress emails to recent recipients of other campaigns.
It's a good way to make sure you're not overwhelming people or sending conflicting messages. It's also popular if you run drip campaigns (like welcome series, or post-purchase series) and don't want to also send more emails to people in those sequences.
Note: This suppression list is calculated on the fly every time your campaign runs. So if you set this value to 2 days, GMass will look back at the past 48 hours when you send your campaign to create the suppression list.
And if you use this feature with a recurring campaign, GMass will continue to build the list on the fly before each scheduled send. Let's say you schedule a campaign to go out every Monday at 10:00 AM and you set the suppression at "people I've emailed in the past 2 days." Every Monday at 10:00 AM, GMass will look back at the past 48 hours to come up with the suppression list for that week's send.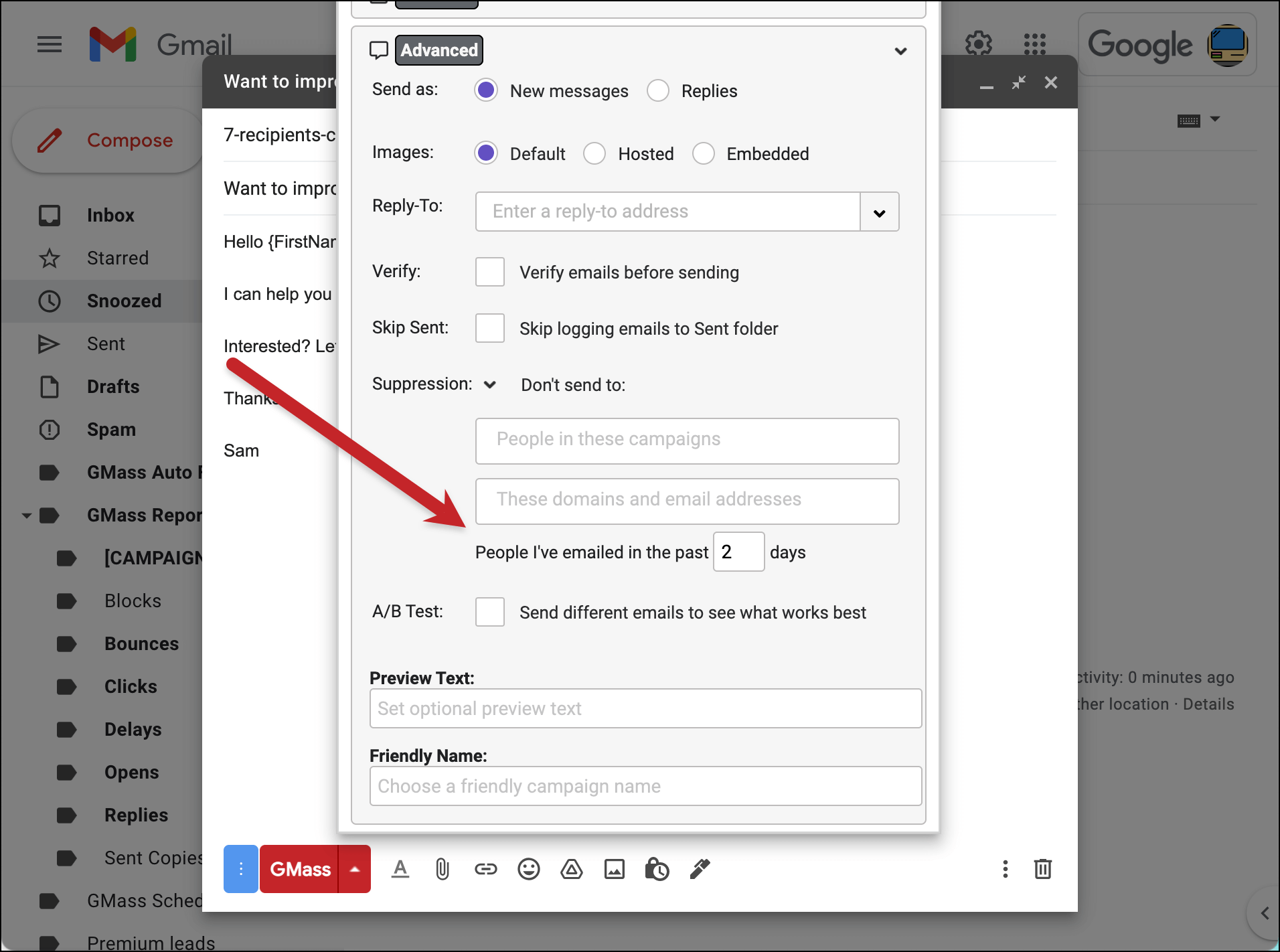 When Do Suppression Lists Come in Handy?
Let's say you're using GMass to invite 100 people to a party. You create a Google Docs spreadsheet with your 100 invitees. You then send a GMass campaign to the people on this spreadsheet.
The next day, you realize you forgot to invite 5 of your friends. Oh no, how can you easily re-send your invite to just those 5 missing friends?!
You could just add the 5 email addresses to your master spreadsheet, use the GMass spreadsheet button to connect to the whole sheet and send to the same list, but then the first 100 people will get the same email again, making you look sloppy. If you use yesterday's campaign as your Suppression List, however, then only the 5 new people will receive the email.
Another use might be if you've collected a do-not-send list over time, and want to ensure that a particular campaign doesn't go to anyone on this list. You could add your do-not-send list to your Unsubscribe List, but that would prevent them from getting any future email campaign from you, and you may just want to use your do-not-send list on this one particular email campaign. In that case, you can paste those email addresses into the manual "These domains and email addresses" suppression field.
An alternative workaround, which can be a little clunky but might save you some time if you're using that do-not-send list a lot, is to create a manual Suppression List.
How to manually create a Suppression List
Since Suppression Lists are simply the email addresses tied to your past campaigns, you can create a "fake" campaign that won't actually send but will hold the addresses you wish to suppress. To do so:
Enter the suppression addresses in the To field of a new Compose window. Alternately, if you have a large number of email addresses, consider putting them in a Google Docs spreadsheet and then using GMass to connect to the spreadsheet.
Enter a name for your Suppression List as the Subject.
Set the GMass Action to Just create drafts. This will ensure that no emails are actually sent.
Click the red

GMass

button.
After the Drafts are created, you can click the link in the email you will receive to DELETE the Drafts.
Now your Suppression List has been created and you can choose this campaign to suppress these addresses.
What's the difference between my Unsubscribe List and a Suppression List?
They are actually quite similar, in that both lists are used to filter out recipients from a campaign.
Your Unsubscribe List, however, is universal to your account, and is used to filter out recipients for all of your campaigns automatically. You can't control when the Unsubscribe List is used to filter out recipients, because it is always used on every campaign sent from your account. Email addresses are added to your Unsubscribe List when they click the unsubscribe link at the bottom of your emails (if you included it), or if you manually import email addresses into your Unsubscribe List.
Suppression Lists must be applied to specific campaigns where you want to eliminate that set of email addresses for just the current campaign. Any past campaign can be used as a Suppression List, which is why all of your past campaigns show up in the Suppression dropdown menu.
Resources
Ready to

transform Gmail

into an email marketing/cold email/mail merge tool?

Only GMass packs every email app into one tool — and brings it all into Gmail for you. Better emails. Tons of power. Easy to use.

TRY GMASS FOR FREE

Download Chrome extension - 30 second intall!
No credit card required
Love what you're reading? Get the latest email strategy and tips & stay in touch.