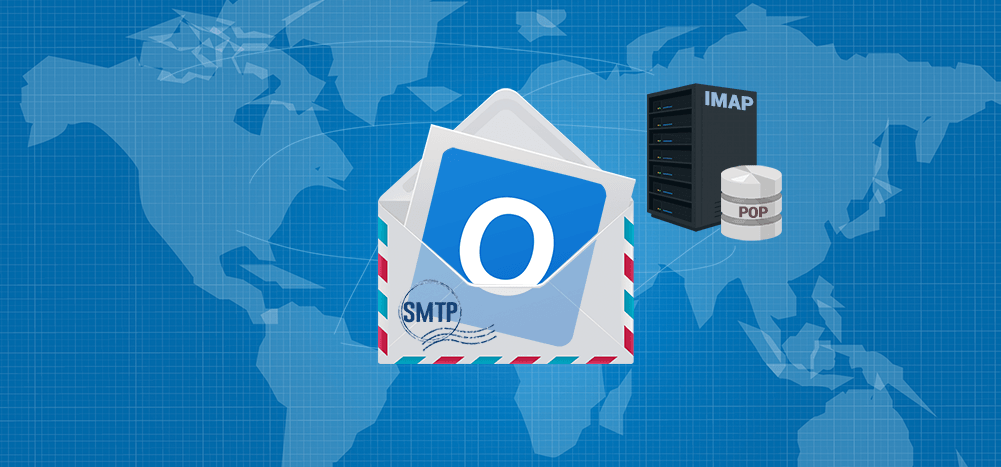 Want to set up Office 365 SMTP settings for your email account?
In this article, I'll cover everything you need to know about your Office 365 SMTP settings.
But let me clear something up:
Since Office 365 is a suite of tools, you'll be using Microsoft Outlook — the email client in MS Office — to edit these settings.
I'll also cover what SMTP is, how to set it up, and the drawbacks of using an Outlook SMTP server.
Here's what this article will cover:
Just want the setup codes without any of the additional helpful details? Here they are:
Office 365 SMTP Settings
Server: smtp.office365.com
Port: 587
Encryption: STARTTLS
Username: Your Office 365 email address
Password: Your Office 365 password
For the rest of us, let's get started!
How to set up SMTP in Outlook
Let's look at how you can set up SMTP settings in the Microsoft Office 365 mail server.
There are several ways to configure email to be sent through your Office 365 mailbox.
You can:
Use direct send
Use SMTP client submission,

aka

SMTP AUTH

(that's what we'll be covering)
Use a dedicated relay connector to send emails through the Office 365 SMTP relay.
Note: If you're confused about what SMTP is, click here to jump down to the section where I've explained it. After you've got that background, you can come back here to set things up!
Why use the SMTP client method?
Why are we only covering the SMTP client submission method?
Because it's the best one!
Here are the problems with the other two methods:
The Direct Send method only allows internal email communication — you can't use it for contacts outside your organization.
If you use a line-of-business (LOB application), it has to feature a static IP address to authenticate Office365 through the relay server method.
And here's why the SMTP AUTH client submission method is better:
The SMTP AUTH mail configuration allows you to send mail to people inside and outside your organization — unlike Direct Send. Additionally, by using this method, your IP address doesn't need to be static like it would with the relay server method!
Here's how you can set up Office 365 SMTP settings:
Once you log in to the Outlook mail app, use the toolbar and navigate to Settings > Mail > POP and IMAP.
Then, click on More Settings > Outgoing Server to set up your SMTP settings.
Office 365 SMTP Settings
Server: smtp.office365.com
Port: 587
Encryption: STARTTLS
Username: Your Office 365 email address
Password: Your Office 365 password
How to set up POP & IMAP in Outlook
Just setting up your SMTP isn't enough to receive incoming emails.
Why?
Your SMTP settings only deal with outgoing mail — not emails you receive!
(more on this later in the article)
To receive email, you need to set up your POP or IMAP server settings.
And if you don't want to ask your network admin to set up your POP or IMAP server settings, here's what you need to do in MS Office:
Use the Outlook App and from the toolbar, to go to Settings > Mail > POP and IMAP. 
Then, set up whichever of the settings you prefer:
IMAP Server Settings
Server: outlook.office365.com
Port: 993
Encryption: SSL/TLS
POP Server Settings
Server: outlook.office365.com
Encryption: SSL/TLS
What is SMTP?
Now that we've gone over how to set up SMTP, POP and IMAP, let's dive in to learn more about these email protocols.
Wait…what's a protocol?
A protocol is a method of exchanging communication/information between email accounts.
A Simple Mail Transfer Protocol (SMTP) is a protocol used to send emails from one server to another. Most email systems use SMTP to send emails over the internet.
SMTP works with a Mail Transfer Agent (SMTP relay) to send your emails to the right mailbox and computer. An SMTP relay guarantees that an email you send arrives in the recipient's mailbox.
Think of it this way:
SMTP is like the postal service. It's what you use to send your messages to your recipients.
Only this time, you won't have to worry about finding envelopes or stamps!
How does SMTP work?
It uses a set of codes and commands that simplify the process of sending emails among email servers. When you send out an email through an SMTP system, it's transferred through several SMTP relay systems and computers before it reaches its destination (a recipient's inbox).
It's basically like your mail getting sorted through multiple post offices and postal workers before it finally ends up in the hands of your recipient!
However, as SMTP only transmits text – it can't be used to send attachments. 
To overcome this, Multipurpose Internet Mail Extensions (MIME) encode all non-text data into a text format before sending them through an SMTP relay server.
What are POP and IMAP?
When it comes to configuring emails, you need more than SMTP systems alone.
Remember, your Office 365 SMTP server is only used to send emails.
POP3 and IMAP are two protocols used to receive emails.
Here's how the POP3 and IMAP protocol work:
A. POP3
Post Office Protocol 3 (POP3) is an email protocol that is widely used to receive email. In POP3, your emails are downloaded from the server and stored locally on your device. This way, you can access your emails even if you're offline — you only need to be online to download them!
B. IMAP
Internet Message Access Protocol (IMAP) is the most commonly used protocol for receiving email. The IMAP protocol saves all email onto its servers instead of downloading it to your local storage.
So, whenever you want to check your email, your mail client contacts the server and loads the email. With IMAP, you can check your emails from anywhere, with any device, on any IP address.
The difference between the  IMAP protocol and POP3 is that POP3 downloads your emails from the server for permanent local storage. IMAP, however, simply leaves them in the server and just caches them locally — sort of like cloud storage.
As there's no permanent downloading and local storage involved, IMAP is faster and more efficient than POP3. 
POP and IMAP vs. SMTP
POP, IMAP, SMTP — all this sounds super confusing!
But it's actually very simple:
SMTP is used as a protocol to send outgoing mail, while IMAP and POP are both protocols that are used to fetch incoming mail. 
Why Outlook isn't the ideal email client + a better alternative
Microsoft Outlook is the email provider that comes pre-packaged within Microsoft Office 365. And even though you can set up its SMTP settings, it's not the best email client you can use.
Here's why Gmail is a much better mail client than Microsoft Outlook:
1. Gmail is easier to use and is more functional
Gmail is renowned for its simple and easy-to-use interface. While Outlook isn't necessarily confusing, it's far less intuitive and streamlined than Gmail.
In addition to providing a secure connection for all your email — even on your public IP address — Gmail also provides a smart compose feature that helps predict what you're typing.
Additionally, Outlook doesn't have some of the advanced AI features that Gmail has to boost your email work processes.
2. G Suite is more functional than Office365
While both Gmail and Outlook are free, they both come bundled with other tools to boost your email productivity.
The Outlook client is a part of MS Office, which gives you access to several other tools like Word, Excel, PowerPoint, and Access.
However, the Gmail client is part of a G Suite package that features Google Docs, Sheets, Slides, and tons of other tools that are useful for businesses. Additionally, as all your G Suite tools are cloud-based, they're far easier to work with — especially since everyone's working remotely due to the COVID-19 pandemic!
3. Gmail features tons of powerful extensions
Microsoft Outlook application is a mail client that's meant for use within the Microsoft Office universe. This limits the functionality you can add to in terms of extensions.
However, if you use Gmail, you can use tons of extensions in the Chrome store to boost your email productivity!
One of these extensions is GMass, and it's the perfect solution for anyone looking to send mass emails from their Gmail account.
What is GMass?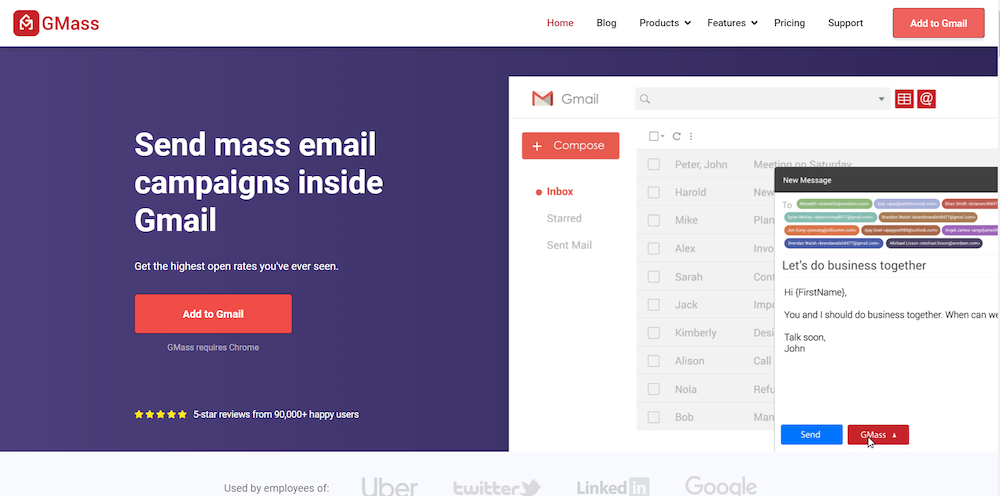 GMass is a powerful email application used by tech giants like Uber, Google, LinkedIn, and Twitter for their email outreach campaigns.
But GMass isn't just for massive tech companies!
Others, like small businesses, churches, clubs, and solopreneurs can use GMass to send mass emails to a targeted audience.
You can use GMass to:
Send tons of emails from your mailbox.
Individually personalize bulk email.
Track recipient interactions accurately.
Easily schedule bulk email and follow-ups.
Quickly set up custom tracking domains.
That's not all!
Anyone can get started with GMass. Just download the Chrome extension, and you're ready to go!
Handy GMass Features:
Here's why GMass is a great alternative to using Microsoft Office 365 for your email sending needs:
If you want high rates of engagement, you need to customize your outgoing emails.
Remember, recipients don't like engaging with email messages unless the emails feel personalized.
Don't worry — GMass can personalize your emails automatically.
GMass can help you quickly customize your bulk email with features like automatic first-name detection of recipients, customized blocks of text for each recipient, and custom images and links.
B. Campaign Reports and Analytics
When you send an email campaign using GMass, it generates a Campaign Report inside your Gmail inbox. You can use these campaign reports to measure how your email messages have performed.
These campaign reports show you metrics like the numbers of recipients, replies, unique clicks, unsubscribe requests, and tons more!
C. Schedule emails easily
To engage recipients, you need to time your emails perfectly. They need to reach recipients' inboxes just when they're about to check them.
GMass can schedule email messages in advance to help maximize engagement rates.
You can type your email and schedule it, then let GMass take care of the rest!
Most of your recipients may not respond to your initial email. They might not see the email notification, or they may just ignore it. This means you'll have to send follow-up emails to get their attention.
GMass can help you automate follow-ups with options like when to send the follow-up, how many follow-ups to send, what to include in the email, and what time gaps to set between each follow-up email.
How to configure your own SMTP server on GMass
Sure, you could use Gmail's SMTP server for your emails, but that isn't the only option when you use GMass.
You can even set up a custom SMTP mail server on GMass to send emails in no time!
Here's a look at how:
1. Choosing an SMTP server
You can set up an SMTP email message server with GMass in three different ways:
A. Use the GMass SMTP email server
If your outgoing emails are either non-commercial or completely organically developed, you can easily set up through GMass's own SMTP account on SendGrid. You can contact the team to state the nature of your emails and make a request for this service.
B. Set up your own SMTP account
If your email doesn't match the above conditions or if you require your own custom SMTP mail server, you can set up an account with third-party SMTP service providers like SendGrid. You can then configure the account to your preferred settings and start using it with GMass.
Read my recent reviews of popular SMTP services:
Mailgun
Mailjet
SendGrid
Sendinblue
SMTP2GO
SocketLabs
C. Set up an SMTP email server for your business
This method is a little advanced, but if you possess the technical knowledge, you can easily set up and configure a custom SMTP email server for your business.
However, setting up your own custom SMTP email server for your domain name can be time-consuming, and you'll need advanced technical knowledge to set it up.
If you're an expert-level developer, you'll want to read my technical review of popular SMTP services. 
2. Configuring your SMTP account
Here's how GMass connects to external SMTP servers:
Step 1
GMass connects to your SMTP email server without TLS/SSL. You can decide on the port — most SMTP service providers will let you connect to port 25 or 2525.
Step 2
Make sure the option to track email opens and clicks are turned off. This is preferred to avoid double tracking. 
Ensure that the SMTP email message server doesn't alter the messages in any way, but just lets them pass through.
Step 3
Look for any quota restrictions in your SMTP email account. If there are restrictions, make sure to remove them or ensure they don't limit your email campaigns.
Step 4
In this step, you'll first have to check which RETURN-PATH address your SMTP service is using. This address is also called an Envelope Form or a MAIL-FROM address.
Most SMTP providers use different domains in the "from" address and the MAIL-FROM address. However, some use the same domain name in both fields, which will require you to verify your domain name.
This may require you to alter your SPF, DKIM, and DMARC records.
Step 5
Ensure you turn on Bounce notifications. Afterward, set your bounce notifications to go to the "From" address.
This helps GMass to process your email bounces and show them when required.
3. Configuring GMass to send mail through the SMTP server
This is the final step in setting up GMass with an external SMTP email message server. Here's how to do it:
Step 1
To ensure you have the latest version of GMass, reload Gmail in Chrome. Add the Chrome extension if you don't have GMass already. Then, click on the compose window.
Step 2
Insert smtp@gmass.co as the "To" field.
Step 3
Insert the word "set" as the subject and wait for the following form to load in the message area.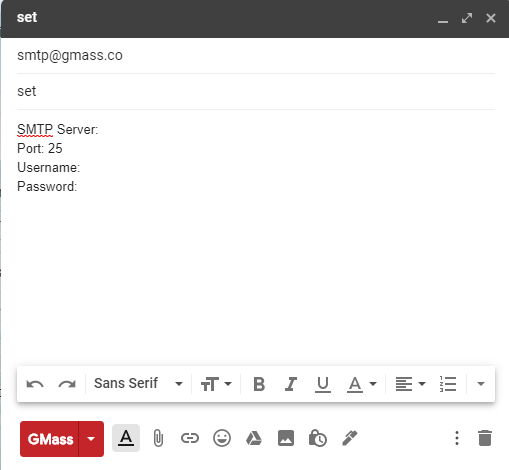 Step 4
Enter the relevant details after the colons. If your server doesn't require authentication, set the username field to "noauth" and leave the password field blank.
Step 5
Hit the red GMass button.
Once you complete these steps, GMass will attempt to send a test message to your email account. If the email is successful, the SMTP email message server will be set for your Gmail account.
Now, you're ready to send out mail on GMass through the external SMTP email message server!
GMass Pricing
Worried that all this functionality comes at an enormous cost?
Don't be!
GMass is one of the most affordable email tools out there:
Free plan: includes all features + supports free email tracking for up to 50 emails a day.
Individual:

Minimal: $8.95/month – provides all functions except automatic follow up emails + provides unlimited email tracking.
Standard: $12.95/month –  removes the GMass footer from emails and offers all "Minimal" features.
Premium: $19.95/month – offers all "Standard" functions + automatic follow up emails.

Team:

Premium: starts at $89/month for small teams of five members – supports all perks and features.
Conclusion
Setting up your SMTP settings doesn't have to be a tough task. Simply follow the instructions I mentioned above, and your Office 365 server settings will be up and running!
However, remember that Outlook lacks vital features and has limited add-ons.
Why use limited software like Microsoft Outlook when you can easily handle your email through Gmail and GMass instead?
It's simple to use, affordable, and offers way more functionality than other email outreach tools. So why not give GMass a try today and take your email game up a level?