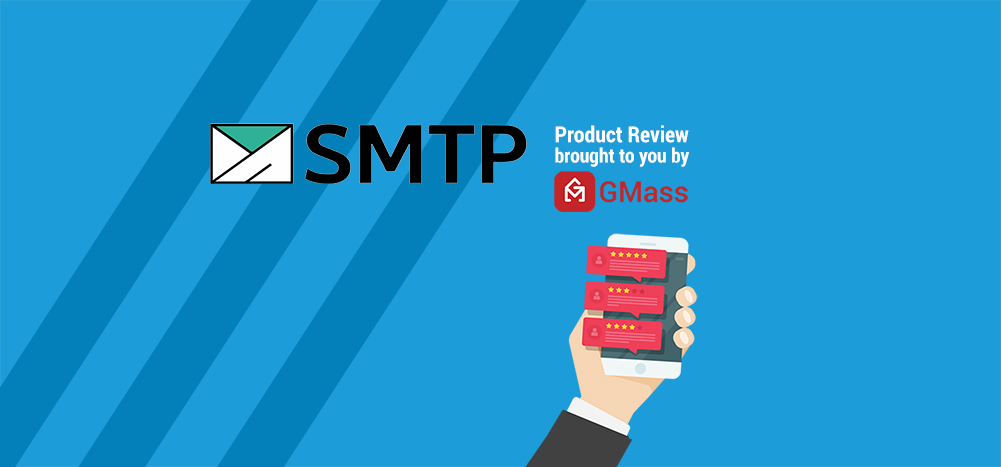 Looking for a comprehensive SMTP.com review?
SMTP.com is a tool used by marketers to send mass marketing and transactional emails.
It's a powerful SMTP tool that helps your bulk email reach your recipients — but it isn't perfect.
So, should you invest in the SMTP.com tool?
In this SMTP.com review, I'll cover everything you need to know about SMTP.com. I'll highlight what it is, what its key features are, and how much it costs.
I'll also cover SMTP.com's major disadvantages and tell you about the perfect companion tool to SMTP.com.
This SMTP.com Review Contains:
Let's jump right in, okay?
What Is SMTP.com?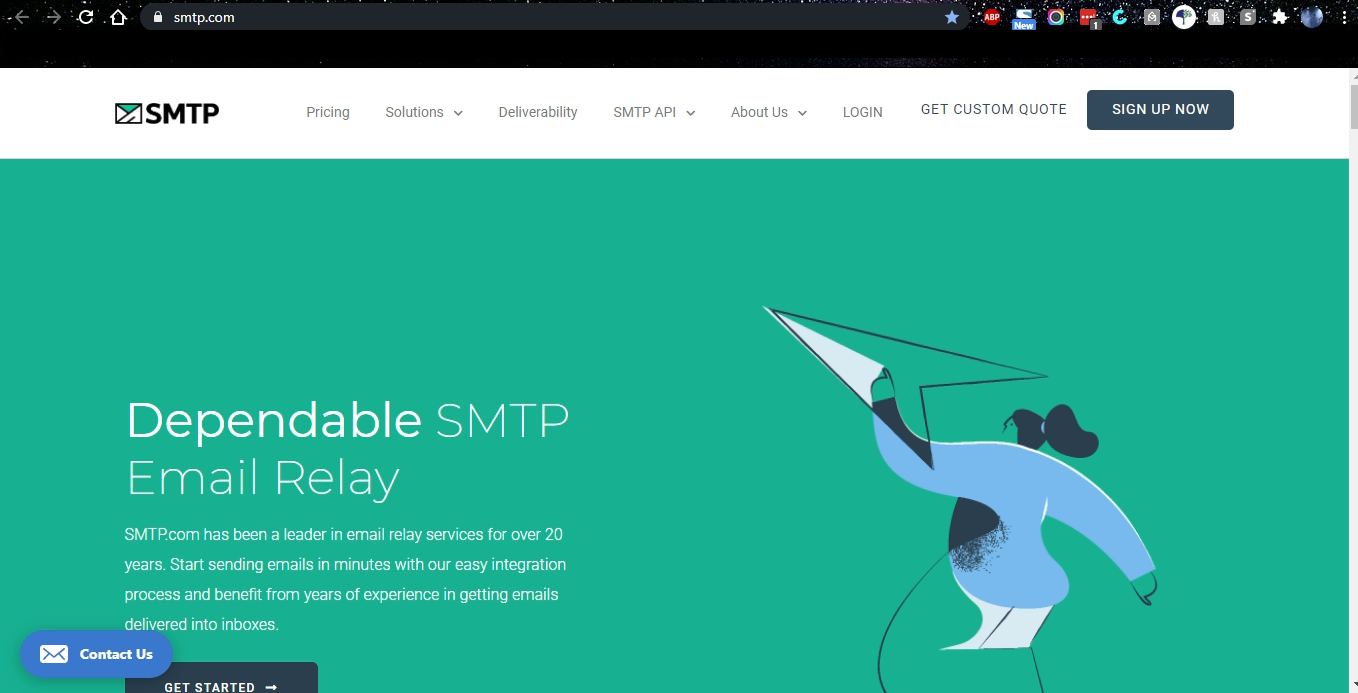 SMTP.com is an email service that uses an SMTP relay to send out a large number of emails.
Where Is SMTP.com Based?
SMTP.com is a Canadian company that is a subsidiary of J2 Global, a digital media company based in the United States.
What Does SMTP.com Offer?
While sending bulk email through its SMTP server is SMTP.com's core function, it also gives you access to features like event-triggered emails and an SMTP API (Application Programming Interface).
What are those?
An event-triggered email lets marketers automate their email process by sending out emails based on user behavior. An email API, on the other hand, will help developers integrate their websites and apps to SMTP.com's SMTP email server.
What Is an SMTP Server and How Does It Work?
An SMTP server is a mail server that sends outgoing mail to recipients. Each mail client has an SMTP server, but most popular email clients like Gmail and Yahoo Mail limit user access due to the high number of users, which creates a huge demand.
What does this mean?
For example, if you use Gmail, you're limited to sending 500 emails/day. If you use a G Suite account, that limit goes up to 2,000/day — but that's it. You can't send any more.
While that might be fine for your personal use, unfortunately, these limits aren't adequate for email marketers. So if the sender is looking to dispatch a significant number of emails, then an investment in an SMTP relay tool like SMTP.com could be worthwhile.
SMTP relay tools use a custom SMTP email server that can handle virtually unlimited numbers of outgoing emails at any given time.
If you want to find more information about the SMTP protocol, check out my ultimate guide to SMTP here.
What Are the Key Features of SMTP.com?
Now that I've covered what SMTP.com is, here's a look at some of its key features:
1. Customized SMTP Relay Service
Every business has unique needs, right?
The email resources you need may not be what your competitors need.
But how can one email service cater to several businesses with separate needs?
When you sign up for SMTP's service, you're partnered with SMTP.com's experts in email deliverability and relay technology.
You can consult these deliverability experts to improve virtually every aspect of your high-volume emails.
They can help you by:
Customizing your email delivery to reach more inboxes
Monitoring your ISPs (Internet Service Providers) and your IP address to optimize email sending
Easing the transition from your current SMTP provider
Helping your custom systems integrate with SMTP.com
Providing technical support for setting up APIs
But that's not all!
With SMTP.com's service, you'll get access to customized reports, a dedicated IP address, branded email templates, and even a dedicated account manager.
2. Supports Transactional Email
Remember that confirmation email you receive from a store as soon as you complete an online purchase? Or maybe that "Welcome!" message when you subscribe to a new service? Or perhaps that "Your item has shipped" confirmation from an online seller?
Those are examples of transactional emails.
Transactional emails are automated emails sent in real-time to complete a transaction initiated by a customer. Transactional emails can be a purchase confirmation, a sign-up email, or any other email generated based on customer behavior.
Why are transactional emails important?
Transactional emails provide vendors with a way to keep their customers updated on any actions they've taken. This way, customers don't have to keep going back to the website to check for updates.
SMTP.com offers tons of features that are heavily focused on boosting the email deliverability rates of your transactional emails.
You can use SMTP.com to send out emails for:
Account creation
Account activation
Password resetting
Purchase confirmation
And more!
But that's not all.
SMTP.com is a highly-reputed SMTP relay service, and all of its servers are whitelisted servers. So there's virtually no chance that your transactional email will end up in a spam folder!
3. SMTP API Integration
Have you ever wanted to integrate a website or an app with your mail service?
That's exactly what the SMTP.com API helps you do!
An SMTP API will help your SMTP service communicate with a website or an app to connect the two so that they work well together. This way, you can use SMTP.com's API to work on your transactional emails and manage campaigns — right from your website!
Additionally, this process is super easy as you can integrate your website or app with SMTP.com in minutes via JSON (JavaScript Object Notation).
SMTP.com Pricing
SMTP.com has four pricing plans: Essential, Starter, Growth, and Enterprise. You get access to all features on every plan — so plans are priced around your email volume.
Here's a quick look at what you get with each plan:
SMTP.com Pricing 1: "Essential"
Priced at $25/month. This plan includes:
Shared IP address
50,000 emails/month
24/7 customer support via phone
Access to all features
Free API access
SMTP.com Pricing 2: "Starter"
Priced at $80/month. This plan includes:
Dedicated IP address
100,000 emails/month
24/7 customer support via phone
Access to all features
Free API access
SMTP.com Pricing 3: "Growth"
Priced at $300/month. This plan includes:
IP address (Dedicated)
500,000 emails/month
24/7 customer support via phone
Access to all features
Free API access
SMTP.com Pricing 4: "Enterprise"
Priced at $500/month. This plan includes:
Dedicated IP address
1,000,000 emails/month
24/7 customer support via phone
Free API access
Access to deliverability experts
What Are the Disadvantages of SMTP.com?
While SMTP.com has a lot to offer, there are a few areas where it fails to deliver.
Here are three disadvantages of using SMTP.com:
1. No Free Plan or Free Trial
If you want to use a tool, you'd expect them to offer you a chance to test it before investing in it, right?
That way, you would get to try the tool, see what it offers, and determine if it fits your needs before committing to it financially.
However, you don't get that with SMTP.com.
Not only do they not offer a free plan for users who want to try their tool for a few months, but also they don't offer a free trial of their email services.
So, if you're hoping for a few free emails for a couple of months to work out how the tool fits your business, SMTP.com may not be the right tool for you. You'll have to spend $25 on their lowest tier plan just to test the tool for a month.
2. SMTP.com's Dashboard Isn't Very Intuitive
Once you complete that long setup process, you'd at least expect a seamless user experience, right?
But with the SMTP.com SMTP service, that might not be the case.
SMTP.com has trouble showing sent emails in real-time on the dashboard. Additionally, it doesn't show you detailed information when you click on any email metric (Open rate, unsubscribe rate, etc.) in the dashboard.
But the most frustrating part?
Whenever you relay an email through SMTP.com, there's a significant lag until it appears on your dashboard.
This means that whenever an email is delivered to any recipient on your mailing list, there'll be a significant delay in displaying the email's status on your dashboard.
3. Lengthy Sign-Up Process
People invest in tools to make their work easier, right?
But what happens when the tools you invest in actually make things harder for you?
Unfortunately, with SMTP.com, that could happen.
It has a sign-up process that involves a multi-day approval and manual review — and here's a recap of my experience:
First, the support team asks you to provide information about the nature of your business and your mailing list. You'll have to be prepared to inform them if your mailing list was purchased and where you obtained recipient information from, etc.
They might also ask you to place a new page on your website to confirm your site ownership. Although their intention — to weed out scams — is worthwhile, this process is a highly inefficient way to verify ownership and provide approval for their service.
Plus, it takes a couple of days to sort everything out — so if you're in a hurry to send out bulk email, you'll be disappointed with the speed of their service.
The Perfect Email Companion for SMTP.com
Now that I've covered everything there is to know about SMTP.com, it's clear that it's a great — but flawed — tool.
While SMTP.com provides features like a powerful API integration and a premium email relay service, it also lacks a free plan and doesn't boast a great UI.
But what if there were a way to take advantage of SMTP.com's powerful features without some of the drawbacks?
There is! Say hello to GMass!
What is GMass?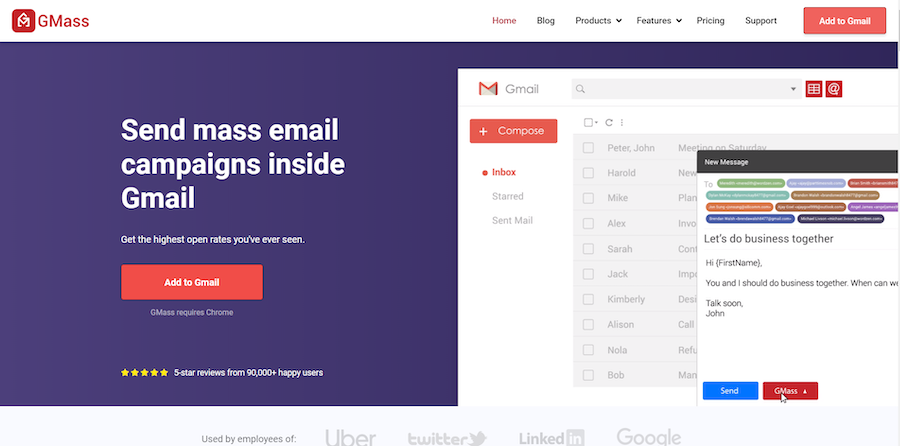 GMass is a popular email marketing tool used by employees of massive tech companies like Google, Uber, and social media sites like Twitter and LinkedIn.
But GMass isn't only for large businesses!
Small businesses, solopreneurs, and churches can use GMass to send bulk emails.
But the best part?
The GMass plugin works completely inside of Gmail. This way, you don't have to worry about dealing with clunky dashboards or opening a separate tab to manage your email marketing campaigns.
With GMass, you'll be able to:
Schedule and send email marketing campaigns from Gmail.
Track how recipients engage with marketing emails.
Use real-time reports and stats to understand the performance of your emails.
Set up custom domains for tracking.
Connect with SMTP.com and send unlimited emails to recipients every day.
But that's not all!
You can easily set up the GMass plugin by adding the Chrome extension to your browser. Once that's done, you can send bulk emails to your recipients!
How does GMass work with SMTP.com?
You can use SMTP.com as an external SMTP service provider in GMass.
This way, you can partner GMass's excellent marketing capabilities, Gmail's intuitive interface, and the reliable SMTP server of SMTP.com!
If you want to know more about setting up SMTP settings in Gmail, just click here.
Interested in other SMTP service providers?
Check out my:
WP Mail SMTP Review
Amazon SES Review
Wrapping Up
SMTP.com offers useful features like transactional email support and powerful API integration. Additionally, its highly-reputed servers protect your high-volume emails from landing on a blacklist or being labeled as spam by a spam filter.
But it's less-than-ideal dashboard can take the shine off some of its features.
Fortunately, with a tool like GMass, you won't have to worry about that and can benefit from SMTP.com's unlimited sending inside Gmail!
Not to mention, you get access to tons of other state-of-the-art GMass marketing features like email automation, automatic personalization, and detailed campaign reports.
So, what are you waiting for?
Create an account on SMTP.com, and link it to GMass to boost your email game instantly!
Ready to

transform Gmail

into an email marketing/cold email/mail merge tool?

Only GMass packs every email app into one tool — and brings it all into Gmail for you. Better emails. Tons of power. Easy to use.

TRY GMASS FOR FREE

Download Chrome extension - 30 second intall!
No credit card required
Love what you're reading? Get the latest email strategy and tips & stay in touch.