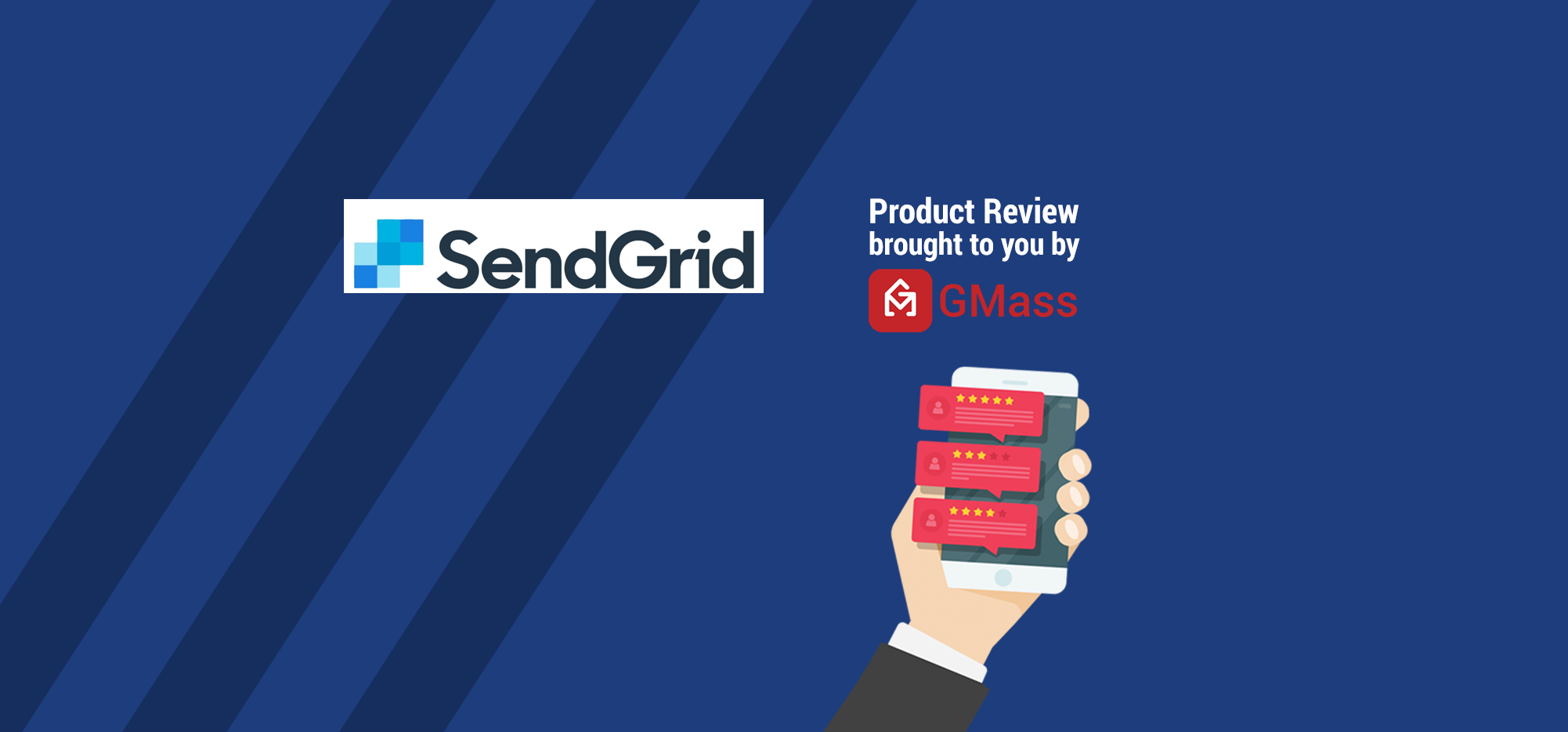 Tired of spending hours going over multiple SendGrid reviews to determine whether it's the best email software for your business?
Your search ends here.
SendGrid is an email marketing software solution and SMTP service that allows you to send bulk emails while maintaining superior email deliverability for your email campaigns.
But can it address all your needs?
In this SendGrid review, I'll lay out a detailed overview of all its main features and drawbacks and cover SendGrid pricing to give you a better understanding of this service.
I'll also talk about how you can overcome the drawbacks of this service to boost your overall email experience.
And while this review is intended for all users, if you're a highly advanced web developer, you'll want to see my technical review of SendGrid to a look under the hood.
This SendGrid Review Contains:
(Click on the links below to jump to a specific section.)
Let's jump right in.
What Is SendGrid?
Twilio SendGrid is an email marketing and SMTP service that can help you send bulk emails with extremely high email deliverability rates.
What's an SMTP Service?
An SMTP service allows you to set up your own email sending mechanism for your business. This way, you don't have to rely on the limited email sending mechanisms of regular email service providers like Gmail.
If you want a more detailed understanding of SMTP and how it works, check out my ultimate guide to SMTP.
Is SendGrid Safe?
SendGrid has earned SOC 2 Type II certification for its robust security and data protection measures. All your email data is encrypted by TLS, and SendGrid also provides two-factor authentication to protect your account.
Why Should I Use SendGrid?
SendGrid is one of the most powerful email solutions out there. It allows you to:
Send a high-volume email marketing campaign with ease.
Set up automated transactional mail.
Generate reports to monitor your email performance and deliverability.
Build powerful custom solutions with SendGrid API integrations.
Design responsive promotional emails that work on a mobile app as well as a desktop browser.
However, SendGrid does have some drawbacks. Check them out here.
Let's further explore how this SMTP provider can help you:
5 Key Features of SendGrid
SendGrid has a wide array of features to service various email marketing needs.
Here's a closer look at five of its main features:
1. Send Bulk Emails with High Deliverability Rates
Choosing SendGrid allows you to send massive email campaigns to your audience with ease.
All you need to do is create your email, choose the recipient list, and schedule your campaign. SendGrid can take care of the rest!
But wait … this is a common feature among most email marketing tools, like Amazon SES, Mandrill, or MailChimp. What makes SendGrid different?
The SendGrid email service provider can ensure an extremely high email delivery rate through a range of features such as:
Integrated email tests: SendGrid can help you test your promotional emails and email newsletters for spammy content and broken links with ease.
Spam testing: Spam testing allows you to test your scores via powerful spam filters to optimize your deliverability before sending your bulk emails.
Email validation: SendGrid's email validation API allows you to test your contact list for mistyped, inactive, or invalid emails. This helps you further improve your delivery rates by emailing to only verified email addresses.
Dedicated IP: The biggest downside of a shared IP address is that your sender reputation can be impacted by spammers using the same IP address. SendGrid allows you to use a dedicated IP address to avoid this issue.
2. Transactional Email Support
SendGrid also allows you to set up a transactional email easily for your online products or eCommerce sites.
What is a transactional email?
A transactional email is an automated email sent from a business to a customer. They are triggered by certain predetermined events — such as making a transaction.
Most transactional mail contains information about:
Account confirmation and registration.
Payment confirmation and receipts.
Updates to the user's account, such as password resets or changes to personal details.
Delivery and shipping notifications, etc.
As transactional mail is an email response to an action, customers usually expect these automated emails. This ensures that they usually have very high open rates — especially when compared to cold emails.

SendGrid allows you to automate your own transactional email easily via SendGrid's API or SMTP service.
3. Built-In Email Templates and Editor
With SendGrid, you have a variety of options when it comes to creating your promotional emails.
For a quick and easy solution, you can use SendGrid's built-in email template library to begin writing your draft. However, remember that personalizing emails for each recipient isn't just helpful, but essential to building better customer relationships.
If you prefer to build your emails from scratch, SendGrid offers an HTML editor, as well as a drag and drop editor to suit your needs.
These editors allow you to manage various details regarding your emails or email campaigns, including:
Intended audiences
A/B testing
The content and media included in the email
4. Robust Reporting
How do you know how well your emails are performing?
Traditionally, the only way to tell how well an email campaign performs is through actual replies and conversions. However, these metrics aren't enough to give you a detailed understanding of your email performance.
Luckily, an SMTP provider like SendGrid allows you to track your email performance real-time across several key metrics, such as:
Emails delivered
Unique opens and clicks
Bounce rate and spam reports
Unsubscribes
And more
This data helps you make sense of your marketing email statistics and improve your email marketing efforts.
Additionally, choosing the SendGrid platform allows you to:
Analyze your prospects with detailed audience insights.
Compare mailbox providers via its analytics.
Export your data as a CSV file.
Create custom reports through data exports.
5. Powerful Integrations and API
For maximum convenience, your SMTP service provider and app should be able to connect to the other computer software you use. This helps you remain productive across apps.
And the SendGrid platform supports tons of integrations with popular tools to help you centralize your marketing efforts.
Some of the supported tools for SendGrid integration include:
Zapier
Airtable
Twilio for SMS marketing
Google Cloud Platform
You can use the SendGrid integration to transfer data across various tools, set up reminders, automate simple email tasks, and more.
Additionally, SendGrid's robust SMTP API and web API allow you to set up custom integrations easily with an API key. This will help you service various business needs, from list management to email sending.
SendGrid Pricing
There are two plans listed on the SendGrid website (sendgrid.com): the Email API Plans and the Email Marketing plans.
Is SendGrid Free?
SendGrid provides a free Email API and a free Email Marketing plan that support a limited number of features. It offers 40,000 emails for the first month, then 100 emails per day.
SendGrid Pricing
Here's a detailed look at SendGrid's free and paid plans:
Email API Plans

(

Pricing

is an estimate before taxes and overages if you exceed sending limit.)

Free plan:

40,000

emails

for the first month, then 100

emails

/day +

API key

,

SMTP relay

and

webhooks

+ delivery optimization + dynamic template editor.
Essentials plan:

includes all "Free" features + live chat

customer support.
40K:

$14.95/month — 40,000

emails

/month.
100K:

$29.95/month — 100,000

emails

/month. 
Pro plan:

includes all "Essentials" features + Email validation +

dedicated IP

+

subuser

management + phone

customer service

from

SendGrid support.
100K:

$89.95/month — 100,000

emails

/month.
300K:

$249/month — 300,000

emails

/month.
700K:

$449/month — 700,000

emails

/month.
1.5M:

$749/month — 1,500,000

emails

/month.
Premier:

Custom

pricing

(get in touch with the sales

support team

) — includes all "Pro" features +

customer

success manager + prioritized

customer support.
Email Marketing Plans

(

pricing

is an estimate before taxes and overages if you exceed sending limit).
Free plan:

2000 contacts + 6000

emails

/month + segmentation + A/

B testing

+ 1 signup form (no

credit card

required).
Basic plan:

includes all "Free" features except

marketing automation

+ 5 signup forms +

SendGrid support

via chat.
5K

: $15/month — 5,000 contacts + 15,000

emails

/month.
10K:

$25/month — 10,000 contacts + 30,000

emails

/month.
20K:

$50/month — 20,000 contacts + 60,000

emails

/month.
50K:

$120/month — 50,000 contacts + 150,000

emails

/month.
100K:

$200/month — 100,000 contacts + 300,000

emails

/month.
Advanced plan:

includes all "Basic" features +

marketing automation

+

dedicated IP

+

customer support

via phone.
10K:

$60/month — 10,000 contacts + 50,000

emails

/month.
20K:

$100/month — 20,000 contacts + 100,000

emails

/month.
50K:

$250/month — 50,000 contacts + 250,000

emails

/month.
200K:

$900/month — 200,000 contacts + 1,000,000

emails

/month.
The 2 Main Drawbacks of SendGrid
Now that we've seen how choosing SendGrid can help you, let's take a look at some areas where SendGrid falls behind.
1. Basic Plans Lack Key Features
SendGrid features flexible pricing plans over several tiers that offer a variety of features. However, the Free and Basic plans of this SMTP provider lack several essential features for most businesses.
For example, these plans do not support:
Marketing automation for more than 6,000 emails per month.
Multiple-user access and sub-users.
For these, you need to go for the Advanced plan, which starts at $60/month and increases in price according to the number of emails or contacts you need. This could be unaffordable for a startup or small business.
2. Interface Isn't User-Friendly
For new users, the SendGrid interface can often be confusing and complicated to use.
Why?
This is because several features aren't visible at first glance, and can only be found by sifting through various menus.
Due to the complexity of the user interface, email management may take additional time and effort that your employees could have used for other tasks!
Do these drawbacks sound like a deal-breaker for you?
Here's an easy way to overcome the SendGrid drawbacks and enhance your email experience:
How to Make the Most of Your SendGrid Account
Although SendGrid is a great tool, it has a few drawbacks that can impact your email performance. Luckily, GMass can help you solve these easily!
What Is GMass?
GMass is a popular email marketing software service that allows you to manage all your email needs from within your Gmail inbox. Its powerful features are used by employees from companies like Linkedin, Google, Uber, and Twitter.
But GMass isn't just for huge firms or social media giants!
Individuals, a startup, or even a church can use GMass to send email campaigns easily to their audiences.
GMass helps you:
Send massive email campaigns via SendGrid from within Gmail.
Automatically personalize each marketing campaign.
Schedule emails and follow-ups with ease.
Analyze your performance via powerful reports.
The best part?
It's super easy to get started using GMass.
Just download the Chrome extension to send your marketing campaign easily!
How Does GMass Differ from SendGrid?
GMass is an email outreach tool that works with Gmail — your email service provider — to enhance your email marketing processes. GMass is not an SMTP service, which means that it can't send your emails by itself.
On the other hand, SendGrid is an SMTP service with email marketing features. SendGrid helps you send emails without an email service provider. As regular email service providers like Gmail have low daily sending limits (500-2,000 emails/day), using an SMTP service like SendGrid enables you to send bulk emails that surpass this limit.
How GMass Works with SendGrid
Most email outreach tools are limited by the server sending limits of the email providers. For example, in Gmail, it's 500 emails/day for a free account and 2,000 emails/day for G Suite accounts.
However, this isn't the case with GMass.
GMass can integrate with your SendGrid account to bypass the Gmail mail server sending limit and send unlimited emails via the SendGrid SMTP server.
This way, GMass allows you to combine the mass emailing capabilities and high deliverability of the SendGrid server with the ease of use and familiarity of the Gmail interface.
Worried that setting up GMass with your SendGrid account is extremely complex?
Luckily, the process is actually super easy.
All you need to do is tweak some settings in your SendGrid account to allow GMass to send your emails via the SMTP server, verify your MAIL-FROM address and send a single email to configure GMass.
Click here for a detailed step-by-step guide to take you through this process.
How GMass Can Overcome SendGrid Drawbacks
Using GMass allows you to overcome the main drawbacks of SendGrid in an easy and affordable manner.
GMass Provides Key Features That Basic SendGrid Plans Lack
Through GMass, you can easily set up follow-up, scheduling, and email automation for as many emails as you want. Additionally, unlike SendGrid, GMass offers Team plans that support unlimited emails!
This lets multiple marketers from your marketing team access your email marketing tool and take advantage of the SendGrid SMTP relay and MTA (Mail Transfer Agent) with the Basic SendGrid plan.
GMass Lets You Use SendGrid with the User-Friendly Gmail Interface
By working within your Gmail account, GMass further helps you bypass the complexity of the SendGrid user interface. For most of your email management needs, the GMass features offered within your Gmail inbox are more than enough!
This way, GMass works with SendGrid to create the perfect tool for all your email marketing needs.
Here's a closer look at some other GMass features:
Key Features
A. Advanced Reporting
GMass automatically generates powerful campaign reports so you can track your email performance without having to leave the Gmail interface. These provide detailed stats and metrics, like unique opens, unsubscribes, the bounce rate, and more.
B. Powerful Personalization Feature
To reduce the chances of your emails ending up in the spam folder, you need to personalize your mass email campaigns.
GMass supports powerful and easy automation to personalize tons of emails in no time.
You can customize almost every aspect of your email via the GMass personalization feature, from personal details to custom images and links, etc.
C. Easy Scheduling
GMass allows you to schedule emails for individual recipients to optimize open rates.
All you have to do is draft your email message and schedule the sending time and date for sending it. GMass will automatically send the email when the time comes, even if you're offline.
D. Follow-Up Automation
GMass helps you automate your follow-up messages in advance.
You can personalize several aspects of these messages, including the trigger to send the follow-up email and the number of follow-up emails you send, etc.
GMass Pricing
GMass is one of the most affordable email marketing tools available, with the greatest value for your money. Here's a quick look at the pricing tiers for every company size:
Free plan: includes all features and supports tracking for up to 50 free emails/day.
Individual plans:

Minimal plan: $8.95/month – includes all features except auto-follow up emails + provides tracking for unlimited emails.
Standard plan: $12.95/month –  removes the GMass footer from emails and offers all "Minimal" features.
Premium plan: $19.95/month – offers all "Standard" functions + follow-up with automated emails.

Team plan:

Premium plan: starts at $89/month for a team of five members – supports all perks and features.
Conclusion
To take your email marketing to the next level, an email marketing tool like SendGrid is vital.
However, as you've seen in most SendGrid reviews, the SendGrid platform does have its own downsides. For example, the basic plans lack key features, and the user-interface can be complex to navigate.
Luckily, GMass is the perfect solution to enhance your email performance via SendGrid and overcome these drawbacks.
So why not sign up for GMass today and perfect your email experience?
Ready to

transform Gmail

into an email marketing/cold email/mail merge tool?

Only GMass packs every email app into one tool — and brings it all into Gmail for you. Better emails. Tons of power. Easy to use.

TRY GMASS FOR FREE

Download Chrome extension - 30 second install!
No credit card required
Love what you're reading? Get the latest email strategy and tips & stay in touch.