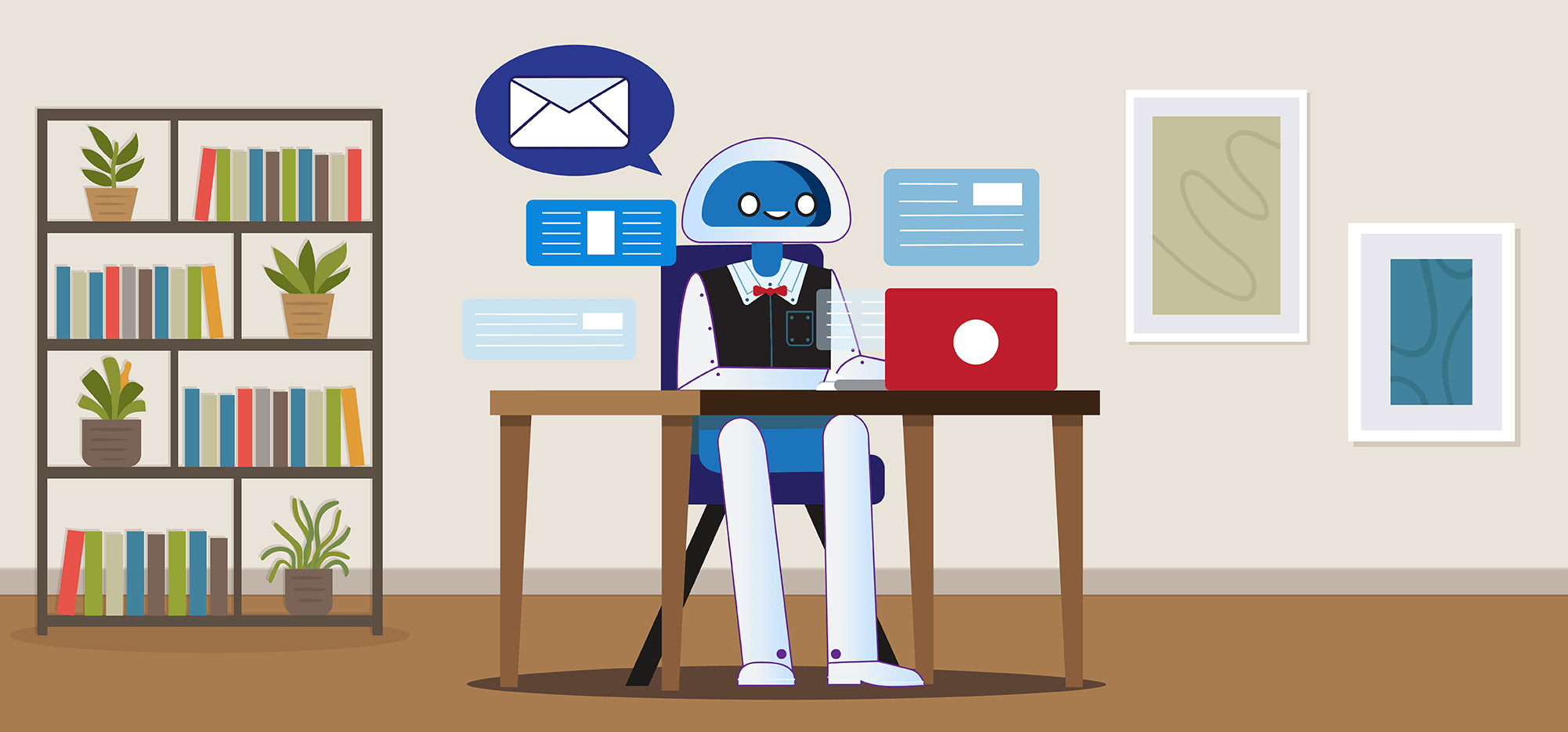 AI email replies are here — and there's a whole new wave of ChatGPT-based Chrome extensions available to write 'em.
Replying to email is a logical early stop on this "AI everywhere for everyone" train. After all…
It's a writing-based problem.
No one enjoys replying to email.
It's a giant time suck where you wind up with little to show for it.
We're all guilty of letting emails pile up in our inboxes because we don't want to deal with them.
And most email replies don't require brilliant, tightly-crafted, high-level writing — so we're good with letting a machine take the reins.
Here at GMass we've already covered at length the ways ChatGPT can (and can't) help you with writing your cold emails. Now let's see what it can do for your replies.
BIG NEWS! At GMass we've now launched our own tool for fast replies to emails (with the option to use ChatGPT, of course). Reply to your emails 10x faster with The Reply Project.
I personally tested nearly a dozen of the AI- and/or ChatGPT-based email reply Chrome extensions in the Chrome Web Store.
Here are my recommendations for the ones you should use to speed up your journey to inbox zero. (Or, at least, cut down on your daily busy work.)
AI Email Replies: Table of Contents
The Four Essential Criteria for Judging an AI-Based Email Reply Tool
Here are the four criteria I used as I judged these AI/ChatGPT email reply tools.
1. Will this tool actually save me time?
The stated value proposition of each of these tools is that it will save you time. But… will it? If I have to write detailed prompts, run the AI multiple times to get a viable response, and/or edit the output because the AI doesn't get it right — have I saved time? Nope.
So I'm looking for a tool that's fast, incorporates seamlessly into my workflow, requires minimal prompting, and generally nails its output the first time.
2. How's the AI writing quality?
I'm putting my name on whatever this AI writes. So does it sound good, or does it fall into the common current AI trap where the writing sounds like a high school kid trying to stretch out a term paper to hit a certain word count?
3. How's the user interface and user experience?
Do the Chrome extension's buttons or other elements fit smoothly into the Gmail interface? How easy and intuitive is it to use? How many (or better yet, how few) clicks will it take to get my response?
4. What will it cost me?
How is the pricing model set up for the tool? Do I get a certain number of free uses per day or month or is it paid? If it's paid, is it reasonable? If there's a free plan, what's the tradeoff (most important, will they force me to add their branding to every email I send — because that's a deal breaker)?
With those criteria in mind, here are our picks for the best tools currently on the market. Though at the current rate of development, by the time I finish typing this sentence, a new tool will probably come out.
The 5 Best AI and ChatGPT Email Reply Chrome Extensions
For my evaluation, I used each of these tools write a reply to a cold email inquiry I received. I wanted the response to turn them down in a polite-yet-firm manner.
Ellie – easy to use and the highest-quality writing — but it'll cost you
Ellie adds a row to the top of the Gmail reply window: three tone buttons, interested/not interested buttons, and a dropdown box to add extra context to your reply.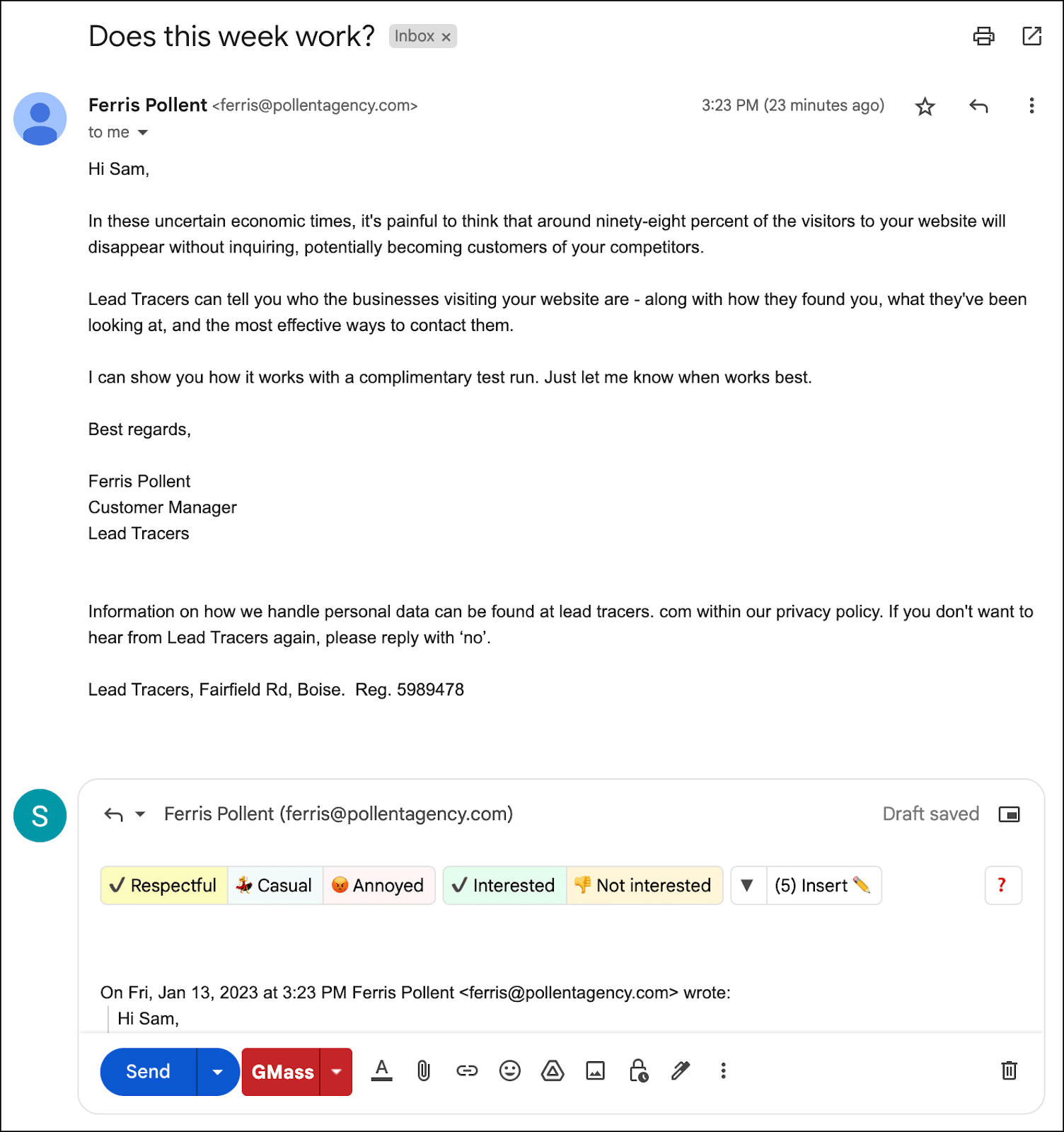 I chose "casual" and "not interested" for my response to this email. Here is the output.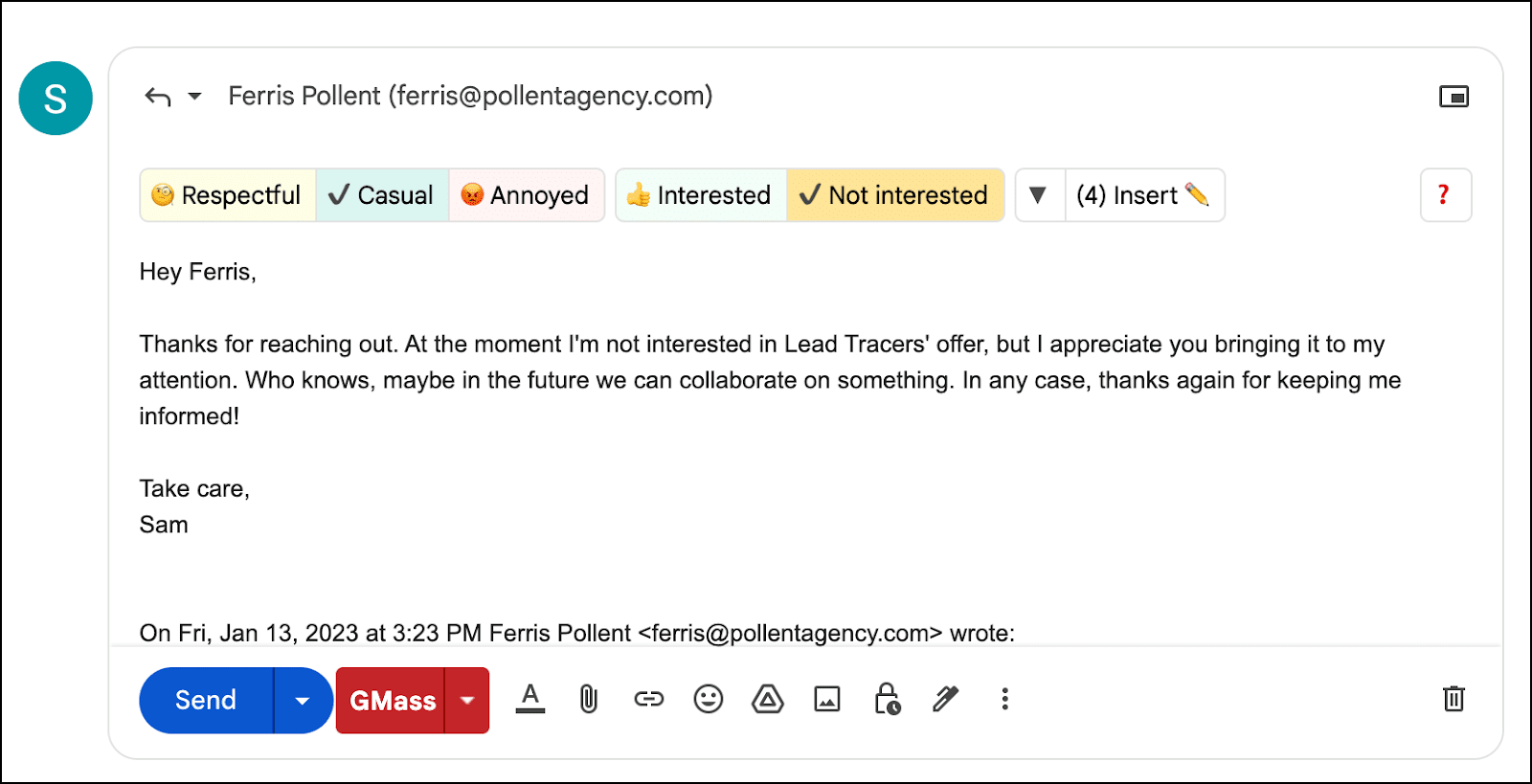 Of all the products I tested, Ellie's output consistently felt like the best and most "human" writing. (The reply above, for instance, is almost exactly what I would write if I were typing this myself.)
You can also highlight any sentence in the email and click the revise button the pops up — Ellie will take another crack at that sentence.
But… each revision counts against your daily Ellie quota, which brings me to the big downside.
Ellie is one of the most expensive options available. The free plan offers 2 emails per day. It's $16/mo for just 10 replies per day and $29/mo for 100 replies per day. If you want more than that, it's the dreaded "Contact us" situation.
And remember, those quotas don't include revisions. So if you have it write an email then revise it five times, that's six of your daily emails gone. I feel like I'd have quota anxiety if I were trying to use Ellie as part of my daily workflow, even with the 100 emails/day plan.
Compose AI – best free option
Compose AI is a Y Combinator company that's taken funding and has the biggest current user base at 50,000+ Chrome extension downloads.
Its functionality extends beyond one-click email replies (though it has those). It also composes new emails based on prompts, adds autocomplete suggestions to text input fields on most websites, and can rephrase your writing or its writing.
I'm going to focus on the reply feature here to keep our comparison consistent.
Compose AI adds three options at the bottom of an email to generate one-click replies.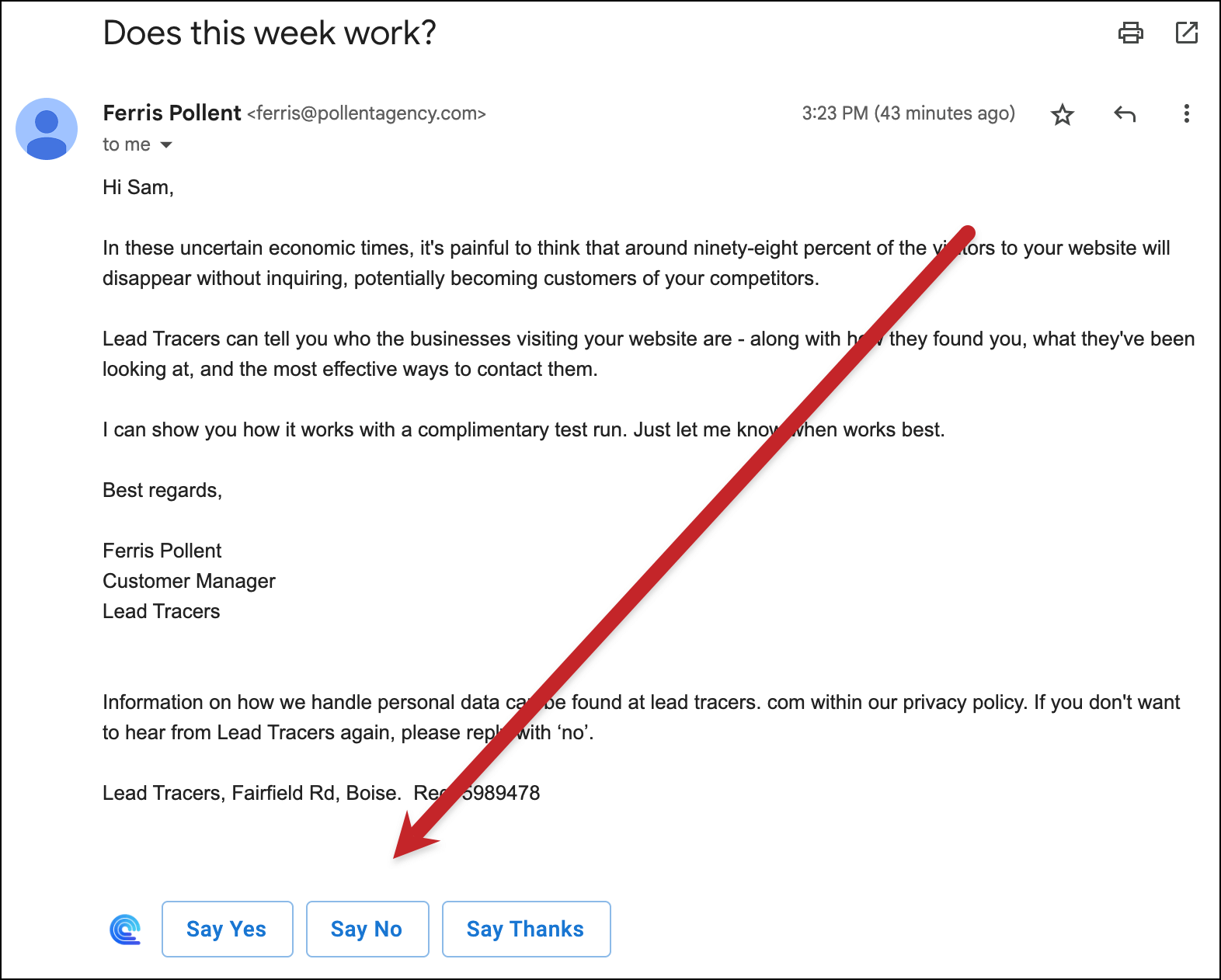 Here's the output. (They've added that blue dot with way, way too much drop shadow as a way to access their menu.)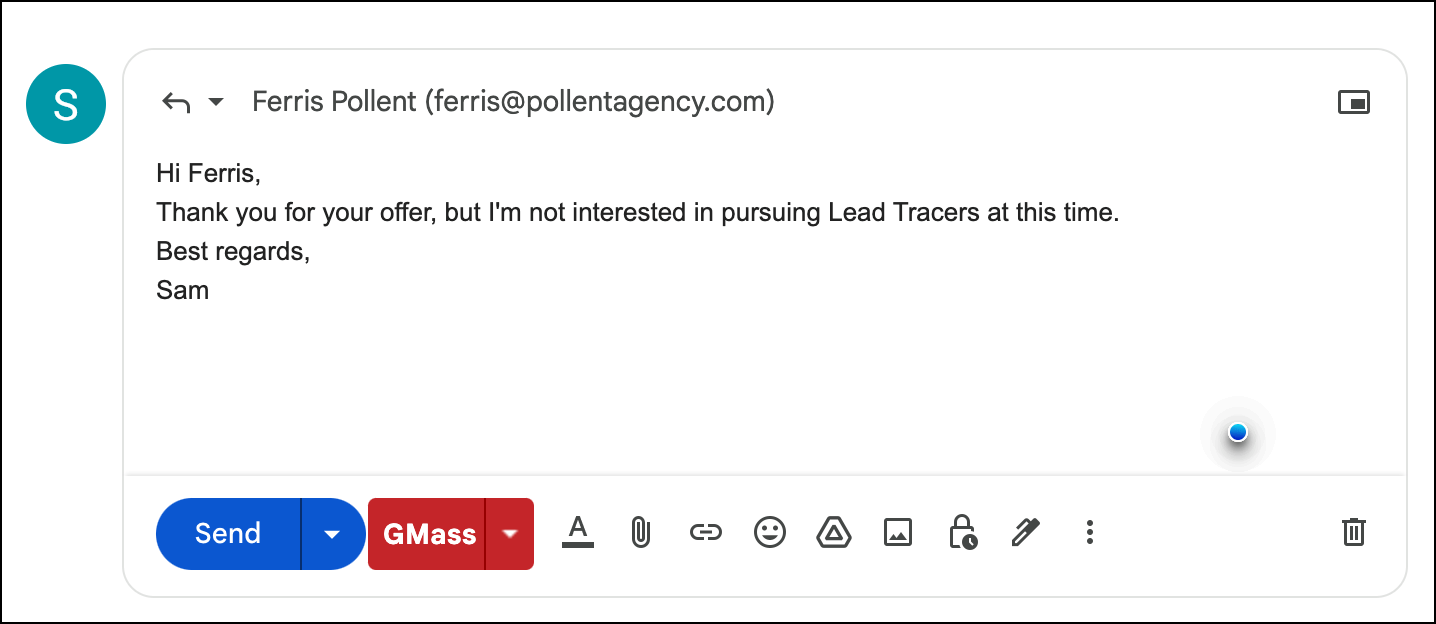 And when I highlight text I get options to rephrase, change the tone, lengthen, or shorten.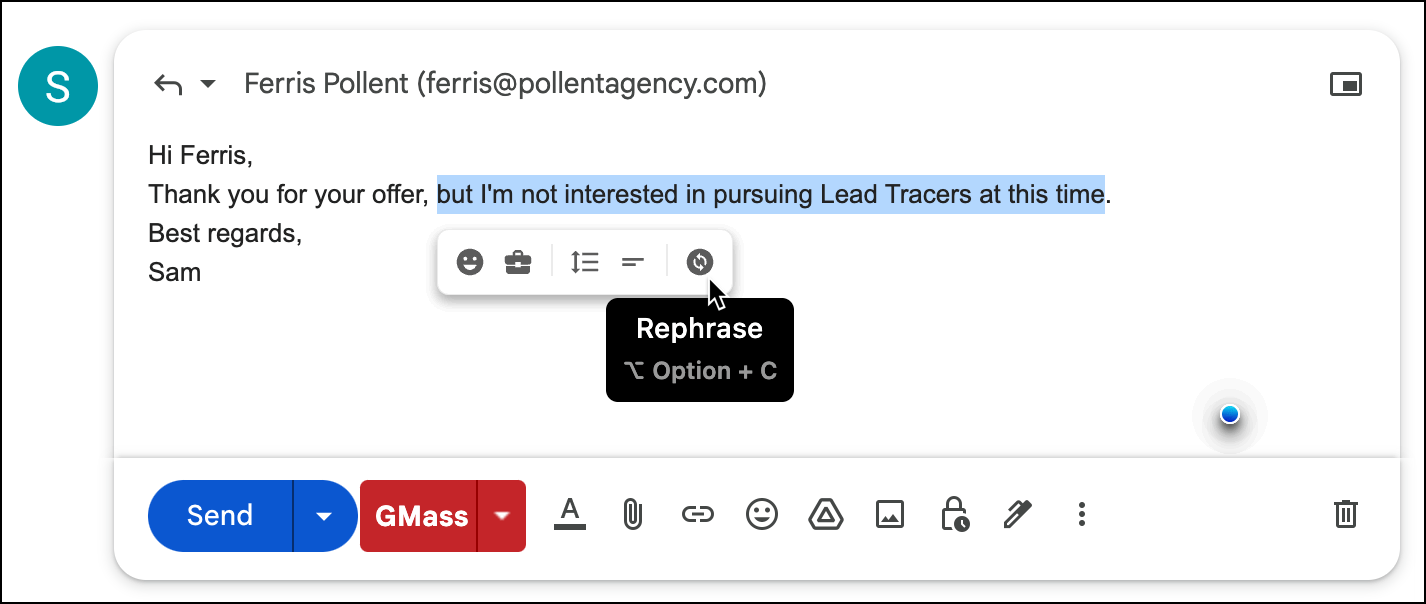 Compose AI's writing quality wasn't amazing but I have plenty of options to fine-tune it. (Then again, if I'm spending lots of time fine-tuning, it's no longer saving me time, right?) The interface isn't great but a little design work could improve that overnight.
The biggest advantage? Compose AI is completely free. At least for now. The company is venture funded, so someone's going to have to pay for something at some point. We have no idea what the business model will turn out to be. But there will be some business model involved eventually.
Remail – a big time saver for one-line responses
Remail is my pick for the biggest time saver. It adds three buttons to Gmail: Positive, Negative, or Custom Response (where you type a short prompt). It's the fastest tool to generate lots of possibilities.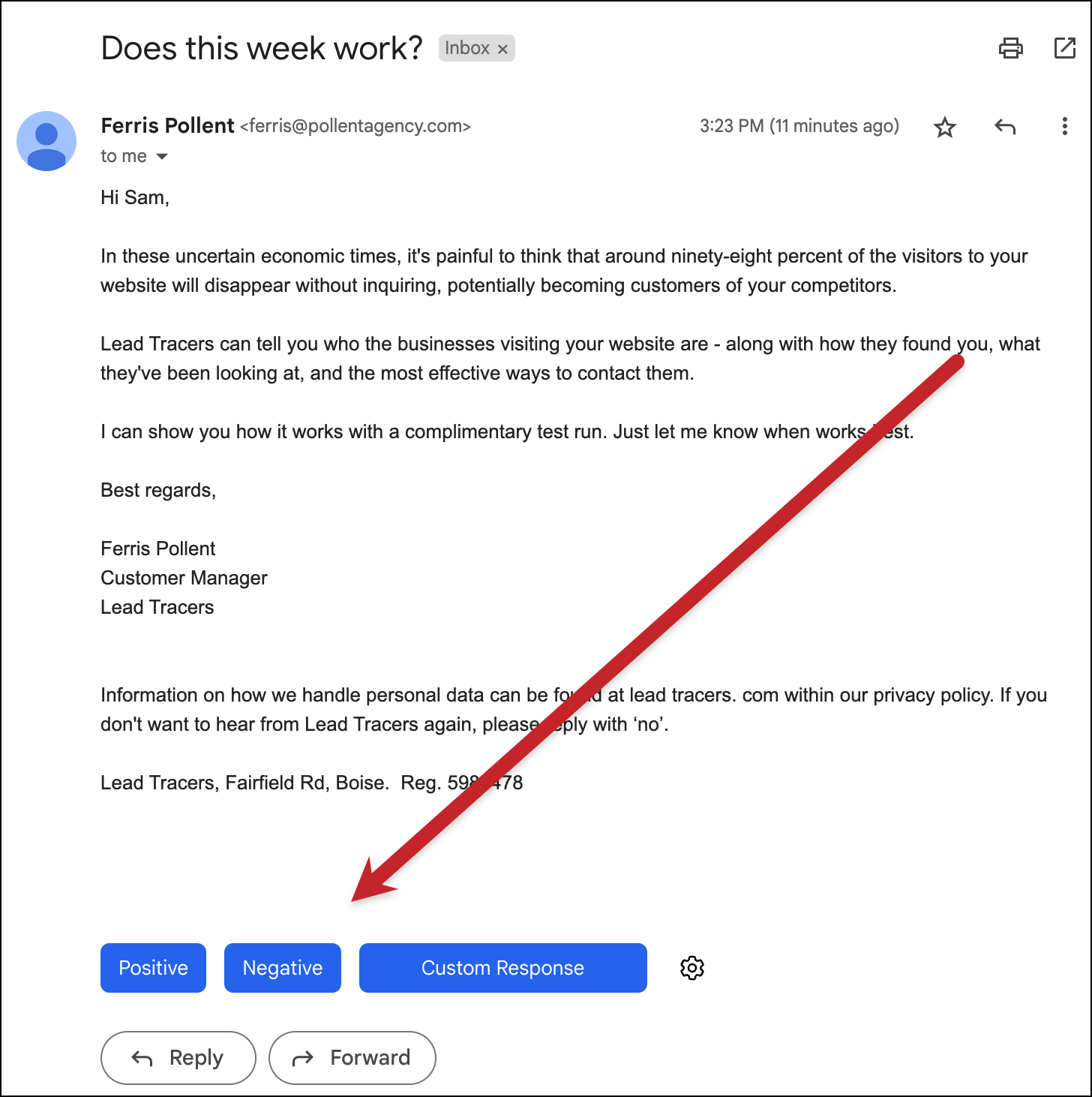 It returns three possible replies and it's easy to refresh it to generate three more.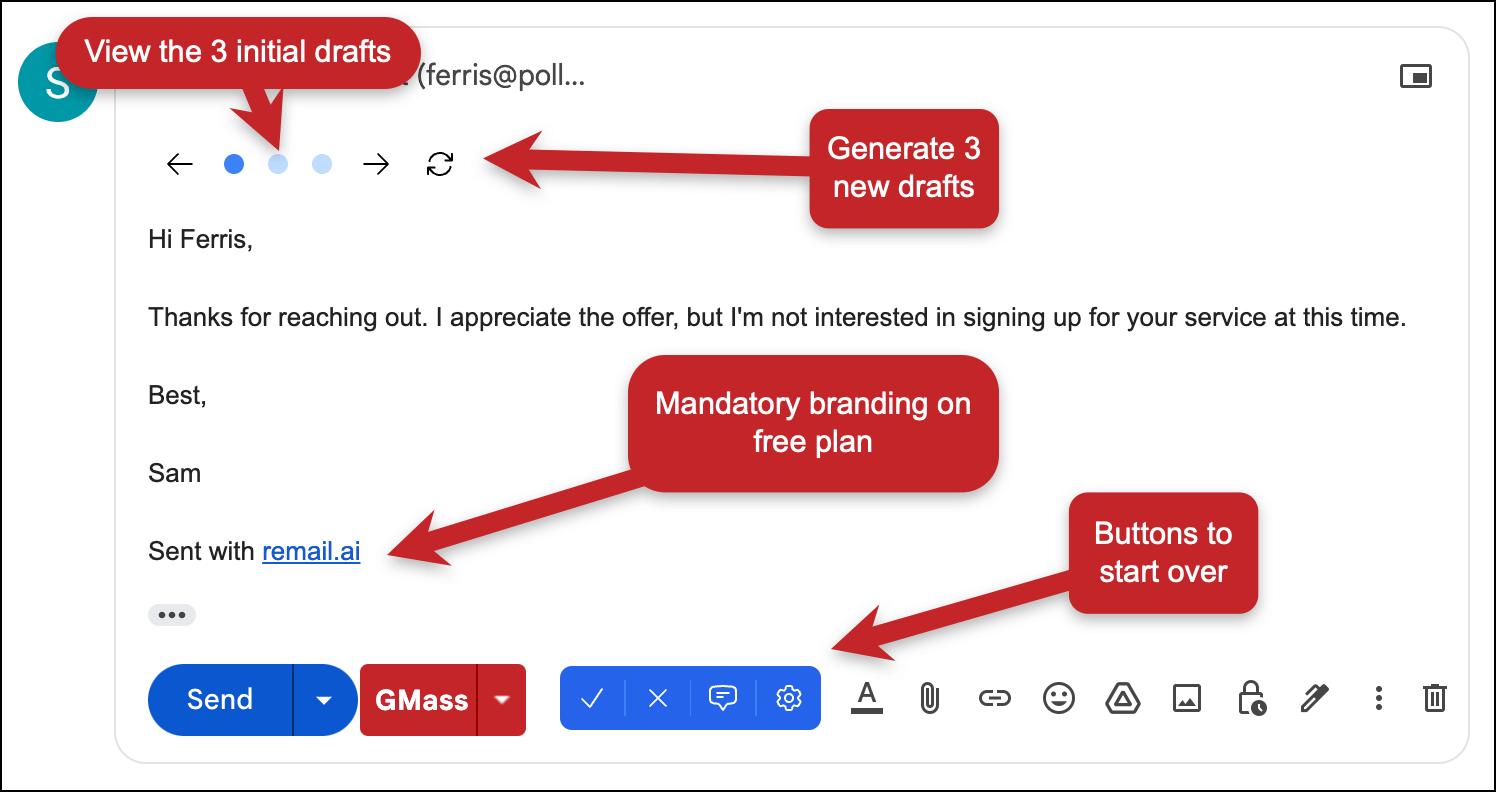 The quality of the writing is fine. The responses were extremely short, but most of us send short email replies anyway. This tool wouldn't be useful for any replies requiring much more than a quick yes or no.
There's a free plan with 50 emails and limited features (and yes, it forces Remail branding into the emails). There's a low-cost starter plan at $5/month for 100 total emails… a pro plan which is $19 for 500 emails/month… and pro plus for $49 for unlimited emails. The two pro-level plans also offer features like scheduling, choosing a tone, and having the tool auto-draft replies without you even clicking.
Although this pricing isn't all that different from Ellie's I like the option for the unlimited plan. It would eliminate any quota anxiety. And if I were a high-volume emailer who needed a tool like this to significantly speed up my workflow, $49/month for unlimited use would be worthwhile.
ChatGPT Writer – a free option that brings ChatGPT into Gmail (with limitations)
If you've gotten comfortable with using ChatGPT and want to bring it directly into Gmail, ChatGPT Writer is the extension to do just that. (In fact, you'll need to use your own ChatGPT login credentials with the extension.)
When you use this extension for replies it feeds the entire initial email into ChatGPT and you give it a prompt for the reply.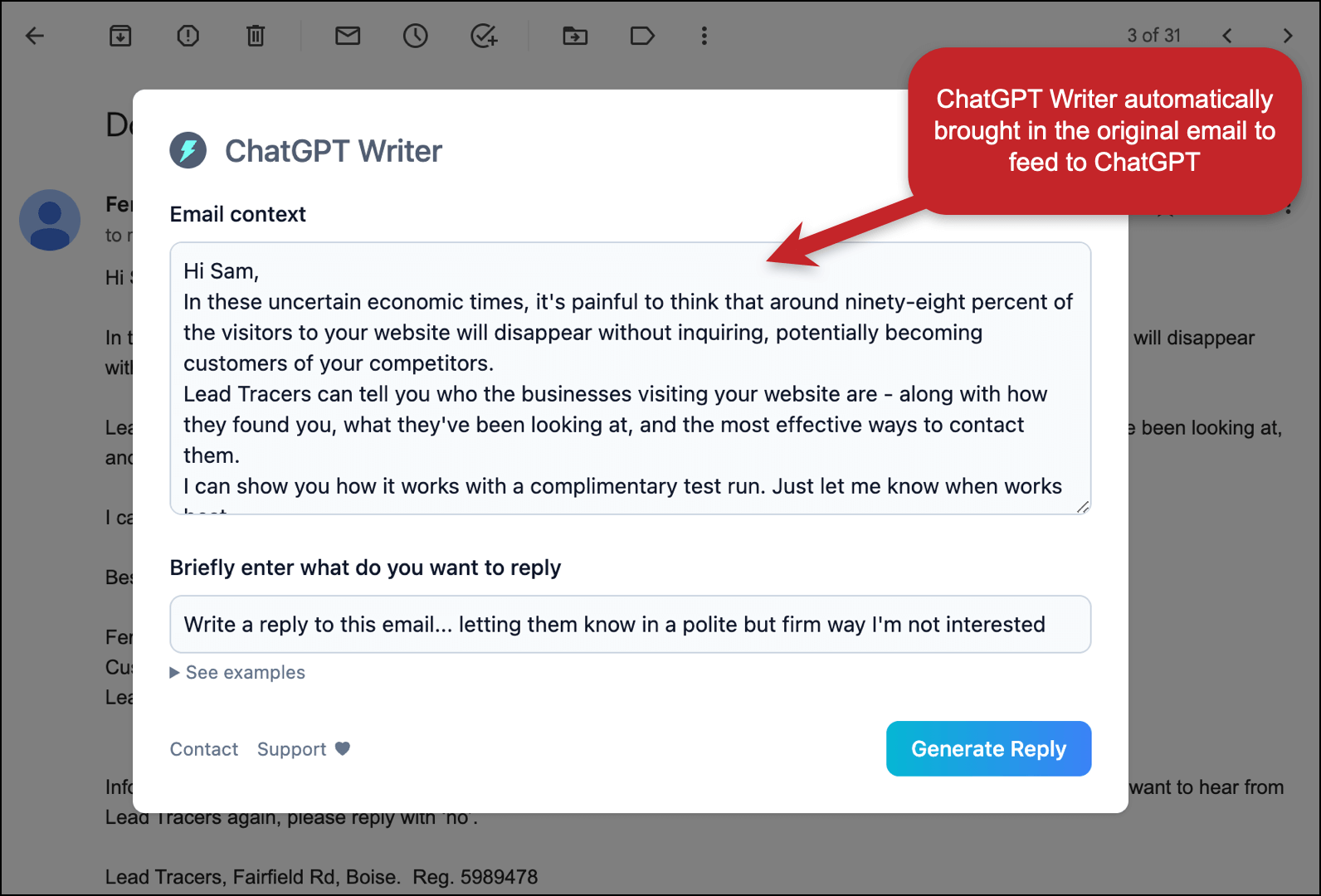 Here's the output. If I like it, I can click the purple/orange button to insert the output into the Gmail reply window.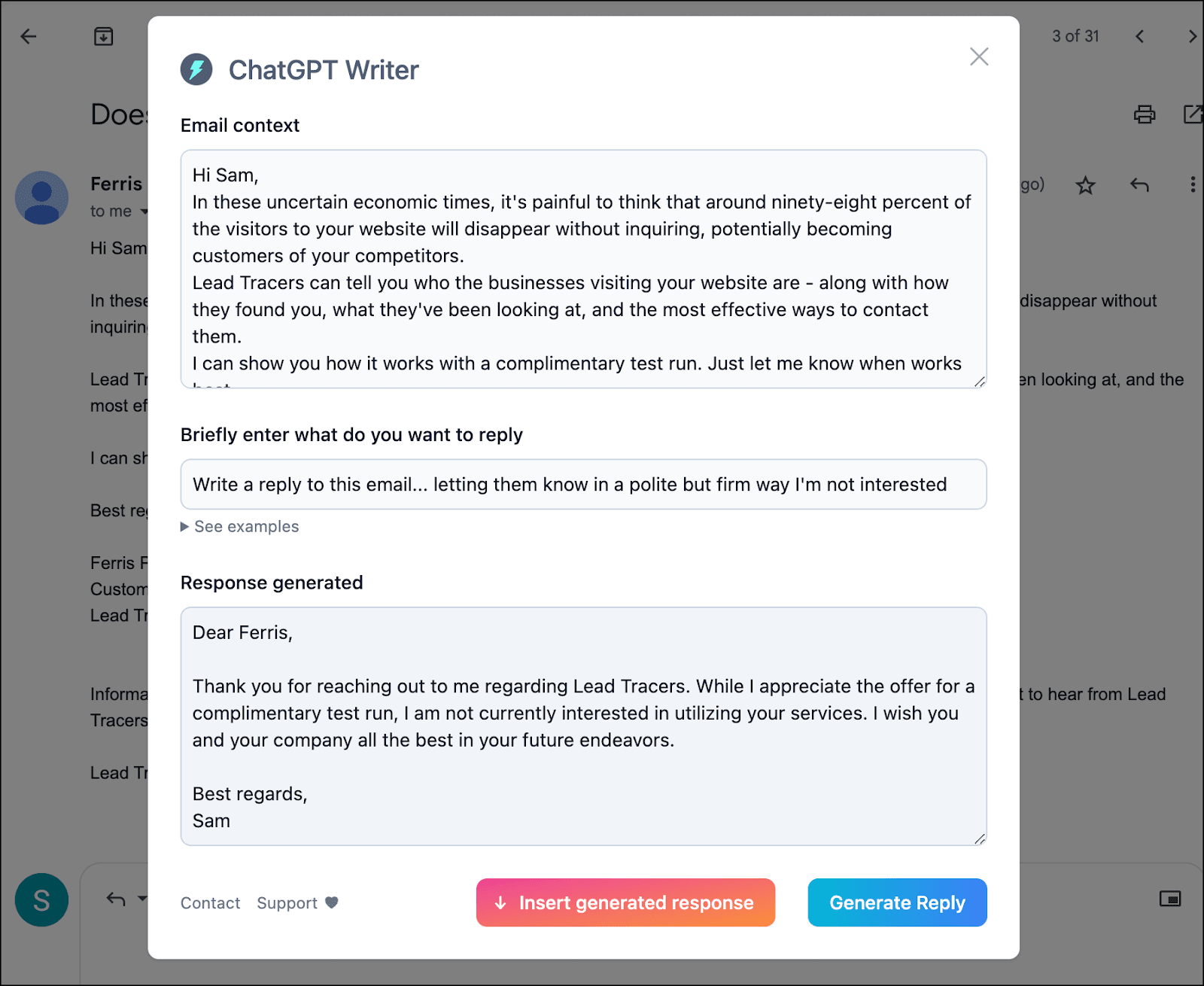 And since it's ChatGPT, you can run wild with the prompts…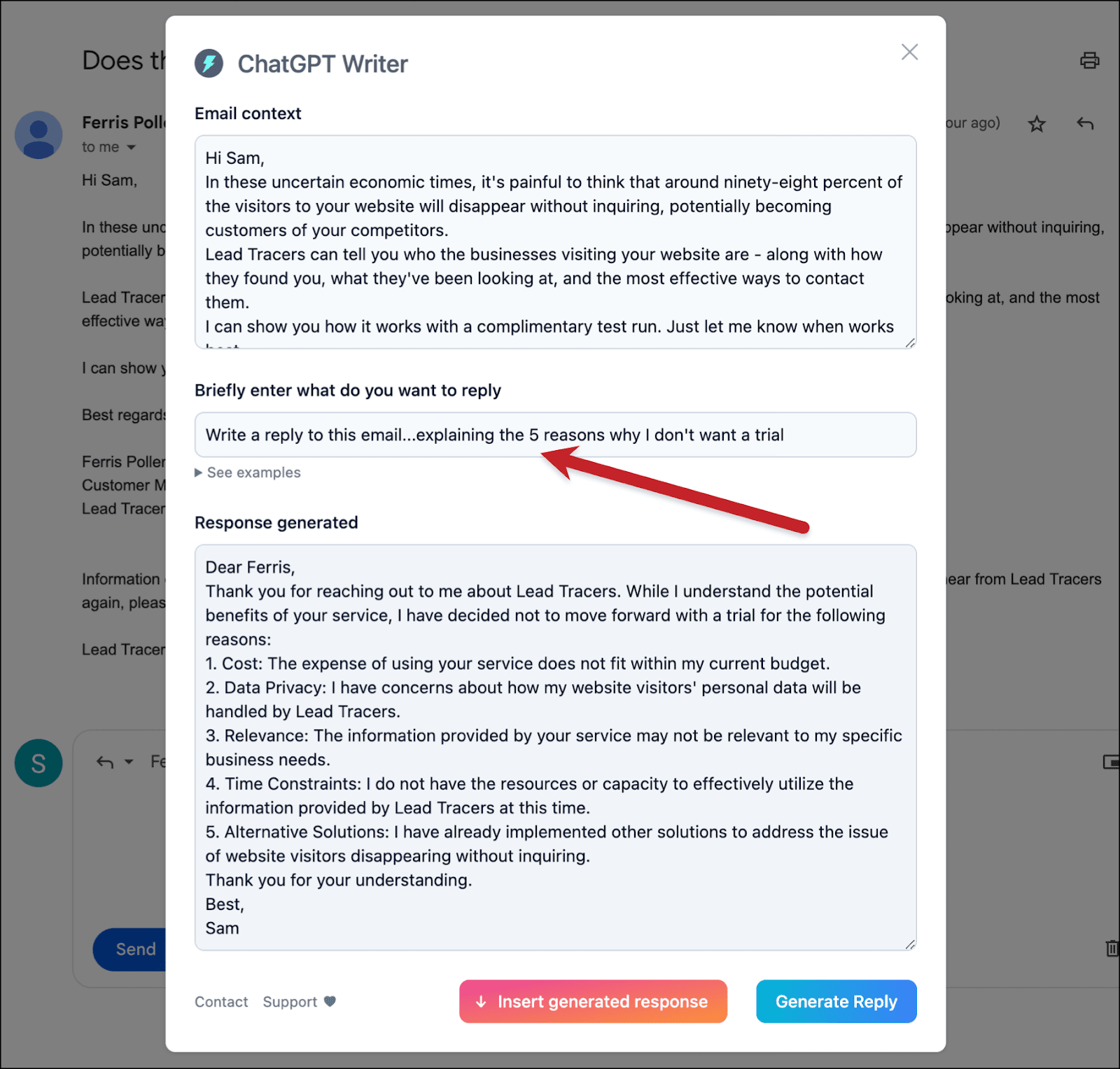 The upside here is you can write much longer responses than with many of the other AI reply tools. This extension is also free for now (as long as ChatGPT remains free, that is).
The biggest downside here is it's a one-time interaction with ChatGPT. If you've been using ChatGPT, you know the best way to get the output you want is to talk back and forth with it, refining your results. You can't do that with this extension; it won't refine its output, it will only generate brand new independent drafts.
For instance, in that list of five reasons above, I don't have the option to say "replace number 5 with a different reason." I'd just have to generate five new reasons from scratch. So I'm missing out on one of the best aspects of the ChatGPT experience with this extension.
The other downside is ChatGPT's capacity limitation. I would've published this article several hours ago but I needed to wait until the middle of the night before ChatGPT finally had the capacity to let me in. So if I wanted to use this as part of my daily workflow, I'd probably run into regular capacity issues.
Email Triager – a different approach worth keeping an eye on in the future
Email Triager takes a different approach to the idea of saving you time through AI email replies than all the other products in this article. And the approach is intriguing enough that it's worth keeping an eye on.
I say "keeping an eye on" and not "trying it out"… because as of now, Email Triager is in a closed beta. I applied to join about two-and-a-half weeks ago and haven't received an invite yet. But from what I can see in their demo, I want to give it a shot.
With Email Triager, you set up automations in advance. For instance, you could tell Email Triager any time an email asks if someone can buy a link on your website, respond to say no. Or, as they've done in their demo, create an automation to handle coffee invites.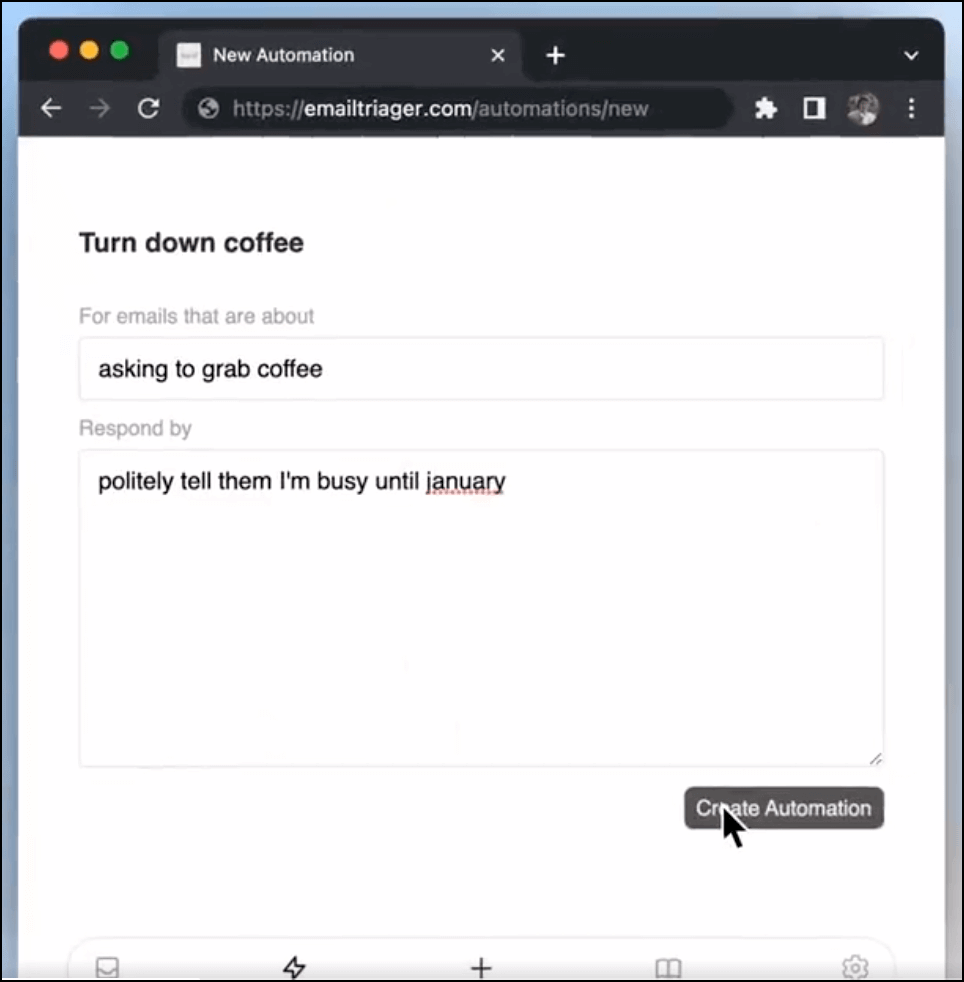 And then… Email Triager monitors your email and when it sees a message that matches your criteria, it automatically writes a draft of a reply.
So the next time you go into your email (including on mobile), many of your emails will already have AI-written replies ready to go.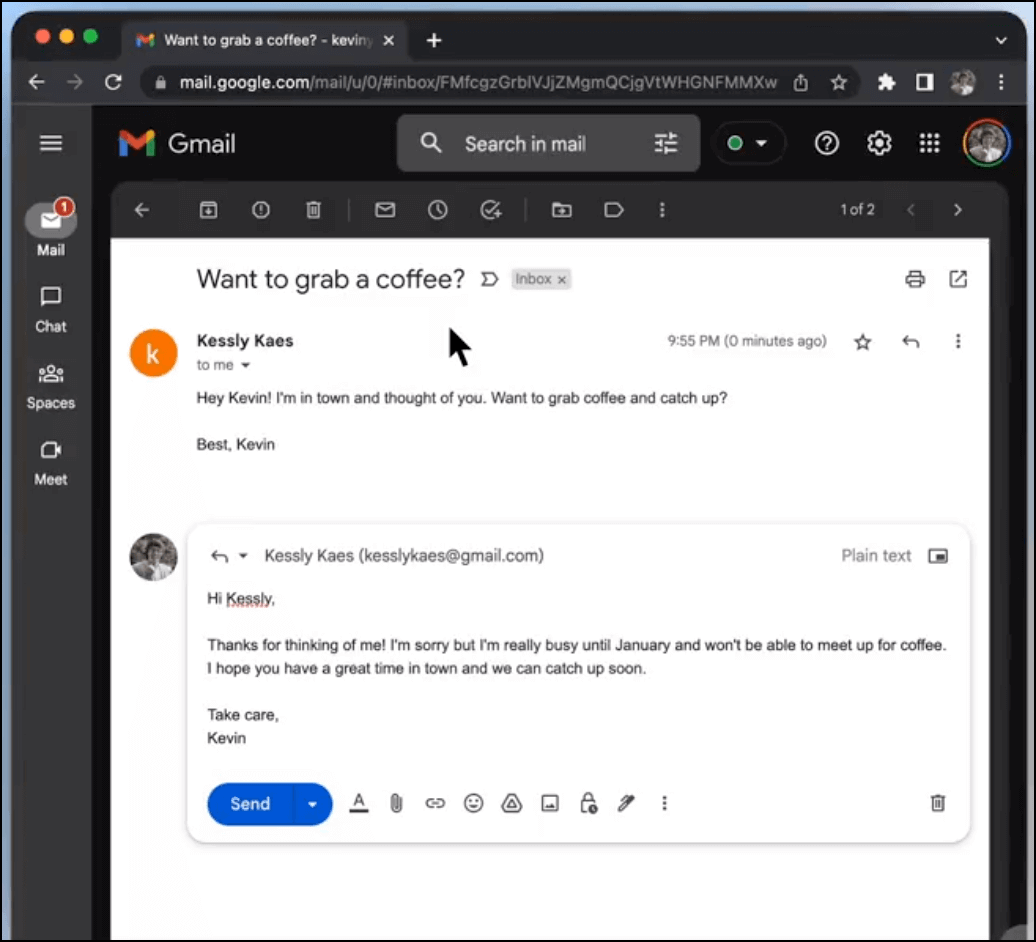 This could be the biggest time saver of this whole list if it works as intended. Take about 10 minutes to set up a bunch of automations and it will handle the rest from there.
The Reply Project – use ChatGPT and templates to blaze through your inbox
At GMass, we've always been deeply focused on trying to figure out ways to make email work faster and easier. One of the core principles of the GMass Chrome extension was to make it as fast and easy as possible to send email campaigns through Gmail.
Our newest project has been trying to figure out a way to speed up the entire process of replying to emails.
We were all tired of spending an hour (or more) every day responding to messages. And we hear from GMass users all the time about how much time they're wasting on replying to emails.
Which is why we created The Reply Project.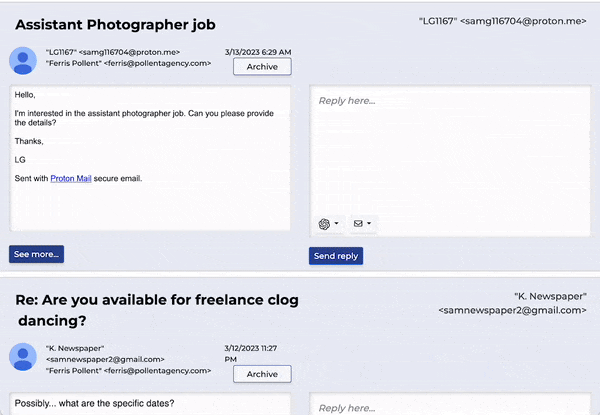 You log in with your Gmail account.
Then you'll see all your emails open on one screen (no need to open them one by one).
You can write quick replies in the reply box next to your email. Or, use your own templates or ChatGPT for even faster responses.
We've found we can now reply to our emails 10x faster than before using The Reply Project.
And… it's free.
Other Chrome extensions I evaluated (or tried to evaluate)
AI Email Replies: Which Chrome Extension Is Right for You?
The good news: We are officially at the point where you can turn over your email reply duties to AI.
The bad news: There's no one Chrome extension that's clearly head and shoulders above the rest yet. So you'll need to weigh the options to figure out which of these products best fits your needs.
If you're looking for…
High-quality writing, speed, and ease of use and don't mind a higher price and low quotas, you'll be best off with Ellie.
A free option with decent output, you should go with Compose AI.
A big time-saver for knocking out lots of one-line responses and don't mind paying for it, go with Remail.
Longer and more detailed email responses and don't mind writing long prompts, go with ChatGPT Writer.
And if you want to respond to your emails 10x faster than before, check out how we've reimagined the email writing process with The Reply Project.
We'll do our best to keep this list updated as new products hit the market and these current Chrome extensions add new features and evolve.
Things are moving fast in the AI and ChatGPT tools space right now, which means you can expect to see plenty more of these tools to come.
And you can expect some that will take unexpected and different approaches to solving the problem of the time we all spend replying to email.
And hey, regardless of which one you choose, it's always a good idea to send your messages by hitting the GMass button, not the send button. That way you'll get email tracking and analytics on every single reply you send.
You know, so you can see if someone opens the message you (and the robots) put all that hard work into.
Ready to

transform Gmail

into an email marketing/cold email/mail merge tool?

Only GMass packs every email app into one tool — and brings it all into Gmail for you. Better emails. Tons of power. Easy to use.

TRY GMASS FOR FREE

Download Chrome extension - 30 second install!
No credit card required
Love what you're reading? Get the latest email strategy and tips & stay in touch.