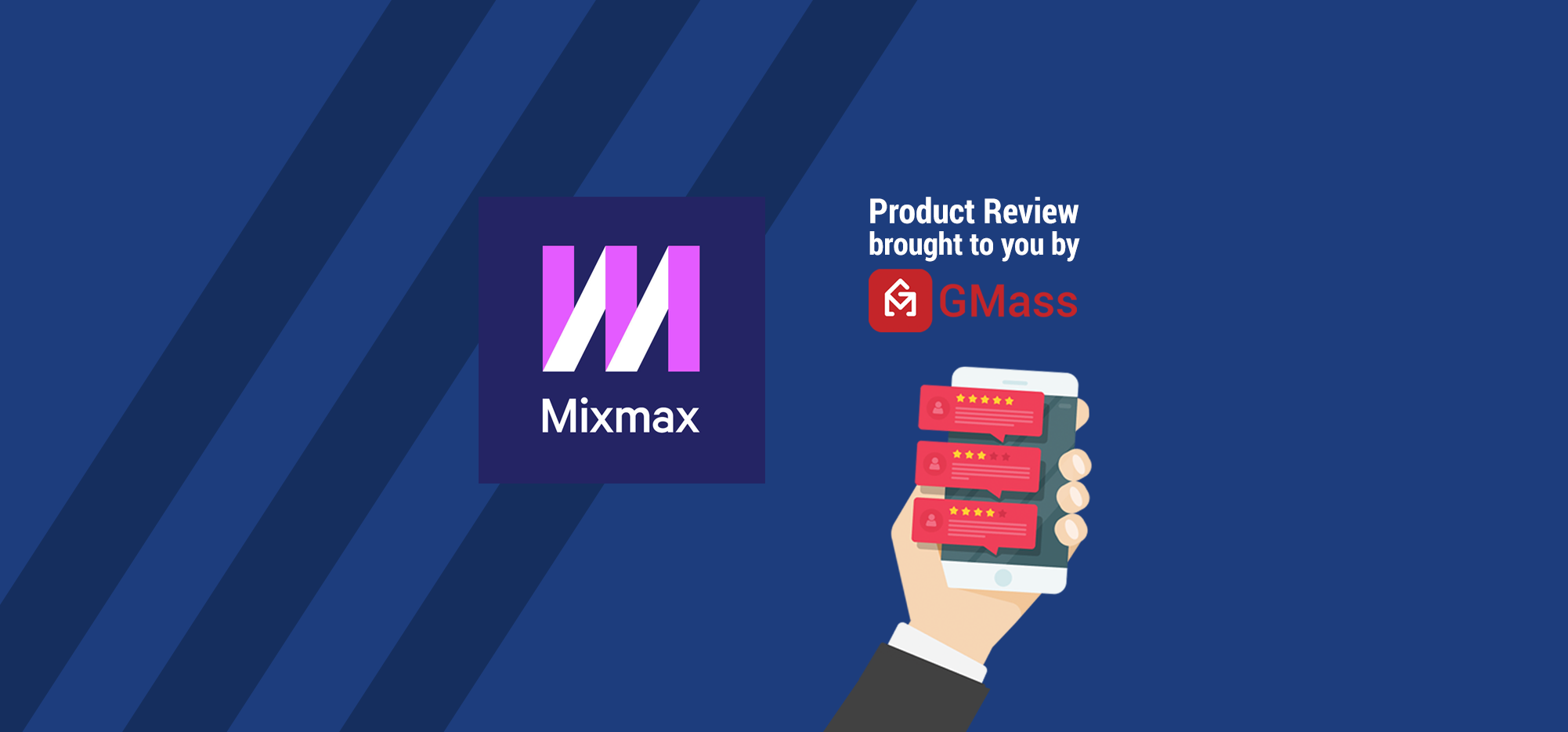 Is Mixmax the right email outreach tool for you?
This Mixmax Review and Mixmax pricing guide will help you decide if it's a good fit for your email campaigns.
I'll go over its features, drawbacks, and pricing to give a better picture of what it can do for you. I'll also cover the best Mixmax alternative to handle all your email outreach needs.
Here's what this article contains:
(Click on the links to jump to a specific section)
Let's get started.
What Is Mixmax?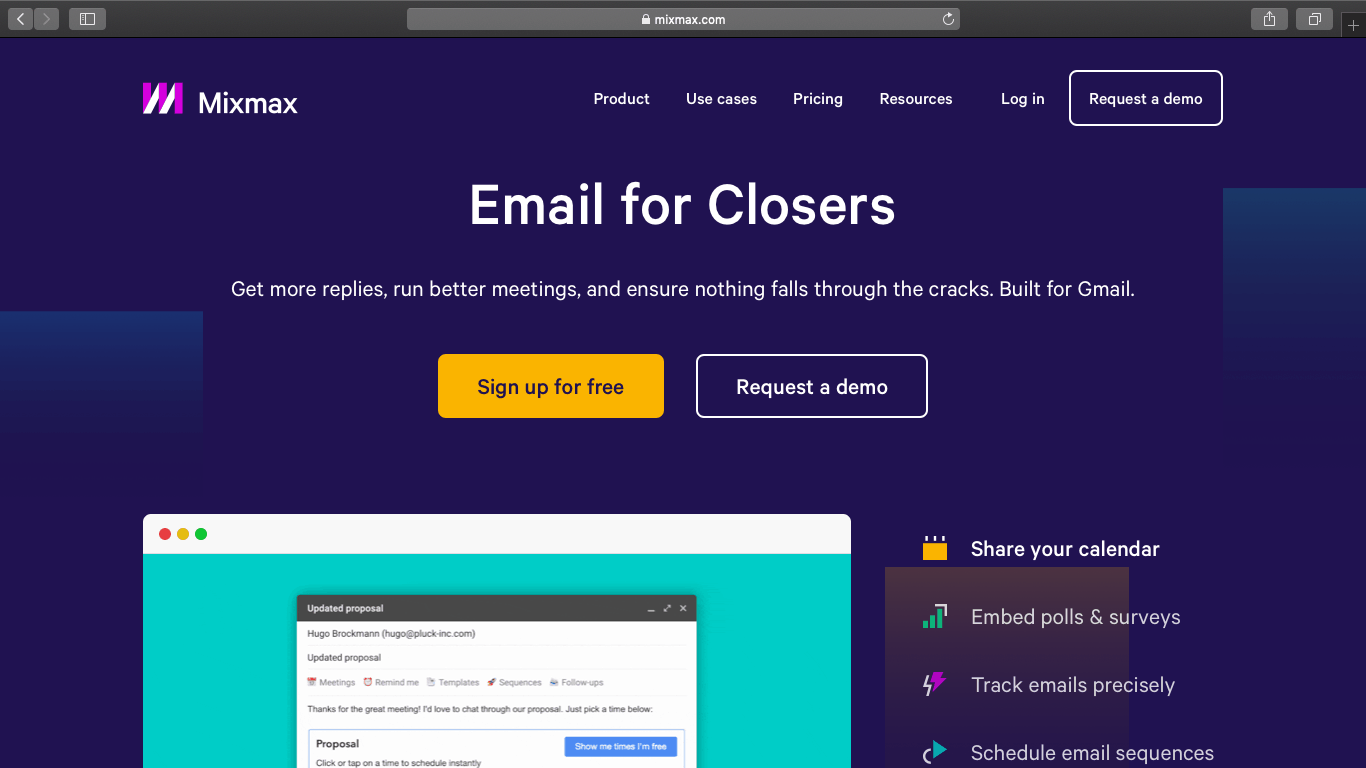 Source: mixmax.com
Mixmax is an email tracking and marketing automation tool that was developed in San Francisco. It helps you send emails from your Gmail and G Suite accounts.
It's mainly used by SaaS business owners and sales teams to schedule email campaigns and monitor tracked emails to gauge prospect engagement.
The 4 Key Mixmax Features
Here's a look at some of the tool's main features:
1. Email Tracking and Analytics
Email tracking tools help business owners and sales reps analyze which emails work best for their sales and marketing campaigns. The stats from these tracking tools give you powerful insights about your recipient engagement.
Like most email tracking tools, Mixmax tracks various metrics after you send an email. It lets you analyze your tracked emails with metrics like:
Email Open Rates: The number of email accounts that opened your email.
Clicks: The number of recipients that clicked on a link in your email.
Per Recipient Tracking: Data about specific clients or customers who opened your email.
Download Tracking: The number of recipients that downloaded a tracked attachment.
Note: Mixmax can also send you real time notifications for these events. For maximum ease of use, these notifications can be disabled if they start to clutter your Google inbox.  
The tool also offers a few handy integrations to streamline email tracking:
Can auto bcc emails to a CRM like Pipedrive.
Integrates notifications into Slack.
Can directly connect to your CRM through its API integration.
2. Email Scheduling
Mixmax lets you schedule emails by simply entering a date and time, like most other scheduling tools. It will then automatically send emails to your customers when the specified time arrives.
What are the benefits of instant scheduling?
You don't need to be online at a particular time to send an email.
Sales professionals can use this to boost email communication effectiveness.
How does it boost email communication effectiveness?
You can schedule emails to reach potential clients when they're most likely to check their inbox — thereby increasing engagement. Scheduling can be further streamlined with Mixmax's workflow automation features.
Besides emails, Mixmax can also be used for scheduling meetings. And with its integrated notifications, you can free your Google Calendar app of meeting reminders!
3. Email Personalization to Boost Engagement
Mixmax is automation software that helps you personalize emails to boost your outreach and sales campaign engagements.
You can send emails with personalization fields populated by data from sources like:
Salesforce leads
Pipedrive, HubSpot, and other CRM integrations
Google directory contacts
What's the benefit of this?
Instead of receiving another generic email in their inbox, your recipients will receive one that's geared towards their needs.
4. Save Custom Templates
Composed the perfect email?
You can reuse it as a template for your upcoming Mixmax drip campaigns in just one click!
How does this help?
As you can reuse these email templates, you won't have to write a new email for every campaign. This way, business owners and account managers can save a lot of time in creating outreach campaigns.
However, when using email templates, make sure you still have personalization on your to-do lists.
Why?
If your email always contains the same generic text, clients are less likely to engage with it.
By tailoring each campaign to your customer's needs, you can improve your outreach and the credibility of your business.
Note: Mixmax also lets you attach files from Dropbox and Box to personalize each email further.
Mixmax Pricing
Mixmax pricing includes four plans:
Starter: $12/month per user – unlimited open tracking and email templates.
Small Biz: $29/month per user – includes " Starter" features + CRM integration via auto BCC and follow-up automation + double-booking protection.
Growth: $65/month per user – includes "Small Biz" features + live chat support + round-robin team calendaring + custom-branded landing pages.
Enterprise: custom pricing – includes "Growth" features + basic team performance reports.
The 4 Main Drawbacks of Mixmax
While Mixmax is a useful email marketing and automation software, it's not perfect.
Here are its main disadvantages:
1. Mixmax.com Essential Features Are Available Only in Higher-Priced Plans
The Mixmax.com Starter plan doesn't include the essential features for sending mass email campaigns. So, the tool can be rather expensive.
Here's a closer look at this problem:
A) Basic Plan Lacks Automated Sequences
To boost your email productivity, you should be able to automate email sequences, right? 
However, the Mixmax pricing model does not offer email automation in its Starter plan that's billed at $12/month per user.
If you want to automate follow-ups or track sequence stats, you have to go for costlier Mixmax pricing plans such as Small Biz, Growth, or Enterprise.
While this could be too costly for small business owners, it's also very expensive for large customer support and sales teams with several users. As it's billed on a user basis, prices can skyrocket quickly for large teams!
B) Basic Plans Lack Email Personalization
Mail merge is an essential feature offered by most email automation tools. It lets you personalize your emails by inserting recipient data like their name and address from:
a database like your CRM (Salesforce, CRM Zendesk)
via social media
Unfortunately, Mixmax doesn't include mail merge in the basic plan.
Additionally, users must opt for premium plans for next level personalization features, like custom branding with Mixmax's CRM integration.
2. Limited Campaign Functionality
Mixmax.com lacks third-party integrations to bypass Gmail sending limits.
You can only add 2,000 recipients per sequence and only deliver 500 emails per day.
For a tool centered around mass emails, this is rather low!
As you can only send a limited number of emails, your email marketing outreach will be quite limited — even if you're just a small business or startup.
3. No Mobile Support
As Mixmax doesn't have mobile app support, you can't track email campaigns on the go.
Why is this a problem?
Mobile accessibility is an essential feature of any email tool. As you get 24/7 access to your email tracking tools, you can manage your email campaigns no matter where you are.
4. Interface Can Slow Your Browser
The Mixmax extension uses the Gmail user interface.
However, its Compose window is an embedded iframe in the Chrome tab.
What does this mean?
An embedded iframe is an HTML document set in another HTML document on a site. It's almost like a Chrome tab within another Chrome tab.
This can cause the Mixmax extension to overload your browser and slow it down significantly. It also makes Mixmax likely to conflict with other Gmail extensions or tools you use.
Note: Many users leave a Mixmax review saying the embedded iframe can make working with Mixmax impossible.
The Best Mixmax Alternative: GMass
Although Mixmax is a handy tool, it has some disadvantages.
Luckily, GMass is an email marketing software that can tackle all those drawbacks!
What is GMass?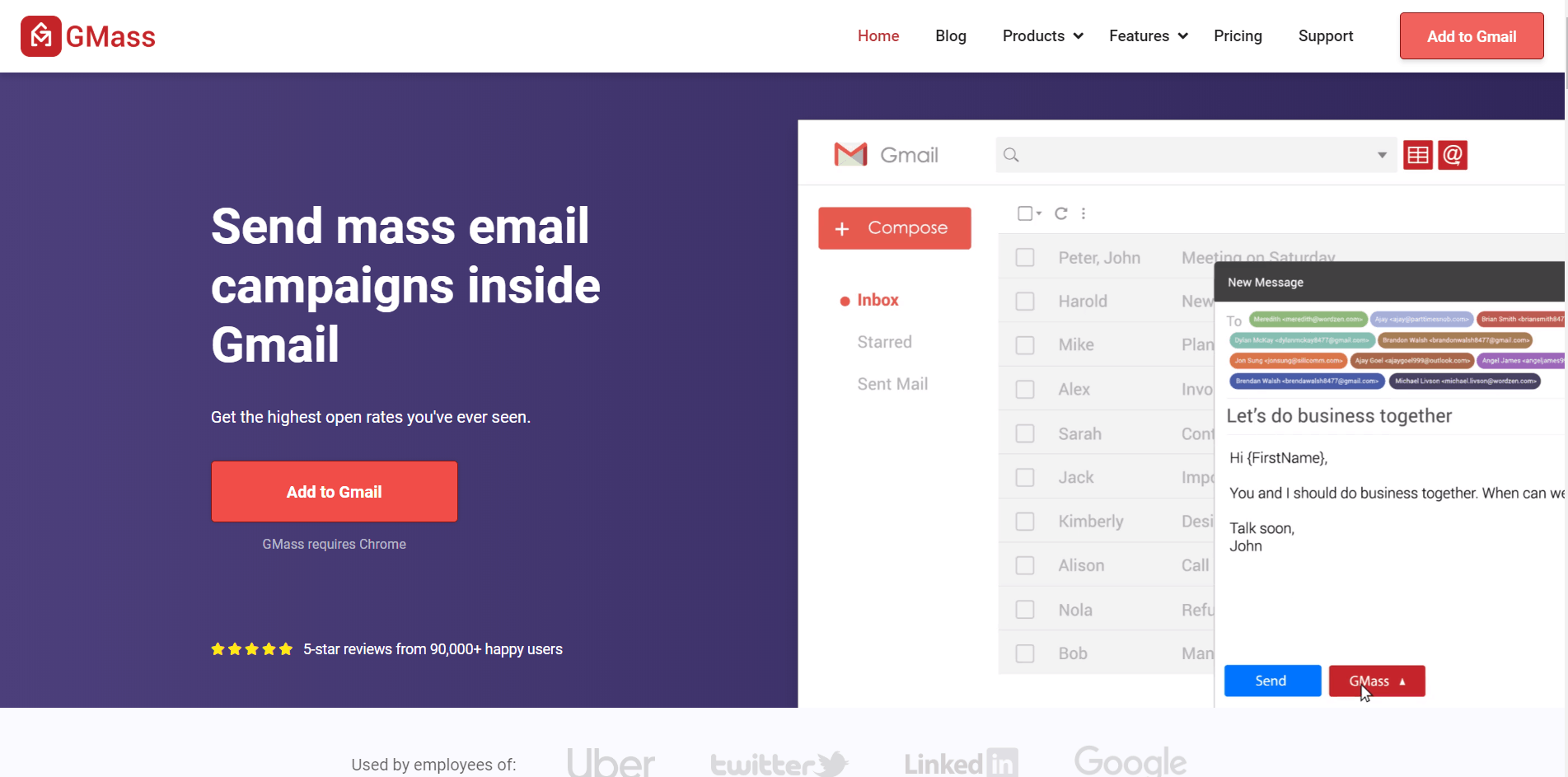 GMass is a powerful email outreach software that lets you send and manage email campaigns within your Gmail inbox. Its powerful mail merge features have made it the ideal outreach platform used by employees from Google, Uber, and even social media giants like LinkedIn, Twitter, and Facebook.
GMass can be used by marketers to send emails to multiple clients and customers.
However, GMass isn't just for email marketing automation or sales activities!
It can also be used by individuals, institutions, and clubs to send emails to a target audience.
GMass helps you:
Automatically track email stats.
Quickly send unlimited emails and campaigns to tons of prospects.
Automate email personalization for each client and customer.
Easily schedule emails in advance.
The best part?
All you need to do to get started is download the GMass Chrome extension and sign up with your Gmail account!
The easy installation massively reduces onboarding time — one of the reasons why GMass has an extremely positive overall rating from its customers.
3 Reasons GMass Is Better than Mixmax
Here's a closer look at what makes GMass the perfect Mixmax alternative:
GMass offers more user-friendly paid plans than almost every other outreach platform, including Mixmax.
Even GMass' free version is perfect for all your email marketing or support team activities!
The software has three pricing plans:
Free Plan: supports automated email tracking for 50 emails/day + all the other features.
Individual Plans:

Minimal: $8.95/month – unlimited email tracking + all features except auto follow-ups.
Standard: $12.95/month – includes "Minimal" features + removes GMass footer for sent emails.
Premium: $19.95/month – includes "Standard " features + auto follow-ups.

Team Plan:

Premium: starts at $89/month for a group of 5 and includes all features.
Unlike Mixmax, you get mail merge and personalization features in all GMass pricing plans, including the free tier. 
Note: While you can pay using your credit card, GMass also accepts PayPal.
GMass offers campaigns and mail merge features in all its plans, including the free version. With it, you can create powerful email marketing campaigns for any budget or company size!
Additionally, as GMass doesn't place a limit on the number of campaign recipients, you can send unlimited emails!
How?
Unlike Mixmax, GMass integrates with third-party services like SendGrid to bypass Gmail sending limits entirely. The GMass team uses this integration to send newsletters to more than 400,000 recipients!
3. Gmail Add-On for Mobile Support
Thanks to its Gmail add-on, GMass is instantly available on any device you use!
How does this help?
Once you've installed the add-on, you can use GMass on your Android device.
You don't need another mobile app to manage your email marketing automation.
Just log in to your Gmail account to access all your email campaigns.
Note: The GMass add-on isn't available on iOS devices due to a lack of Google support. When Google adds Gmail add-ons to iOS, GMass will be available there as well.
Other Useful GMass Features
GMass offers tons of other email features that make email marketing automation a piece of cake. Here's a closer look at some of them:
GMass's email tracker auto-generates a Campaign Report after sending each email campaign. This gives you real time marketing stats to analyze your tracked emails quickly. The GMass Campaign Report includes:
Total Recipients: The number of email addresses to which you sent your email campaign.
Unique Opens: The number of unique email IDs that opened your email. Note: GMass tracks unique email opens to give accurate email metrics. If the recipient opens the same email twice, the report won't show this as an extra "open" to inflate your results.
Didn't Open: The number of recipients who didn't open your email.
Unique Clicks: The number of unique email addresses that clicked on at least one link in your email.
Replies: The total number of recipients who replied to your email.
Unsubscribes: The number of recipients who unsubscribed from your emails.
Bounces: The number of emails undelivered as they were addressed to invalid email IDs.
Rejections because your Gmail account is over-limit: The number of emails that weren't delivered as the email sending limit of your account was reached.
Blocks: The number of undelivered emails as the email ID marked your account as spam.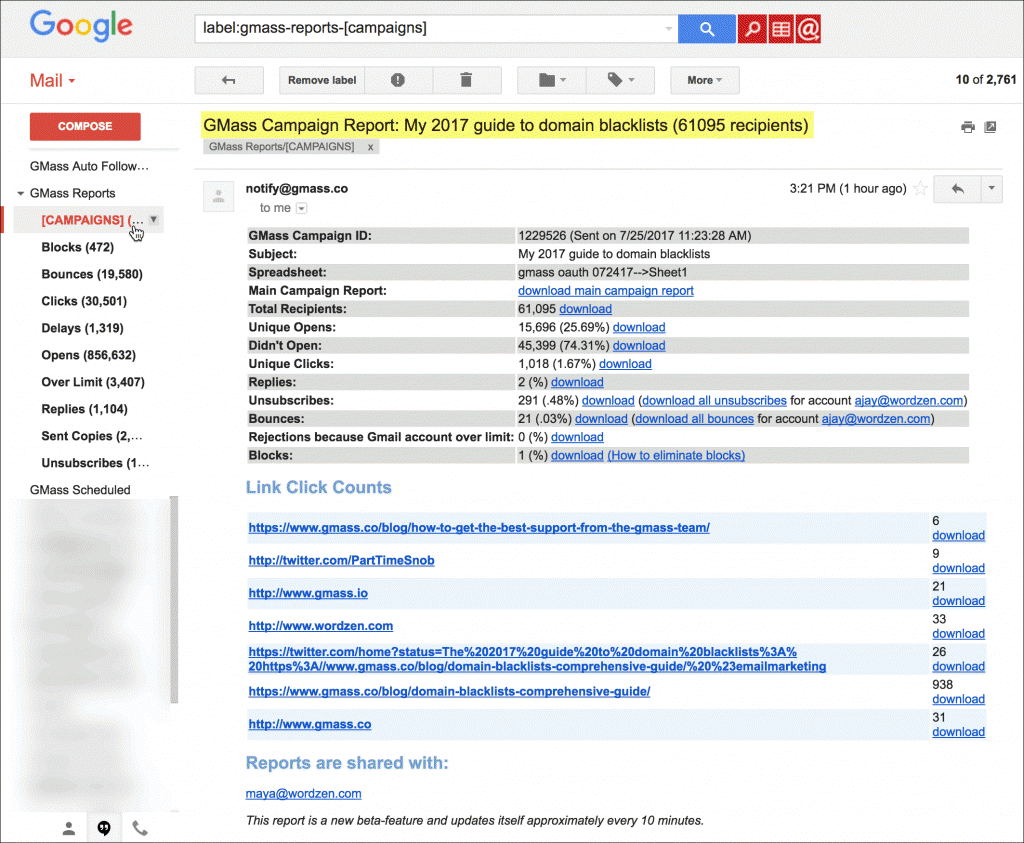 What's more…
Unlike most tracking tools, GMass displays the Campaign Report right inside your Google inbox. Instead of opening a second interface to check your email tracker, you can access all the data you need from the Gmail sidebar!
Sometimes you need to send reminders and follow-ups to boost your campaign engagement.
However, this isn't practical for mass email marketing.
Imagine manually following up on thousands of recipients!
Luckily, GMass supports follow-up email automation to help you engage tons of prospects. Instead of manually sending each email, you can automate follow-ups with customizations like:
The trigger for sending a follow-up email.
For example, when customers leave a review on your website, you can send them an email instantly.
The number of follow-up emails sent to each person.
The period between each follow-up email.
The content of the follow-up email.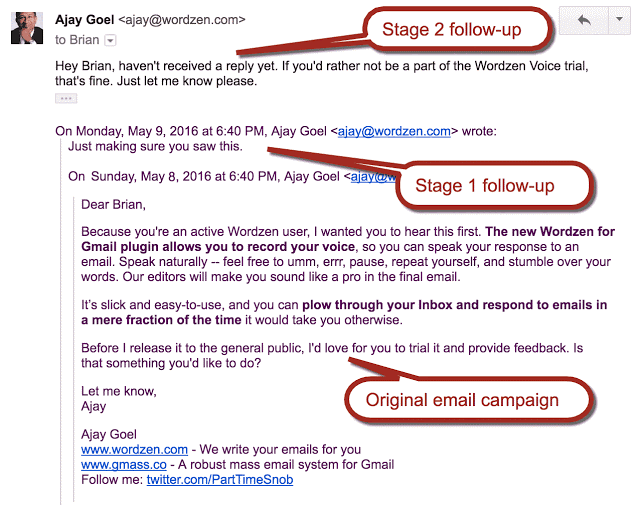 Personalization can dramatically boost your email engagement.
After all, what would you rather click on:
A generic mass marketing email?
Or one personally addressing your needs?
However, manually personalizing hundreds of emails for your customers or clients will take forever.
Luckily, GMass can automate this process for you.
Just add your prospects' email IDs to a Google Sheets file. You can then personalize your emails with advanced features like:
Automatic First-Name Detection and Entry: GMass automatically detects each recipient's first name from their email address.
Personalized blocks of text: It lets you customize entire blocks of text for individual clients or customers.
Customized images and links: Add custom email images and URLs for all email recipients.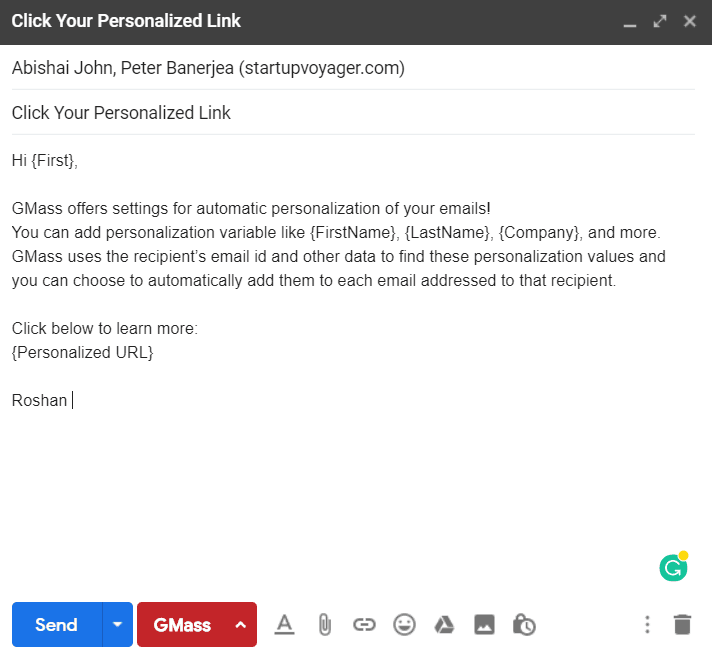 To maximize your outreach, sending emails at the right time is essential.
Ideally, prospects should receive emails when they are most likely to check their inbox.
But how do you ensure that you're sending emails at the right time?
By scheduling them in advance!
GMass supports instant scheduling for all your email marketing campaigns.
Just type the email, set the send time, and GMass will send it when the time comes.
It's like running your email marketing tool on autopilot!
If there's any change in schedule, you can reschedule it from your Gmail Drafts folder in seconds.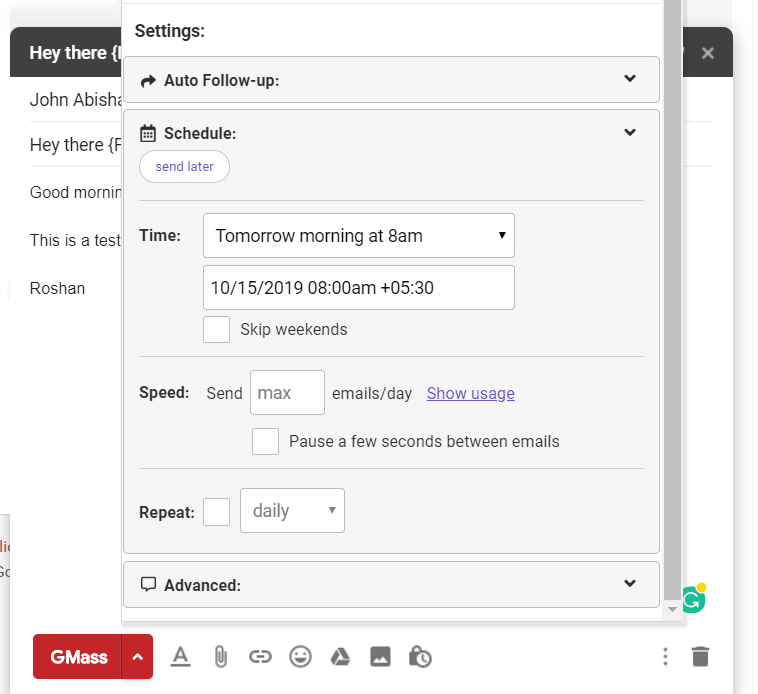 Custom tracking domains are only available in the Enterprise plan of Mixmax pricing.
However, GMass lets you easily create custom tracking domains in any plan!
How does this help?
Many spam filters automatically categorize certain domains as spam. If your email is sent from such a domain, they're going to end up in your prospect's spam folder.
This will significantly harm your email deliverability!
That's why your business needs a custom domain to grow your email outreach. With GMass' custom tracking domains, your chances of reaching more customers increase exponentially.
Conclusion
If there's one thing that's clear from this Mixmax review, it's that the Mixmax email marketing platform is far from perfect.
Essential email features are costly, campaigns are limited, and there is no mobile app support.
Why settle for this when a better tool like GMass is available?
The GMass email marketing platform has all the features you need to manage your email campaigns!
So why not download the GMass Chrome extension today and try it out yourself?
See why

99%

of users say they've had their best deliverability ever with GMass

Email marketing, cold email, and mail merge all in one tool — that works inside Gmail

TRY GMASS FOR FREE

Download Chrome extension - 30 second install!
No credit card required
Love what you're reading? Get the latest email strategy and tips & stay in touch.