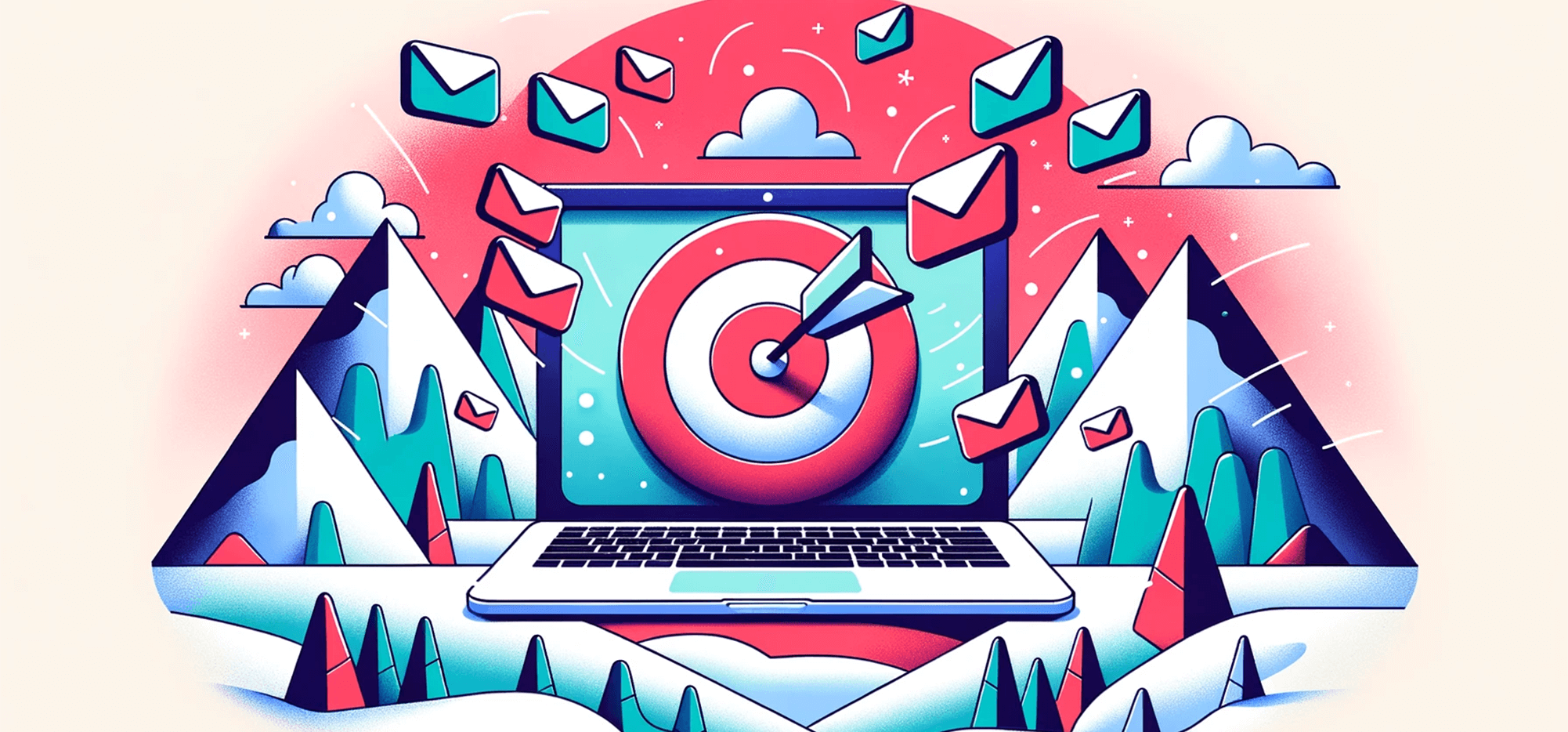 Triggered emails are a relatively new feature in GMass but have quickly become a popular and unique way for cold emailers to stand out from the masses, to hit higher levels of engagement, and to close more deals.
If you aren't familiar (or need a refresher), triggered emails are messages that automatically go out to a recipient when they open, click on, or reply to your campaign.
That means the recipient gets another email from you when you know they're in their inbox — and you know they're thinking about you.
(Check out our complete guide to triggered emails for step-by-step instructions on how to set them up and use them.)
We reached out to some of the early adopters of our triggered emails to ask them how they're using triggers to improve their results.
Lots of cold emailers shared positive news about their success with triggered emails.
And some also offered to share the techniques they've been using to help out other folks in the GMass cold email community.
Here are five great ways cold emailers are using GMass's triggered emails to drive more engagement, more replies, and more leads and deals.
Cold Outreach Strategies with Triggered Emails: Table of Contents
1. Doubling Down on a Prospect's Urgent Problem
Effective cold emails are (usually) ones that accurately identify and offer a solution to a recipient's pressing problem.
With triggered emails, you can double down on reminding your prospect they have this problem — and further create a sense of urgency for them to act.
One cold emailer I spoke with started using triggered emails for this right after we debuted the feature. He triggers his message when a recipient opens his campaign or automated follow-ups.
"It makes them more educated on their problems," he told me, "As the email is sent out in a time when their interest is at a peak. Overall it's a great feature to get more awareness in prospects."
Sample template and setup
Here's an example of how the doubling down technique could work for triggered emails. First, the initial email.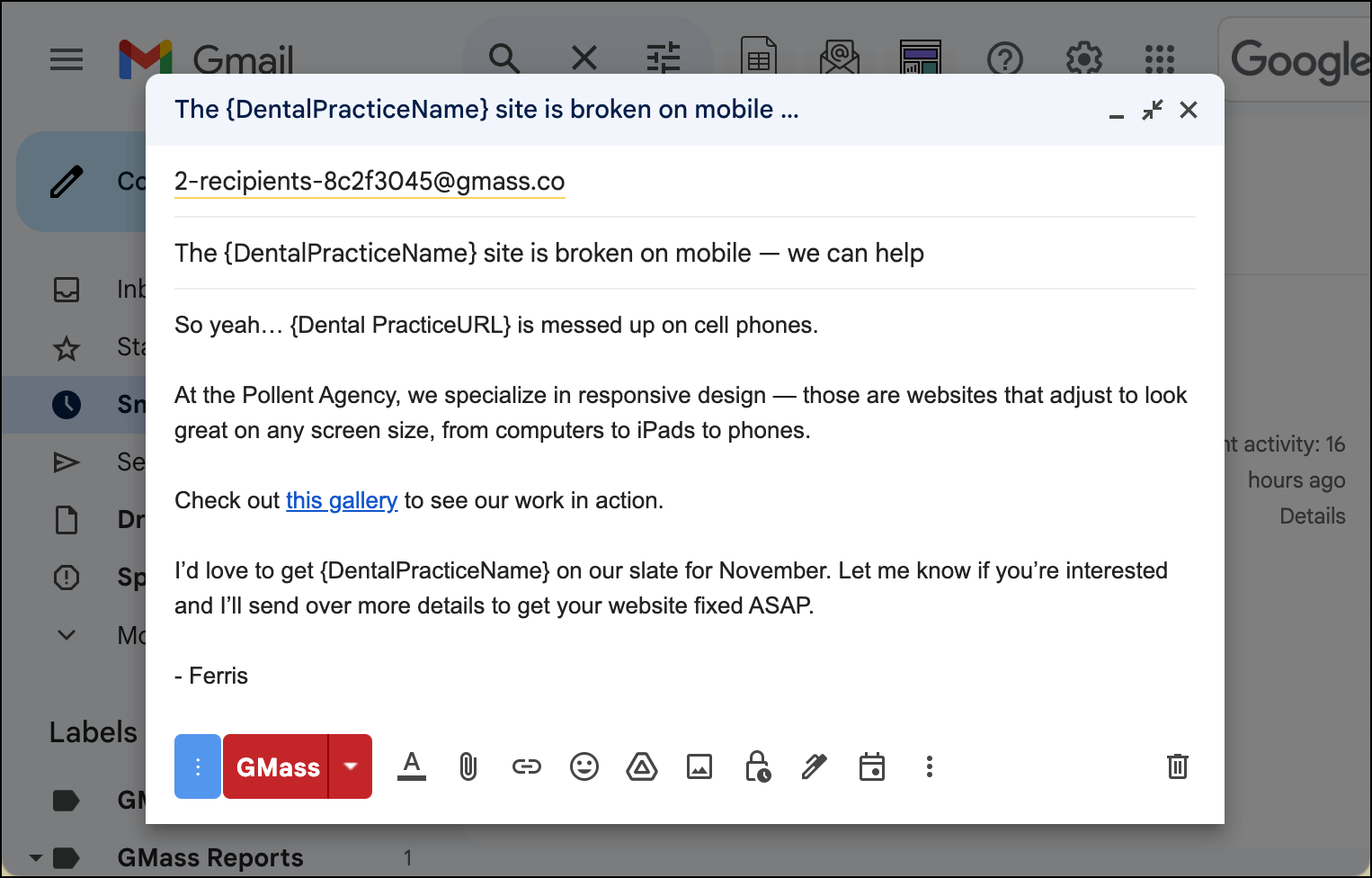 Here's the setup for the trigger: An immediate send in the same thread when someone opens the campaign.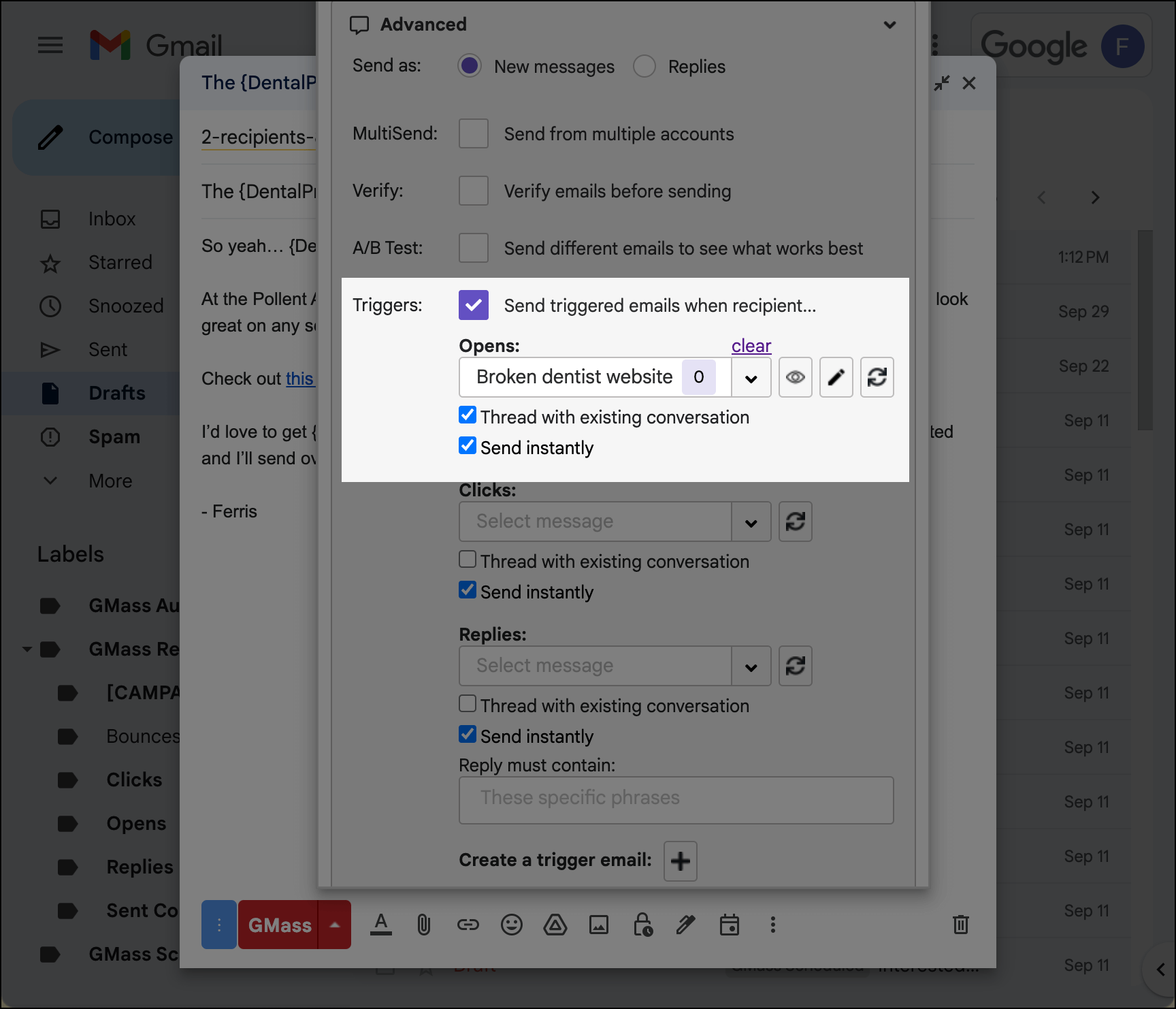 And here's the triggered email that will go out. (Note: The subject line is just a placeholder for internal reference, since this email is going out in the same thread as the original campaign.)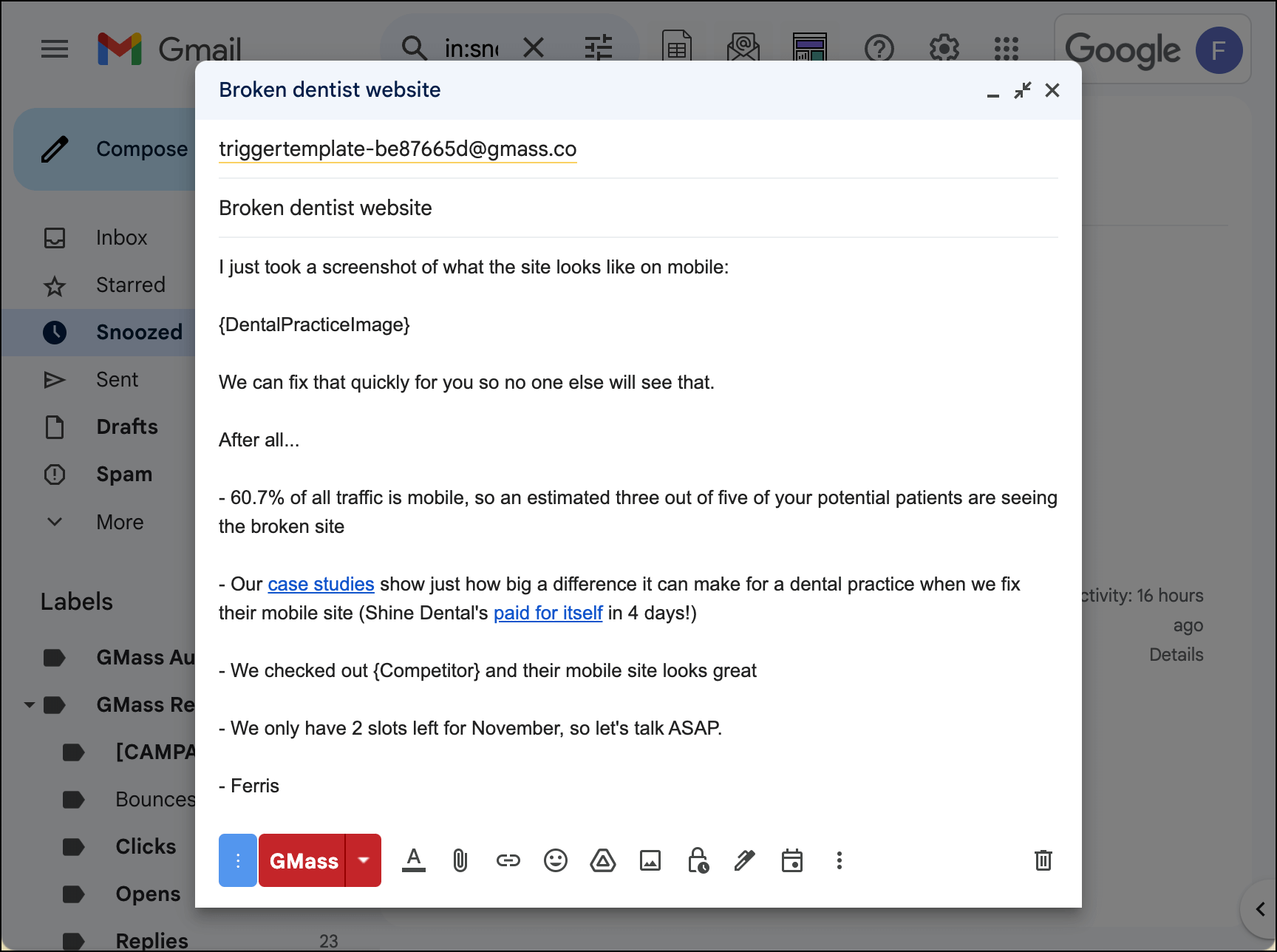 2. Sending a Scheduling Link to Interested Prospects Who Reply
If you're one of the cold emailers who doesn't like putting links in a message because of deliverability concerns, this triggered email use case is for you.
"We don't use any links in outreach," a member of a sales team told me, "So we get a response from someone who was interested and then we'd have to send them a Calendly link to schedule."
Now with triggers, whenever someone replies, their team uses a triggered email to send out a scheduling link.
And that's increased the percentage of respondents who schedule a meeting — mainly because they get the link right away while they're the most interested.
You might also want to use this technique even if you do include a scheduling link in your outreach messages. Why? Some people still might reply rather than scheduling — and you can use the trigger to direct them to book a time.
Sample template and setup
Here's an example of an initial email in this type of campaign.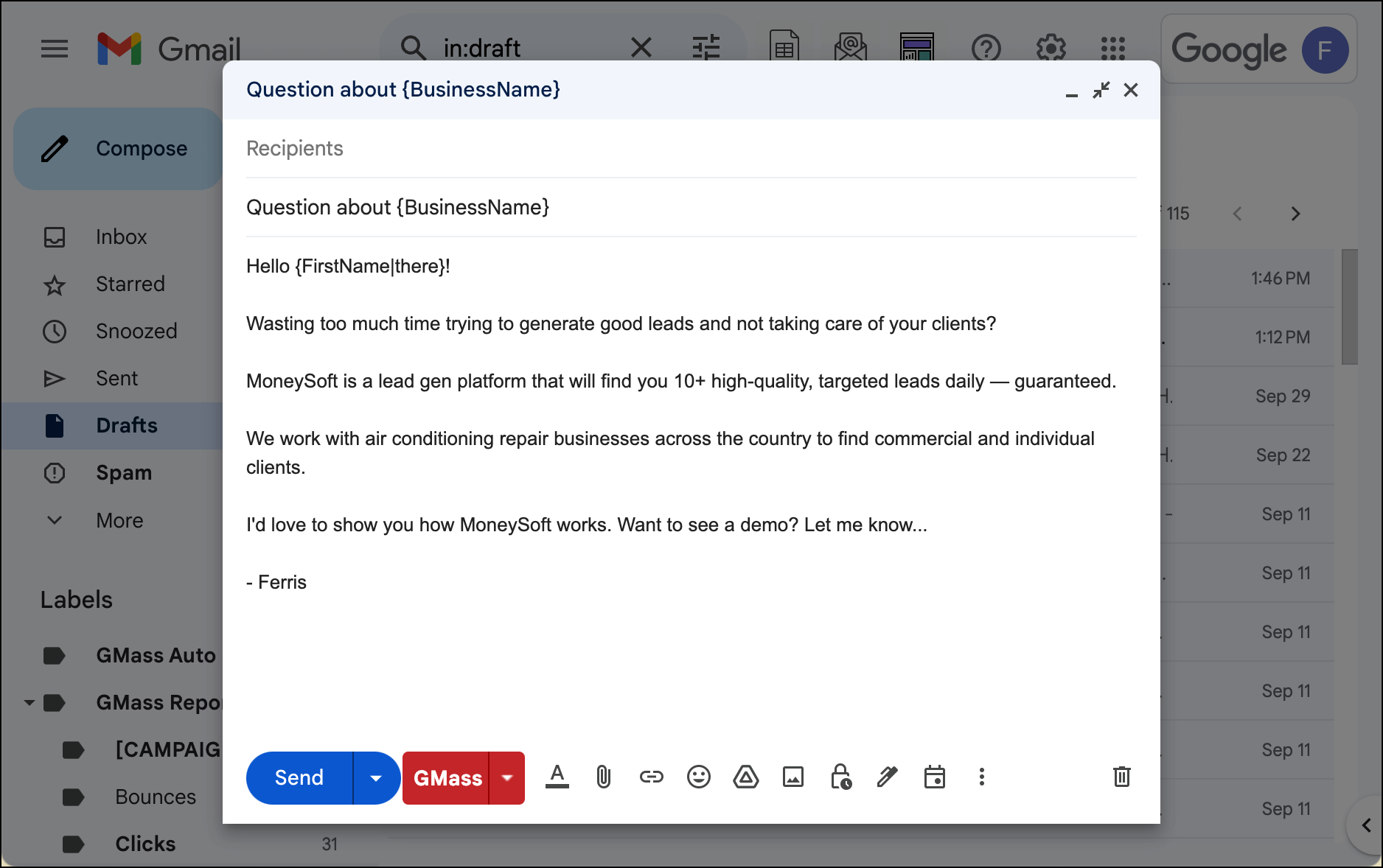 Here are the settings for the trigger. I've given it a one-minute delay rather than having the triggered email go out instantly.
With that delay, I'm hoping my triggered email "feels" manual — like I'm attentive, I spotted the reply, and sent the scheduling link right away.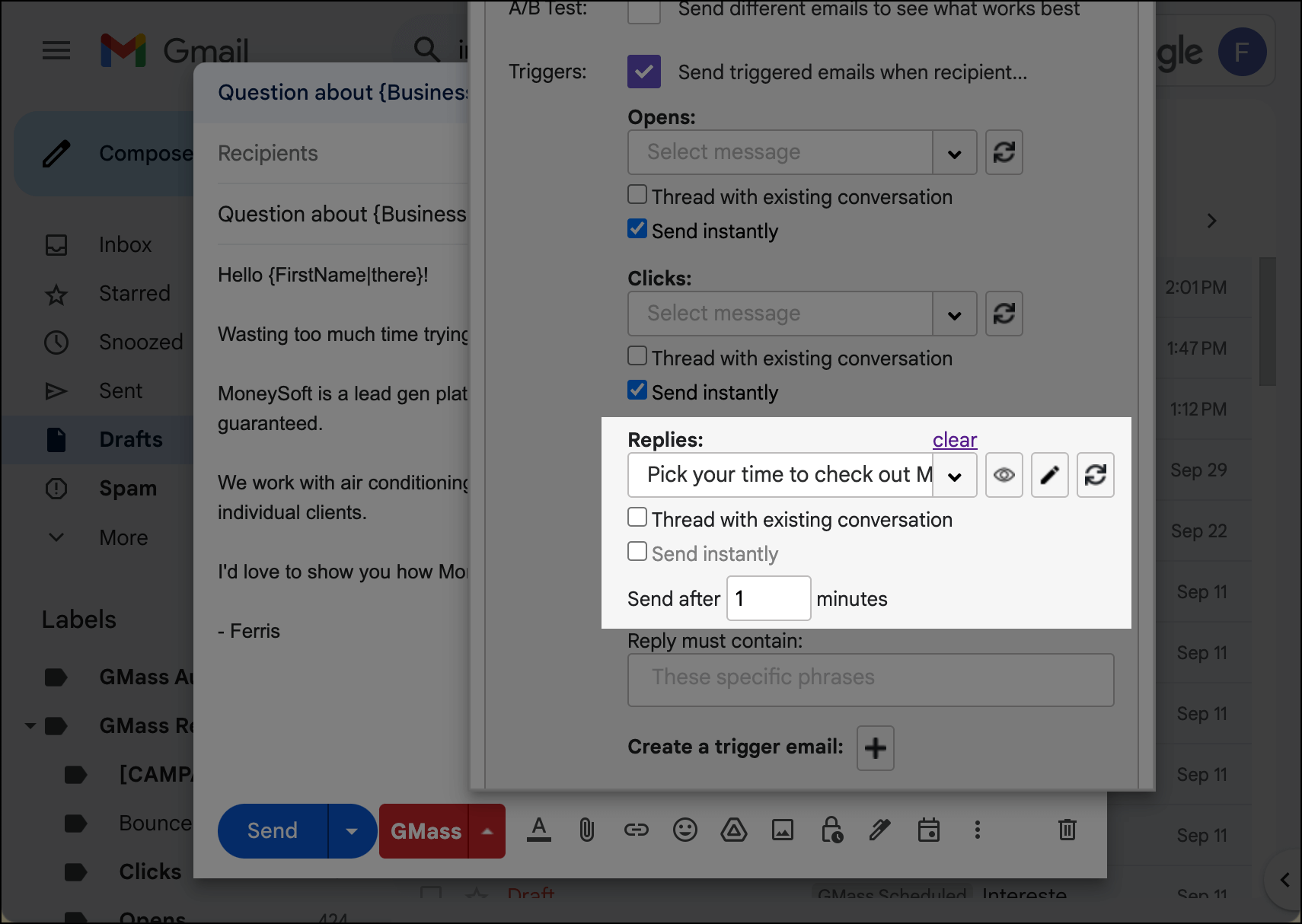 And here's the template for the triggered email with the scheduling link.
3. Using a Very Short CTA Email and Having More Info in the Trigger
Though longer cold emails can work (despite what you might hear), most pros like to keep their messages short.
That's good for catching a prospect's attention — but bad if you want to relay more details, examples, testimonials, or other info that will help you turn the prospect into an interested lead.
Some GMass users are now sending their short initial email, then triggering a message to go out 10 minutes later after a prospect replies.
That message thanks them for the reply and gives them more info, which helps prepare the lead for the call.
And that's not the only benefit: This can actually help save time on qualifying leads as well.
Some people who get the second email will realize the offer isn't right for them. They would've said "no" anyway, so it saves you the 30-minute call.
Sample template and setup
Here's an example of a short initial cold email with a call-to-action.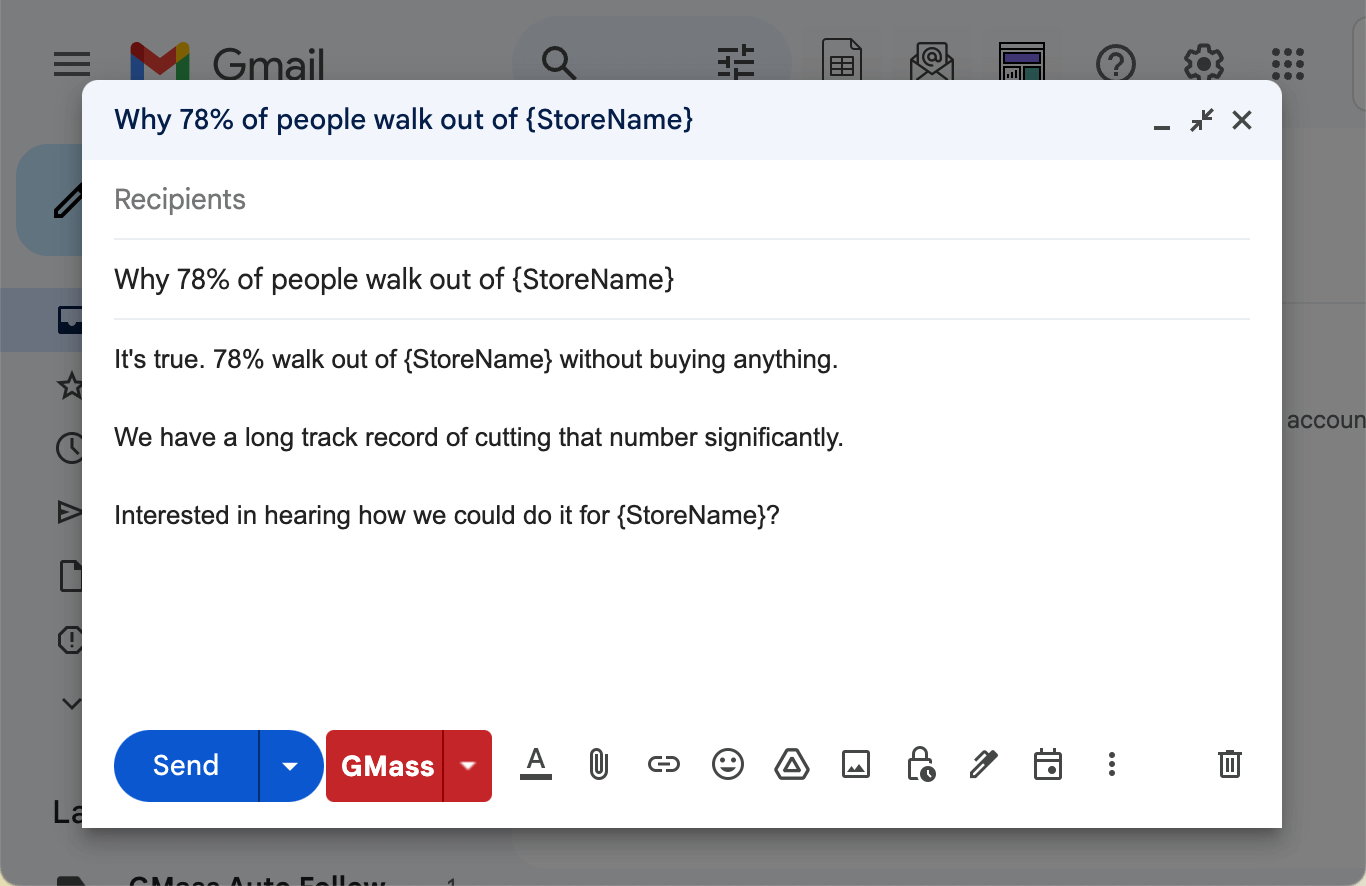 I used these trigger settings to send an immediate second message in the same thread when someone replies.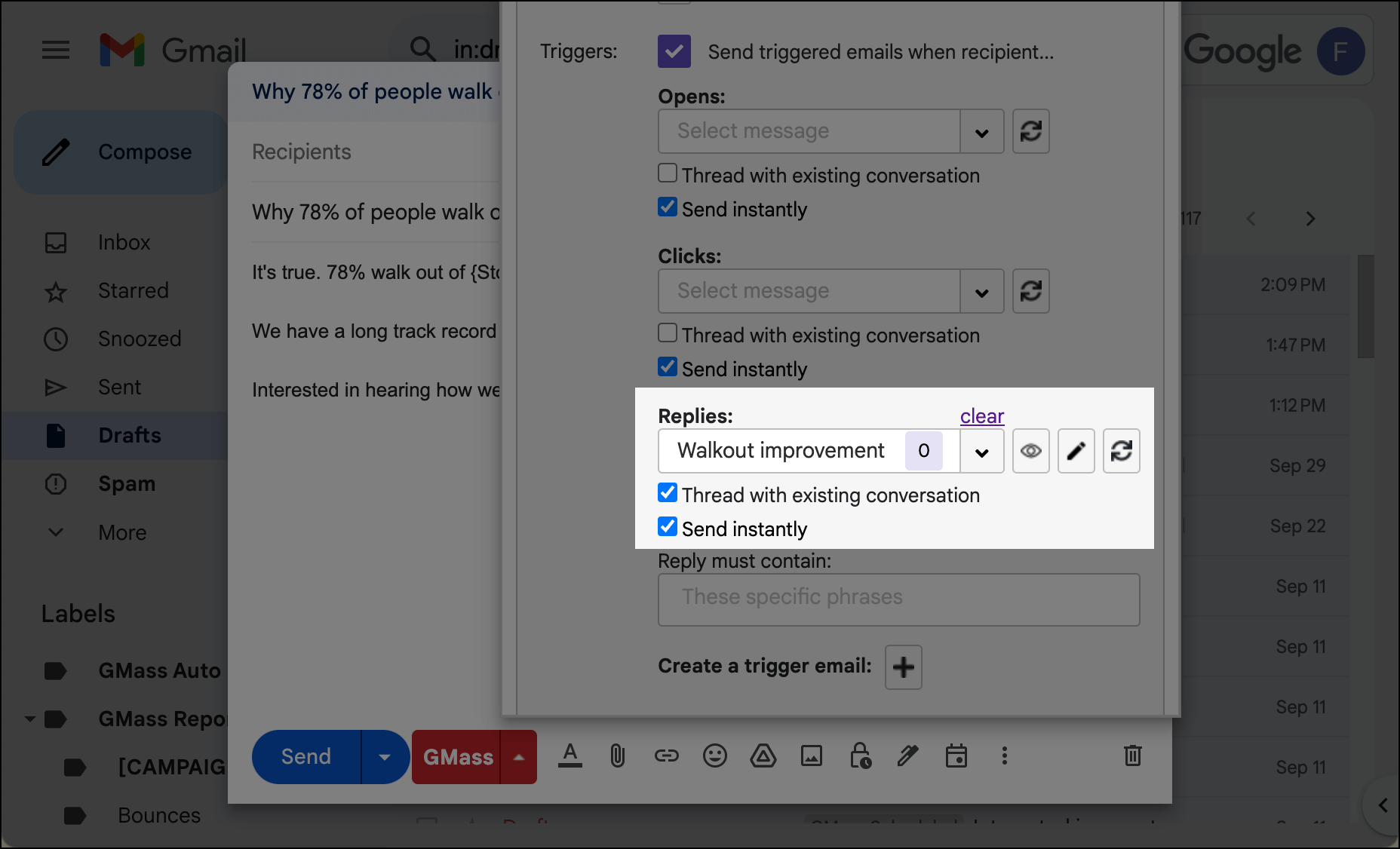 And here's the triggered email that elaborates on the problem and the offer (and includes a call-to-action).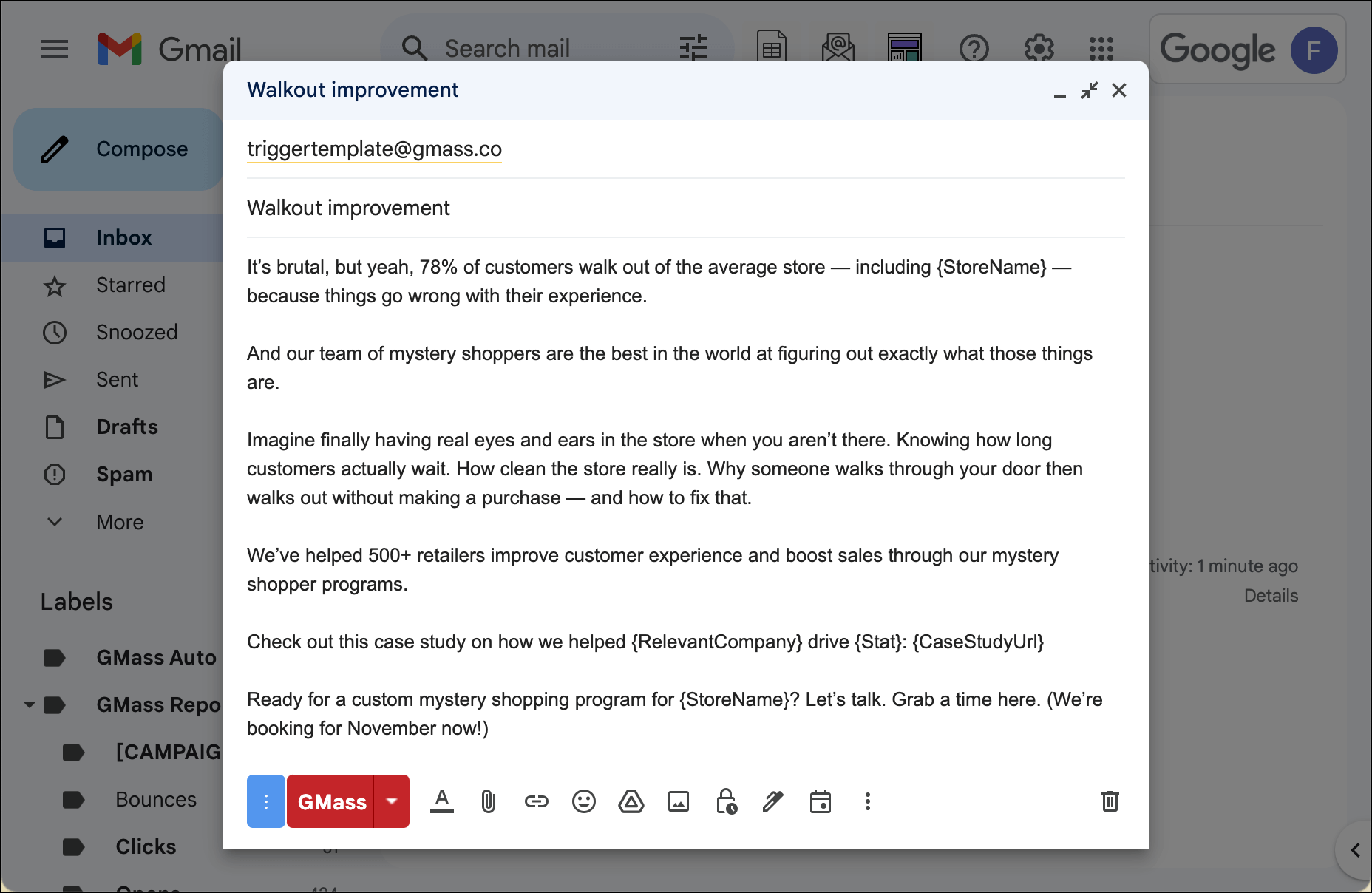 4. Sending an Email to Encourage a Reply When Someone Clicks on Your Website or Social Links
Earlier I gave the example of cold outreach pros who don't like including links in emails. But that's not everyone.
Plenty of cold emailers do include links to things like case studies, a portfolio, a landing page, their company's website, or their relevant social media profiles.
(I did once write an article advocating for more people using signatures in cold emails — and signatures tend to include links.)
One of the reasons cold emailers don't always like including links is they can be a distraction.
Every (good) cold email is trying to drive a prospect to take one specific action. That action is rarely a click on a website or LinkedIn profile — the desired action is far more likely to be a reply expressing interest.
So there's a risk that when someone leaves your email to follow your link, they might not ever come back and send a response. (Social media rabbit holes are no joke.)
Triggered emails can help bring prospects back to their inbox — and can do so while you're top-of-mind because they're checking out your link.
I've heard from a few GMass users employing triggers this way: Using click triggers to send an email redirecting the person to reply if they're interested.
Sample template and setup
Here's a sample cold email with links to a company's website and the sender's LinkedIn profile. Both of those links add credibility — but also take the prospect away from their email and away from responding to the call-to-action.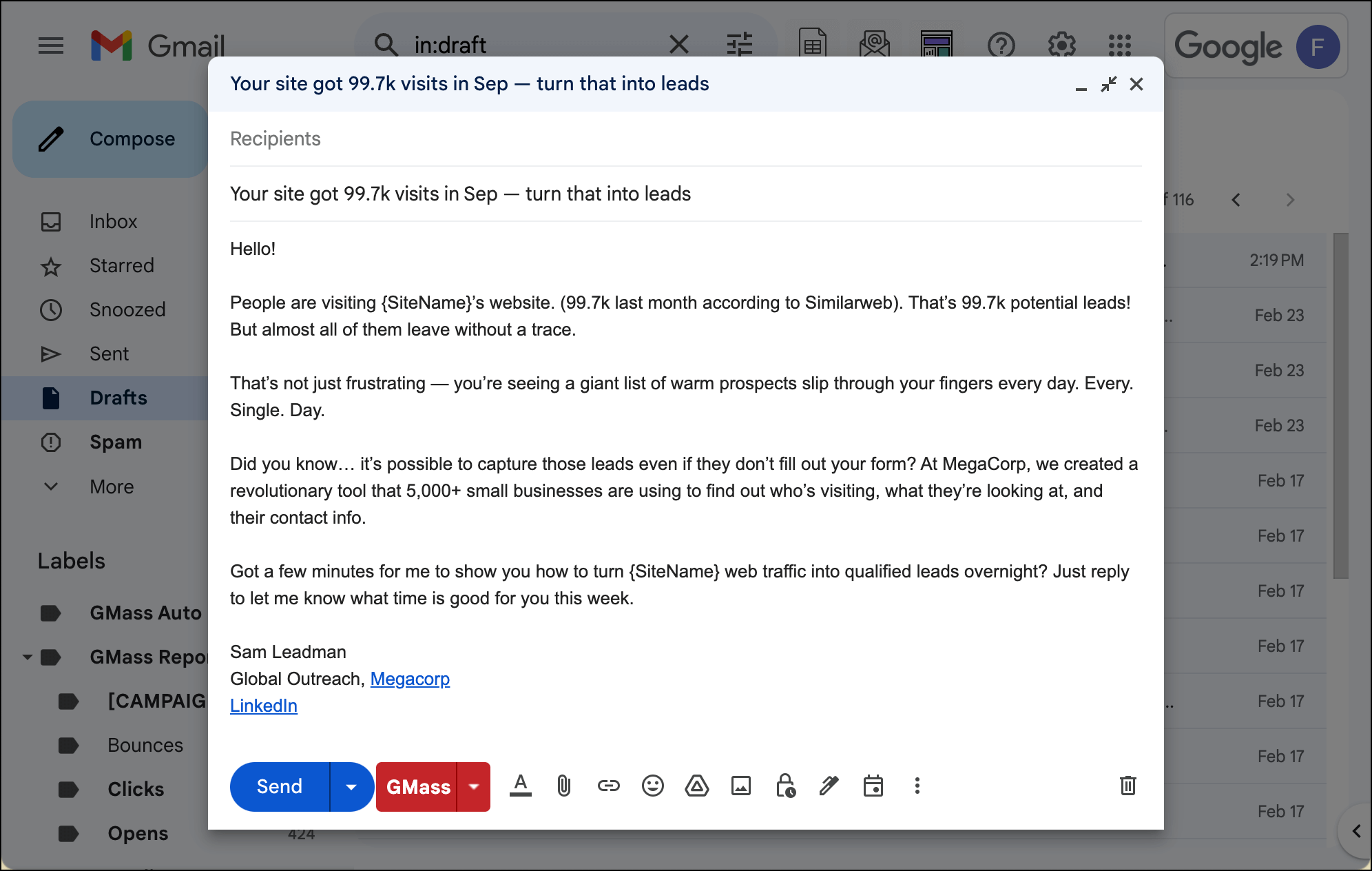 For this campaign, I set up my trigger to fire on clicks. And I built in a three-minute delay, which is about how long I'm assuming the person will look at the company's website or the sender's social profile.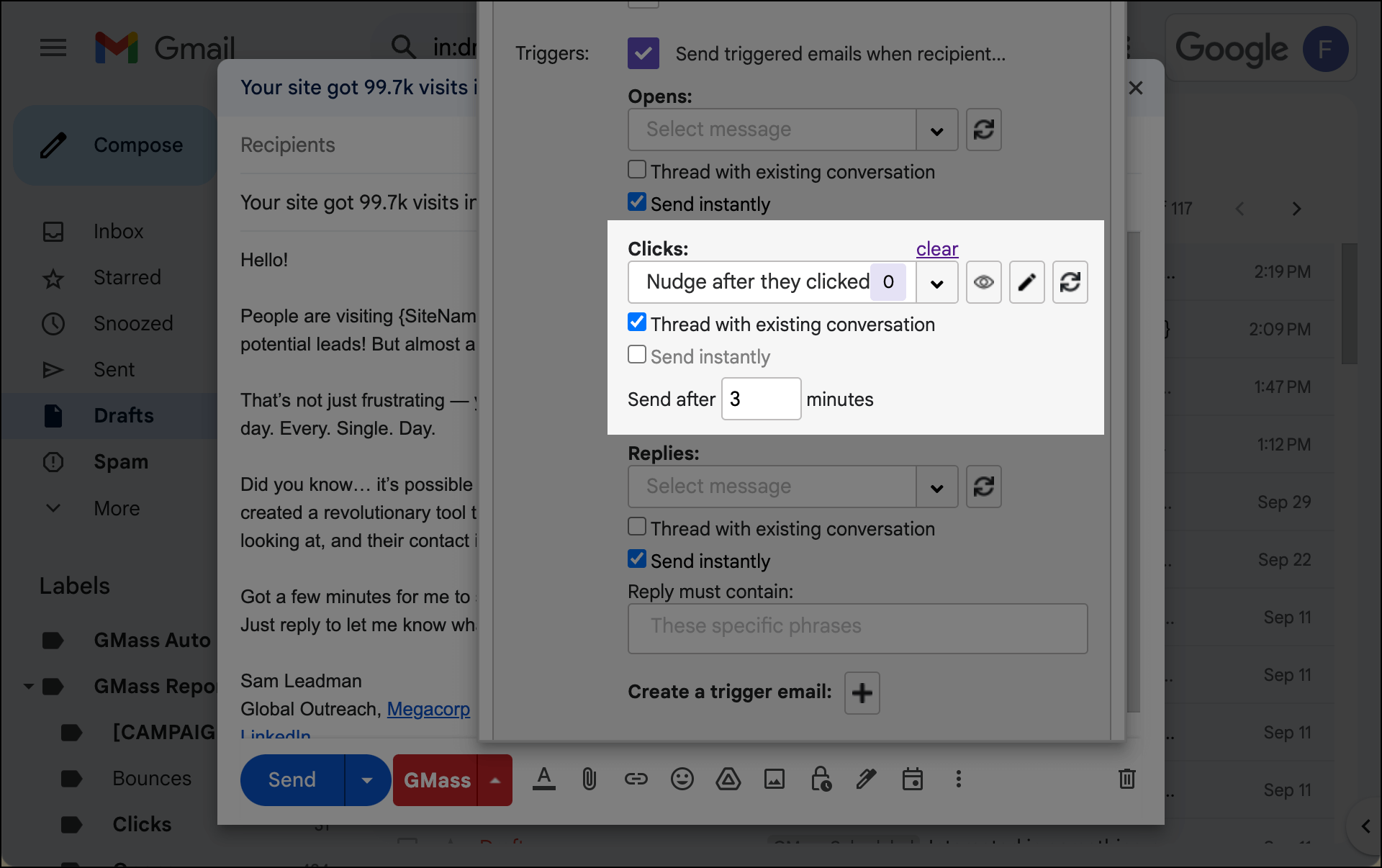 And here's the triggered template, which refocuses the prospect on the desired action of booking a time to talk.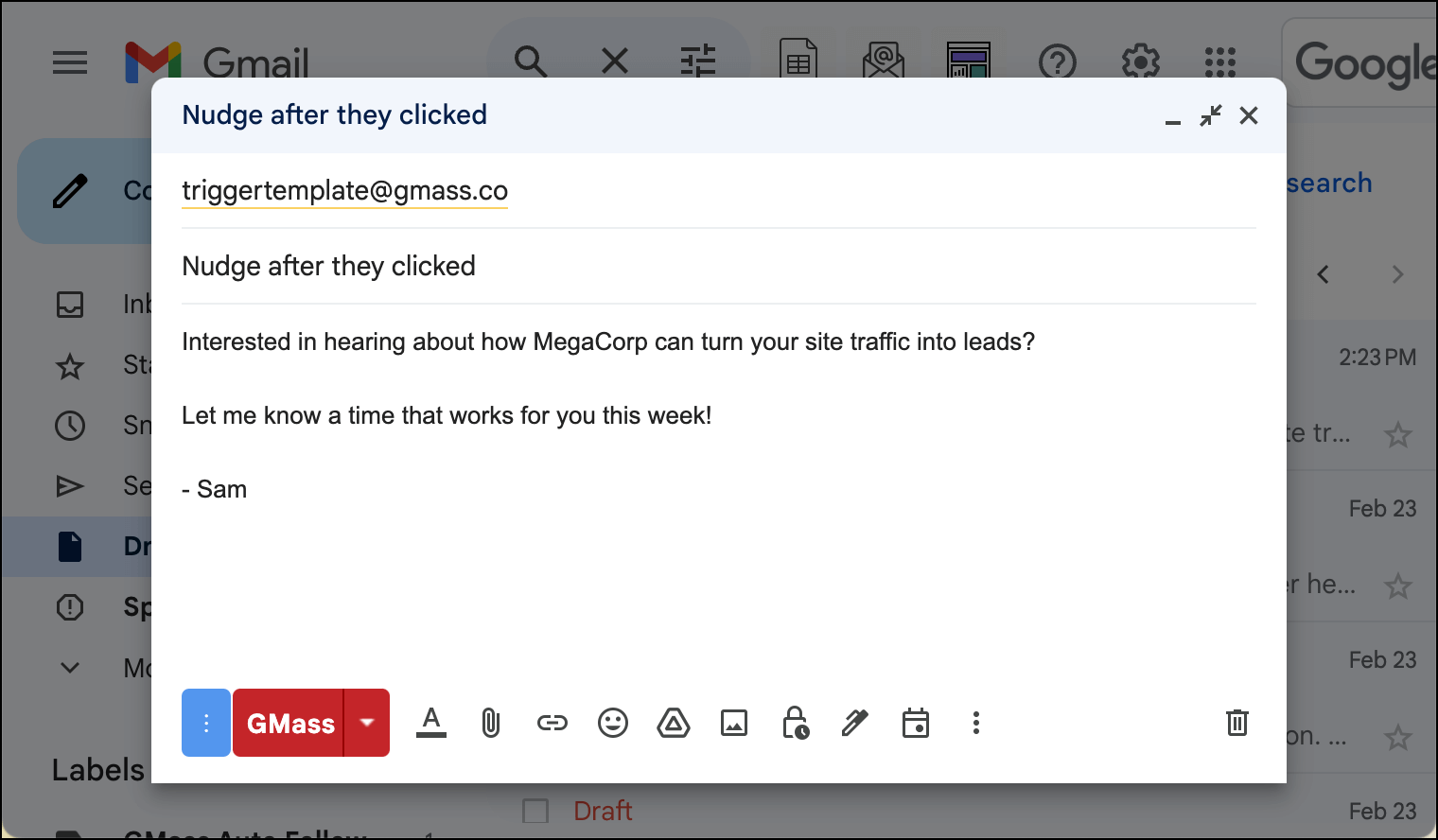 5. Sharing a PDF of a Case Study, Article, or Study
While you can send attachments with your cold emails in GMass, we know a lot of serious cold emailers prefer not to.
Sadly, the bad actors out there have made us all (rightfully) suspicious of attachments from people we don't know. So including one with a cold email can lead to spam — or possibly even suspected phishing — reports.
But when someone expresses interest and asks for a PDF? Then it's open season.
That's why a handful of cold emailers have been using GMass's triggered emails to send PDFs.
Their initial email usually tells interested prospects to reply with a keyword (like "INTERESTED"). And using the reply trigger keyword option, GMass instantly sends the email with the PDF when that reply comes in.
You could also add a delay to the triggered email if you want to make it seem more natural and less automated. Like, add in a five-minute delay so it looks like you composed the email with the PDF attached personally just for them.
Sample template and setup
Here's a sample email making an offer to send a valuable report to targeted prospects.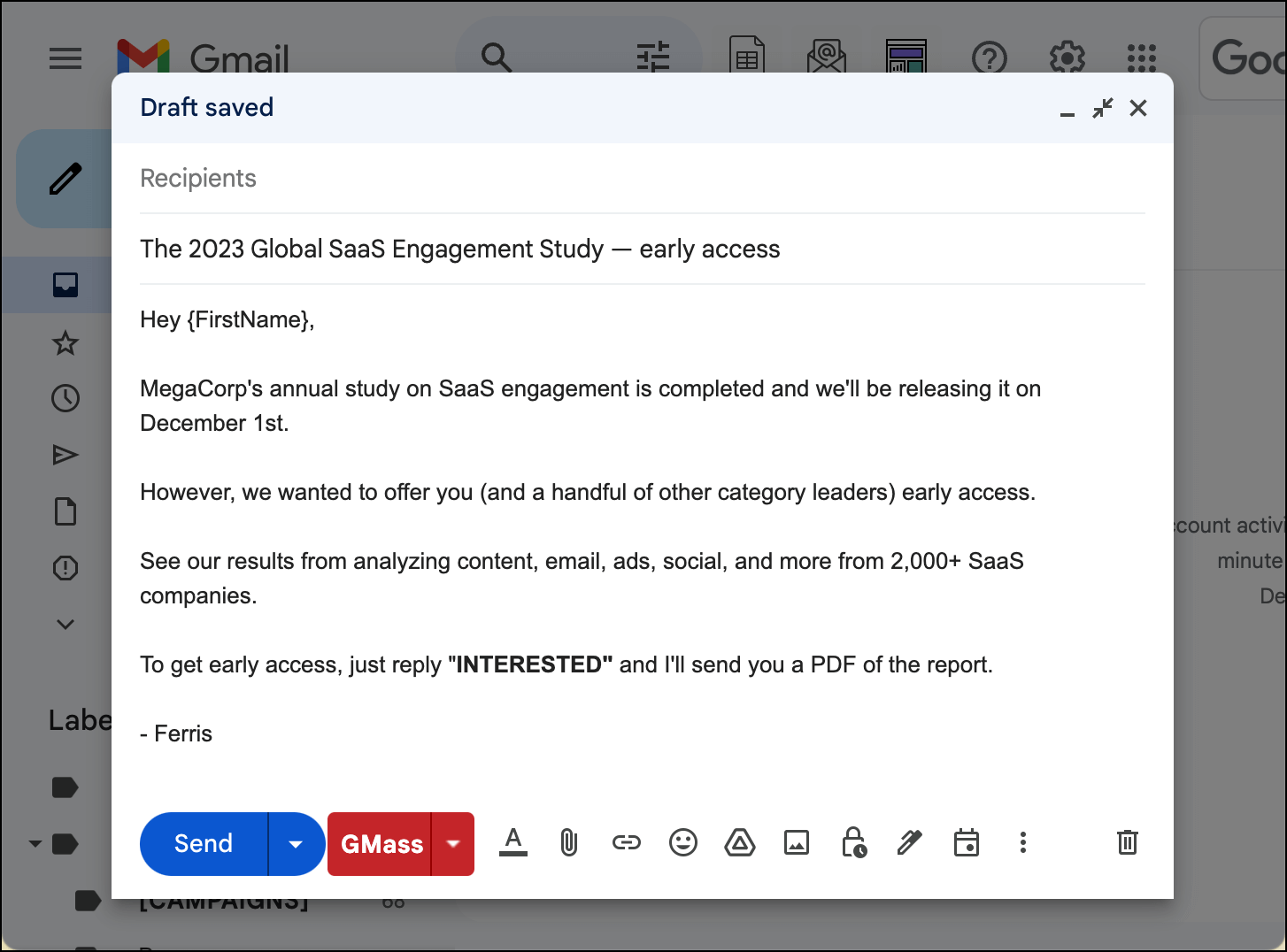 In this trigger, I'm only sending when someone replies with the designated keyword.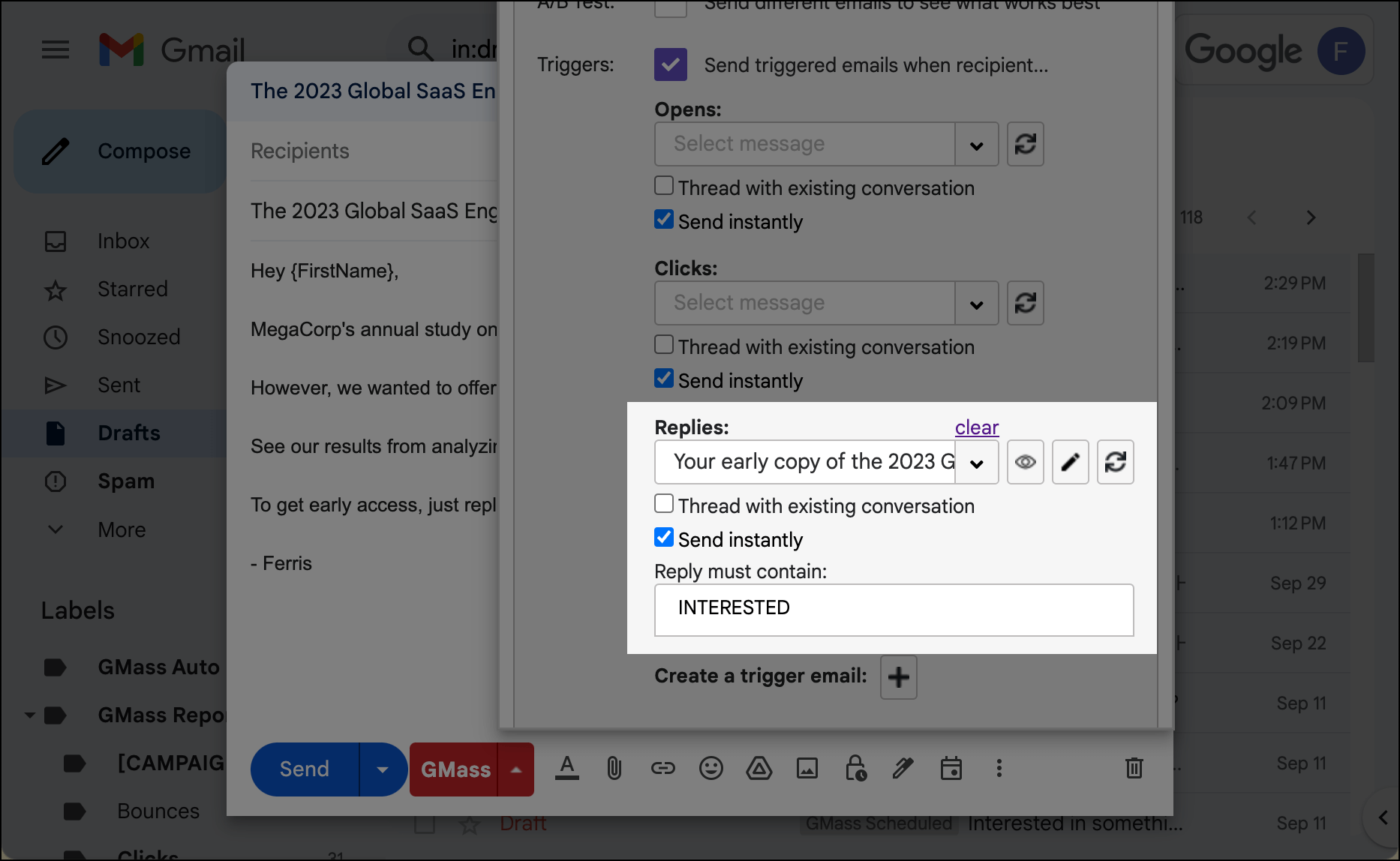 And here's the triggered email with the attached PDF.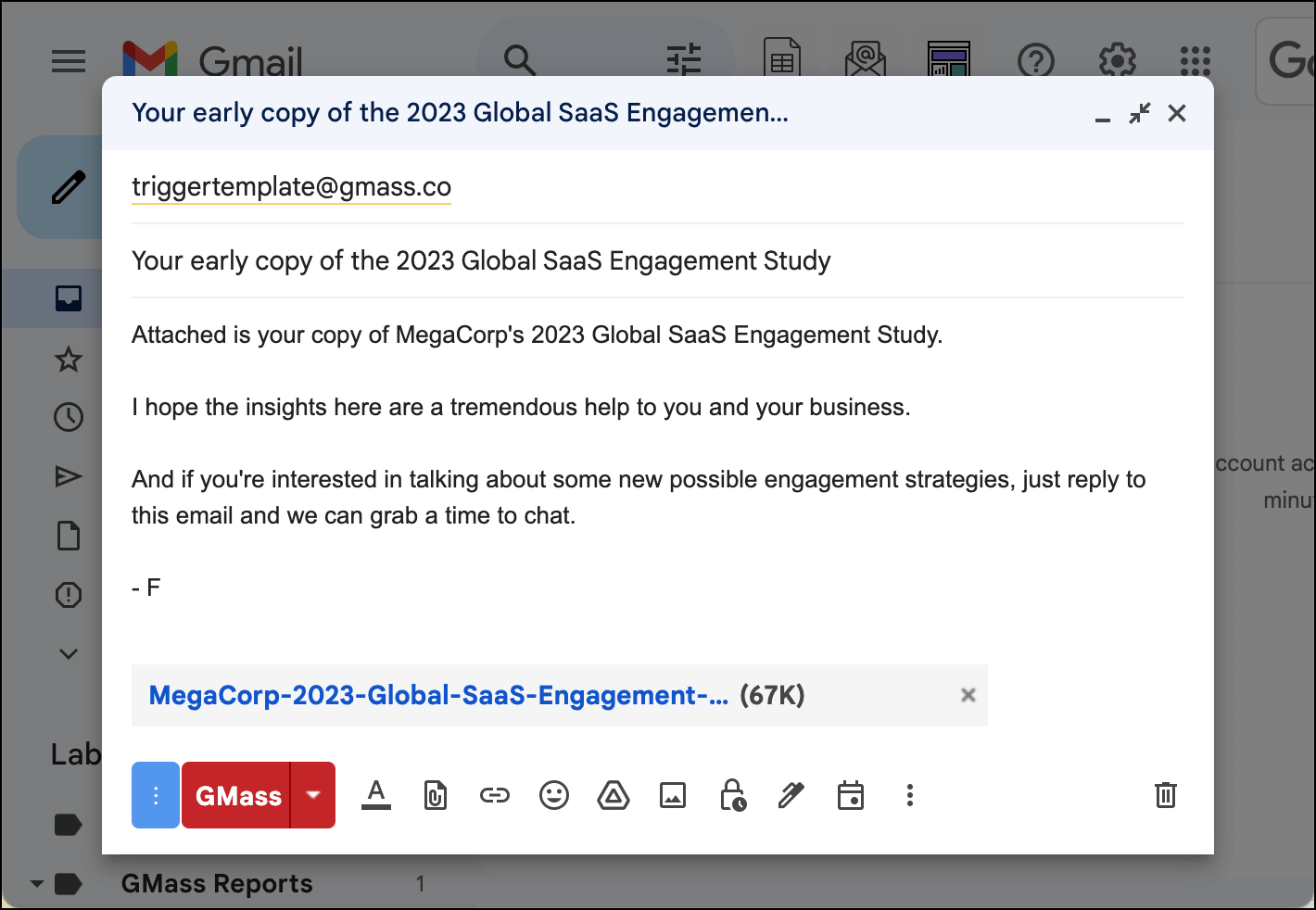 Ways Cold Emailers Are Using Triggered Emails: Wrapping Up
I hope you're inspired by these examples of ways cold emailers are using GMass's innovative triggered email feature.
If you want to learn more about triggered emails, including more nuanced details along with a step-by-step setup guide, check out our full blog post on triggers.
Triggered emails are available to GMass users on all plans.
You can get started with GMass by downloading the Chrome extension. You'll be able to connect your account in a few clicks.
And there's no credit card required to try GMass (sending up to 50 emails a day) until you're ready to upgrade to a subscription.
Email marketing, cold email, and mail merge

inside Gmail



Send incredible emails & automations and avoid the spam folder — all in one powerful but easy-to-learn tool

TRY GMASS FOR FREE

Download Chrome extension - 30 second install!
No credit card required
Love what you're reading? Get the latest email strategy and tips & stay in touch.