We recently announced the official launch of unlimited sending in Gmail. It works by allowing you to connect your GMass account to an external SMTP service like Sendgrid or JangoSMTP. You can read all about it here.
If you're used to using the Just create Drafts feature, which allows you to preview each individual email in your campaign as a Gmail Draft first, and then click a link to send all the Drafts, then hooking up your account to an SMTP service has special implications for you, because of the timing of the creation of the Drafts.
Normally, when you don't have your account linked to an SMTP service, the creation of Drafts operates on the same limits as Gmail's sending limits. Meaning, if you launch a campaign to 5,000 people from a G Suite account (G Suite has a limit of 2,000 emails/day), and choose the Just create Drafts option, then the Drafts will be created at 1,950 Drafts the first day, another 1,950 Drafts the second day, and the final 1,100 Drafts on the third day.
If, however, you have linked an SMTP service to your GMass account, you may want all the Drafts created now, so that you can send all the Drafts now via the SMTP service.
Therefore, we have modified the interface such that if you have an SMTP service linked to your account, and you choose the "Just create Drafts" option, you will now be presented with a choice as to whether all the Drafts should be created now, or whether they should be created according to your Gmail account's sending limits.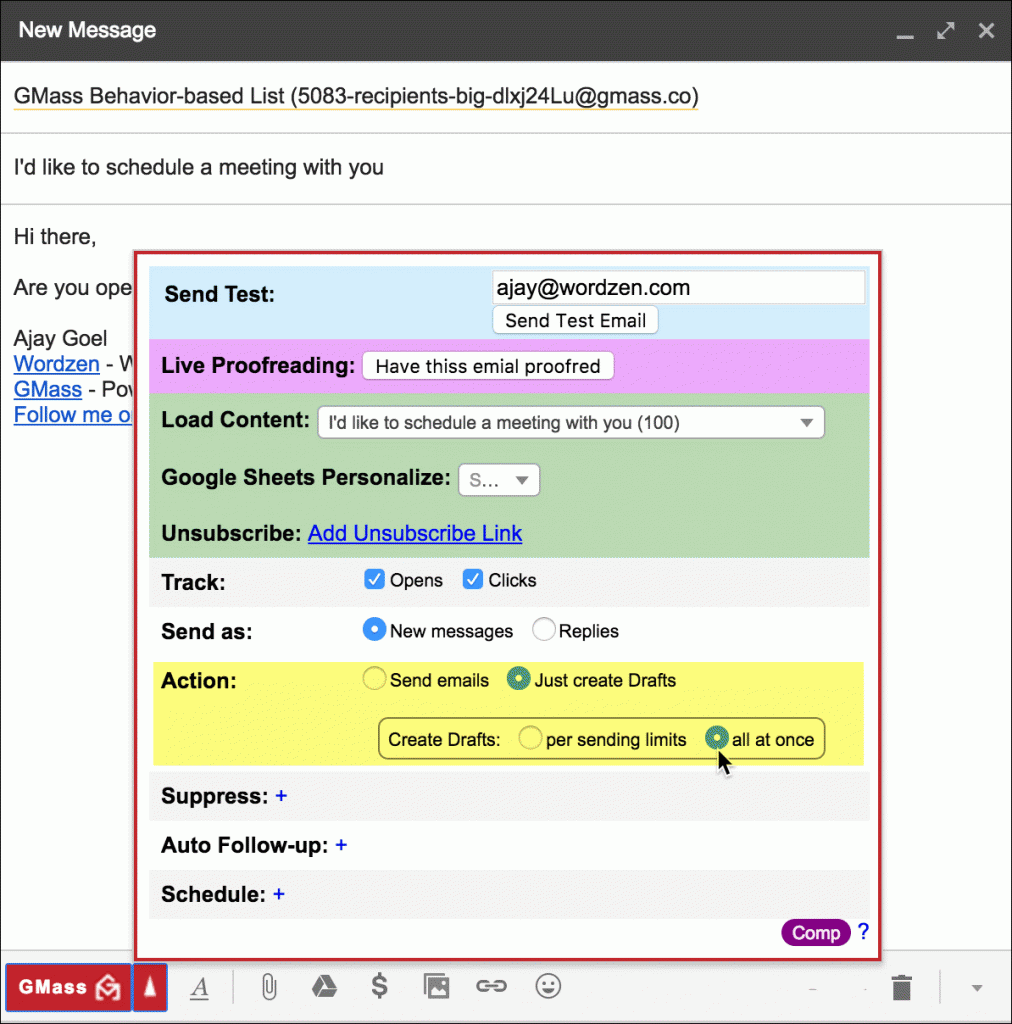 The idea is that if you intend to send the Drafts natively through Gmail, you probably want the Drafts created daily according to Gmail's limits. But, if you intend to send the Drafts through the SMTP service, you probably want the all the Drafts created now.
After the Drafts are created, you are emailed a notification with a link to either SEND the Drafts or DELETE the Drafts. If you click the link to SEND the Drafts, you'll be presented with two options: send via Gmail or send via the SMTP server.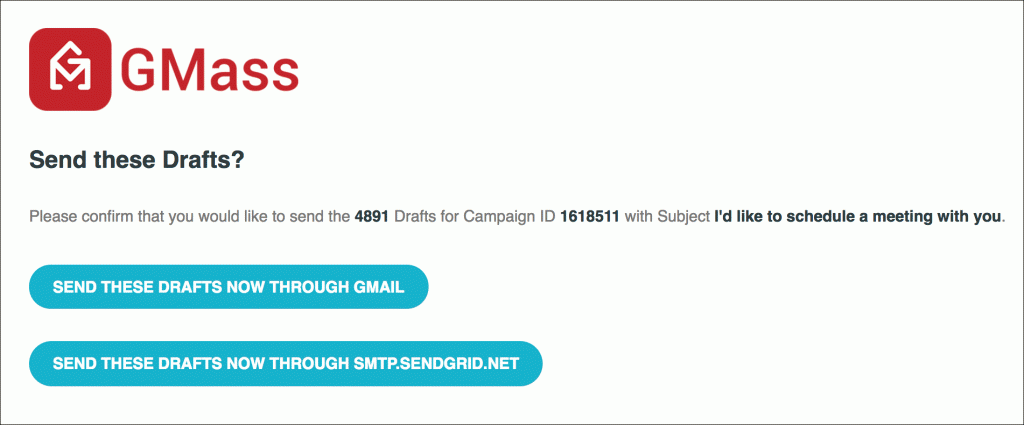 Ready to

transform Gmail

into an email marketing/cold email/mail merge tool?

Only GMass packs every email app into one tool — and brings it all into Gmail for you. Better emails. Tons of power. Easy to use.

TRY GMASS FOR FREE

Download Chrome extension - 30 second install!
No credit card required
Love what you're reading? Get the latest email strategy and tips & stay in touch.