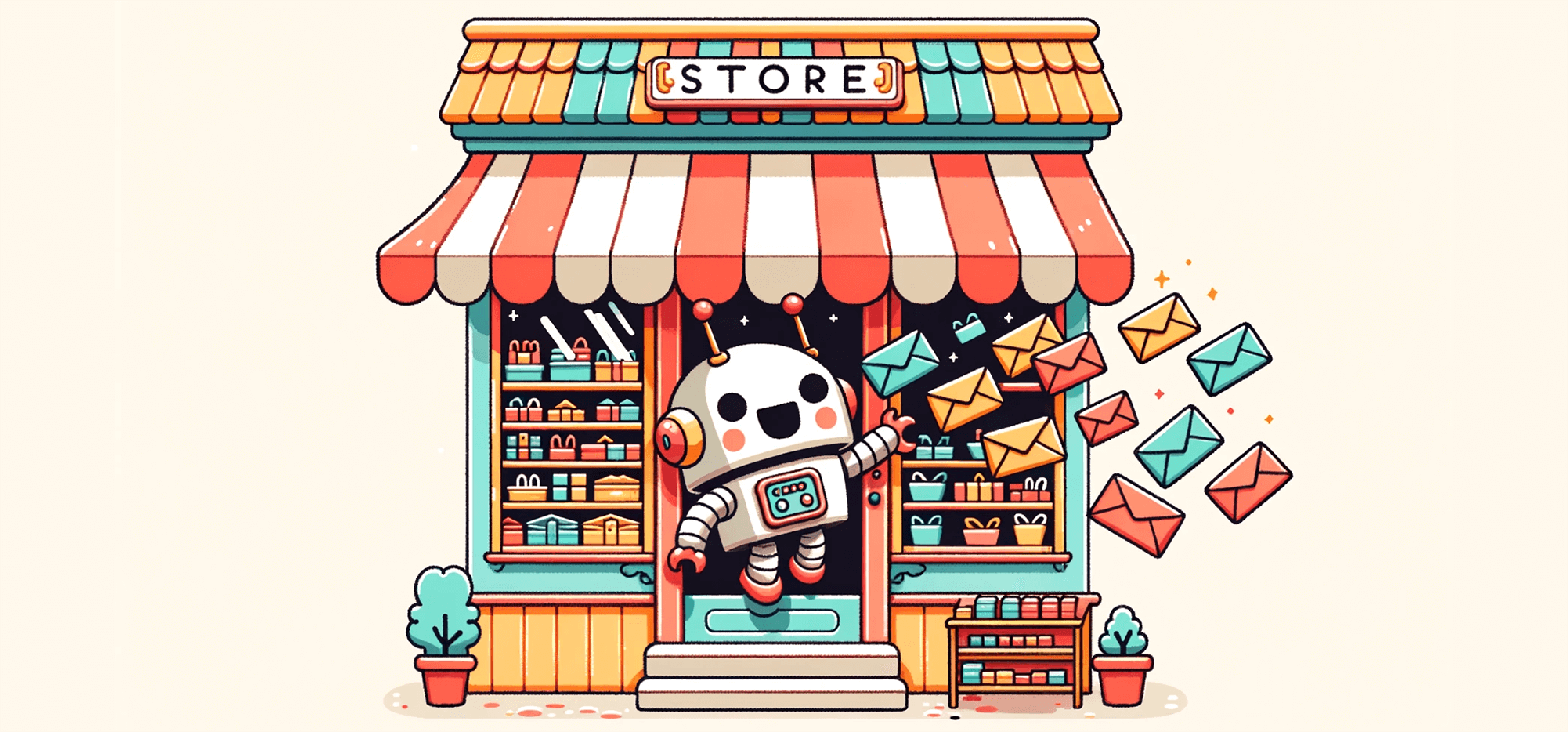 GMass's triggered emails open up a whole new world of email marketing strategies — and some pros are taking full advantage.
For those unfamiliar, triggered emails are automated messages that go to a recipient when they open, click on, or reply to your campaign. That gives you a shot at sending the email when you know your recipient is in their inbox and has you top-of-mind.
(For more on triggered emails, including a step-by-step guide with screenshots to set them up, check out our complete guide.)
Because triggered emails are an untapped concept in email we reached out to some of the first GMass users taking advantage of them. And we asked: How are you using triggers to get better results for your campaigns?
Last week we published some of the strategies cold emailers are using with triggered emails; this week we're talking about the uses opt-in email marketers, eCommerce stores, and newsletter senders shared with us.
We hope this will serve as inspiration and spark tons of great ideas for ways you can use triggered emails in your own campaigns.
Here are five clever ways email marketers are using triggered emails to boost engagement, get more eyeballs on their messaging, and better achieve whatever goals (from sales to authority) they have.
Email Marketing Strategies with Triggered Emails: Table of Contents
1. Onboarding Without Overwhelming
When a new customer or subscriber signs up with you, odds are you send them some type of welcome email. It might be a single "Hello!" or a full onboarding sequence.
Either way, we all tend to bombard new subscribers with a lot.
And we basically have to.
Welcome emails are one of the most-read message types and give you a chance to properly introduce what you do, begin the onboarding process, and turn the new subscriber into someone who's loyal, engaged, and recognizes the value of what you offer.
Triggered emails give you an opportunity to spread out your initial message — so you're not information dumping everything in a single email.
GMass subscribers Trading Vitamins, a stock trading and education platform, told me triggered emails have been a huge help in streamlining their onboarding process.
"We give a small email that allows individuals to get their access or get the information they need without overwhelming them," Trading Vitamins told me.
"In that same email, I also say I will be sending them a follow-up email with more in-depth information. It helps big time because instead of overwhelming subscribers or clients in one email, it allows us to send a small call-to-action email with a follow-up immediately instead of losing their attention in a day or two. Then it [could] get lost and then they forget."
Sample template and setup
Here's an example of how you could start your onboarding with a short initial email then follow up with more information.
First, here's the initial email…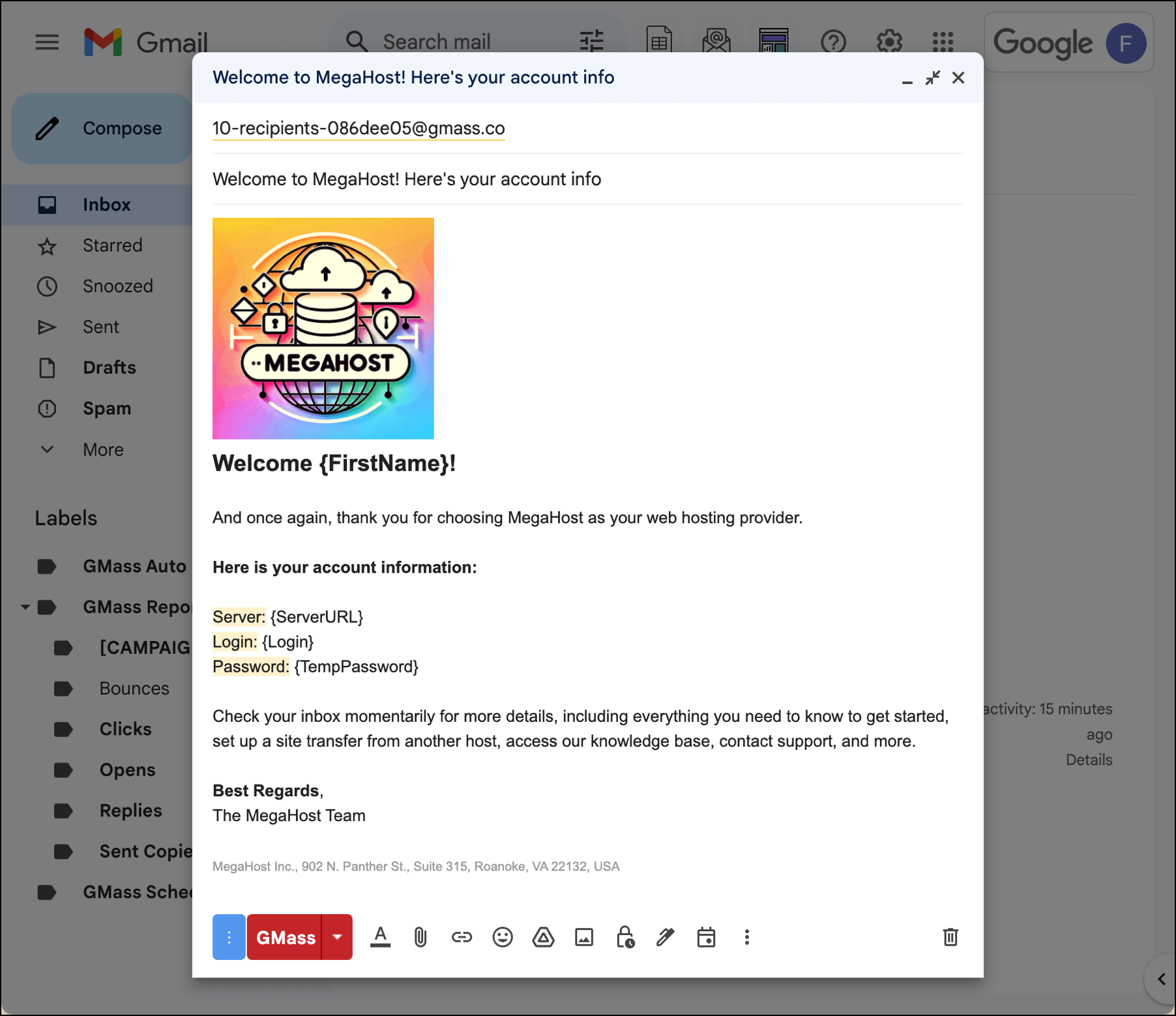 Now here's how to set up the trigger. I've set this to trigger immediately when someone opens the first email. I've also set this up so the onboarding email will be in its own Gmail thread with its own subject line.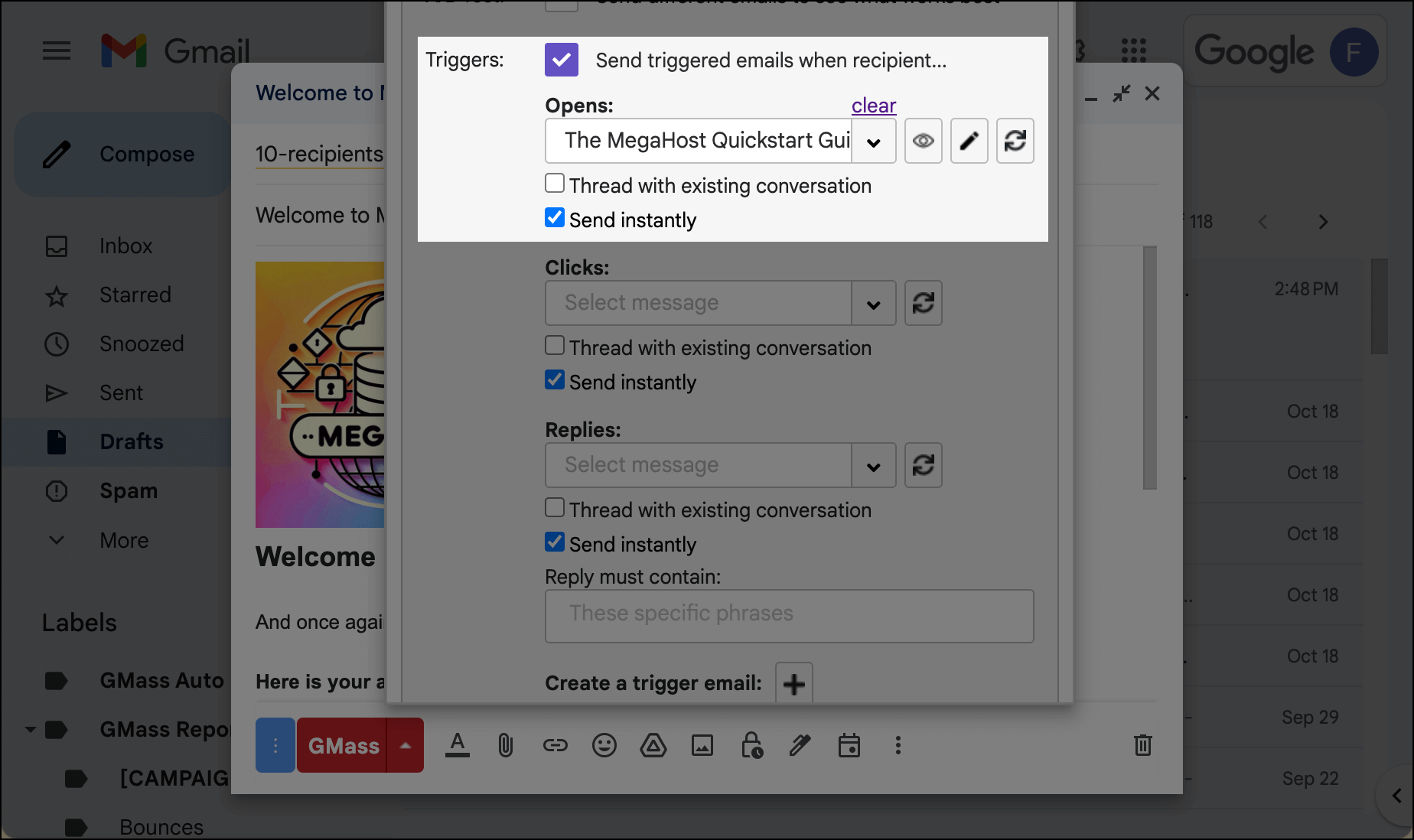 From there, the triggered email contains more thorough onboarding information now that we know the person is engaged and receptive.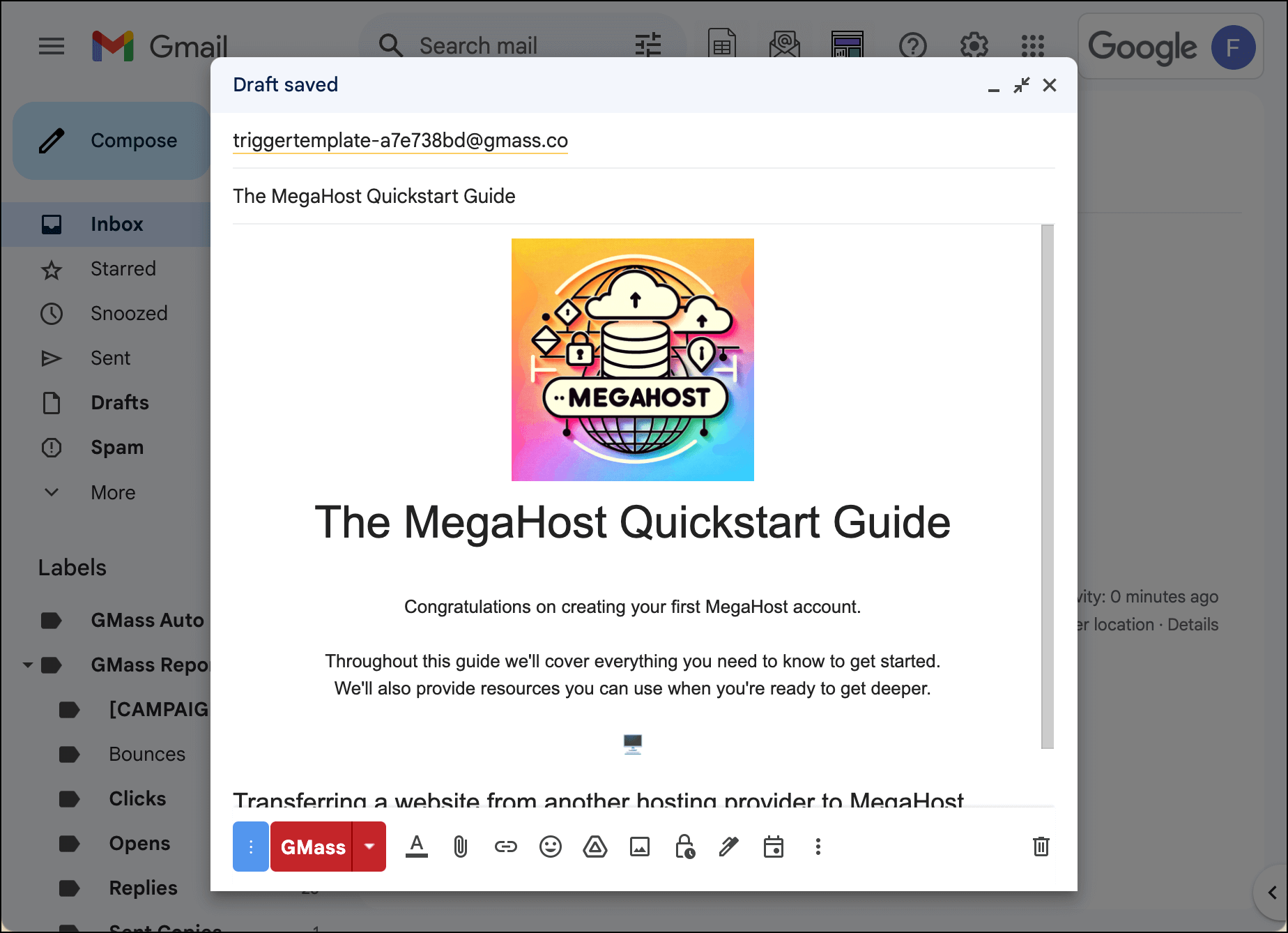 2. Sending an Exclusive PDF on Reply
It's always good when email subscribers to reply to a campaign.
It's good for deliverability. It helps forge stronger relationships between you and those recipients. And it helps get your subscribers in the habit of actively engaging with your sends.
One popular technique we're already seeing with triggered emails is someone offering a free, exclusive digital product to any subscribers who reply. And then cueing up a triggered email with the digital product attached, which automatically goes to those responders.
A couple of email marketers on GMass told me they've been using this technique.
"I love not having to manually send the file when people reply like I used to," one told me.
Sample template and setup
Here's an example of an email you could send to your list offering them a free eBook, checklist, guide, or other PDF when they reply.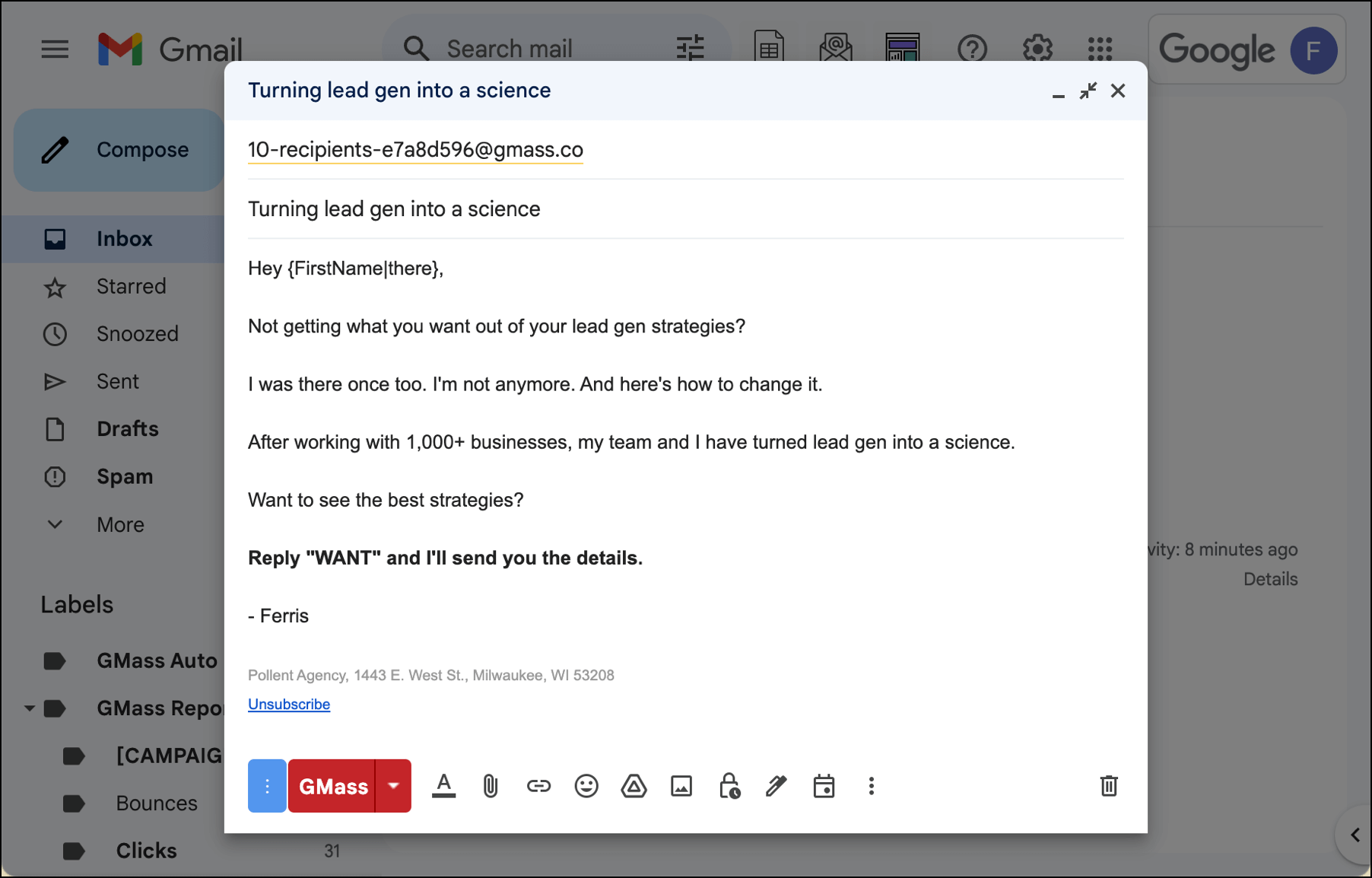 Here's how I set up the trigger. In this case, I have the digital download going out on a slight delay (I want them to feel like I sent it manually).
I've also set this up so my reply trigger is looking for a specific keyword ("WANT") and only sends the message if the recipient's reply includes that.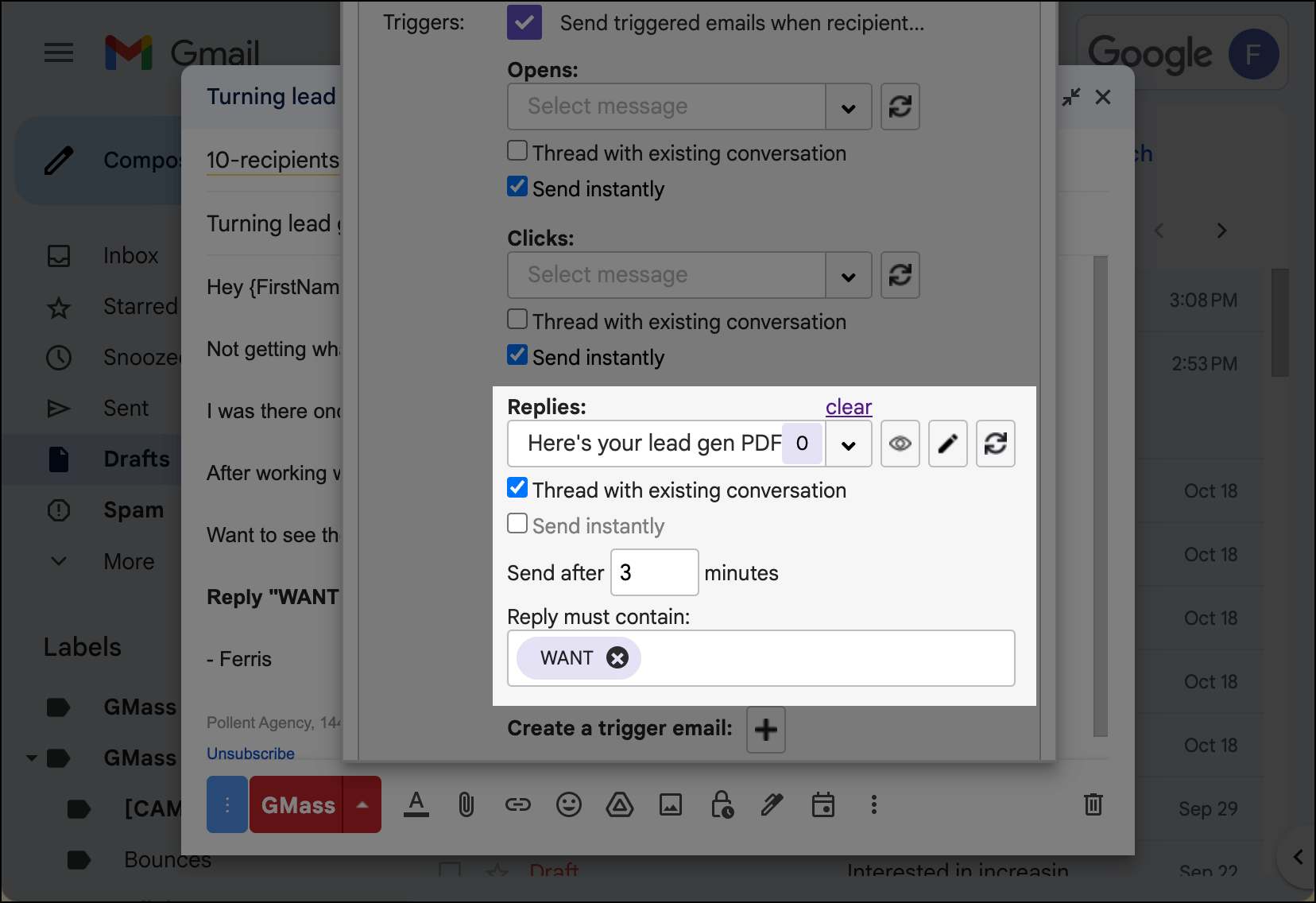 And here's the triggered email with the attachment.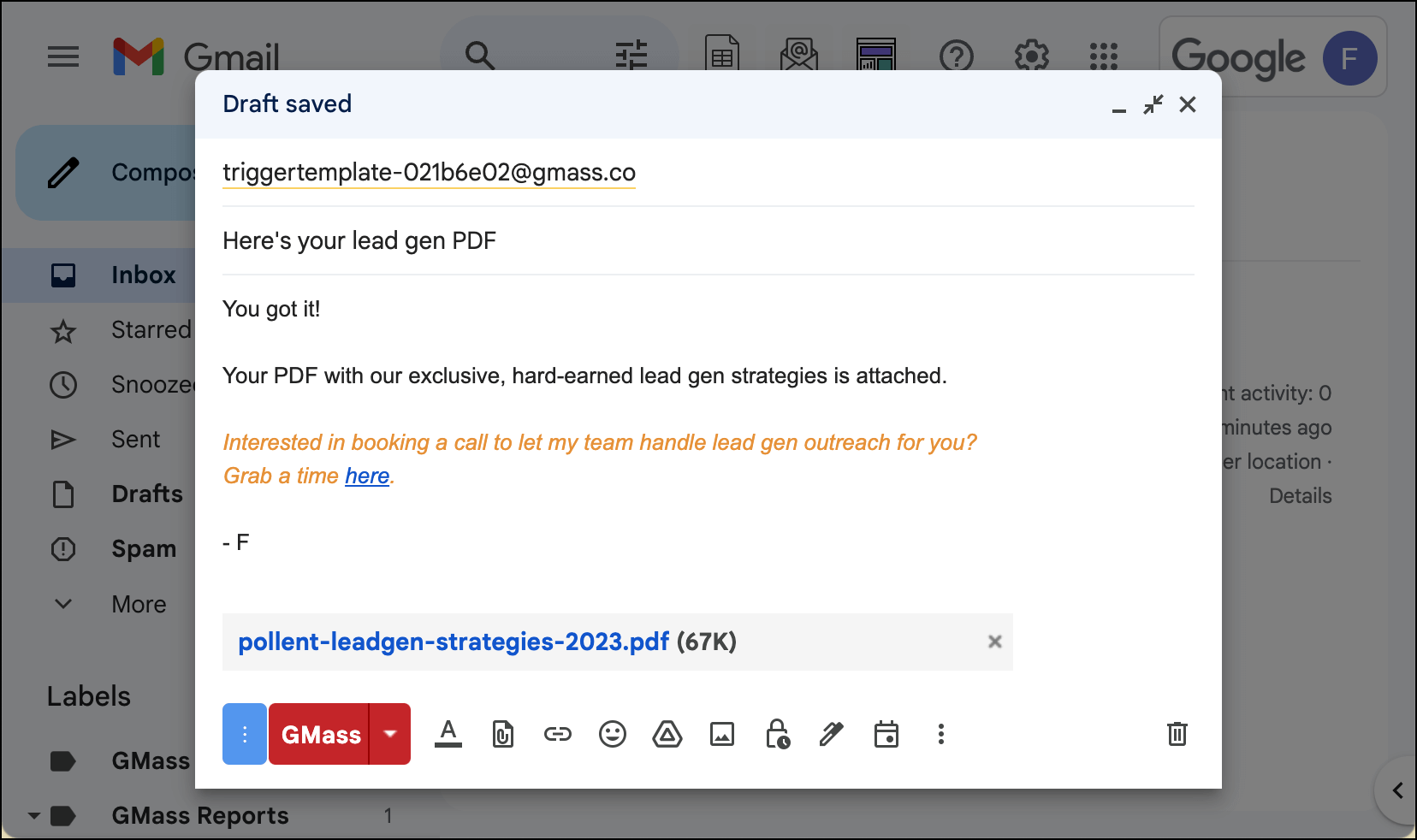 3. Sending a Delayed Coupon After a Click
Unfortunately, there's no such thing as a 100% click-to-conversion rate. Some subscribers are going to click through on your newsletter or other email marketing messages — but they won't wind up purchasing a product or your offer.
Triggered emails present a new opportunity for email marketers to take another shot at those potential customers; the people who were interested but not quite interested enough to convert.
A GMass user named Eric told me he's using triggers to send a coupon after someone clicks.
That gives him a second email touchpoint with the person that day.
And since the triggered email contains a special coupon, it has the potential to overcome a top sales objection (price).
Eric uses a delay on the triggered email so it doesn't look like he's "stalking" the person. He sets the coupon to go out a half hour later. While that probably won't capture the person while they're still in their inbox, it should still arrive while he's on their mind — and while they might still have the "do I buy this or not?" decision making debate going on in their head.
Sample template and setup
Here's an initial sales email.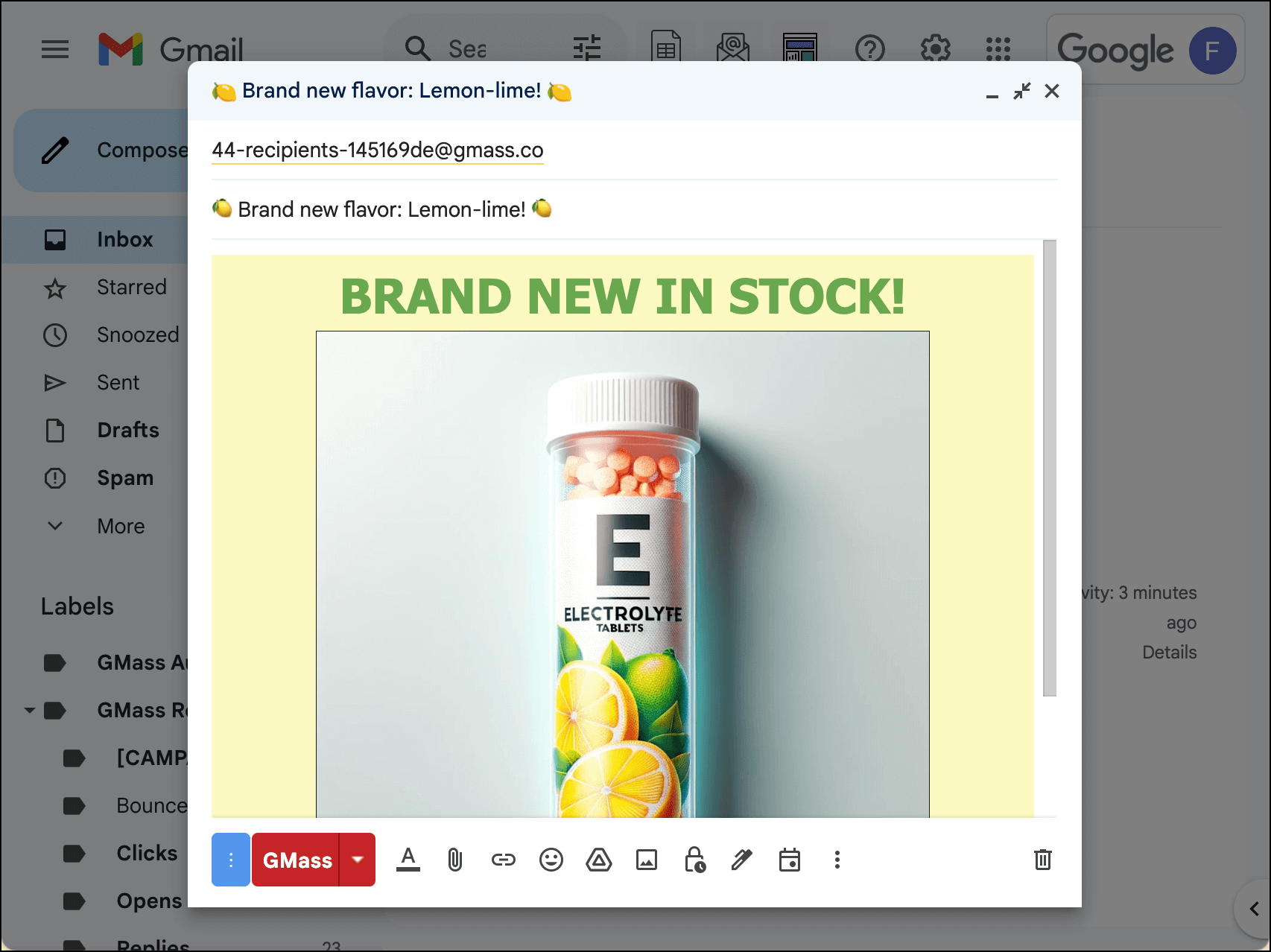 And here's how I set up the click trigger with a delay.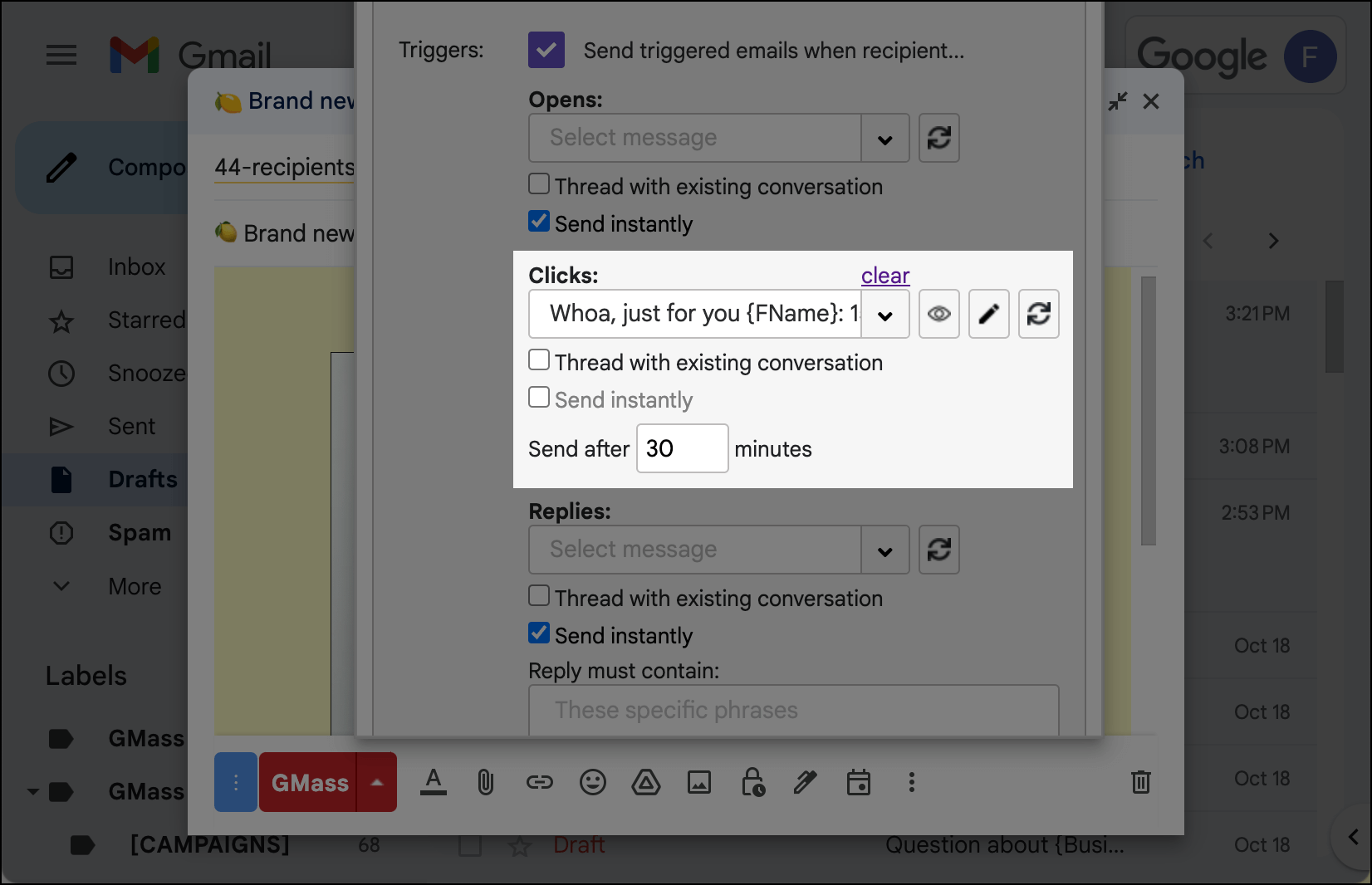 Also, in this case, I also decided to set up a suppression list so the triggered email doesn't go out to people who did already make the purchase. So I used a suppression list of my order spreadsheet to make sure this trigger only goes to people who clicked but didn't place an order.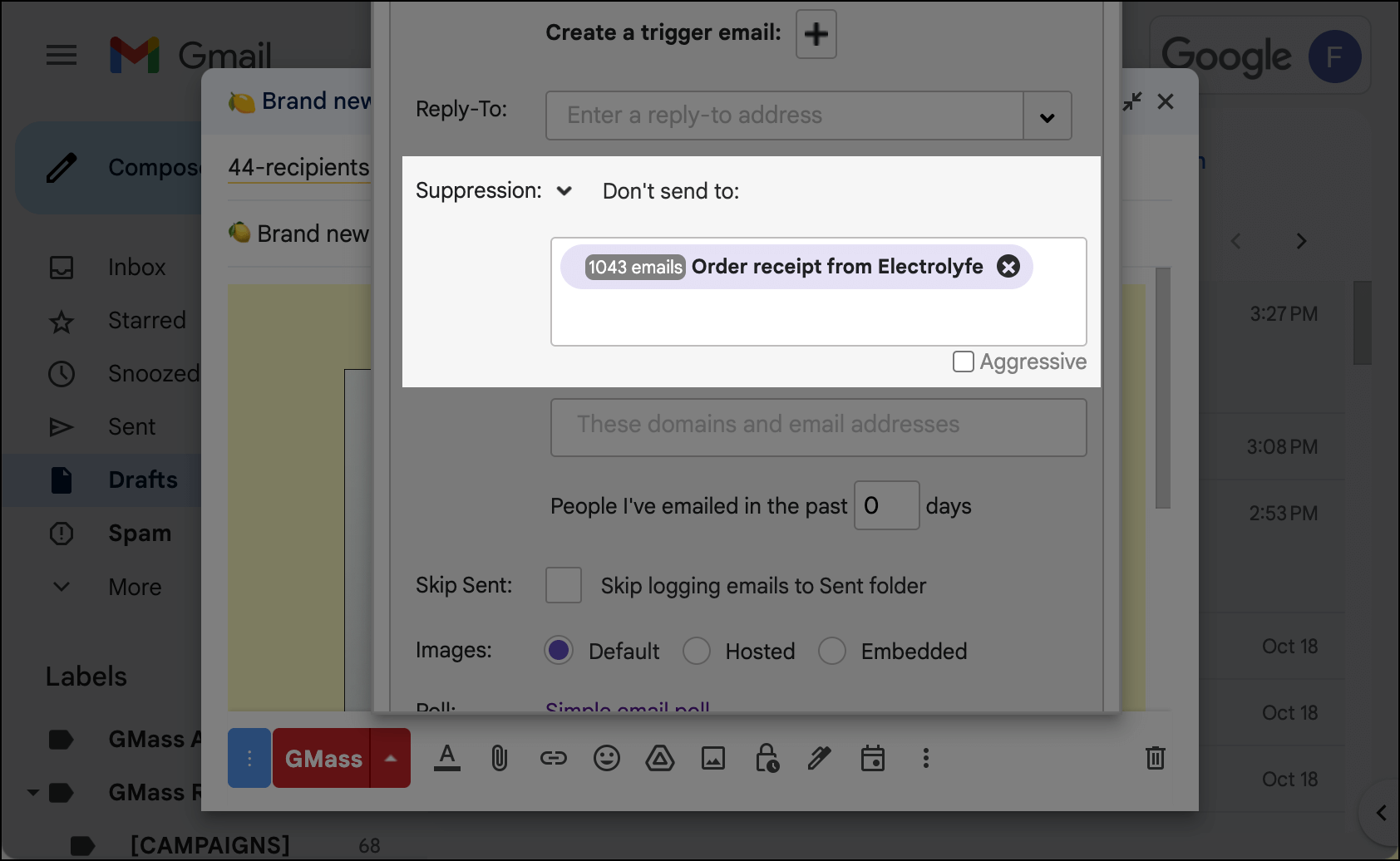 And finally, here's the triggered template with the coupon.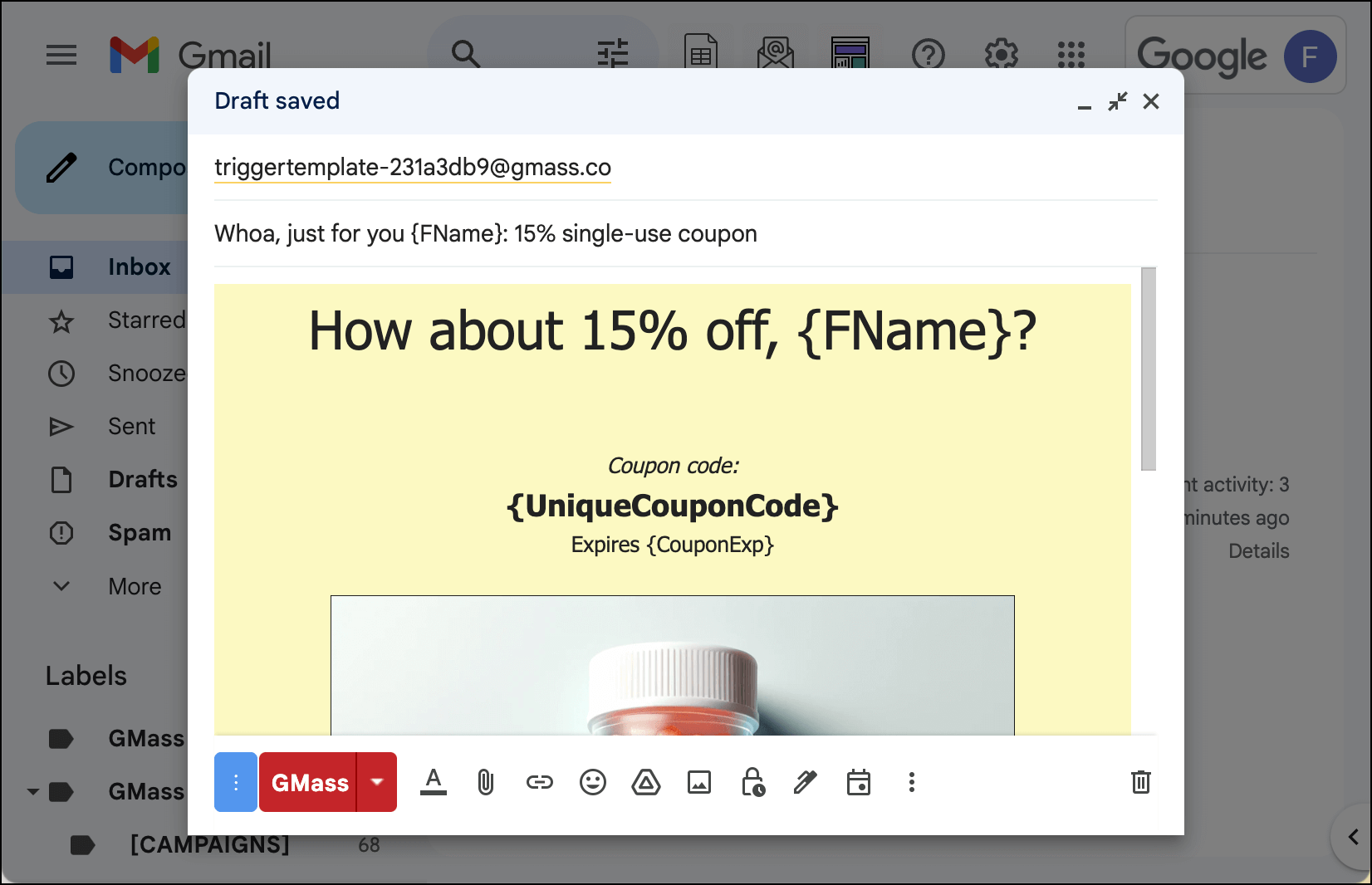 4. Asking for a Product Review
It's tough getting customers to leave reviews. Really tough. (At least happy customers. Angry customers can't leave one-star reviews fast enough.)
So the best opportunity is when customers are already thinking about, and excited about, their purchase.
That's why at least one early adopter of triggered emails is using them to send product review requests.
The request is triggered when someone opens a specific email (in this case, any email in the onboarding sequence) and goes out immediately in the same thread.
All that is designed to eliminate some of the friction involved in leaving a review and increase the odds of a customer taking the time to write one.
Sample template and setup
I haven't re-included the image again, but once again, I'll use my web hosting welcome email example for this scenario.
And here's how I set up the open trigger to go out immediately in the same thread.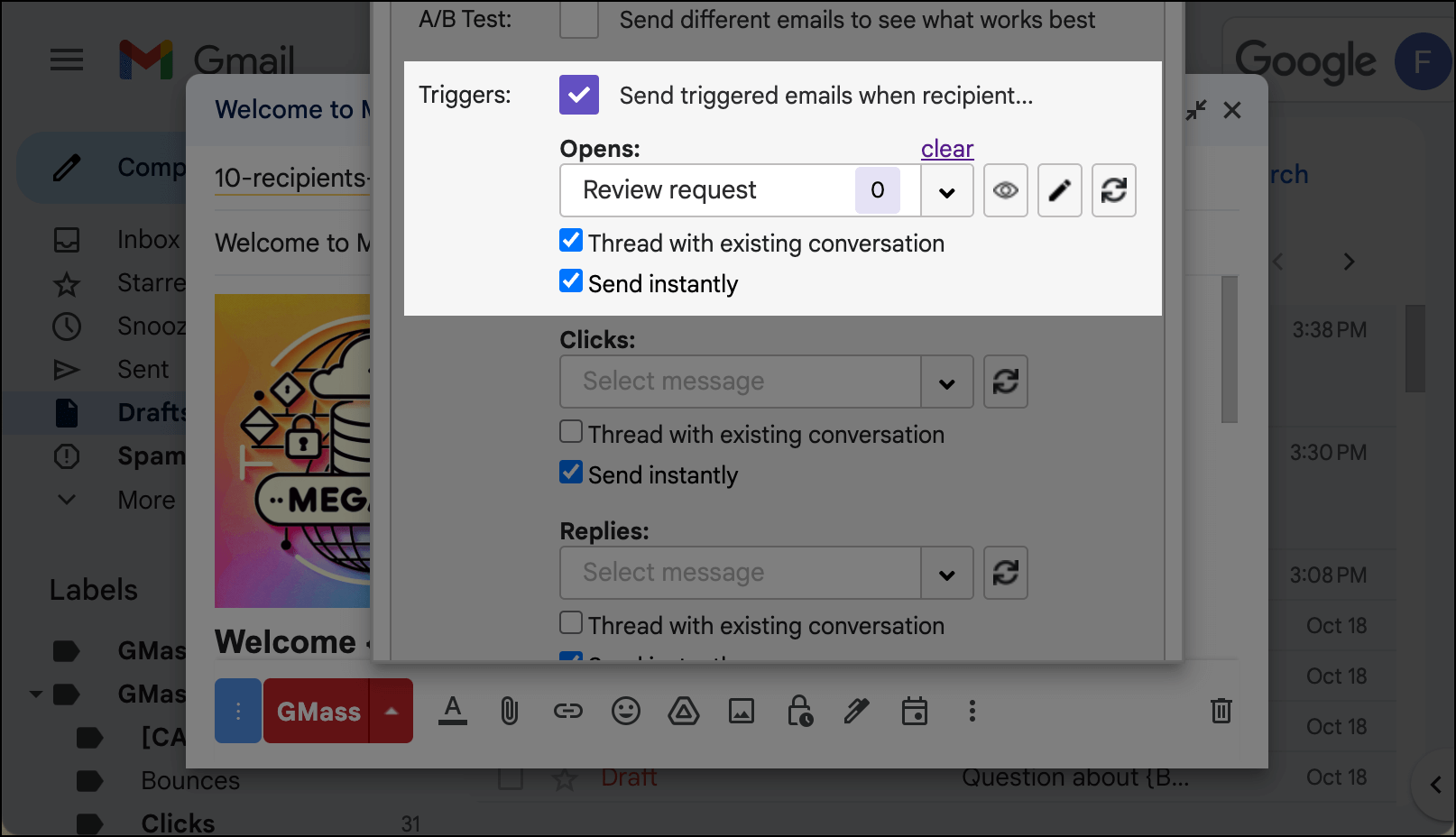 Finally, here's the review request.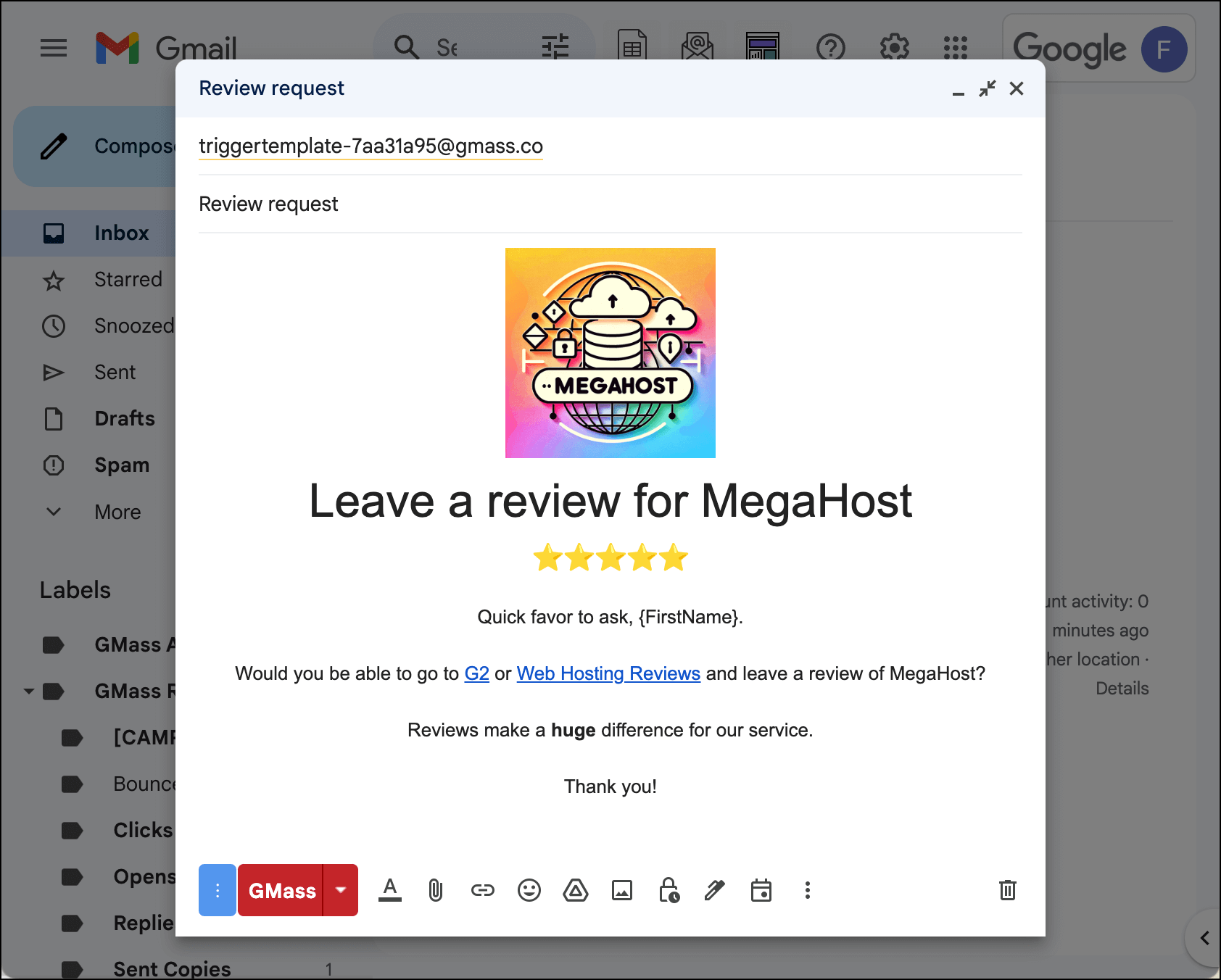 5. Redirecting Support Seekers to the Right Place
I'll speak from considerable personal experience for a moment here…
When you run a product with support, you want and need users to go through the proper support channels — it's how you manage all the incoming requests and make sure everyone gets an answer.
However, not everyone goes through the right channels. It's quite common for people to respond to unrelated email campaigns asking support questions.
One triggered email user told me he's set up a reply trigger that thanks people for their response — and directs them to use the support channels if they replied with a support question.
It's possible you might even be able to take that a step further and use a reply trigger keyword here (like "help" or "support"). That depends on whether you see the same word coming up in all or most of the support-focused replies.
Sample template and setup
I didn't include an initial template here because really, the first message could be anything (a newsletter, an announcement, a transactional email). In this case I'll again use my promotional eCommerce email.
But here's how I set up the reply trigger. I am sending it in a new thread immediately.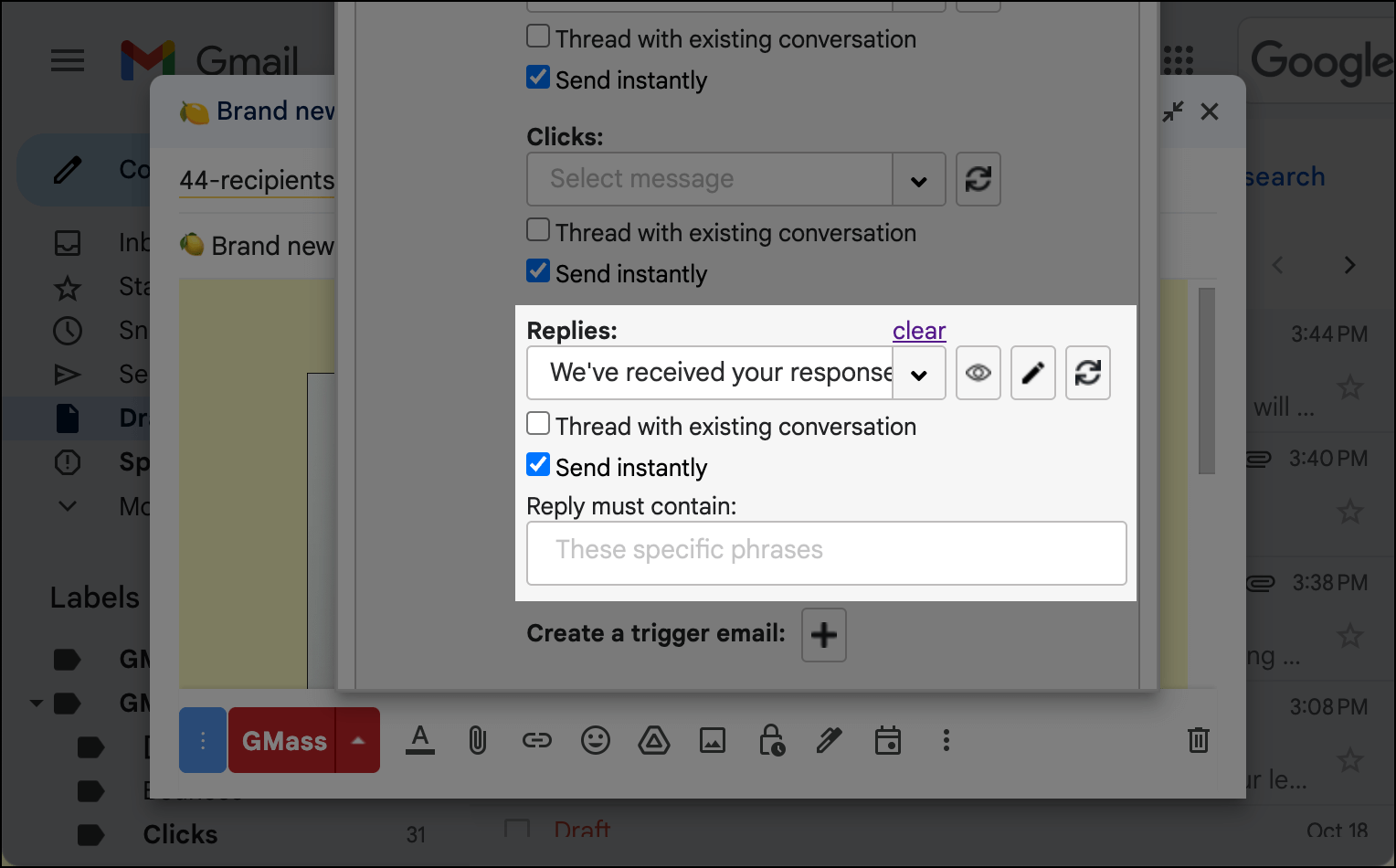 And here's the triggered email itself.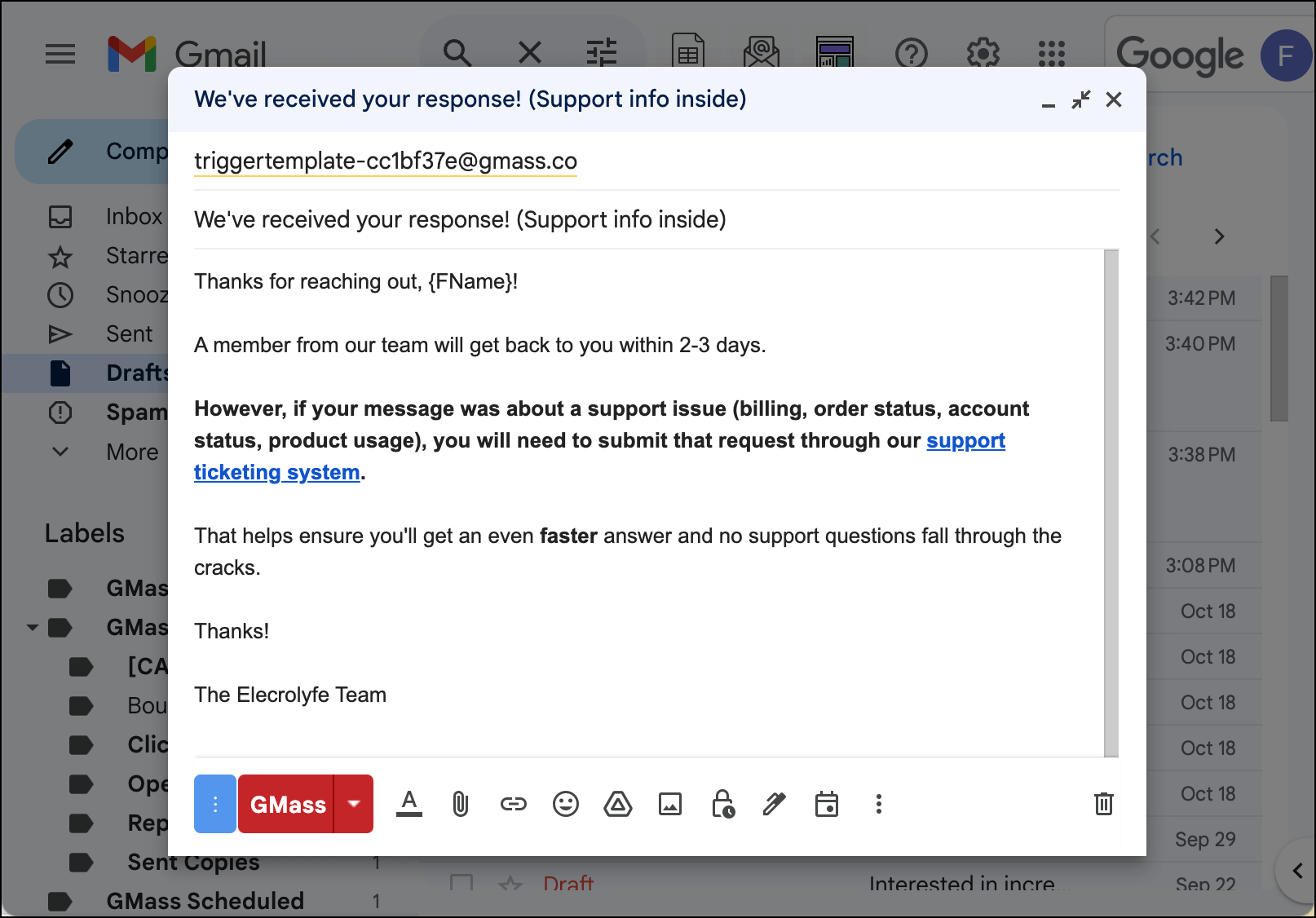 Ways Email Marketers Are Using Triggered Emails: Wrapping Up
These five ways email marketers are using GMass's triggered emails is just the beginning.
If you have any recurring pain points or messaging issues with subscribers and customers — there's probably a way you can use triggered emails to help.
Once again, if you want more info on triggered emails or a step-by-step guide for using them in your campaigns, check out our full article on triggers.
And good news: Triggered emails are available on all GMass plans.
If you're not a GMass subscriber, you can get started by downloading the Chrome extension. You can then connect your Gmail or Google Workspace account in a few clicks — and you'll be sending your first campaigns in a matter of minutes.
There's no credit card required to try GMass, and you can send up to 50 emails a day until you're ready to upgrade to a paid plan.
Ready to

transform Gmail

into an email marketing/cold email/mail merge tool?

Only GMass packs every email app into one tool — and brings it all into Gmail for you. Better emails. Tons of power. Easy to use.

TRY GMASS FOR FREE

Download Chrome extension - 30 second install!
No credit card required
Love what you're reading? Get the latest email strategy and tips & stay in touch.