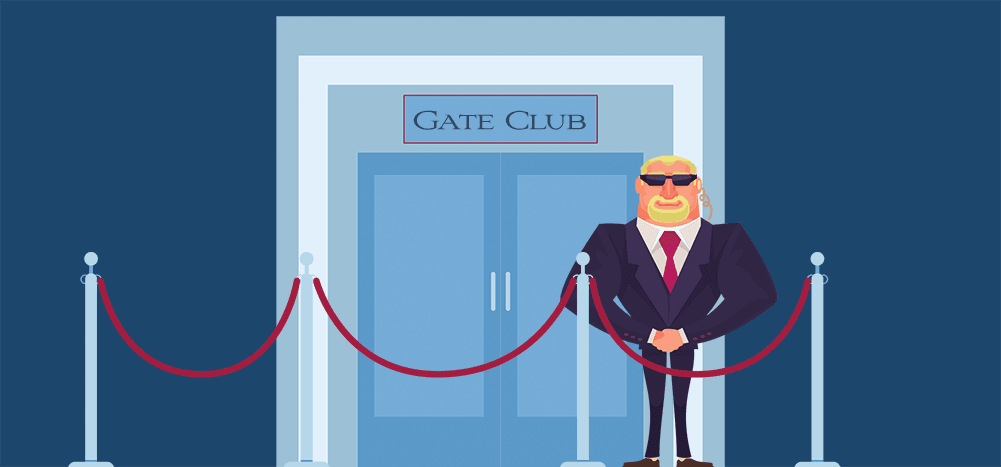 As of March 2023, The Gate has been deprecated and replaced by The Reply Project, GMass's tool to make replying to emails 10x faster. (Which incorporates everything from The Gate, plus way more, and makes the entire process easier.)
Read about how The Reply Project is now the backbone of GMass's reply management here.
Let's say you send out a campaign with a teaser, offering something of value to your prospects, like this: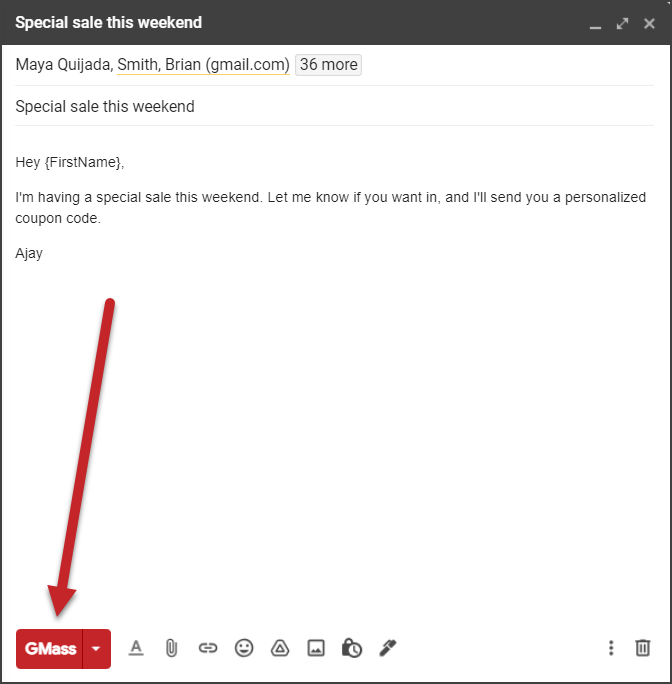 You don't want to send everyone a coupon code, because you want people to reply indicating interest before getting their coupon code. Normally, you'd collect replies, and then you'd go through your email program, and one by one, reply to each person who replied, pasting in their coupon code. That's painstaking and error-prone.
With GMass's new Gate, we make that process simple and efficient.
It goes like this:
Send out your campaign as normal.
Create a reply "template."
In the GMass dashboard, scan your replies for those who are interested, and with the click of a button, send the reply template.
The reply template can be personalized just like a regular campaign, including any data from your Google Sheet.
First, create a reply template
Using the Gmail Compose box, put the special address [email protected] in the To field. Then set the Subject to anything you like that will help you remember this template. The Subject will never be seen by anyone, since this will only ever be a reply to another email, so the Subject of that email will be seen. Then, for the body, type the reply, and use any personalization fields you like from your Google Sheet.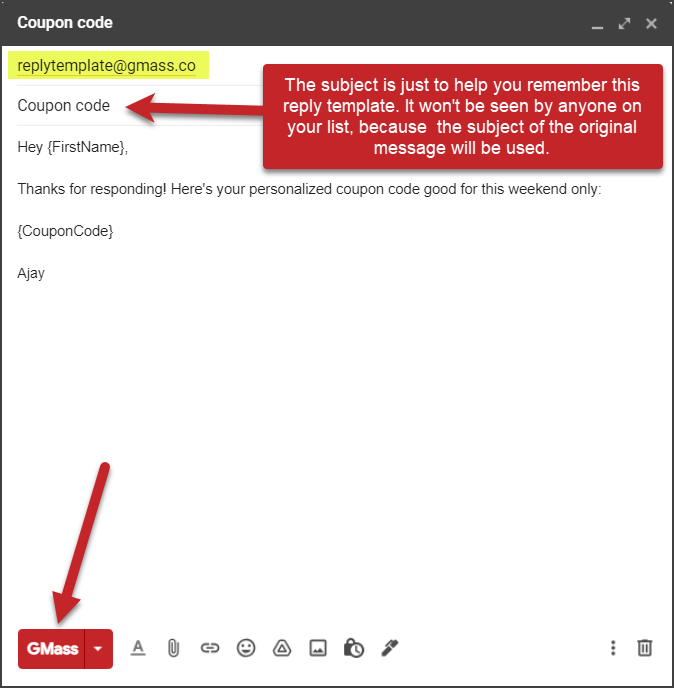 Then, send replies after your recipients reply
Remember, this feature is to make it easier to reply after someone replies. Think of it as a "reply to reply" feature.
Go to your dashboard and click the number under the Replies column to open the fly-out Replies panel.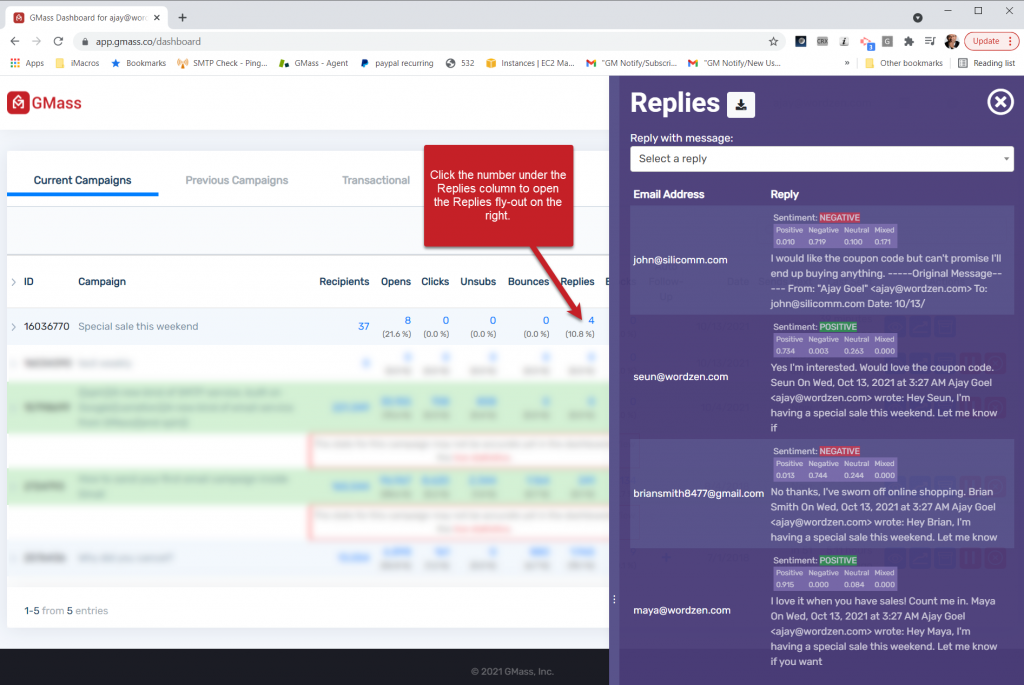 Now you'll see a list of replies, and the first few words of each reply. You'll also see a sentiment score for each reply you've received. These are the same replies you would have seen directly in your Gmail account.
Choose the reply template you created above from the "Reply" dropdown at the top of the fly-out panel.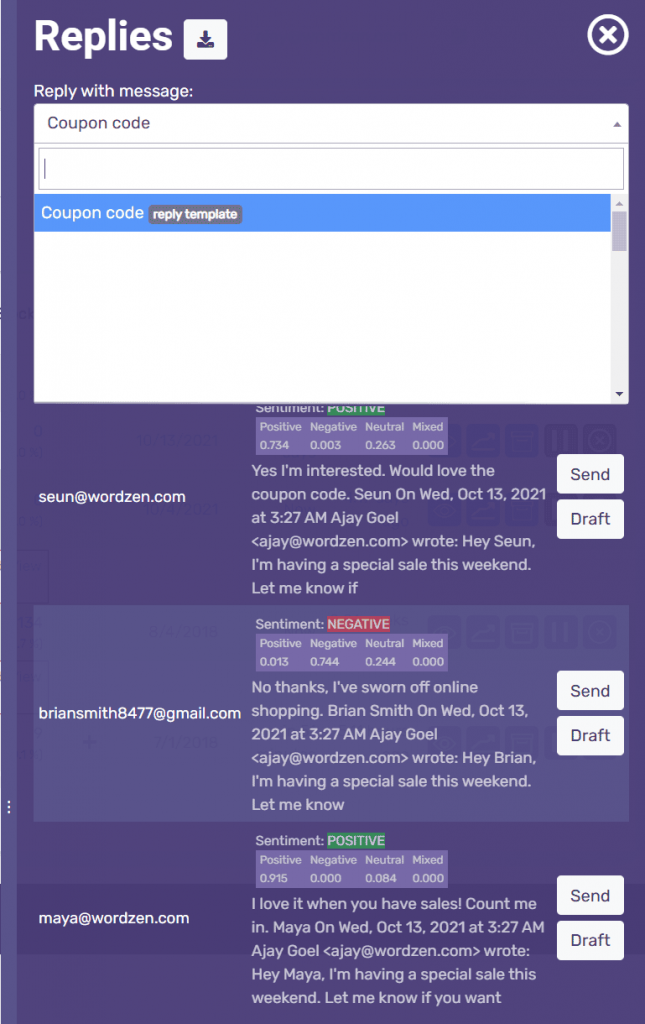 As soon as you choose your "reply template," you'll see two new buttons appear next to each reply: Send and Draft.
If you click Send, then the reply will be sent. If you click Draft, then a draft reply will be created in your Gmail account, and then you can go to the Draft in Gmail, and make any changes, or just make sure it looks right, and then send it with the normal Gmail Send button.
In my example, I scan through the replies, gauge who actually wants the coupon code, and I hit Send for each one.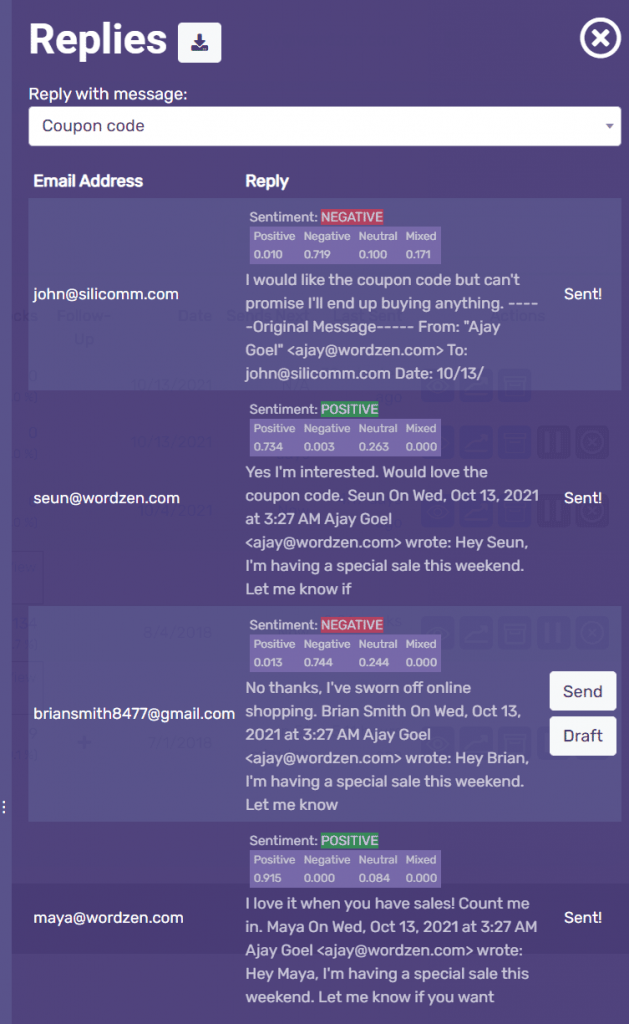 Now my three replies have been sent and each reply has been personalized and included in the original conversation with my customer. If I go to my Gmail account and look at the thread with one of my customers, like [email protected], it will look just like a reply if I had manually responded with the coupon code.

That's it! I hope you enjoy The Gate!
See why

99%

of users say they've had their best deliverability ever with GMass

Email marketing, cold email, and mail merge all in one tool — that works inside Gmail

TRY GMASS FOR FREE

Download Chrome extension - 30 second install!
No credit card required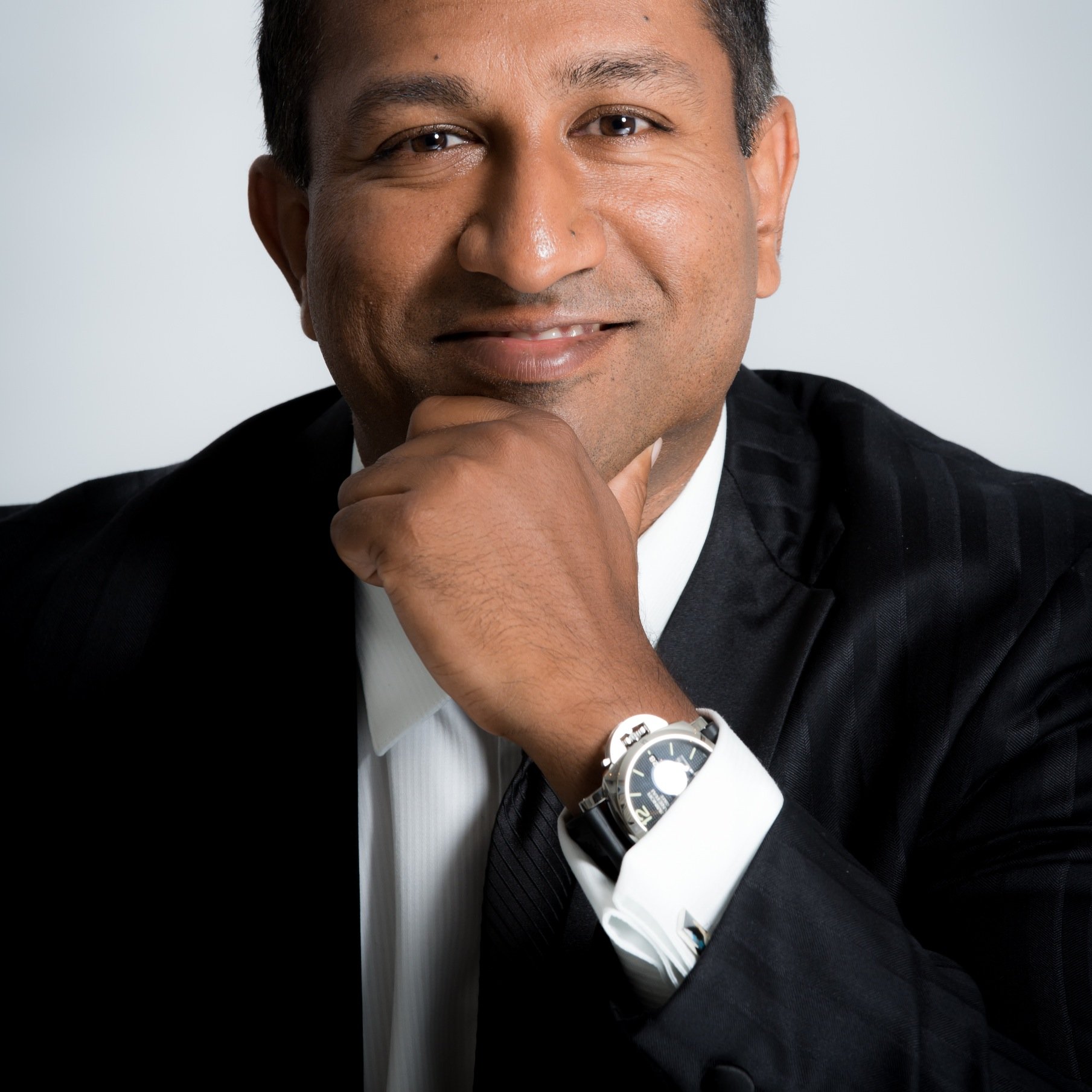 Ajay is the founder of GMass and has been developing email sending software for 20 years.
Love what you're reading? Get the latest email strategy and tips & stay in touch.