Have you ever sent an email campaign in Gmail and been disappointed by the lack of responses? You are not alone. Many small business owners and entrepreneurs struggle with the idea of getting people to open their emails, let alone take any desired action.
This is where email open tracking comes into play. You can't tell if individuals on your list are opening and reading your emails unless you track your email opens.
Open tracking is the process of keeping track of who opened your email. This article will explain how email open and click tracking works in Gmail, the advantages of using email open tracking, and how to enable it in Gmail.
How to track email opens and clicks in Gmail
You can track Gmail email opens by using read receipts in Google Workspace accounts or setting tracking pixels and link tracking in Google Analytics. Each of these options has its limitations. The article below will explain how each method works, its limits, and the best way to track email opens.
Track Email Opens Using Gmail Read Receipts
Read receipts in Gmail can tell you whether your emails were opened, but they may also be unreliable. Remember that your recipient has the option of not providing you a read receipt at all. Also, you can enable this feature only if you have a paid Google Workspace account.
If you want to enable read receipts in Gmail, here are the steps:
Ensure that you have administrator privilege.

Open Google Workspace Admin console.
Navigate to Apps > Google Workspace > Gmail > User Settings by following this link: https://admin.google.com/ac/apps/gmail/usersettings

In the Email read receipts section, select the options that best apply: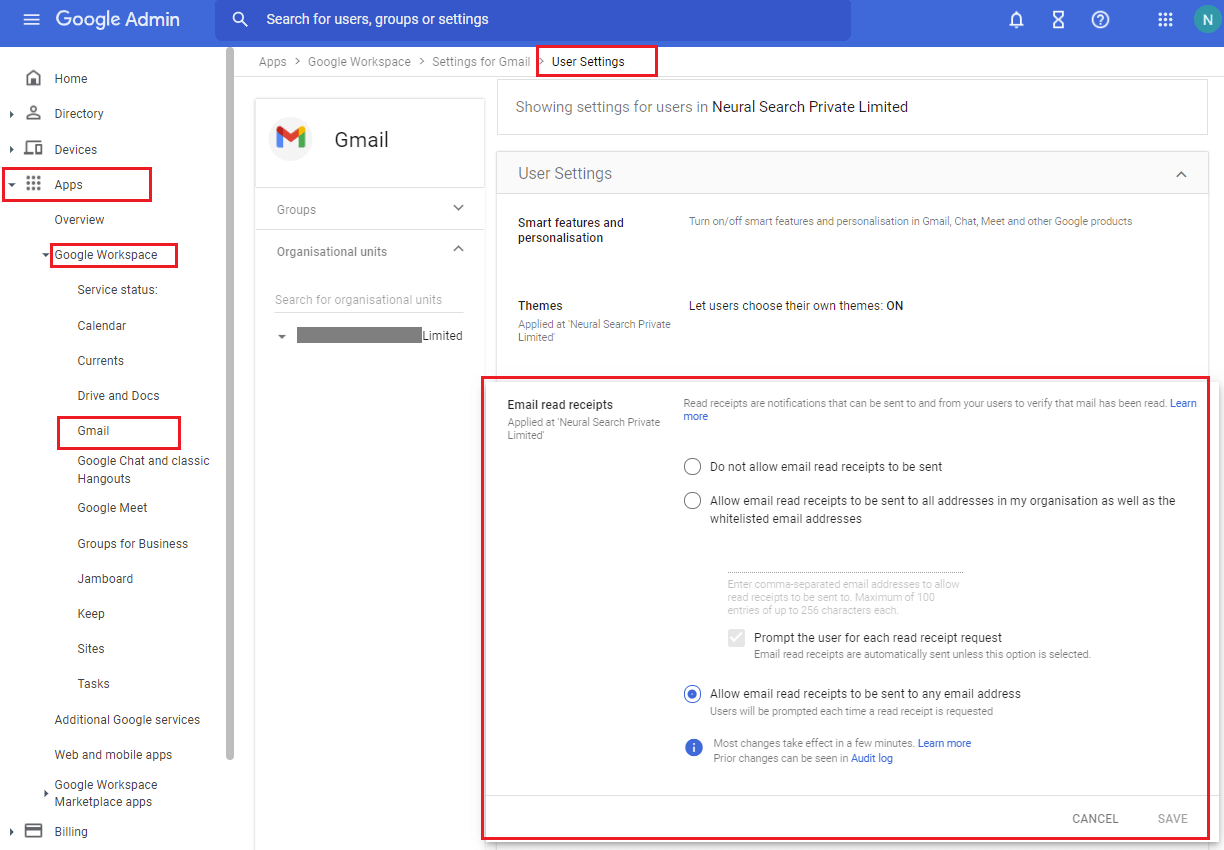 Allow email read receipts to be sent to all addresses in my organization as well as the whitelisted email addresses 
With this option, you are limited to email addresses in your domains and any external addresses that you specify. You need to add separate external email addresses with commas. You can enter up to 100 addresses with this whitelist, and each email address can have up to 256 characters. If you don't include email addresses, users can return receipts only to the users within your domains/organization.
If you enable the setting

"Prompt the user for each read receipt request,"

 it will ask users each time they open an email if they want to send a receipt. You can uncheck this to send read receipts automatically.
Allow email read receipts to be sent to any email address —

This setting allows read receipts to be requested and returned from all email addresses, even those outside your organization. Users are always prompted to send a receipt.
5. Click Save.
6. Once you have enabled the read receipts, you can request read receipts when you compose an email. In the Gmail compose window, click on the three dots which say "More options" and select "Request read receipt."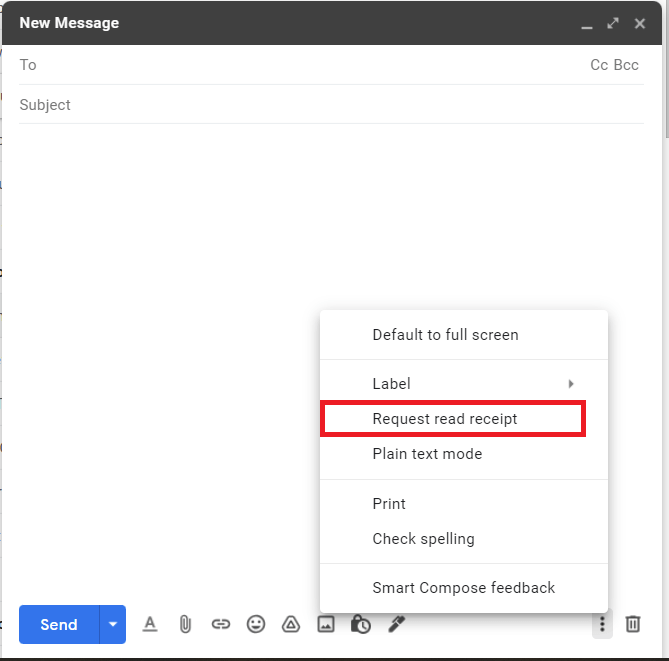 Limitations/Drawbacks of using read receipts in Gmail
Read receipts are available for paid Google Workspace accounts only. You can't use them with free Gmail accounts.

The read receipt feature needs to be activated by the organization's administrator.

You still need your recipients to approve the read receipts. If they don't send the read receipt, there is no way to know whether or not they've opened your email. So this method is less reliable. 

This method works only if you email the recipients on an individual basis. Gmail read receipts don't work on large email campaigns.
Track Email Opens and Clicks in Gmail with Google Analytics
The whole concept of Google Analytics "open tracking" relies on a unique one-pixel image being downloaded. Several years ago, Google introduced the Google Image Proxy to download images via a proxy operated by Google. The aim of inserting the proxy between the end recipient and the email marketing service's server was to obfuscate the download location, preventing email marketing software from recognizing the specifics of an email "open," such as where it was opened or what device was used. Due to this, the traditional tracking pixel method is a bit unreliable. If you don't set up link monitoring or tracking pixels correctly, the Google Analytics reports will be inaccurate.
Furthermore, email open tracking is a bit complicated to set up with Google Analytics. If you still want to use Google Analytics for this, follow the detailed instructions here.
To track email clicks using Google Analytics, you need to set up trackable links with UTM parameters. You can use the Google Campaign URL Builder tool to build your custom URL.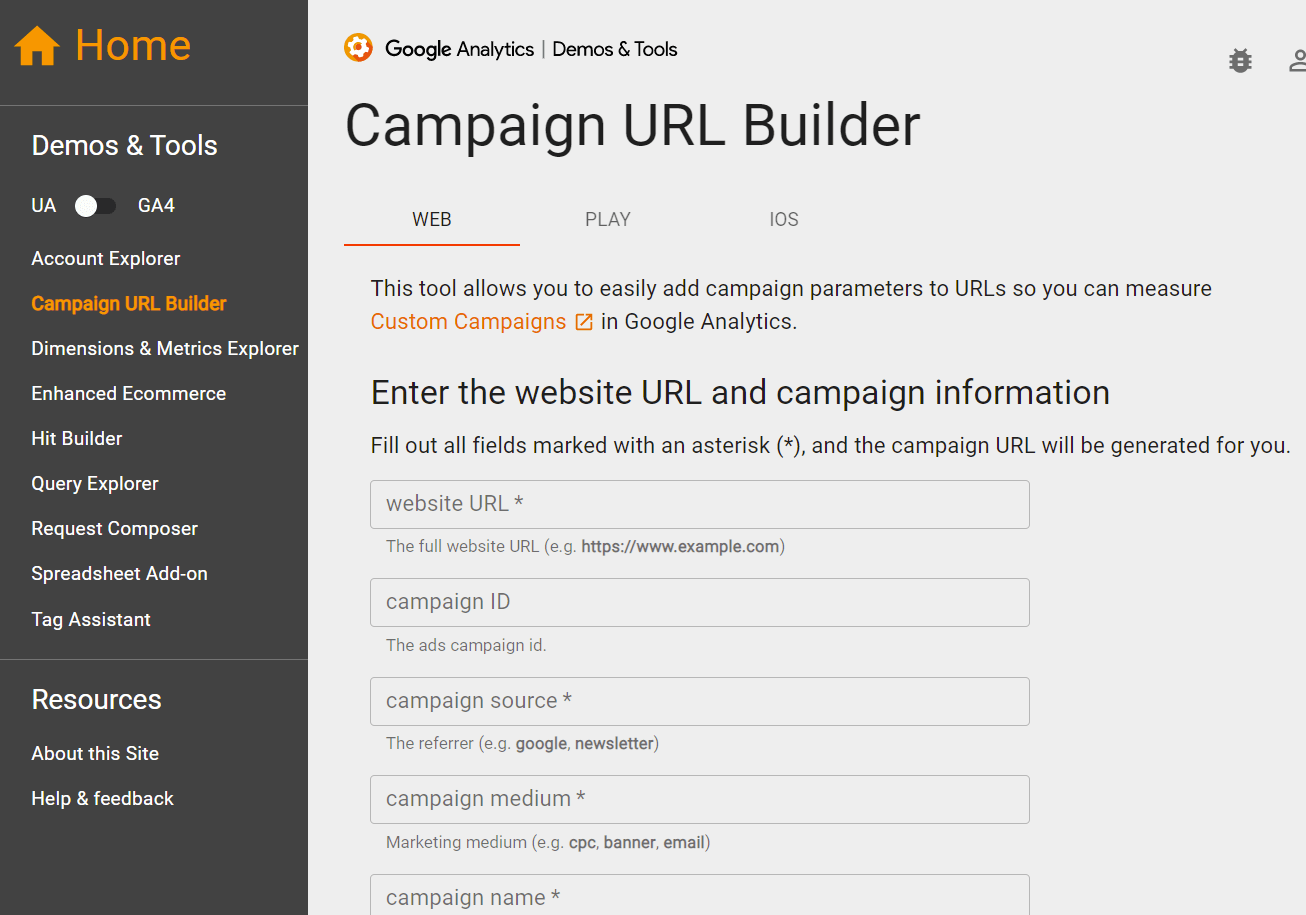 In the "website URL" field, enter the website/landing page URL.

In the "Campaign ID" (utm_id), type in the ID of your email campaign.

In the "Campaign source" (utm_source) field, enter the referrer (such as email newsletter).

In the "Campaign medium" (utm_medium) field, enter marketing medium (such as email).

The "Campaign Name" (utm_campaign) field is used for keyword analysis. You can identify a specific product promotion or strategic campaign.

In the "Campaign term" (utm_term) field, you can identify the paid keywords.

The "Campaign content" (utm_content) field can be used for A/B testing and ads that point to the same tracking URL.
After you've created a tracking URL, add it as a hyperlink anywhere in your email's body. Your trackable URL is now set up for email click tracking. You can check the real-time reports in Google Analytics real-time section.
There are certain drawbacks to using Google Analytics to monitor email opens and clicks:
If the recipient mailboxes have pixel blockers turned on, Google Analytics will not track email opens.

Google Analytics won't

generate reports as comprehensive as GMass' reports.

Google Analytics won't reveal who opened or clicked on a link in your email (except for providing aggregate demographic data). GMass provides click-tracking data, including the email ID, time, and IP address.

Google Analytics won't report the total number of email addresses that clicked at least one link in your campaign (as you would receive if you turned on

click tracking

in GMass).

Unlike GMass, Google Analytics does not provide click-tracking reports within Gmail.

Google Analytics pixel tracking method may report

false opens

. 
Track Gmail Email Opens and Clicks with GMass
Unlike most email service providers, GMass has a different strategy for Gmail open tracking and analytics. To ensure that your Gmail open tracking data is as precise as possible, GMass uses a variety of cutting-edge technologies and techniques.
For example, Instead of the traditional tracking pixels, GMass uses non-parameterized, encrypted URLs that are very difficult for pixel-blockers to detect. GMass lets you set up your own tracking domain for improved deliverability. Also, GMass is one of the few email marketing services that can detect and eliminate fake email opens triggered by bots.
GMass provides two metrics to track email opens in real-time: open tracking and link tracking. To enable open and click tracking, simply check "Opens" and "Clicks" in the GMass settings.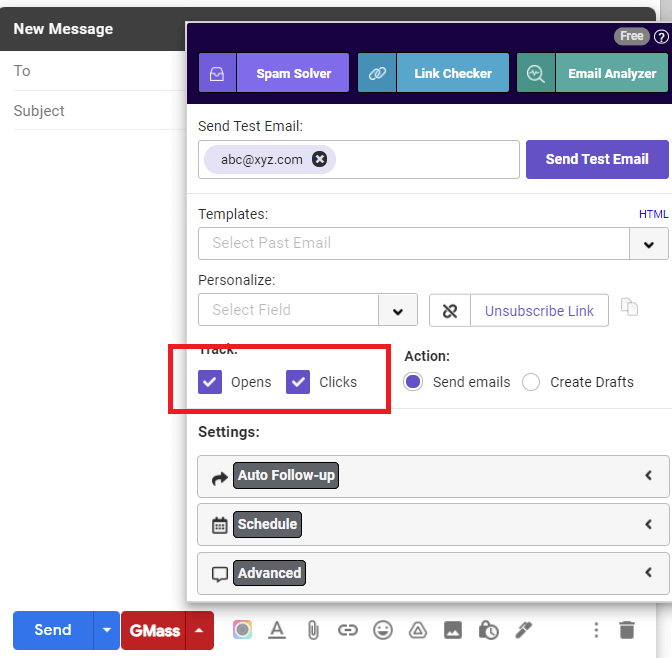 GMass provides a dedicated reporting dashboard to track email opens in Gmail. For example, you can find these metrics in your campaign reports:
Unique Opens – What if a recipient opens your email multiple times? The "unique opens" feature in GMass records the total

number of unique recipients who opened your email. Whenever someone opens an email for the second time, it won't appear on this report.

Didn't Open – the total number of email IDs that have not opened your email. 

Enhanced Email Open Tracking and Analytics: The Gmail client isn't capable of tracking bounces, replies, block notifications, or other sorts of email responses. With Gmail, you can't track email metrics like response rates or open/click-through rates. So you have no way of knowing whether the emails were delivered to the correct people. Furthermore, you don't know if the email IDs are valid or need to be removed from the mailing list.
GMass organizes and tracks replies to your Gmail messages using its Auto-Reply Management feature automatically.

After you've sent an email campaign via GMass, all replies, bounces, and blocks to your campaign are categorized under these labels. Then, when you want to review the responses, view these numbers for all of the data you need.
The following event log labels are used for email opens and clicks:
GMass Reports –> Opens label anytime an email is opened.
GMass Reports –> Clicks label anytime a link in an email is clicked.
Conclusion
Gmail open tracking is a valuable tool to measure the effectiveness of your email campaigns. It allows you to see who opened your email and when. It also provides you with insights into what content resonates with your audience.
GMass offers enhanced open tracking and analytics features that give you a comprehensive view of how your email campaign is performing. With GMass, you can track open rates and clicks, as well as blocks and bounces straight from your Gmail inbox. So why not download the GMass Chrome extension today and try it yourself?
See why GMass has

300k+

users and

7,500+

5-star reviews

Email marketing. Cold email. Mail merge. Avoid the spam folder. Easy to learn and use. All inside Gmail.

TRY GMASS FOR FREE

Download Chrome extension - 30 second install!
No credit card required
Love what you're reading? Get the latest email strategy and tips & stay in touch.