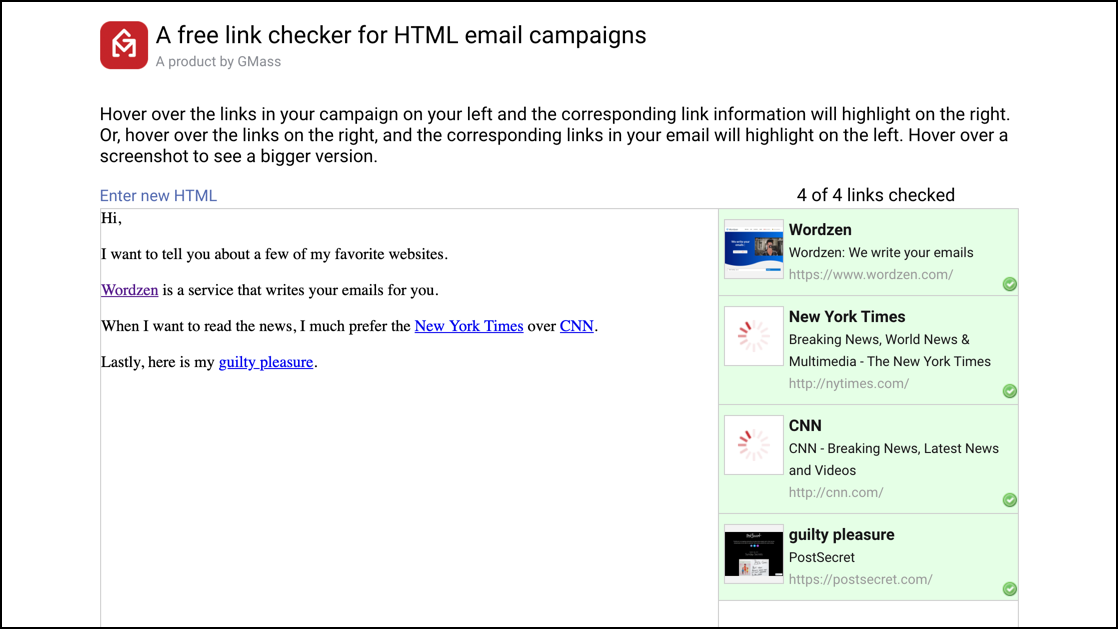 We just launched a new tool for email marketers — a link checker! Just paste the HTML for your next email campaign into our free link checker, and watch the magic happen.
All links are checked, and the title and screenshot of each webpage is shown. Just hover over the links on the left, or the links on the right, and you'll see the corresponding links and screenshots.
How does this help you?
If you generally have lots of links in your email campaigns, then this tool ensures that:
Your links are valid and not broken.
Your links point to where you intended. Often when setting lost of links in an HTML email campaign, it's easy to make a copy/paste mistake and set the anchor text to point to the wrong URL. With the automatically generated screenshots, you can quickly see if you made a mistake.
It's free, and you don't have to use my product
This tool is free to use, and can be used with any email marketing service like MailChimp or Constant Contact. Of course, there's no point in using those tools when you'll get the highest deliverability ever using GMass. Plus, if you're using GMass for your email campaigns, there's a button in the GMass Settings box that sends the HTML to the link checker for you, so you don't have to copy/paste your HTML.
But if you are using GMass…
Then, you don't have to copy/paste your HTML. It's one-click magic for you. Just click the Link Checker button from the Settings box, and the link checker will automatically launch.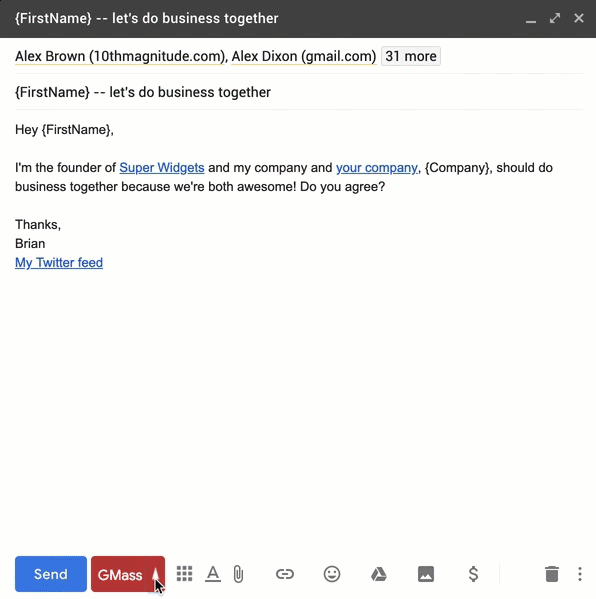 Ready to send

better emails

and save a ton of time?

GMass is the only tool for marketing emails, cold emails, and mail merge — all inside Gmail. Tons of power but easy to learn and use.

TRY GMASS FOR FREE

Download Chrome extension - 30 second install!
No credit card required
Love what you're reading? Get the latest email strategy and tips & stay in touch.