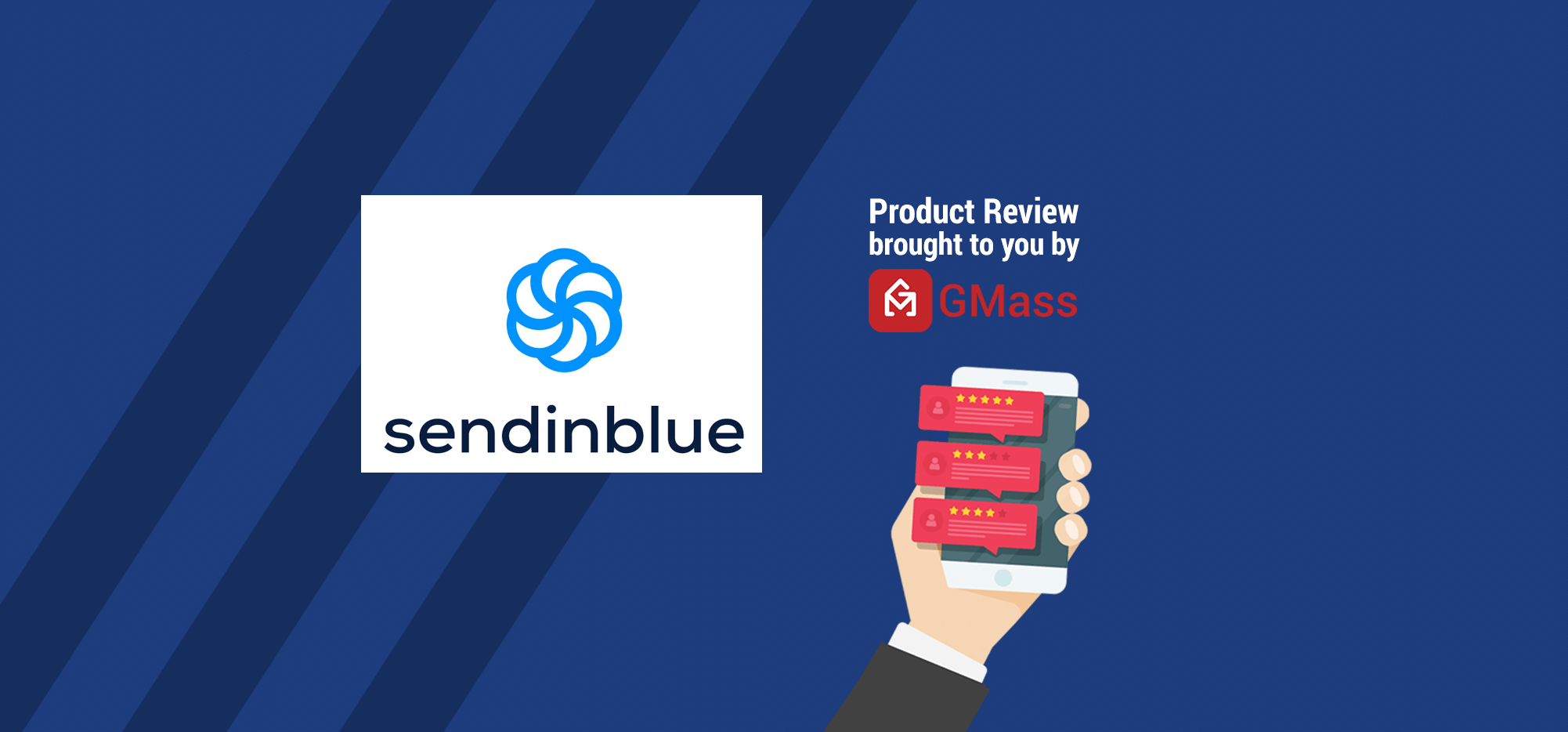 Is Sendinblue the right email marketing tool for you?
This Sendinblue review can help you determine whether it's the best email marketing tool for your marketing needs.
I'll talk about its key features and drawbacks, and I'll highlight Sendinblue pricing, to give you a clearer picture of this marketing tool.
This Sendinblue Review Contains:
(Click on a link below to jump to a specific section.)
Let's jump right in!
What Is Sendinblue?
Sendinblue (sendinblue.com) is a marketing automation tool and email marketing service provider that offers a variety of marketing, contact management, and automation features.
Like other email tools such as MailChimp, the Sendinblue email marketing platform is available as both a standalone marketing tool and a Sendinblue plugin for WordPress.
Due to the sending limits of email services like Gmail and Yahoo, the Sendinblue platform uses its own SMTP server and infrastructure to send any large email campaign with ease. This way, you're not limited to the sending limits that most standard SMTP servers offer you.
Ajay's Email Tip
To bypass the Gmail sending limits and send unlimited emails, you can use a third-party SMTP service with GMass as an affordable bulk email alternative. Click here to find out how easy and cost-effective this is.
What else can Sendinblue do?
Sendinblue users use this marketing tool for a variety of needs, such as:
To look at some of the key features of this email marketing platform, keep reading. (Or, if you're an advanced web developer and you'd like a peek behind the scenes, read my technical review of Sendinblue here.)
5 Key Features of Sendinblue
Sendinblue has various features to fulfill several email marketing and sales requirements. Here's a closer look at five of the key features provided for Sendinblue users:
1. Marketing Automation
Marketing automation allows you to automate a wide range of actions or tasks.
The Sendinblue automation feature helps you create an automated workflow that triggers a specific action when predetermined conditions are met.
Similar to an autoresponder, Sendinblue allows you to automate several actions within one elaborate custom workflow or several separate ones.
These can include, but aren't limited to:
Sending SMS messages or SMS campaigns.
Sending an automated email or email campaign (such as a welcome email whenever someone subscribes to your email list or newsletter).
Organizing different contacts in your contact list.
Updating your email list via the automation workflow.
Setting up double opt-in and unsubscribe options for customers.
The best thing is that your custom workflow can be as simple or complex as you want, with several conditions present to dictate exactly when and what action should be done.
So how does automation help you?
There are several benefits to marketing and email automation for businesses.
Speeds up lead generation: Target warm prospects with automated emails or an email campaign to guide them towards the right content, boosting your conversions.
Engages your audience:  Easily set up an automated marketing campaign workflow to keep subscribers up to date and constantly engaged with your content.
Increases eCommerce conversions: Use a custom workflow to retarget frequent customers or follow up with an SMS campaign for leads who didn't complete a purchase.
Saves time and money: By using an automated workflow, you save a lot of time and effort that can be invested in more complex or core business tasks.
However, remember that Sendinblue automation can't do all the work for you.
To establish true engagement with your audiences, you'll still need a strong and persuasive beginning to your email. Click here to find out how you can perfect the openings and subject line of all your emails.
2. CRM and Contact Management
Unlike a traditional email marketing tool, Sendinblue also provides a built-in CRM (customer relationship management) software solution. This allows you to manage your contact list from within your email marketing platform!
All you need to do is upload your contact list to the Sendinblue platform to begin using their contact management features. For added flexibility and ease of use, you can also use the Sendinblue integration for Salesforce.
Tip: The best way to build your contact list for email marketing is to use an email finder tool. If you need one of these, here's a guide to the best email finder tools available today.
You can store all kinds of contact information on your Sendinblue account, including:
Basic contact details like names, emails, and phone numbers.
Notes from a meeting or call.
Documents related to a particular contact.
Tasks related to the contact.
All your contacts can be organized in single or even multiple contact lists based on particular characteristics or functions.
You can easily add these contacts to your automated workflow to centralize your contact management and marketing efforts!
3. Transactional Email Management
The Sendinblue tool offers powerful and customizable transactional email features to suit all kinds of businesses.
But wait … what exactly is a transactional email?
A transactional email refers to a range of automated emails that span everything from purchase confirmation emails to password reset requests.
This is an essential feature for dedicated e-commerce stores, as well as any business that offers online products.
Unlike marketing emails (which are sent according to a business' email marketing campaign or strategy), transactional emails are triggered by certain events, such as interactions, preferences, or updates.
You can choose an email template from within the Sendinblue email template library for a professional email design, or create your own from scratch with their drag and drop editor or HTML email editor.
And that's not all!
Sendinblue also gives you real-time stats and analytics to monitor deliverability, hard bounces, and engagement. This way, you can easily keep track of your performance to optimize marketing processes and conversions.
4. SMS Marketing
Sendinblue allows you to manage your SMS marketing and email marketing campaign activities from the same user interface. 
How does this work?
You can create, send, and manage all your automated SMS marketing campaigns from the Sendinblue platform itself.
Additionally, it's super easy to send SMS campaigns from Sendinblue.
All you need to do is write your SMS messages, choose the contact list, and schedule the marketing campaign.
You can also:
Send a transactional SMS message to your customers.
Personalize your SMS messages with robust personalization features.
Segment the SMS campaign audience for accurate targeting.
Monitor the performance of your SMS campaigns.
5. Facebook Ads
To increase your outreach and engagement using social media, Sendinblue helps you set up a Facebook ad to target new customers or retarget existing leads.
You can customize every aspect of your Facebook ad via Sendinblue, including these:
Add creative elements that use a single image or a carousel.
Choose the image and text the ad contains.
Determine the call to action (CTA) that directs prospects to the next step.
Set the duration and budget for your automated campaigns. (Sendinblue optimizes the per-day expenditure to give you the best results.)
Also, you can choose to target an existing contact list or use the Facebook Lookalike Audience feature to target similar customers.
As with Sendinblue's email automation and SMS marketing features, you can keep track of your Facebook ad performance from your email marketing service provider.
Sendinblue gives you several metrics to analyze your automated campaigns and performance, such as:
People reached
Impressions and clicks
Cost per click
Click-through rate (CTR)
Unique clicks
The user-friendly Sendinblue dashboard also features graphs to help you visualize the number of impressions and clicks over the campaign duration.
Other Notable Features
Powerful audience segmentation for advanced targeting efforts.
A landing page design tool to help guide your customers through your sales funnel.
Retargeting for increasing conversions from warm leads.
Sendinblue integration with tools like Zapier, Google Analytics, and WooCommerce, etc.
Sendinblue Pricing
Sendinblue features a free plan and four paid plan tiers to suit a variety of business requirements.
Here's a closer look at these:
Free plan: (300 emails/day) — includes SMS campaign management features + unlimited contacts + Zapier integration and Sendinblue plugin for WordPress, Magento.
Lite plan (40,000 emails/month): $25/month – includes "Free" features + removes daily sending limit.
Essential plan (60,000 emails/month): $39/month – includes all "Lite" features + removes Sendinblue logo from emails + A/B testing + advanced statistics + phone support.
Premium plan (120,000 or 350,000 emails/month): $66/month or $173/month respectively – includes all "Essential" features + landing page + Facebook ads + live chat + unlimited automation feature + multi-user access + dedicated IP address at 350,000 emails/month.
No matter what size your business is, there's a Sendinblue pricing plan to suit your needs.
2 Main Drawbacks of Sendinblue
Now that you know how Sendinblue can help you, let's take a look at the main drawbacks of this email marketing solution.
1. Basic Plans Lack Key Features
When compared to email marketing software like ActiveCampaign or GetResponse, the Sendinblue pricing structure looks like it provides much higher value for money. This is because you pay based on the number of emails you send rather than the number of contacts.
However, this tool comes at the expense of the basic plans lacking several key email management features.
The Lite plan at $25/month does not support A/B testing or advanced statistics and adds the Sendinblue logo to all your emails. For accessing these features and removing the Sendinblue logo, you need to go for the Essential plan at $39/month.
However, both these plans still lack key features such as multi-user access, live chat, Facebook ads, and automation for more than 2,000 contacts. These are only available at the Premium tier of the tool, which starts at $66/month.
To access SSO (single sign-on) or use a dedicated IP address, you need to go for even higher-priced plans.
Sure, if your business only needs a bulk email tool and CRM or SMS message features, the basic Sendinblue pricing plans could be fine. However, if you need any of the other features above, you'll need to go for the Premium or Enterprise tiers. These can make the tool unaffordable for small businesses and startups.
2. Takes Time and Effort to Set Up
Sendinblue users gain access to a massive variety of features for their marketing needs. However, this requires a lot of effort at the setup stage for Sendinblue to function.
First, you need to set up detailed preferences in the email marketing software for each of the services you wish to use. For example, automation may require a complex workflow to take care of all your business operations.
Additionally, because Sendinblue functions as a standalone email marketing service, you need to import all your contacts into this tool to integrate them seamlessly into your outreach.
For larger contact lists, this can take a while before you can get started.
That's why, when compared to other email marketing software, Sendinblue's wide range of features takes effort, and you'll need to set aside some time to get used to it.
Any employee dealing with marketing, sales, or related roles will need to be onboarded slowly and guided through the email marketing service before they can start working efficiently.
And depending on your marketing needs, the large amount of time and effort required by Sendinblue setup can be a reason to look for another suitable email marketing solution.
Sendinblue Customer Ratings
Here's how customers rated Sendinblue on popular review pages:
G2: 4.6/5 (1,000+ reviews)
Capterra: 4.4/5 (400+ reviews)
Conclusion
When it comes to email automation and email marketing tools, Sendinblue is definitely one of the most versatile options you can choose.
If you're willing to invest a considerable amount of money and effort to set up this email marketing service, Sendinblue is a great option for you, as this Sendinblue review shows.
However, if you need only a few key features like email tracking, without the steep price point, consider going for more affordable and specialized options.
GMass is one such email marketing solution that covers all the key features that Sendinblue's basic plans lack, without the expensive pricing. It's affordable, scalable, and works within your Gmail account, which makes it ideal for all kinds of businesses.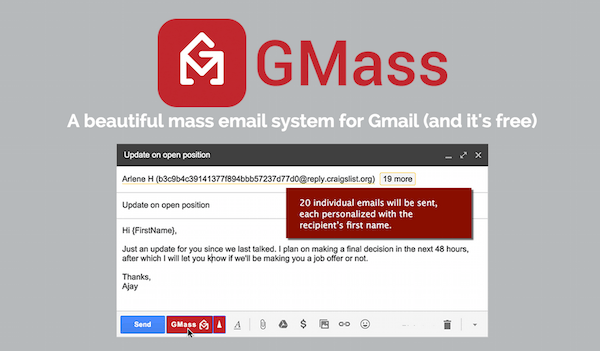 For more information about the best email tracking tools, check out this guide to the top email tracking software you can use in 2020.
Ready to send

better emails

and save a ton of time?

GMass is the only tool for marketing emails, cold emails, and mail merge — all inside Gmail. Tons of power but easy to learn and use.

TRY GMASS FOR FREE

Download Chrome extension - 30 second install!
No credit card required
Love what you're reading? Get the latest email strategy and tips & stay in touch.