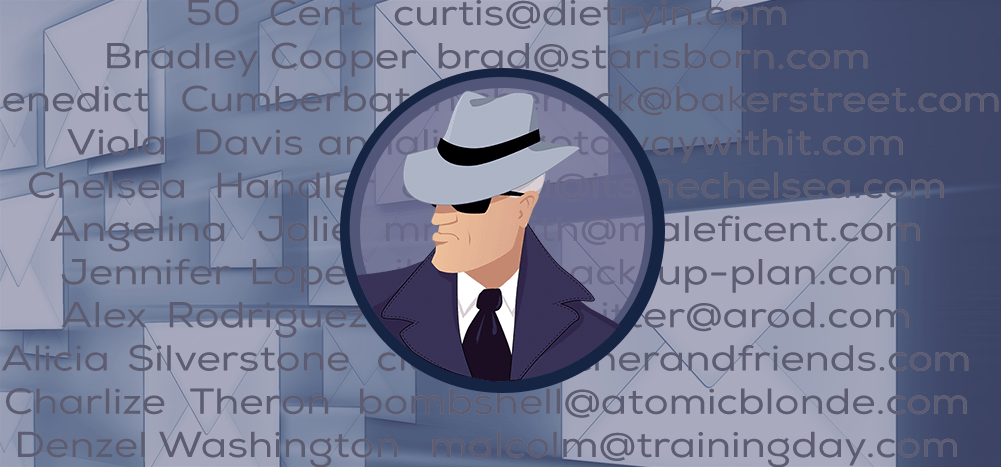 Looking for an email finder tool?
To make the most of your email outreach, you need to use the right email addresses. An email finder tool can help you search for prospect email addresses to reach out to the right person.
However, there are hundreds of email finding tools in the market!
So how do you go about identifying the email finder tool that fits your needs?
To help you choose the right email finder, this article highlights 5 of the best email finders in 2020. I'll cover their key features, pros, cons, pricing, and customer ratings to help you make an informed decision.
This Article Contains:
(Click on the links below to jump to a specific section)
Let's get started!
What Is an Email Finder?
An email finder tool helps you search for email addresses online. These tools use a specific domain name or company name to narrow down your results.
Most email finding tools also provide an "accuracy" estimate for their results or verify the email addresses they find.
Who uses an email finding tool?
Email finders can be used for several purposes, such as:
Email Marketing:  Build an email list with valid email addresses and contact information.
Recruitment: Shortlist and contact the best candidates to grow your business.
PR: Find verified email addresses and contact information of executives or reporters you need to reach.
Sales: Find valid email IDs of key decision-makers at a company to contact and follow up with them.
The 5 Best Email Finding Tools in 2020
There are hundreds of available email finders in the market.
So how do you choose the right one?
When choosing the best email finder for your needs, think about several factors, such as:
Key features: How does this tool address and solve my business requirements?
Pricing: Is this tool affordable? Would my budget limit my email outreach?
With these factors in mind, let's take a closer look at five of the best email finding tools today:
1. Clearbit Connect
Clearbit Connect is a Chrome extension that works as an email verifier and email finder widget within your Gmail sidebar. You can use it to find any professional email address and boost lead generation activities.
Key Features
Find all available email addresses by company domain name.
Search for individual contact by full name, role, or job title.
Provides prospect's personal email and contact details like location, job title, and social media profiles.
Gmail extension works within your Gmail inbox.
Pros
Free to use.
Simple, user-friendly interface speeds up your email search.
Can search for new leads in Salesforce.
Cons
Email search is limited to 100 searches per month.
Doesn't offer additional email management or tracking features.
Doesn't support CSV uploads for bulk email verification or enrichment.
Pricing
Connect currently only offers a free plan which allows 100 look-ups per month. You can earn more look-ups using the invite functionality on the Connect app.
Customer Reviews
2. Hunter
Hunter (hunter.io) is a popular bulk email finder and company domain search tool used by companies like Google and Microsoft. This email hunter tool helps you find verified email addresses to boost your outreach easily.
Key Features
Search for email addresses in bulk.
Deliverability verification for each professional email address.
Chrome extension helps you find email addresses from web pages.
Google Sheet add-on helps find emails within your Google sheet interface.
Integrates with Zapier and popular CRMs like Salesforce and HubSpot.
Pros
Only bills you for searches that return results.
Feature-rich free plan is perfect for individuals.
Bulk email search makes it easy to build a prospect list quickly.
Cons
May not always recognize emails when they are listed on the website.
Doesn't provide additional information such as phone numbers or other contact info.
Paid plans can be expensive for small businesses.
Pricing
Hunter provides five pricing options to suit various needs. Each paid plan has a certain number of "requests" that can be used for email search or verification.
Free plan: offers 50 requests/month.
Starter: $49/month – supports multiple Gmail account connections + priority support + bulk domain search + 1000 requests/month.
Growth: $99/month – includes "Starter" features + 5000 requests/month.
Pro: $199/month – includes "Starter" features + 20,000 requests/month.
Enterprise: $399/month – includes "Starter" features + 50,000 requests/month.
Customer Ratings
3. AeroLeads
AeroLeads is an email finder and lead generation tool. It has an easy-to-use Chrome extension and plugin for company domain searches.
Key Features
Find a prospect's email address, phone number, and other B2B data.
Works with LinkedIn profile search, AngelList, and the Crunchbase search engine.
One-click data export to CSV files or CRM software such as Salesforce and Pipedrive.
Supports CSV upload for bulk email search and verification.
Pros
User-friendly interface.
Detailed search engine results help you build comprehensive profiles for each prospect's email address.
Free version is perfect for light or infrequent usage.
Cons
Lacks email management and mail merge features.
Number of contacts processed depends entirely on your LinkedIn account type.
Can lag while adding your prospect's email address through their LinkedIn profile.
Pricing
In Aeroleads, each credit can be redeemed for one record added. It offers four pricing plans:
Take Off: $49/month – supports 1 user + email and data search engine + CSV import and export + 1,000 credits/month.
Climb: $149/month – includes "Take Off" features + 5 users + integrations + 5,000 credits/month.
Cruise: $499/month – includes "Climb" features + unlimited users + 15,000 credits/month.
Enterprise: custom pricing – includes "Cruise" features + custom credit allowance based on your requirements.
Customer Ratings
4. VoilaNorbert
Norbert is a powerful email verifier and lead generation Chrome extension that helps you find verified email contacts. Some of the clients of this email finding tool are Twitter, Airbnb, and Facebook.
Features
Bulk email search to boost lead generation.
Real-time email verification to maintain email sender reputation.
Detailed results and contact info improves conversion rates.
Powerful integrations with CRMs and Zapier.
Gmail plugin supports basic email management features.
Pros
User-friendly interface makes navigation efficient.
Only bills valid email address searches.
Detailed paid plan makes sure you only pay for the features you use.
Cons
Can be slow while dealing with large queries.
Free trial only supports 50 leads.
Pricing
Norbert has three features, each with a different pricing system.
Prospecting (business email address search): You can either opt for a subscription plan or a prepaid model. Both support unlimited team members, bulk, and API usage.

Subscription Plans

Valet: $49/month – 1,000 leads/month.
Butler: $99/month –5,000 leads/month.
Advisor: $249/month – 15,000 leads/month.
Counselor: $499/month – 50,000 leads/month.

Prepaid Plans (credits don't expire)

10 credits cost $1.
Starts at 500 credits ($50).

Verify (email verification): Pay as you go model.

$0.003/email up to 500k emails.
$0.001/email after 500k emails.
Starts at $2 for 500 emails.

Enrich (additional data and contact information for each email contact): Pay as you go model.

$0.04/email up to 2000 contacts.
$0.02/email up to 50,000 contacts.
$0.15/email after 50,000 contacts.
Starts at $4 for 100 contacts.
Customer Ratings
For maximum email deliverability, it's essential to use email verification alongside your email finding tool.
5. ZeroBounce
All the tools we mentioned so far will help you find emails.
But no tool is perfect. So be prepared to have at least 5% of your emails to be incorrect. Sometimes, the number might be as high as 20%.
Sending emails to those incorrect IDs can damage your sender score and affect the deliverability of all your emails over time.
That's why it's a good idea to verify email addresses before sending them — by using something like ZeroBounce.
ZeroBounce is an email verification tool that helps you sort verified email addresses and remove invalid email IDs from your email list.
Since ZeroBounce is just a verification tool, you will, of course, need to use one of the other tools mentioned in this list if you actually want to find emails.
Key Features
Removes invalid email addresses from your email list.
Provides data about each professional email address, such as their full name and gender.
Helps correct misspelled email addresses in your email list.
Integrates with several popular tools like Zapier and Slack.
Pros
Improves deliverability by identifying verified email addresses.
Protects your email sender and IP address reputation.
Enriches contacts with key information to help increase conversions.
Cons
Lacks email finding and domain search features.
Can't track actual email opens and performance.
Does not provide social media leads, such as your contact's LinkedIn profile.
Pricing
ZeroBounce features three pricing plans to suit a wide range of users.
Freemium: 100 validation and scoring credits + 18 validation tools + IP address geolocation.
Email Validation & Scoring: "Freemium" features + Credits don't expire + Bulk pricing

Pay as you go: Starts at $16 for 2,000 credits.
Monthly paid plan: Starts at $15/month for 2,000 credits.

Deliverability Toolkit: Inbox Placement Tester + Email Server Tester.

Starts at $39/month for 50 inbox and 50 email server tests.
Customer Ratings
How to Make the Most of Your Email Finder
Sure, you can use the tools we've reviewed above to find a prospect's personal email address or social networks and build an email list for your outreach campaigns.
But now what?
How do you:
Personalize each email to maximize engagement and conversion?
Schedule your emails and follow-ups so that they reach your recipients' inbox at the right time?
Send large campaigns to the business email IDs you've found while bypassing Gmail sending limits?
GMass is an email outreach platform that can help you with all of these needs!
But what's GMass?
GMass is a powerful email outreach tool used by employees from huge companies like Twitter, Google, LinkedIn, and Uber. Its outreach capabilities help you send massive email campaigns right from your Gmail account.
But GMass isn't just for tech giants or major social networks!
This tool is perfect for solopreneurs and groups like schools, clubs, and even churches to send emails to their audiences.
GMass helps you:
Personalize email outreach campaigns at scale.
Bypass Google sending limits to maximize outreach.
Schedule your emails and follow-ups easily.
Measure campaign performance with detailed reports and analytics.
It's super easy to get started with GMass.
Just install its Chrome extension and try it out for yourself!
Let's take a look at some GMass features that take your email outreach and engagement to the next level:
While sending mass email campaigns, it's essential to personalize your emails to avoid looking like a generic spam emailer.
But you can't manually personalize each email, right?
That would take ages!
Luckily, GMass supports automated personalization to help you compose emails tailored for each recipient.
GMass' personalization features include:
Recipients hardly ever respond to emails the first time around.
This is why you send follow-up emails.
But you can't follow up on each email individually, right?
Don't worry.
GMass lets you automate your follow-up emails in advance to boost your email engagement.
And the best part?
You can personalize these follow-up emails with several customization options, such as:
The trigger for sending a follow-up email.
For example, a follow-up could be sent every time a recipient replies to your email or clicks on a link.
The time gap between each follow-up email.
The content included in your follow up.
The total number of follow-ups sent to each recipient.
The best time to send someone an email is when they're most likely to check their inbox.
But how do you ensure hundreds of recipients all get emails at the right time?
By scheduling them in advance.
Luckily, GMass makes it easy for you to schedule all your emails.
All you need to do is compose your draft and set the sending time.
GMass takes care of the rest.
But wait, what if there's a change in plans?
No problem.
You can easily reschedule any unsent emails from your Drafts folder.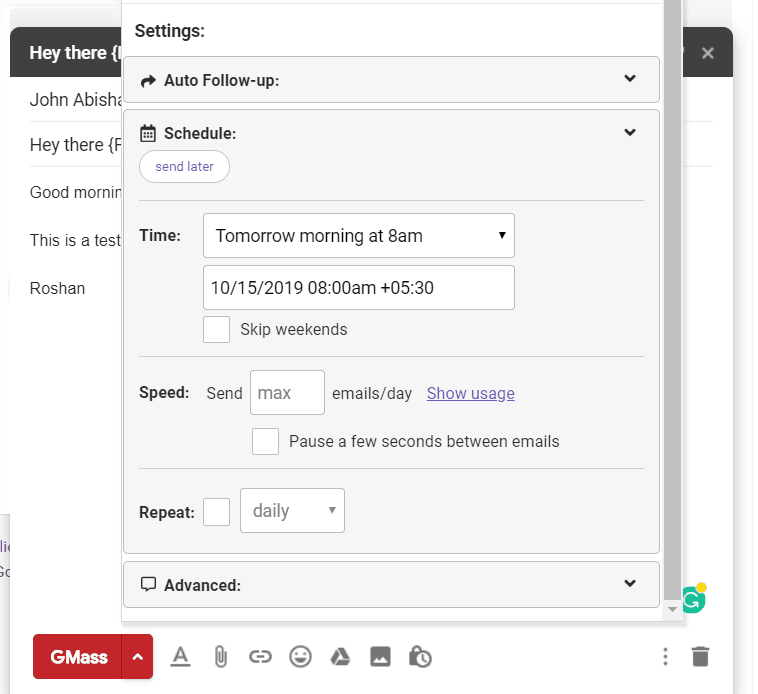 Unlike most email outreach tools, such as MailChimp, GMass lets you send unlimited emails per day!
How?
GMass integrates with third-party SMTP providers like SendGrid that can bypass Gmail sending limits. This helps you maximize your email engagement without compromising on outreach.
Even the GMass team uses this feature to send over 400,000 emails at a time!
While many email finding tools track email opens and link clicks for you, that isn't enough.
You won't know how many emails bounced, or how many recipients unsubscribed from your emails.
Luckily, GMass tracks all these metrics and more to help you analyze your email performance. It tracks several core statistics, including:
Total Recipients
Unique Opens
Unique Clicks
Replies
Unsubscribes
Bounces
Rejections because Gmail account over limit
Blocks
GMass automatically generates a Campaign Report for each email campaign you send. These reports help you track all those metrics from within your Gmail inbox!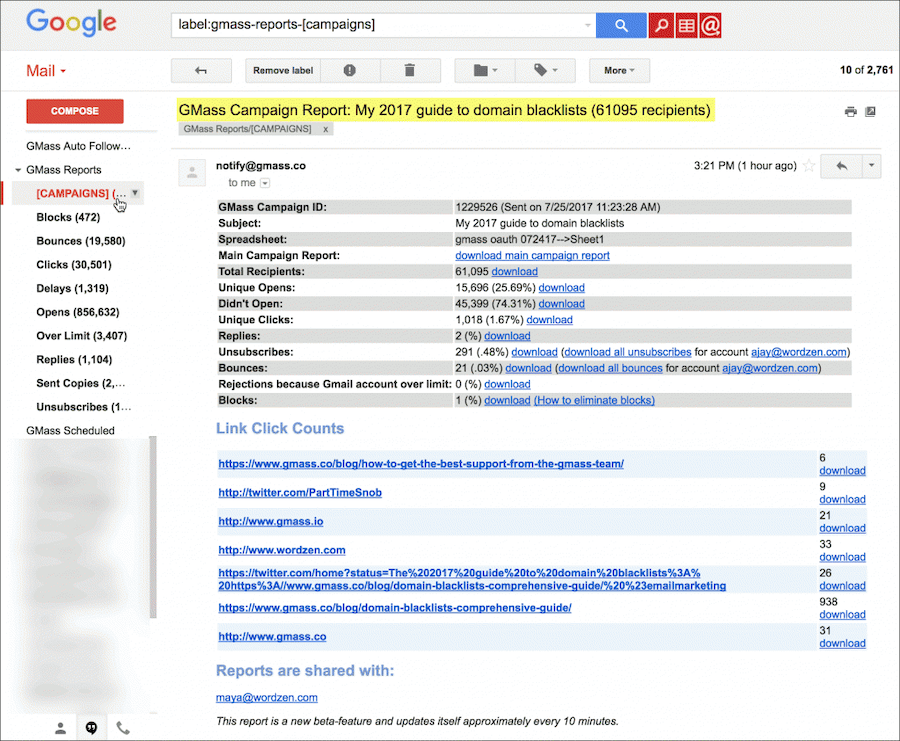 Conclusion
Using the right email finder can make prospecting and lead generation a piece of cake — but only if you have the right outreach tool to support it.
GMass' powerful features help you make the most of the emails you find by boosting your email engagement and performance.
But don't just take my word for it.
Install the GMass Chrome extension to improve your email outreach today!
See why GMass has

300k+

users and

7,500+

5-star reviews

Email marketing. Cold email. Mail merge. Avoid the spam folder. Easy to learn and use. All inside Gmail.

TRY GMASS FOR FREE

Download Chrome extension - 30 second install!
No credit card required
Love what you're reading? Get the latest email strategy and tips & stay in touch.