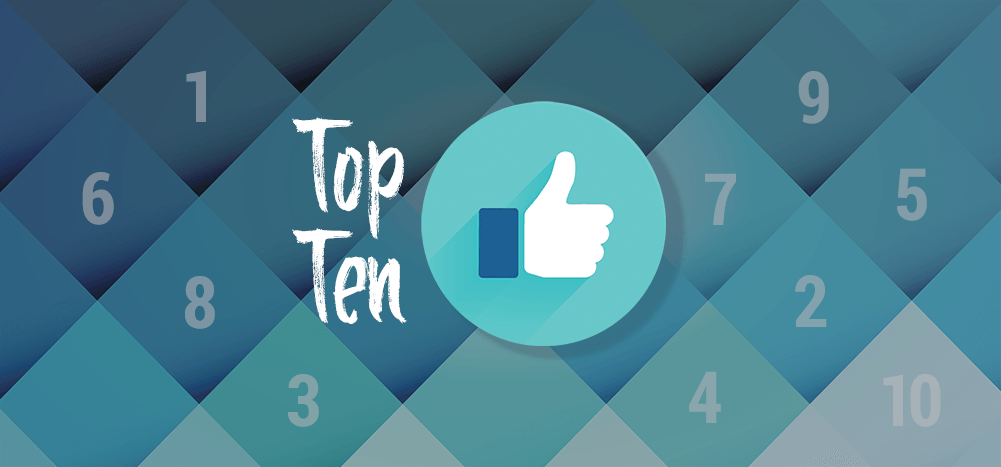 Looking for the best email tracking software?
An email tracking tool can track email opens and other metrics to help a sales rep or marketing executive run effective email marketing campaigns. It's also useful for anyone who simply wants to know if their email has been opened or not.
In this article, I'll cover why you need to track your emails and list the best email tracking software.
This Article Contains:
(Use the links below to jump to a specific section)
Three Key Reasons to Track Your Emails
While anyone can benefit from email tracking, it's especially useful for email marketers.
Here's why:
1. It Helps You Manage Campaign Interactions
If you're an email marketer, chances are you send emails to hundreds of people.
However, you can't manually monitor each interaction, right?
Luckily, an email tracking tool lets email senders know when someone opens or engages with their emails. This way, the email tracking system helps them manage their email campaign interactions without them having to lift a finger!
An excellent email tracking app can track when:
A recipient opens your emails.
They click on any link present in your email message.
They forward an email to someone else, and more.
None of the above is possible if you send emails normally or by using the BCC feature. By the way, you can check out 4 key drawbacks of using BCC in this article.
However, that isn't all.
You'll also get an idea of when they opened your tracked email.
This can help you gauge when they're most active — so that you can send follow-up emails at the right time for maximum engagement.
2. You Get Unique Insights into Your Email Marketing Campaigns
Most email trackers do more than just track email opens and link tracking.
Ideally, an email tracking service will give you detailed reports over different aspects of your campaigns, like deliverability and conversions.
You get information on campaign metrics like:
Open Rates (OR): The number of recipients that opened your emails.
Click-through Rates (CTR): The number of email IDs that clicked the links in your emails.
Bounce Rates: How many email addresses didn't receive your emails.
Unsubscribe Rates: How many email IDs unsubscribed from your campaigns.
How does this help you?
These metrics will help you understand:
If your emails are going through.
If they're connecting with your audience.
What's going wrong with your emails.
What needs to be changed.
Email senders can use these metrics to fine-tune various aspects of their emails, such as their email openings, to make them more attractive to their audience.
3. It Provides You with the Right Context for Follow-ups
Remember, your marketing campaign follow-ups need to be meaningful.
You can't afford to bombard your recipients with follow-ups they don't want.
Why?
It's a surefire way to get you marked as spam, which will harm your deliverability!
Think about it.
You can't send a weekly follow-up email to someone who unsubscribed recently, right?
With an email tracking system, email senders get actionable insights into their prospects' interests and behavior. This helps you tweak and customize your follow-ups for maximum engagement.
Here's how it boosts your outreach:
If you know that a person regularly engages with your mails, chances are, they're interested in what you're selling. You can now move them down your sales funnel and maybe give them a call, as they're primed for a pitch.
An email tracking system helps you understand the kinds of content and links that engage your recipients. This lets you customize your follow-ups to appeal to their interests.
The Top 10 Email Tracking Tools in 2020
Here are the top email tracking tools to check out now:
GMass is powerful email outreach and tracking software that lets you run marketing campaigns from your Gmail inbox. Its robust mail merge capabilities have made it a popular email tracker that's used by employees from Uber, Google, and social media giants like Twitter, Facebook, and LinkedIn.
With GMass, you can:
Automatically track several email campaign metrics accurately.
Quickly send sales and marketing campaigns to tons of people.
Automatically personalize mass emails on a person-by-person basis.
Easily schedule emails in advance.
Here's a closer look at GMass' key features:
A) Advanced Mail Merge Reports and Email Analytics
GMass accurately tracks various email metrics to give you detailed marketing breakdowns in your Campaign Report.
What's the Campaign Report?
The Campaign Report is automatically generated after sending each email campaign and highlights all the core marketing statistics you need.
Here's what GMass' automated Campaign Reports contain:
Total Recipients:
The total number of email addresses to which an email campaign was sent.
Unique Opens:
The total number of unique email IDs that opened your email.
Didn't Open:
The total number of email IDs that didn't open your email.
Unique Clicks:
The total number of unique recipients that clicked at least one link in your email.
Replies:
The total number of recipients that replied to your campaign.
Unsubscribes:
The total number of email IDs that unsubscribed from your emails.
Bounces:
The total number of emails that came back as undeliverable because the address was invalid.
Rejections because your Gmail account is over-limit:
The total number of email IDs that didn't receive your emails because Gmail limited your account's sending ability.
Blocks:
The total number of emails that came back as undeliverable because the address rejected your email as spam.
However, GMass' reports are far better than your regular campaign reports.
Why?
Unlike other email marketing tools such as Mixmax, SalesHandy and ContactMonkey, GMass places campaign reports right inside your Gmail account.
You won't have to open a separate tool or window to access your sales email tracking. Your reports will be waiting for you right in your Gmail inbox!
For detailed information on GMass' reports, click here.
B) Powerful Personalization
Email marketing is all about making a connection.
And how do you make a connection?
By personalizing your emails.
After all, what would you rather engage with?
Generic marketing emails?
Or those that are tailor-made for you and your needs?
But you can't manually personalize hundreds of emails. That's going to take forever!
Luckily, GMass offers you automated personalization features to tailor your marketing emails on a person-by-person basis.
It gives you features like:
As the tool does all the personalizing, you won't have to lift a finger!
C) Email Scheduling
Timing plays a huge role in email marketing.
You need to send emails at the right time for maximum engagement.
For example, your email campaigns won't be as successful if people receive your emails at 3 AM, right?
Ideally, you should send your campaigns when your recipients are most likely to check their inboxes.
To help you with this, GMass allows you to schedule your emails in advance to plan your campaigns carefully. Because the tool automatically sends these emails, you won't have to be online when they go out.
If there's a change of plans, you can always reschedule your emails via the Gmail Drafts folder.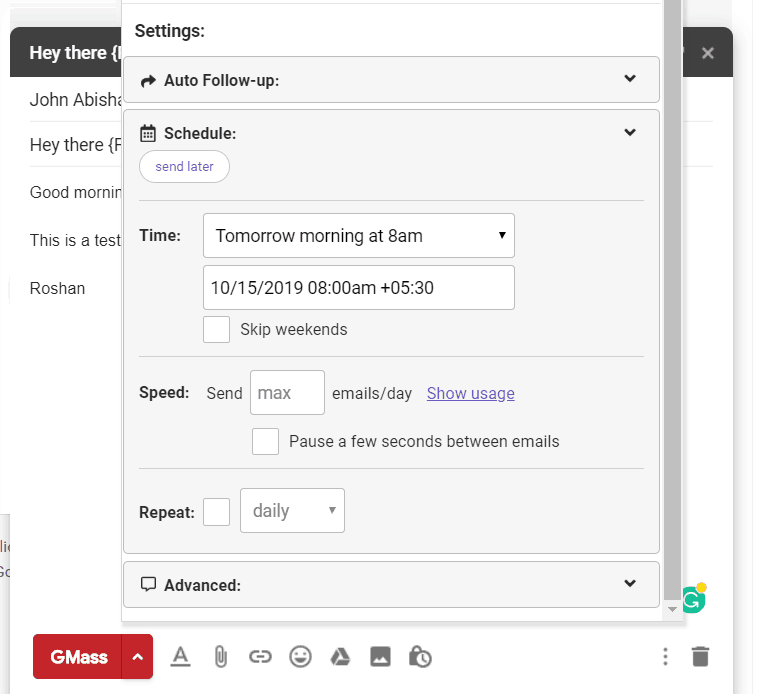 D) Automatic Follow-Ups
After analyzing your campaign responses, you'll have to send meaningful email follow-ups, right?
But what if you have to follow-up on hundreds of emails?
You can't do that manually…
Don't worry.
GMass supports follow-up email automation to automate the process for you.
It can send automated follow-ups to targeted recipients for maximum engagement. You can also customize everything about these follow-up emails, like:
The trigger for sending a follow-up. For example, GMass can send a follow-up email when a recipient clicks a particular link or replies to your email.
The number of follow-up emails each person receives.
The time gaps between each follow-up.
The follow-up email message.
Pros
Quick setup and onboarding.
User-friendly interface.
Can be used for both traditional emailing and cold email marketing.
Build email lists based on Gmail account search results.
Easily import contact lists from a Google Sheets file.
Send automated email campaigns.
Send unlimited emails per day via a third-party SMTP service like SendGrid.
Works within your Gmail inbox.
Available as a robust Gmail add-on for Android devices.
Powerful CRM integration with Salesforce and Hubspot.
Active customer support team.
Cons
The software works with Google Chrome only.
Only works for Gmail and G-Suite accounts.
Pricing
Besides the free plan, GMass offers two pricing plans: for individuals and teams.
Free: fully-featured free email tracking software that can send 50 emails/day.
Individual

Minimal: $8.95/month – unlimited email tracking + all features except auto follow-ups.
Standard: $12.95/month – removes GMass footer for every sent email and includes everything available in Minimal.
Premium: $19.95/month – everything available in Standard + auto follow-ups.

Team

Premium: starts at $89/month for a group of 5.
Customer Ratings
2. MailTrack
MailTrack is a simple web-based service that tracks Gmail emails to give you a read receipt for email opens. It adds a double checkmark (✓✓)  read receipt to your email message whenever a recipient opens it.
Key Features
Powerful read receipt push notification for email opens.
Reminders for unopened emails.
Reply monitoring to track email responses.
Integrates with CRM software.
First-open email alerts.
Pros
Powerful daily email campaign reports.
Real-time alerts are available on mobile devices, as well.
Has plugins for Chrome, Firefox, and Opera.
Cons
Can't track email opens when there are multiple recipients for the same email.
The app alerts you when you open your own emails. This can lead to tons of unnecessary notifications.
Pricing
MailTrack has two pricing plans:
Free plan: offers unlimited free email open tracking.
Pro plan: $4.99/month – unlimited open and click tracking + email and phone support + daily reports and reminders.
Customer Ratings
Capterra – 4.5/5 (100+ reviews)
G2 Crowd – 4.5/5 (50+ reviews)
3. Boomerang
Boomerang is an email marketing tool that works with email service providers like Gmail and Outlook. Its powerful web-based service has made it a popular email tracker used by tons of small businesses.
Key Features
Powerful AI assistant to help you craft attractive emails.
Inbox Pause to pause new emails from coming into your Gmail inbox.
Easy email scheduling with real-time alerts.
Can send recurring email campaigns and follow-ups.
Response tracking to track email replies.
Pros
Add private notes to scheduled emails.
The app alerts you if you don't get an email response.
The app has powerful sorting features to declutter your inbox.
Cons
The initial setup is complicated.
The UI is difficult to navigate.
At times, you may have to log in repeatedly.
Pricing
Boomerang has four pricing options from which you can choose:
Basic: free email tracking service and AI features with 10 message credits per month. (Each message credit lets you use Boomerang for one outgoing message.)
Personal: $4.99/month – includes everything in Basic with unlimited message credits + notes for emails.
Pro: $14.99/month – everything in Personal + Inbox Pause and advanced AI features.
Premium: $49.99/month – offers Pro + additional customizations and support + CRM integration.
Customer Ratings
4. Gmelius
Gmelius is a collaborative workspace that doubles as a tracking software for emails. Gmelius's powerful email tracking service can monitor everything that happens to your emails after you've hit send.
Key Features
Detailed reports and email analytics.
Real-time alerts on mobile and desktop for all events.
Automatic email categorization.
Personalized mail merge campaigns.
Collaborate on emails with your team.
CRM integration to sync all your email contacts.
Pros
Create an email template that can be personalized and shared.
Set reminders for automatic follow-ups.
Schedule recurring emails to send monthly invoices, weekly meeting agendas, etc.
Cons
Each app notification can clutter your inbox if you don't use your device frequently.
Limited email tracking features in the free plan.
Pricing
Gmelius offers four pricing plans:
Free: offers email open tracking with desktop push notification.
Plus: $12/month per user – email collaboration features + access to email activity reports.
Growth: $24/month per user – everything in Plus + click tracking + mail merge features.
Enterprise: $69/month per user — everything in Growth + unlimited users + groups and teams.
Customer Ratings
5. LeadBoxer
LeadBoxer is an online lead generation and marketing tool that tracks your emails. Its powerful Gmail Chrome extension tracks email opens, link clicks, and more.
Key Features
Supports real-time alerts for your email opens.
Can automatically identify prospects from your marketing emails.
Provides detailed email campaign data such as your email click-through rate.
Automatic lead scoring to rank prospects.
Integrates with your CRM software.
Pros
Powerful Google Analytics level reporting for email and social media campaigns.
Reports are accessible on mobile devices as well.
You can filter and prioritize email prospects by company name or location.
Cons
Expensive plans that start at $222/month.
Difficult to use as a standalone email tracking software.
Pricing
LeadBoxer has two pricing plans:
Basic: $222/month — 10 users + unlimited leads + web and email behaviour tracking.
Premium: $563/month — includes Basic features + 25 users + custom dashboards + premium integrations.
Customer Ratings
6. Bananatag
Bananatag allows you to track emails, schedule them, and create an email template in Gmail and Outlook. It also gives you advanced email analytics and reports to break down a prospect's overall engagement.
Key Features
Schedule and snooze emails to manage your email schedules effectively.
Detailed analytics and reports.
Intuitive drag-and-drop interface.
Attachment tracking to see how recipients interact with your email attachments.
Easy email scheduling.
Sync emails to your CRM software.
Pros
Can create email templates to save you tons of time when composing emails.
Simple setup and user-friendly interface.
Cons
This email tracking app doesn't work for corporate email addresses.
Each notification is shown through separate emails. This can clutter your inbox if there's a large mailing list.
Pricing
Bananatag is available in two pricing plans:
Pro: $12/month – track up to 100 emails/day with detailed reports and scheduling features.
Team: $25/month per user – everything in Pro + track up to 200 emails/day + team management features.
Customer Ratings
7. Yesware
Yesware is a popular email tracking app for professional email marketers and sales reps. It gives you detailed data over your campaign's open rates, click-through rates, and attachment downloads in Gmail and Outlook.
Key Features
Real-time notification for each email open and link click.
You can personalize your emails by creating custom email templates.
Reply monitoring to track prospect responses.
Detailed tracking reports help take stock of your campaign progress.
Attachment tracking to monitor how prospects use your files.
Pros
Simple setup and user-friendly interface.
You can easily sync your emails and activities through its Salesforce integration.
You can set reminders to follow-up on customers.
Cons
No auto-save feature for email campaigns.
The app notifies you when you open your own emails — cluttering your campaign data.
When there are multiple recipients for your email, it doesn't clearly state who opened it.
Pricing
In addition to a free trial, Yesware comes in three pricing schemes:
Pro: $15/month per user – real-time sales email tracking + Salesforce sync + custom email templates and reminders.
Premium: $35/month per user – includes Pro features + marketing automation features.
Enterprise: $80/month per user – includes Premium features + Salesforce inbox sidebar + email and calendar CRM sync.
Customer Ratings
8. HubSpot Sales
HubSpot Sales is sales and tracking software that offers a suite of tools to boost productivity, track leads, and streamline the prospecting activities of your sales team. This sales software can also be used as a good solution for email tracking.
Key Features
Built-in email activity stream that automatically logs each prospect's email data.
Automated and personalized email follow-ups.
Predictive lead-scoring to help prioritize potential customers.
Customizable reports that break down email metrics.
Great Salesforce integration.
Pros
User-friendly sales engagement platform.
Build email templates that can be customized and shared with your sales team.
You can schedule emails and follow-ups in advance.
Cons
No mass emailing features. You can enter them in a sequence to build an email list, but you need to hit the send button for each one.
The basic starter plan isn't very feature-rich.
The reporting dashboard can be difficult to use.
Pricing
Besides a free email tracker plan, Hubspot Sales offers three pricing schemes:
Starter: $50/month – supports 2 users + basic sales email tracking and lead generation features.
Professional: $500/month – supports 5 users and everything in Starter + email sequences and custom reporting.
Enterprise: $1,200/month – includes 10 users and everything in Professional + lead-scoring and team management features.
Customer Ratings
9. Cirrus Insight
Cirrus Insight is a popular email open tracker that works with an email client like Gmail and Outlook.
Key Features
Email scheduling to send emails at a time of your choice.
Allows you to save, personalize, and use email templates repeatedly.
Can send drip marketing campaigns to improve email outreach.
Email reminders to follow-up on sales and marketing pitches and quotes.
Can schedule meetings with prospects.
Pros
Detailed tracking of your email attachments.
Its Salesforce integration syncs your emails and contacts.
Syncs with your Google Calendar to manage email schedules.
Cons
The starter plan isn't very feature-rich.
The UI can be confusing for beginners.
Pricing
Cirrus Insight is available in three paid plans:
Starter: $36/month per user – offers standard email tracking and productivity features.
Closer: $60/month per user – everything in Starter + schedule sharing and team analytics features.
Enterprise: custom pricing – includes Closer + drip campaign and organizational features.
Customer Ratings
10. Streak for Gmail
Streak is a lightweight CRM and email tracking tool for Gmail. You can use it to track customers, emails and create mail merges.
Key Features
Intuitive email sidebar that displays each email's tracking details.
Detailed reports for email activity and actionable insights.
Personalization features for mail merges and follow-ups.
Collaborate with your team on marketing emails.
Automatic email response tracking.
Pros
You can sort your emails based on the type of response.
Color codes and customization let you manage your campaigns efficiently.
Reports and data can be accessed from within your Gmail inbox.
Cons
There's no dedicated Streak dashboard.
The app doesn't clearly indicate which address in an email thread viewed the email.
Their free plan isn't very feature-rich.
Pricing
Streak lets you choose from four pricing plans:
Free: free email tracking software with basic CRM features.
Solo: $19/month per user — includes "Free" features + email support + 800 mail merge/day.
Pro: $59/month per user – offers advanced CRM features like email filters, reports, call logs, and more + basic API and Zapier integrations.
Enterprise: $159/month per user – includes everything in Pro and full API access + advanced customizations.
Customer Ratings
Capterra – 4.5/5 (300+ reviews)
G2 Crowd – 4.5/5 (100+ reviews)
Conclusion
Choosing an email tracking software doesn't have to be tricky.
While each of these tools is good, GMass stays ahead with its powerful email tracking and mail merge capabilities. It's got all the features you need to get the best out of your email marketing campaigns, so why not download its free Chrome extension and experience it for yourself?