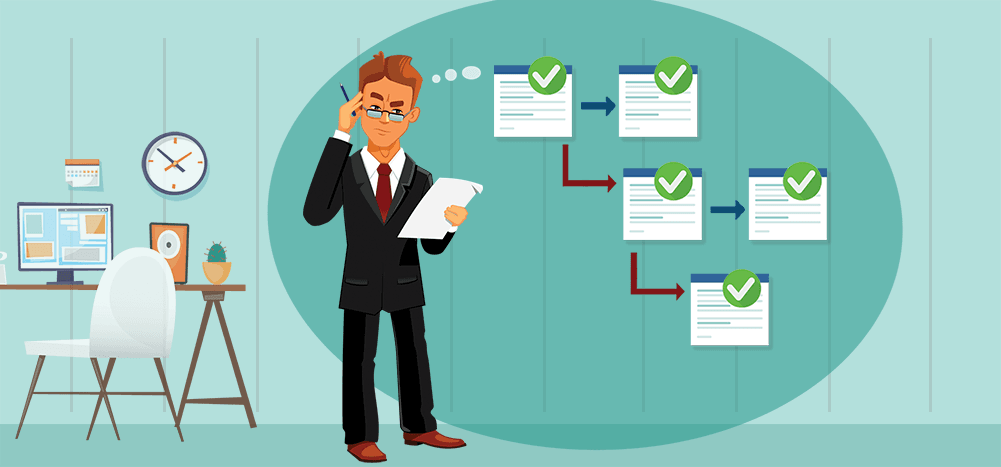 You can now test your email sequence and see exactly what it will look like in the Inbox before you send your actual campaign.
To see your full sequence:
Go to the "Send Test" button options box.
Click the "Send All Stages" box.
Put in a test address.
Hit the "Send Test" button.
Here's an animation showing the full process.
It's always useful to see exactly what your complete, threaded email sequence will look like in the actual Inbox. While it's always been easy to test individual messages of the sequence, this is the first time you can see the entire sequence with just a few clicks.
Update: This testing now works when you send through a third-party SMTP! 
Let's cover the three main scenarios where you'll send yourself a test of an email sequence so you know what to expect. (And while we're here, these can also be a quick brush-up on the types of sequences you can send with GMass and how to send them.) 
3 email sequence scenarios and what to expect from your test sends
Scenario 1: Sending a series of text-only emails 
Our default setting for email series is "send text-only email in the same thread". Why? Because this setting most closely simulates how you'd manually send follow-up email replies. If you email a contact and after a few days you haven't received a response, you'd probably reply to your previous email with another quick message, so it would appear in the same email thread.
Here's an example I put together in the GMass settings panel to demonstrate a text-only reply sequence. Notice the settings here are text only, and I've entered the text into the boxes right there in the GMass settings window.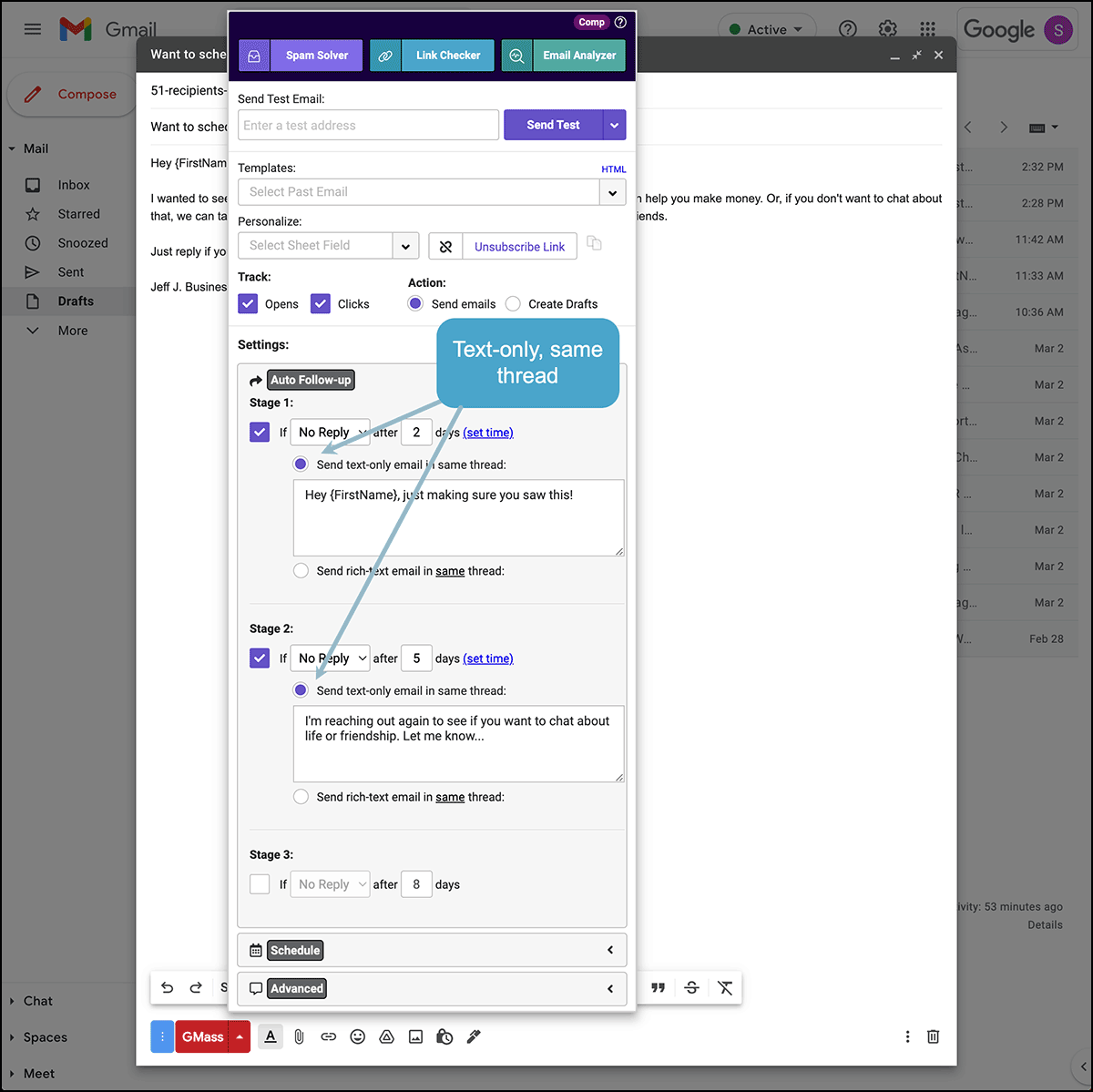 Now enter your email at the top of the window where it says "Send Test Email" and then click the down arrow next to "Send Test." Check the box next to "Send all stages" to receive a test send of the full sequence.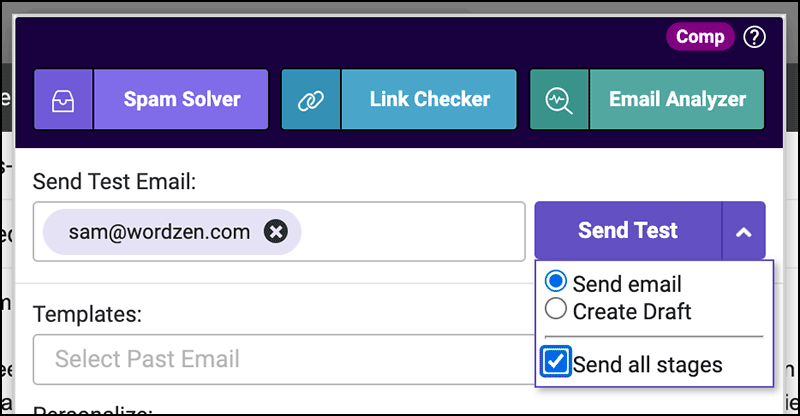 Then click the "Send Test" button. The test emails will take a moment to send and will now be in your inbox. And when you check them out, you'll see they are all part of one email thread.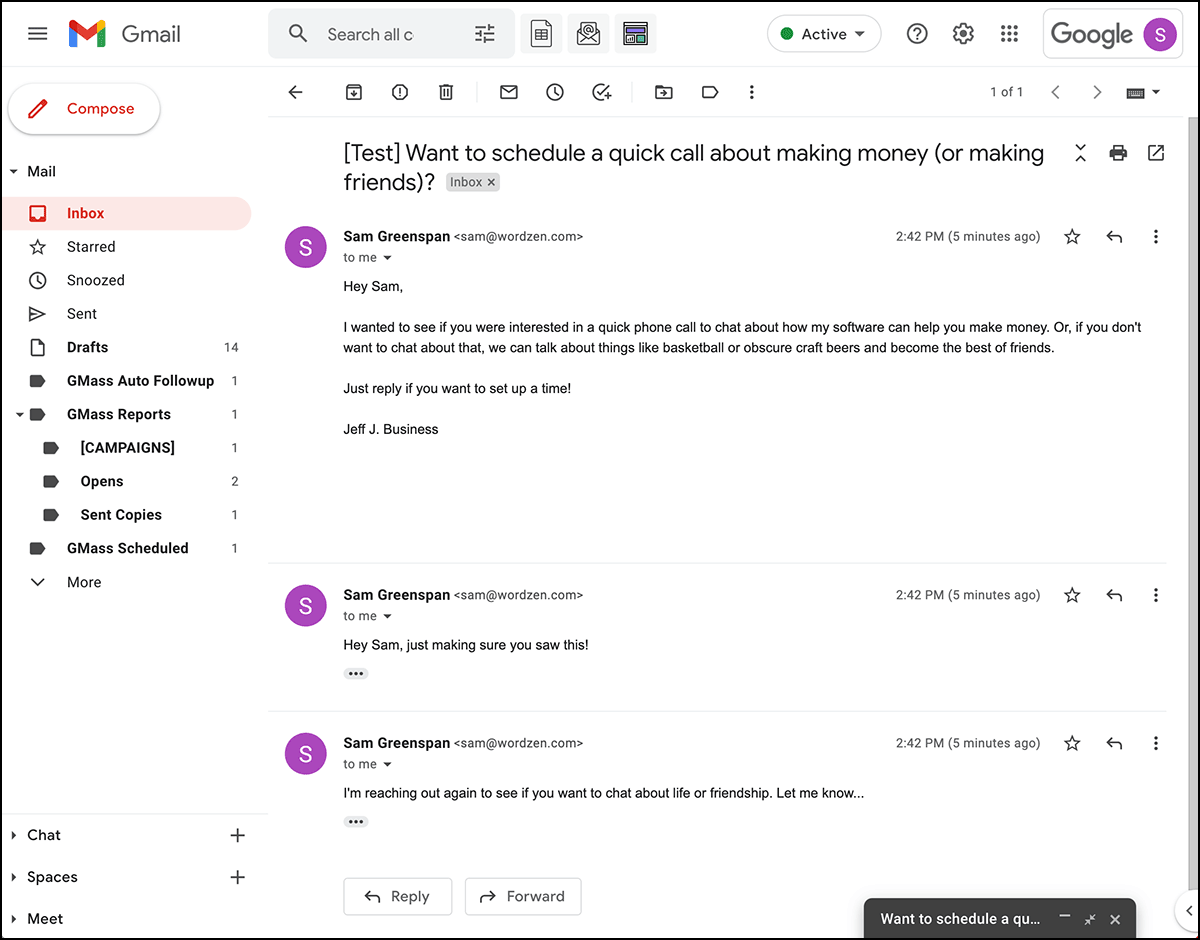 If everything looks correct, you can now return to the Gmail compose window, finish fine-tuning your GMass settings, and send or schedule your email.
Scenario 2: Sending a series of rich text emails in the same thread
With GMass, text-only email sequences will always be part of the same thread. That's not the case for rich-text emails. With the rich text option (where emails can contain fonts, images, and attachments), you can send emails as part of one thread or have GMass send each email independently with a fresh subject line.
(Your preference there depends on your strategy for your email series. In the briefest of summaries, if you want things to feel closer to personal, one-off emails, threads make more sense. If you want to try different subject lines to try to get a contact to open a cold email, or you're worried about new messages getting buried in one single thread, a non-threaded approach should work.)
In the screenshot, you can see I've set my follow-up emails as rich text in the same thread.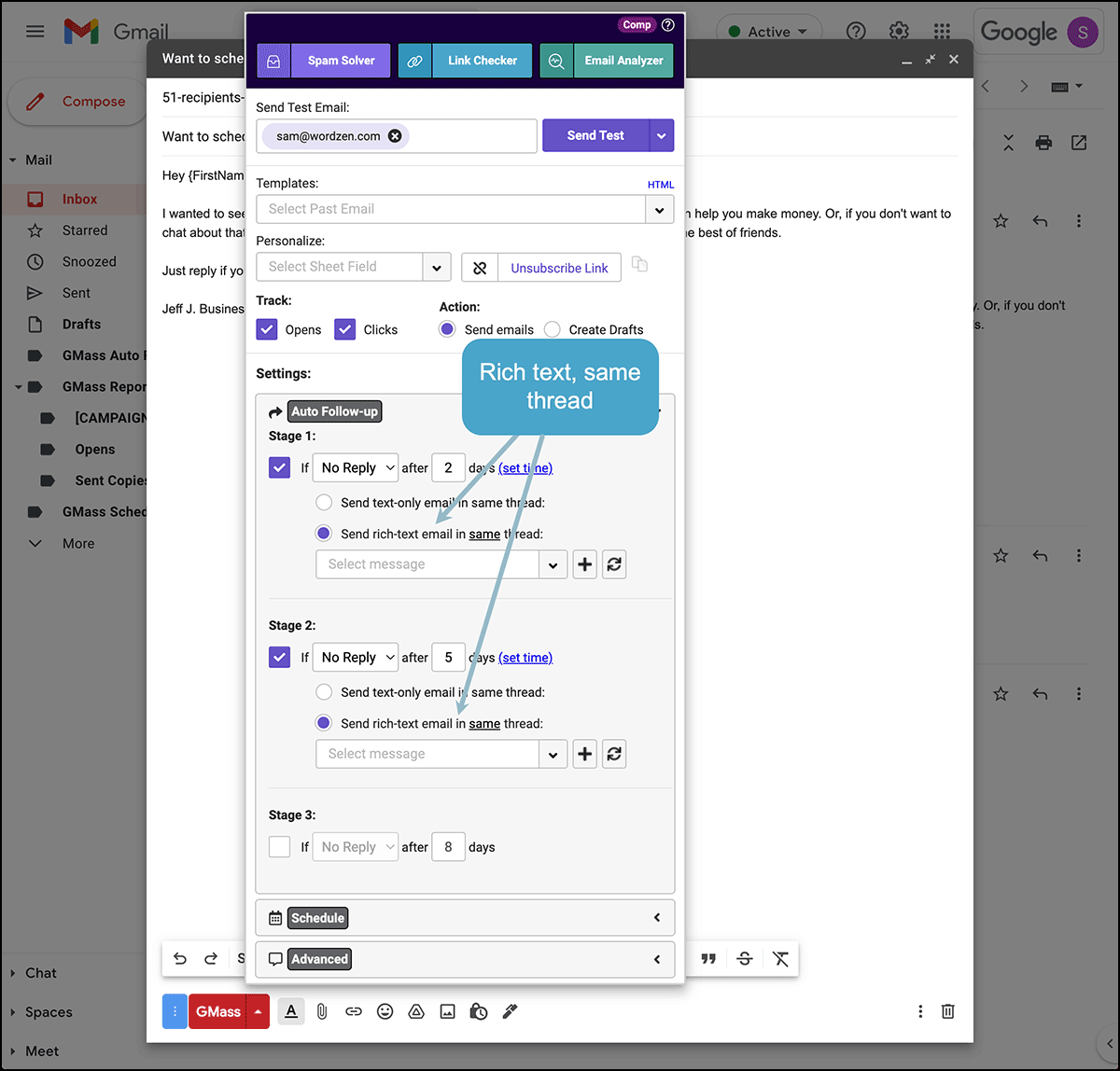 You'll need to build each rich text email template, as they're more complex than your quick text-only emails. To create a template for the first rich text email, click the plus sign next to the template selection box.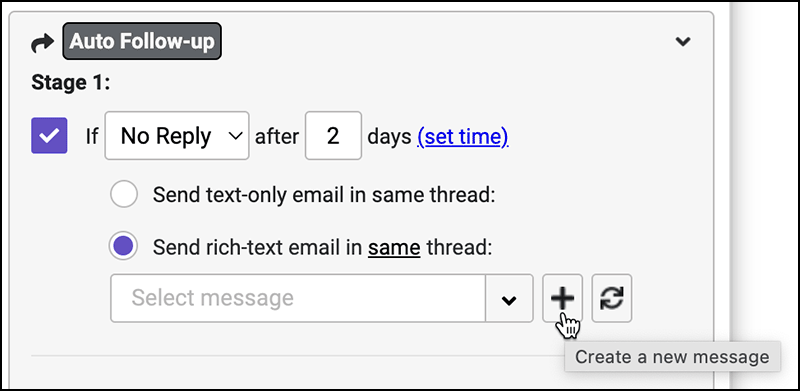 A new compose window will pop up. Leave the "to" email address as-is; that "aftemplate" email is used to save auto follow-up templates. You can then compose your first follow-up email.
Note: Technically, you don't have to change the subject line on your template because this email will be sent as part of a thread with an already-established subject line. However, we recommend changing the subject line in your rich text template emails for two reasons. One, so you can distinguish this template from others for future use and for organization purposes. And two, in case you change your mind and decide to send these emails as separate threads, you'll have the subject line in place.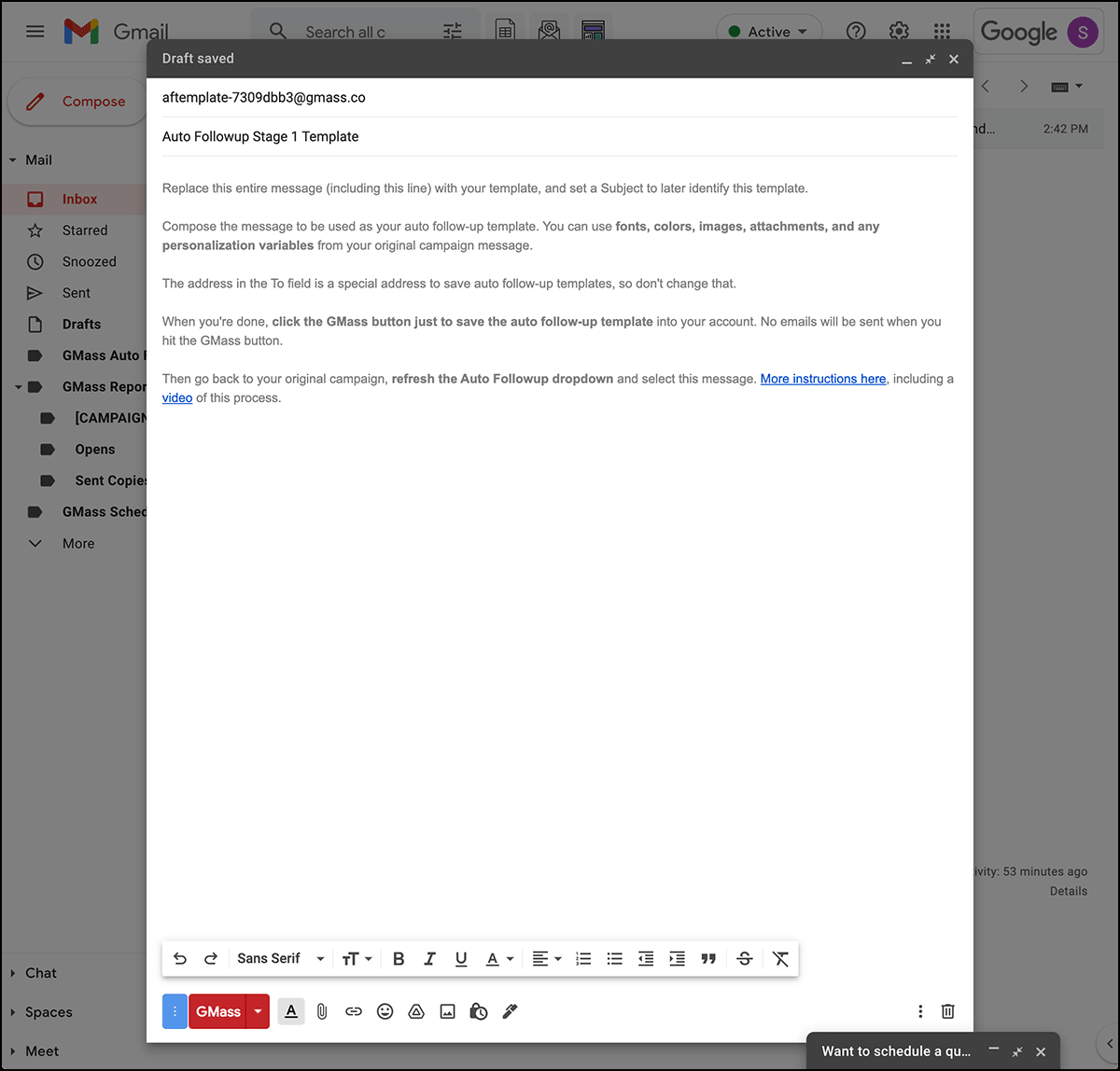 After you've composed your email, hit the GMass button. That will save your template.
Then return to the compose window of the original email in your series and re-open the GMass settings. Hit the 🔄 button next to the template selection field and your new template will appear in the drop down menu. (You can hit the eye icon to view your email in a pop-up.)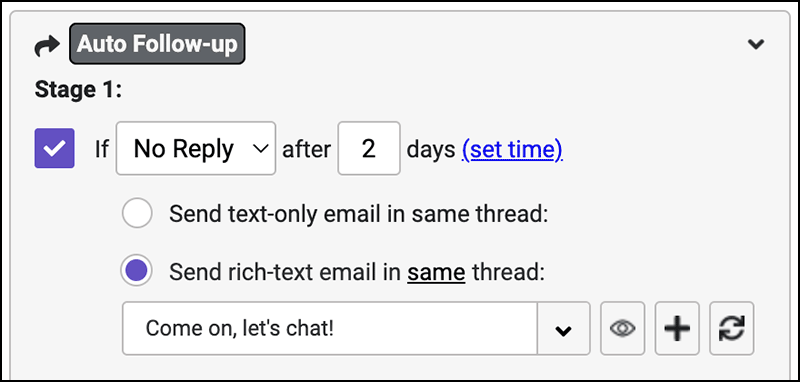 Repeat this process to build templates for the rest of the emails in your sequence. And when you're done building templates and everything's ready for a test, select "Send all stages" by clicking the down arrow next to the "Send Test" button, then send yourself a test.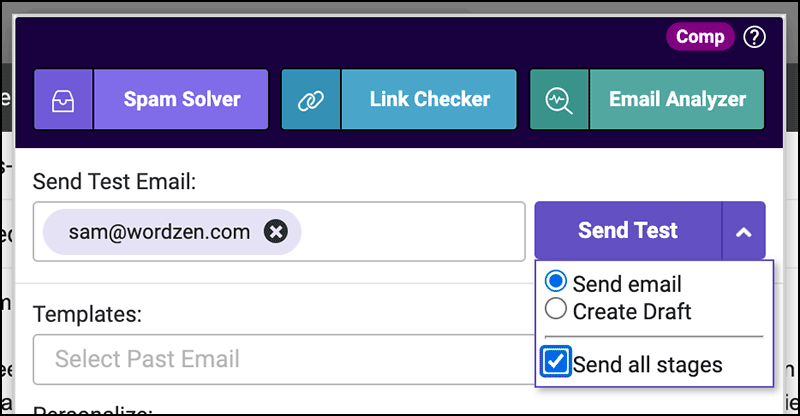 Here you can see the test send of my rich text responses — and see how they're all part of the same thread.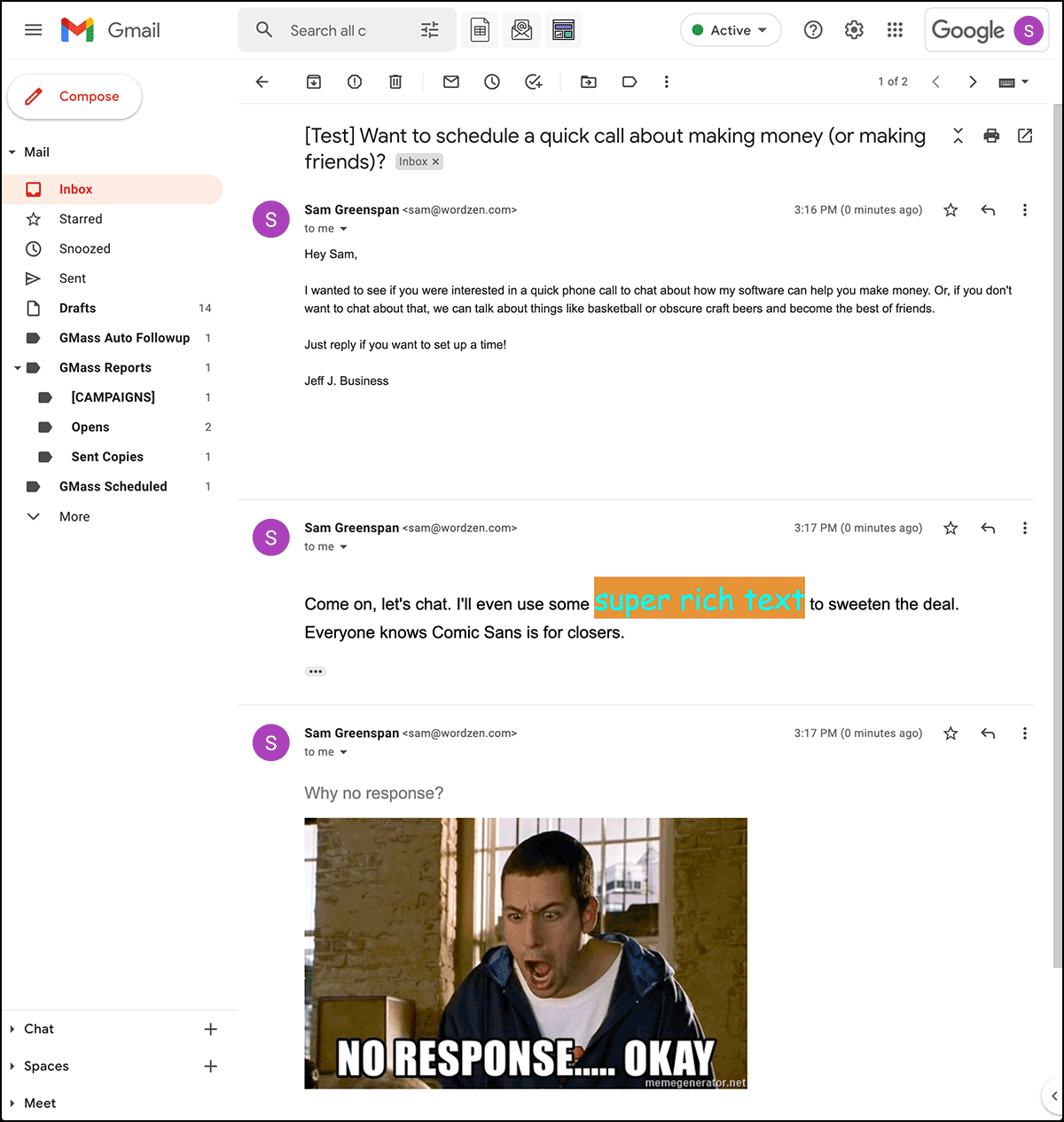 Scenario 3: Sending a series of rich text emails in different threads
The final scenario we'll cover here is sending rich text emails independent of one another, so each email is in a different thread. As we mentioned earlier, you might want to take this approach if you want to use different subject lines for different emails (or if you're worried about emails getting lost inside of threads).
Go to the compose window for the first email in your series and the GMass settings. On the setting "Send rich text email in same thread," click "same" and select "new" instead.
Now create your rich text templates. The same process applies as before.
Click the plus button, which will bring up a new Gmail compose window.

Type in your rich text email.

Make sure to set your subject line, as in this scenario, recipients

will

see the subject.

Once you've finished composing your email, click the GMass button to save.

Return to the original email and the GMass settings, click the 🔄 button, and select your template from the drop down.

Repeat this process for each email in your series.
And when you're ready to send a test, click the "Send all stages" box. Then click "Send Test."
Each email should now appear in your inbox, each on its own.

But… what if you want to send each email independently in their own threads with their own subject lines, but still have your follow-ups contain the text from your prior emails in the series? After all, including the message history could help give context to the person you've emailed.
There's a setting in GMass for that scenario.
Go to your GMass dashboard (click the dashboard icon next to the Gmail search box) and click on settings.

On the settings panel, go to the Auto Follow-ups section. Check the box to force prior conversations below your messages and click Save auto follow-ups.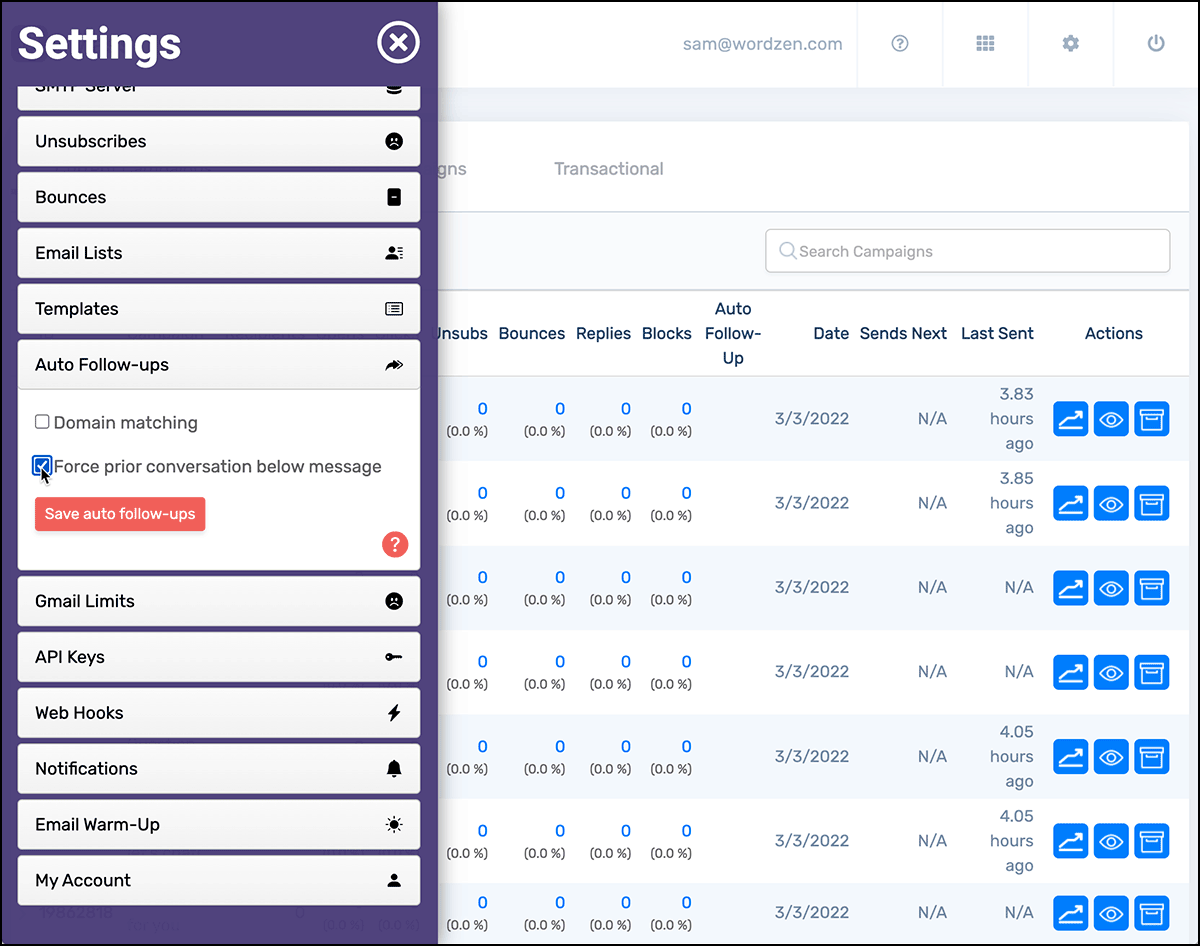 Now when you send rich text emails in separate threads, they'll still have the full conversation history, as you can see in this screenshot below.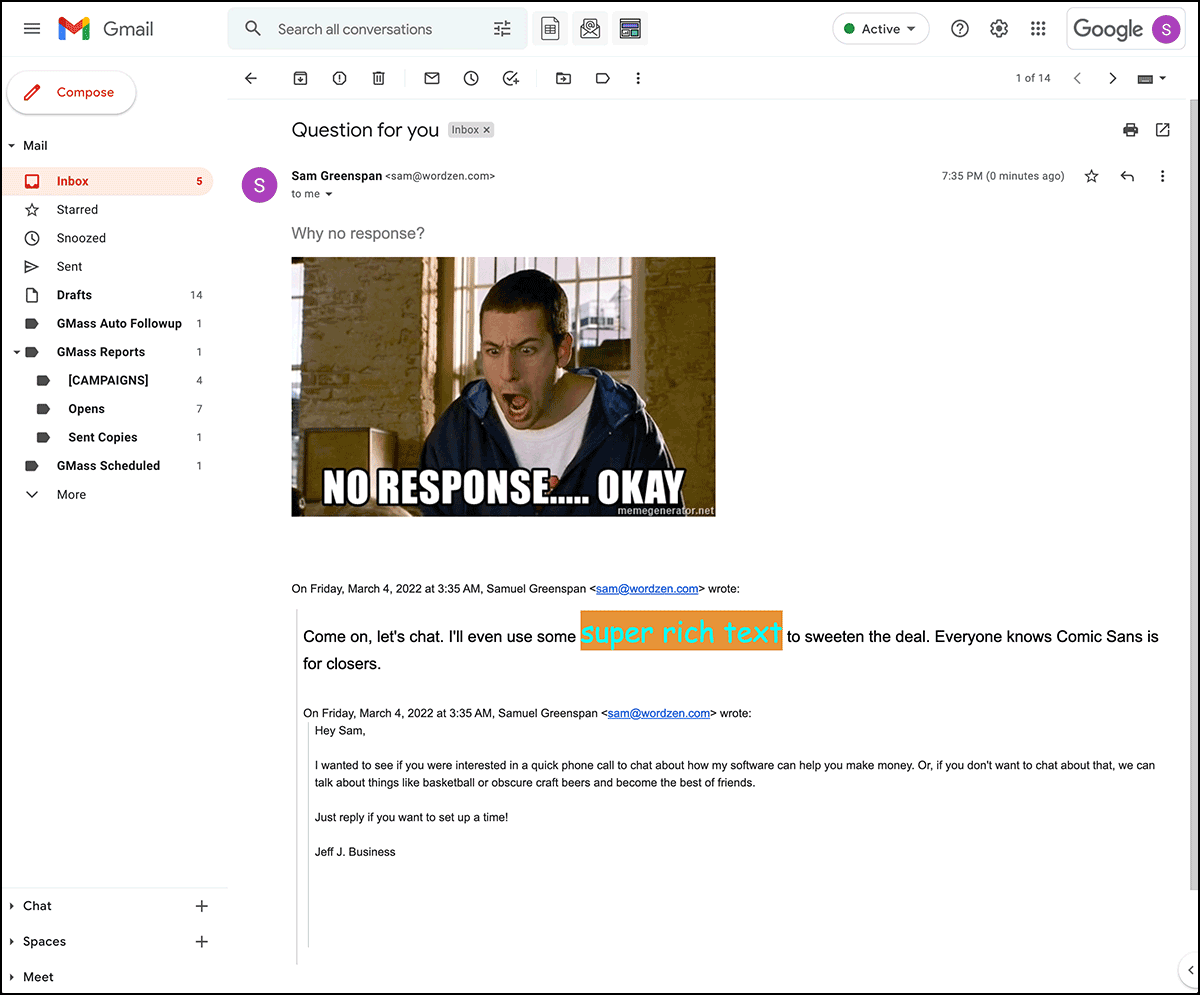 Scenario 3b: Drip series emails
We wanted to mention drip campaigns here as well, as they operate similarly to rich text emails in different threads (with one major difference). 
In the example we just used above, an email recipient would stop getting follow-up emails after they send a reply to any email.
With a drip series, like a sequence of welcome emails or an educational email-based course, you want every subscriber to get every email — regardless of whether or not they reply (or open or click).
To make sure every recipient gets every email, you'll need to change one setting: Change "No Reply" to "Everyone" in your series.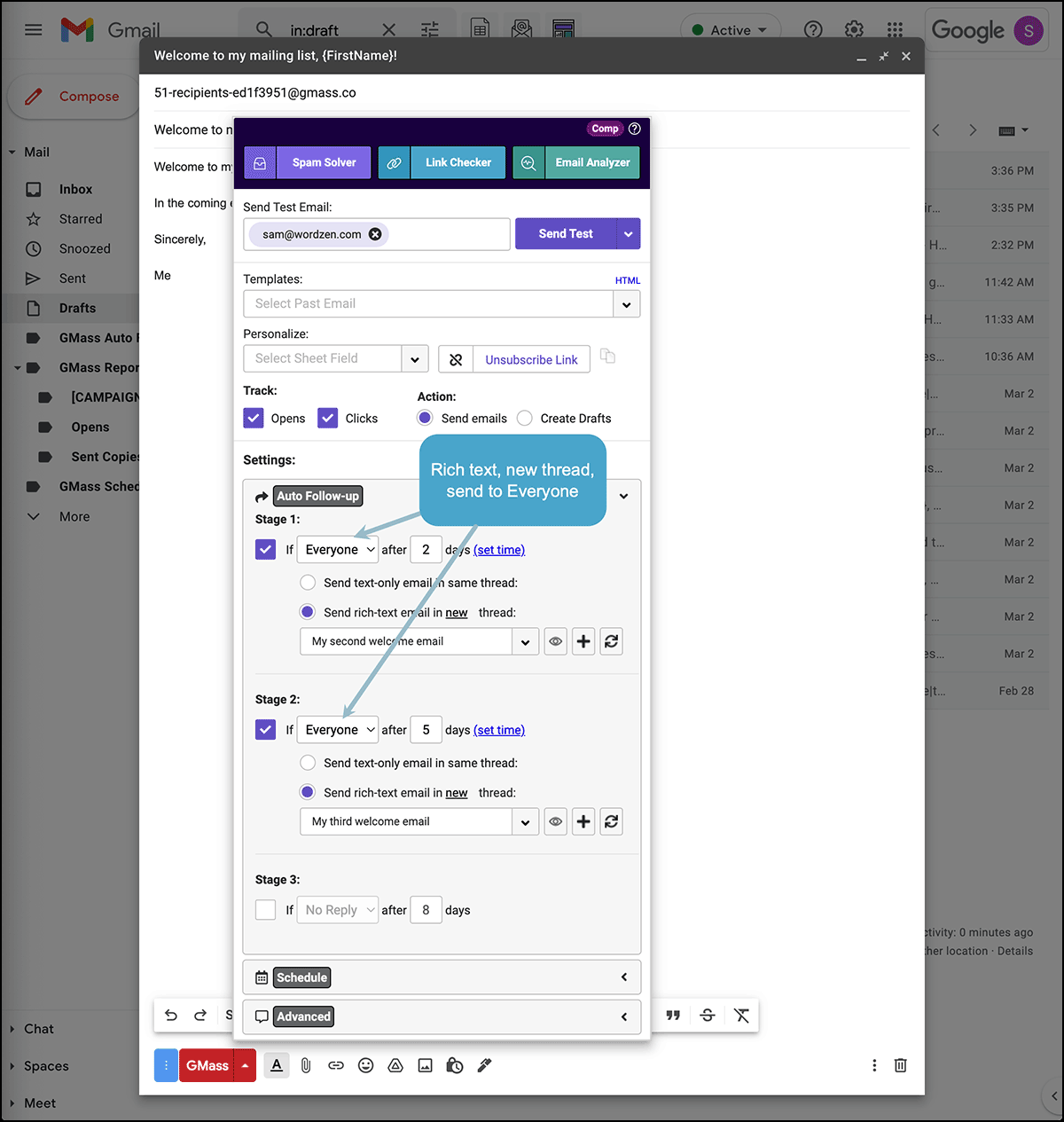 Once your emails are all set, you can again check the "Send all stages" checkbox. Then click Send Test.
Each email in your drip series should now appear in your inbox, each on with its own subject line and in its own thread. 

Sending tests of entire email series: Conclusion
One final note before we wrap up: Please use this new series test feature before you send your mass emails.
Not because we worked hard on it and it was surprisingly tricky; you probably don't really care about that, nor would we expect you to. I know I'm never like, "Wow, the people at this service I pay for must be working really hard, I should try out all their features" — instead I say things like, "Really, Apple, you put the charging port for this mouse on the bottom?" and "How can they call this Four Loko? My heart doesn't feel like it's anywhere close to exploding."
No, the reason you should use this is: Testing your emails before you send is really important, especially when there's personalization and/or rich text. You want to make sure everything looks exactly right before you send a mass email to 500, 5,000, or even five people.
This feature to test a whole email series in one single swoop should save you some time — you won't need to individually send tests of each email anymore — and, hopefully, help you spot issues with your emails before they go out.
Ready to

transform Gmail

into an email marketing/cold email/mail merge tool?

Only GMass packs every email app into one tool — and brings it all into Gmail for you. Better emails. Tons of power. Easy to use.

TRY GMASS FOR FREE

Download Chrome extension - 30 second install!
No credit card required
Love what you're reading? Get the latest email strategy and tips & stay in touch.