Using Gmail, Google Docs, Zapier, and GMass, you can easily set up a series of "drip" emails to be sent in a timed sequence to new people who sign up for your software, your email list, or indicate interest in your product or service. For example, let's pretend you own an email proofreading service, and you want to welcome all of your new subscribers with a 5-part email series on writing more effective emails, with each of the five emails containing one important tip and dripped on a set schedule.
First, what is a drip campaign?
A drip email campaign is any automated series of emails sent to your email list either on a set schedule or triggered on the behavior of the people on your list. In GMass terminology, we refer to a "drip campaign" as a series of emails sent to your list on a set schedule, while we refer to an auto followup sequence as a series of emails sent to your list on a set schedule until they take an action, like reply.
A drip campaign is used for communicating information in a steady stream to your customers and prospects to train or educate them. It sends to your entire contact list on a set schedule, and it doesn't break the flow until each contact has received each email in the sequence.
An auto followup campaign, also referred to as a cold email campaign, is used to persuade the members of your list to take some action, like replying, or clicking a link. These campaigns do stop after the recipient has taken some action, like replying.
Step 1: Create the 5 individual email messages
Just compose each email exactly the way you want it to look, and send it to yourself using the GMass button. This saves the template into GMass, and will allow us to select it later when we set up the series of emails.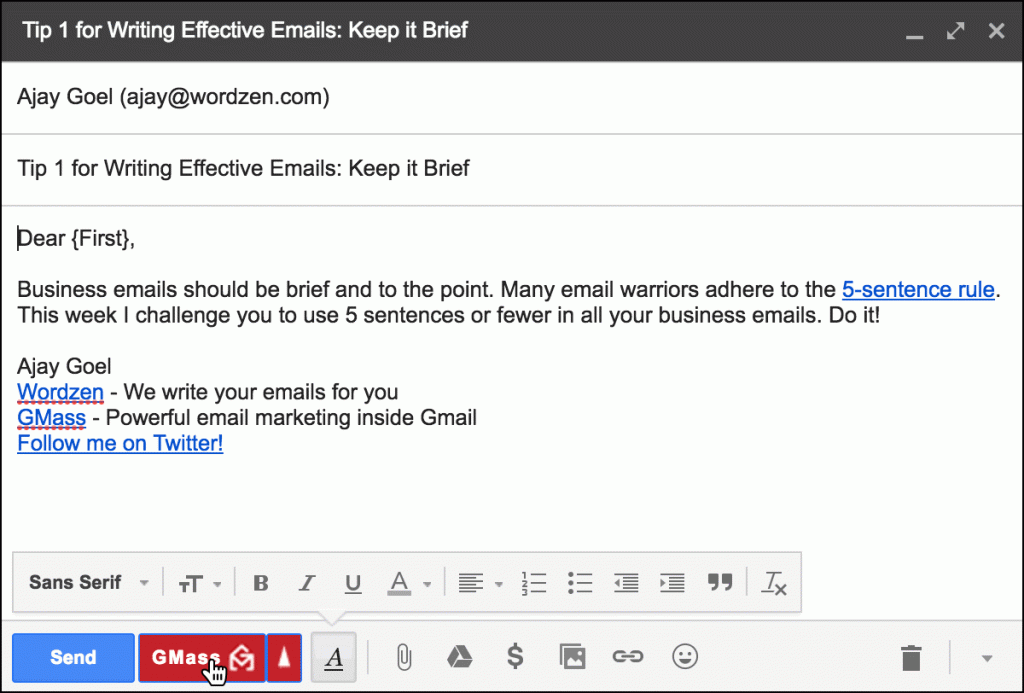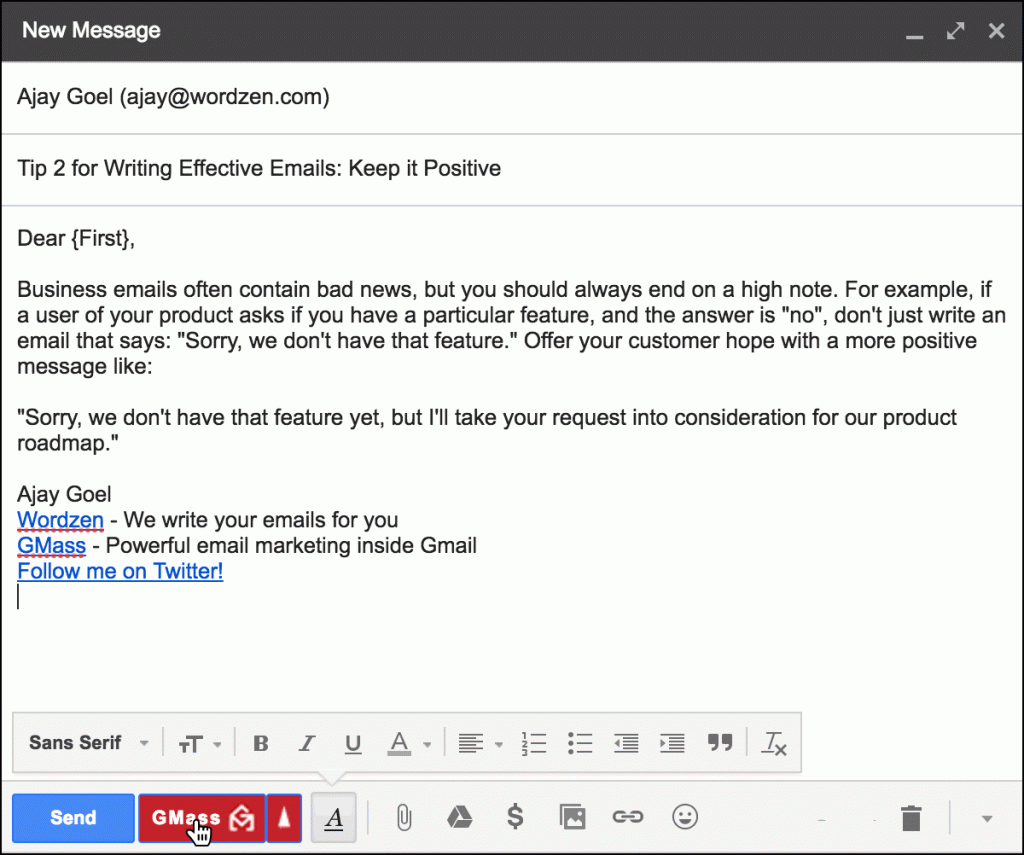 Step 2: Determine who will receive the drip series
Do you want to send the drip campaign to just a static group of recipients? If so, you don't need Google Sheets or Zapier. You can just paste the list of email addresses into the To field of the Compose window when you set up the campaign. If, however, you want the series of emails to include personalization beyond just the email address and name, then you should store your email addresses in a Google Sheet.
Finally, if you want to really get fancy, you can connect your in-house database to Google Sheets using Zapier, and use GMass's capability of sending emails to new rows in your spreadsheet in an automated fashion. Using this technique, anytime you get a new signup, that signup will get added to your Google Sheet, which will then place them into the automated drip email sequence.
Step 3: Set up the campaign
The original campaign will contain the first email in the five-part series, and we'll use the first auto follow-up to send the second email in the series, the second auto follow-up to send the third email in the series, and so on. Hit the Gmail Compose button, and configure your campaign, or if you're connecting to a spreadsheet, click the Spreadsheet icon at the top to first connect, and then configure your campaign as follows:
Note the following in how I've set up this campaign:
The first tip email in the series is my actual campaign, so that's what you see in the Subject/Message area of the Compose (even though it's hidden in the screenshot). The Stage 1 auto follow-up is set to Tip 2, the Stage 2 auto follow-up is set to Tip 3, and so on and so forth.
The condition is ALL, rather than the NO REPLY or NO OPEN option, which is what you might be used to using. Since this is a sequence of emails we want sent to everyone, regardless of whether they reply or open, we set the condition to ALL. Also, because it's set to ALL and set to use a "custom message" rather than typed out text, each Stage of the series will send as a new thread, rather than a reply to the previous email in the series. If the condition was NO REPLY or NO OPEN, then each Stage would send as a reply to the previous email in the series.
I've spaced each stage of the series apart by 7 days. This way, my list will receive one tip per week. If I wanted them to instead receive a tip daily, then I'd change the "days" setting to 1, 2, 3, and 4, respectively.
I've checked the Repeat daily to new Sheets addresses box. With this option checked, GMass will check daily for any new email addresses in the spreadsheet, and if found, will start sending those new people this same 5-part email series.
Summary
Using Gmail and GMass, and optionally Google Sheets and Zapier, you can put everyone who signs up for your product, your email list, or your webinar into an automated drip email campaign, where every email is sent from your Gmail account. The advantages of sending the emails from Gmail are many, including the world's highest deliverability and using a tool which with you're already familiar and love…Gmail!
See why GMass has

300k+

users and

6,600+

5-star reviews

Email marketing. Cold email. Mail merge. Avoid the spam folder. Easy to learn and use. All inside Gmail.

TRY GMASS FOR FREE

Download Chrome extension - 30 second intall!
No credit card required
Love what you're reading? Get the latest email strategy and tips & stay in touch.