The automatic follow-up email feature allows you set a an automatic timed sequence of emails to be sent to your recipients until they reply or open or click. Sometimes this is also known as a drip campaign or a sequence campaign and is popular amongst cold emailers.
In the GMass interface inside Gmail, it's easy to set the text of the follow-up email using the default "Send this text above original" option, but this option is limited to just text without rich formatting. Still, this option will suffice for most users wanting to use the automatic follow-up email feature.
If the plain text option doesn't suffice for your purposes and you want to apply formatting like hyperlinks or formatted text or images or attachments to the actual follow-up email, then you need to choose the Custom Message option rather than Send this text above original.
This article will teach you how to create that content that can be chosen in the dropdown.
In order to set formatted content as a follow-up email, you first need to create the content and save it in the GMass system. The way you do that is easy.
Demo Video
Step by Step Instructions
Hit the Gmail Compose button and then create the content of the follow-up in the Compose window.
The Subject can be anything you like — when the actual follow-up email is sent, the Subject will be ignored since it's the Subject of the original campaign that will be used. There's one exception to this: the Subject will be seen if your auto follow-ups are going to ALL rather than those who didn't reply, didn't open, or didn't click.
The To address will already be set to a special address that saves auto followup templates, so don't change that.
Hit the red

GMass

main button to save the follow-up template into your account, so that it can then be chosen from the dropdown later.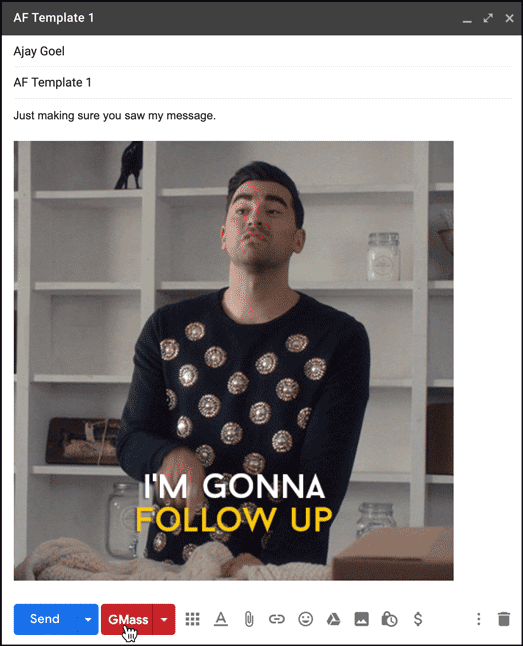 Now the content is in the GMass system and can be selected from the Custom Message dropdown.
When you go to create your campaign and set the email follow-up stages, you can choose your custom content from the dropdown rather than the text in the text box.