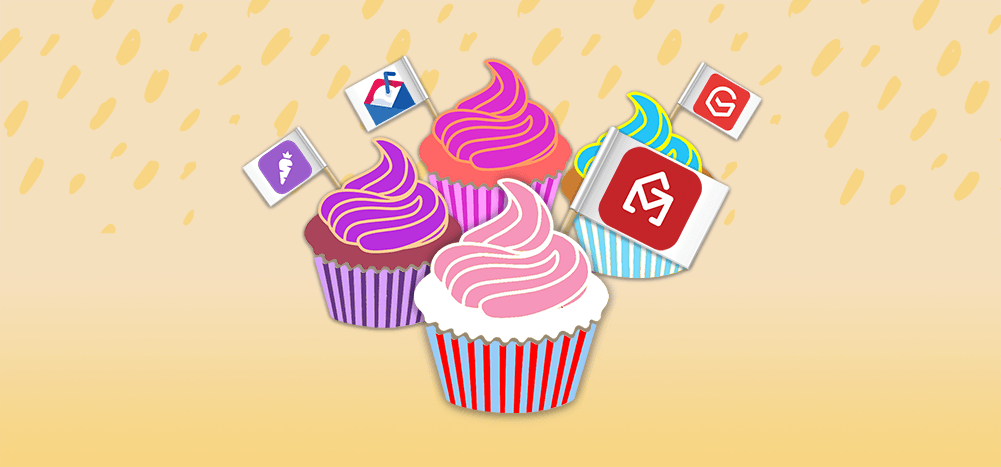 Looking for a Yesware alternative?
While Yesware is a good email outreach platform, it's far from a perfect tool. Its analytics can be inaccurate, and the basic pricing plan lacks key email campaign features.
In this article, I'll talk about four great Yesware alternatives (including a few free alternatives) for all your email management needs.
Here's what we'll cover:
(Click on the links below to jump to a specific section)
Let's get started.
What Is Yesware?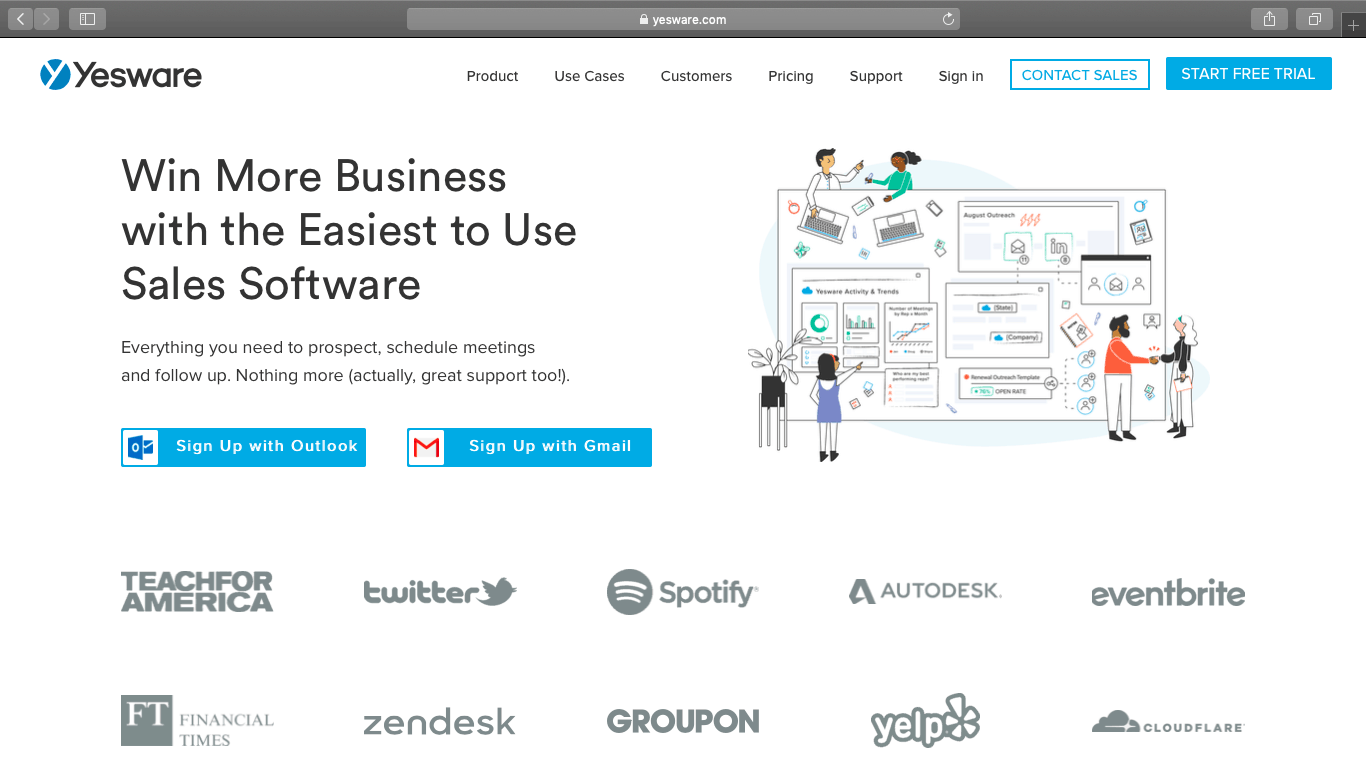 Source: yesware.com
Yesware is an email tracking and email management software that helps you send and track emails in Gmail and Outlook. It's chiefly used by sales reps to streamline their sales outreach activities.
Here's a quick run-through of its key features:
Can create and manage campaigns from Gmail, G Suite, and Microsoft Outlook.
Helps schedule emails and client meetings.
Tracks emails to provide key metrics.
Provides default templates to help you compose emails.
Can set reminders for events and meetings.
Supports attachment tracking to analyze engagement better.
Integrates with Workato, Salesforce, and other CRM tools.
The Four Drawbacks Of Yesware
While Yesware can help you manage your email campaigns, it has a few drawbacks.
1. Inaccurate Email Analytics Due to False Opens
Yesware's email tracking features often report unopened emails as "opened" for clients who use firewalls and spam blockers.
This can disrupt the accuracy of your campaign analytics.
How?
As false opens inflate your email tracking statistics, your campaign engagement figures could be inflated!
These inaccurate analytics can, in turn, affect how you plan your future marketing campaigns — making Yesware a potentially inaccurate email tracking tool.
2. The Yesware Pricing Is Limiting
Yesware's mail merge and email campaign features are not available in its basic Pro plan.
And without campaign management and mail merge features, sales teams might as well not use an email tool.
If you want to use Yesware for email marketing, you'll have to go for one of their pricier plans:
Premium: $35/month per user
Enterprise: $80/month per user
For large sales teams with multiple users, these prices could easily stack up to over $500 per month just for an email marketing tool!
3. Limited Campaign Functionality
Regardless of the pricing tier a business goes for, Yesware's sending limits are capped at 1,000 recipients per upload and 5,000 recipients per campaign. This significantly reduces the outreach of your email campaigns.
For a software centered around mass emails, this is very limiting!
4. Runs on a Separate Interface
Like SalesHandy and SalesLoft, Yesware has its own interface — separate from the Gmail and Microsoft Outlook UI.
Since it's not embedded into your inbox, you have to switch between multiple tabs or open the Yesware dashboard when you want to run a campaign or check reports.
While this is inconvenient, it also increases onboarding time. Every sales professional will take hours to familiarize themselves with the new Yesware interface – limiting their productivity.
The Four Best Yesware Alternatives
Here's a look at the best email tracking tools you can use instead of Yesware:
1. GMass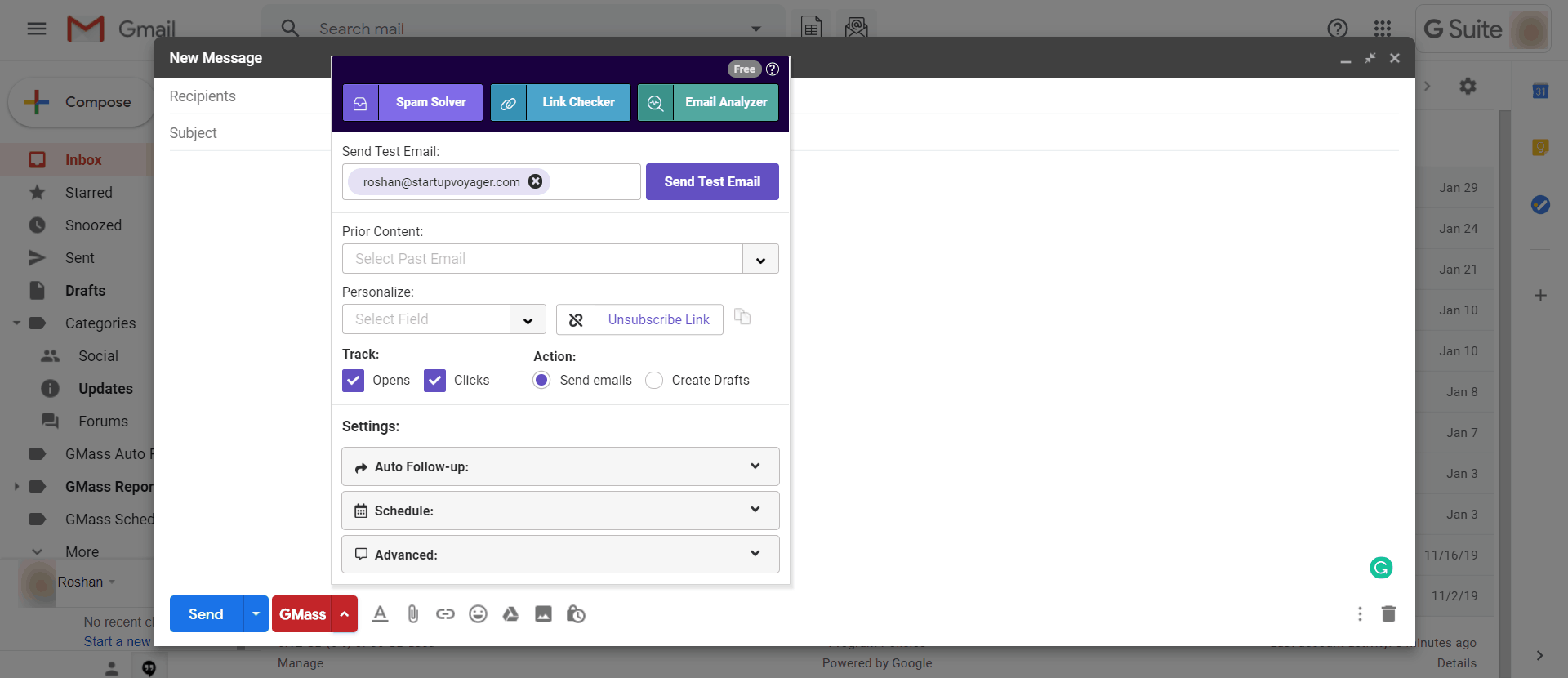 GMass is a powerful email outreach platform that can run mail merge campaigns right from your Gmail account. Its outreach capabilities have made it a part of the sales toolkit used by employees from Google, Uber, and even social media giants like Twitter and LinkedIn.
However, unlike Boomerang or Bananatag, GMass isn't just for SaaS companies or your enterprise sales toolkit!
It can also be used by individuals, institutions, and small businesses to send emails to a target audience.
With GMass, you can:
Quickly send outbound sales or marketing emails to tons of prospects.
Personalize email campaigns on a per-recipient basis.
Auto-track your campaign engagements accurately.
Schedule each email campaign and follow-up email.
Easily set up custom tracking domains.
What's more…
It's super easy to get started with GMass — just download its Chrome extension, sign up with your Gmail account, and you're good to go!
Key Features
Here's a look at what makes GMass a great Yesware alternative:
Sending personalized emails to your recipients is a great way to boost email marketing engagement.
Think about it.
Would you rather open a generic mass marketing email or one that's tailor-made to suit your needs?
However, for large email lists, manually personalizing each email is impossible.
Imagine personalizing email marketing campaigns with thousands of recipients!
Fortunately, GMass has a solution.
Unlike Docsify and Boomerang, GMass offers advanced personalization to personalize your campaigns automatically for each recipient.
You can easily personalize your emails with features like:
Auto First-Name Detection and Entry – GMass automatically detects the recipient's first name from their email address, and you can add it to an email addressed to them.
Add Customized Paragraphs – GMass lets you personalize large blocks of text in your email for each recipient.
Add Customized Images and Links – you can add custom photos and URLs for each person in your email list.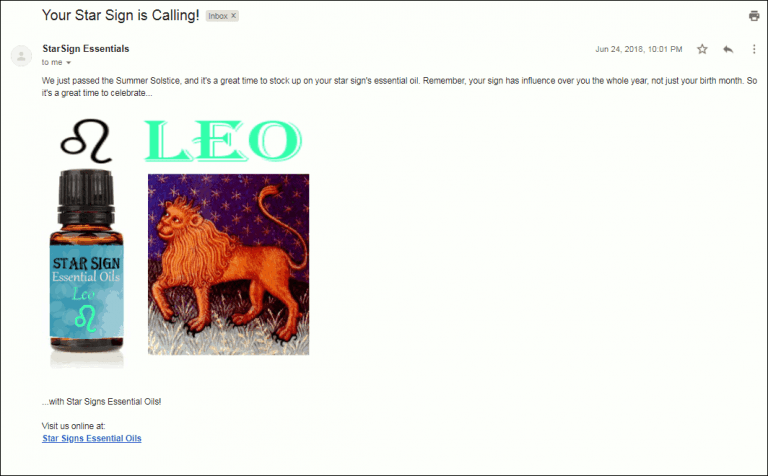 While you could use Google Analytics to analyze click-through rates, dedicated email tracking tools like GMass are a better solution for tracking core campaign statistics.
After every email campaign, GMass auto-generates a Campaign Report that displays all the key email metrics you need to analyze campaign engagements.
You'll also receive a real-time notification for every report update via email (for added customization, you can also snooze these notifications).
Here are a few of the metrics included in the GMass Campaign Report:
Total Recipients:
The number of email addresses to which the email campaign was sent.
Unique Opens:
The number of unique email addresses that opened your email.
Note: GMass gives you accurate email metrics by only tracking unique opens. If any recipient opens an email more than once, the report won't show these additional opens and inflate the result.
Unique Clicks:
The number of unique email IDs that clicked on at least one link in your email.
Replies:
The number of people that replied to your email.
Unsubscribes:
The number of recipients that unsubscribed from your emails.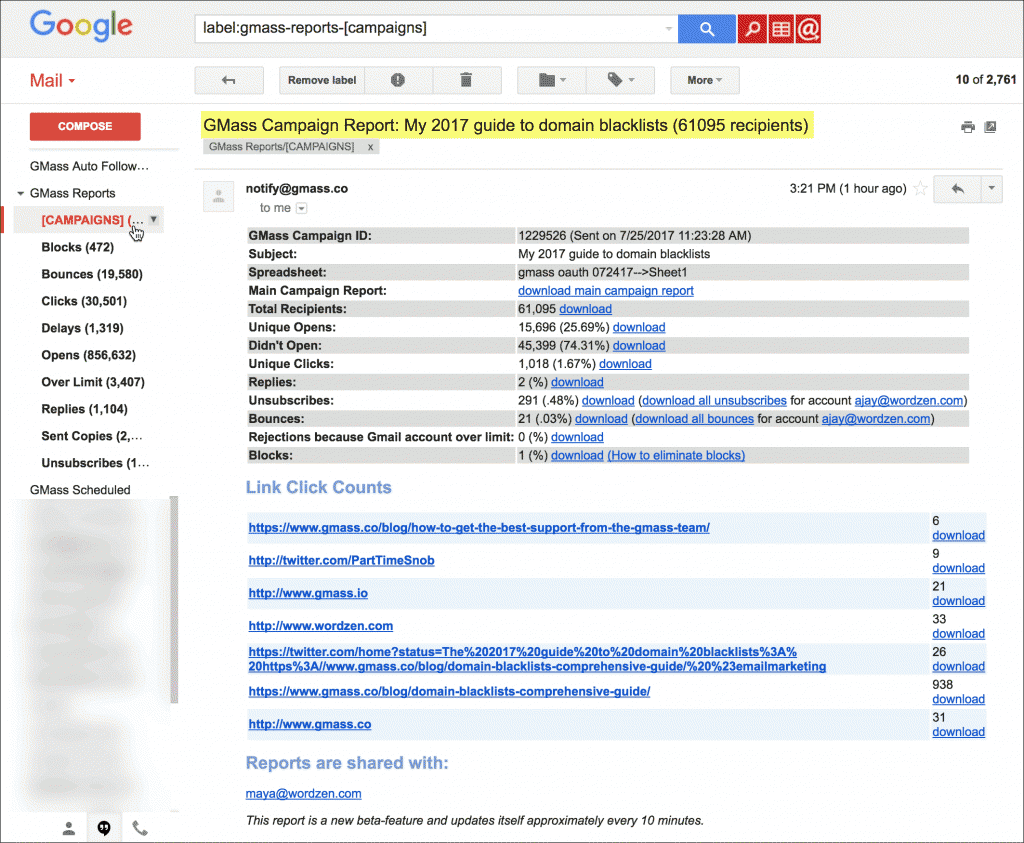 And there's more!
Unlike other email tracking software such as Yesware, HubSpot Sales, or MailChimp, GMass places these Campaign Reports within your Gmail inbox to boost productivity. You can easily access these reports from the [CAMPAIGNS] label in your Gmail sidebar within seconds!
GMass is a Yesware alternative that supports email scheduling for better engagement.
Just compose the email, schedule it, and GMass will automatically send it at the designated time.
Why schedule an email for later?
You can send emails to prospects even when you're offline.
You can plan email campaigns ahead of time.
You can schedule emails to reach recipients when they are most likely to check their inboxes.
Change in your schedule?
No problem! You can always reschedule your emails from your Drafts folder.

D. Powerful Campaign Management
Most Yesware alternatives, like Docsify, lack advanced campaign features, which are crucial for email marketing.
However, GMass allows you to send campaigns and mail merges to several prospects or clients at once. Unlike Yesware, Mixmax, SalesHandy, and most other email management software, there is no limit on the number of recipients either!
Need to segment these recipients into multiple audiences?
No problem! GMass supports unlimited email campaigns to help you segment your lists.
Additionally, GMass can even be integrated with third-party services like SendGrid to bypass the Gmail sending limits entirely.
And the best part? 
You don't have to leave your Gmail inbox to do any of this!
Pros
Has a more user-friendly interface than most Gmail plugins.
Works right inside Gmail and its email app.
Can build email lists via any search criteria in your Gmail account.
Auto-saves emails you send as templates for future campaigns.
Can import contact data from a Google Sheets file.
Helps send email attachments.
Can connect with Zapier to create email sequences.
Has a powerful Google Apps add-on for Android devices.
Supports Salesforce integration.
Saves your email signature for future emails.
Supports free email tracking.
Provides efficient customer support.
Sends an email notification for each tracking update.
Cons
GMass only works with Gmail and G-Suite accounts.
The desktop version only works with the Google Chrome browser.
Email app version doesn't feature iPhone support (although support is on the way).
Pricing
GMass comes in three pricing plans:
Free plan: supports free email tracking for 50 emails/day + all features.
Individual Plans:

Minimal: $8.95/month – unlimited email tracking + all features except automated follow-ups.
Standard: $12.95/month – offers "Minimal" features + removes GMass footer from emails.
Premium: $19.95/month – offers "Standard " features + automated follow-ups.

Team Plan:

Premium: starts at $89/month for a team of five users and offers all features.
Customer Ratings
Capterra – 4.9/5 (300+ reviews)
G2 Crowd – 4.8/5 (300+ reviews)
2. Mailshake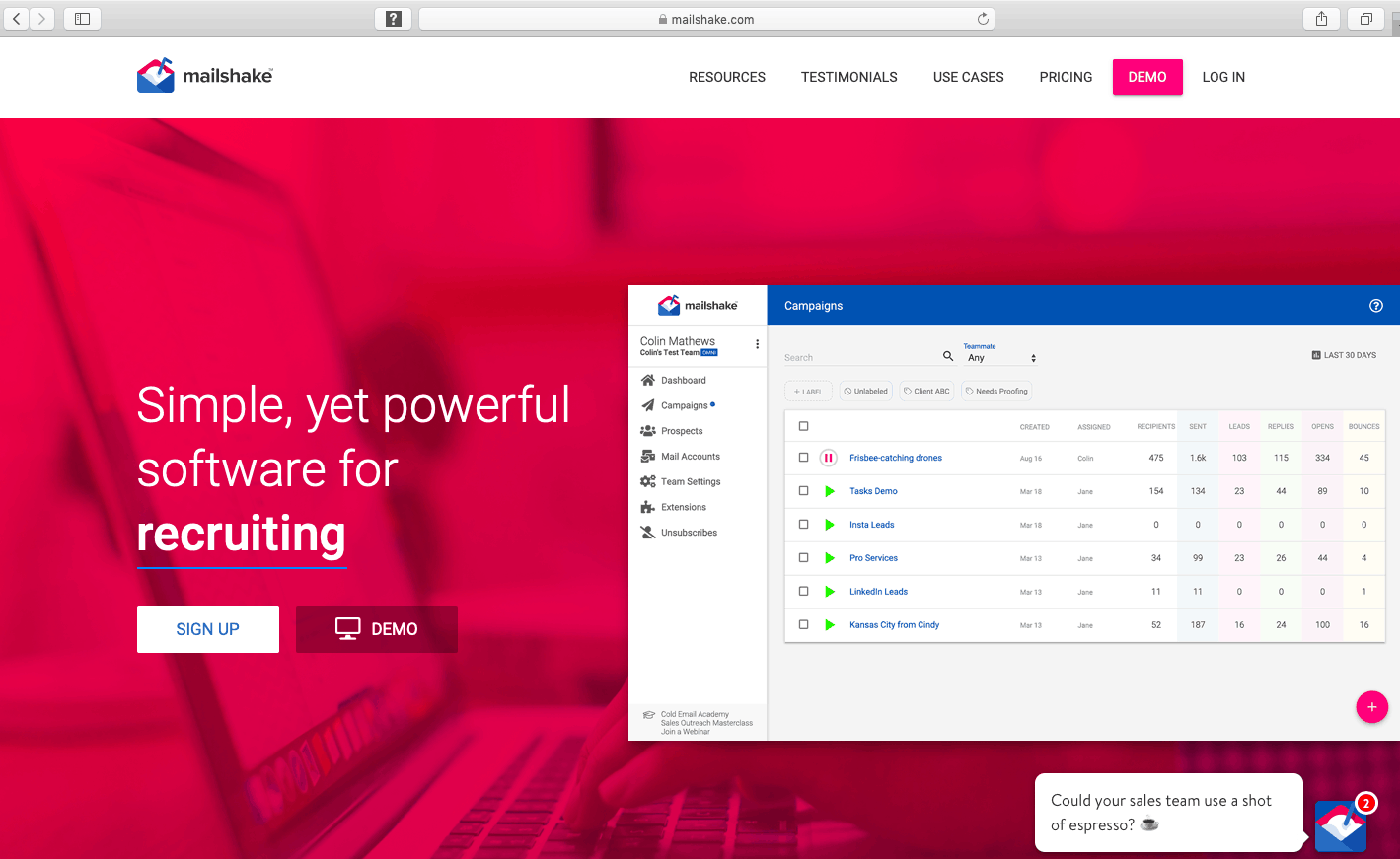 Source: mailshake.com
Mailshake is an email outreach and marketing automation platform that helps your business automate its email marketing and sales processes. Like other email tools such as Cirrus Insight, Mailshake lets you send personalized marketing emails to prospects and track engagements easily.
Key Features
Helps set up email sequences and marketing campaigns.
Can schedule emails.
Supports follow-up email automation.
Has a native phone dialer for outbound sales.
Pros
Includes built-in templates to help compose marketing emails.
Allows email tracking for open and click-through rates.
Supports integration with Salesforce, HubSpot CRM, and other sales enablement software.
Cons
Functions as a separate UI from Outlook email and Gmail inbox.
Can be expensive compared to other email tracking tools.
Custom tracking domains are hard to set up.
Pricing
Mailshake has two different pricing plans:
Email Outreach: $59/month per user – offers all features except social selling.
Sales Engagement: $99/month per user – includes social selling and higher recipient limit.
Customer Ratings
Capterra – 4.6/5 (70+ reviews)
G2 Crowd – 4.7/5 (50+ reviews)
3. Prospect.io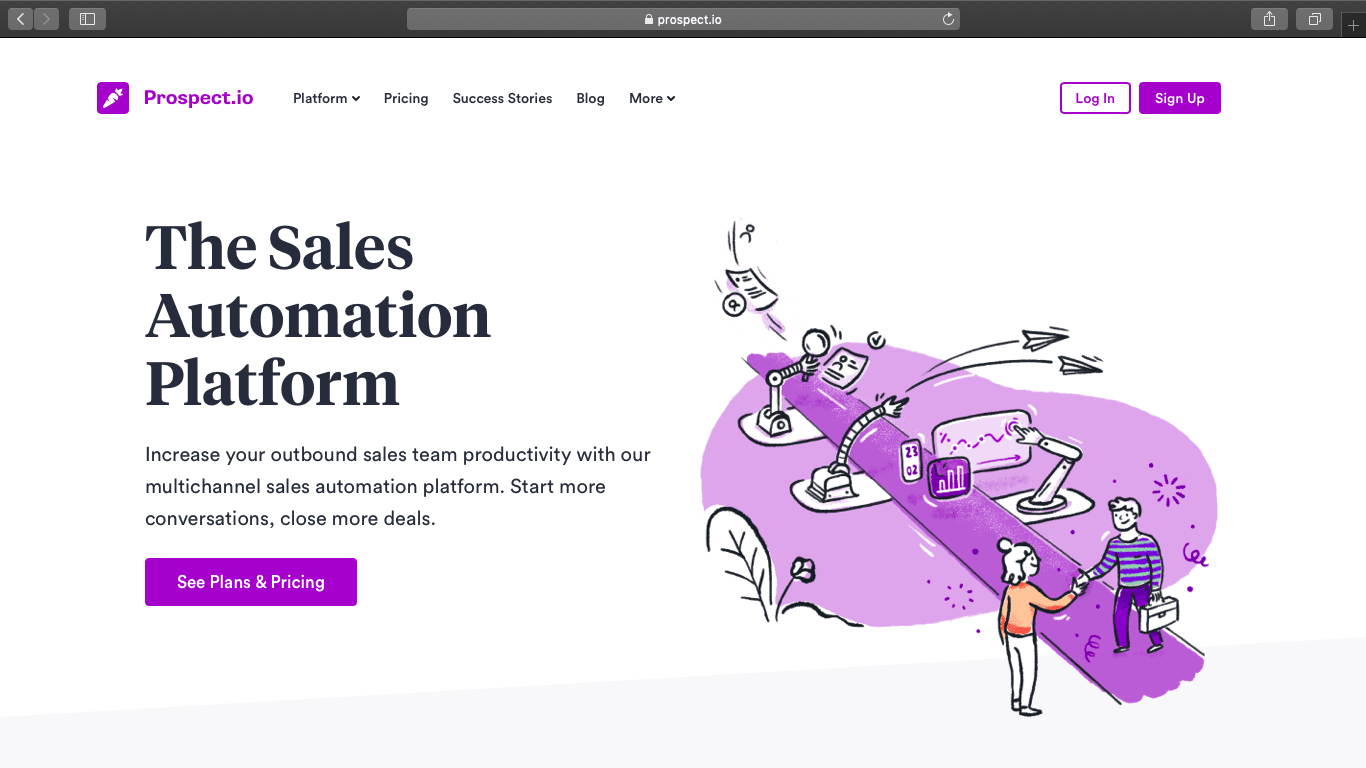 Source: prospect.io
Prospect.io is an email outreach and lead generation tool that's best suited for B2B companies. It uses a credit-based system where a credit from your plan is used each time you use its email finder feature. Like other lead generation tools, Prospect.io helps you find email IDs of potential leads from social media and other websites.
Key Features
Can track real-time email opens, click-through rates, and response rates.
Lets you set up personalized drip campaigns.
Built-in prospecting features to find a prospect's email ID, job title, and other data.
Helps create personalized email templates that can be shared with other users.
Pros
The Chrome extension can help you find lead details from websites.
Works with Gmail and Microsoft Outlook.
Integrates with Salesforce, Pipedrive, and HubSpot CRM.
Cons
While the pricing plans offer credits, you need to purchase them separately if you want more.
Doesn't offer a free trial.
Can be difficult to create drip campaigns.
Pricing
Prospect.io offers three pricing plans:
Essential: $79/month + $29 for each additional user – offers email tracking, campaigns, and templates.
Business: $129/month + $39 for each additional user – offers "Essential" features + advanced CRM integration + campaign reviews.
Enterprise: custom plan, contact sales for a quote –  offers "Business" features + deliverability checkup and priority support.
Additional email finder credits cost:

$39 for 250 credits.
$59 for 500 credits.
$99 for 1000 credits.
$299 for 5000 credits.
Customer Ratings
Capterra – 4.4/5 (5+ reviews)
G2 Crowd – 3.8/5 (20+ reviews)
4. Gmelius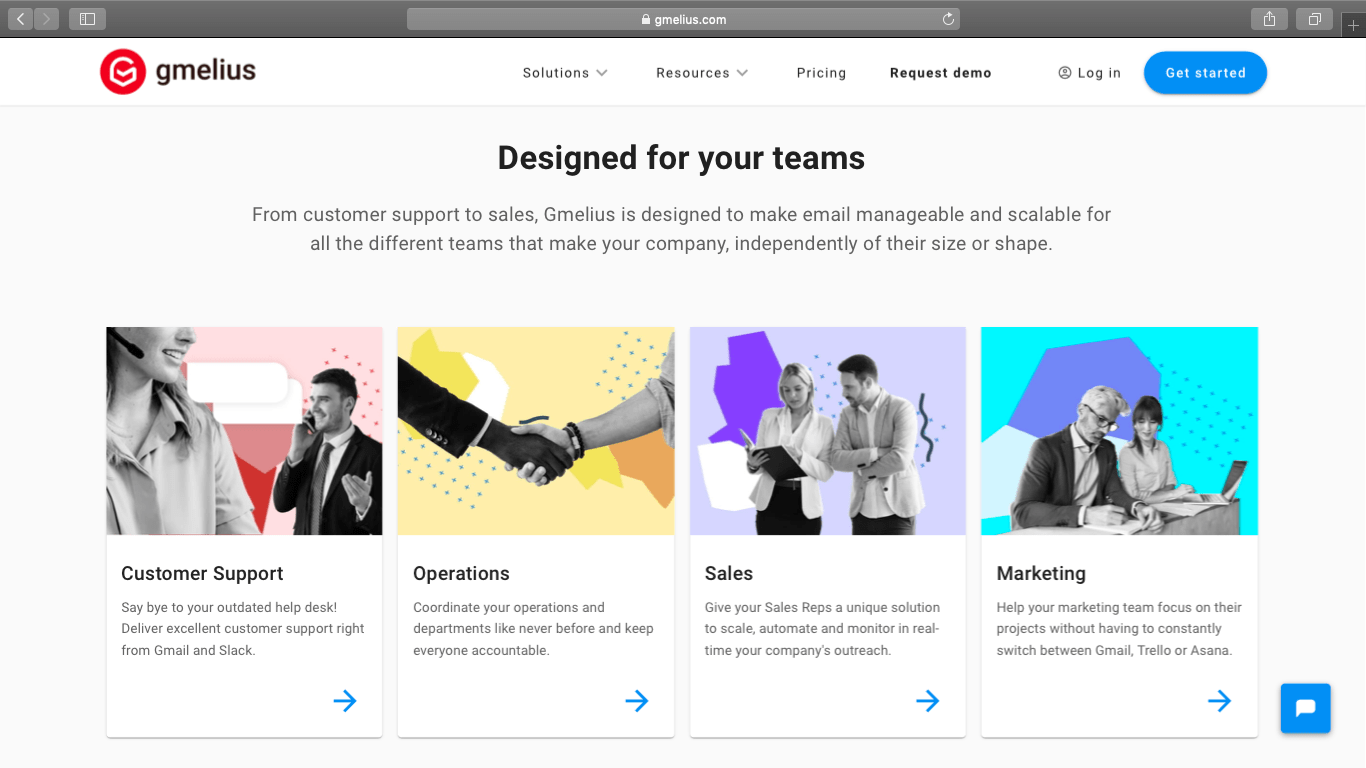 Source: gmelius.com
Gmelius is an email marketing automation tool that doubles up as a powerful sales automation software. Like ToutApp, another sales engagement platform, most companies use Gmelius to manage their customers, promote their sales cycles, and boost their email productivity.
Key Features
Helps personalize drip campaigns for each prospect.
You can build and share email templates with sales teams.
Generates detailed reports that highlight core metrics.
Per-recipient tracking tells you precisely who opened your emails.
Pros
Supports in-app collaboration on emails with other users (like your sales reps).
Has a Gmail extension for Google Chrome.
Integrates with Salesforce and HubSpot CRM.
Cons
App notifications can clutter your inbox if not opened frequently.
The free plan only offers limited email tracking features.
A/B testing can be complicated to use.
Pricing
Gmelius comes with four pricing levels:
Free: offers five email templates + email opens tracking.
Plus: $12/month per user – offers "Free" features + lead management + team collaboration features + unlimited email templates.
Growth: $24/month per user – offers "Plus" features + mail merge + click tracking.
Enterprise: $69/month per user – offers "Growth" features + dedicated support + data recovery service.
Customer Ratings
Capterra – 4.6/5 (30+ reviews)
G2 Crowd – 4.4/5 (100+ reviews)
Conclusion
Choosing the right marketing automation software doesn't have to be confusing.
While Yesware is an option, it is expensive, lacks accurate analytics, and has inefficient email campaigns!
Why settle for less when you have so many Yesware alternatives to choose?
While all the tools I've covered here are useful, GMass is clearly the best alternative with its powerful outreach features at a friendly price point.
Why not download the GMass Chrome extension today and try it out for yourself!