Need to send emails to groups of people from your Gmail account?
Building a mailing list in Gmail is helpful when you're sending emails to tons of people. As you're simply adding a contact list to your emails, you won't have to type out each email address manually.
In this article, I'll show you how to build an email list in Gmail. I'll also show you how to use a free mail merge tool for sending emails to groups.
Here's what we'll cover:
Use the links below to jump to a section of your choice:
Benefits Of Having A Mailing List
Here are the key benefits of a good mailing list:
1. Time Saving And Easy Communication
Let's say you've got to send an email to a group of 100 members every week. You don't want to manually type in each email address, every time, right?
With an e-mail list, you can easily send these mass emails in seconds. Instead of manually adding each email address, add your e-mail list to the recipient field. This way, you're sending just a single email without manually typing in individual ids!
2. Boosts Email Marketing Campaigns
Have you noticed an opt-in form or a sign-up form pop-up when you visit a website?
Opt-ins are an excellent source for building a company's mailing list database.
Companies always use a mailing list to run their email marketing campaigns. Instead of sending bulk emails manually, these companies use their mailing lists and mail merge tools to do the job for them.
If these companies tried to send marketing emails without their mailing lists, they'd take forever — imagine manually sending an email to 10,000 different people!
How To Build An Email List In Gmail Using Labels
Building a Gmail distribution list is easy with the labels feature.
Here's a step-by-step guide on how to use it:
Step 1
Log in to your Gmail account and click Google Contacts from the Google App drop-down menu.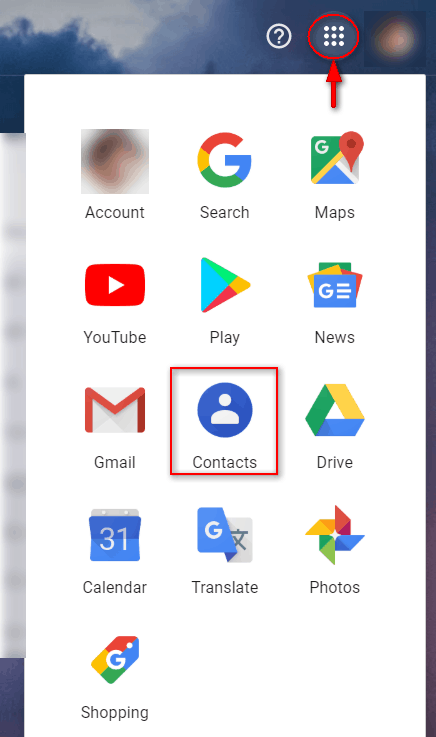 Alternatively, you can visit the Google Contacts page to create a contacts list.
Step 2
Go through the list of emails that are displayed and select the contacts you want.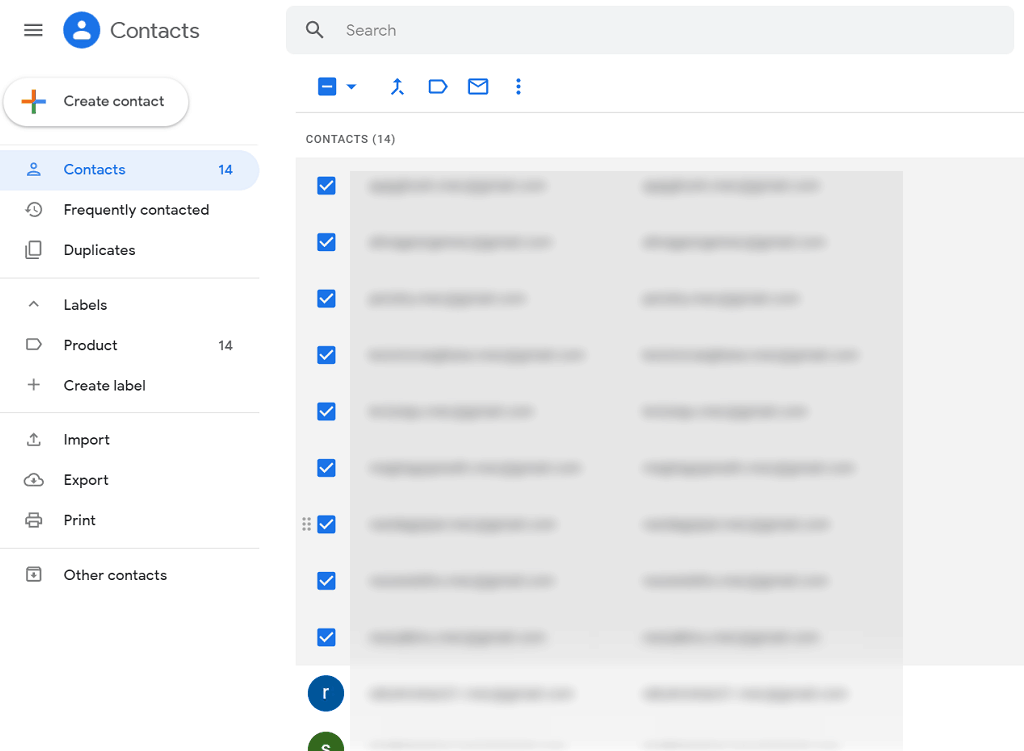 Step 3
Click on the label icon to create a new group of contacts.

Step 4
Choose "Create Label" and enter a group name. Click "Save" to create your label.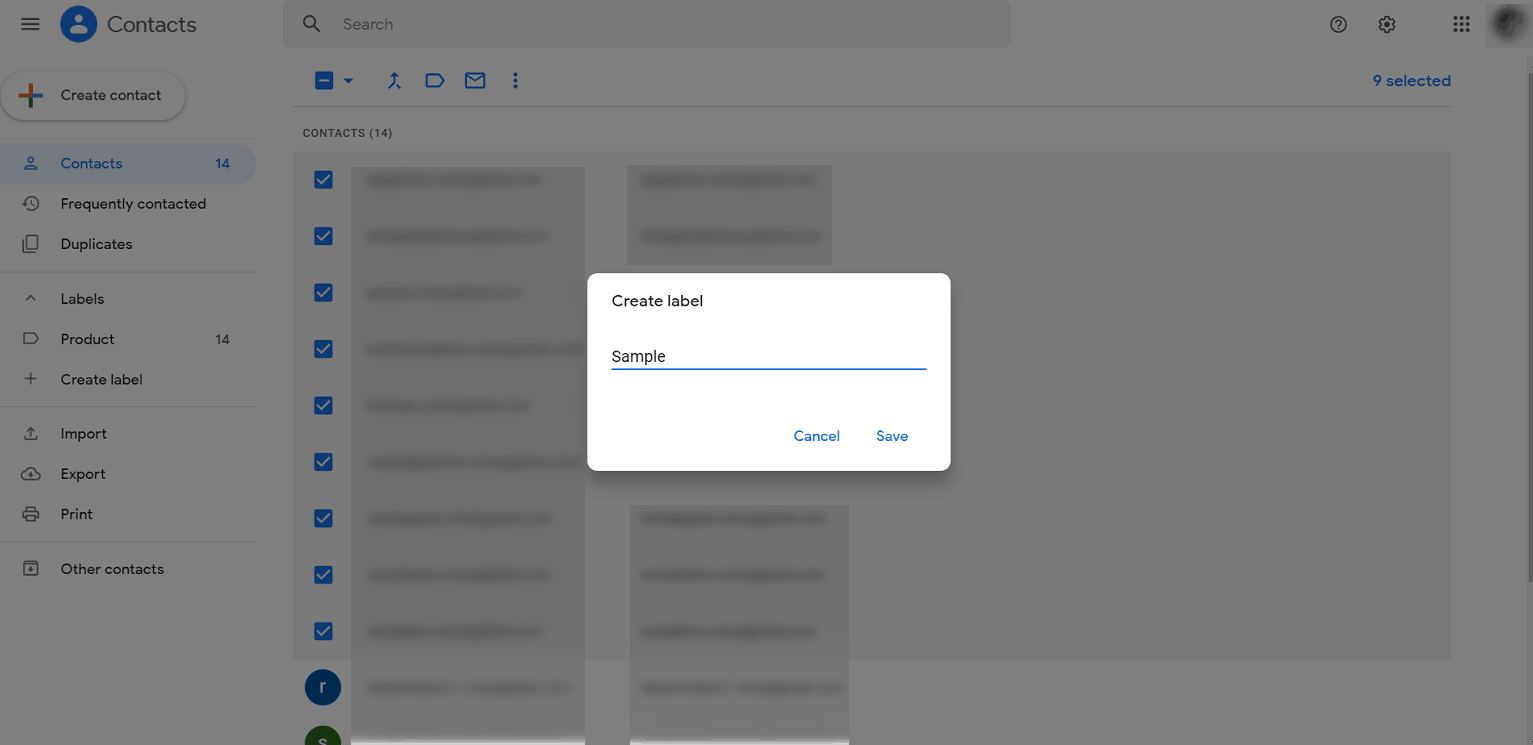 Note – The created label (mailing list) will be displayed under "Labels" in the Preview pane.
Step 5
To send an email to the Gmail group, click on the Compose button from your inbox and type the label name in the address field. You'll be able to see the email ids of all the group members.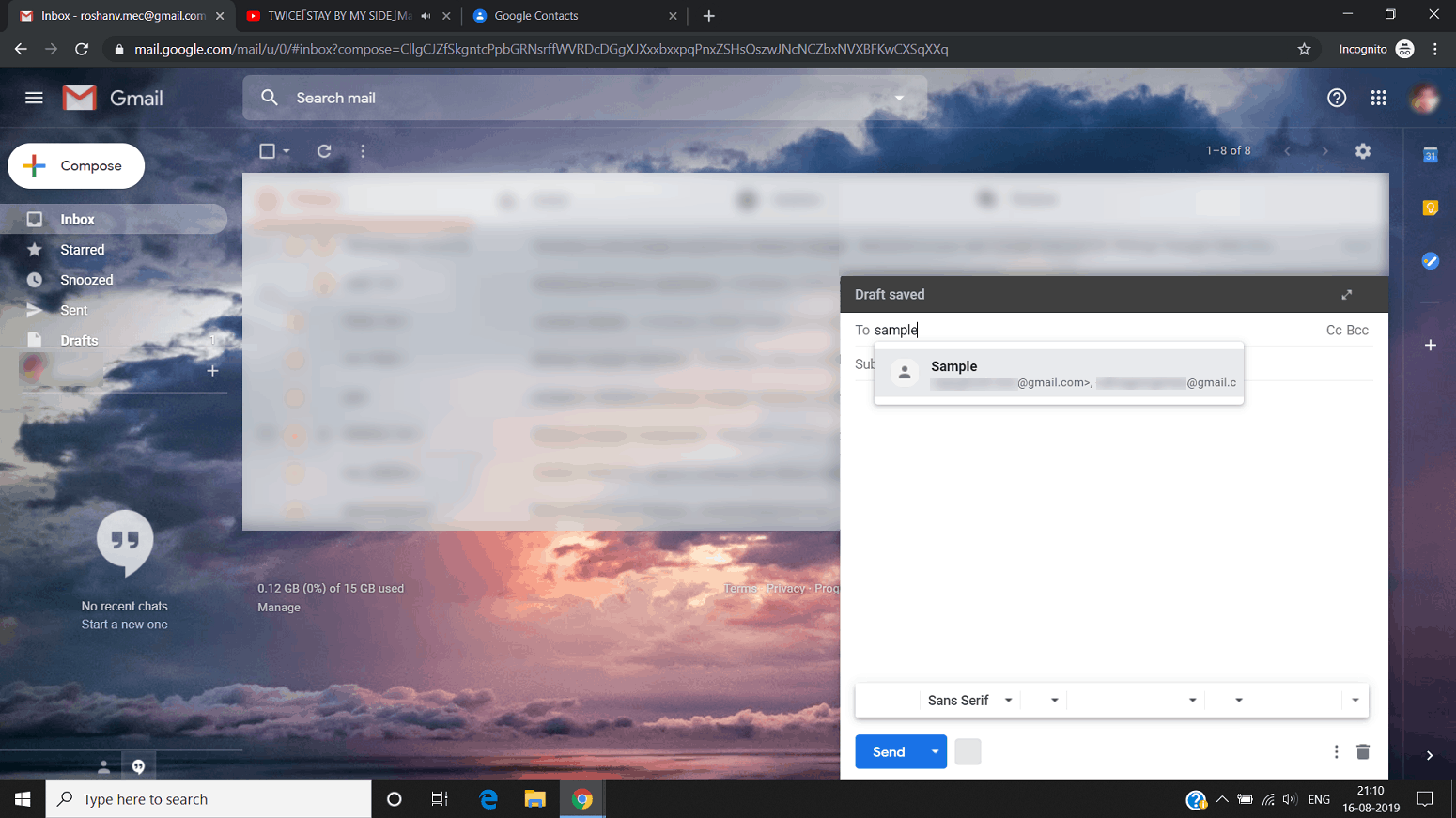 Type in your message and hit "Send".
Drawbacks Of The Label Method
1. Impractical For Large Contact Lists
While Gmail's labels feature lets you easily send mass emails, adding contacts to your e-mail list is still a tough process. You'll still have to manually go through your contacts to identify people. This is time-consuming and error-prone as you could mistakenly add someone or overlook a contact.
2. No Analytics
Gmail doesn't give you any stats or analytics over your emails.
While this might not be an issue for casual users, it's a significant problem for email marketers and salespeople. Without data such as when the email was opened or what links were clicked, you won't know if your marketing campaigns are working or not.
3. No Automatic Follow-ups
Using Gmail's labels for marketing follow-up emails is virtually impossible.

Think about it. If your mailing list was 100 people and 50 didn't respond, you'll have to add each recipient to your follow-up emails manually. This is going to waste tons of time — something that most email marketers can't afford.
Building an Email List with GMass
GMass is a powerful email marketing software that allows users to run email campaigns from their Gmail inbox. Its mass emailing features have made it a popular Chrome extension for employees from startups as well as major brands like Google, LinkedIn, and social media giants like Facebook and Twitter.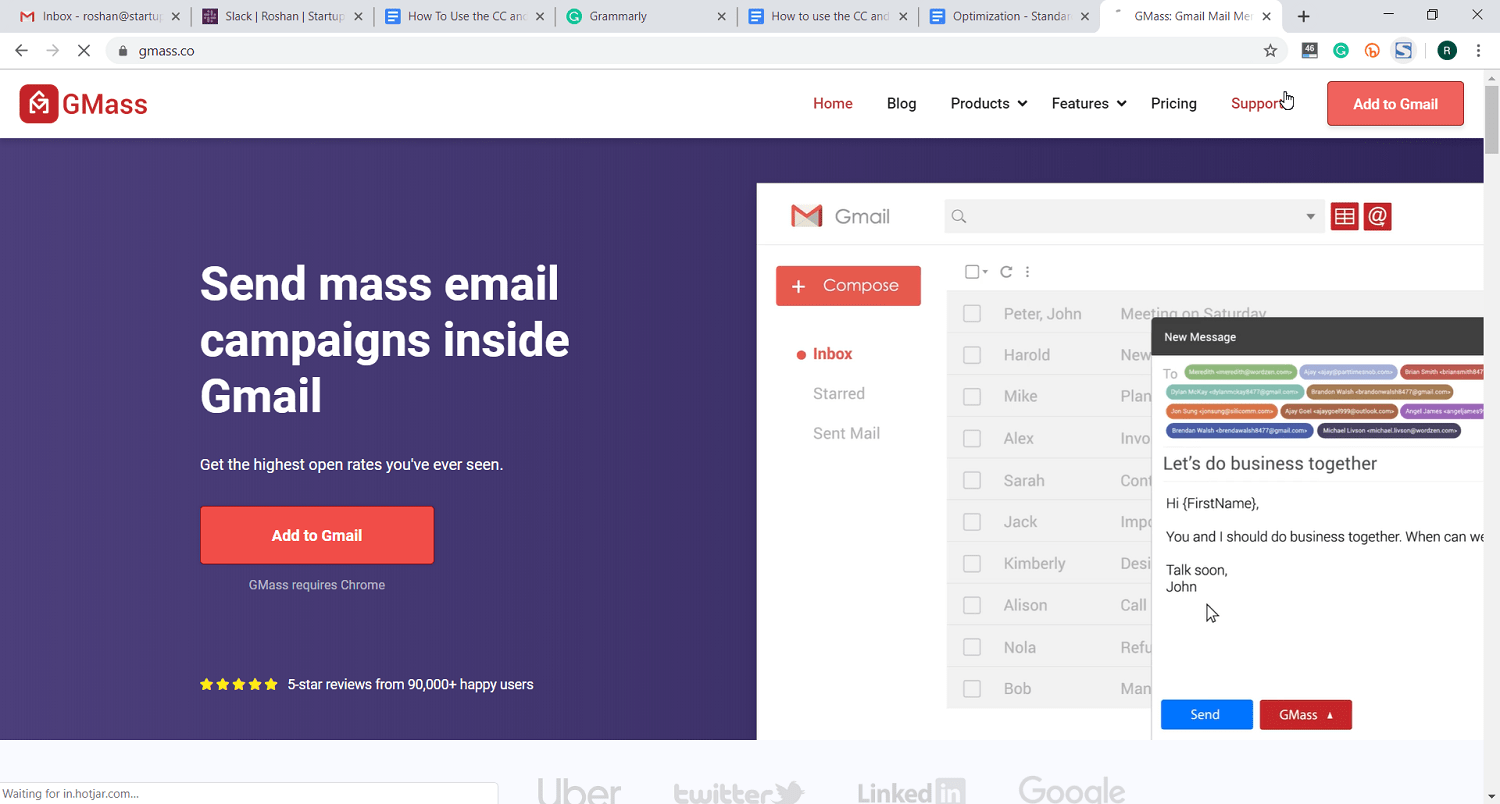 However, GMass isn't only aimed at email marketers. It can also be used by individuals and groups to send emails from their Google account to a target audience.
It can be used by:
Schools
Clubs
Churches
Any other social organizations and institutions.
GMass is super easy to use, and anyone can get started with it in no time!
How To Create A Mailing List In GMass
GMass gives you two simple ways to quickly build a mailing list in Gmail:
Here's a step-by-step guide on how to create an e-mail list in Gmail using GMass's professional email method.
How To Build A Mailing List Using Gmail Search
Let's imagine you are the owner of the new business, Ted's Tadpole Tanks. You have a personal Gmail account you'd like to use to send all those who have corresponded with you in any way about tadpole tanks to alert them all of your grand opening.
We'll use this example and provide a step-by-step guide to sending out this campaign.
If you have a G-Suite Account, you can use the same search function to find emails relating to specific products, dates, people from a specific company, and so on.
Step 1
Log in to your Gmail inbox. Enter a search term in the search bar and click on Gmail's search button (magnifying glass).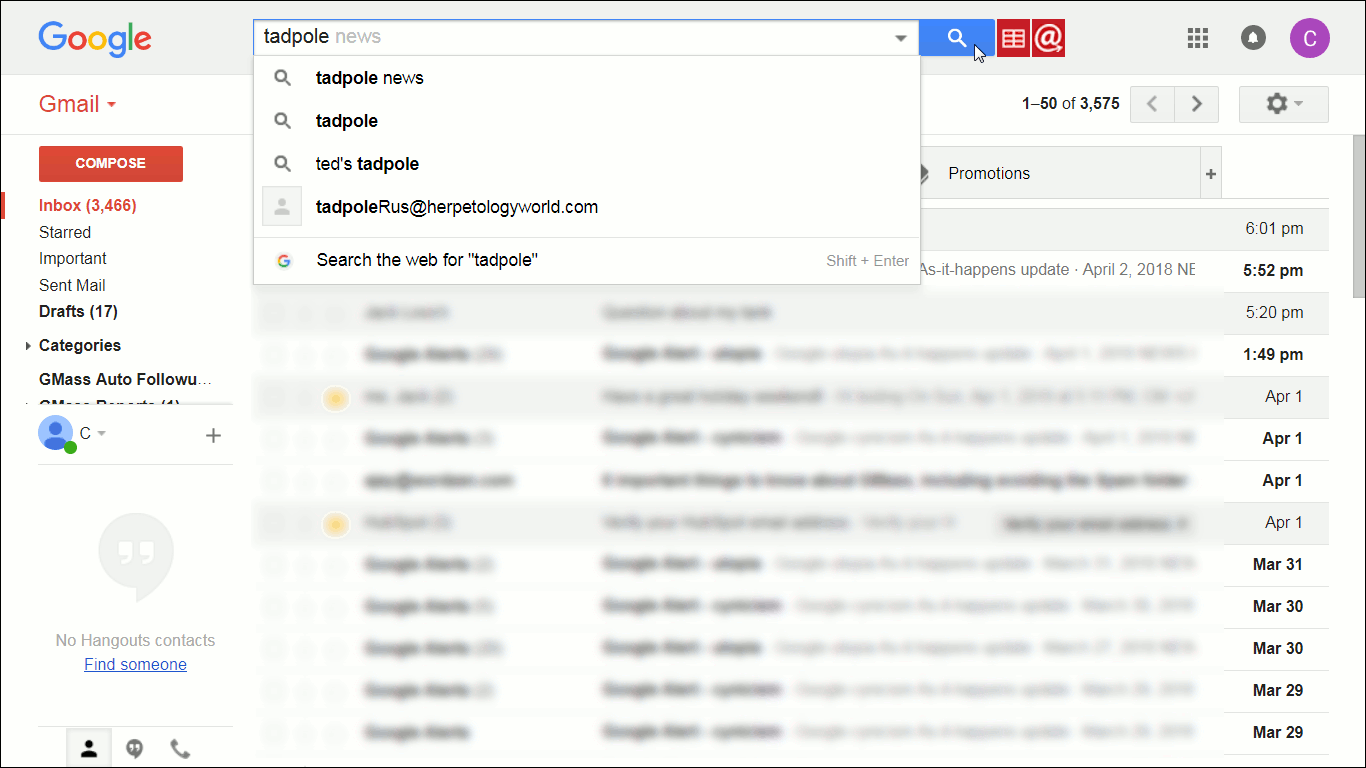 [Note: the "Build Email List" (red magnifying glass) button only is shown when it is applicable, which is after you have done either a search, or have clicked on labels, either of which results in a specified subset of your Gmail emails being displayed. At other times, when it is not currently applicable, the button is not displayed.]
Now, Gmail displays all emails which include the word "tadpole", our search term. These are the people who in some way are connected to the term "tadpole" in your emails – and those who we want to reach out to.
Step 2
Click the "Build Email List" button (red magnifying glass).

GMass will start building an email list using the ids found in your search result (indicated by a yellow pop-up).

Step 3
When GMass has completed building the email list, a Gmail "Compose" window containing your recipients in the "To" address box is displayed.

Step 4
Compose your subject and email message. Click the "GMass" button to send the mail.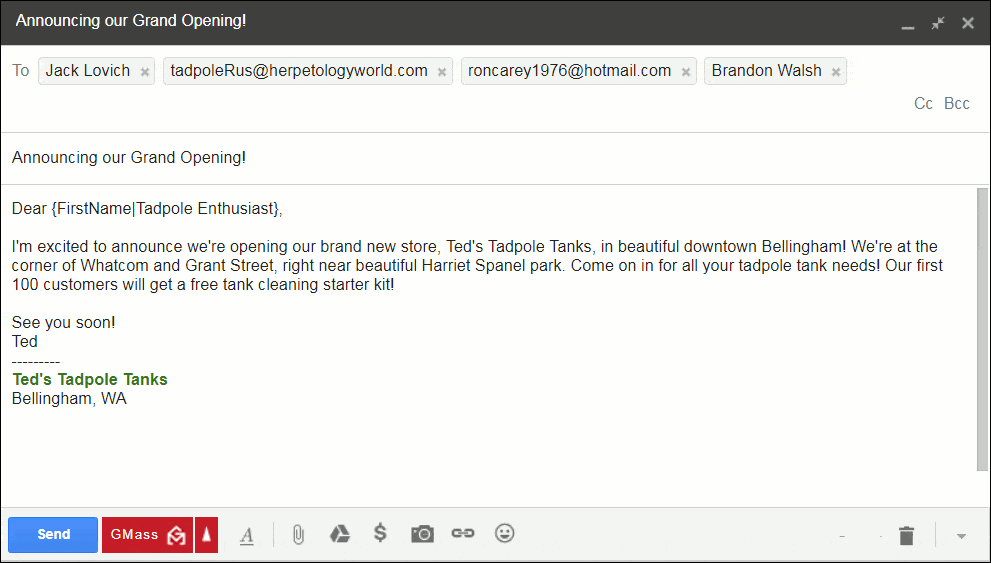 You can click the "Sent Mail" folder to see individual emails sent to each recipient, as shown below.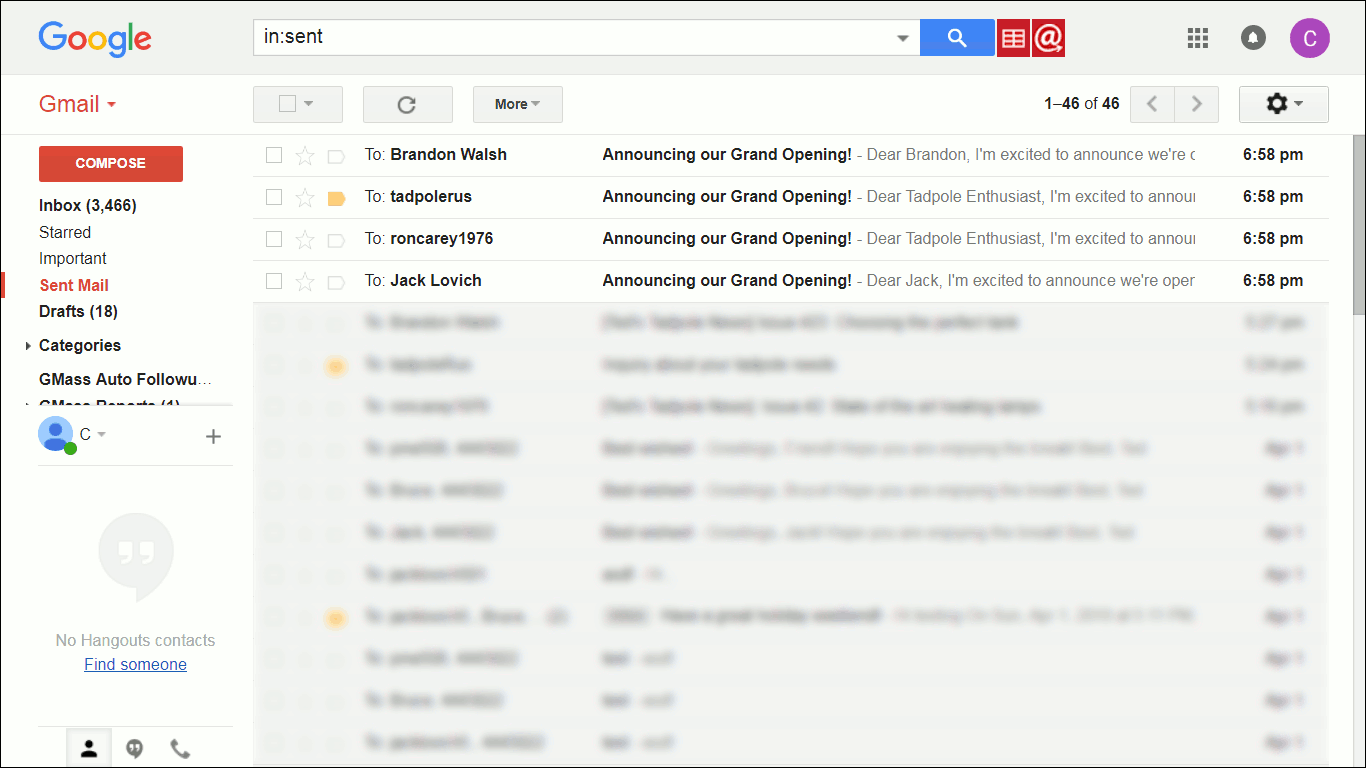 Note: GMass will search for a maximum of 5,000 messages for email addresses. If you enter a search term(s) that results in more than 5,000 matching messages, only the most recent 5,000 messages will be used to find email addresses.
How To Build A Mailing List Using Gmail Labels
GMass allows you to build a mailing list from a label in Gmail.
Unlike creating a mailing list using Gmail search, using labels limits the mailing list to only those you've specifically tagged before. Labels provide an extra level of specificity to make your email campaigns more precise.
Step 1
Log in to your Gmail account and click a label of your choice from the left-hand side menu. Gmail will then display all emails under that label.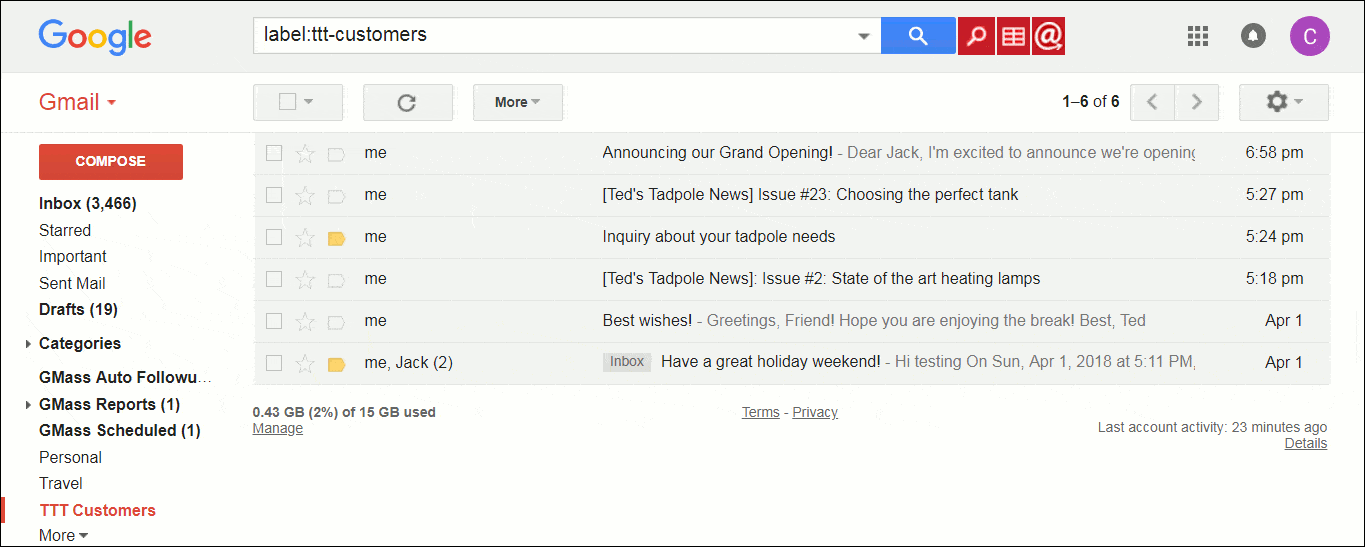 Step 2
Click the "Build Email List" button.

Step 3
GMass will generate a mailing list of all email addresses taken from emails under that label. Then, a Gmail "Compose" window containing your recipients in the "To" address box will be displayed.
Compose your new message. Hit "GMass" button to send the email.
How To Build A Mailing List Using Any Transactional Emails Notification
A transactional email is an email that's triggered by a user action (account creation, feedback/comments, purchase receipts, etc.) on your website. These emails contain user ids in its subject line. Gmail notifies you when you receive a transactional email.

You can use GMass's Build Email List feature for quickly creating a mailing list from these email notifications.
Step 1
Log in to your Gmail inbox and enter a search term that pulls a set of transactional email notifications. Click the "Build Email List" button.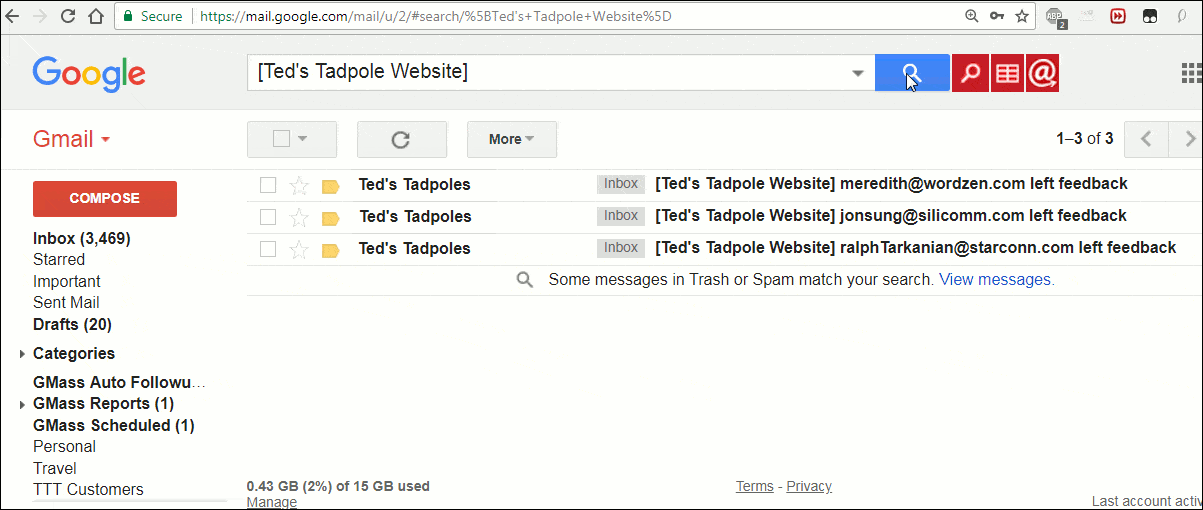 Step 2
GMass will start building an email list using the ids found in your search result (indicated by a yellow pop-up).

Step 3
When GMass has completed building the email list, a Gmail "Compose" window containing your recipients in the "To" address box is displayed.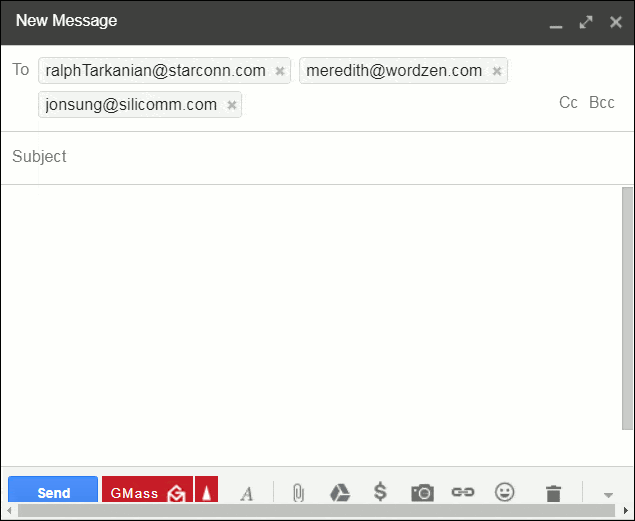 Step 4
After composing an email, click the "GMass" button to send it.
That's it! Now you can easily build and manage email lists from your Gmail account!
Benefits Of The GMass Method
1. Time-Saving
Building an email list in Gmail is a demanding process, especially when dealing with tons of contacts. While you can easily send emails to people using the email list, building it is still a manual process.
However, with GMass's Build Email List feature, you can speed up your list building process instantly! GMass can easily search and find email addresses deep inside your Gmail account in seconds. It can pull an email address from:
The From line,
The To line,
The Reply-To header, and
The Subject line of an email.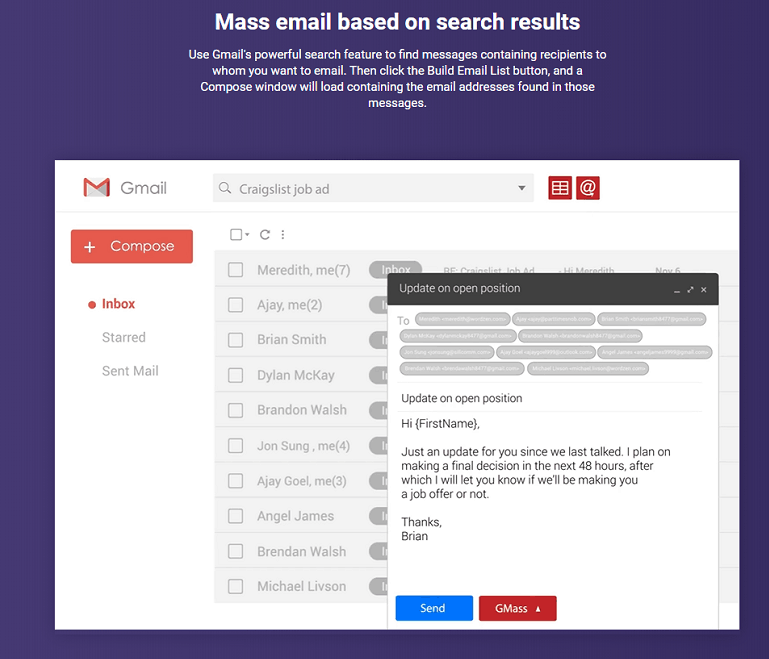 With GMass's Build Email List feature, you can build a long, detailed email list in no time!
2. Automatic Follow-ups
Sending follow-ups to your email list with Gmail's labels feature is a difficult process. To combat that, GMass can send automatic email follow-ups for your email campaigns.
This makes it a far better option for email marketers and mass emailers. Instead of manually following up on every email, GMass does it for you. You can even customize everything about these follow-ups, such as:
The number of follow-ups until they reply/open/click the email
Time gaps between follow-up emails
The follow-up email message
3. Detailed Stats And Analytics
Detailed stats and analytics are crucial to understanding the success of your email outreach. You can boost your client engagement by following your email recipient's behavioral data.
GMass gives you comprehensive analytical reports that contain information on:
Unique Opens – total email addresses that opened your email.
Unique Clicks – total email addresses that clicked on a link.
Replies – total email addresses that replied to your email.
Bounces – total email addresses that were invalid.
Unsubscribes – total email addresses that clicked on the unsubscribe link.
With GMass's reports, you'll have no trouble determining if your email campaigns are working or not. Click here for a more detailed blog post on these reports.
4. Easily Run Email Campaigns
GMass lets you effortlessly create, run, and manage email campaigns from your Gmail inbox.
It's got tons of email marketing features that you wouldn't find on Gmail such as:
(click on the links for a more detailed description of each feature)
With GMass, you'll have everything you need to run successful email campaigns and make the most of your email marketing efforts!
Additional Tips For Current GMass Users
A) Potential Differences In Search Results From GMass and Gmail
The emails that are displayed in Gmail after a search are found by Gmail using a slightly different search function than those that are found by GMass, which uses Gmail's "programming interface" (also known as the Gmail API).
This means that it is possible to unintentionally build a slightly different list of email recipients with GMass than what you see in the Gmail results. One way that can happen is your searched-for word has an "s" on the end of it.
So, in this example, "tadpole" and "tadpoles", if entered into Gmail's search without the quotation marks and as two independent searches, will show the same search results in Gmail but might build two somewhat different GMass recipient lists. One way to assure that the email addresses from the emails you see in Gmail's search results are the same ones you send to in Gmass is to put your search words in quotation marks.
B) When You Receive Fewer Results From GMass Than GMail
Occasionally you may run into an instance where you search for a particular criteria in the Gmail interface and a certain number of messages show up in the results, but then, when you use the GMass "Build Email List" button, not all of the email messages that are showing are actually used to build your list.
This is because the Gmail interface is laxer in displaying search results than the Gmail API, which is the programmatic way GMass uses to build the list. Additionally, if you have "conversation view" turned ON in Gmail, as most Gmail users do, then when searching for something, the Gmail interface displays all matching conversations.
A conversation may contain, for example, 10 emails, where only 1 of the 10 emails in the conversation actually matches the search criteria. In this case, using the GMass "Build Email List" button would only search the 1 matching message, not the other 9 in the conversation, even though those other 9 would display in the Gmail interface when searching.
If you encounter an issue where the resulting list contains fewer addresses than you're expecting, try this workaround. After searching, select all the messages in Gmail and apply a new LABEL to those matching messages.
Then, search for just that LABEL. If your new LABEL is called "Test123" for example, then search for "label: Test123". The same messages should display and now use the GMass "Build Email List" button. The additional addresses that were missing before should now be found.
Conclusion
Creating an email list isn't rocket science.
While Gmail's label feature is helpful, it's limiting. Using cold email marketing apps like GMass is a much smarter option for people looking to build their email lists instantly. GMass has everything you need to solve your email sending needs; so why not download the GMass Chrome web extension and see for yourself.