I've modified our "recurring campaigns" feature so that you can have your spreadsheet checked hourly, in addition to daily, for new addresses, which would trigger a single email or a sequence of emails with auto follow-ups.
You've always had the option to set a daily recurring campaign, based on new addresses in your Google Sheets spreadsheet, but now you have the option to set an hourly recurring campaign.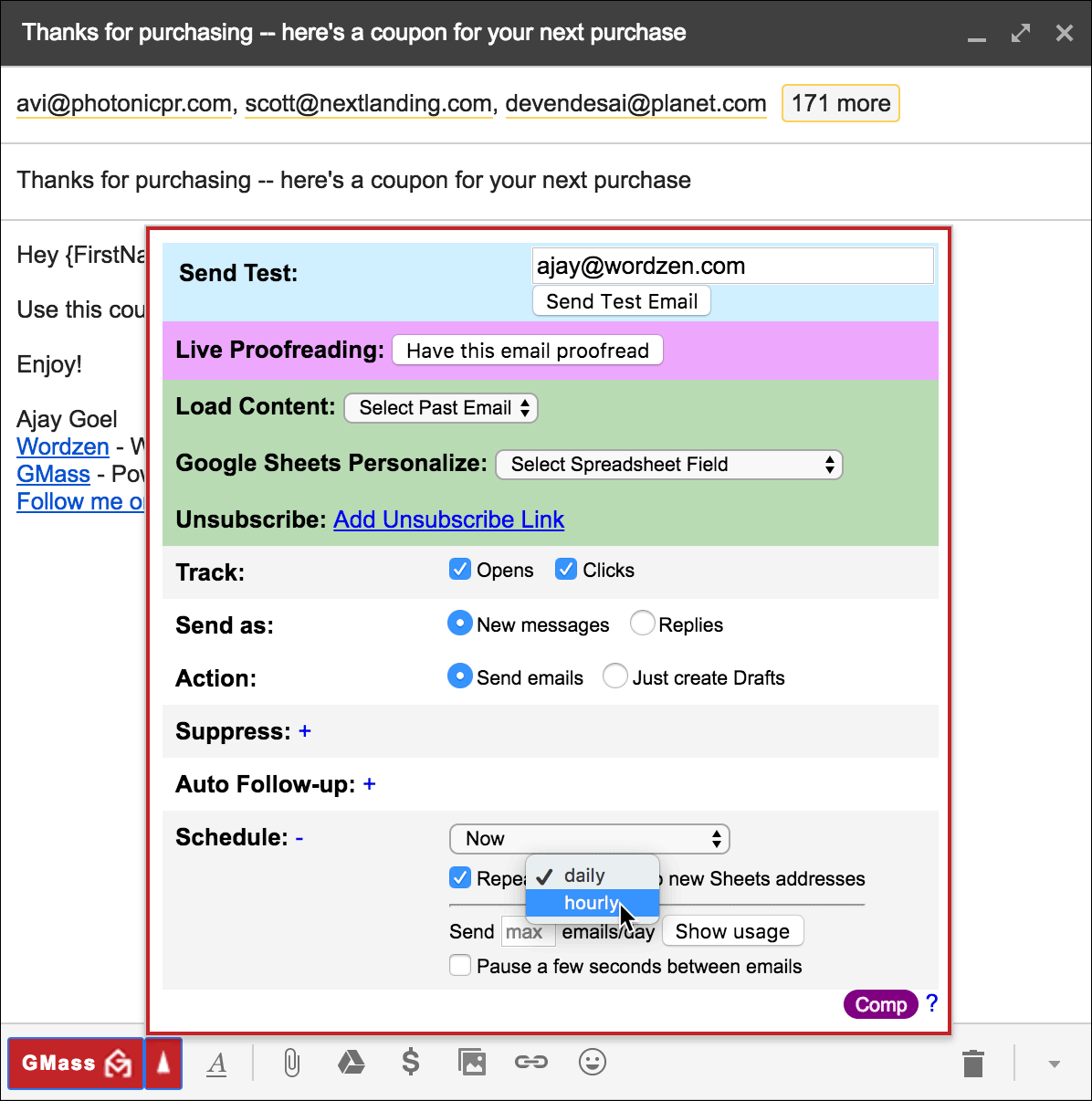 What can you do with an hourly recurring campaign?
I'm using the new hourly recurring campaign feature to ask free GMass users to subscribe to a paid account. In GMass, if you're a free user and you attempt to send more than 50 emails, you get a popup asking you to subscribe. Each time that happens, your account is logged to a table in our database. Every few minutes, the data from that table is copied over to a Google Sheet, via an internal tool we wrote. Then, every hour, GMass checks that spreadsheet for new addresses, and sends an email asking the user to subscribe.
What else can you use it for?
Continuous lead flow: If you update your spreadsheet throughout the day with new leads, and don't want to wait for the next day before your next batch of emails are sent, you can set up an hourly recurring campaign which will send to any new addresses every hour.
After-purchase coupon offer: If you have everyone that has purchased from your website synced into a spreadsheet, you can send them a coupon for their next purchase. Sending these emails about an hour after the purchase can be advantageous, because if you send the coupon immediately after purchase, the shopper will wish they could have applied it to the current purchase. Delaying the email by an hour or so, however, will make the coupon more attractive.
Asking for reviews: Whether you're a restaurant with a Yelp review page, a mobile app company, or even a Chrome extension developer, there's likely a place online where users can post reviews. Setting up an hourly recurring email asking for a review after a user has taken some action (downloading your app, taking an important step in your software onboarding process), can greatly increase the chances of a user writing a positive review. Ask them when you're product is top of mind and when they've just had a pleasant experience with it, but don't ask them immediately after. An hour or so may be the perfect delay.
Ajay is the founder of GMass and has been developing email sending software for 20 years.