A wave of cold email AI tools has arrived, offering to personalize your outreach emails at scale.
But are these tools ready to be a part of your workflow? And when you have machines tracking down details about your contacts, is that an effective way to catch the eye — or just too creepy?
We evaluated five of the top artificial intelligence-driven cold email personalization services on the market to test out how they work — and whether they could become a major weapon in your cold email copywriting arsenal.
We also have some crucial recommendations if you do incorporate AI writing into your cold email — and our conclusions on the effective vs. creepy debate.
Cold Email AI: Table of Contents
What Are Cold Email Artificial Intelligence Services?
There are two main types of AI-based cold email tools on the market today. Those are:
Personalization tools that automatically research your contacts and craft personalized cold email subject lines, intro paragraphs, P.S. lines, and more based on what they find.
AI writing tools that handle the process of writing entire cold emails for you.
In this article, we're focusing on the personalization tools, as that's a newer technique and the one that has real potential to change your cold email success rates.
Right now, only a small number of companies are offering the personalization service. The services that can write entire emails (with varying results) are more plentiful. Some email platforms like Mailshake, Reply, Magic Sales Bot, and Instantly have baked AI email writing into their services; many of the standalone AI writing tools like Jasper, Snazzy.ai, and Lavender also have an email-writing feature.
"Your mileage may vary," as they say, with tools that write entire cold emails for you. The tools could be a good start and help you stop staring at a blank screen, but their output will largely resemble the cold email templates you can find today. (And while AI writing has come a long way, it still trends toward "wonky" to "quite wonky.")
Are cold email AI tools really using artificial intelligence?
Yes and no. Based on our analysis of the tools, the process of gathering personalization info is not AI-based. That's just standard web scraping.
But when the tools then write subject lines, intro paragraphs, or message copy, they use a sophisticated AI tool called GPT-3. GPT-3 can produce text that feels like it was written by a person; it's not perfect, but it's getting closer and closer to replicating human writing.
So the research isn't necessarily AI, but the processing of that research and turning that research into email lines is.
Now that we've covered all that, let's dive into the tools.
The 5 Best AI Cold Email Personalization Tools
Here are our hands-on evaluations of five of the most popular tools that you can use to research your contacts and craft personalized cold email lines.
To run my test I used each product to write personalized info for two people:
Ajay Goel. GMass founder, cool guy.
Sam Greenspan (me). Rather than put GMass for myself as well, which might lead to duplicate or similar results, I put my side project: The Retro, my weekly Substack newsletter about '80s and '90s pop culture.
I kept the inputs exactly the same for all five AI products — so they were all working off the exact same info.
Here's what they spat out…
Lyne.ai
Lyne.ai will really go digging for info about your contacts to produce its personalized lines — out of all the tools I tested, it goes deepest.
After I uploaded my CSV, Lyne showed me seven contact research options it could use; and in a nice touch, there was a drag-and-drop menu to rank the hierarchy of those options. (So, for example, they'd try to find case studies first, if they couldn't find those they'd look for blog posts, and so on.)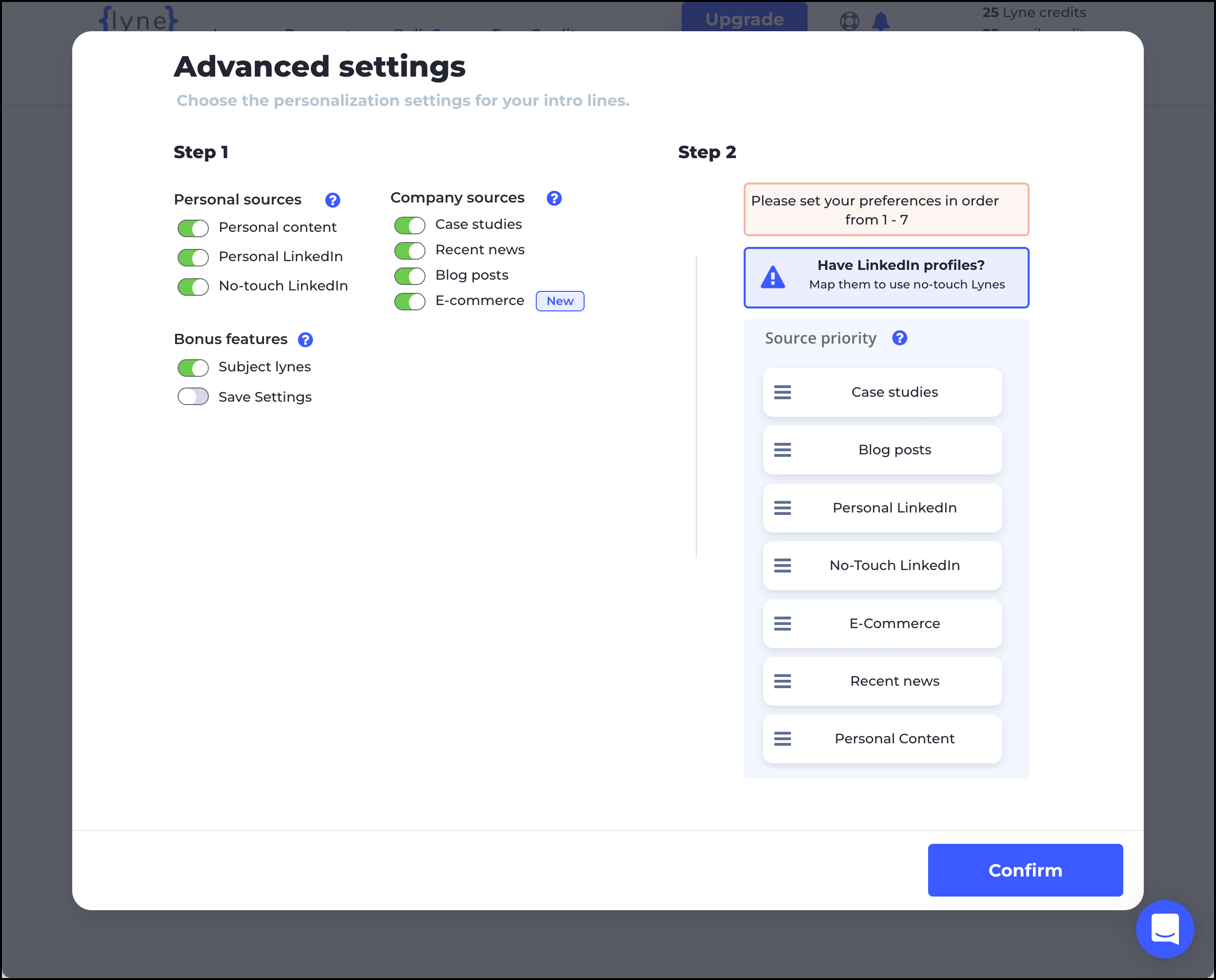 In order to fully personalize, Lyne needs: First name, last name, company name, title, email, website and personal LinkedIn. Although, unlike some of the other tools, not every field was required; when I fed it just first name and email address, Lyne was able to put together some intro lines based on the domain name of those email addresses.
Lyne.ai test results
For Ajay, Lyne found an October 2020 podcast interview and used the show notes from that podcast to write its intros. For me, Lyne based its suggestions off the newsletter's landing page.
Ajay subject line
Ajay intro line
Really enjoyed your appearance on the bCast podcast. I'm a big fan of the idea of adding a super power to your Gmail inbox and GMass is doing a great job of that. Keep up the good work!
Sam subject line
Sam intro line
I love how you are bringing new perspectives to this week in pop culture nostalgia. I'm looking forward to reading more about your articles.
Lyne.ai pricing
Lyne offers a pay-as-you-go plan (at a rate of 30 cents per contact for which they create personalized intros and/or subject lines). They also offer prepaid plans which reduce the rate (e.g., $25/mo for 100 lines; $315/mo for 3,500 lines). There's no unlimited plan.
Integrating Lyne.ai with GMass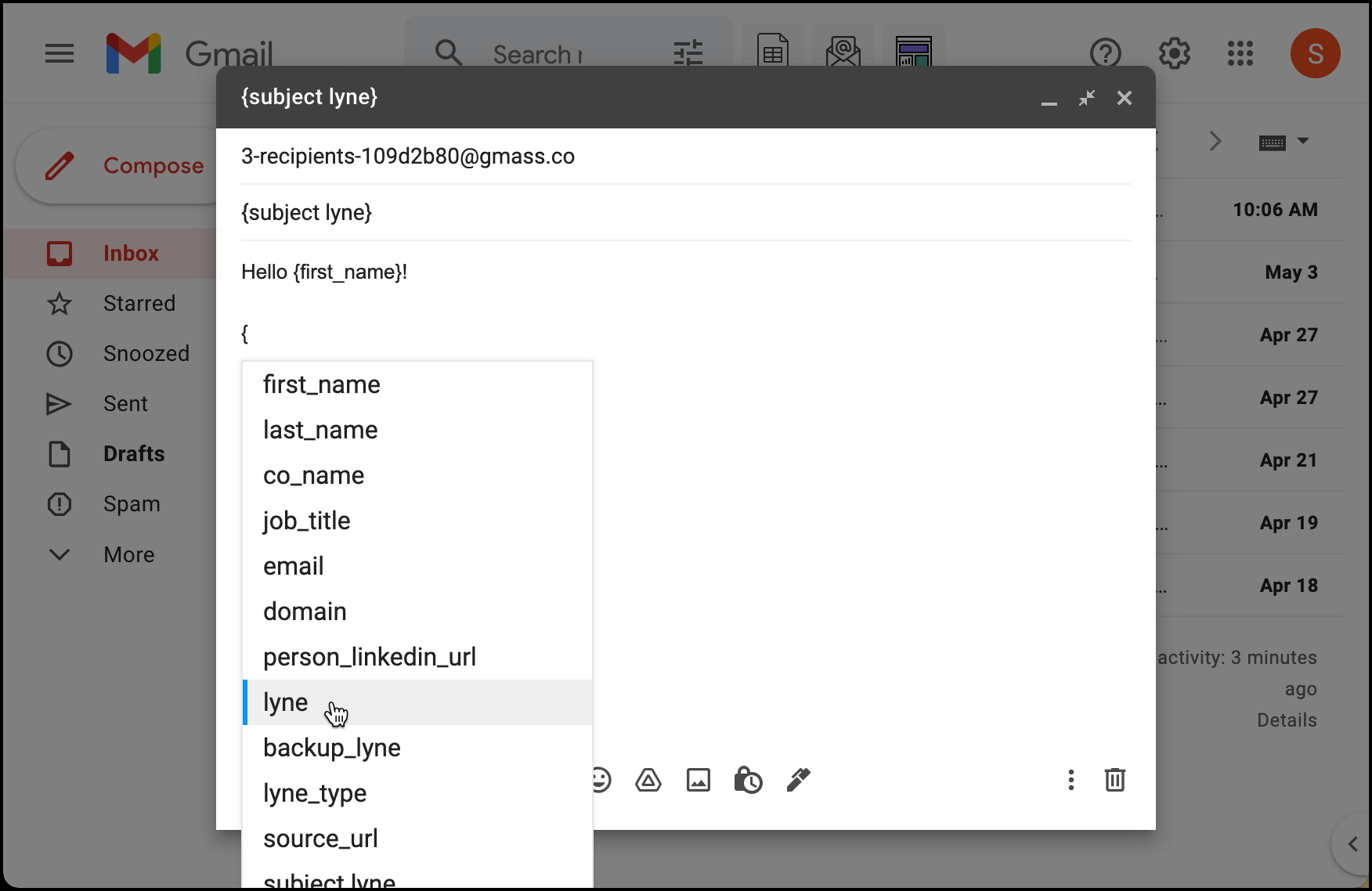 Lyne offers native integrations with a half-dozen of tools (primarily the ones that blend CRM and email features); GMass isn't among them.
Fortunately, if you want to use Lyne with GMass, it's relatively simple. Download the CSV with their results, import it into Google Sheets, then use that Google Sheet for a new campaign with GMass. You'll be able to use the spreadsheet columns Lyne created as merge fields automatically. (And you don't have to remember the names of those fields; as seen above, typing a left curly brace will bring up the merge field options with GMass.)
Lyne.ai final thoughts and overall evaluation
The intro line to Ajay isn't bad. Sure, the podcast episode is kinda old and the intro tiptoes into regurgitating GMass's marketing bullet points, but the personalization is decent.
The intro to me isn't great. It's just restating the newsletter's tagline as a sentence. "Reading more about your articles" is both awkward phrasing and incorrect for a newsletter.
The subject lines are very simple; looking at these as well as other examples Lyne puts on its website, it seems they prefer the very short, often all lowercase approach.
Lyne.ai's pricing is standard and it offers a lot of research options. The AI writing isn't great. But if you're planning to lean on the AI tool more for research than writing (i.e., you're planning to rewrite much of what it finds), Lyne.ai digs deeper than any other tool.
Writecream
Writecream is an AI writing service that offers several tools beyond email personalization (including things like blog ideas and writing, social media captions, eCommerce product descriptions, and more).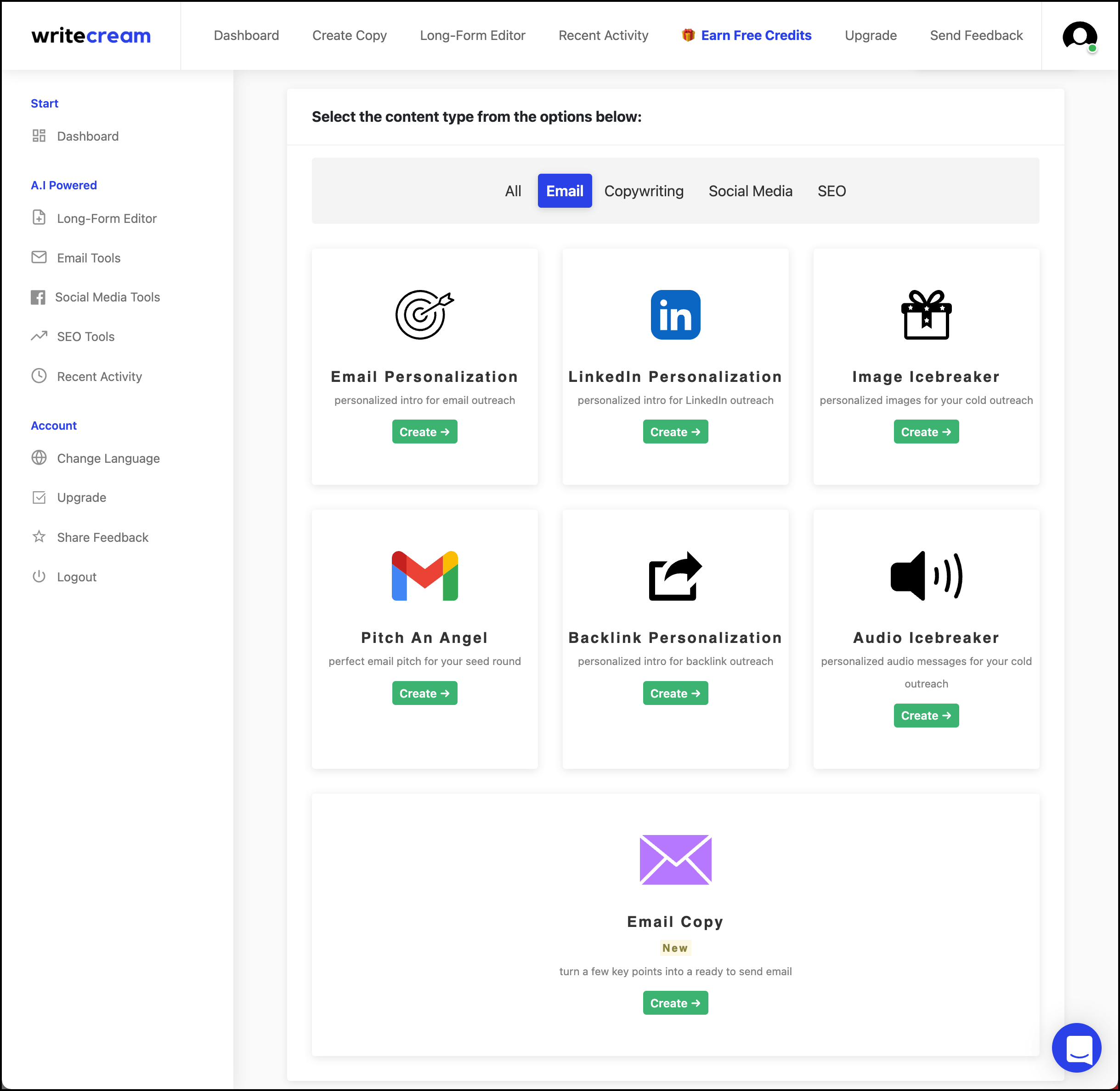 I used its email personalization tool, although I did loop back to also test its "Image Icebreaker" and "Audio Icebreaker" tools out of curiosity.
Writecream's personalization tool only asked for each contact's website, not LinkedIn profile. (That could be a timesaver if you've built a list and don't want to hunt down LinkedIn profiles for everyone on that list; but there can be a tradeoff in the level of personalization there.)
Writecream test results
Ajay intro line
I think GMass is an amazing tool for Gmail users! I love that it allows you to easily send out mass emails and mail merge campaigns and more with Gmail.
Sam intro line
I'm really impressed with the number of articles you have published on The Retro. I love how you're bringing back old pop culture. It's great that you're also offering a platform for people to share their favorite '80s and '90s memories.
Personalized images and audio messages
Here were the results when I ran the personalized images tool. It's not really my style to use something like this — and if you used just this image in lieu of writing text in your cold email, you'd certainly set off some spam alarms — but some people might find these appealing.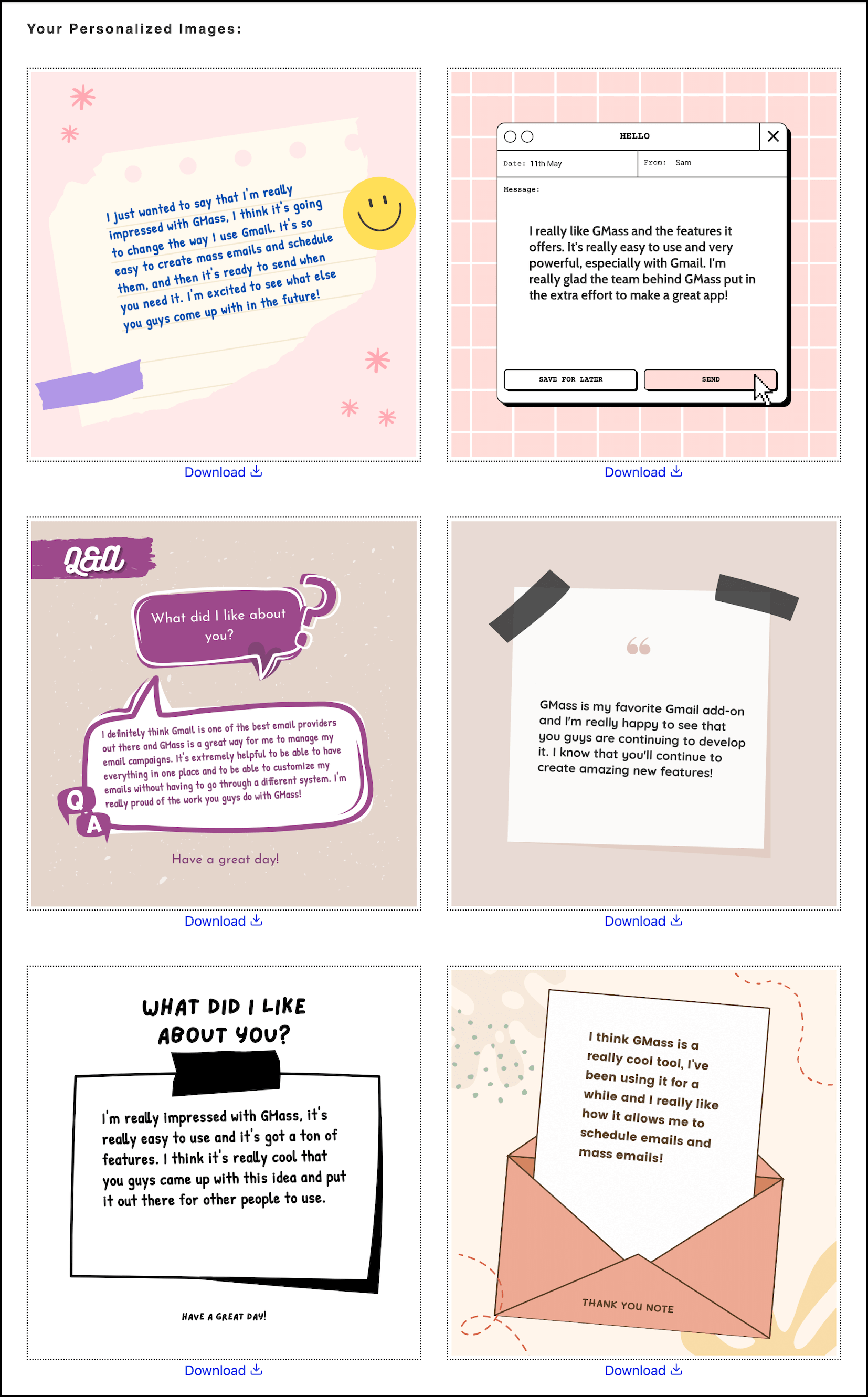 And here was the audio message. It is far too robotic to be a viable sales tool but still, cool idea. Also she called it "Mass" not "GMass."
Writecream pricing
Writecream offers a free plan with 20 credits or an unlimited plan for $29/mo. They also offer more expensive limited plans (which are worse than the unlimited plan), so they're definitely pushing people toward the unlimited plan. Their unlimited plan is the best deal of any of these services.
Integrating Writecream with GMass
To use Writecream with GMass campaigns, download the CSV results of your campaign. (Note: You'll get an email with the link to the CSV of your results, they will not show up in real time in the Writecream dashboard. I would've saved eight minutes of my life had I known that.)
Import that CSV into Google Sheets, link that Google Sheet to a new campaign in GMass, and compose away.
Writecream final thoughts and overall evaluation
The intro lines to Ajay are pretty basic — something you could grab by scanning the GMass homepage. But with these tools, the point is: You didn't have to scan the website. So this tool would save a ton of time if you're looking for a modicum of personalization in cold emails.
The intro lines to me miss the point. The tool didn't realize the product was a newsletter, not a blog. Also, the newsletter isn't a platform for people to share memories, only I share memories. Actually, the AI's idea isn't bad and I probably should build the community more by letting other people share; for now, though, I do not.
The images and audio were not really useful.
If you're looking for a tool that can do basic research about your contacts at scale, only needing their website to do so, and you're willing to rewrite a lot of what the tool finds, Writecream could be a smart pick. (Especially because it's cheaper than the other tools for unlimited contacts.)
Smartwriter.ai
Smartwriter.ai offers personalization services as well as many other AI writing tasks (email content, blog content, ads, social media comments and more).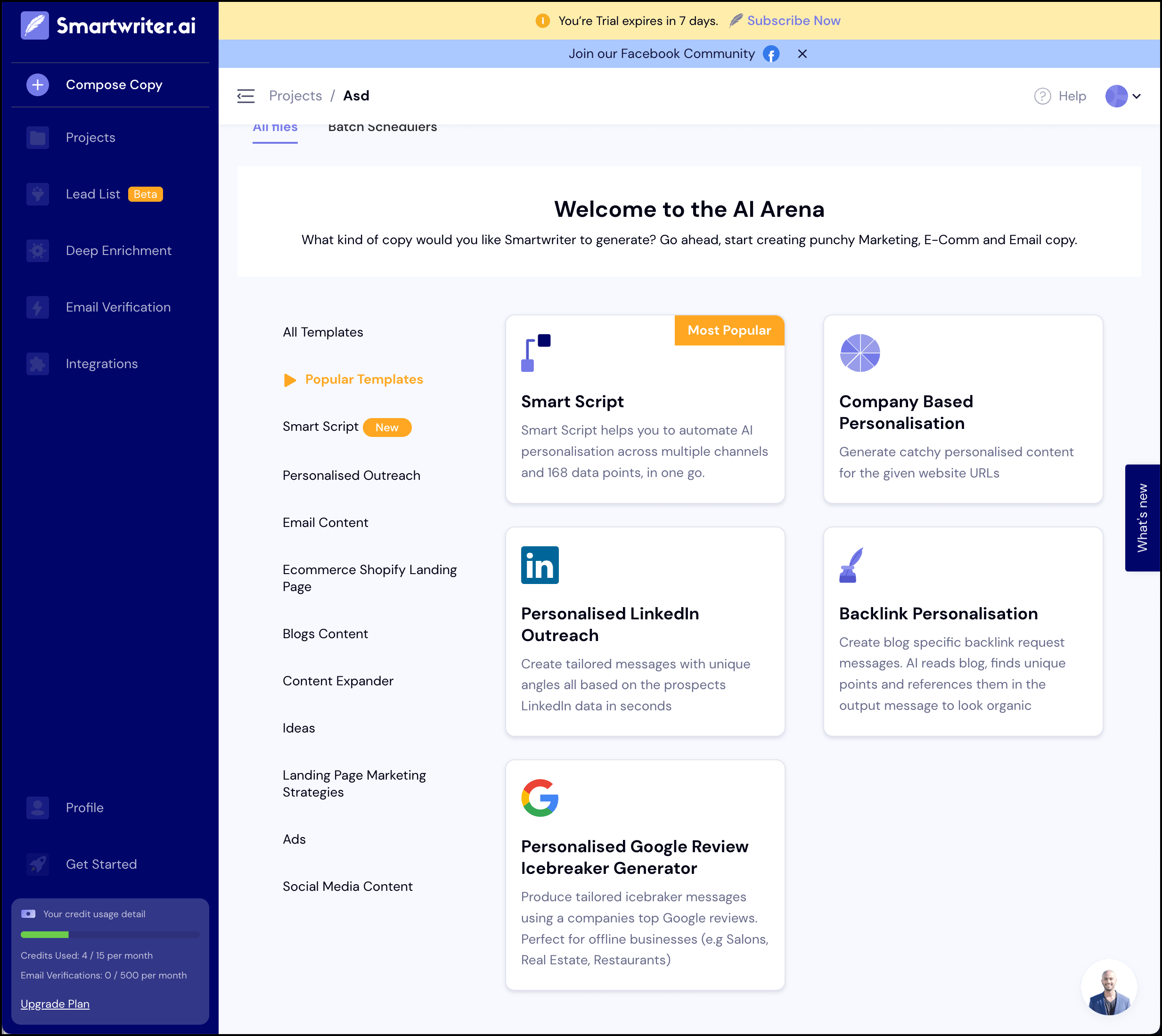 The interface has a lot of iffy English, which made me nervous about the results I would get. (Non-native English speakers make lots of amazing apps so iffy English is certainly not an issue in most cases. But this is an app that focuses on writing English, so the standards for its on-site copywriting are a bit different.)
Smartwriter.ai's interface offered my four main personalization options: company-based, LinkedIn-based, personalization for backlink outreach, and personalization based around Google Reviews. The first two are relevant to the test I'm running, so I thought I'd try both.
Smartwriter.ai allowed me to link a Google Sheet, not just upload a CSV, which I appreciated as it would save time in my workflow. The connection process isn't perfect (I had to remember which row numbers on my spreadsheet had info), but it still saved the step of downloading a CSV.
Smartwriter.ai test results
For Ajay, for some reason the app did not generate an email subject line. I'm not sure why not; it wrote one for me. But otherwise for me… the AI was very confused. It wrote about Substack, not my Substack newsletter on its own subdomain — but then it also misinterpreted what it read about Substack. And then it also tried to add elements of my newsletter to its take on Substack… which led to chaos.
Ajay subject line (from company-based tool)
Ajay intro line options (from company-based tool)
I love that you're able to send mass emails to your audience, schedule emails and get more open rates than you've ever seen! It's great to see a business that is taking advantage of Gmail.
I love that GMass enables organizations to schedule emails and send out mass mailers with Gmail. I'm impressed with the quality of the reviews and your ability to get the highest open rates. It's great to see that you solve email related problems for small businesses.
Ajay P.S. line options (from LinkedIn-based tool)
Not sure if you're much of a foodie, but have you been to Salar Restaurant and Lounge? The reviews look great.
It's very cool that you can speak English and Hindi, that's going to come in handy.
Sam subject line (from company-based tool)
I love the move from HootSuite!
Sam intro line options (from company-based tool)
I just read on HootSuite that you're a social media management platform. That sounds really cool. Excited to see how you'll continue to make searching for anything a nostalgic experience.
I just read on HootSuite that you're launching a new startup. Cool, congrats! I'm excited to see how you will continue to grow your company and your search engine in a nostalgic way.
Sam P.S. line options (from LinkedIn-based tool)
Smartwriter.ai pricing
Smartwriter starts at $59/mo to write intros to 400 contacts (that's 14.75 cents per generation). There are larger plans as well, including $149/mo for 1,200 and $359/mo for 3,500.
Integrating Smartwriter.ai with GMass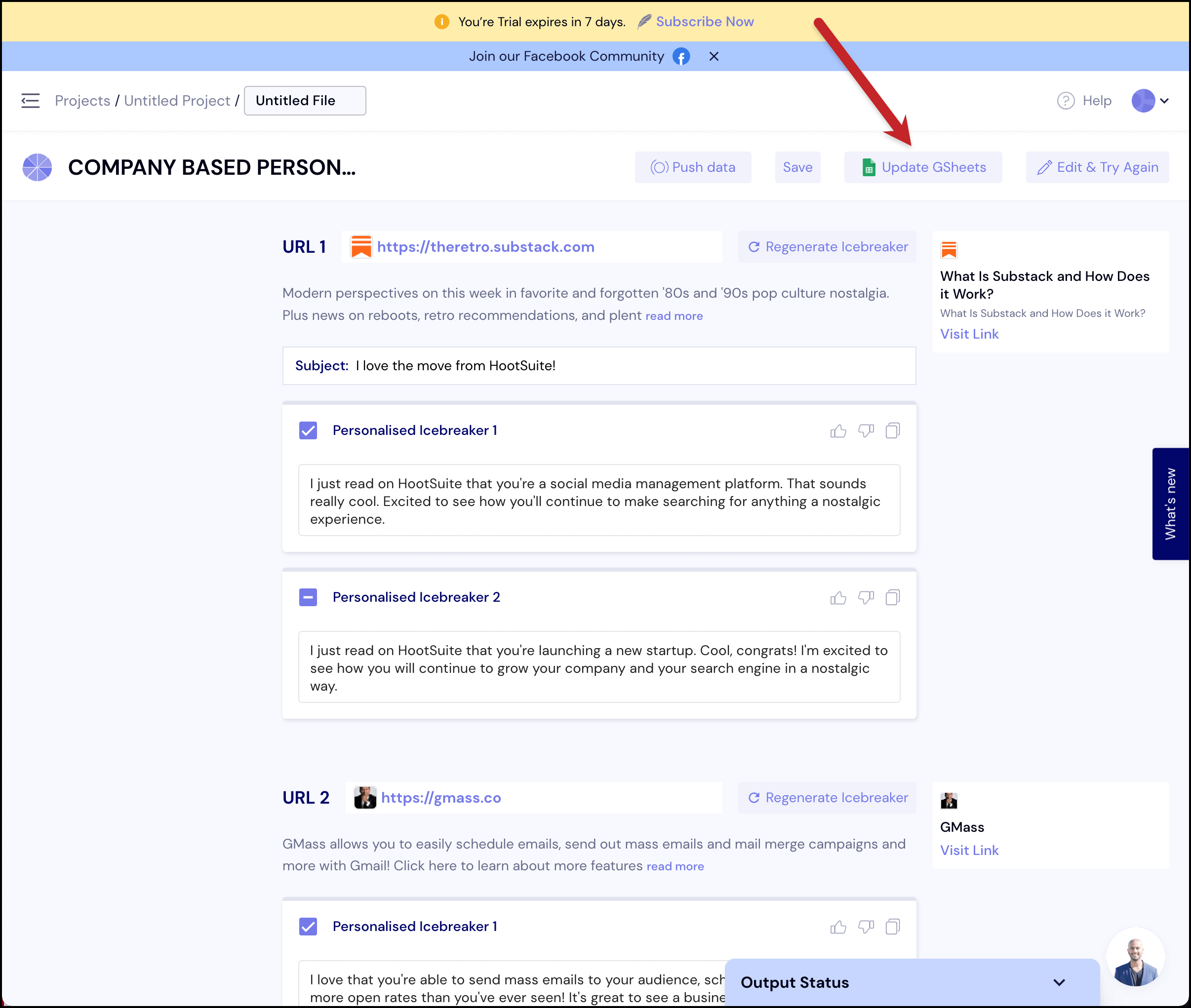 Smartwriter's Google Sheets integration saved me a step. I was able to add its output back into the source Google Sheet, so no back-and-forth with CSVs. Then in GMass, I connected that sheet to a new campaign and used its mail merge fields.
Smartwriter.ai final thoughts and overall evaluation
Smartwriter's intro lines did not wow me here. As covered above, it completely whiffed on the intro lines for me. As for Ajay, the intro lines were just restating of the marketing bullet points of GMass.
As for the LinkedIn intro lines, one appears to have grabbed the name of random a restaurant from Ajay's hometown and the other grabbed from his "languages spoken" LinkedIn section. Both feel awkward. Would those establish rapport… or are they too creepy? (And too obviously the result of AI?)
My favorite feature of Smartwriter.ai was its ability to connect to a Google Sheet, not requiring me to export a CSV. The intro lines and P.S. lines would take significant rewriting (and based just on my test, I'm not sure I'd trust the research). Also, it was unpredictable when it would return something like a subject line or P.S. line and when it wouldn't.
Warmer.ai
Warmer.ai writes email intros based either on company websites or contacts' LinkedIn profiles. It has a nice, modern interface and writes several possible intro lines for every contact. (Although you'll have to read through them manually for each contact; the exporter only includes one per contact in your CSV.)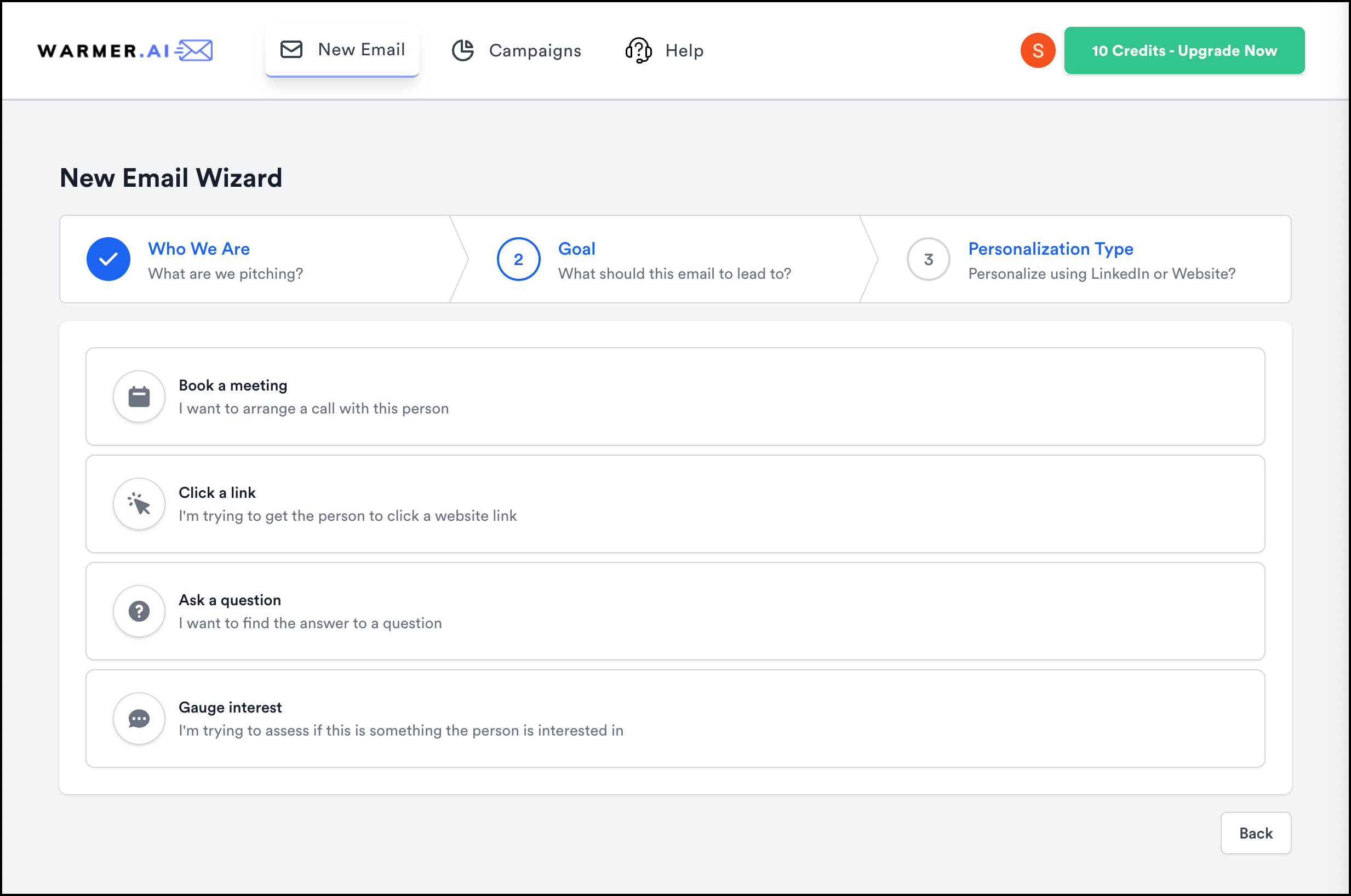 The CSV importer required a full name (my separate First Name and Last Name fields wouldn't work). This was surprising, since most cold email lists put first and last into separate fields for mail merges. I redid the CSV to match the required fields. There was no way to include a CSV unless you could map it to every required field.
Warmer.ai test results
Ajay intro line options (from website)
I love the idea of using Gmail as a marketing platform, it's a great idea and you should be proud of your achievements. ✨
I think the idea of using Gmail as a marketing platform is a really good one. It's so simple to use, yet so effective. ✨
Your company is really impressive. I've just tried to add it to my Gmail account, but I couldn't figure out how to do it – it's a shame. ✨
I know what you mean, I'm already a fan of GMass, if you want to learn more about it, why don't you visit https://www.gmass.com/. ✨
I think a platform that lets you market your business from your own inbox is a fantastic idea. ✨
GMass is a great company with a great idea, I think you are on to something with your marketing platform for Gmail. ✨
Ajay intro line options (from LinkedIn)
I think it's fantastic that you've spent 6 years at the same company. That way you can adapt to change much faster than someone who's been hopping around for the last decade. ✨
I see you studied at Case Western Reserve University? That's super interesting, I bet that had a massive impact on your direction in life! ✨
I can't speak 2 languages like you do but I'm still learning. You must be really dedicated! ✨
I have trouble learning languages, but you speak 2! Really impressed, how do you do it? ✨
Sam intro line (from website)
The Retro has been a great resource for finding interesting stories in the tech world, I'm glad to see you are reading it too. ✨
I'm a big fan of The Retro. It's really interesting to see how things from the past are being used today and how popular culture is being reinvented. ✨
I read The Retro every week, it's really great to see that you are creating something that people enjoy. ✨
I have just subscribed to your newsletter, I can't wait to hear what you have to say next. ✨
I love your subscription business – it's so good to see a business using AI for good. ✨
I think you have a great idea for a business, it seems you have a lot of readers. ✨
Sam intro line options (from LinkedIn)
Were you happy with your time at Northwestern University? I bet it was great for meeting people and learning about new things. ✨
I'm sure your time at Northwestern University really helped shape the person you are today. I'd love to hear about it. ✨
Seems like Godaddy prepared you well for your career transition. ✨
Were you happy with your time at Northwestern University? I bet it was great for meeting people and learning about new things. ✨
Warmer.ai pricing
Warmer.ai plans start at $97/mo for 325 credits, or 30 cents per contact (with five lines per person). The next level up is $279/mo for 1,500 credits, or 18 cents per contact.
Integrating Warmer.ai with GMass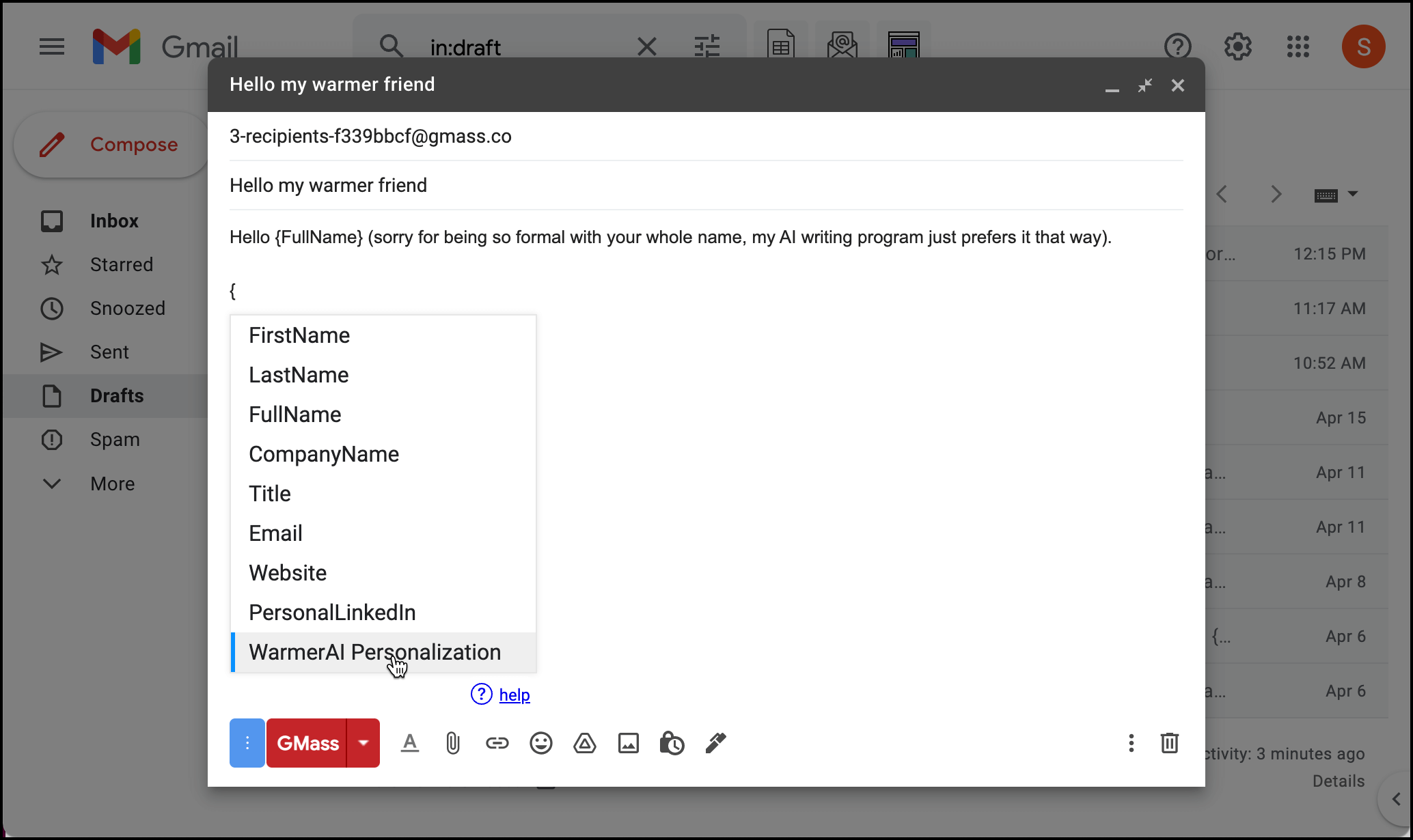 You can export a CSV with the personalized lines you choose with Warmer.ai. Then import that to Google Sheets, connect the Sheet to your GMass campaign, and use the personalization merge field.
Warmer.ai final thoughts and overall evaluation
Yes, it includes that sparkly emoji after every single intro line.
For Ajay, Warmer.ai definitely "got" GMass better than any of the other tools I evaluated. Not every line is great, but a lot of these lines actually feel like they were written by someone who took the time to evaluate the product.
For me, Warmer.ai was the first of the tools to figure out The Retro was a newsletter. One of the lines ("it's really interesting to see how things from the past are being used today and how popular culture is being reinvented") is frightfully insightful around the newsletter and since that verbiage isn't anywhere on the site, I'm not entirely clear how Warmer figured it out.
Warmer.ai's website-based lines are my favorite of any tool… the phrasing feels more human and more insightful. Some of the lines even really seemed to understand the products, not just remix their taglines. Then again, some of the lines were major swings and misses (I'm not sure you'd want to send a cold email to a SaaS product telling them you "couldn't figure out" how to use their product.
The LinkedIn lines crossed into the creepy/generic zone for me.
Since Warmer.ai only exports one intro line per contact, you'll have to manually review them; that could take some serious time if you have a large contact list. However, you may find great results if you're willing to put in that time — and at least you'll largely devote your time to that process, not to rewriting what Warmer.ai produced.
Warmer.ai is the most expensive of the tools we evaluated; you'll want to make sure to test its lines to make sure it's worth the price.
Outbound Flow
Outbound Flow is a newer product which advertises "personalized AI-powered cold emails in 1 click"… and that turned out to be more accurate than I realized. It does not batch process your contacts; there's no way to import a spreadsheet or CSV. So you literally have to click one-by-one so it can write intro lines for your contacts. "1 click"… over and over and over.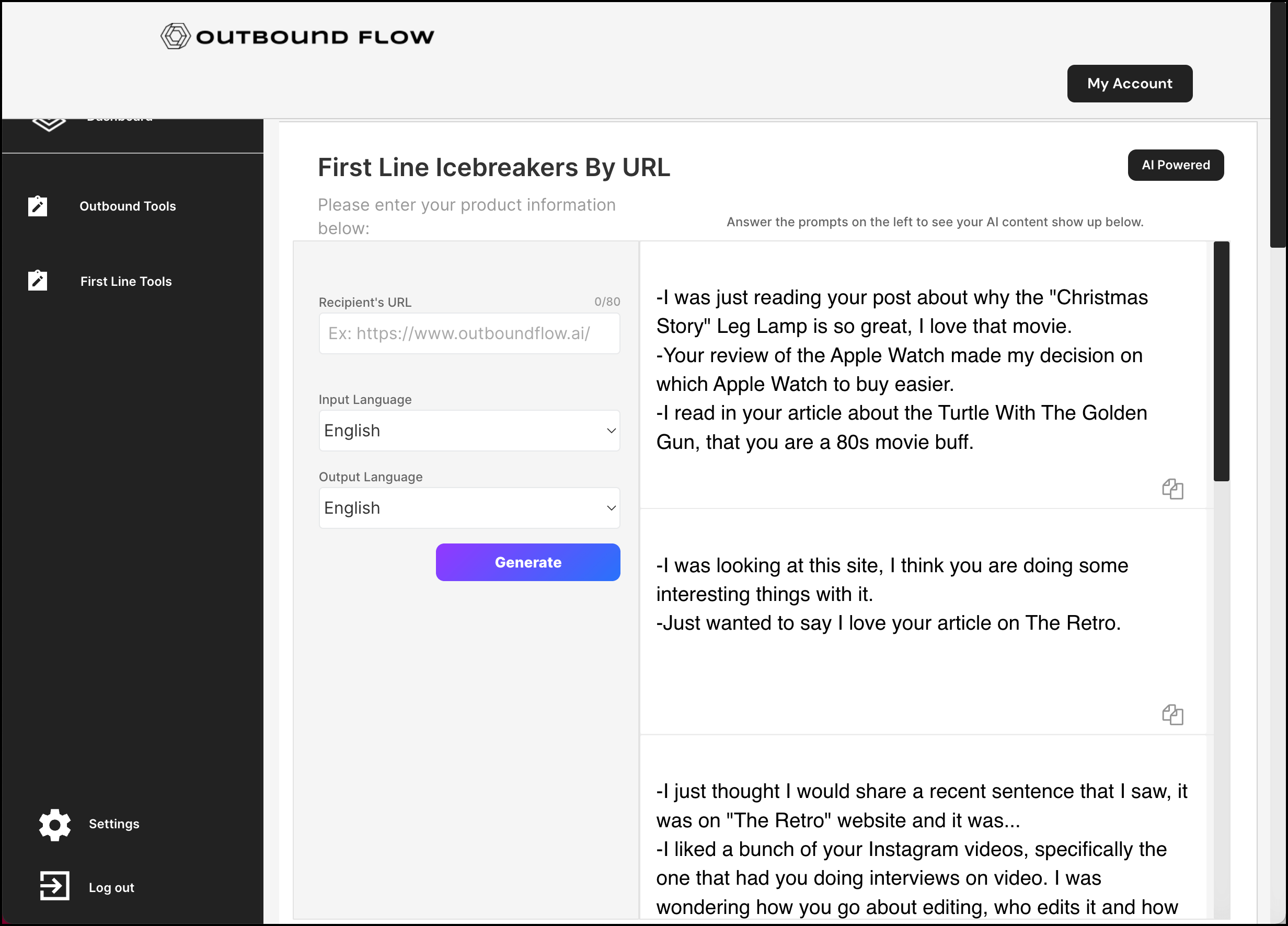 Outbound Flow test results
Outbound Flow specializes in writing entire cold emails (or parts of cold emails; when I tested it out, it can only do about 250 words before it cuts off).
You can use it just to write intro lines, not entire emails… but again, you can't upload a CSV. You'll have to paste in contacts' websites one at a time. That might be a dealbreaker if you're running large campaigns (or even medium-sized ones).
Between the time it takes to input someone's website, wait for the AI to generate intros, read through them, pick one, and copy it to your Google Sheet of contacts, you might be able to whip up your own, more personalized intro.
Ajay intro line options
Just came across GMass, looks like a very impressive program.
Was browsing through your software and I have to say it looks amazing.
Seems to be a very useful software. I was browsing through your website and checking out the features. Loving them.
I have to say I am very impressed with your GMass platform.
I was looking for an easy way to send mass emails and found your product, looks like it does exactly what I need.
I was looking to buy an email marketing software, did a little bit of research and noticed you recently started GMass.
I just wanted to take a moment and thank you for making such an amazing email marketing platform.
I finally managed to make my first campaign and I couldn't be happier with my results!
I was in a bit of a pickle and GMass came to my rescue, I needed an email marketing platform and GMass was exactly what I was looking for.
I have been following your progress for quite some time now, I have even purchased your OTO 1
Sam intro line options
I was just reading your post about why the "Christmas Story" Leg Lamp is so great, I love that movie.
Your review of the Apple Watch made my decision on which Apple Watch to buy easier.
I read in your article about the Turtle With The Golden Gun, that you are a 80s movie buff.
I was looking at this site, I think you are doing some interesting things with it.
Just wanted to say I love your article on The Retro.
I just thought I would share a recent sentence that I saw, it was on "The Retro" website and it was…
I liked a bunch of your Instagram videos, specifically the one that had you doing interviews on video. I was wondering how you go about editing, who edits it and how much time it takes.
Hey was just wondering what you thought of the new "The Retro" website design.
I have always been a huge fan of The Retro and have been reading regularly for the past 3 years.
A friend of mine from college wrote for The Retro a few months back
Outbound Flow pricing
Outbound Flow has a $39/mo plan for 100 emails or $299/mo for unlimited. If you want to try it out, there's a $7 trial. (Yes, we did that to test this out. You'll need to fill out a screener questionnaire to sign up; but they gave me instant approval after I said, "I'm not going to use this for email, I'm just evaluating it to write about it." So I'd imagine they'll approve you with no issues as well.)
Integrating Outbound Flow with GMass
Unfortunately there's no export option with Outbound Flow. You'll need to copy and paste your results into a Google Sheet, then connect that Sheet to your GMass campaign.
Outbound Flow final thoughts and overall evaluation
For Ajay, the intro lines about GMass are mostly empty platitudes. The AI lines aren't even remixing GMass's marketing talking points like some of the other tools I tested… they're really just identifying that it is an email platform.
For me, the intro lines are way off. I never wrote about the Christmas Story leg lamp or the Apple Watch. There's no such movie as "Turtle With the Golden Gun"… sounds like maybe a James Bond parody they would've done on The Muppet Show in 1981.
Also, I don't post Instagram videos, I didn't design the Substack website, my newsletter hasn't been around for three years, and I've never let anyone else write for it (let alone this robot's friend from college). So pretty much none of the intro lines here are viable.
Outbound Flow probably isn't the right pick if you're just looking for intro lines — or looking to do anything at scale.
The tool researches contacts one-by-one and the output options feel shallower than you'd get in other tools. There's also no free trial so you'll have to pay to find out if you'll have better luck.
You may have better results with Outbound Flow if you want it to write entire emails for you (although its output there didn't seem markedly different or better than any other AI writer).
Other AI-driven cold email personalization tools
We didn't include these tools in our list above (for the reasons we'll explain), however these are other options on the market.
Lola AI. We planned to evaluate this tool but its app was down during the two days of testing. The product may have reached end-of-life. (Or else it's having a very tough week.)
Quicklines. Quicklines does not offer any sort of trial or even a refund — you either pay $59 for its lifetime plan or can't use it. I looked over the samples to get a sense of the product — and to see if it was worth expensing $59 to try it out. I found Quicklines uses a contact's LinkedIn profile to create its lines, much like a lot of the others on this list, and none of the samples jumped out to me as unique or extraordinary. So I passed on giving it a more thorough evaluation.
ECOMLines. ECOMLines is a newer cold email AI product. It's specifically for outreach to eCommerce businesses, so if that's your niche, you may find success with it. In my test, the lines were right around the same as we got from other AI writers: Some accurate, some not.
Recommendation: A/B Test Your AI Intros Versus Regular Intros
Like the idea of having one of these tools write your cold email intros at scale? After all, even if the personalization isn't perfect, it's not too bad and could save you a ton of time on researching your contacts.
Our biggest recommendation: Before you make a longer term commitment, use your free trial period with these AI writing tools to run a test. See if the AI content really improves your results with your unique target audience.
For your A/B test, set up a campaign and use AI-written personalization for half of your list; then use either personalized messages you write, a generic intro, or no personalized icebreaker for the other half of your list.
You can then see if the emails with AI intros bring in more replies (or clicks, depending on your goal) than the emails you write yourself or emails without.
Here's how you could set up that A/B testing in GMass. We're going to test AI personalization versus a generic intro.
Step 1: Generate your CSV file and import it into Google Sheets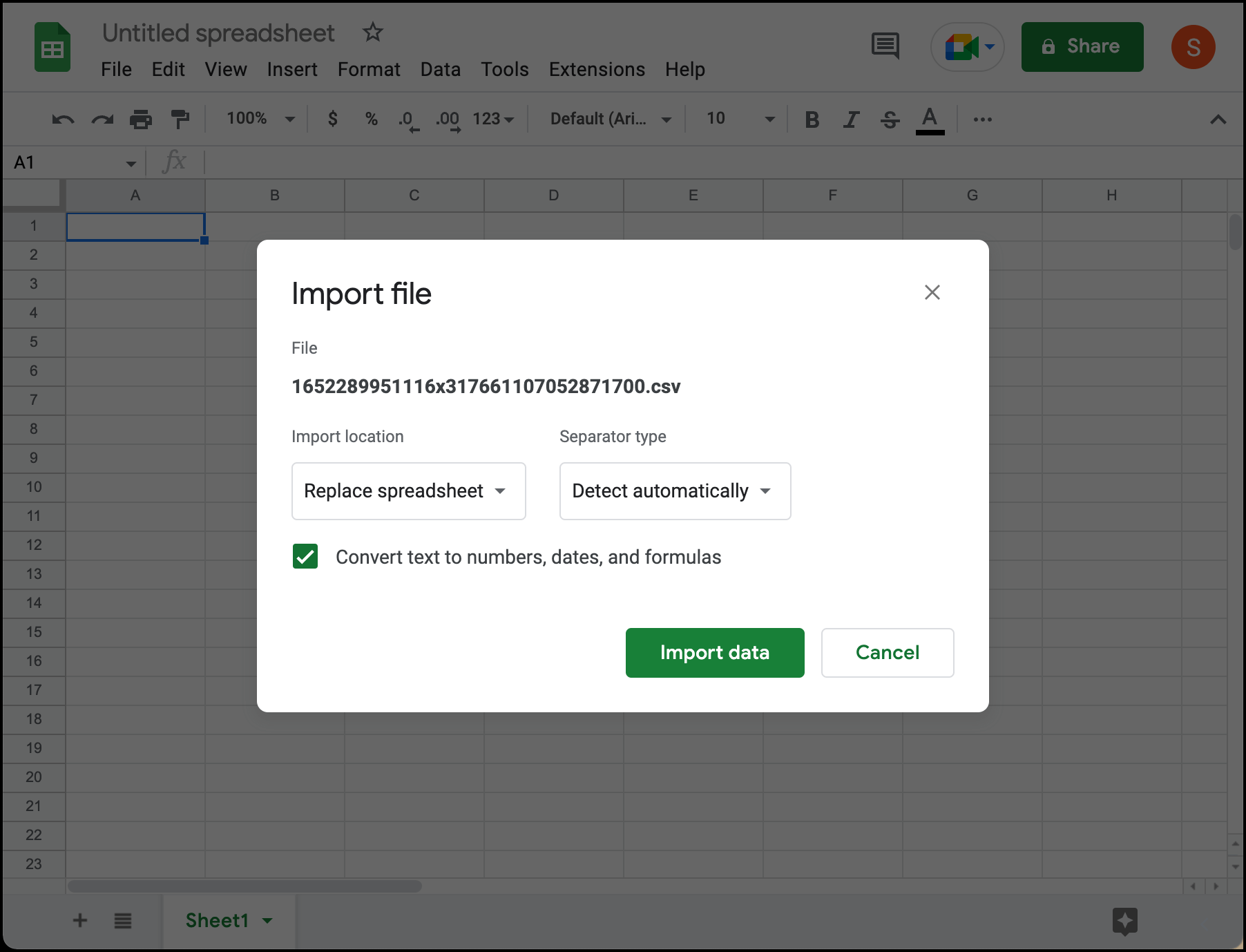 We've covered this step in our service-by-service reviews earlier in this article. But in short, open a new Google Sheet (or create a new tab in your Sheet where you keep your contact list) and import your CSV from your AI tool into that Sheet.
Step 2: Create a new GMass campaign and connect the Google Sheet
Create a campaign in GMass either by hitting the spreadsheet icon next to the Gmail search bar, or by opening up a new Gmail compose window and clicking the GMass icon in the To line.
Connect the Google Sheet with your AI-generated data.
Step 3: Use spintax to create your A/B testing variations
Compose your email using spintax to either include the AI-written personalized intro or a generic intro. (See the screenshot above.)
Step 4: Configure the A/B test in the GMass settings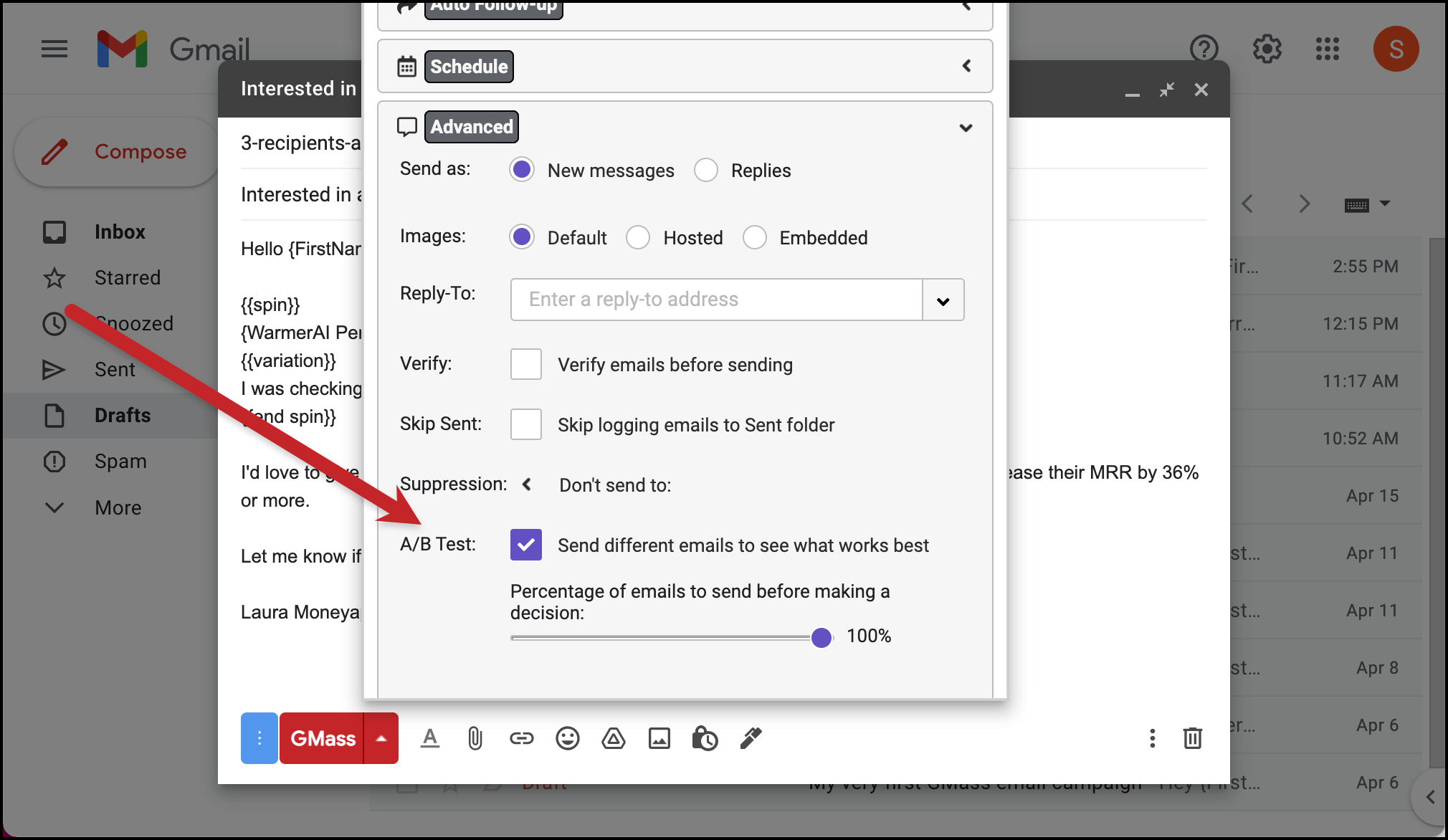 Open the GMass settings and head to the Advanced section.
Check the box for A/B Test.
I want to test a full campaign here, so I'm choosing to send 100% of emails before making a decision. (You could always test for a smaller sample, send the variations to a portion of your list, then send the winning variation to the remaining contacts.)
Step 5: Configure any other campaign settings and send
Your A/B test is now all set up. You can configure the rest of the settings for your campaign and, when you're ready to send it out, hit the GMass button.
After the campaign concludes, you'll receive an email with the A/B test results where you can see which variation received more opens, clicks, and replies: The one with the AI-written intro or the one without.
By the way, VWO ran an A/B test with AI-written copy versus human written on some websites. Their results are: 1 human win, 3 AI wins, and 3 ties.
A few other recommendations if using AI-written copy
Double check the AI's work
As you can see from all of our tests, the AI copy isn't always perfect. Sometimes it misinterprets what a business does, sometimes it gets a fact wrong, and sometimes it uses stilted language. So make sure to give the AI output a scan before you start blasting it out to potential customers.
Think of AI as a research assistant
AI copy can be great for writer's block. But really, you never quite know what output you'll get. Sometimes it's complete and perfect, sometimes it needs work, sometimes the AI is completely incorrect.
It may be best to think of the AI line writing tools as research assistants, not email copywriters. They're digging into your contacts' website, LinkedIn, and sometimes online history to research them, then writing what they find. You may get better results by taking their research and rewriting it to make it more compelling and more in your own voice.
Remember: Cold email "tricks" come and go
Cold email is solid and isn't going anywhere. But new cold email tricks regularly pop up, and those often work for a while… until they're oversaturated and people grow immune to them. AI-driven cold email lines will, most likely, succumb to that fate at some point. So if you are going to try this technique, it's probably best to hop on it soon — before too many other people show up and ruin it.
Cold Email AI Personalization Tools: Effective or Creepy?
Is it creepy to send an email that features an opening line written by a robot stalker? When I put it that way… of course.
However, a person researching business details, a contact's professional history, a company, or a contact's interviews before reaching out generally does not feel creepy. (Researching someone's more personal social media content, like family photos, is more likely to feel creepy. For example, this tweet where the guy got a cold email that said, "How was your trip last week away with your girlfriend?")
The goal, then, when using AI personalization tools to assist with outreach emails, is to make sure it *feels* more human. That could mean putting the AI research findings into your own words or (gasp) actually checking out the contact's website or product before reaching out.
Now that we covered creepiness, let's talk effectiveness. It's really important to A/B test; the effectiveness will vary from audience to audience.
My gut instinct from my years in the email marketing world? Relevant, genuine personalization can make a difference. Generic platitudes or reiterating a company's brand positioning most likely won't.
So take the research from your AI tool, give it a look and a polish, then bring it over to GMass to test and send your cold emails.
Meanwhile, I'm off to post a casting notice for my all-turtle James Bond remake.
Email marketing, cold email, and mail merge

inside Gmail



Send incredible emails & automations and avoid the spam folder — all in one powerful but easy-to-learn tool

TRY GMASS FOR FREE

Download Chrome extension - 30 second install!
No credit card required
Love what you're reading? Get the latest email strategy and tips & stay in touch.